Homemade Rustic Blueberry Muffins with Streusel Topping use simple and fresh ingredients. Easy to follow recipe gives you a wonderfully moist and flavorful muffin.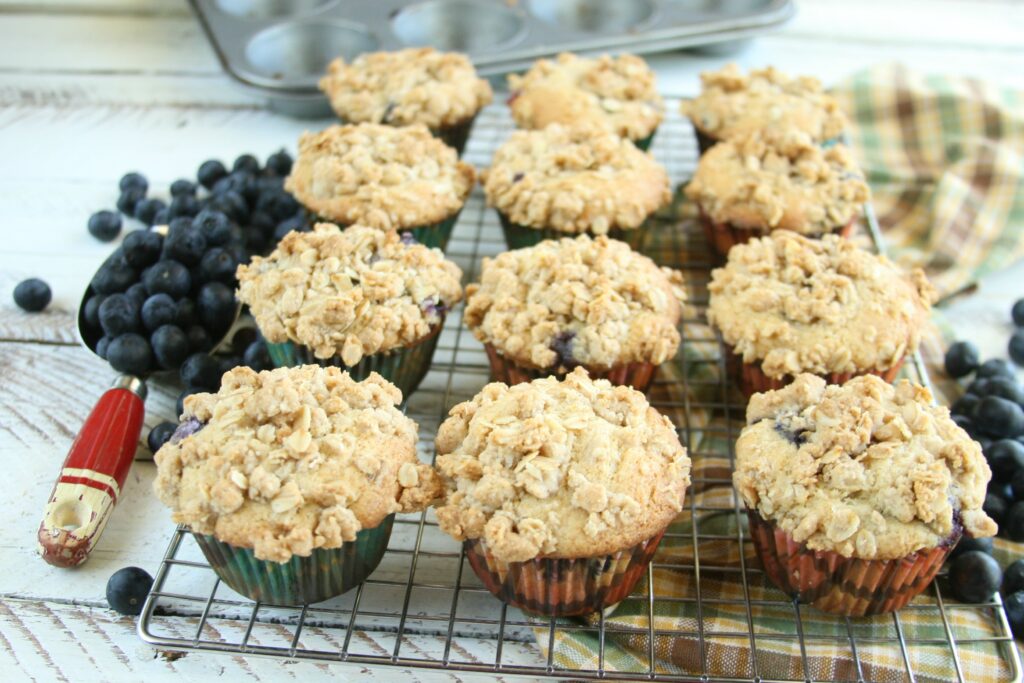 Do you love a great blueberry muffin with plenty of streusel topping?
Each berry season I freeze locally harvested berries to use in recipes all year long. This weekend I made a batch of my Rustic Blueberry Muffins with Streusel Topping. These blueberry muffins are moist, light, and extremely flavorful! They are perfect for breakfast, brunch, or as a treat to carry along on your busy day's adventures. A decadent rolled oat- streusel topping will have you nibbling on every morsel.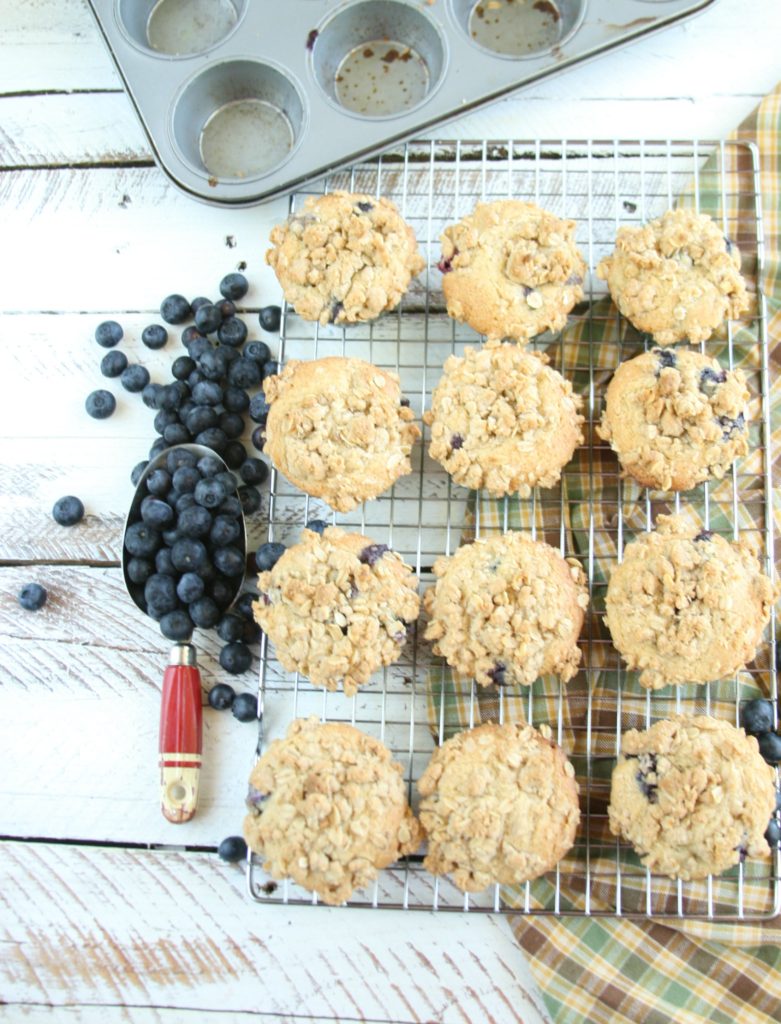 Now, I have to admit, I probably have more baking equipment than most. I love kitchen equipment and utensils. But these muffins don't require anything fancy. You'll need a muffin pan and some paper liners. You can even make the batter in a simple bowl and an electric hand mixer. Of course, fresh berries are best. But, if you have plentiful berries in the freezer like me, you're welcome to use them!
I talked about the difference in baking pans with my Chewy Fudge Brownies. And the same goes for muffins. I'm in LOVE with these muffin pans from Nordicware. And love that this one has a cover, so if you are transporting a bunch of muffins or cupcakes, they won't get squished. Oh, don't forget to check out my Yellow Cupcakes with Chocolate Frosting! That's such a simple and delicious recipe! (if you don't need the cover, just order the same muffin pan without the cover).  Nordicware bakeware is made in the USA!
This past week I made 100 plus Decorated Heart Shaped Sugar Cookies, so the kids could have them to hand out at school for Valentine's Day. I've spread the love throughout the community with them as well! Because who doesn't love a homemade treat?! Perhaps you're looking for something to make for Valentine's Day for your co-workers or even for the kids. These are great and fairly simple to make. Get as creative as you want with the decorations! If you get a second, watch a few of these videos on Youtube. They'll really give you a good look at how to pipe the icing and maybe even inspire you with some designs!
Now, if you love my Rustic Blueberry Muffin with Streusel Topping recipe, be sure and try my Raspberry Streusel Muffins. They are amazing as well!! Let me know what you're cooking up this week!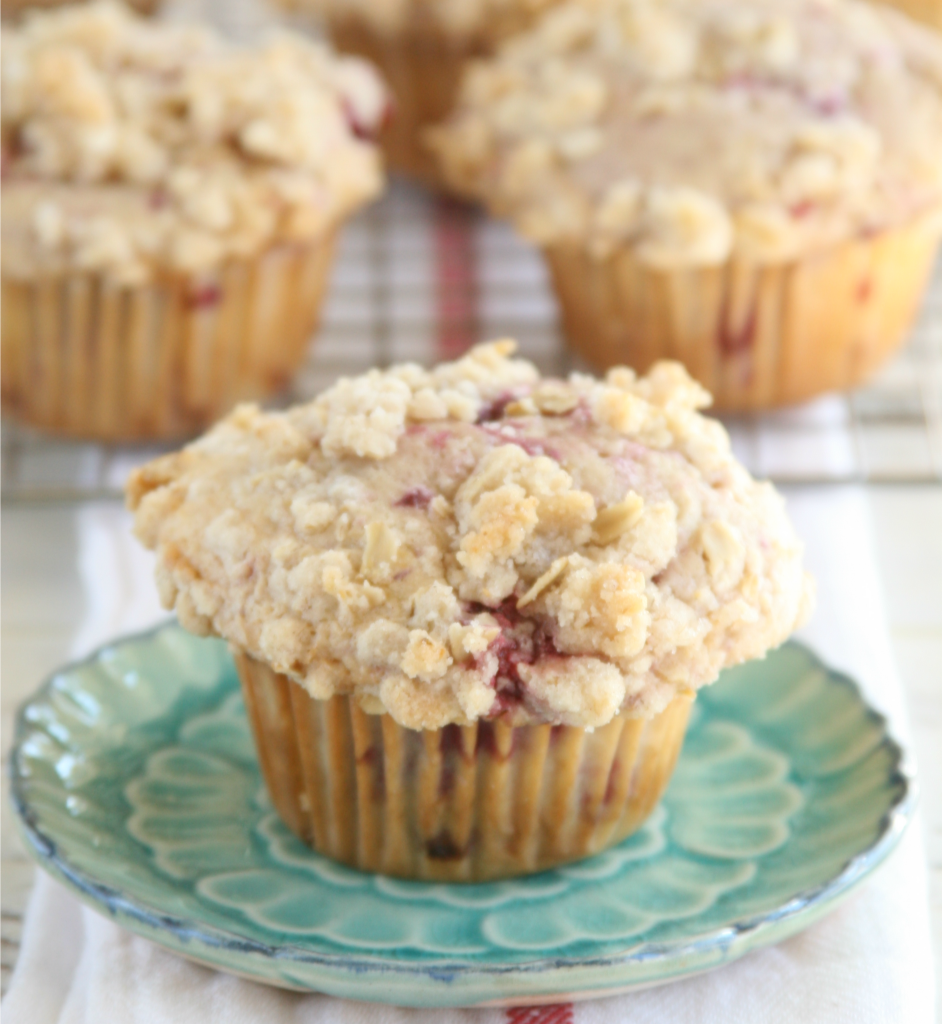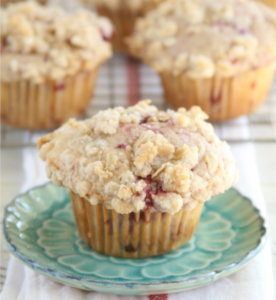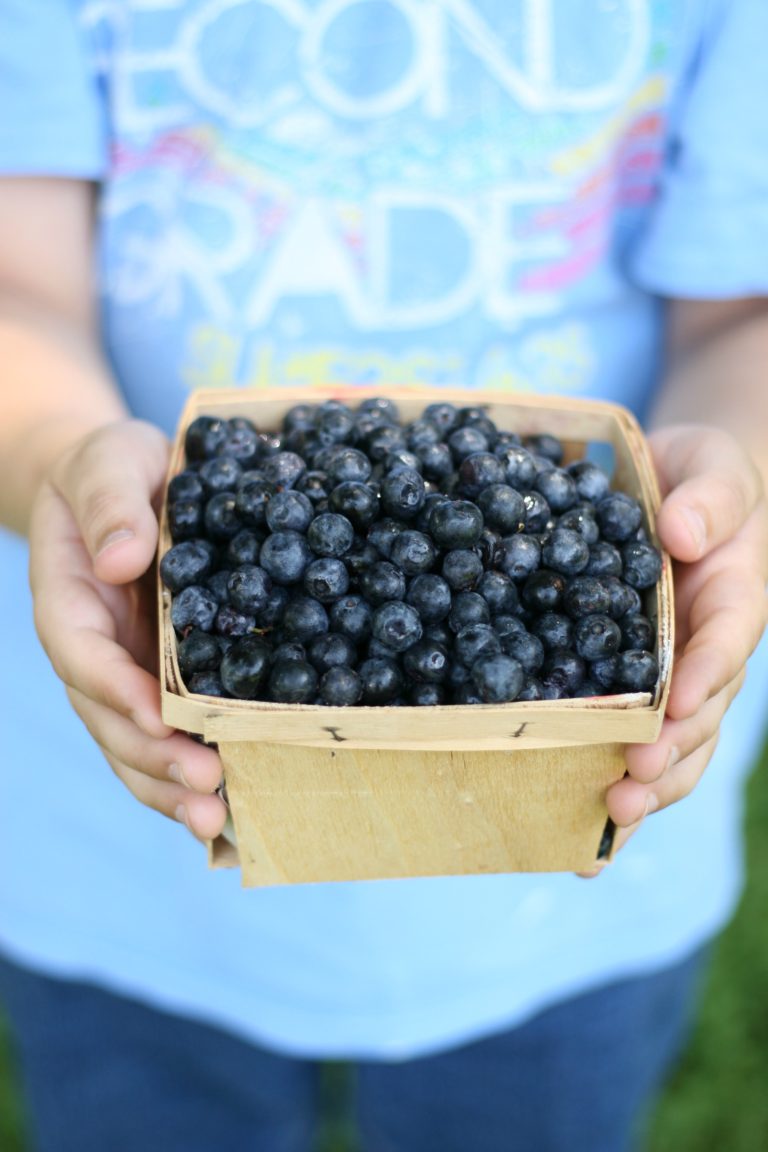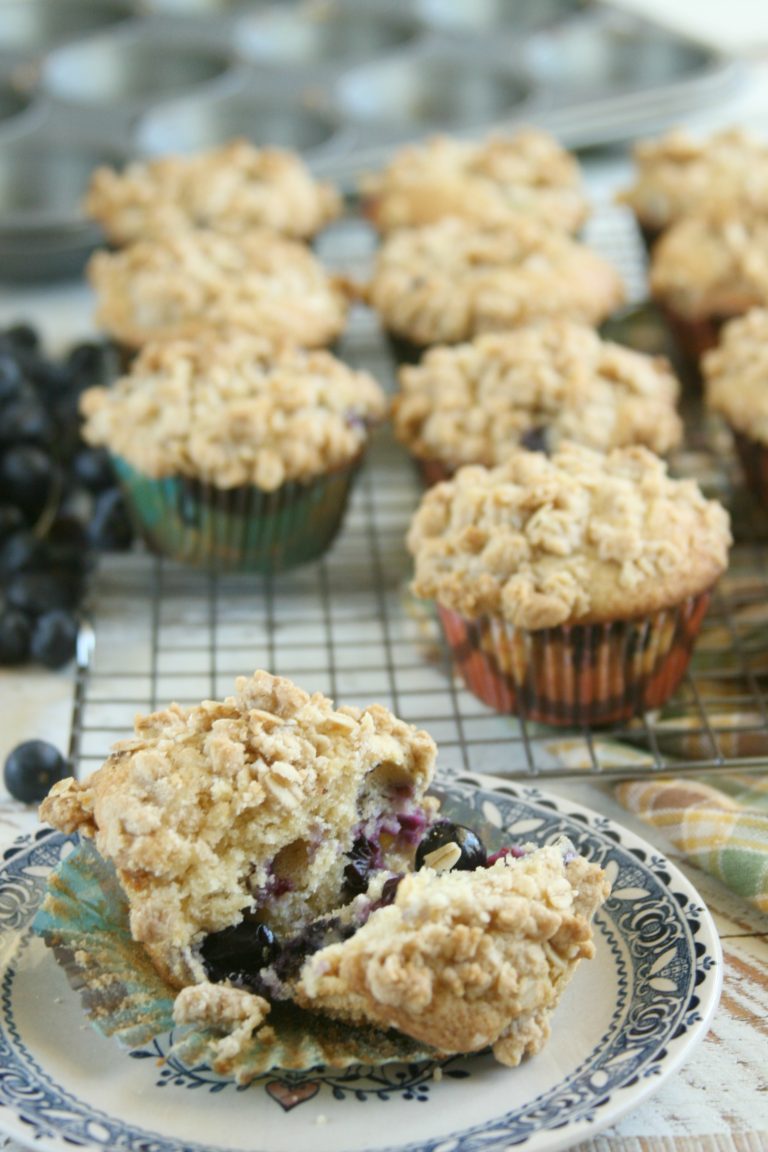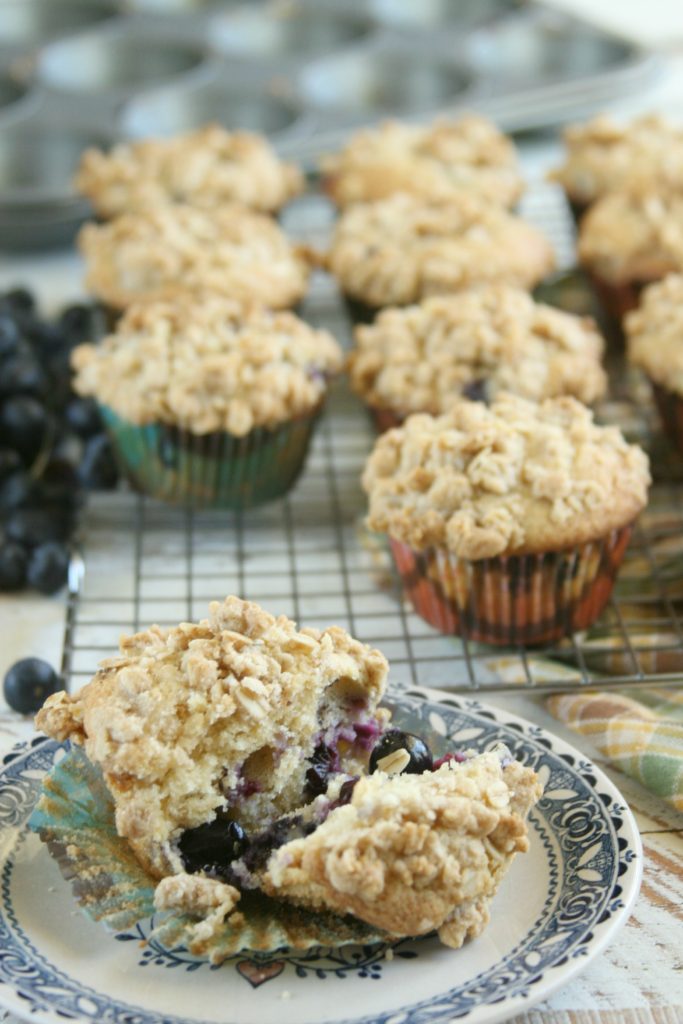 Would love to hear from you! Please leave a review and let me know how your muffins turned out!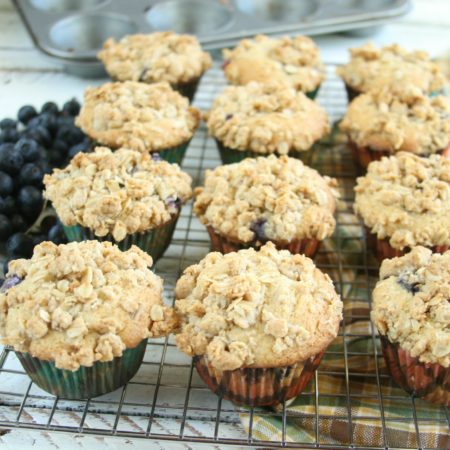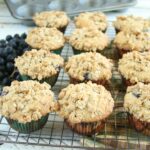 Rustic Blueberry Muffins with Streusel Topping
Homemade blueberry muffins have never been so easy to make and oh so delicious!

Ingredients
2

cups

all-purpose flour

1/3

cup

vegetable shortening

1

cup

brown sugar

packed

2

large eggs

2

teaspoons

baking powder

1

teaspoon

kosher salt

1

cup

full-fat sour cream

1

teaspoon

pure vanilla extract

1

cup

fresh blueberries

Streusel topping:

1/2

cup

packed brown sugar

1/2

cup

all-purpose flour

1/4

cup

1/2 stick unsalted butter, softened

1/2

cup

rolled oats

1/4

teaspoon

ground cinnamon
Instructions
Preheat the oven to 375 degrees F. Line a 12- cup muffin pan with paper liners and set aside.

Place all of the ingredients for the streusel topping into a medium bowl and combine well using your hands or a spoon. Set aside.

In a mixing bowl, using a stand mixer or electric hand mixer cream together shortening, sugar and vanilla. Add the eggs one at a time. Mix in the sour cream and milk. Stir in the flour and salt. Fold in the blueberries using a rubber spatula. Scoop the batter evenly into paper lined muffins tins. Sprinkle the streusel topping evenly on the muffins. Bake for 25-30 minutes or until golden brown and a toothpick when inserted into the center comes out clean. Let cool slightly before carefully removing the muffins from the pan.
Disclosure: A Farmgirl's Kitchen is a participant in the Amazon Services LLC Associates Program, an affiliate advertising program designed to provide a means for sites to earn advertising fees by advertising and linking to amazon.com