These Apple Hand Pies are made with homemade apple pie filling, pie crust or refrigerated biscuit dough. Make these fried apple pies ahead of time and refrigerate overnight or freeze for later.
Post contains affiliate links

Apple Hand Pies Recipe
These delicious Apple Hand Pies start by making homemade apple pie filling. Super SIMPLE to make and so darn tasty! Make ahead and let cool completely before filling your pie crust.
Hand pies can be prepared ahead of time, refrigerated or frozen. Homemade hand pies are easy to make using either homemade or store bought pie crust or biscuit dough. 
What is a Apple Hand Pie?
When we moved to North Carolina, a local gentleman asked me to make something called "Apple Jacks." These yummy fried apple hand pies are small pieces of dough with a dollop of apple pie filling, then crimped and fried. They are an old-fashioned tradition here in the South. Fresh out of the fryer, these apple hand pies are beyond delicious.
Do I have to make homemade pie crust?
I make apple hand pies with homemade pie crust. But, if you don't want to fuss with homemade crust you can use refrigerated biscuit dough or refrigerated pie crust. Doing a little research, I found that many old-time Southern cooks made these little hand pies with biscuit dough. But, I think you'll love them with the pie crust.
History of Apple Jacks:
Years ago, when ladies made these, they certainly were not using store-bought crusts. First off, they likely did not have the disposable income that many of us have today nor did they have access to convenience products such as these. Traditionally, making these sort of apple pies, they would have used dried apple pieces, mixing those with water, sugar and cinnamon to make sort of an thick apple sauce.
What type of apples are good for apple hand pies?
I personally love a combination of Granny Smith and either Macoun or Macintosh. This brings the perfect amount of texture and flavor.
Try making hand pies using my cherry pie filling.
Can I make apple hand pies ahead of time?
Absolutely! I make apple hand pies the night before and slightly overlap them on a half sheet pan lined with parchment paper. Loosely cover the entire sheet pan with plastic wrap and place in the fridge. This also makes the pie dough super cold when you fry them, helping them become perfectly flaky.
You can even freeze them. Thaw in the fridge, uncovered.
NOTE: If you leave them covered with plastic wrap after being frozen, they end up with too much condensation. So just remove the plastic wrap and they'll thaw perfectly overnight.
Make a big batch of the apple pie filling and let it cool completely. You can even make this a few days ahead of time to save time!
I like to make it the night before I assemble apple hand pies, so it's completely cooled and ready to go! (Make the pie filling ahead of time and refrigerate for a few days, or freeze until needed.)
For more apple desserts try my Homemade Apple Crisp, Apple Fritters, Caramel Apples, Caramel Apple Slices, and Apple Cider Donuts.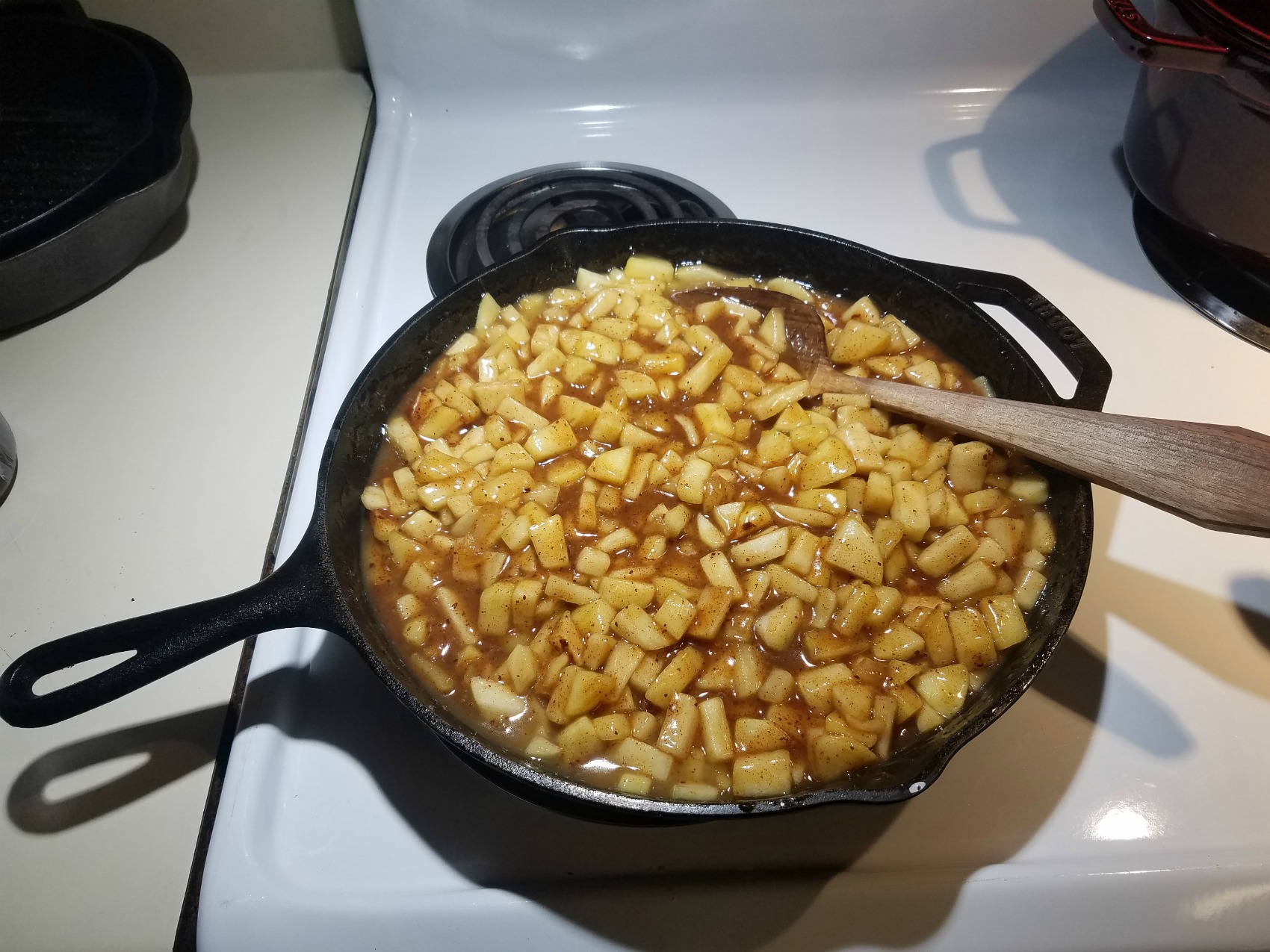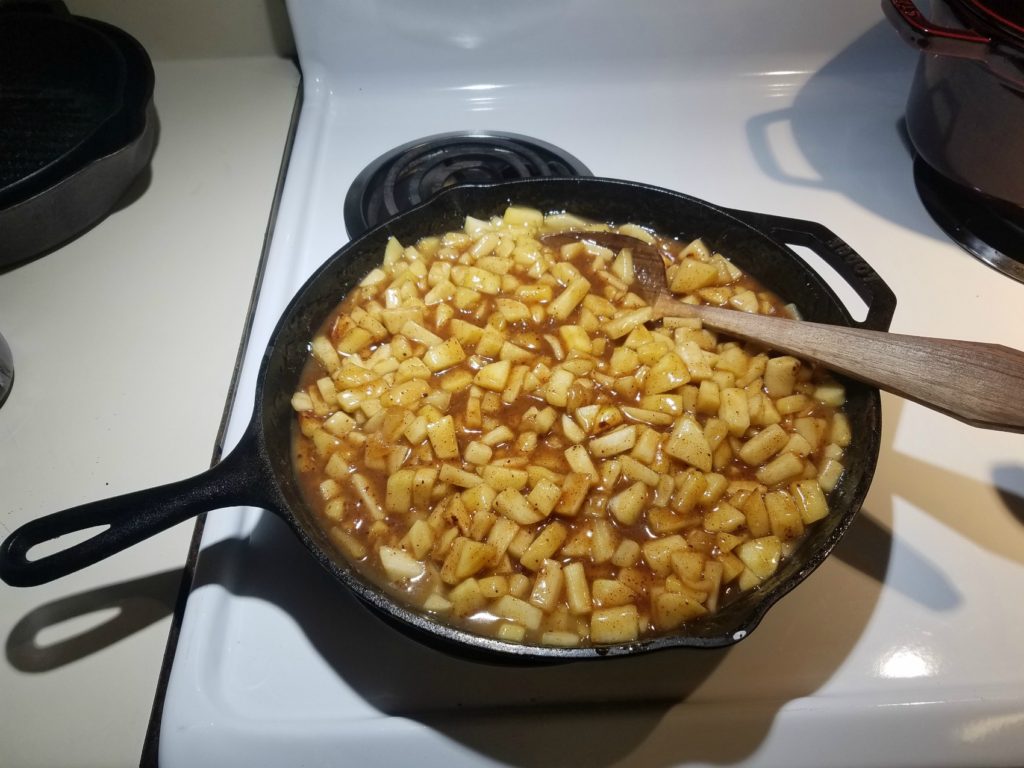 As you create each apple hand pie, place them on a half sheet pan lined with a piece of parchment paper. I will typically overlap them just a tad and be able to fit about 5-6 hand pies in each row, with a total of 3 rows per sheet pan.
Cover them loosely with plastic wrap and get that tray in the fridge right away! You'll fry them right out of the fridge, which keeps the hand pies super cold and will help you to achieve a very flaky crust!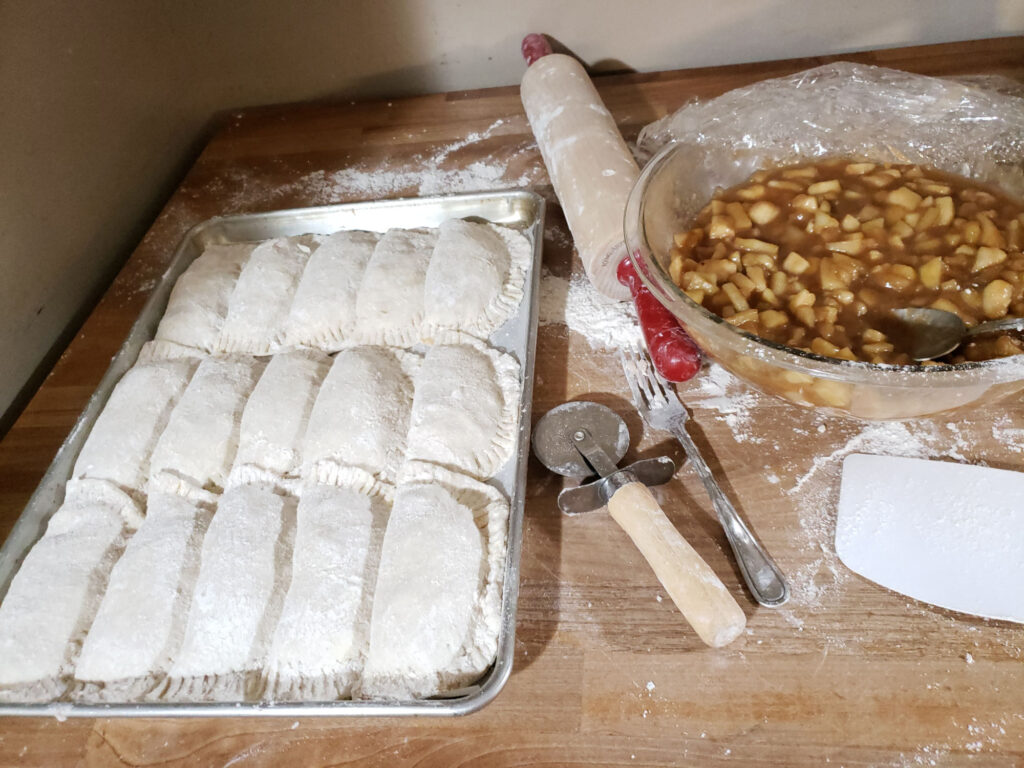 I love these half sheet pans, plastic bench scraper, and small pizza cutter. And don't forget pre-cut sheets of parchment paper. Once you use these, you'll never buy a roll of parchment paper again!
To properly test the temperature of the oil. I use a Thermoworks thermometer with a probe.
For more great pie recipes be sure and try Homemade Apple Pie, Easy Blueberry Pie, Easy Peach Pie, and Southern Pecan Pie.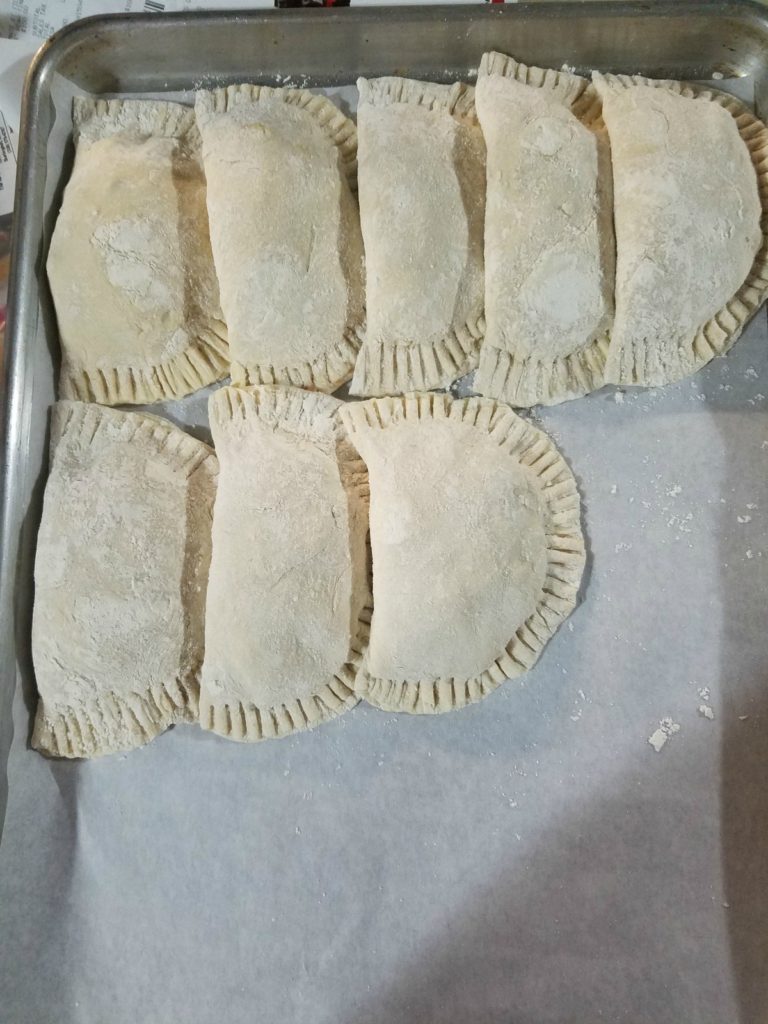 Did you make one of my recipes? Please take a moment to leave a star rating. Also, if you are on Pinterest, please feel free to leave a comment there and a photo if you have one! Follow A Farmgirl's Kitchen on FACEBOOK and PINTEREST and subscribe my mailing list for ALL the latest recipes!
Print
Apple Hand Pies
These Fried Apple Hand Pies are easy to make using either homemade or store bought pie crust or biscuit dough. Make them the day ahead of time and freeze.
Ingredients
Apple Pie Filling
5

medium/large apples

Granny Smith & Macoun

3

tablespoons

unsalted butter

2

tablespoons

brown sugar

1/4-1/2

cup

granulated sugar

2

tablespoons

lemon juice

1

tablespoon

cornstarch

1

teaspoon

ground cinnamon

1/4

teaspoon

ground nutmeg

Homemade pie crust or biscuit dough
Instructions
Apple Pie Filling
Peel, core and chop the apples into small pieces. Melt the butter in a 10-12 inch fry pan. Cook the apples over medium heat for about 15-20 minutes or until soft. Sprinkle with brown sugar, sugar, and lemon juice while they cook. Stir with a wooden spoon occasionally, making sure they do not burn.

Dissolve the cornstarch in about 1/4 cup of cold water. Stir to combine.

Pour in the cornstarch mixture once they are almost done and let cook to thicken the apples and juice.

Remove from the heat and add the cinnamon, nutmeg and stir to combine. Let the pie filling cool completely.
Apple Hand Pies
Roll out your biscuit dough or pie crust on a lightly floured surface, into 4-6 inch ovals, about 1/8-1/4-inch thick. Scoop about 1 tablespoon or so of the cooled pie filing in the center of each round. Fold over, lightly press down on the filling and the edges. (Lightly wet edges with water, using your fingertip if needed) Crimp the edges of the dough with a floured fork. Place uncooked pies on a half-sheet pan which is lined with parchment paper.

Fill a fry pan with about 2-3 inches of canola oil. Heat the oil until very hot (about 370 to 375 degrees F). Place only a few hand pies in the hot oil at a time, as to not overcrowd the pan or let the oil cool. Fry until they are brown on both sides, about 3-4 minutes. Remove from the hot oil and let drain on paper towels on a half-sheet pan. Sprinkle with granulated sugar or dust with powdered sugar while they are still warm.

These are best served warm.
Recipe Notes
Tips on making APPLE HAND PIES:
You can make fried apple hand pies AHEAD of time. Overlap them slightly on a half sheet pan lined with parchment paper and place in the freezer. Cover the tray loosely with plastic wrap.
To thaw apple hand pies: Remove the plastic wrap that was covering the tray and discard it. It will have extra moisture you DO NOT want!
Let them thaw, uncovered in the refrigerator overnight.
If you do not have a thermometer. You can test if the oil is hot enough by sprinkling a tiny bit of flour off of your fingers into the center of the oil. If the flour bubbles out to the edges of the pan quickly, the temperature is ready.
Nutrition
Calories:
91
kcal
|
Carbohydrates:
17
g
|
Protein:
1
g
|
Fat:
3
g
|
Saturated Fat:
2
g
|
Cholesterol:
8
mg
|
Sodium:
2
mg
|
Potassium:
81
mg
|
Fiber:
2
g
|
Sugar:
14
g
|
Vitamin A:
128
IU
|
Vitamin C:
3
mg
|
Calcium:
9
mg
|
Iron:
1
mg
Disclosure: As an Affiliate Marketer, I earn from qualifying purchases. If you click a product affiliate link on A Farmgirl's Kitchen and make a purchase, I may receive a commission at no additional cost to you! I own every cooking product I recommend and love how they perform.