Do you have ripe bananas and are looking for a great way to use them? Pecan Banana Bread is super easy to make and so wonderfully moist.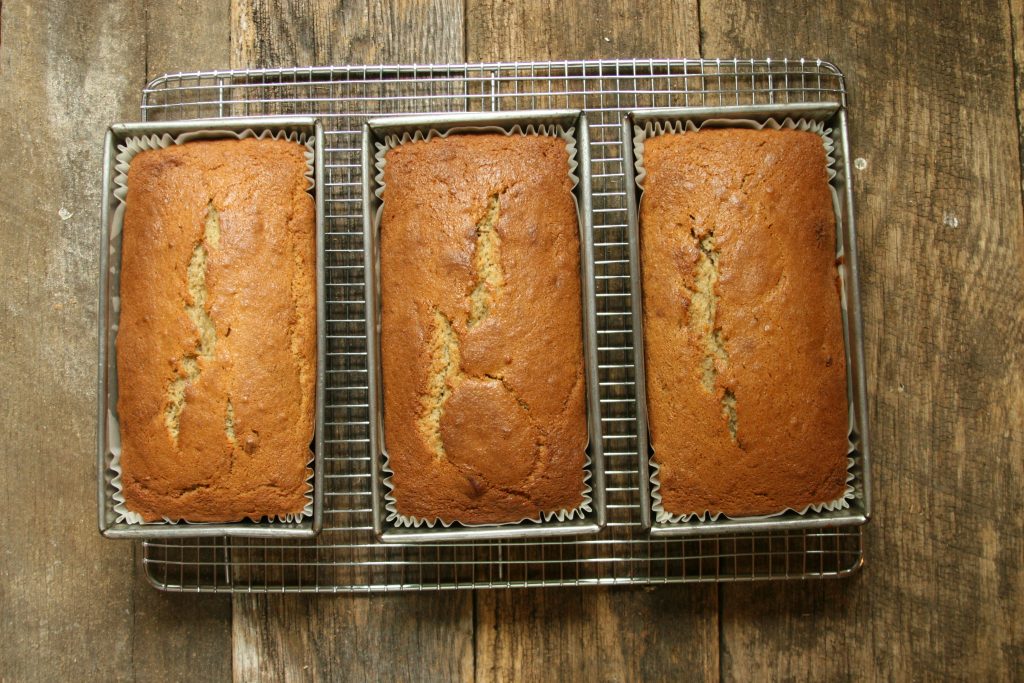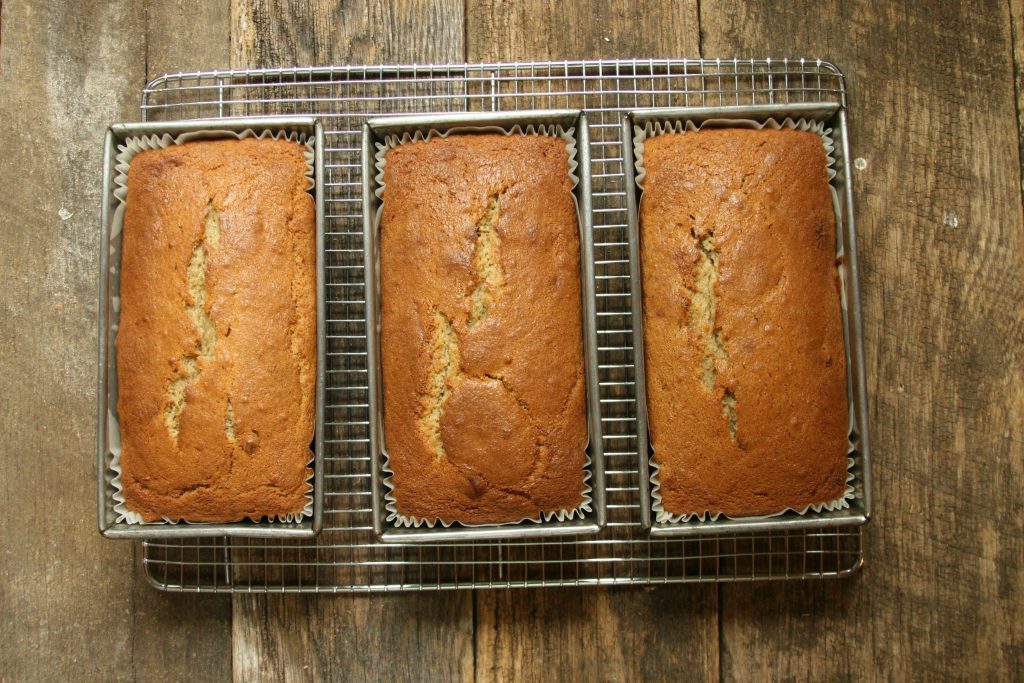 Growing up on our small Connecticut family farm, my mom baked everything from scratch. On a weekly basis, homemade cookies, cinnamon rolls and sourdough breads were whipped up in her farm kitchen. If you craved a certain dessert, you put in your request. My parents certainly weren't buying something store-made. One of our favorite things to bake in our farm kitchen is my Pecan Banana Bread. These breads barely have time to cool before people in our household are cutting into a loaf and slathering it with a pad of Cabot butter.
You'll need a few loaf pans. Order here if you need.
These paper loaf pan liners are amazing! No need for spraying cooking spray on your pans. Just plop these babies into your loaf pans and you'll easily remove the banana bread and coffee cakes you bake.
Do I need a stand mixer to make banana bread?
No, but if you don't have a stand mixer, you'll love it! There are two in my kitchen. One that is a 10-quart mixer, which I use for breads and bigger batches. The other is a barn red color 7-quart professional series KitchenAid. I use this mixer often to test recipes. My grandmother bought me an almond color 4.5-quart KitchenAid mixer as a wedding gift. That mixer started my early days of recipe development. I had used it so much, it had two rebuilds and is now retired. What a great gift for someone who loves to bake!
What can I add to banana bread to make it moist?
Brown sugar and sour cream in this recipe help to keep this banana bread incredibly moist. It's the kinda of bread that's even more moist the second day!
Do bananas have to be ripe for banana bread?
Yes, it makes them mash easier, incorporate into the batter better, and they are sweeter.
Can I freeze bananas and use later for banana bread?
Absolutely! Peel bananas and toss into a freezer Ziploc bag to freeze. Thaw them almost completely, then drain the excess moisture before making banana bread.
How to make Easy Banana Bread:
Step 1:
These yummy Pecan Banana Breads make wonderful gifts for Christmas and the holidays. Simply buy some clear twist tie bags (Walmart carries them in the aisle with the plastic wrap, aluminum foil, etc.) and slide in the breads. For a finishing touch tie on red and white bakers twine with a brown Kraft tag. Then hand write "Banana Bread" on the tag. Simple and surely to be enjoyed!
Do you love my recipes?! I'd LOVE to hear from you! If you have  moment, leave a comment with a star rating.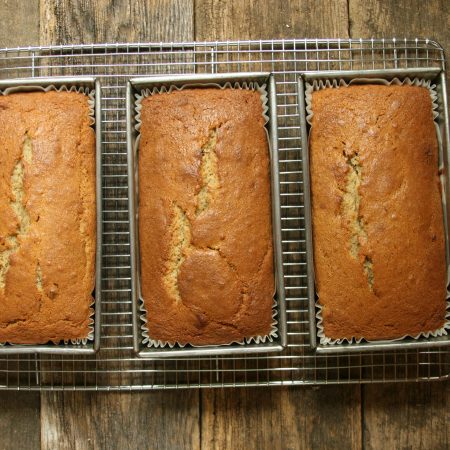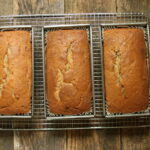 Pecan Banana Bread
Wonderful flavors come together in this yummy Banana bread recipe.
Total Time
1
hour
10
minutes
Ingredients
1

cup

unsalted butter (softened) OR vegetable shortening

2

cups

firmly packed brown sugar

1/2

cup

granulated sugar

3

ripe bananas

mashed

4

large eggs

room temperature

2

teaspoons

pure vanilla extract

1 1/2

cups

full-fat sour cream

4

cups

all-purpose flour

1

teaspoon

salt

1 1/2

teaspoons

baking powder

1 1/2

teaspoons

baking soda

1/2-3/4

cup

chopped pecans
Instructions
Preheat the oven to 350 degrees F. Spray three 9 x 5- inch bread loaf pans with cooking spray or line with paper liners. (This makes cleanup very easy)

In a large mixing bowl, using either a stand mixer or an electric hand mixer, cream the butter with the brown sugar and sugar. Add the eggs, one at a time, incorporating well. Scrape the bottom and sides of the bowl with a rubber spatula occasionally. Add the bananas, vanilla extract and sour cream to the mixture and combine. Add the flour, baking soda, baking powder, and salt, stirring to combine. Once mixed thoroughly, fold in the pecans.

Divide the batter evenly into the prepared baking pans. Place the baking pans on a half sheet pan, lined with parchment paper. Bake for 50-60 minutes, or until a toothpick when inserted comes out clean. Rotate your breads once through the baking process, so they bake evenly. Let cool on baking racks.
Save
Save
Save
Save
Save
Save
Save
Save
Save
Save