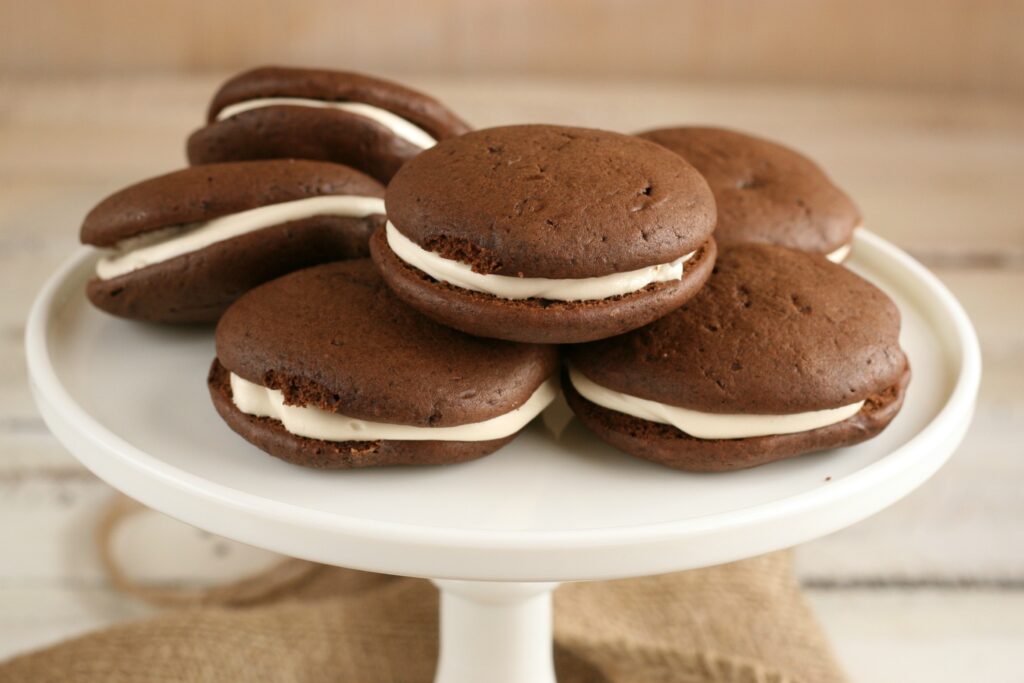 Who doesn't love moist chocolate cake? I know you're gonna love my Chocolate Whoopie Pies with Peanut Butter Frosting. One of my most popular desserts, rooted in New England with these moist, chocolatey cakes. Easy to make on a sheet pan and topped with peanut butter cream cheese frosting. It's just the right amount of peanut butter. I've been making these for years and everyone loves them!
They are super simple to make. This is the kind of cake that is even more moist the second day. The combination of chocolate and peanut butter is amazing! This recipe makes twelve Whoopie pies. But, the good news is they freeze perfectly. So make a batch and plop them in the freezer. They thaw perfectly and quick, so you'll have dessert ready when you crave it! I package them in six-inch clear clam shells, to keep them from getting mushed. But, you could just put them in a Rubbermaid container if you don't have access to clam shells.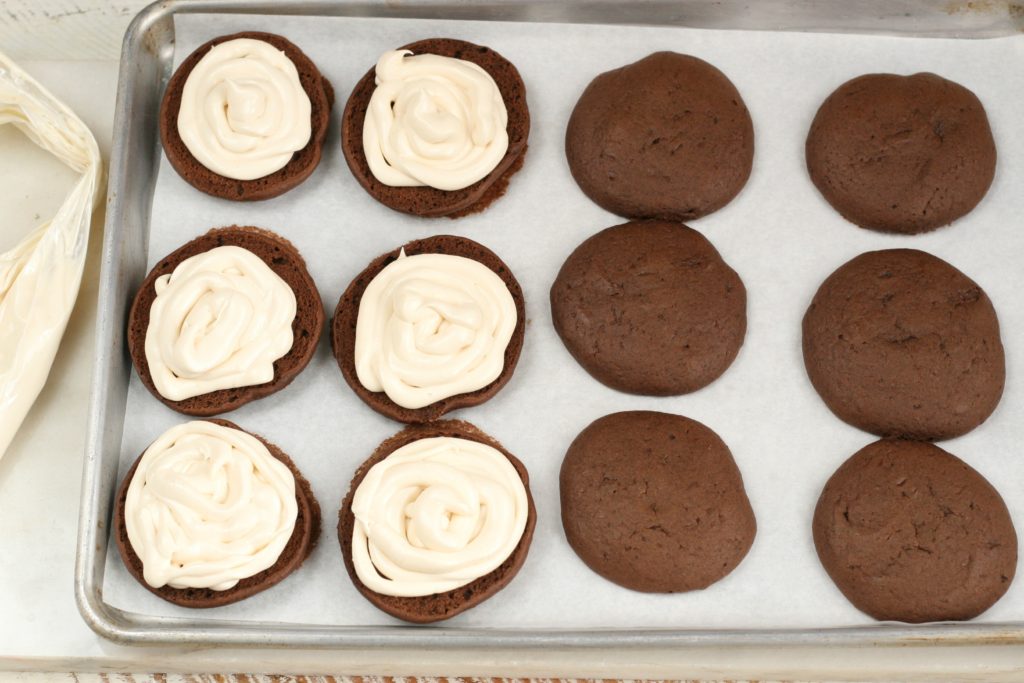 To make your life easier, put the frosting into a disposable pastry bag, cut off the end and pipe onto half of the cooled Whoopie pies. Then simply place on the top cakes. It's as simple as that! If you happen to have allergies to peanut butter, you can simply eliminate that and do a regular cream cheese frosting. But, we really love the subtle taste of peanut butter with our moist chocolate cakes. Let me know if you make these and how they taste!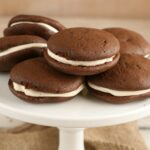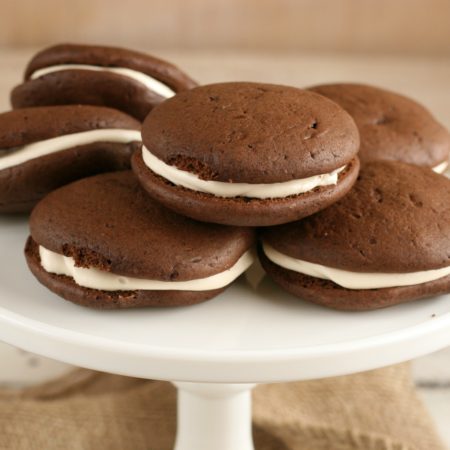 Chocolate Whoopie Pies with Peanut Butter Frosting
Ingredients
1/2

cup

vegetable shortening

1/2

cup

granulated sugar

1/2

cup

packed brown sugar

1

teaspoon

pure vanilla extract

2

large eggs

room temperature

1/2

cup

sour cream OR full-fat Greek yogurt

1

cup

whole milk

3/4

cup

unsweetened cocoa powder

2 1/2

cups

all-purpose flour

1

teaspoon

salt

1

teaspoon

baking powder

1/2

teaspoon

baking soda

Peanut Butter frosting:

1

cup

vegetable shortening

4

cups

powdered sugar

1/2

teaspoon

salt

4-

ounces

cream cheese

softened

1/2

cup

peanut butter

3-4

tablespoons

whole milk
Instructions
Preheat the oven to 350 degrees F.

In a mixing bowl, cream together the shortening and the sugar. Add the eggs, one at a time and combine. Add the vanilla extract. Sift together the flour, salt, baking powder, baking soda, and cocoa powder.

Alternating, add the dry ingredients and the milk and sour cream. Scrape the sides and bottom of bowl occasionally with a rubber spatula.

Scoop the batter out onto two half sheet pans lined with parchment paper. Scoop using two tablespoons, making rounds. Bake for 12-14 minutes, or until the cakes are set. Use your finger, gently touching the top of the cakes to be sure. Let cool completely. Spread peanut butter frosting on the flat side of ta cooled cake and sandwich together with another cake.

For the frosting:

In a large mixing bowl, use the beater attachment to cream together shortening, cream cheese, peanut butter, and powdered sugar. Add salt and whole milk until whipped and creamy. Adjust the milk as needed.
A Farmgirl's Kitchen is a participant in the Amazon Services LLC Associates Program, an affiliate advertising program designed to provide a means for sites to earn advertising fees by advertising and linking to amazon.com