Homemade dill pickles are the perfect combination of salty, sweet and tangy! Crunchy dill pickles made in about 20-minutes!
Fresh pickling cucumbers and a flavorful brine create a delicious crisp pickle. These easy to make pickles recipe requires no canning! Crunchy, tangy dill pickles are great as a snack, with a sandwich or a burger.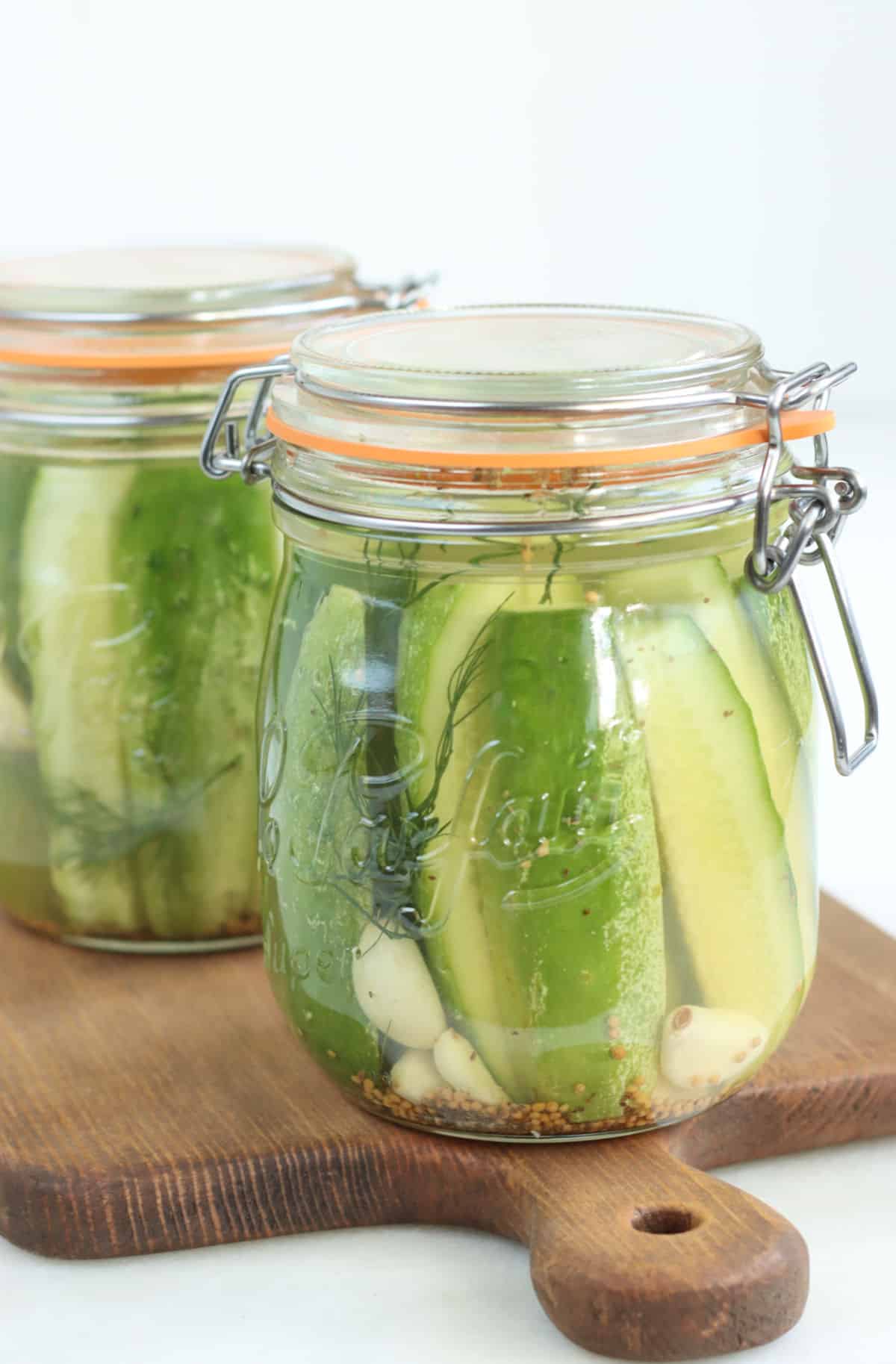 Once you try this pickle recipe you'll never want to buy pickles from the grocery store again! They're super easy to make and filled with a wonderful tangy, garlic dill flavor.
We've been buying refrigerated dill pickles from our favorite retailer and loved them. I was challenged to make homemade pickles that were just as good- or even better! And let me tell you, these garlic dill pickles are incredible! (So flavorful and crispy!)
Anyone can make these incredibly delicious refrigerator pickles. Believe me, the jar of pickles will not last! If you enjoy dill pickles, you're going to absolutely love this recipe!
Why this recipe works
Simple to make pickle recipe using easy to find ingredients.
No canning required for these refrigerated dill pickles.
Creates a crispy and tangy dill pickle with in minutes.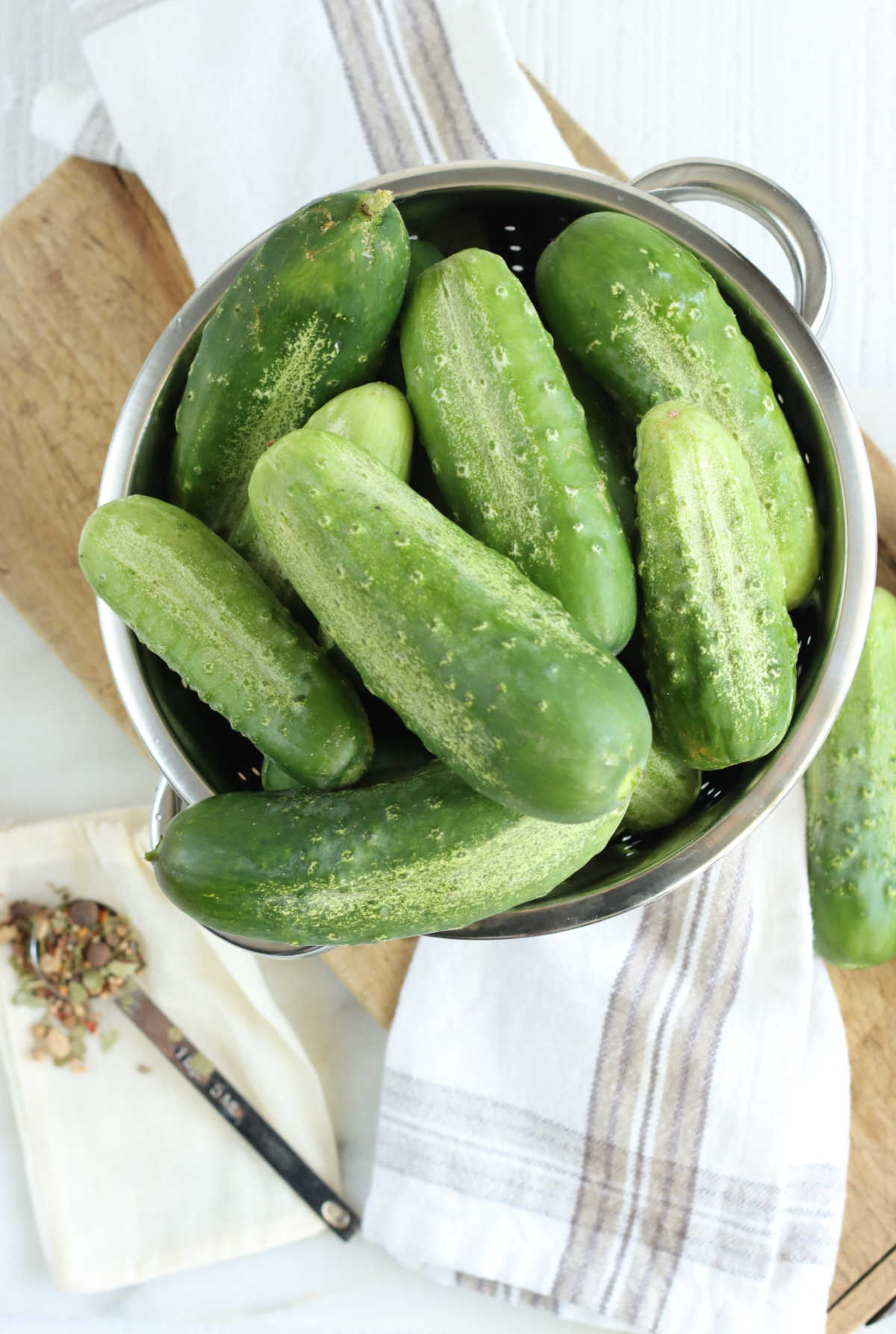 What you'll need
Pickling cucumbers – You can either grow your own, buy at the farmers market or find them in the grocery store. They have a thicker skin that holds up better when pickling and have less seeds.
Vinegar – We use distilled white vinegar which helps to preserve and make them into pickles.
Salt – Use pickling or Kosher salt which add flavor and is key to home canning. (Do not use table salt!)
Sugar – Provides a little bit of sweetness and balance to the pickling brine.
Pickling spice – Gives a wonderful flavor to this homemade pickle recipe. Make your own or purchase here.
Garlic – Adds a delicious garlic flavor. Save yourself time and buy pre-pealed garlic cloves in the refrigerated area of the produce section.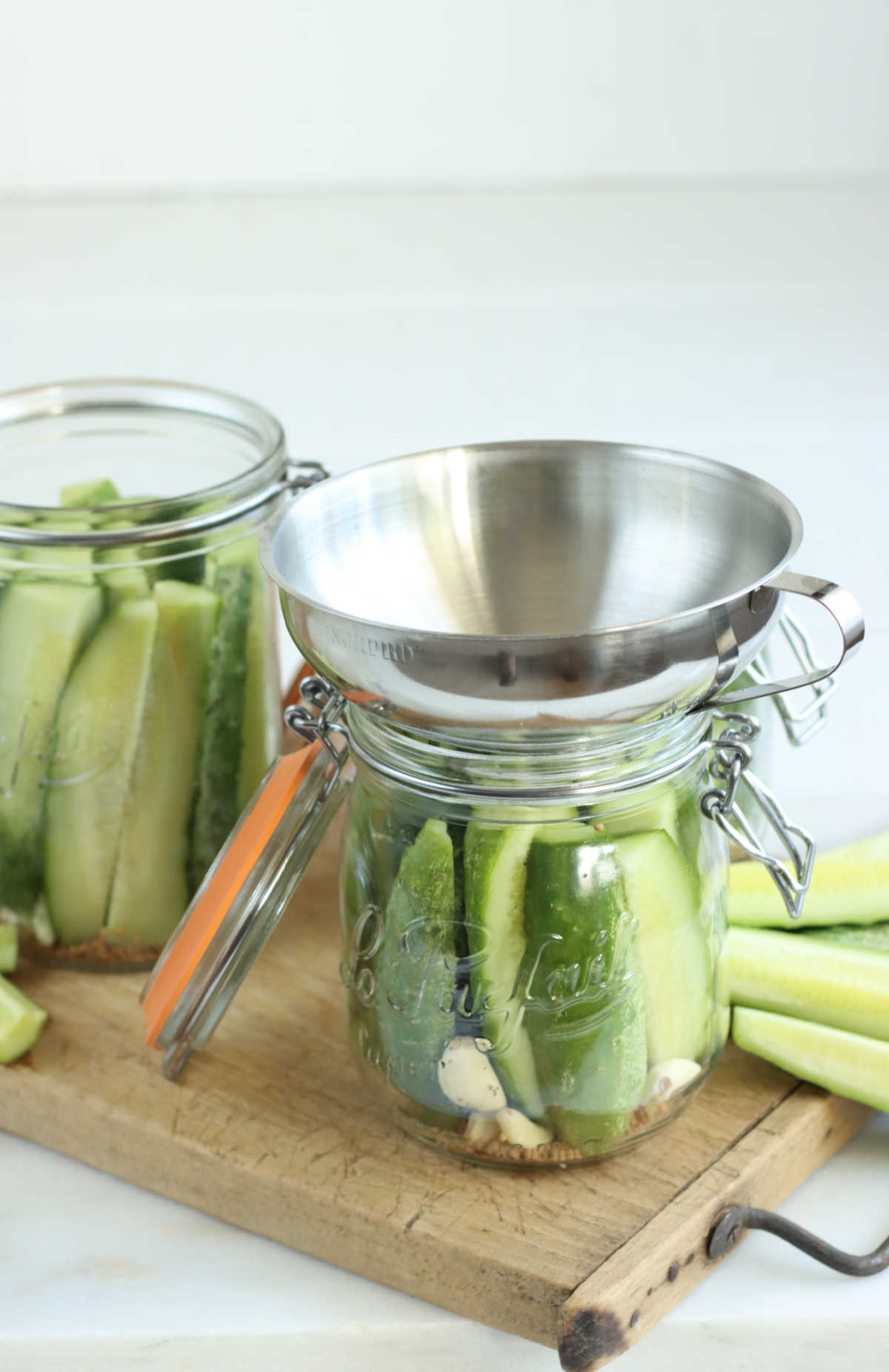 How to make make Dill Pickles
Wash and slice the cucumbers. Cut the ends off and slice lengthwise into quarters to make spears or cut into ½-inch slices for dill pickle chips.
Make the brine. Combine the ingredients in a large pot over medium heat and simmer for 10-minutes. Use a cheesecloth baggie to hold the pickling spice.
Fill the jars. Add peeled garlic cloves, mustard seeds, celery seed and fresh dill into each jar. Divide the cucumbers evenly among sterilized canning jars. (Sterilize jars by running them through the dishwasher or placing boiling water for 10-minutes.)
Pour brine over pickles. Remove the cheesecloth and press out any brine in it into your pot. Ladle the hot brine over each jar of cucumbers. Place lids with seals on the jars and let cool to room temperature.
Chill the pickles. Place the jars into the fridge so the flavors can marinade. For the best flavor, let spears sit in the fridge for 48 hours before enjoying.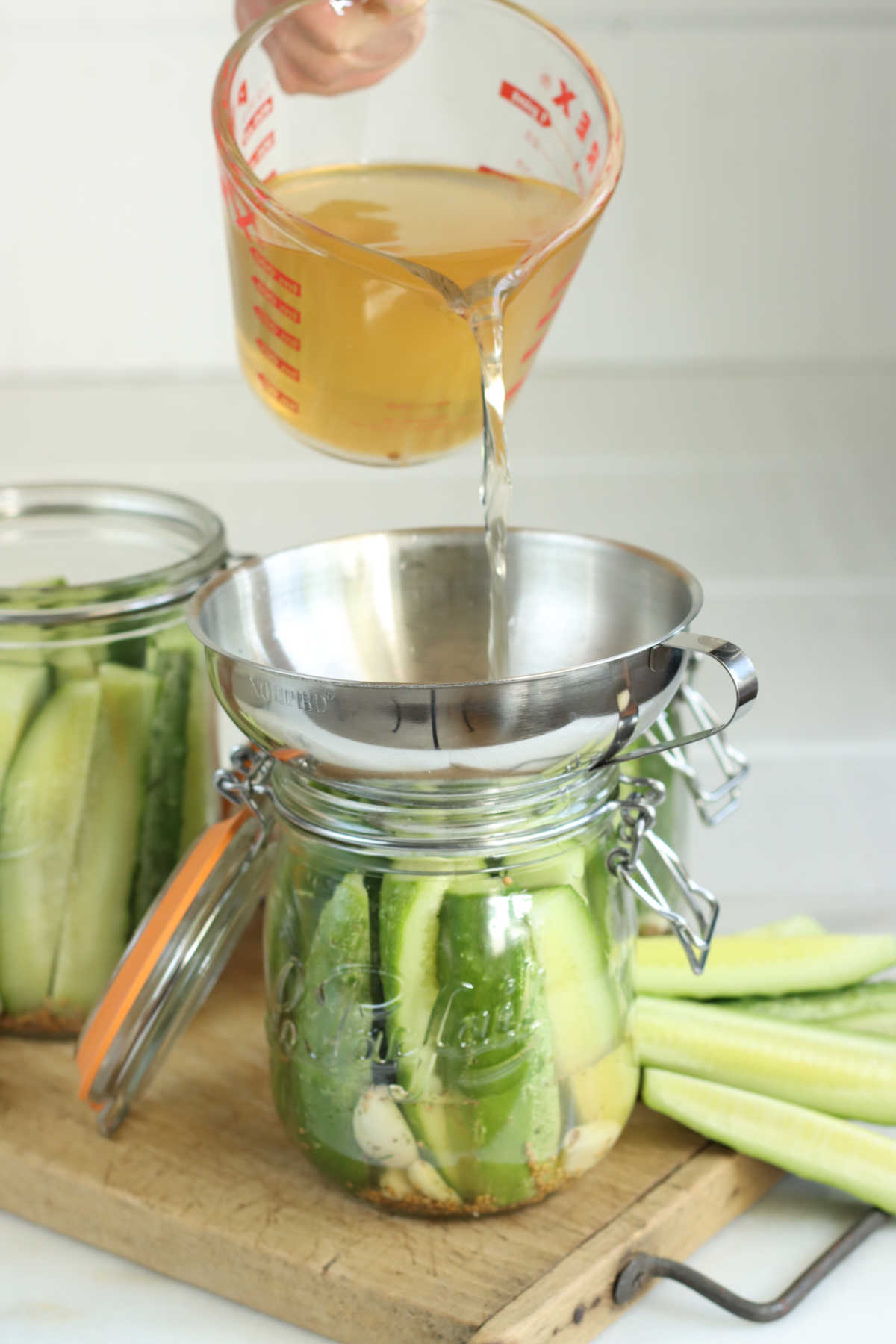 We grow our own pickling cucumbers on white PVC lattice. This keeps them up off the ground and helps save space in our vegetable garden. We train the cucumber vines to grow up the lattice and maintain them daily.
Don't grow your own cucumbers? No worries, just buy at a local farmers market or farm stand. For this pickle recipe, I grew my own fresh dill. But, you can also ask your produce manager to order some for you.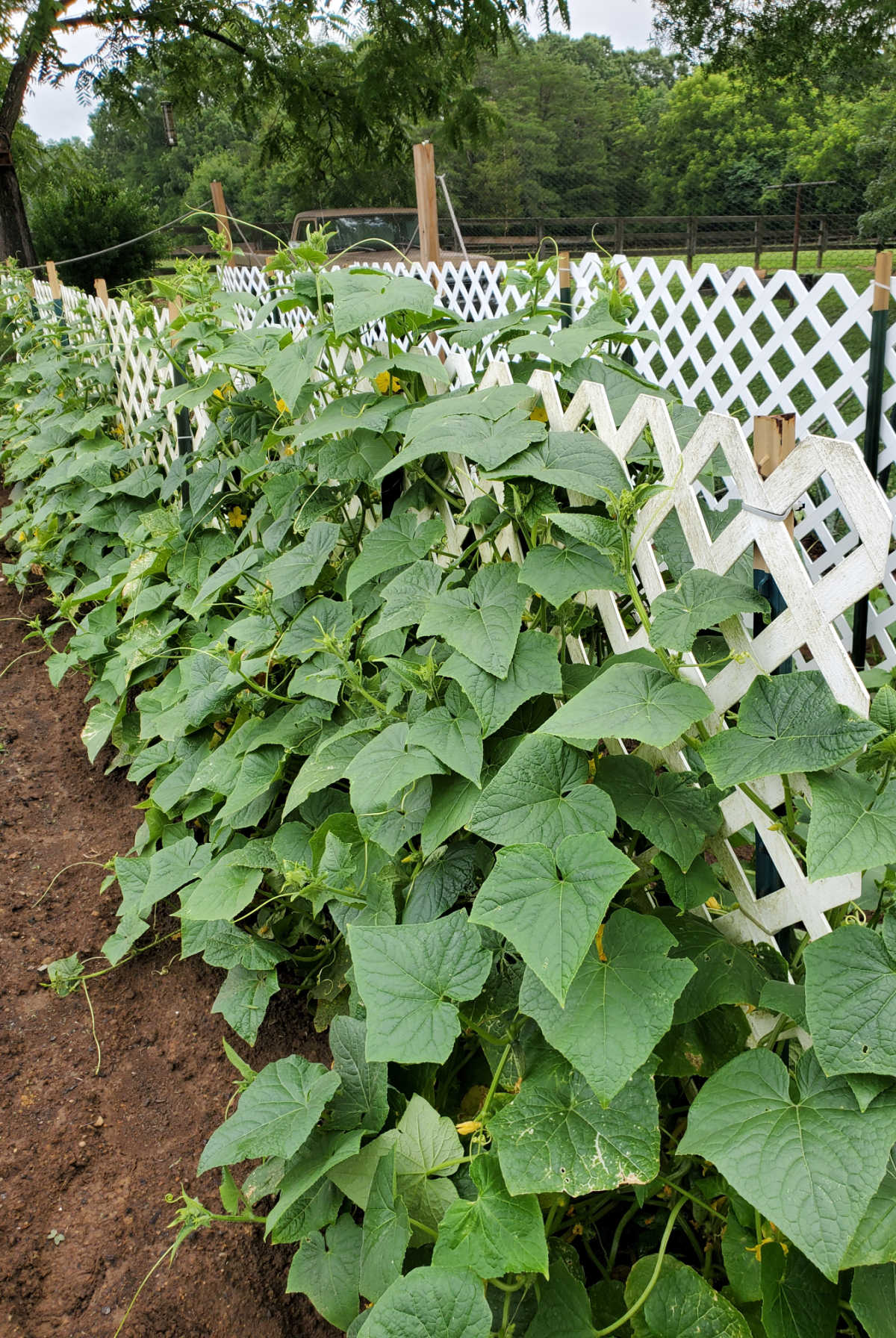 More Home Canning and Pickle Recipes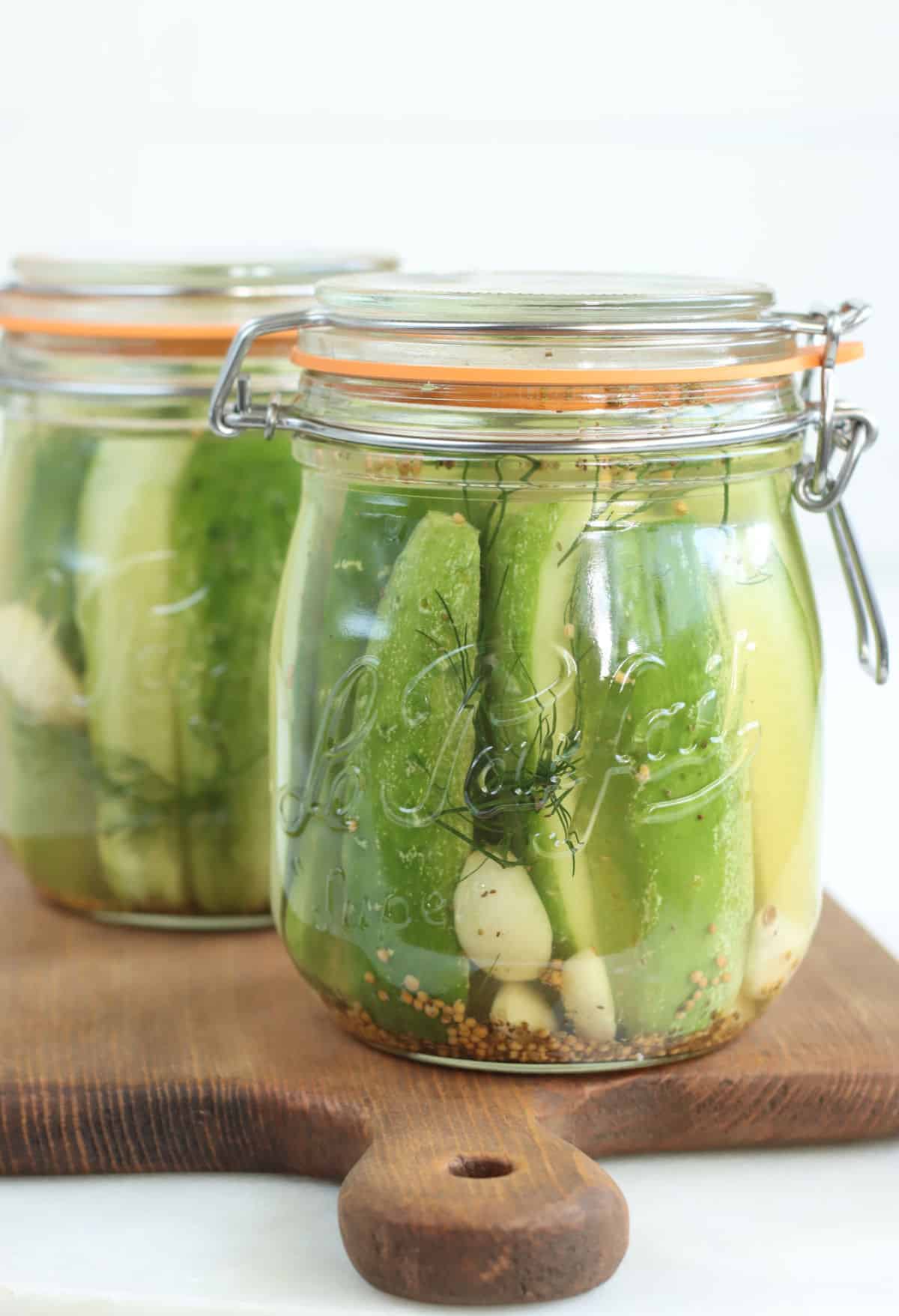 Recipe FAQs
Which vinegar is best for pickling?
This is the most common choice for pickling and has 5% acidity. It's clear in color, has a mellow flavor and will not discolor your produce.
Do you have to boil brine for refrigerator pickles?
Boil the brine to dissolve sugar, salt and infuse with pickling spice, slice the cucumbers, add them to sterilized jars and pour hot brine over. Cool to room temperature and refrigerate.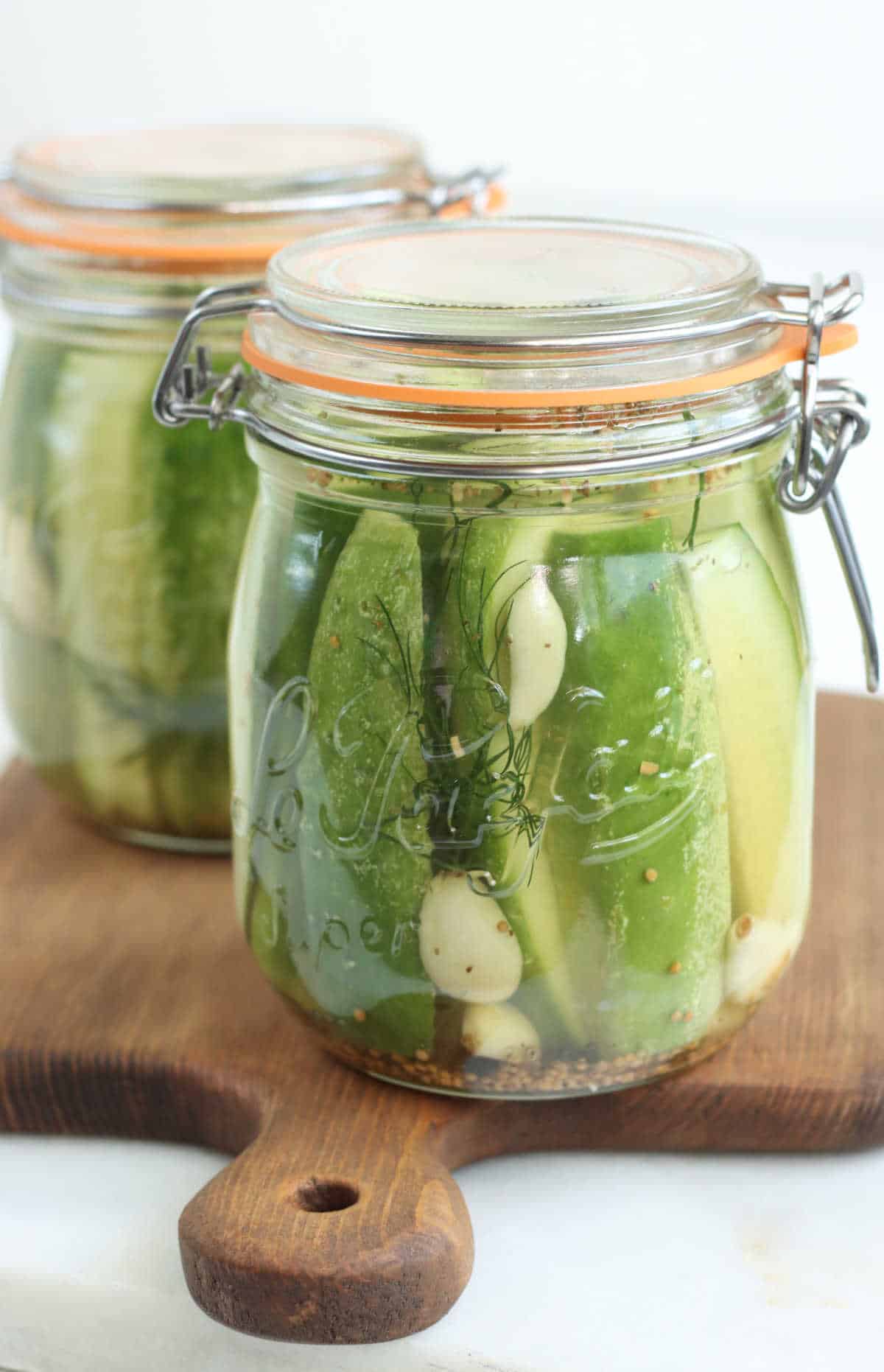 Did you make one of my recipes? Please take a moment to leave a star rating. Also, if you are on Pinterest, please feel free to leave a comment there and a photo if you have one! Follow A Farmgirl's Kitchen on FACEBOOK and PINTEREST and subscribe my mailing list for ALL the latest recipes!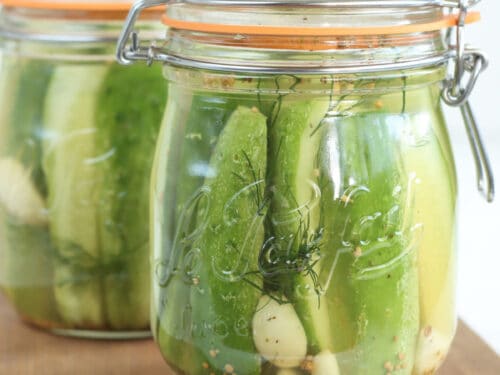 Print
Refrigerated Dill Pickles
Homemade dill pickles are the perfect combination of salty, sweet and tangy! Crunchy dill pickles made in about 20-minutes!
Ingredients
Refrigerated Dill Pickles
10-12

pickling cucumbers

(cut lengthwise)

3

cups

water

2

cups

distilled white vinegar

¼

cup

granulated sugar

3

tablespoons

pickling or kosher salt

2

tablespoons

pickling spice

5

teaspoons

mustard seed

1 ¼

teaspoons

celery seed

garlic cloves

(peeled)

fresh dill or dill seeds
Instructions
Refrigerated Dill Pickles
Sterilize your jars by either running them through the dishwasher or simmering in boiling water for 10 minutes.
Make the brine
In a large pot heat the water, vinegar, sugar and salt over medium heat and bring to a boil.

Add the pickling spice to a piece of cheesecloth or cheesecloth bag and let simmer for in the brine for about 10 minutes. Stir occasionally with a spoon.

Wash the cucumbers in cold water and cut the ends off. Cut the cucumbers into spears, halves or ½-inch rounds.
Fill the jars
In each jar, add 1 teaspoon mustard seed, ¼ teaspoon celery seeds, several peeled garlic cloves and several fresh dill pieces. (or use dill seeds)

Divide the cucumbers between the jars. They should fit rather tightly.

Ladle the hot pickling brine over the cucumbers, covering them completely. Leave about ½-inch head space.

Wipe any brine from the edges of the jars with a clean damp paper towel. Put lids with rings on the jars.

Let the jars cool to room temperature before placing them in the refrigerator.

For the best flavor, let marinade in the fridge for about 3 or 4 days before enjoying. They will last in the fridge for about 2 months.
Recipe Notes
Using Pickling Spice:
We highly recommend using a cheesecloth baggie. They are super convenient and keep the pickling spice contained. (Pickling spice often has pieces of chopped bay leaves and can be harmful if swallowed.)
Slicing cucumbers:
Cut cucumbers lengthwise for spears, halves or cut into chips.
Fresh Dill:
Fresh dill is best. You can easily grow your own from seed OR ask the produce manager at your local grocery store to order you some.
This recipe makes about 5-6 pints (16-ounce) jars of Dill pickles.
Nutrition
Calories:
48
kcal
|
Carbohydrates:
8
g
|
Protein:
1
g
|
Fat:
1
g
|
Saturated Fat:
1
g
|
Polyunsaturated Fat:
1
g
|
Monounsaturated Fat:
1
g
|
Sodium:
1316
mg
|
Potassium:
273
mg
|
Fiber:
2
g
|
Sugar:
6
g
|
Vitamin A:
139
IU
|
Vitamin C:
6
mg
|
Calcium:
41
mg
|
Iron:
1
mg
Disclosure: As an Affiliate Marketer, I earn from qualifying purchases. If you click a product affiliate link on A Farmgirl's Kitchen and make a purchase, I may receive a commission at no additional cost to you! I own every cooking product I recommend and love how they perform.