Homemade Apple Fritters are a fried doughnut filled with apple pie filling, cinnamon, and drizzled with a simple glaze.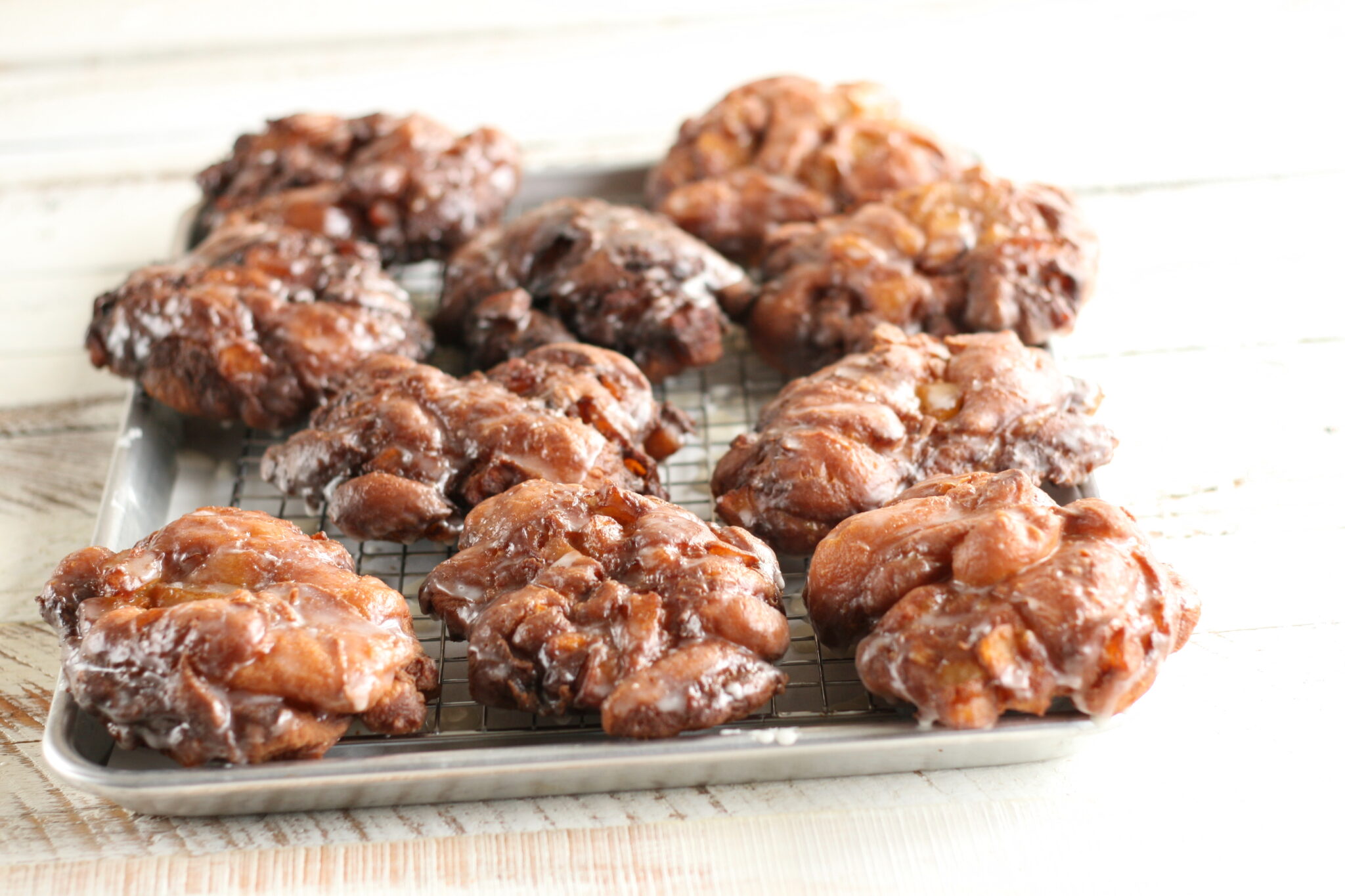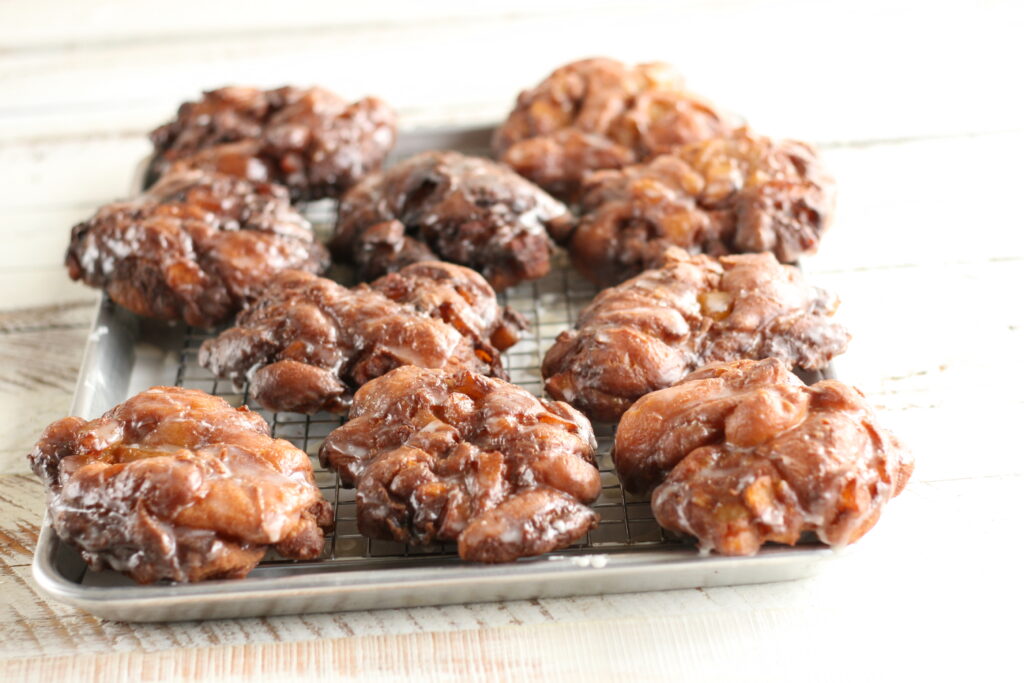 Apple Fritters Recipe
Homemade Apple Fritters are slightly different in the South than the ones traditionally made in New England. These glazed apple fritters are made with a doughnut dough and homemade apple pie filling.
You can make them the night before and plop in the fridge. For more great apple recipes be sure and try Apple Crisp, Apple Hand Pies, Homemade Pie Crust, Apple Pie Recipe, and Caramel Apples.
For the technique of how to assemble them, you've got to watch this video. This will help guide you on how to make them. (I don't flatten them quite as much as this gentleman does) But you'll get the idea. After the fritters are fried, you can squeeze in more apple pie filling using a pastry bag with wide tip.
How to make Apple Pie Filling: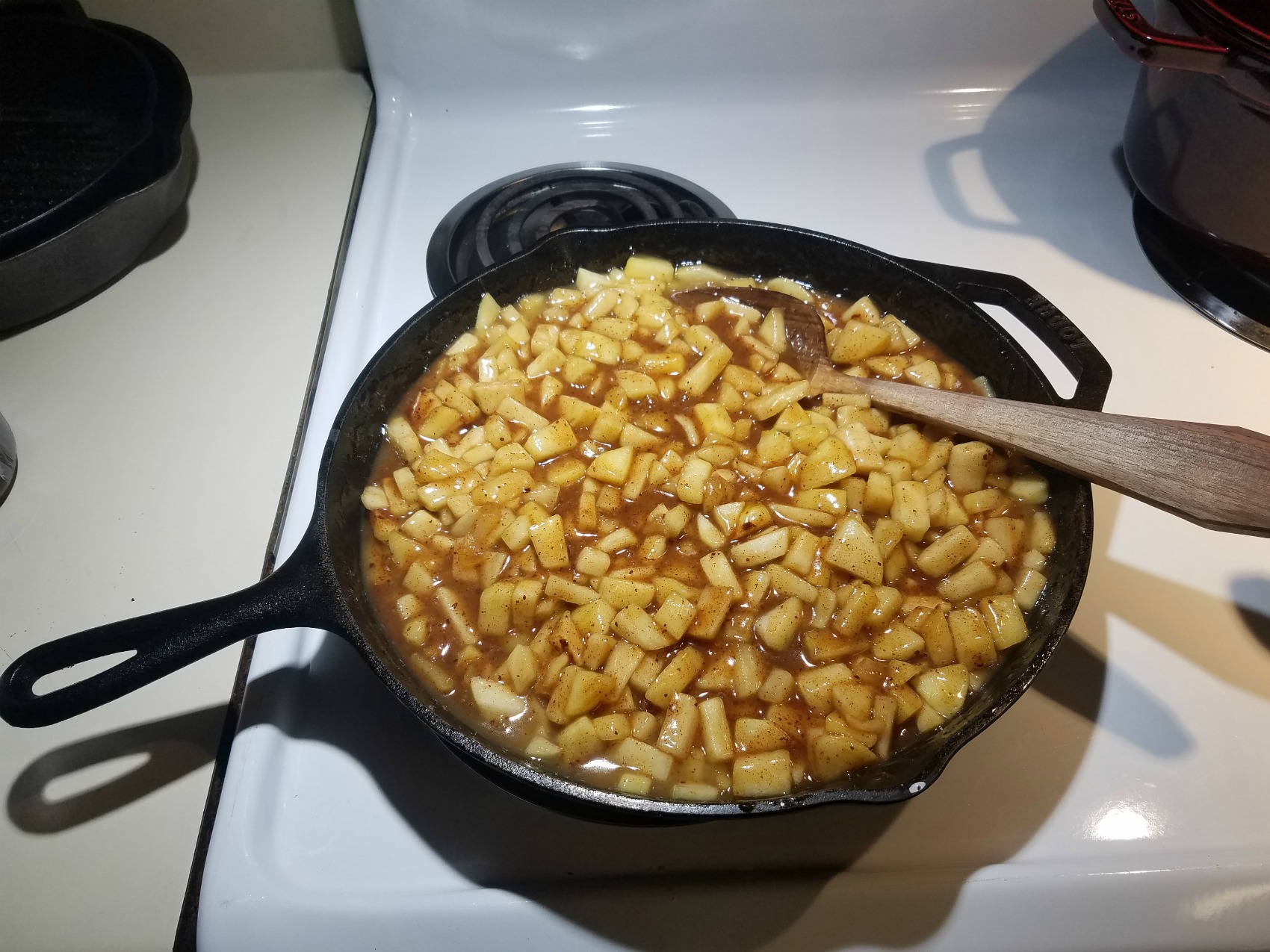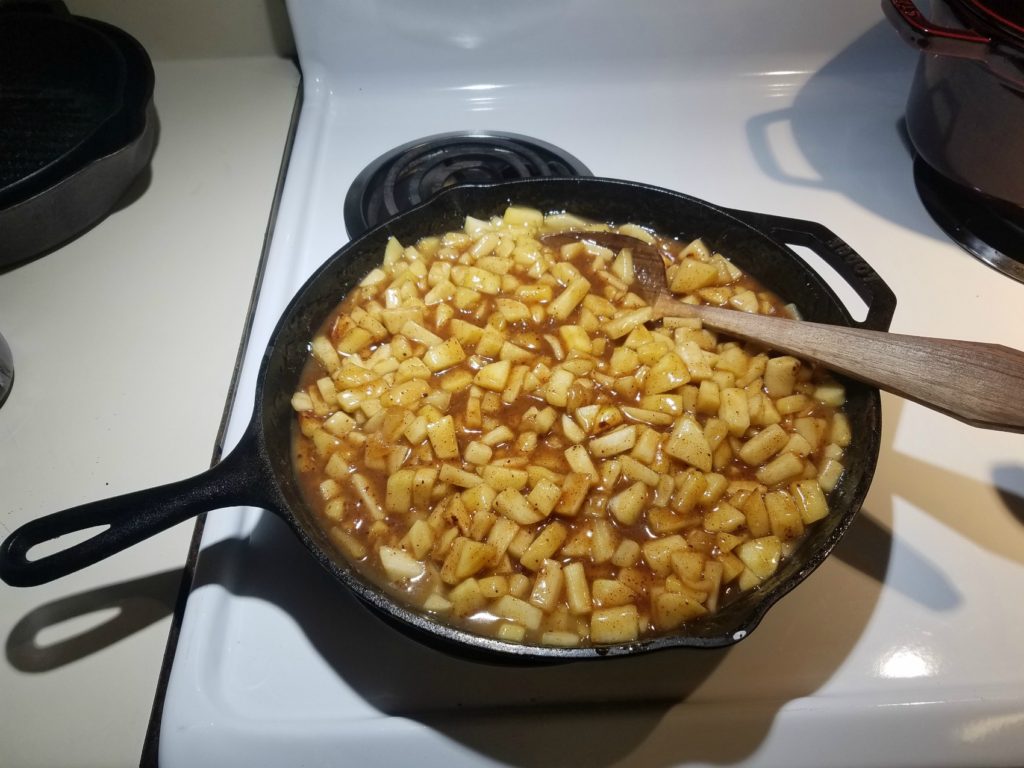 Homemade Apple Pie Filling is super simple to make. I use a combination of Granny Smith and Braeburn apples. I've found this is a great combination. Granny Smith apples hold up a little better, while the Braeburn apples break down a bit.
Which is wonderful, because the apple that breaks down, gives you the sauce. And the crisp apple stays whole, giving you something to chomp your teeth into. I'm thrilled this recipe came out so good! I really hope you enjoy! Hope you all had a wonderful Thanksgiving and are getting ready for the holidays!
You can also make this apple pie filling and pipe it into the back of the apple fritters. Put the apple pie filing into a disposable pastry bag with a large pastry tip and pipe the pie filling into the bottom of the apple fritters. This same apple pie filling is used in my Fried Apple Hand Pies.
A FARMGIRL'S PRO TIP:
The dough is quite sticky– don't add more flour because otherwise you might make them tough. You want the dough to be light and airy. Hence why you let the dough rise twice, even before you assemble them into fritter.
Make Apple Fritters ahead of time:
Yes, this recipe takes some time. But, make them the day before- I usually make them in the afternoon/evening. Place them on a parchment lined half sheet pan, cover loosely with plastic wrap. Refrigerate overnight, then fry them fresh in the morning. (Go straight from the fridge to the fryer!)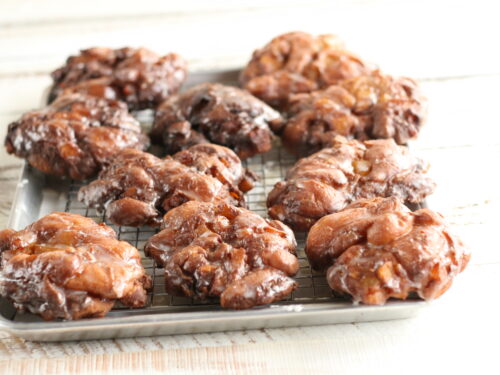 Print
Apple Fritters
Make these delicious homemade Apple Fritters with glaze using simple ingredients.
Ingredients
Apple Fritter Dough
2 1/4

teaspoons

1 packet active dry yeast

1/4

cup

lukewarm water

1 1/2

cups

milk

warm

1/4

cup

granulated sugar

2

tablespoons

honey

3

large eggs

room temperature

5 to 5 1/2

cups

all-purpose flour

1

teaspoon

kosher salt

1/2

cup

1 stick unsalted butter, softened
Apple Pie Filling
6

large apples

peeled, cored and chopped into small pieces

2-3

tablespoons

lemon juice

4

tablespoons

butter

1

cup

firmly packed brown sugar

1

cup

warm water

2

tablespoons

cornstarch

1

tablespoon

ground cinnamon

1

teaspoon

ground nutmeg
Apple Fritter Glaze
3

cups

powdered sugar

1

teaspoon

pure vanilla extract

3-5

tablespoons

whole milk
Instructions
Apple Fritter Dough
In a large mixing bowl of a stand mixer dissolve the yeast in the warm water. Add the warm milk, sugar, honey and eggs. Add the dough hook attachment, and stir in the flour and salt. Scrape the bottom and sides of the bowl occasionally with a rubber spatula. Cut the butter into small pieces and incorporate into the dough. Scrape the bowl a few times. Beat the dough until it becomes smooth, about 5-7 minutes.

Turn the dough out onto a floured work surface and knead for 5-6 minutes, making a smooth dough. This dough is going to be sticky when you turn it out. After kneading, shape into a round ball and place back into the greased mixing bowl. Cover loosely with plastic wrap and drape with a clean kitchen towel. Place in a warm area and let rise until doubled in size, about 1 hour. Turn the dough out onto a lightly floured work surface and knead the dough for a few minutes. Turn back into the greased bowl (spray with cooking spray again if needed) and let rise until doubled, about 1 hour.
Apple Pie Filling
While the dough is rising, make your apple filling. Place the butter and lemon juice in a 10-12-inch cast iron pan over medium heat. Place the chopped apple pieces and the brown sugar into the pan. Cook the apples over medium-high heat for about 10-15 minutes, until slightly soft. Dissolve the cornstarch in very warm water and pour over the apple mixture. Let bubble and thicken. Stirring with a wooden spoon so it does not burn. Remove from the heat once it's thickened and add the cinnamon and nutmeg. The apple mixture will thicken as it cools. Let cool completely. (to speed up this process, place the apples in a Pyrex measuring cup, then set the measuring cup in a large bowl that has plenty of ice- this will cool the apples quickly)
Assembling Apple Fritters
Turn the dough out onto a lightly floured work surface and roll out with a rolling pin. Making it into a rectangle shape, about 1/2-3/4-inch thick. Spread the apple filling evenly over the dough. Sprinkle generously with ground cinnamon. Sprinkle over that, generously with all-purpose flour. (about 1/2 cup or so). This will help absorb some of the moisture from the filling.

Roll up, starting at the long end, like you would cinnamon rolls. Cut the dough on a diagonal, then back the other way. You want to end up with pieces about the size of a quarter. Gently push the pieces back into small patties (about 3-4 inches in diameter). You'll want to sprinkle the pieces with flour as you go. This will be a sticky mess. But well worth the time, effort and mess involved.

Place the apple fritter patties on lined half sheet pans. (you should get about 3 rows of 3 on each sheet pan) Cover loosely with plastic wrap and refrigerate for 2-3 hours, or overnight.

While they are in the fridge, whisk together your icing. Cover with plastic wrap and set aside. You want it to be fairly thin.

While the oil heats up, let the trays of apple fritters warm up on your kitchen counter. Fry in 375 degree F canola oil. About 2-3 minutes per side. Flip carefully. Once fried, place them on a sheet pan lined with plenty of paper towels to absorb some of the excess oil. Let cool slightly before dipping only the tops in the icing. Let drip dry on a cooling rack, placed on a parchment lined half sheet pan. Once the icing is set, enjoy!
Nutrition
Calories:
390
kcal
|
Carbohydrates:
75
g
|
Protein:
7
g
|
Fat:
7
g
|
Saturated Fat:
4
g
|
Cholesterol:
36
mg
|
Sodium:
162
mg
|
Potassium:
154
mg
|
Fiber:
3
g
|
Sugar:
32
g
|
Vitamin A:
250
IU
|
Vitamin C:
2.5
mg
|
Calcium:
44
mg
|
Iron:
2.7
mg
Disclosure: As an Affiliate Marketer, I earn from qualifying purchases. If you click a product affiliate link on A Farmgirl's Kitchen and make a purchase, I may receive a commission at no additional cost to you! I own every cooking product I recommend and love how they perform.