All American dessert is Best Ever Homemade Apple Pie. Baked in a Lodge cast iron skillet and using seasonal, locally grown apples.
Growing up on a small farm, we always had homemade pies for dessert. My dad is French Canadian and it's a fact, you must serve bread with dinner and have dessert. After I got married, we moved 6 miles away into our first house. And, I remember he was lost after I moved out. Because I always cooked dinner. So, several times a week he would join us for dinner. And if it was last minute, I'd scramble to whip up something for dessert. Because, you could be for certain he'd expect dessert! Inspired from my rural upbringing, you'll want to try the Best Ever Homemade Apple Pie. This all-American dessert is a must in our household!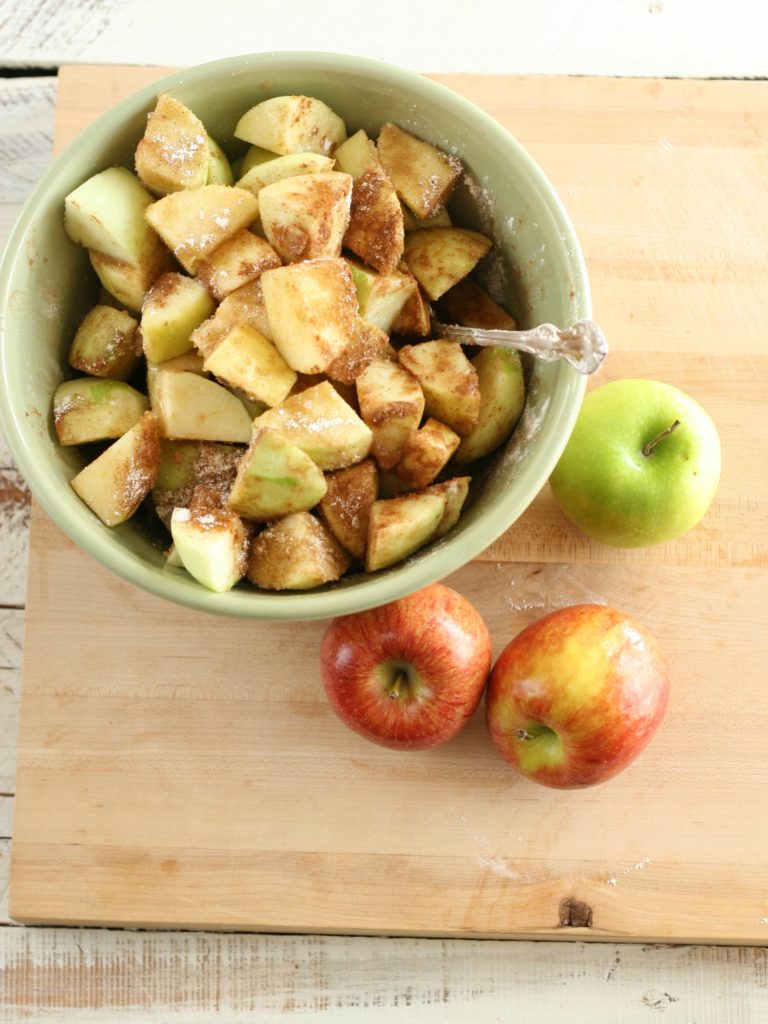 At my parent's farm, we pretty much used the sugarhouse kitchen exclusively and hardly ever cooked or baked anything in the farmhouse. If you're wondering what a sugarhouse is, it's where we boil down sap that comes from maple trees and make it into pure maple syrup. I had baked an apple pie in the sugar house and carried it into the house for dinner, straight out of the oven. And, dropped it on the mudroom floor. That was heart breaking!
Now, traditionally we always baked apple pies or any sort of pie in a glass pie dish. But, over the last few years, I've found that there's nothing quite like baking a homemade pie in cast iron. The bottom crust and filling cooks perfectly. No soggy bottom crust, ever. If you're looking for a great cast iron pan to bake a pie in, you'll find a great selection on Amazon! I'm loving their 2-handle pans! (The 17-inch one is great for homemade pizza and the 12-inch or 10.25-inch are great for pies and everything else!)
Don't forget to order sheets of parchment paper. They are so much easier to work with than the roll!

How do I make my pie crust flaky?
Always keep your pie dough cold. Place it back into the fridge if needed. This keeps the fat particles cold and make the pie dough flaky.
Baker's Tip:
Sometimes I just use a simple crust and use a sharp knife to cut air vents in the top. Other times, I love a simple weaved crust. Just take a small pizza cutter or pastry cutter to cut strips of pastry dough. Then weave them back and forth. Tuck under the ends and crimp the edges with your finger or press down with a fork. Brush with an egg wash and bake for a little over an hour. My mom always liked the apples to be slightly soft, so that's the way we prefer our pie. If you like your apples a little more firm, you can bake for less time. Let the pie cool before slicing, so your filling can set.
For more Apple recipes:
Do you love my recipes?! I'd LOVE to hear from you! If you have a moment, leave a comment with a star rating.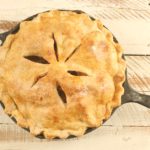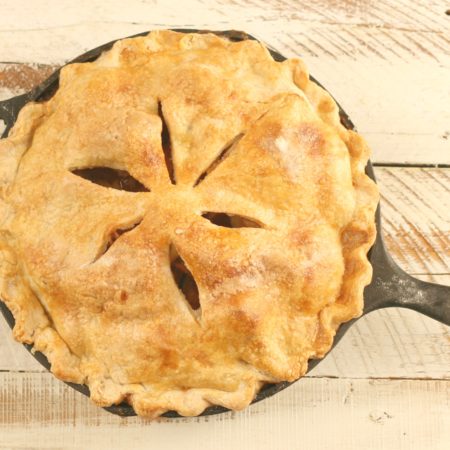 Best Homemade Apple Pie
All American dessert is Best Ever Homemade Apple Pie. Baked in a Lodge cast iron skillet and using seasonal, locally grown apples.
Total Time
1
hour
20
minutes
Ingredients
6

granny smith apples

peeled and cut up

6-8

Macoun or McIntosh apples

peeled and cup up

1

cup

granulated sugar

adjust based on how tart your apples are

3-4

tablespoons

lemon juice

4

tablespoons

instant tapioca

2

teaspoons

ground cinnamon

1/2

teaspoon

ground nutmeg

pie crust

either homemade or store bought
Instructions
Place the apple pieces into a large bowl and coat with lemon juice, tossing with your hands or a large spoon. Set aside.

On a lightly floured work surface, roll out the bottom crust. Spray a 10 or 12-inch cast iron skillet with cooking spray or lightly coat with canola oil, using a clean paper towel. Place the rolled out crust in the bottom. Gently press into the pan lightly, using your fingers. Use kitchen sheers to trim the edges of the crust, to about 1/2-inch past the pan rim.

Use a slotted spoon to scoop the apples into the pan. Discard the remaining lemon juice. Sprinkle with sugar, cinnamon, nutmeg, and instant tapioca.

Roll out the top crust. Cut strips, using a small pizza cutter or pastry cutter. Place strips of pie crust all going one direction over the prepared pie. Pull back every other strip and place another strip of pie crust, going the opposite direction. Gently place the pie strips you pulled back, back into place. Repeat until you have completely covered the pie.

Trim the edges of pie crust with kitchen sheers and roll under the crust. Crimp with your fingers or press with a fork. Brush with an egg wash and sprinkle with granulated sugar.

Place in a preheated 400 degree F oven for 1 hour. When the crust is browned nicely, about half way or three quarters through baking, cover with a piece of aluminum foil. Slice a hole in the center of aluminum foil using a knife or kitchen shears. This will let the steam escape, allowing the pie to continue cooking and while not burning the crust. Use a sharp knife to check the softness of the apples. Let cool for at least an hour before slicing. This will allow the pie filling to set. Enjoy with vanilla ice cream and whipped cream.
A Farmgirl's Kitchen is a participant in the Amazon Services LLC Associates Program, an affiliate advertising program designed to provide a means for sites to earn advertising fees by advertising and linking to amazon.com