Apple Cider Doughnuts are a cake style doughnut rolled in a cinnamon sugar mixture. Apple Cider Donuts are simple to make and will remind you of fairs and apple orchards.

Do you remember fair food? Or delicious homemade Apple Cider Doughnuts from a local apple orchard? These homemade doughnuts rolled in cinnamon sugar will remind you of days spent at an old-fashioned fair or the local apple orchard. The wonderful addition of small pieces of apples will make your mouth water.
How to make homemade apple cider doughnuts?
This delicious, cake style doughnut is made with boiled down apple cider, buttermilk, butter, flour, and sugar. Let the apple cider cool completely before adding it to the mixing bowl.
While they are still warm, roll in cinnamon sugar mixture or dip in a thin glaze.
Glaze: (2 cups powdered sugar, 1 teaspoon of pure vanilla extract, 2-3 tablespoons whole milk, whisked together)
You'll need a rolling pin and a doughnut cutter. Order a doughnut cutter on Amazon. Unless you have a small, independently owned kitchen store, a doughnut cutter is a bit hard to find.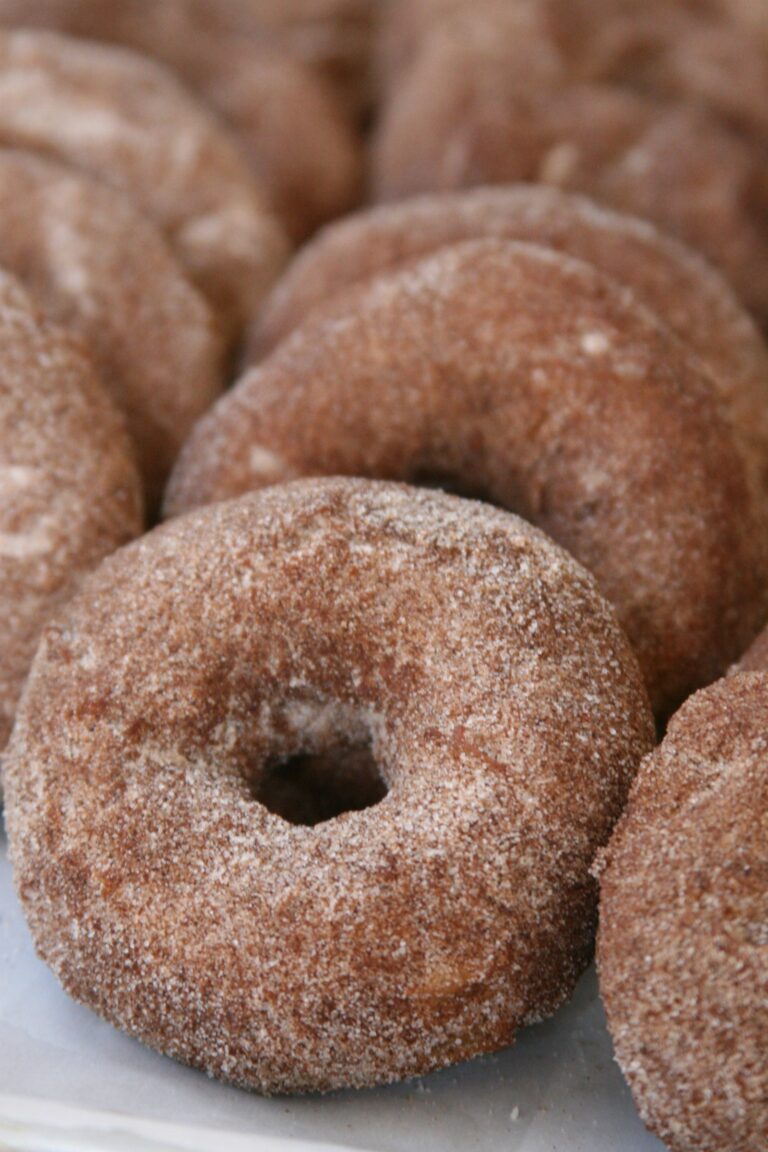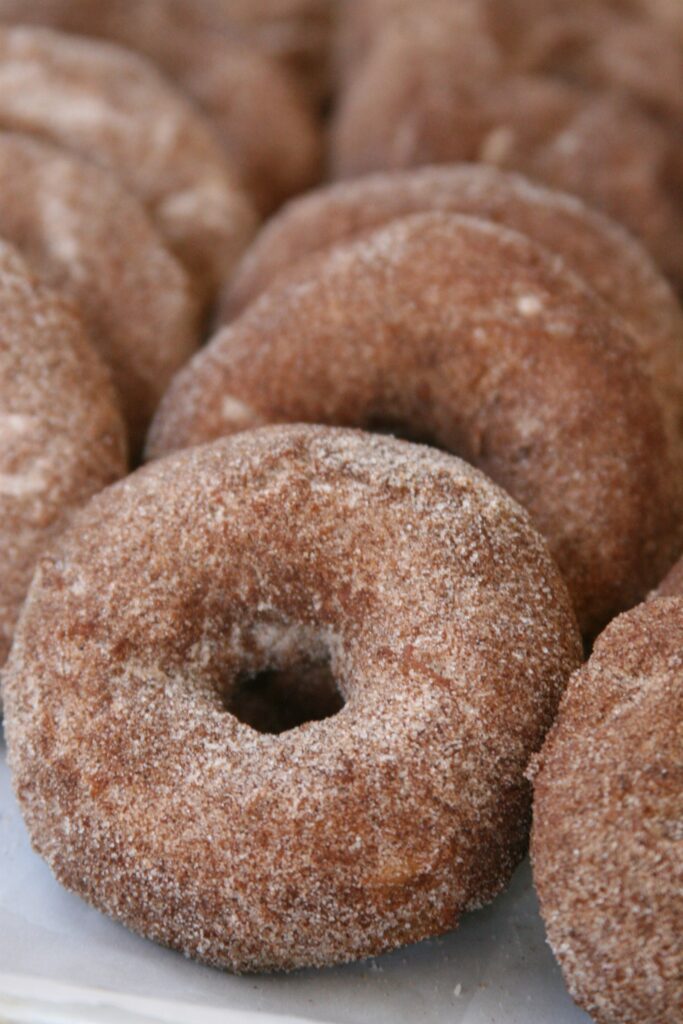 Make these doughnuts the night before, place them on half sheet pans lined with parchment paper and loosely cover with plastic wrap. Place the sheet pans in the fridge until the next morning and you can fry them up fresh. This helps keep your work to a minimum. And, there's nothing like a freshly fried doughnut with a cup of coffee!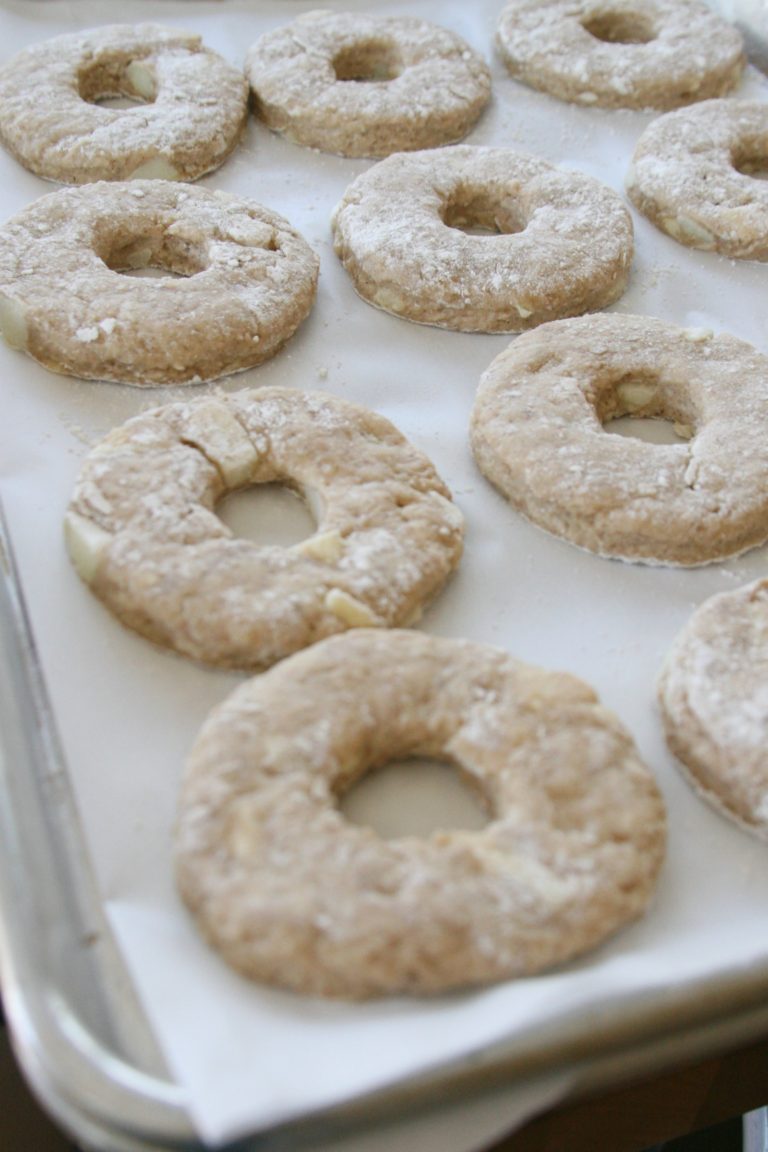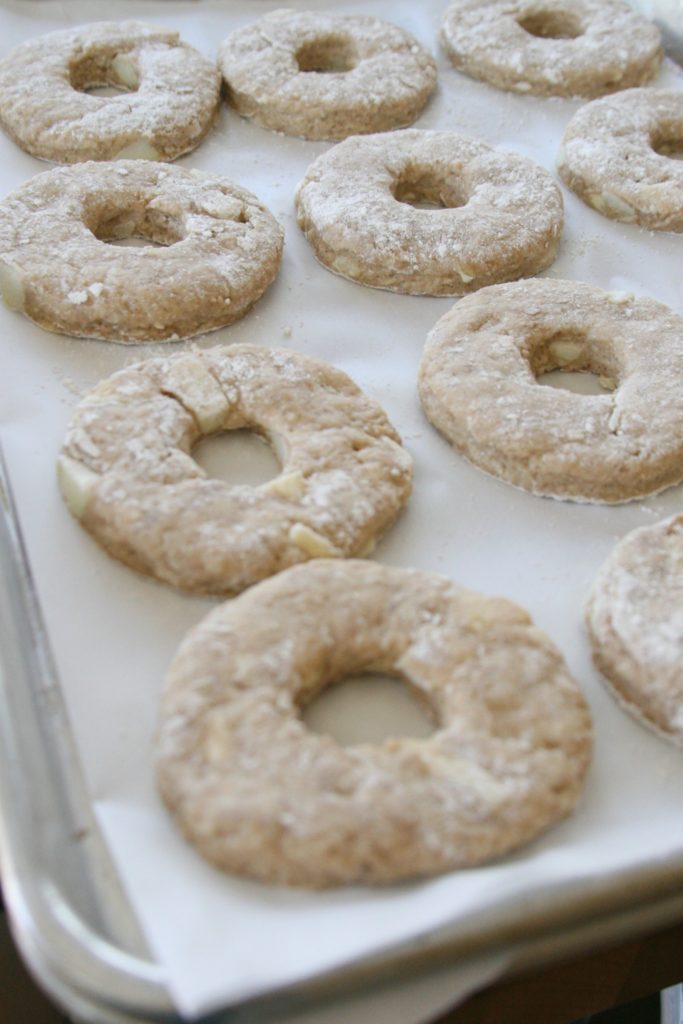 Don't forget to order a few of these doughnut cutters. They are the perfect size. I like to have a few, so I always have a clean one ready to go! For more great donut recipes, check out Pumpkin Spice Donuts, Blueberry Cake Donuts, Glazed Donuts, and Red Velvet Donuts.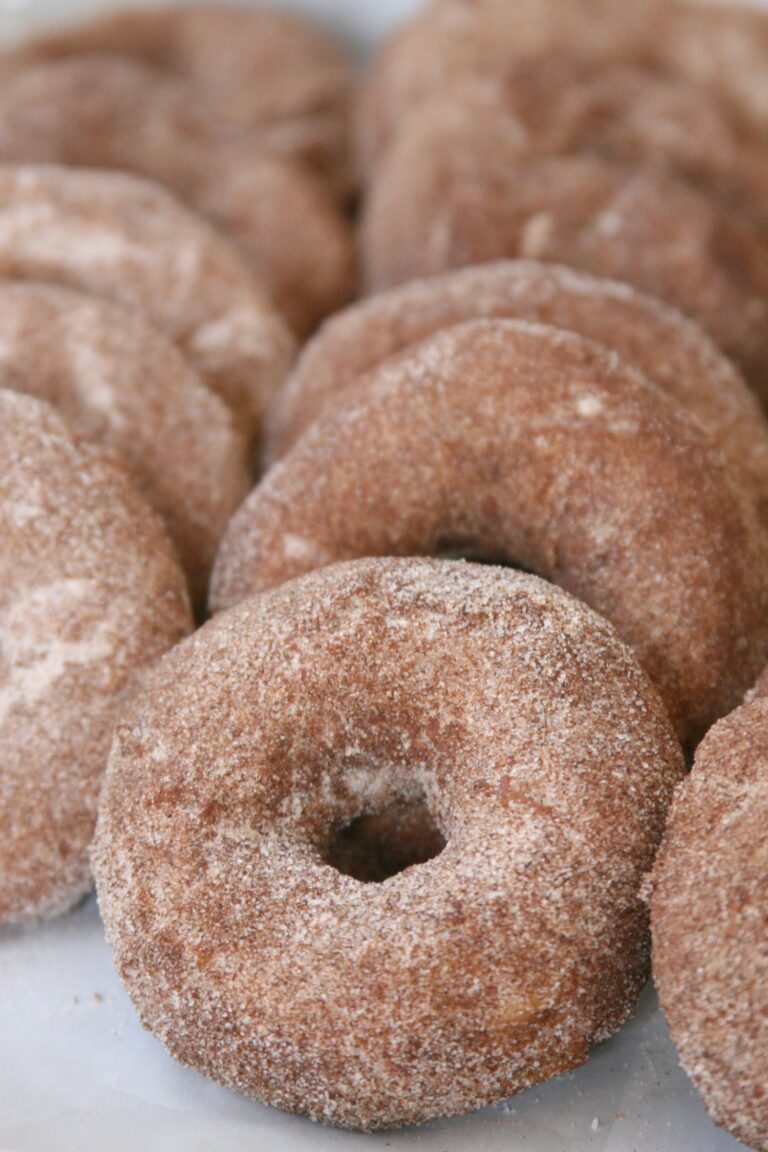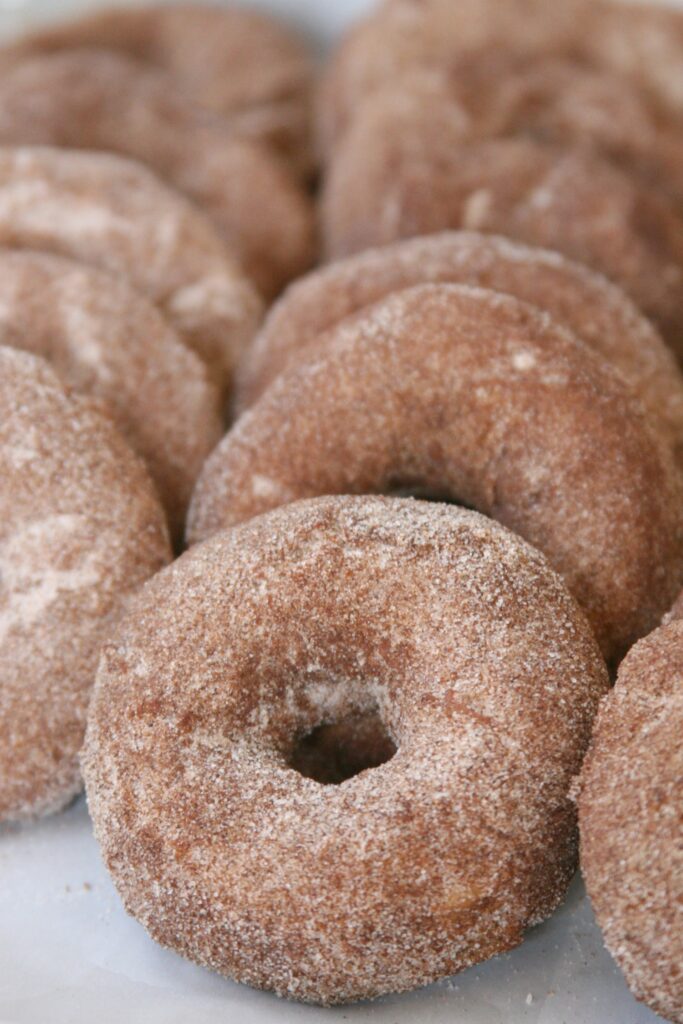 Do you love my recipes and my Apple Cider Doughnuts? If you have a moment, please leave a star review. If you make a recipe, please share on social media and tag #afarmgirlskitchen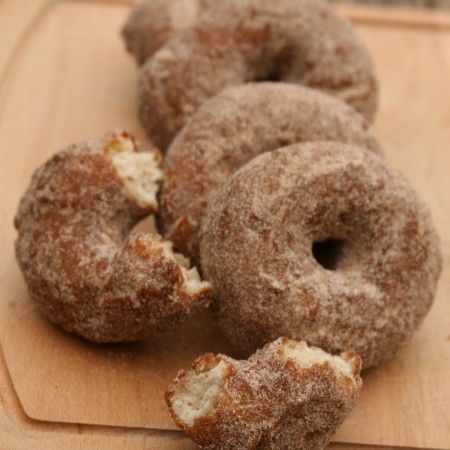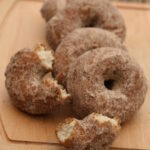 Apple Cider Doughnuts
This autumn or winter try making these yummy apple cider doughnuts. They are finger licking good rolled in cinnamon sugar.
Ingredients
1

cup

apple cider

4 1/2

cups

all-purpose flour

1

tablespoon

baking powder

1

teaspoon

baking soda

1

teaspoon

kosher salt

2

teaspoons

ground cinnamon

1/2

teaspoon

ground nutmeg

6

tablespoons

unsalted butter, softened

1/2

cup

granulated sugar

1/2

cup

firmly packed brown sugar

2

large

eggs, room temperature

1/2

cup

buttermilk

1

teaspoon

pure vanilla extract

1

medium apple, peeled, cored, and finely chopped

Macoun or Macintosh

canola oil for frying
Cinnamon Sugar
1 1/2

cups

granulated sugar

2-3

tablespoons

ground cinnamon

1

teaspoon

ground nutmeg
Instructions
In a medium saucepan over low heat, reduce the apple cider to about 3⁄4 cup, about 20 minutes. Set aside and cool to room temperature.

Sift together the flour, baking powder, baking soda, salt, and spices into a medium bowl and set aside. In a large bowl, use a hand mixer to cream together the butter granulated sugar, and brown sugar. Add the eggs one at a time and continue to mix until incorporated. Use a rubber spatula to occasionally scrape the sides and bottom of the bowl. Add the reserved reduced apple cider, buttermilk, and vanilla extract, mixing to combine. Add the flour mixture and combine. Gently fold the chopped apples into the batter.


Line a baking sheet with parchment paper and set aside.

Turn the dough out onto a lightly floured surface, and use a rolling pin to roll out the dough to 1⁄ 2 inch thickness. Lightly flour a doughnut cutter and use it to cut out the doughnuts, then place them onto the prepared baking sheet.

Line a baking sheet with several layers of paper towels and set aside. In a large heavy-duty pot, add about 3-inches of canola oil. Heat to a temperature of 375 degrees F. Drop about 4 doughnuts into the oil, making sure not to overcrowd the pot. Cook for 1 to 2 minutes on each side, or until lightly golden brown. Remove the doughnuts from the oil and allow to drain on the paper towels. In a small bowl, combine all of the ingredients for the cinnamon sugar; mix well. While the doughnuts are still warm, sprinkle them with the cinnamon sugar.
Nutrition Facts
Apple Cider Doughnuts
Amount Per Serving
Calories 257
Calories from Fat 45
% Daily Value*
Fat 5g8%
Cholesterol 31mg10%
Sodium 219mg10%
Potassium 139mg4%
Carbohydrates 51g17%
Protein 4g8%
Vitamin A 150IU3%
Vitamin C 1mg1%
Calcium 57mg6%
Iron 2mg11%
* Percent Daily Values are based on a 2000 calorie diet.
Disclosure: A Farmgirl's Kitchen is a participant in the Amazon Services LLC Associates Program, an affiliate advertising program designed to provide a means for sites to earn advertising fees by advertising and linking to amazon.com