Blueberry cake doughnuts are the perfect treat for your weekend. This weekend we're expecting some snow. Otherwise known as "snizzle" to us Yankees. (snow mixed with drizzle) We are used to getting an abundance of snow, sometimes several feet at a time. I remember taking my driver's license test as a teenager in a snow storm. Which was no issue because you just locked the truck into 4-wheel drive and drove carefully. I drove to Maine in 16-inches of snow to get our Yellow Lab, Duke and back. It was a blizzard. But, here in North Carolina the snow is a little different. They really do not treat the roads, so it becomes a slushy mess and can sometimes be traitorous to drive. So stay home and stay safe.
These doughnuts are delicious. You can make these the night before. Place on parchment lined sheet pans and cover with plastic wrap. Plop in the refrigerator until you are ready to fry them the next morning. This makes life a little easier and you'll still have freshly fried doughnuts in the morning. These simple and yummy treats are super moist with the fresh flavor of blueberries. This time of year you might not have fresh blueberries readily available. Grab a bag of frozen blueberries and use them when you want a fresh taste of summer. Frozen blueberries are flash frozen at the peak of their ripeness. I keep several bags in our freezer at all times. I used regular blueberries in this recipe. But wild-blueberries would be incredible for this particular recipe. This recipe yields about 18 doughnuts and doughnut holes. If you don't have a doughnut cutter– order one! Love mine- it's always used in this farmhouse kitchen!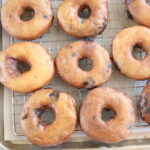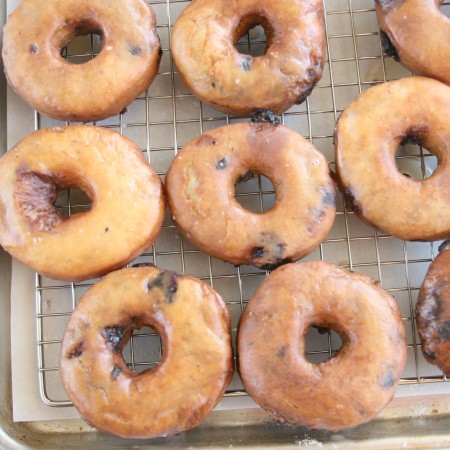 Blueberry Cake Doughnuts
Ingredients
Doughnuts:

3 1/2

cups

all-purpose flour

2/3

cup

granulated sugar

6

tablespoons

unsalted butter

softened

1

cup

full-fat sour cream

2

large eggs

room temperature

1

teaspoon

kosher salt

1

tablespoon

baking powder

2

teaspoons

pure vanilla extract

1

cup

blueberries

fresh or partially thawed

Glaze:

2

cups

powdered sugar

2

tablespoons

whole milk

1/2

teaspoon

pure vanilla extract
Instructions
In a large mixing bowl, cream together granulated sugar and butter. Add the eggs, sour cream, vanilla extract and salt. Combine well. Scrape the bowl occasionally with a rubber spatula. Add the flour and baking powder. Fold in the blueberries.

This is a sticky dough. Turn out to a floured work surface. Use a rolling pin to roll out to about 1/2-inch thickness. Lightly flour a doughnut cutter and use it to cut out the doughnuts. Place them on a parchment lined half sheet pans.

Line a baking sheet with several layers of paper towels and set aside. In a large, heavy-duty pot, add about 3-inches of canola oil. Heat to a temperature of 375 degrees F. Drop about 4 doughnuts into the oil, making sure not to overcrowd the pot. Cook for 1 to 2 minutes on each side, or until lightly golden brown. Remove the doughnuts from the oil and allow to drain on the paper towels. In a small/medium bowl, combine the glaze ingredients.

Dip the doughnuts into the glaze on both sides. Let some glaze drip off before placing the doughnuts onto a baking rack, placed over a parchment lined sheet pan. This will help catch the extra glaze. Let dry and enjoy.
A Farmgirl's Kitchen is a participant in the Amazon Services LLC Associates Program, an affiliate advertising program designed to provide a means for sites to earn advertising fees by advertising and linking to amazon.com