Homemade Mac and Cheese is super creamy and topped with Pulled Pork. This dish uses two different kinds of cheeses in a homemade cheese sauce for the ultimate comfort food!

I love absolutely love mac and cheese! Especially when it's homemade, using fresh ingredients right in your own kitchen. And the kids will eat it without fussing! This mac and cheese recipe is so quick to prepare and gives you versatile and convenient meal solution. Be sure and check out my Cast Iron Chicken Fajitas for this weekend's dinner!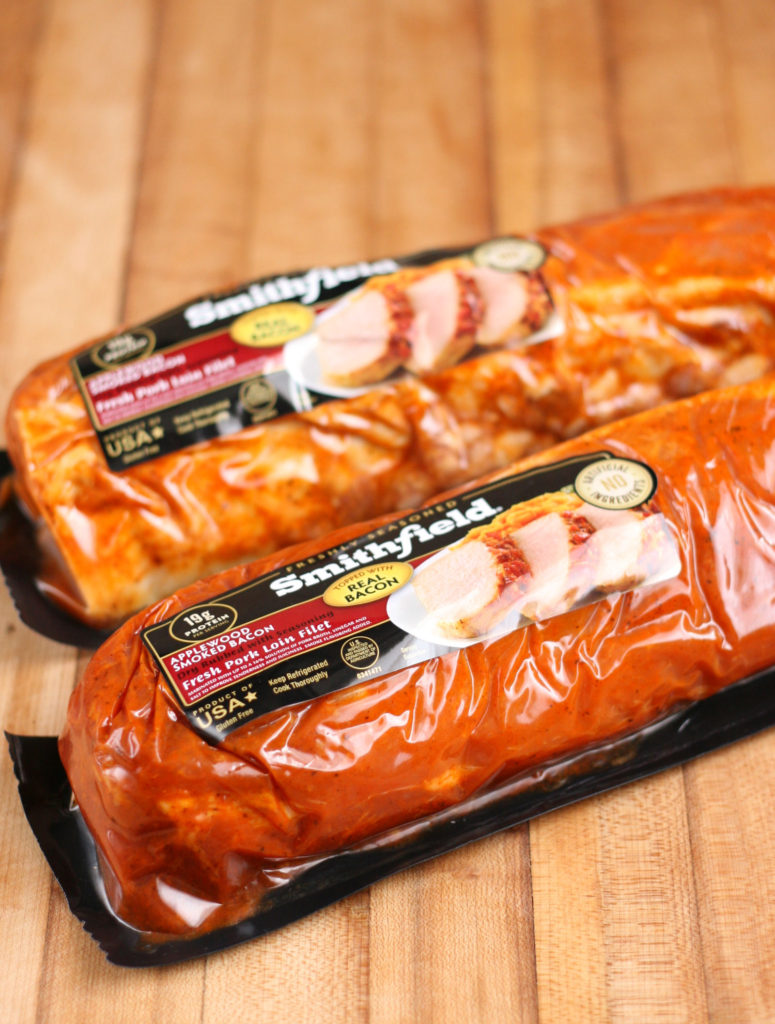 Tips for the Best Mac and Cheese:
Step 1: Buy a block of cheese and shred it yourself. It will be so much fresher than any pre-shredded cheese. Use a hand grater or a small food processor to easily shred the cheese.
Step 2: Start by making a roux. A roux is made from equal parts of butter or oil with flour. It helps to add depth, color, and flavor to your sauce. It also helps thicken the cheese sauce.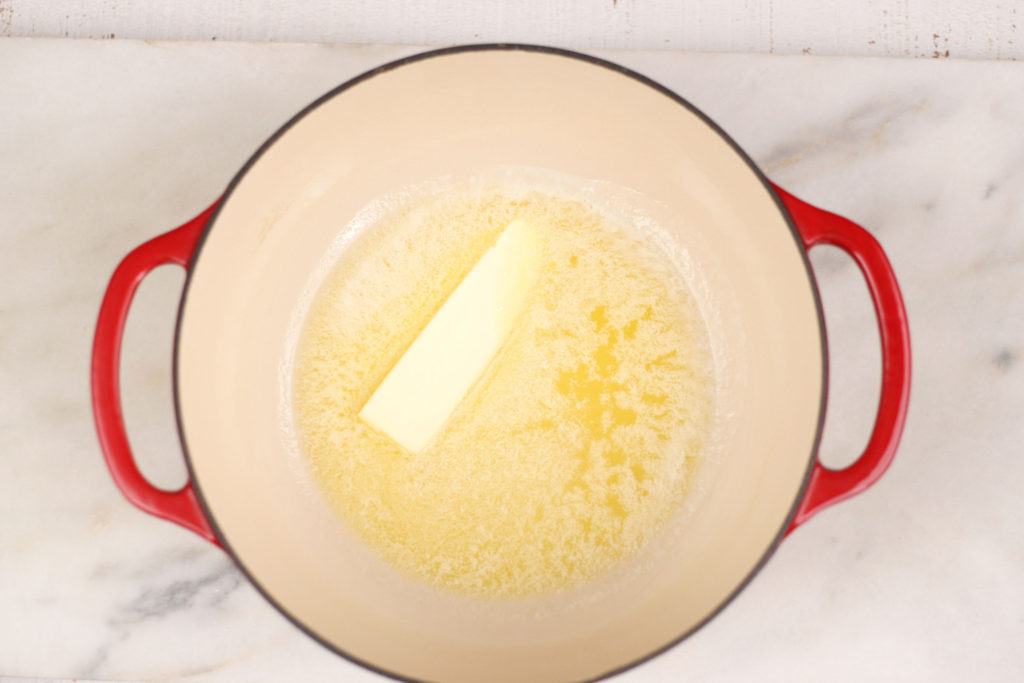 Step 3: Whisk in cold milk, not warm to prevent the flour from clumping.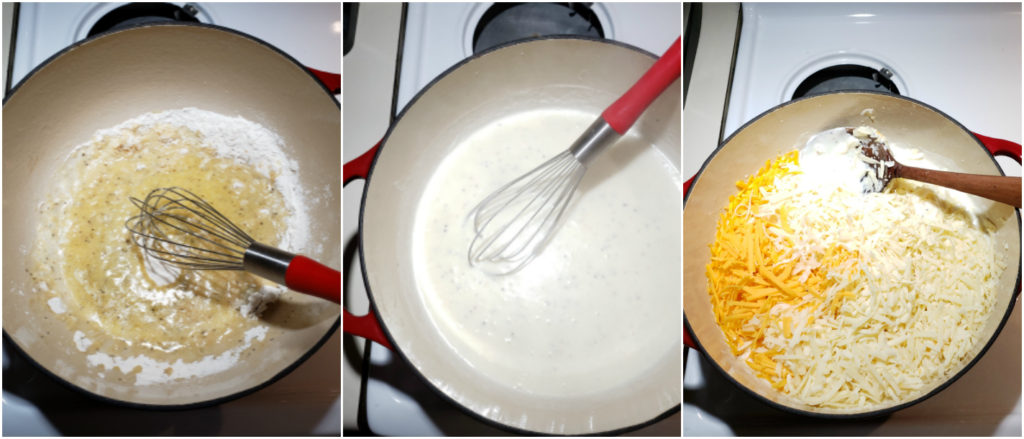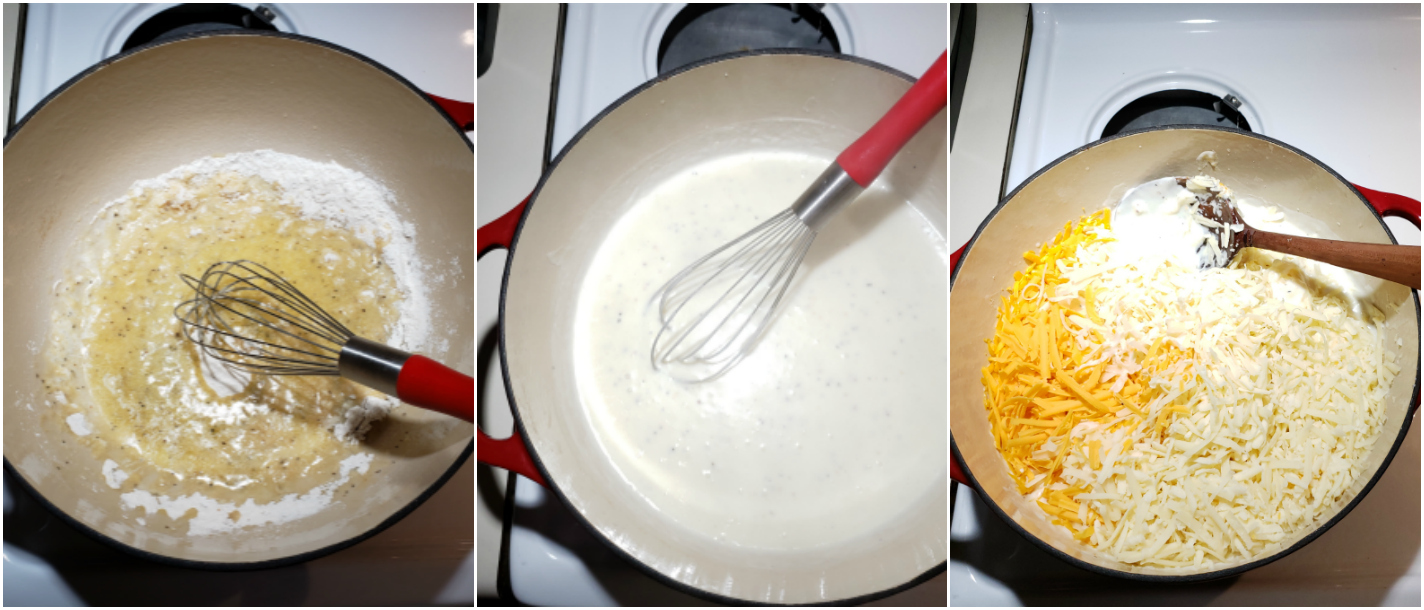 Step 4: Once the milk and cream are slightly thickened add the shredded cheese and stir to combine.
Step 5: Stir in the cooked elbow macaroni pasta until fully coated with melted cheese sauce. Top with pulled pork and garnish with crumbled bacon and green onion slices if desired.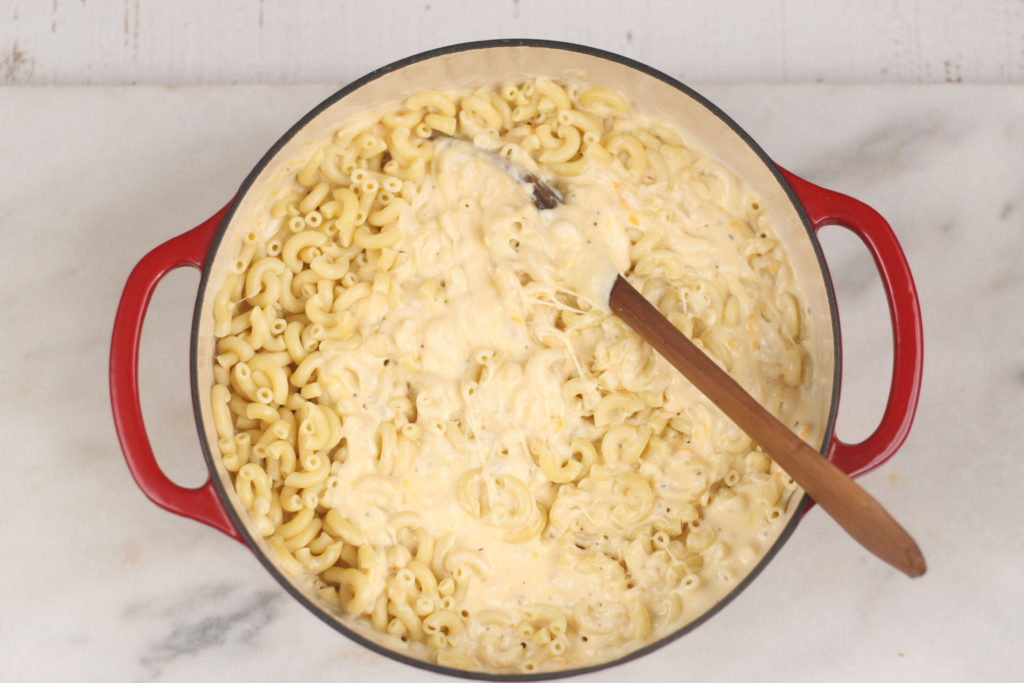 Types of cheese to use for Homemade Mac and Cheese:
For this mac and cheese recipe, I used a combination of shredded cheddar and Gruyere. But, if you have trouble finding Gruyere, you can certainly substitute Swiss or even Pepper Jack for a little kick of flavor. You can also add a little American cheese to make it even more creamy. I really like to use several different kinds of cheeses in homemade mac and cheese to give it great flavor.
For homemade baked mac and cheese, simply pour this mac and cheese into a buttered baking dish, top with a little additional shredded cheese, some crushed butter crackers or breadcrumbs and bake in the oven for about 15 minutes.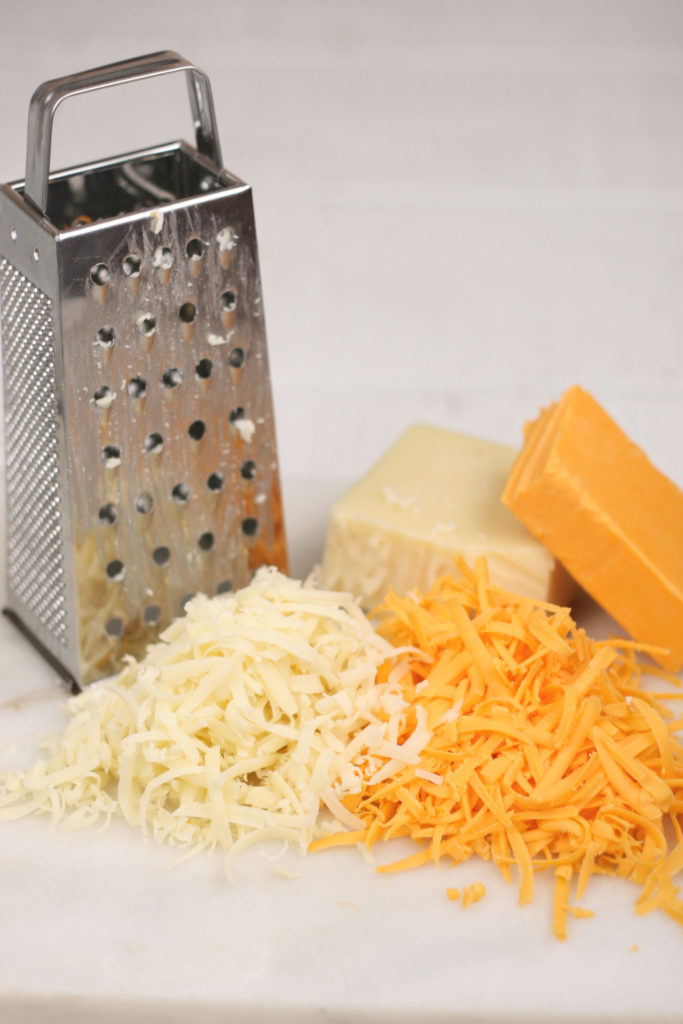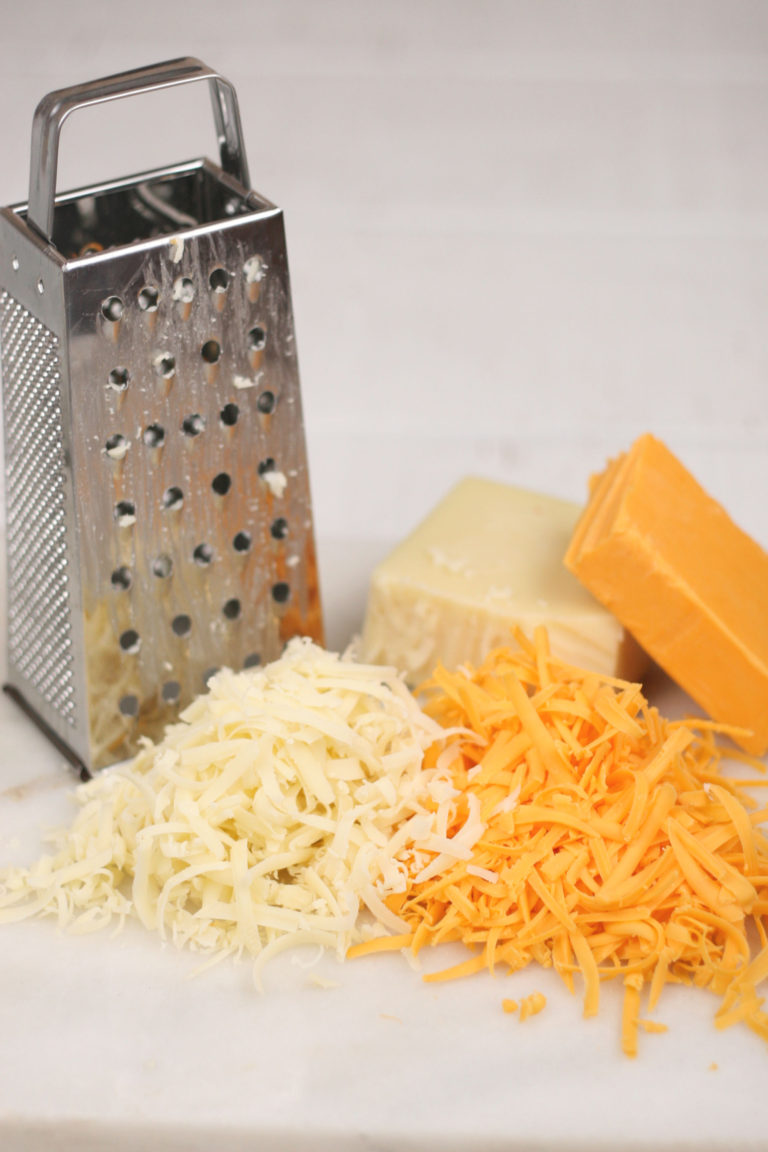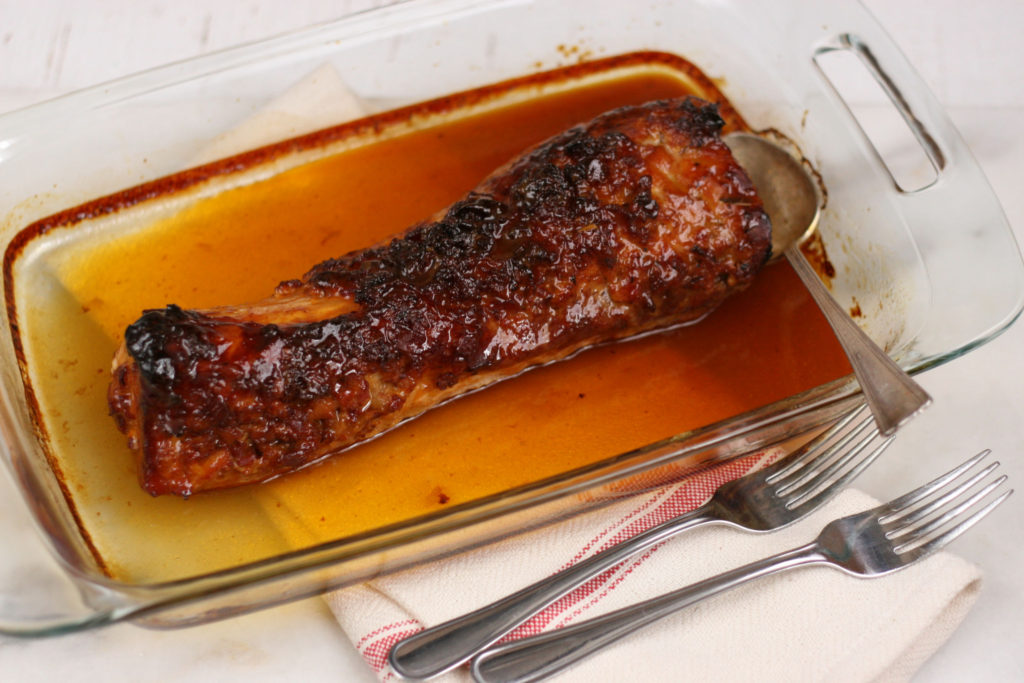 With our weeknight's being so busy, I love the versatility of marinated fresh pork and the ability to prepare multiple ways (i.e. sauté, roast, slow cook, etc.), and you can even cut the pork into cubes, strips, or slice the meat to help it cook faster. I cooked my pork loin in the oven (directions are on the package and in the recipe below). It was SO quick. I just took the pork loin out of the package, placed into a baking dish with bacon side up. Poured a cup of apple cider around it and baked for an hour. Then, simply shredded it with two forks and added to my homemade mac and cheese. Dinner made simple!Doesn't this Smithfield Applewood Bacon Loin Filet look amazing!? The flavors are melt in your mouth goodness! Be sure and try my Pulled Pork, Marinated Pork Chops, Beef Chili Recipe, and Beef Stew.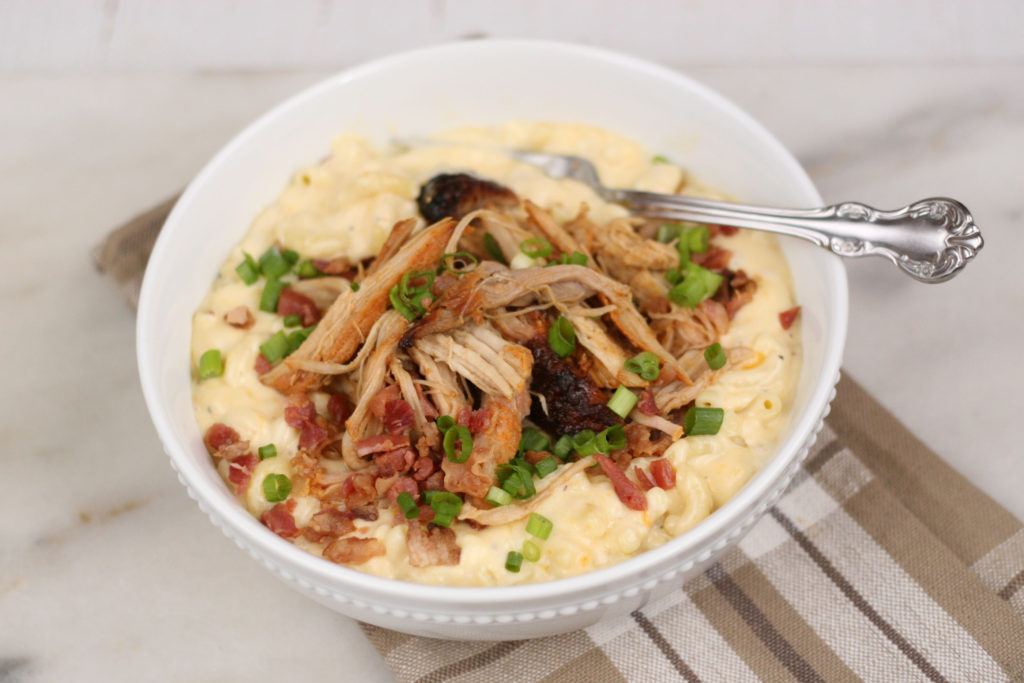 I love cooking different pork dishes. Try my Cast Iron Pork Chops, Grilled Pork Chops, Cast Iron Pork Tenderloin, and Ribs Recipe.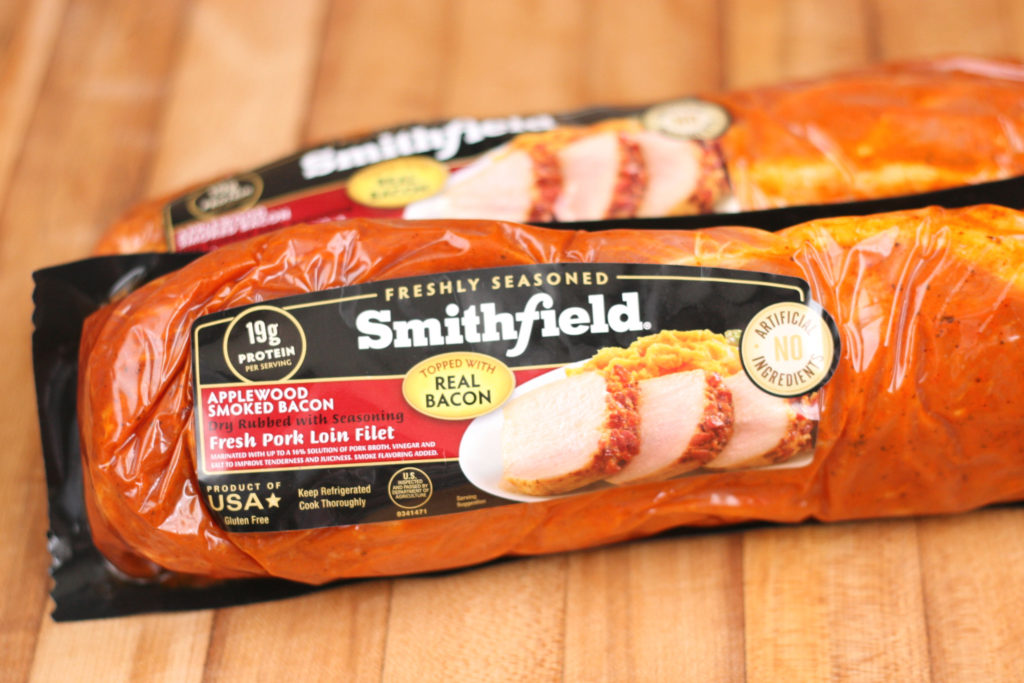 Did you make one of my recipes? Please take a moment to leave a star rating. Also, if you are on Pinterest, please feel free to leave a comment there! Follow A Farmgirl's Kitchen on FACEBOOK, PINTEREST and YouTube and subscribe my mailing list for ALL the latest recipes!
Best Mac and Cheese Recipe
The Best Mac and Cheese Recipe is super creamy and topped with Applewood Bacon Pulled Pork. This dish uses two different kinds of cheeses in a homemade cheese sauce for the ultimate comfort food!
Ingredients
Pulled Pork
1

2 pound

Smithfield Applewood Bacon Loin Filet

1

cup

apple cider
Mac and Cheese
1

pound

elbow macaroni, cooked

1

tablespoon

extra virgin olive oil

6

tablespoons

butter, unsalted

⅓

cup

all-purpose flour

3 ½

cups

whole milk

1

cup

heavy whipping cream

8

ounces

sharp cheddar cheese

shredded

10

ounces

Gruyere cheese

shredded

salt and black pepper to taste

1

teaspoon

prepared mustard

crumbled bacon

for garnish

green onion, sliced thin

for garnish
Instructions
Pulled Pork
Prepare the Smithfield Applewood Bacon Loin Filet as the instructions read on the package. Preheat the oven to 375 degrees.


Place the pork loin with bacon side up in a baking dish. Cook for about 1 hour uncovered. Use a large spoon to baste the pork loin with the apple cider as it cooks.


Cook until the internal temperature reaches approximately 160 degrees at the thickest point of the pork loin. Remove from the oven and let rest for 5 minutes.


Use two forks to "pull" the pork loin right in the cooking pan. Mix the pulled pork with the juices that remain in the pan. Cover and set aside. (Cover the pan with aluminum foil and place back in the warm oven to keep warm while you prepare the mac and cheese)

Mac and Cheese
Add water to a large pot. Season with salt and bring the pot of water to a boil over high heat.


Once the water comes to a boil, cook the pasta according to the package directions for al dente. About 9-10 minutes. Stir while it is cooking so it does not stick to the bottom of the pot.


Remove the pasta from the heat, drain, and place back into the pot. Add a tablespoon of olive oil and stir. This keeps the pasta from sticking together.


Melt the butter in a deep saucepan or Dutch oven over medium heat.


Whisk in the flour and continue to whisk as it cooks for about 2 minutes. Cook until it starts to turn slightly golden color.


Gradually whisk in the milk and heavy cream until smooth. Continue whisking until you see bubbles on the outside surface of the pan. Season with salt and black pepper. Add the prepared mustard. Continue to cook the milk and cream mixture for about 2 minutes, or until slightly thickened.


Add the shredded cheddar and Gruyere cheese and stir into the mixture with a wooden spoon. Stir until the cheese is melted, creamy, and smooth. Season again with salt and black pepper if needed.


Stir in the cooked elbow pasta until it is fully coated with the cheese sauce.


Top with Smithfield Applewood Bacon pulled pork. Garnish with crumbled bacon and green onion if desired. Enjoy immediately.

Recipe Notes
Recipe tips:
Find fresh apple cider at a local apple orchard OR in the produce section at your local grocery store.
Nutrition
Calories:
856
kcal
|
Carbohydrates:
42
g
|
Protein:
34
g
|
Fat:
62
g
|
Saturated Fat:
36
g
|
Cholesterol:
190
mg
|
Sodium:
582
mg
|
Potassium:
373
mg
|
Fiber:
2
g
|
Sugar:
12
g
|
Vitamin A:
1990
IU
|
Vitamin C:
0.6
mg
|
Calcium:
949
mg
|
Iron:
1.1
mg
Disclosure: As an Affiliate Marketer, I earn from qualifying purchases. If you click a product affiliate link on A Farmgirl's Kitchen and make a purchase, I may receive a commission at no additional cost to you! I own every cooking product I recommend and love how they perform.