Homemade Glazed Donuts are a light and fluffy yeast doughnut. These delicious glazed donuts are dipped in a simple glaze and so much better than any store-bought glazed doughnuts.
These taste just like Krispy Kreme donuts recipe!
Post contains affiliate links

Who doesn't love things homemade? I know I surely do. And anything cooked or made in a cast iron skillet is sure to be even better. And Homemade Glazed Donutss are no exception!
I have fond memories of my mom making homemade cake doughnuts when we were young. They are fairly easy to make and you can even have the kids help! She often made an Old-Fashioned Doughnut (or what they sometimes call a cake doughnut.) Be sure and try my Homemade Jelly Donuts.
You'll need a doughnut cutter for this glazed donut recipe. Save yourself time and aggravation and order it on Amazon!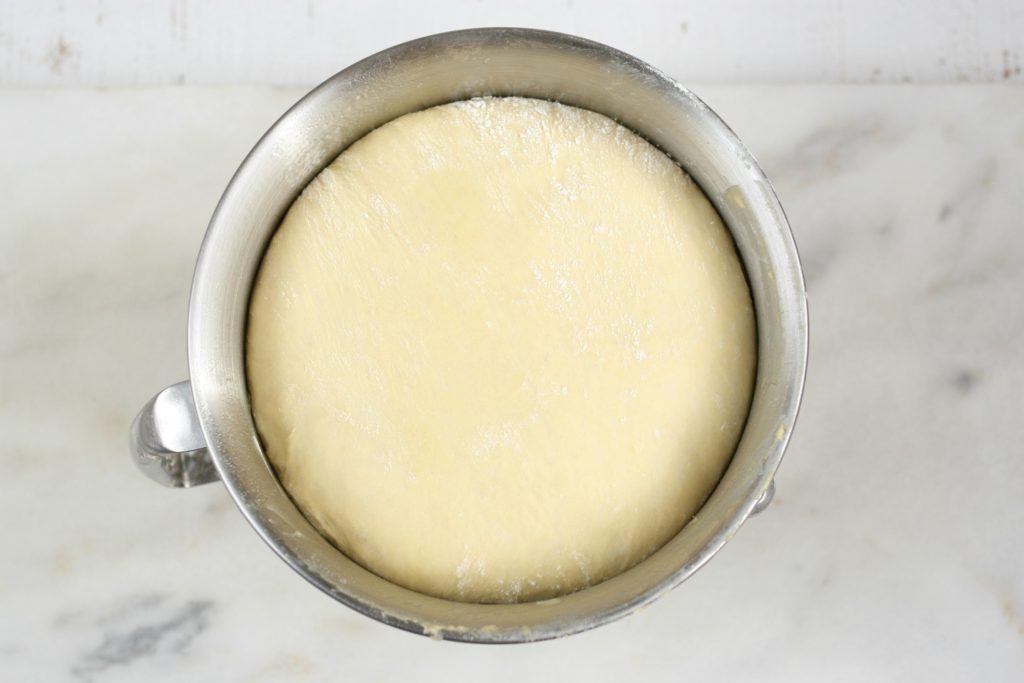 How to make Glazed Donuts:
Step 1: Make the apple fritter dough as directed, then roll out to about 3/4-inch thickness on a lightly floured surface. Then cut out doughnuts and holes with a 3 1/2-inch doughnut cutter. Rub the doughnut cutter in plenty of flour for each cut you make. Twist the doughnut cutter back and forth a bit and gently bang out the doughnut onto the counter.
Step 2: Place the doughnuts and holes onto a half sheet pan lined with parchment paper. You'll want to give them a little room to rise on the sheet pan. (I generally put 3 doughnuts in each row and you'll fit about a dozen on each half sheet pan)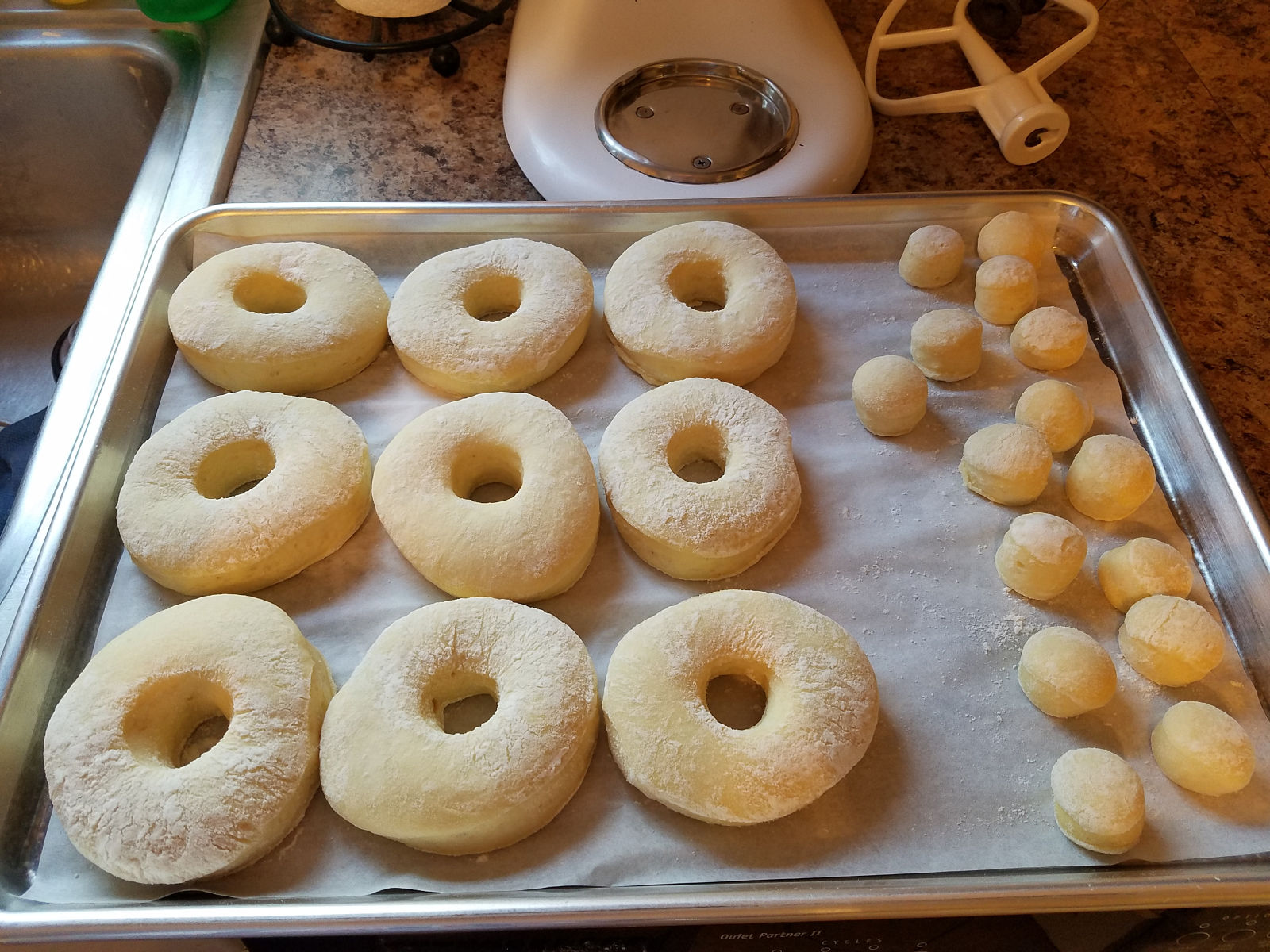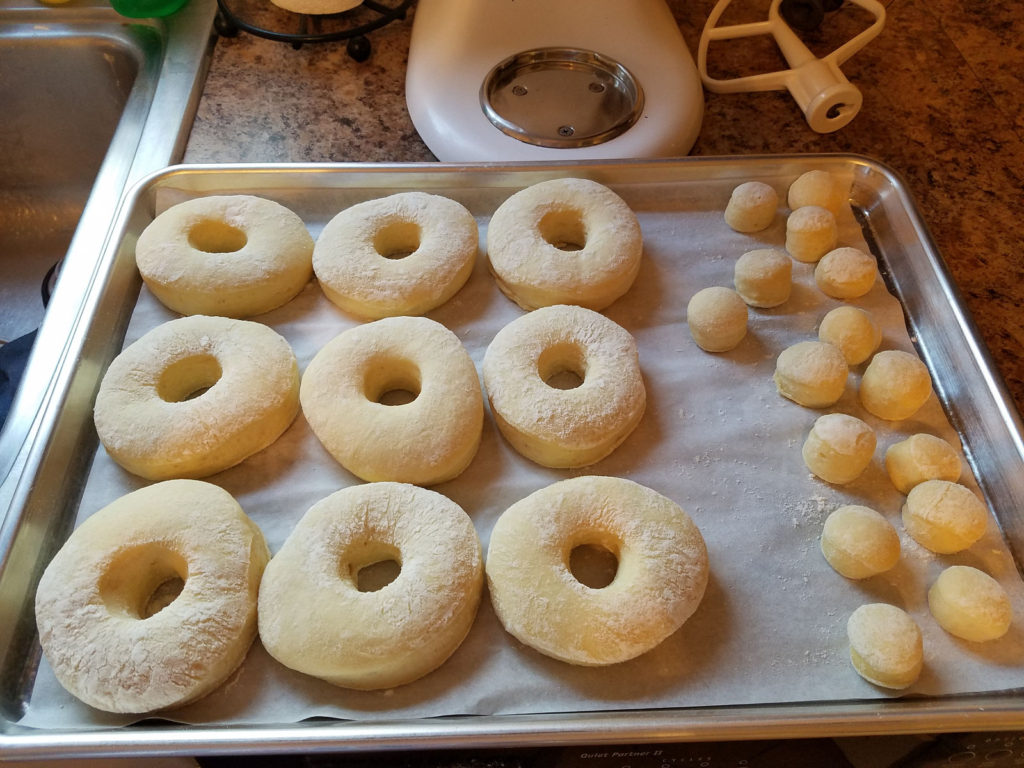 Step 3: Cover loosely with plastic wrap and plop in the refrigerator overnight. This way, they'll proof in the fridge and you'll have most of the work done in the morning. Just get to frying them up fresh.
I'm frying these babies up in a Lodge 13.5-inch cast iron skillet. Heat the oil to 375 degrees F and maintain that. Use a digital thermometer to monitor your temperature. Canola oil is my personal preference, because it doesn't add any flavor to your doughnuts. Fry them on each side about 1 minute or so, flipping only once. Use a slotted spoon to lift them out of the hot oil and let drip dry on a half sheet pan lined with paper towels.
How to make Glazed Donut glaze:
Whisk together 2 cups powdered sugar, 4-5 tablespoons whole milk and 1/2 teaspoon pure vanilla extract. You'll want your glaze to be fairly thin, so it just coats the doughnuts and drips off. You can add more milk if you need to make it thinner. Glazing doughnuts is simple, just dip the top side and let them air dry on a baking rack set over parchment paper.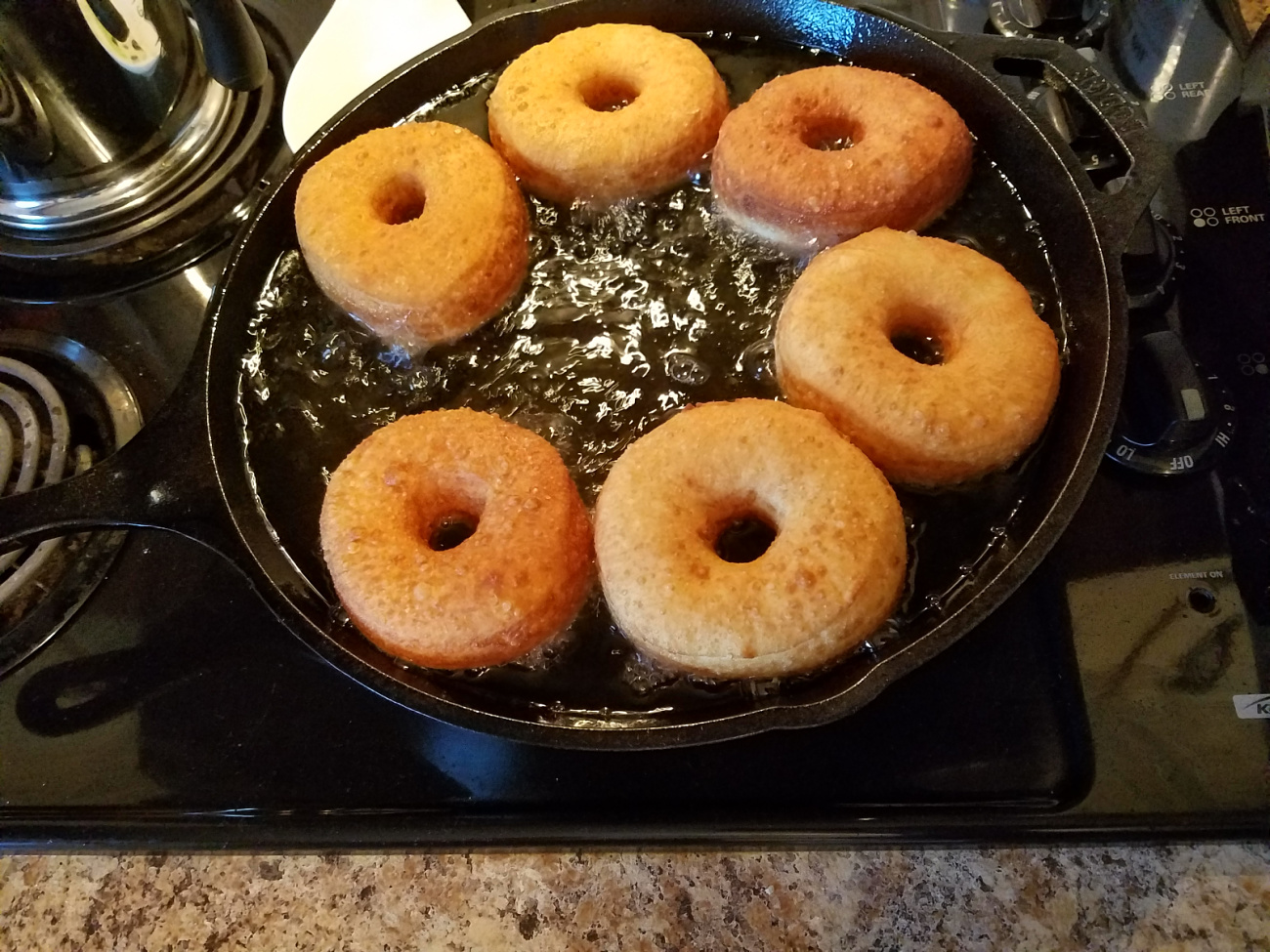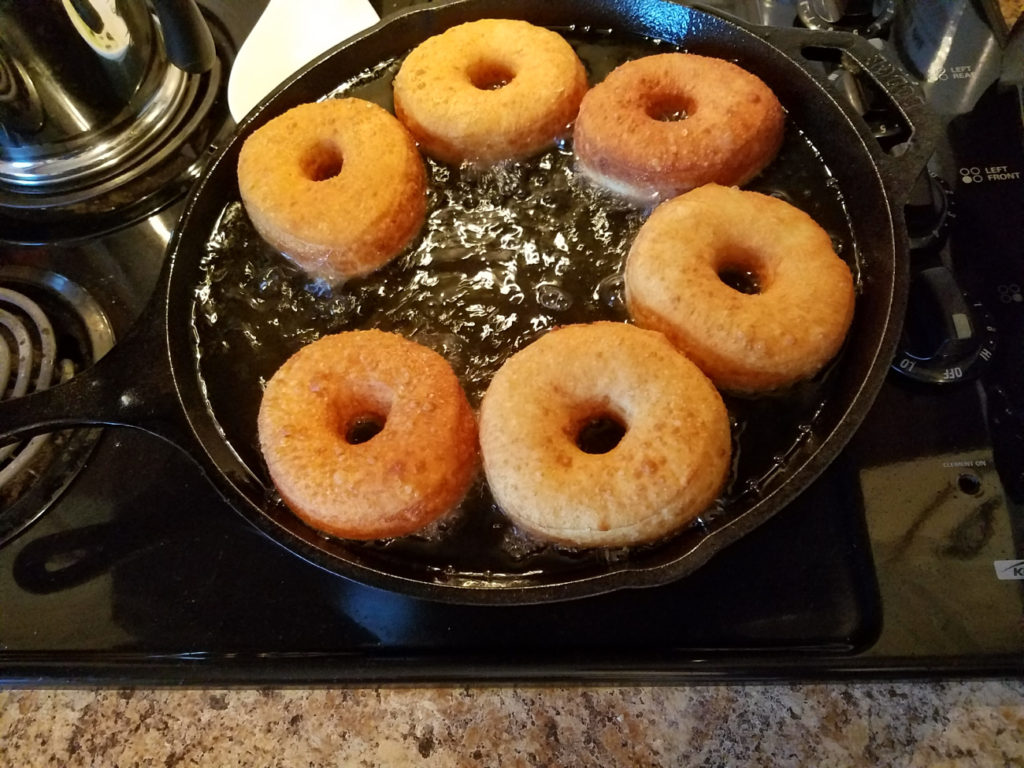 If you love this glazed donut recipe, you'll love my Blueberry Cake Donuts, Apple Cider Donuts, Pumpkin Donuts, and Red Velvet Donuts. For more great breakfast and brunch recipes be sure and try Homemade Apple Pie, Apple Hand Pies, Blackberry Pie Recipe, Apple Fritter Recipe, and Sour Cream Coffee Cake.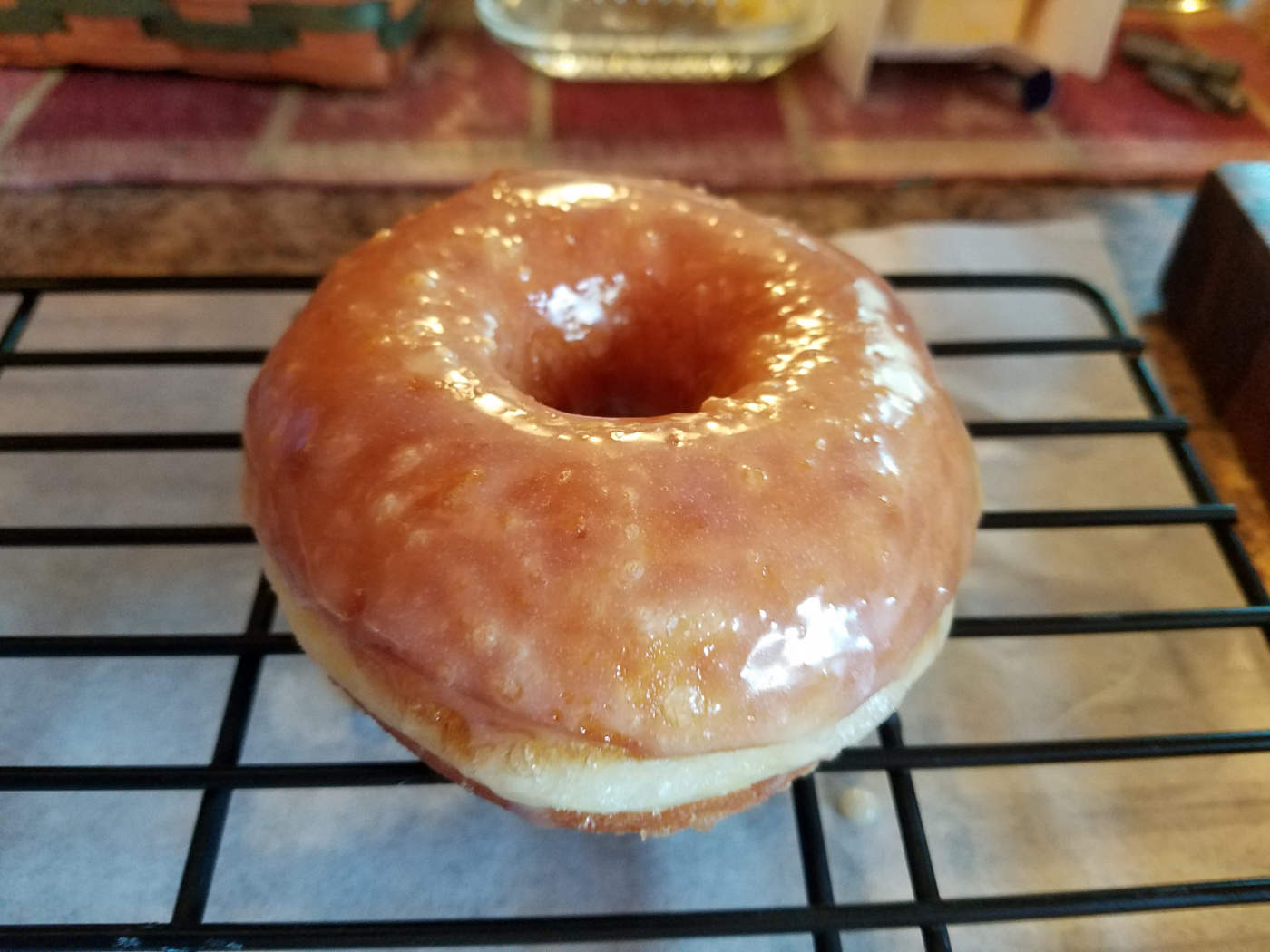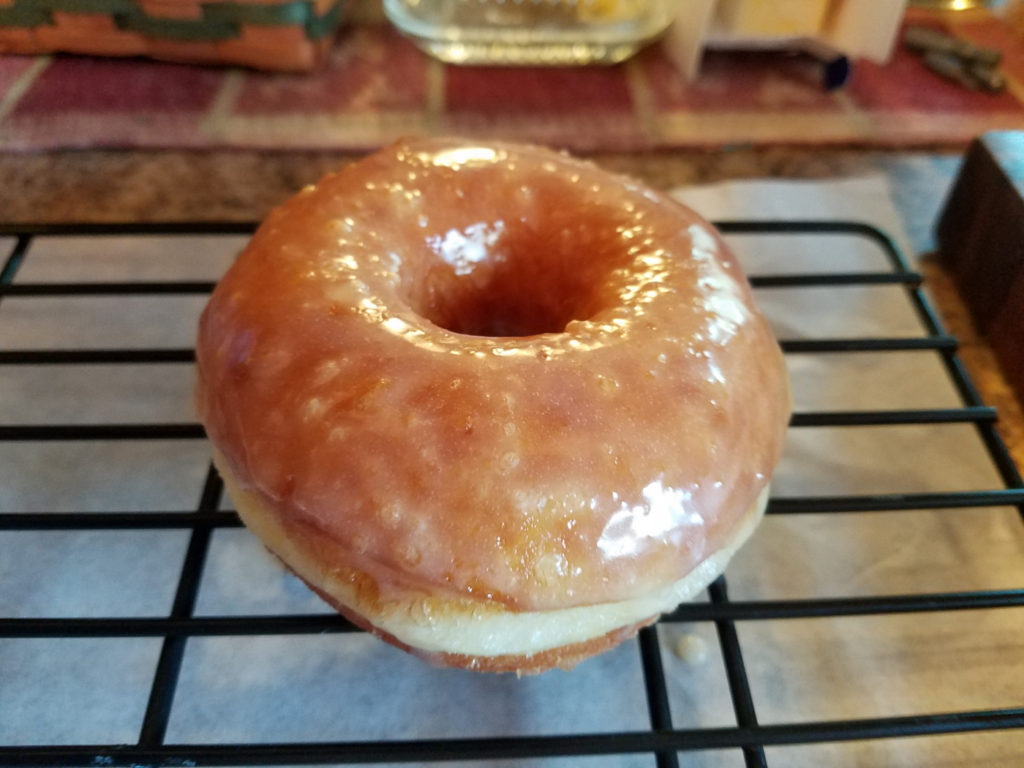 Making Homemade Glazed Donuts: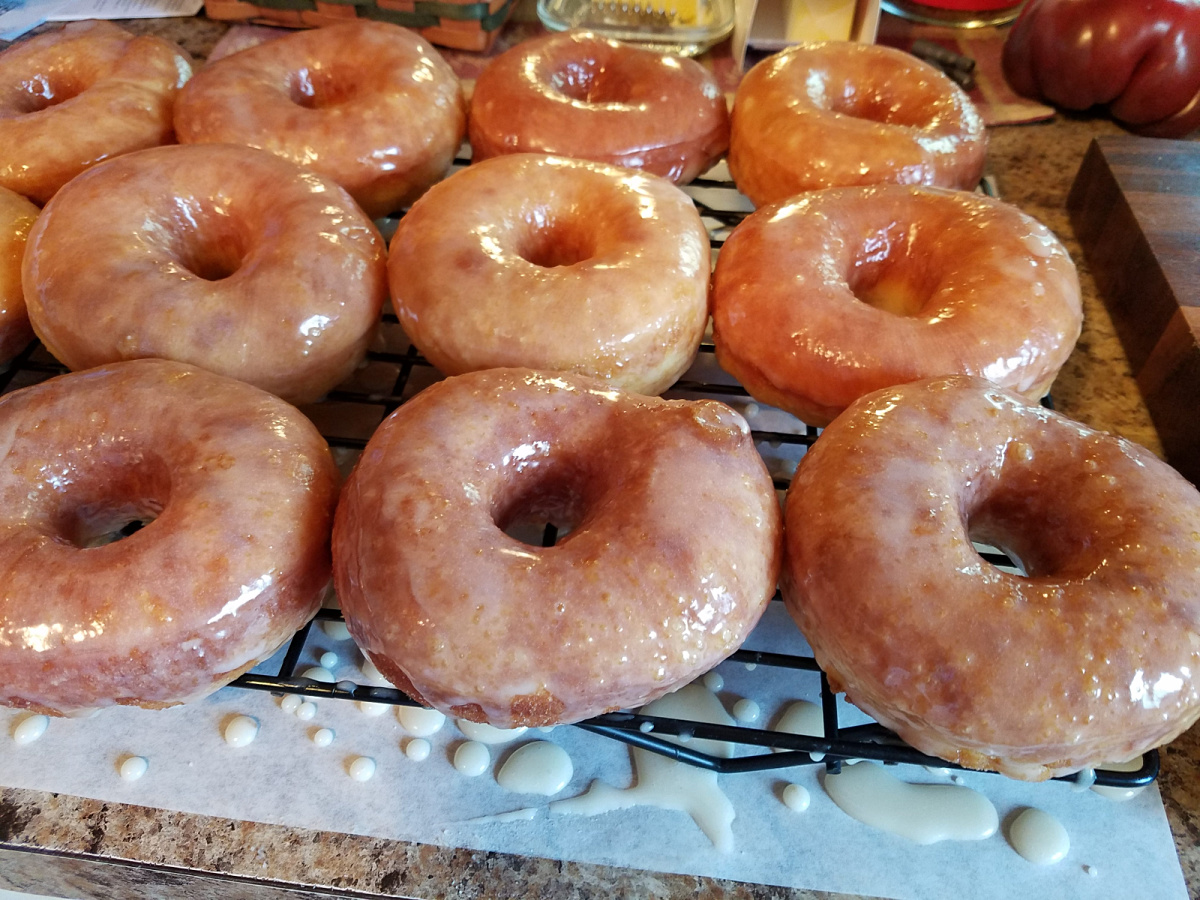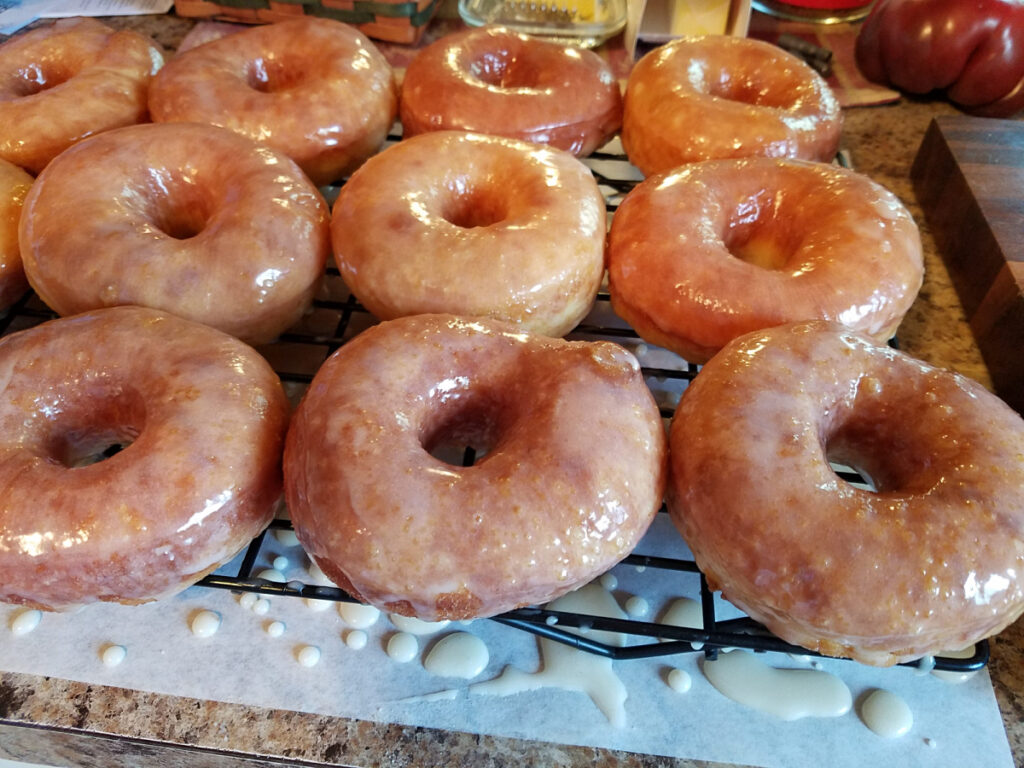 The dough is quite sticky- don't add more flour because otherwise you might make them tough. You want the dough to be light and airy. Hence why you let the dough rise twice, even before you cut into doughnuts. Yes, this recipe takes some time. But, make them the day before- I usually make them in the afternoon/evening. Refrigerate overnight, then fry them fresh in the morning.
Did you make one of my recipes and love it?! Please leave a star rating and share on social media with the hashtag #afarmgirlskitchen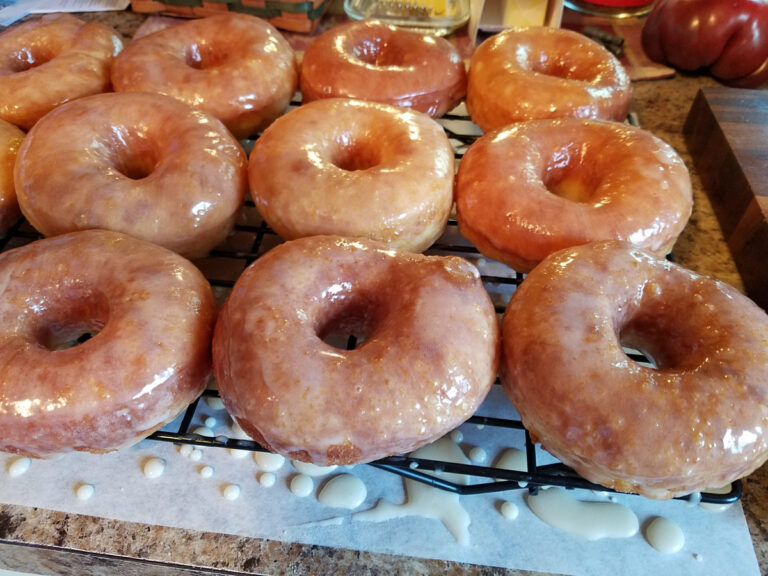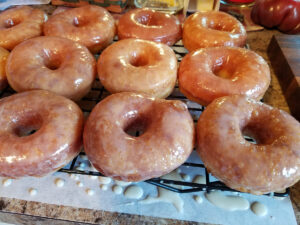 Print
Glazed Doughnuts
These sticky, gooey Glazed Doughnuts are made from my Apple Fritter dough recipe. Light and fluffy, homemade doughnuts are simple to make and oh so delicious.
Ingredients
Dough:
2 1/4

teaspoons

(1 packet) active dry yeast

1/4

cup

lukewarm water

1 1/2

cups

milk warm

1/4

cup

granulated sugar

2

tablespoons

honey

3

large eggs (room temperature)

5 to 5 1/2

cups

all-purpose flour

1

teaspoon

kosher salt

1/2

cup

(1 stick) unsalted butter

softened
Icing:
3

cups

powdered sugar

1

teaspoon

pure vanilla extract

3-5

tablespoons

whole milk
Instructions
In a large mixing bowl of a stand mixer dissolve the yeast in the warm water. Add the warm milk, sugar, honey and eggs. Add the dough hook attachment, and stir in the flour and salt. Scrape the bottom and sides of the bowl occasionally with a rubber spatula. Cut the butter into small pieces and incorporate into the dough. Scrape the bowl a few times. Beat the dough until it becomes smooth, about 5-7 minutes.

Turn the dough out onto a floured work surface and knead for 5-6 minutes, making a smooth dough. This dough is going to be sticky when you turn it out. After kneading, shape into a round ball and place back into the greased mixing bowl. Cover loosely with plastic wrap and drape with a clean kitchen towel. Place in a warm area and let rise until doubled in size, about 1 to 1 1/2 hours. Turn the dough out onto a lightly floured work surface and knead the dough for a few minutes. Turn back into the greased bowl (spray with cooking spray again if needed) and let rise until doubled, about 1 hour.

Whisk together your icing. Cover with plastic wrap and set aside. You want it to be fairly thin.

Line a baking sheet with parchment paper and set aside.

Turn the dough out onto a lightly floured surface, and use a rolling pin to roll out the dough to about 1/2-inch thickness. Lightly flour a doughnut cutter and use it to cut out the doughnuts, then place them onto the prepared baking sheet. Let the doughnuts rise for 1 hour or until doubled in size.*

Line a baking sheet with several layers of paper towels and set aside. In a large heavy-duty pot, add about 3-inches of canola oil. Heat to a temperature of 375 degrees F. Drop about 4 doughnuts into the oil, making sure not to overcrowd the pot. Cook for 1 to 2 minutes on each side, or until lightly golden brown. Remove the doughnuts from the oil and allow to drain on the paper towels.

Let cool slightly before dipping only the tops in the icing. Let drip dry on a cooling rack, placed on a parchment lined half sheet pan. Once the icing is set, enjoy!
Recipe Notes
I usually start with 5 cups flour and knead in the remaining flour on the counter. This is a very sticky dough and you want it to be smooth, but not become rough or overworked.
PREP AHEAD TIP:
You can let the doughnuts proof in the fridge overnight. After you cut the doughnuts with a donut cutter, place them on a half sheet pan lined with parchment paper. Cover the half sheet pan loosely with plastic wrap and let them proof in the fridge overnight. Then fry up fresh in the morning!
Nutrition
Calories:
436
kcal
|
Carbohydrates:
82
g
|
Protein:
10
g
|
Fat:
7
g
|
Saturated Fat:
4
g
|
Cholesterol:
43
mg
|
Sodium:
197
mg
|
Potassium:
133
mg
|
Fiber:
2
g
|
Sugar:
26
g
|
Vitamin A:
235
IU
|
Calcium:
42
mg
|
Iron:
3.6
mg
Disclosure: As an Affiliate Marketer, I earn from qualifying purchases. If you click a product affiliate link on A Farmgirl's Kitchen and make a purchase, I may receive a commission at no additional cost to you! I own every cooking product I recommend and love how they perform.