Homemade Strawberry Lemonade is easy to make in your own kitchen using simple ingredients. This refreshing drink is made with ripe strawberries and freshly squeezed lemon juice.
Don't you just love a refreshing glass of lemonade on a hot summer day? Creating yummy flavorful drinks at home is super simple. Spring is here, daffodils are blooming and I've got the screen door open with a great Southern breeze blowing through. And before you know it summer will be here! Making Homemade Strawberry Lemonade has never been easier and once you do, you'll never buy anything store bought again!
With only a few simple kitchen gadgets you'll be making Homemade Strawberry Lemonade in now time flat! If you're a obsessed foodie like me, you've pretty much got every kitchen gadget and accessory that exists. As you already know, this farmgirl loves old-fashioned kitchen tools, so you won't find things like an Instant Pot in my kitchen! But, I'm all about every tool that my parents and grandparents used, especially if it's made in the USA. One of those tools on my Amazon wish list is a Squeezo. Did your parents use one of these growing up? We used it often to squeeze farm grown tomatoes to make marinara sauce or apples to make apple sauce or hard cider.
You don't need a Squeezo to make this delicious Homemade Strawberry Lemonade. All you need is a simple hand food mill or fine mesh strainer. Depending on how much pulp you prefer, you can decide if you just want juice from strawberries or a little bit of pulp. It's all to your personal preference. But, the Squeezo makes life so much easier if you have a big batch of tomatoes or apples to process. Even grapes for homemade jam. What are you planning on making this season? Would love to hear what your family favorites are!
Check out these amazing recipes:
Citrus and Garlic Marinated Flank Steak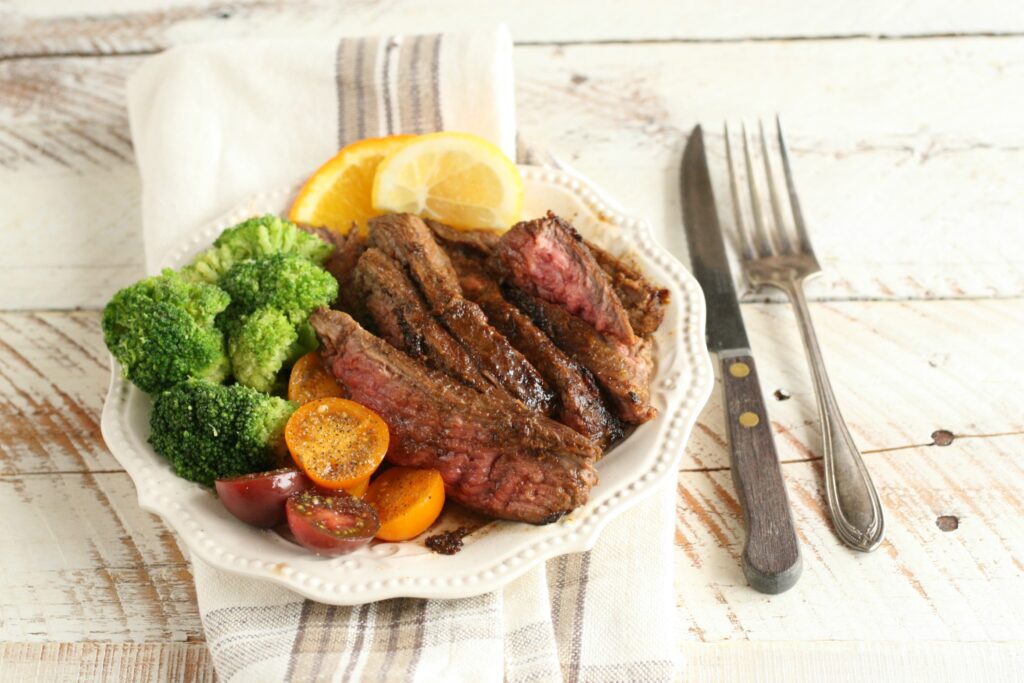 Did you make one of my recipes?! I'd LOVE to hear from you! If you have a moment, leave a comment with a star rating.
Strawberry Lemonade
Make this refreshing Strawberry Lemonade with only a few simple ingredients.

Ingredients
2

cups

lemon juice

2 1/2

cups

granulated sugar

4 1/2

cups

cold water

divided

2

cups

strawberries

plenty of ice cubes
Instructions
In a medium saucepan over medium heat cook the strawberries with about 1/4 cup of water. This helps them not to burn. Cook them until they are really soft. Put the softened strawberries through a food mill or fine strainer. Let the strawberry puree cool. Discard the seeds and pulp.

Bring the remaining 4 cups of water and sugar to a boil to create a simple syrup. Let cool. Pour into a pouring pitcher. Add the lemon juice and strawberry puree. Add enough ice cubes to fill the pitcher and garnish with additional strawberries before serving.
A Farmgirl's Kitchen is a participant in the Amazon Services LLC Associates Program, an affiliate advertising program designed to provide a means for sites to earn advertising fees by advertising and linking to amazon.com