Blackberry Raspberry Lemonade is refreshing and easy to make using fresh berries, granulated sugar, lemon juice, and ice cubes. Homemade lemonade is refreshing on a summer's day!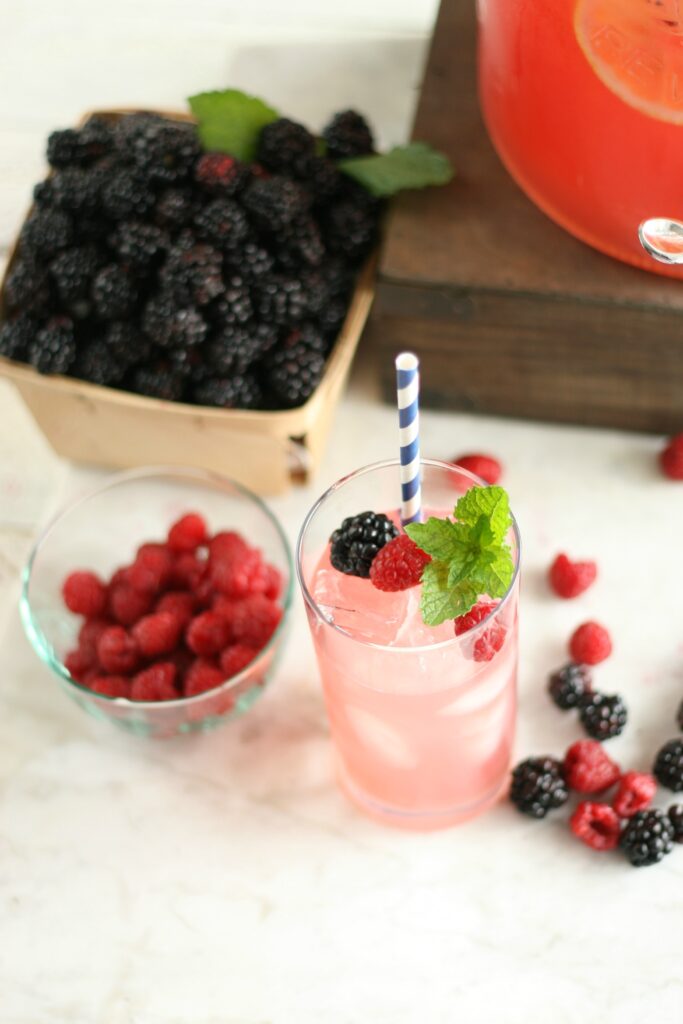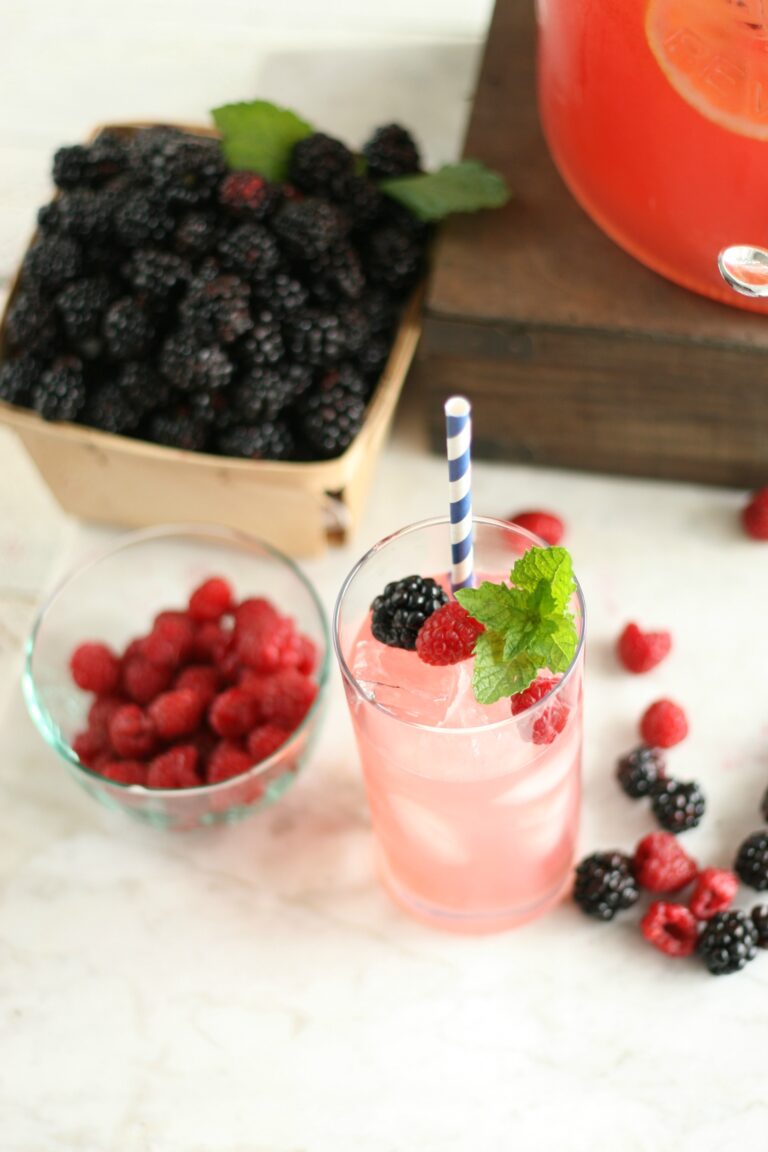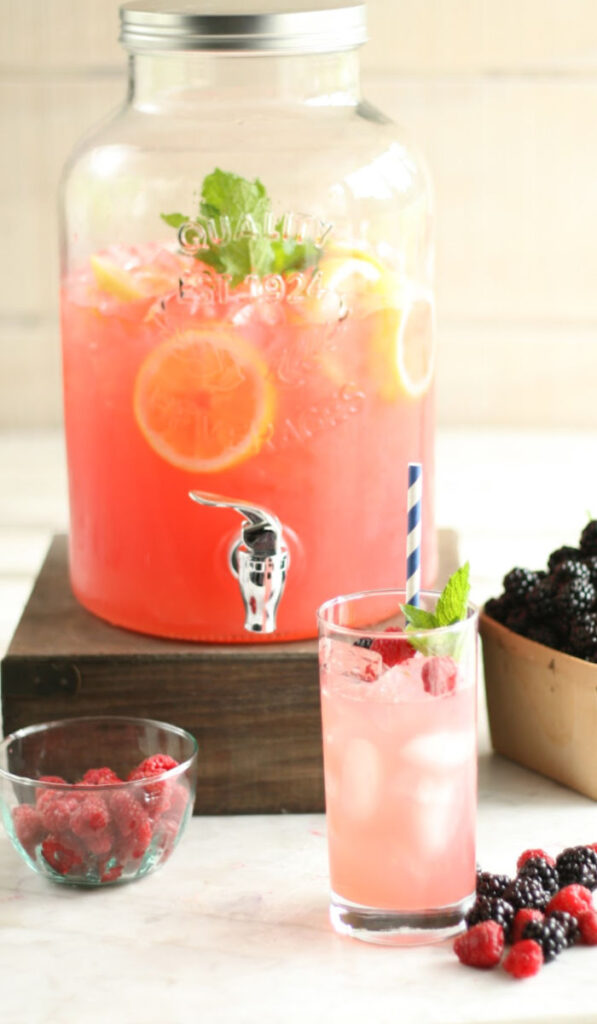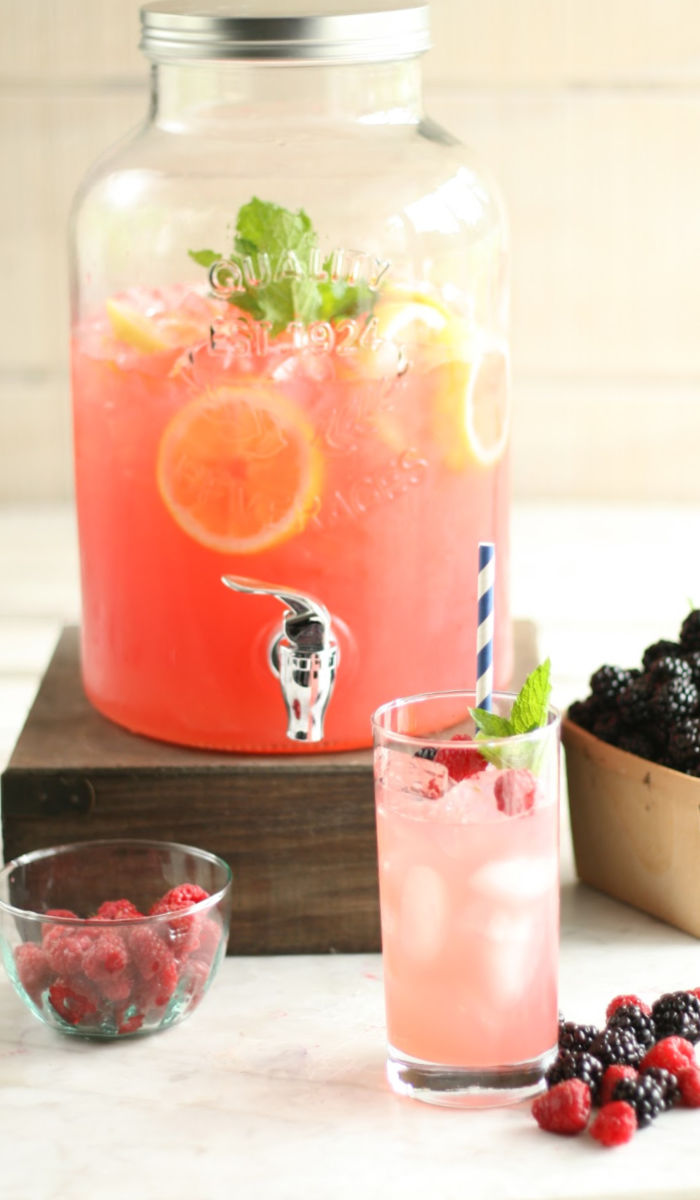 How to make Homemade Lemonade:
Have you ever made homemade lemonade? It's so easy to do and you'll love that it has simple ingredients and no preservatives.
It's simply adding granulated sugar to hot water so it dissolves and mix that with lemon juice. Below, I added berry juices to create a Blackberry Raspberry Lemonade. Be sure and try my Strawberry Lemonade Recipe, Strawberry Rhubarb Lemonade, Raspberry Iced Tea, and Peach Sweet Tea.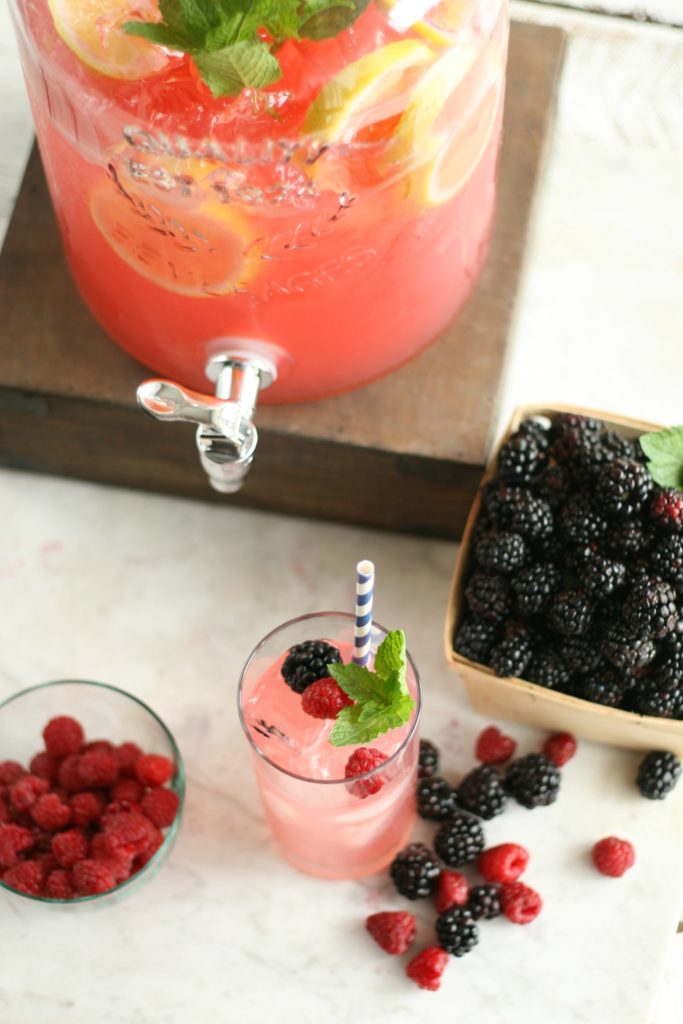 You can either grown your own berries or buy from a local farmer. Ask a farmer if you buy a full flat of berries could you get a discount. Usually they are more than willing! Freeze your berries right away in large freezer Ziploc bags to keep fresh! Then you'll have ripe berries to use in all sorts of recipes all year long!
In the food industry they call frozen berries IQF, which means Individually Quick Frozen. This basically means they flash freeze berries and then put them into bags. This keeps them from sticking together. For more great raspberry recipes, try Raspberry Oatmeal Bars, Raspberry Muffins, Raspberry Frosting, Mixed Berry Jam, and Raspberry Rhubarb Jam.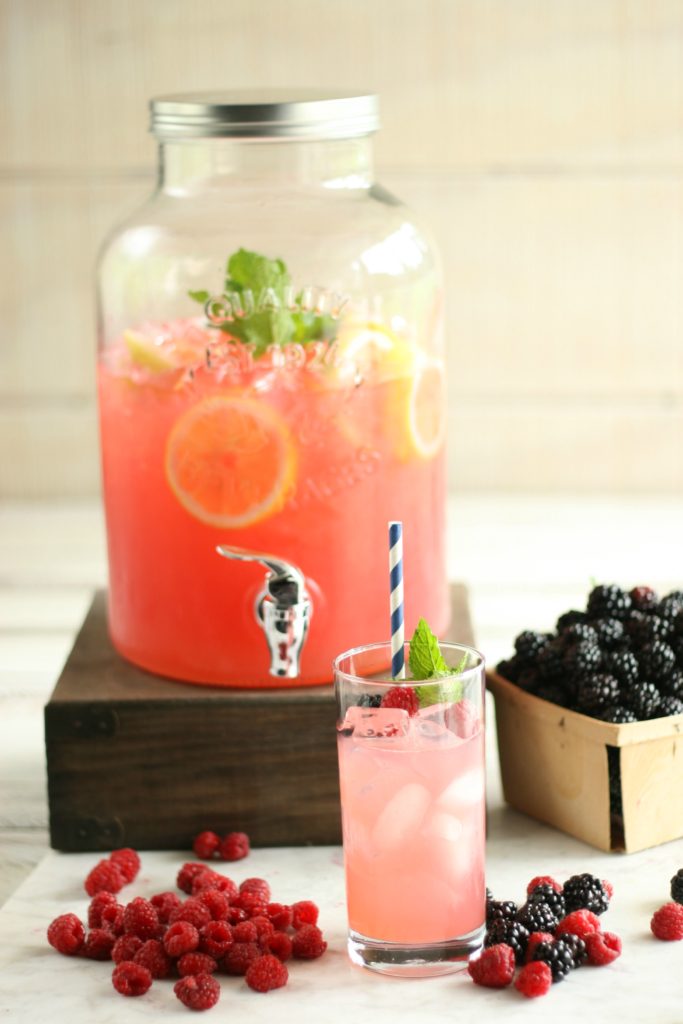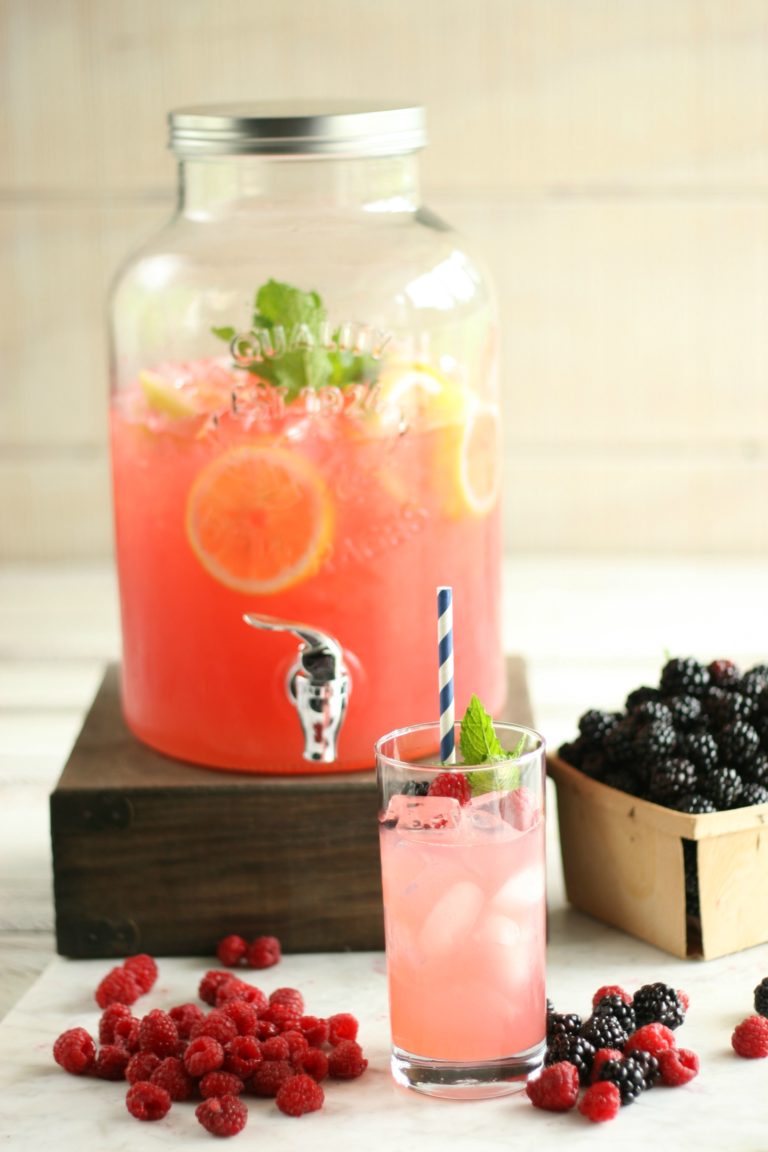 How to make homemade Raspberry Lemonade:
Step 1: For homemade Blackberry Raspberry Lemonade, get yourself a hand food mill and a fine mesh strainer. Simply cook your berries in a little bit of water in a saucepan so they don't burn and they'll soften. You can crush them with a potato masher and then push through a fine mesh strainer. Discard the seeds and pulp.
Step 2: Dissolve granulated sugar in water, making a simple syrup and then combine everything. Add plenty of ice and enjoy.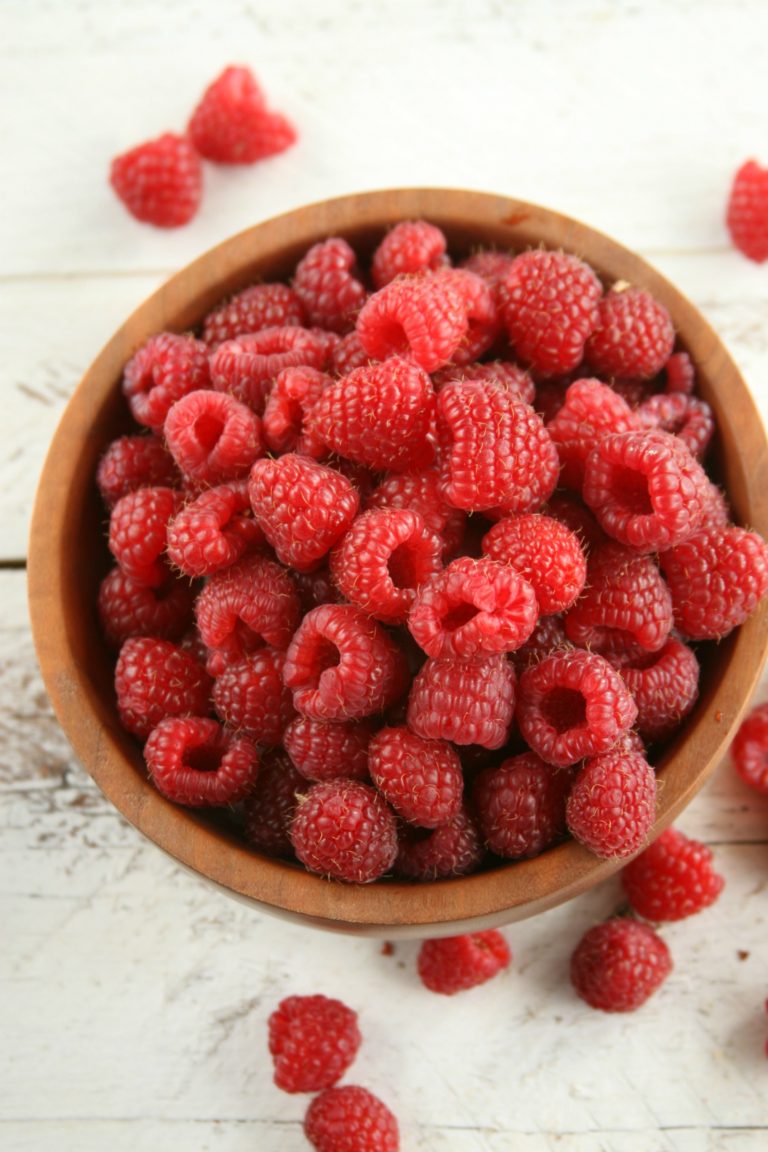 Did you make one of my recipes? Please take a moment to leave a star rating. Also, if you are on Pinterest, please feel free to leave a comment there! Follow A Farmgirl's Kitchen on FACEBOOK, PINTEREST and YouTube and subscribe my mailing list for ALL the latest recipes!
Blackberry Raspberry Lemonade
Wild black raspberries grew up the entire length of the driveway, intertwined into a stone wall my grandfather had laid on our farm, all the way to our pig barn. We picked them often during the summer and froze them. I love growing some of our own berries to use in desserts, jams and specialty drinks like this one.
Ingredients
Blackberry Raspberry Lemonade
2

cups

fresh lemon juice

3

cups

granulated sugar

3

cups

water

1

pint

blackberries

1

pint

raspberries

Ice cubes

Fresh mint for garnish
Instructions
Blackberry Raspberry Lemonade
In a medium saucepan over low to medium heat, soften the blackberries and raspberries with about ½ cup of water. Cook them until they are very soft. Use a hand food mill or a fine mesh strainer to separate the juices and seeds. Let the fruit juice cool, and discard the seeds and skins.

In a medium saucepan, dissolve the sugar in the water, making a simple syrup.

Pour the simple syrup, lemon juice, blackberry and raspberry puree into a 1-gallon pouring pitcher.
Nutrition
Calories:
360
kcal
|
Carbohydrates:
92
g
|
Protein:
2
g
|
Fat:
1
g
|
Saturated Fat:
1
g
|
Sodium:
7
mg
|
Potassium:
248
mg
|
Fiber:
7
g
|
Sugar:
82
g
|
Vitamin A:
146
IU
|
Vitamin C:
52
mg
|
Calcium:
38
mg
|
Iron:
1
mg
Disclosure: As an Affiliate Marketer, I earn from qualifying purchases. If you click a product affiliate link on A Farmgirl's Kitchen and make a purchase, I may receive a commission at no additional cost to you! I own every cooking product I recommend and love how they perform.