Cooking at home from scratch has never tasted better. My recipe for Cast Iron Pork Tenderloin with seasonal vegetables is easy to make and full of flavor.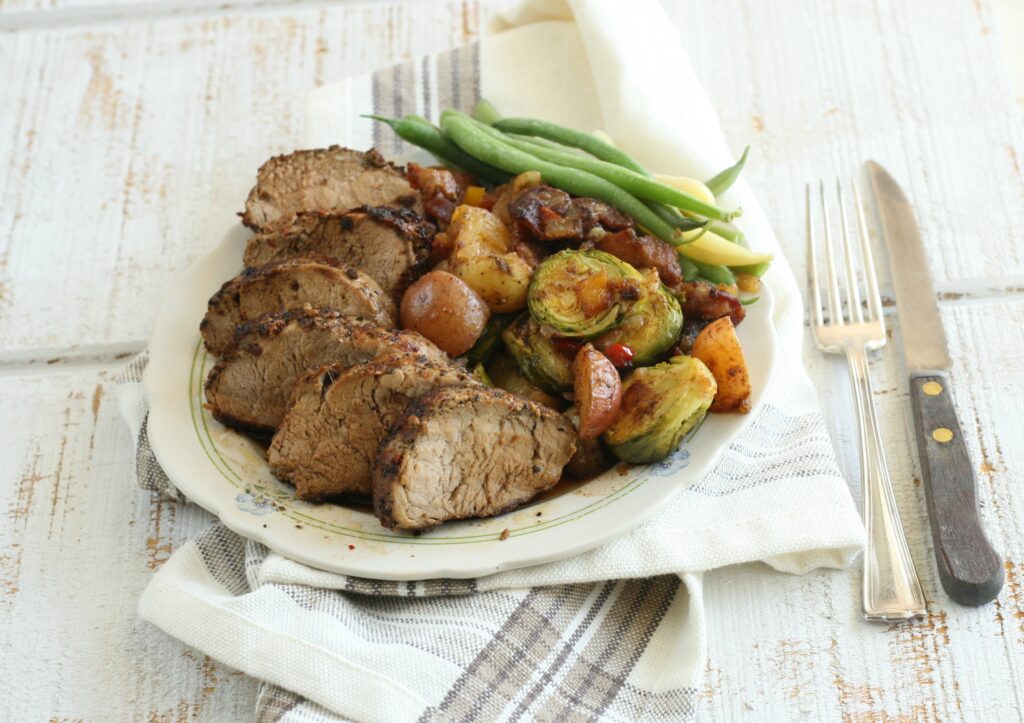 Do you love a great pork recipe that is easy to make and has wonderful flavor?
Smithfield Marinated Fresh Pork is a perfect and easy meal solution for any night of the week. Dinner with Smithfield® is Real Flavor, Real Fast, ready in 30 minutes or less! Smithfield Marinated Fresh Pork can be easily prepared in a variety of ways including, grilled, roasted, sautéed or in a slow cooker. I love that I don't have to turn to less-flavorful options when in a rush to get dinner on the table! The new roasts are perfect for slow cookers – set it and forget it!
For someone who usually makes all her own marinates, this saves me tons of time on busier nights. They are already marinated (making my life a tad easier) and with several options for incredible flavors. For the recipe I created, I used their Hardwood Smoked Bacon & Cracked Black Pepper Tenderloin variety. But there are so many wonderful marinates to choose from.
Follow these easy steps to prepare your Cast Iron Pork Tenderloin:
Step 1: Cut up your bacon into small pieces and brown in the cast-iron skillet in one tablespoon of extra virgin olive oil. Push the bacon around occasionally with a wooden spoon.
Step 2: While it browns, prep your sweet bell peppers and onion. Cut the baby potatoes in quarters. Once your bacon is browned, add the onions, sweet bell peppers and potato pieces. Drizzle with honey, season with salt, pepper, ground mustard, smoked paprika, powdered onion and garlic.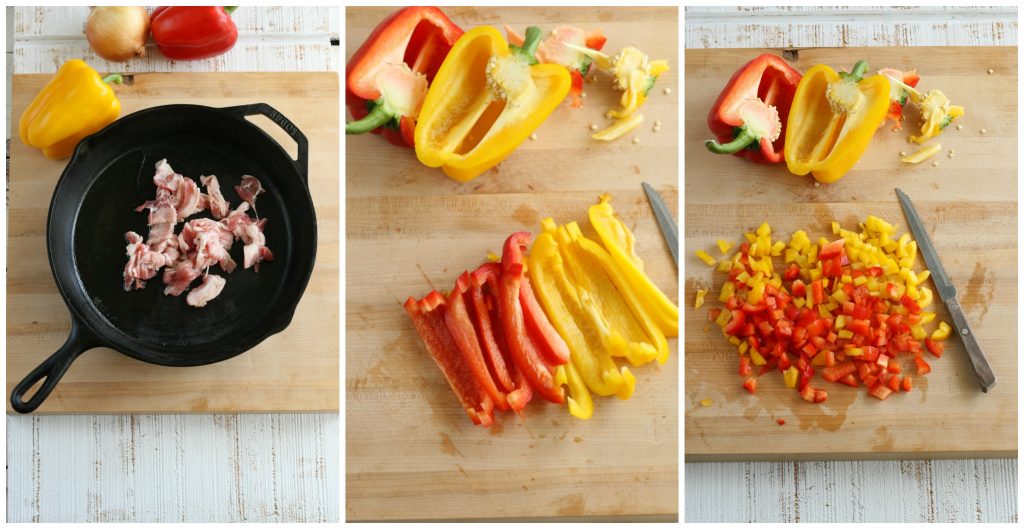 Step 3: Heat oven medium to high heat for about 10 minutes, on the stove top and stir with a wooden spoon, coating everything well. Then finish in a preheated 450 degree F oven for 20-25 minutes, until your potatoes are tender. About 15 minutes before the Farmhouse Skillet potatoes are ready, toss in halved brussel sprouts.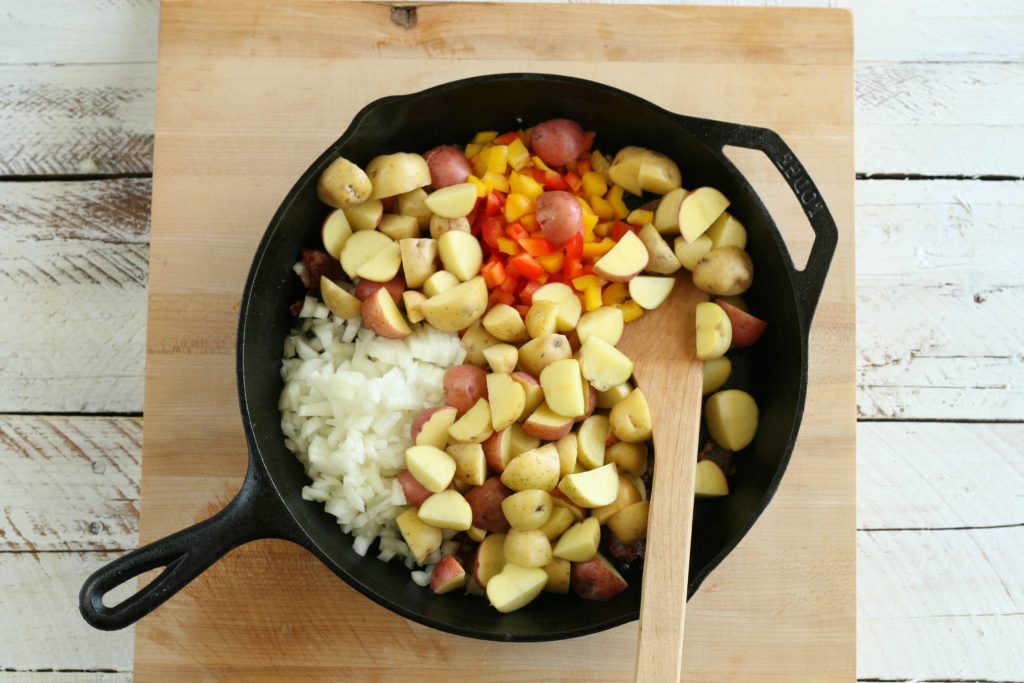 How to get your kids to eat more vegetable:
Working brussel sprouts into the potatoes is a great way to get your kids to eat more vegetables. During our growing season, we harvest many green and yellow wax beans, snap off the stems and freeze. So when we need something quick for vegetables to pair with a dinner, they're a snap to heat up. Just place about 1-inch of water in a saucepan, boil and add the green beans. Cook for 5-8 minutes, drain the water. Add a tablespoon of butter, salt and pepper to taste and voila!
Don't forget to re-purpose this yummy pork tenderloin for lunch the next day! Make yourself a garden salad, toss in some blue cheese crumbles and drizzle with honey balsamic dressing. Heat the pork up and toss on top of your salad. Yum! If you're not a huge salad fan, make some caramelized onions and mushrooms. Place the reheated pork on a toasted sub roll, shredded cheese and those onions and mushrooms, to create one delicious sandwich! Perfect for football Sunday too! Let me know how it comes out and what creative dishes you make!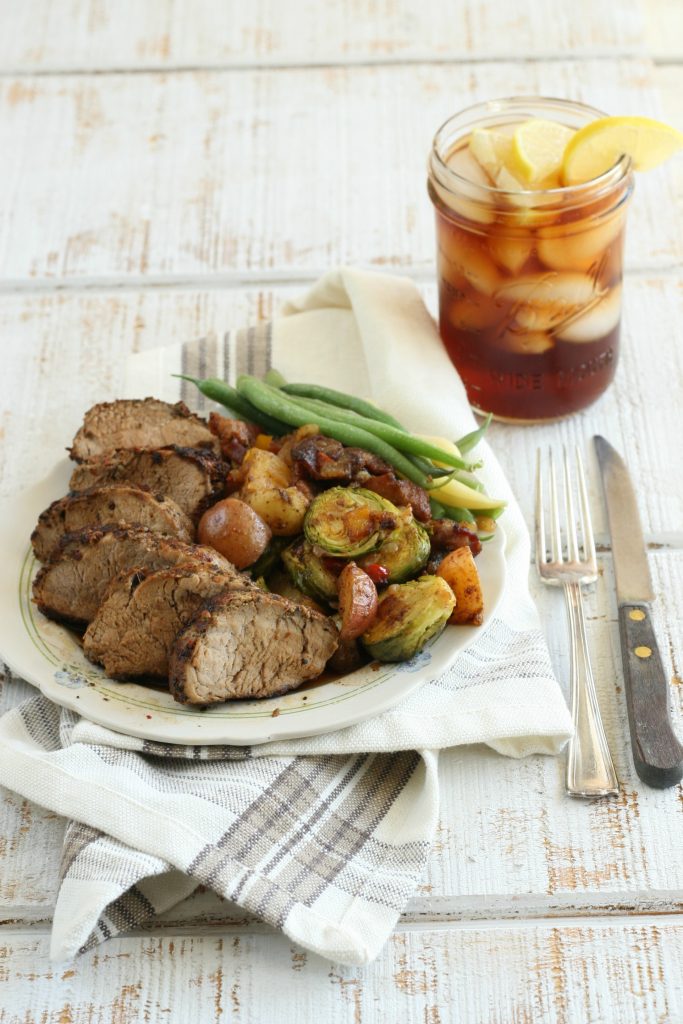 YOU MIGHT LIKE THESE OTHER RECIPES:
Southwestern Chicken Avocado Tomato Salad
Love this recipe? Please leave a star review and let me know!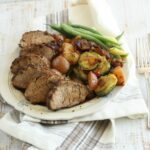 Cast-iron Pork tenderloin
Cast Iron Pork Tenderloin is a simple dish that is wonderfully moist and flavorful.

Ingredients
3-4

pound

Smithfield® Marinated Fresh Pork tenderloin

cut into 3 pieces

1-2

tablespoons

extra virgin olive oil

Farmhouse skillet potatoes:

15-18

baby potatoes

mix of yellow and red

6-8

slices

bacon

cut up

1

tablespoon

extra virgin olive oil

2

tablespoons

butter

1/2

red bell pepper

diced

1/2

yellow bell pepper

diced

1

small yellow onion

diced

12

brussel sprouts

cut in half

1

tablespoon

honey

2

tablespoons

balsamic vinegar

2

teaspoons

dry mustard

1

teaspoon

garlic powder

2

teaspoons

onion powder

1/2

teaspoon

smoked paprika

Salt and ground pepper to taste
Instructions
In a 10 to 12-inch cast-iron skillet, over medium heat brown the bacon in olive oil. Stir occasionally with a wooden spoon.

While the bacon is browning, prepare the bell peppers, onion and baby potatoes. Preheat the oven to 450 degrees F.

Once the bacon is browned, toss in the bell peppers, onion and baby potatoes. Sprinkle with seasonings, honey, balsamic vinegar and toss in the butter. Cook on the stove top over medium to high heat for about 10 minutes, stirring occasionally with a wooden spoon.. Then finish in the oven for about 20-25 minutes.

For the pork tenderloin:

Heat 1-2 tablespoons of olive oil in a 9-inch cast-iron skillet, over medium to high heat. Brown the pork tenderloin pieces on each side. Place the entire skillet in the preheated oven (450 degrees F) for about 20-22 minutes, or until the pork has reached an internal temperature of 160 degrees F.

Let the pork rest for 5 minutes before slicing. Place with the potatoes and enjoy.
Recipe Notes
Tips:
Don't overcook the pork. Pork is okay to have a little pink in the center.
A Farmgirl's Kitchen is a participant in the Amazon Services LLC Associates Program, an affiliate advertising program designed to provide a means for sites to earn advertising fees by advertising and linking to amazon.com.