Are you looking for something homemade for the kids to bring to school for Valentine's Day? Then these beautiful Decorated Heart Shaped Sugar Cookies are perfect for you!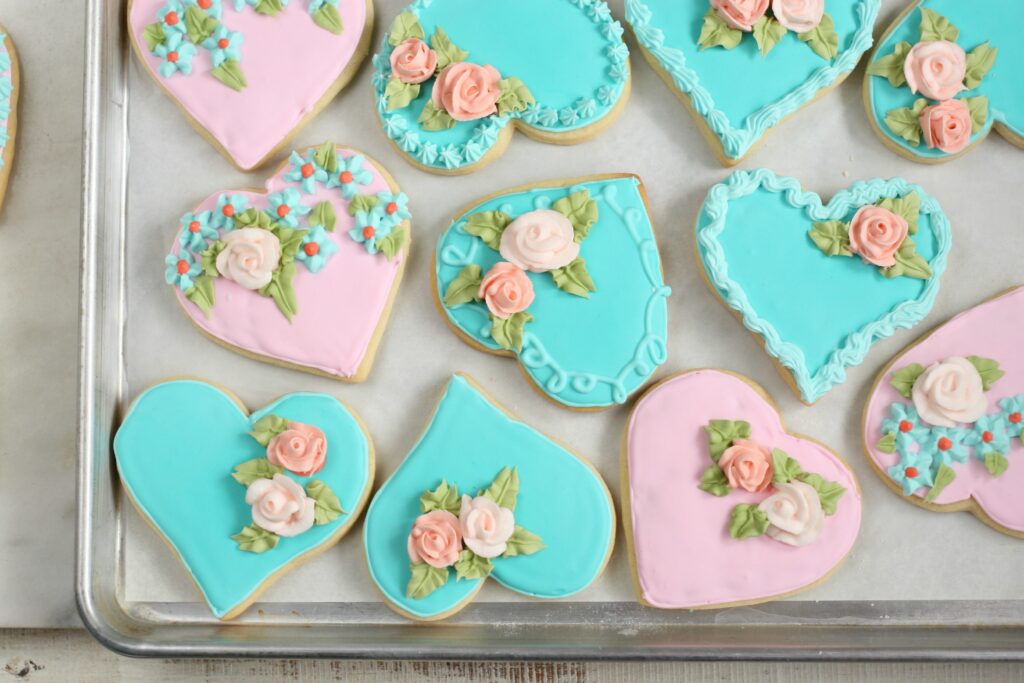 I always love something homemade, because not many people make things from scratch. Most people buy Valentine's Day trinkets to handout for school treats. But, I love something homemade and made with love.
The last few days I've been working on these Decorated Heart Shaped Sugar Cookies. I used a basic roll out sugar cookie recipe and either double or triple the recipe. Of course, you can do that when you are blessed with commercial baking equipment and a 10-quart mixer. Yes, 10-quart! I would of bought the 20-quart mixer if I had a sink big enough to wash it! We're planning on buying an older house and completely renovating it. Hopefully in the next year or two. So this farmgirl will be designing a big ole kitchen to work and play!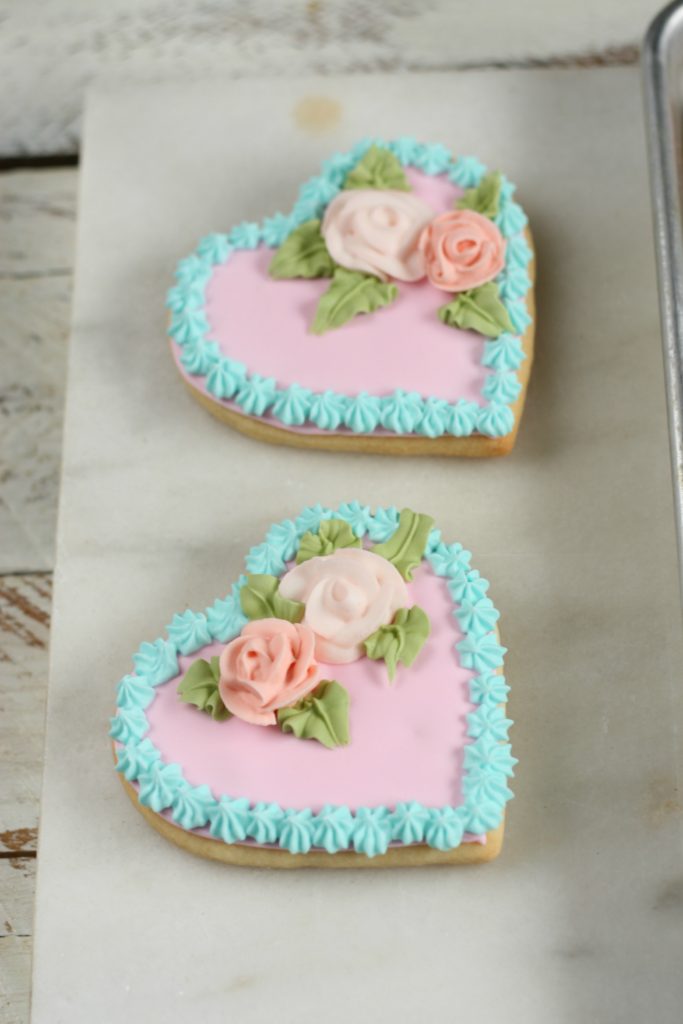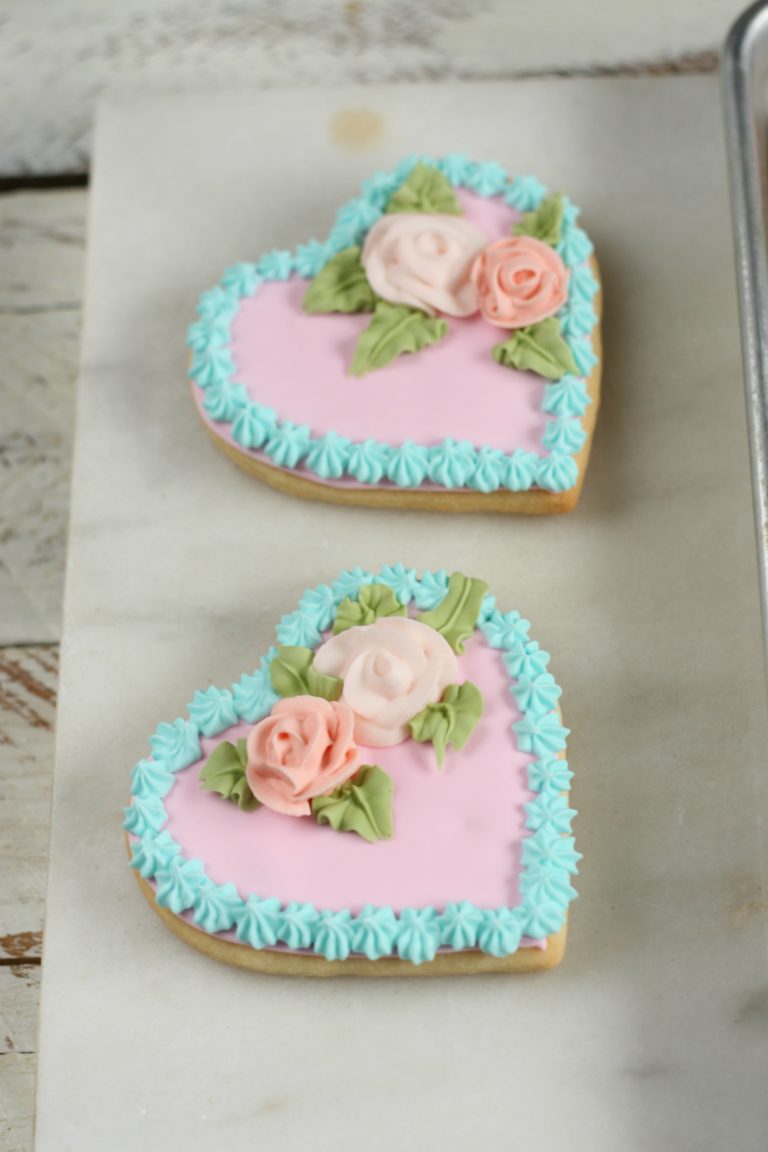 The first step is to make a basic roll out sugar cookie dough. Refrigerate it for a few hours or even overnight. For my schedule, making a batch of cookie dough at night and make the cookies the next day. By the time they are baked, I'm ready for an afternoon and evening of decorating. I used the Wilton Comfort Grip Heart Cutter. Roll out your dough to about 1/4-inch to 1/2-inch thick and cut your hearts out. Set them on a half sheet pan lined with parchment paper. (I love sheets of parchment paper, rather than a roll of parchment paper!) Bake at 400 degrees F for about 12-14 minutes or until lightly golden brown. Let cool completely before decorating with royal icing.
I love the look of a more finished cookie. So, I pipe outside edges with a thicker royal icing. Then go back and "flood" the entire cookie with thinner royal icing. Thin the icing out with a little bit of egg white. Stir together with a spoon and see how your consistency looks before placing the icing into a pastry bag. I use a wooden sandwich toothpick to help spread the icing to the edges. But, you can also buy a special tool to do this method. (My theory is to use what you have already!) On some of the cookies, while the flood icing was wet, I made white flood icing drops. Then pulled the toothpick to create hearts. On others, wait until the cookie is completely dry, then add the roses you made, after they dry thoroughly and add leaves.
While my cookie dough chills I make royal icing roses. You can find the royal icing recipe on the back of Wilton's meringue powder. Make sure that your mixing bowl and all utensils are free of any grease. If you get any sort of grease on your mixing bowl, rubber spatula or work area, the icing won't whip up and become stiff. So be sure and keep everything grease free!
You'll need a few supplies from Wilton, including meringue powder, flower tip set, flower nail, couplers, and disposable pastry bags. (You can find Wilton Cake Decorating products in Walmart, Michael's or on Amazon.) If you buy a small Wilton Cake decorating set, it will come with pretty much everything you need, plus a great little storage container.
To make roses, you'll use tip #104. Color the royal icing your desired color. I started with pale pink, and striped a small amount of pale yellow up the pastry bag before I filled it with pink. Then towards the end, just added white. This gave me a more natural looking rose and different variations.
Cut parchment paper into strips, and then into little squares. Set aside a nice pile of parchment squares. Place a coupler inside a disposable pastry bag. Place your tip #104 on and then twist on the ring to hold the tip in place. Fill your pastry bag with some royal icing.
Stick a little icing onto the flower nail, press that into a parchment square. Then, start by making a small mound of icing. Pipe the center of the rose, with the thin part of the tip up. Next, pipe petals. Start on one side, pipe a petal about half way around the center you just make. Go up and then back down and spin the flower nail as you work. Continue t o do this to build the entire rose. You want to overlap each petal a bit. Carefully slide the parchment square with rose onto a half sheet pan lined with parchment paper. Let dry completely, overnight, before removing from the squares of paper. Store in an airtight container in a cool place for extended time periods.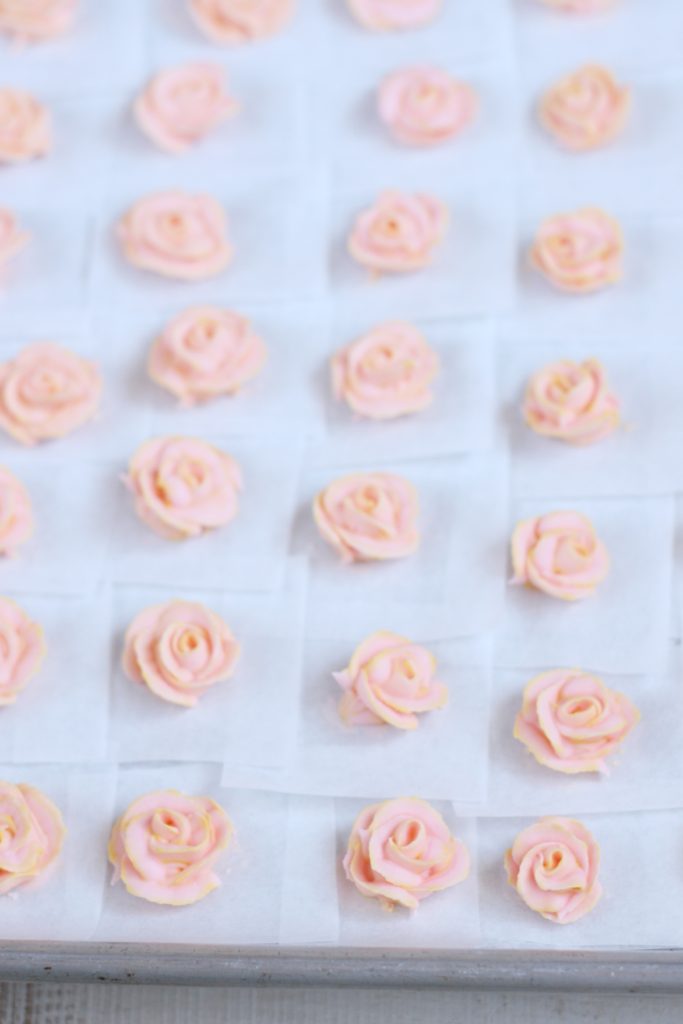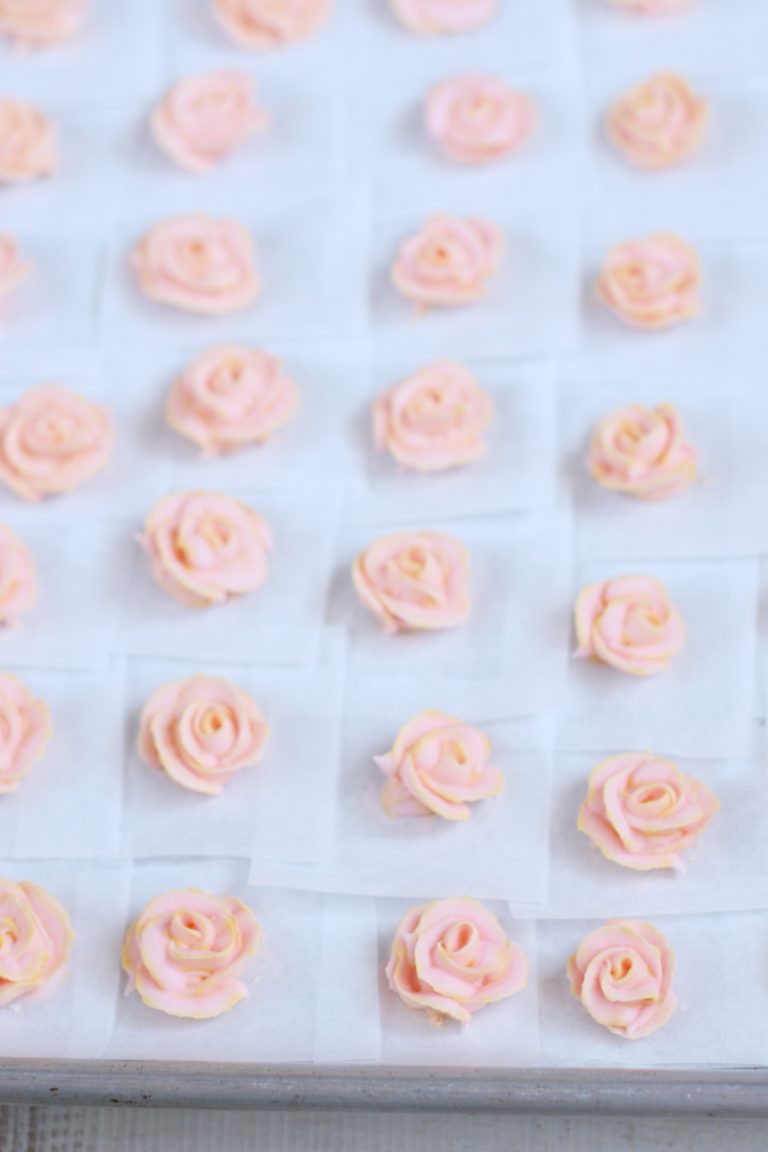 After the cookies are dry, I bag them up and close with a twist tie. You can add a brown Kraft tag and hand write details.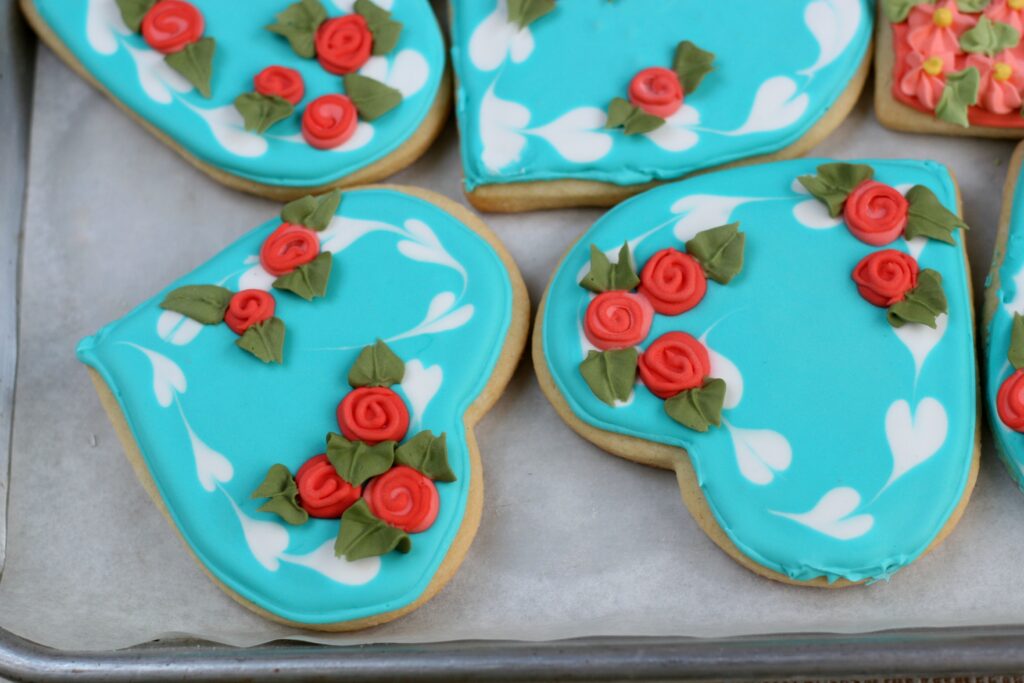 A Farmgirl's Kitchen is a participant in the Amazon Services LLC Associates Program, an affiliate advertising program designed to provide a means for sites to earn advertising fees by advertising and linking to amazon.com