Christmas Sugar Cookies are made with roll out sugar cookie dough and whatever cookie cutters you prefer. These sugar cookies are wonderfully soft and amazing flavor. This is the BEST recipe for decorating cookies for Christmas!
These Christmas cookies are decorated with colorful icing that hardens and make the perfect holiday gift. I've made thousands of these cookies and they always come out perfect.
The sugar cookie dough takes only a few minutes to prepare and uses basic ingredients.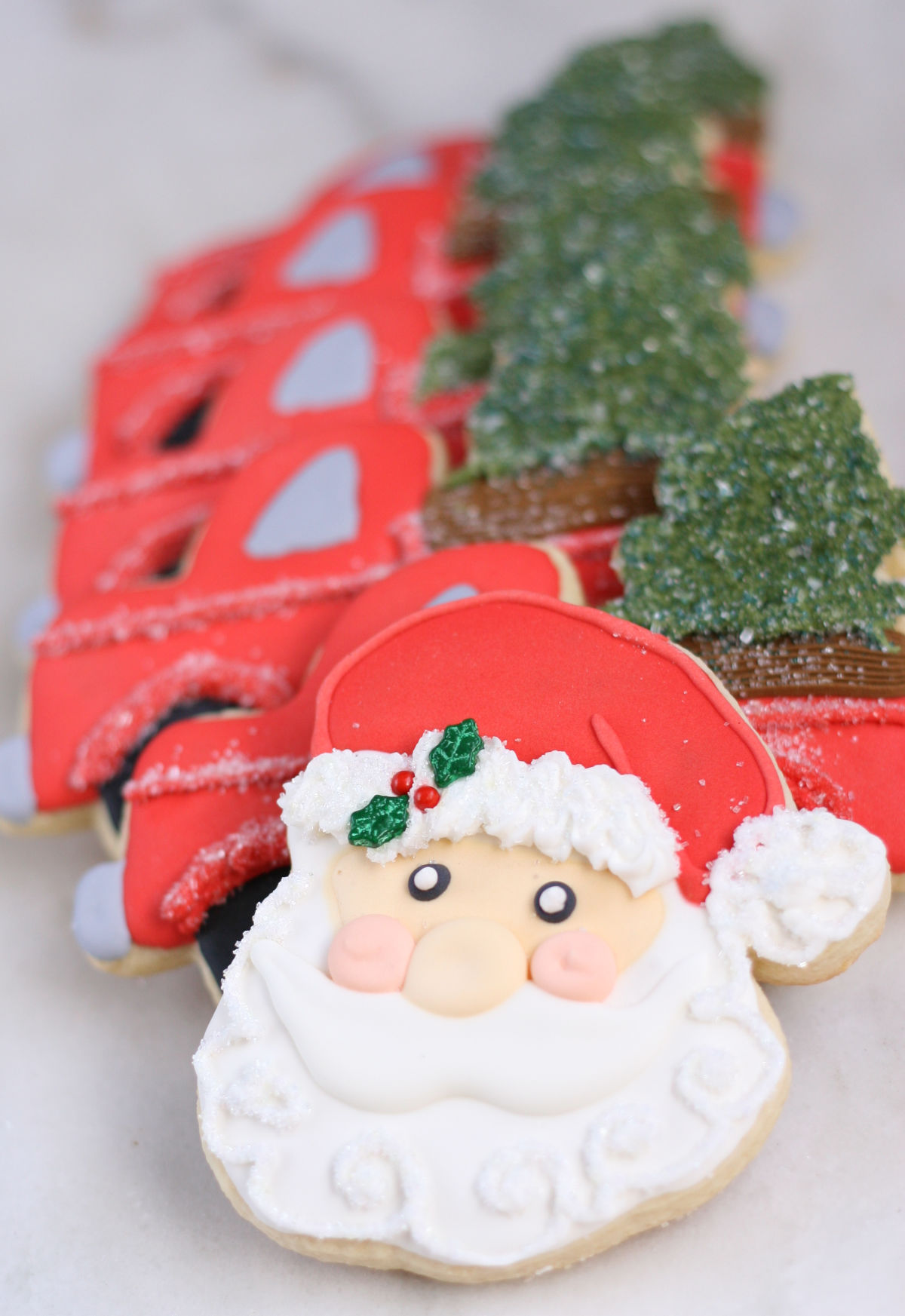 Don't be intimidated about making royal icing and these festive sugar cookies! With each cookie you make you'll get better and better!
I love making Christmas cookies and giving them to our neighbors and friends as gifts! I've shared with you simple ways to decorate Christmas cookies with these festive sugar cookies.
Why this recipe works
Easy to make Christmas cookie – Takes only minutes combine the ingredients!
Made with simple ingredients – readily available in your local grocery store.
Make ahead of time – Make these sugar cookies ahead of time, up to 2 weeks before Christmas!
Perfect holiday DIY gift – These adorable and festive sugar cookies make the perfect holiday gift.
What you'll need
All-purpose flour
Sugar
Butter – We keep butter stocked in the freezer at all times. This helps keep it fresh and free of smells from the fridge.
Eggs – With almost all of my recipes, we use large eggs. Always be sure you crack them into a small bowl or glass measuring cup and NOT directly into your mixing bowl.
Vanilla & almond extract – Adds the perfect flavor to this sugar cookie dough.
Sugar Cookie Dough
The sugar cookie dough needs time to chill in the fridge to solidify the butter and make sure the cookies don't spread too much while baking. But this sugar cookie dough is super simple to make with only a few ingredients!
My favorite Santa cookie cutter is available on Amazon! Anne Clark makes all these adorable cookie cutters in Rutland, Vermont. Most of my cookie cutters come from The Sweet Designs.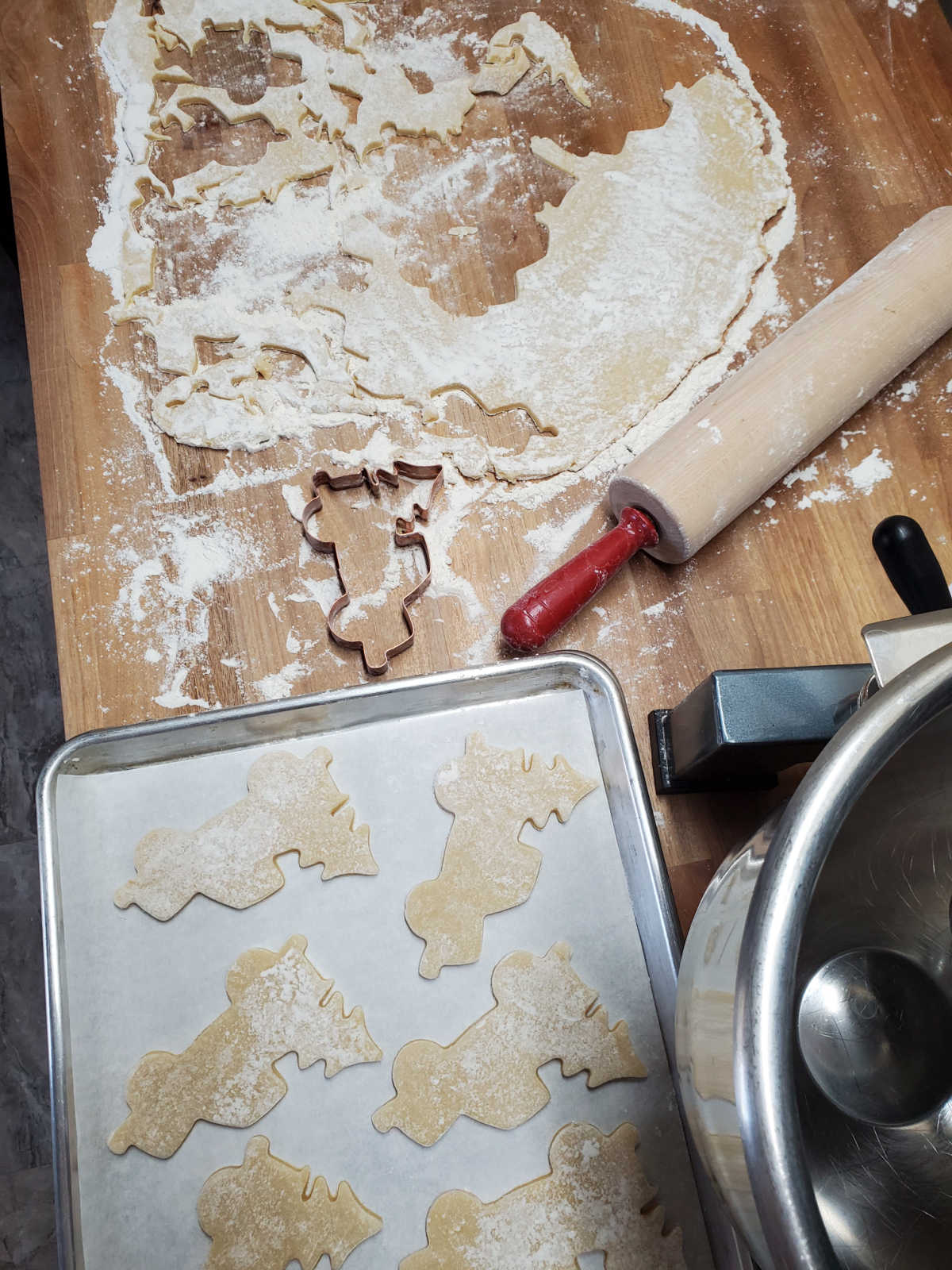 Bake rolled sugar cookies and let them cool completely. Below you can see the step images of the process of decorating each cookie.
Royal Icing
Royal icing is made with only 3- ingredients. Powdered sugar, meringue powder and water.
This icing hardens, so you want to be sure and have a clean, damp kitchen towel over your bowl preventing it from drying out as you make sugar cookies.
Also be sure that nothing has any grease on it. Or your royal icing will not harden properly.
Make royal icing and thin it out with egg whites in a separate bowl to get the consistency you want. Add drops of food coloring to the separate bowls.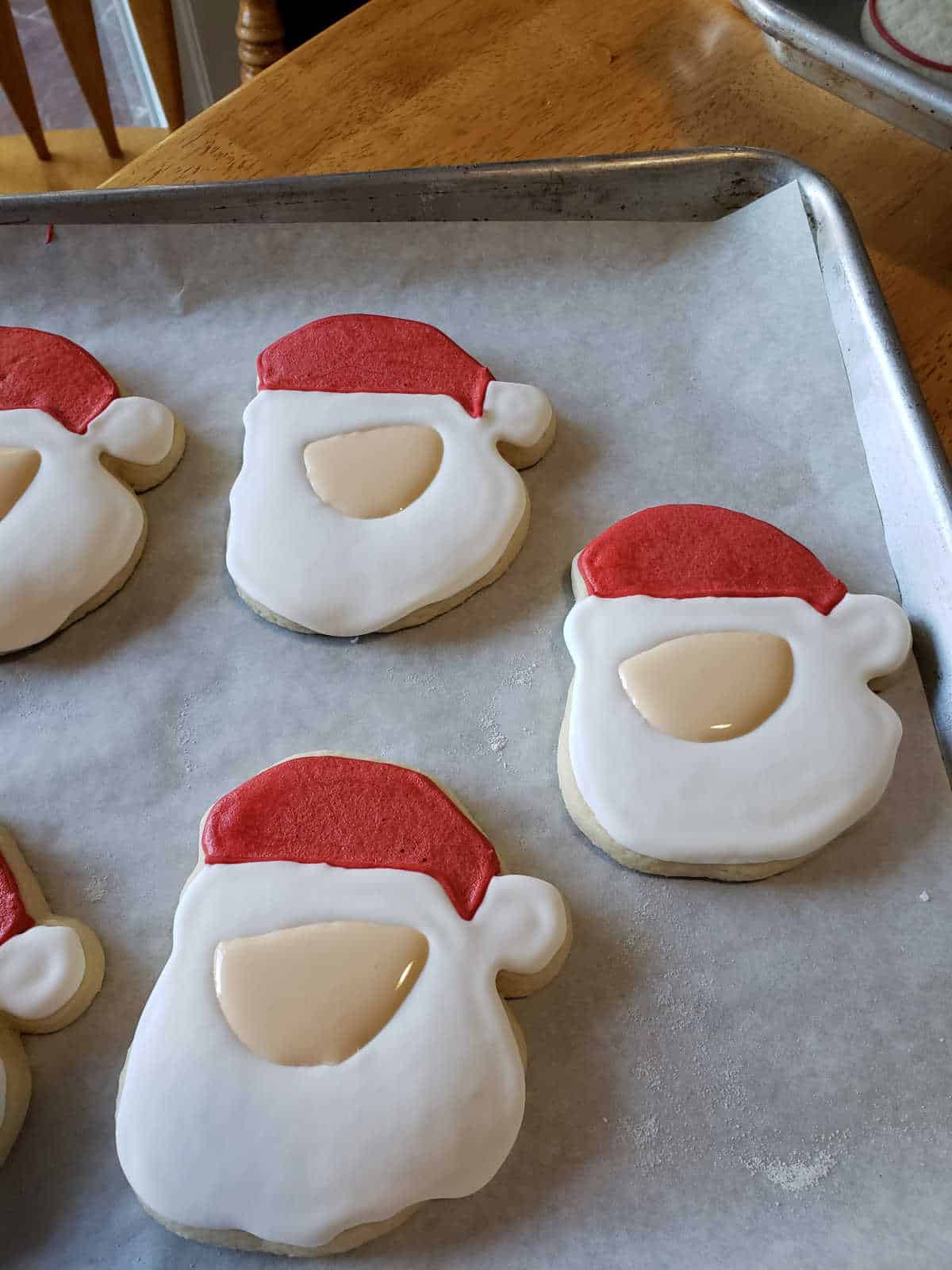 Pipe royal icing around the outer edge of the cookie. Then flood each section with thinned out royal icing. Working in steps, pipe on one section at a time. Use a scriber needle to move royal icing on the cookie.
Finally added details to each cookie. Once you get the royal icing down, you can let your creativity take over! Be sure and check out Sweetopia's amazing video on how to decorate festive Christmas cookies! Be inspired this holiday season!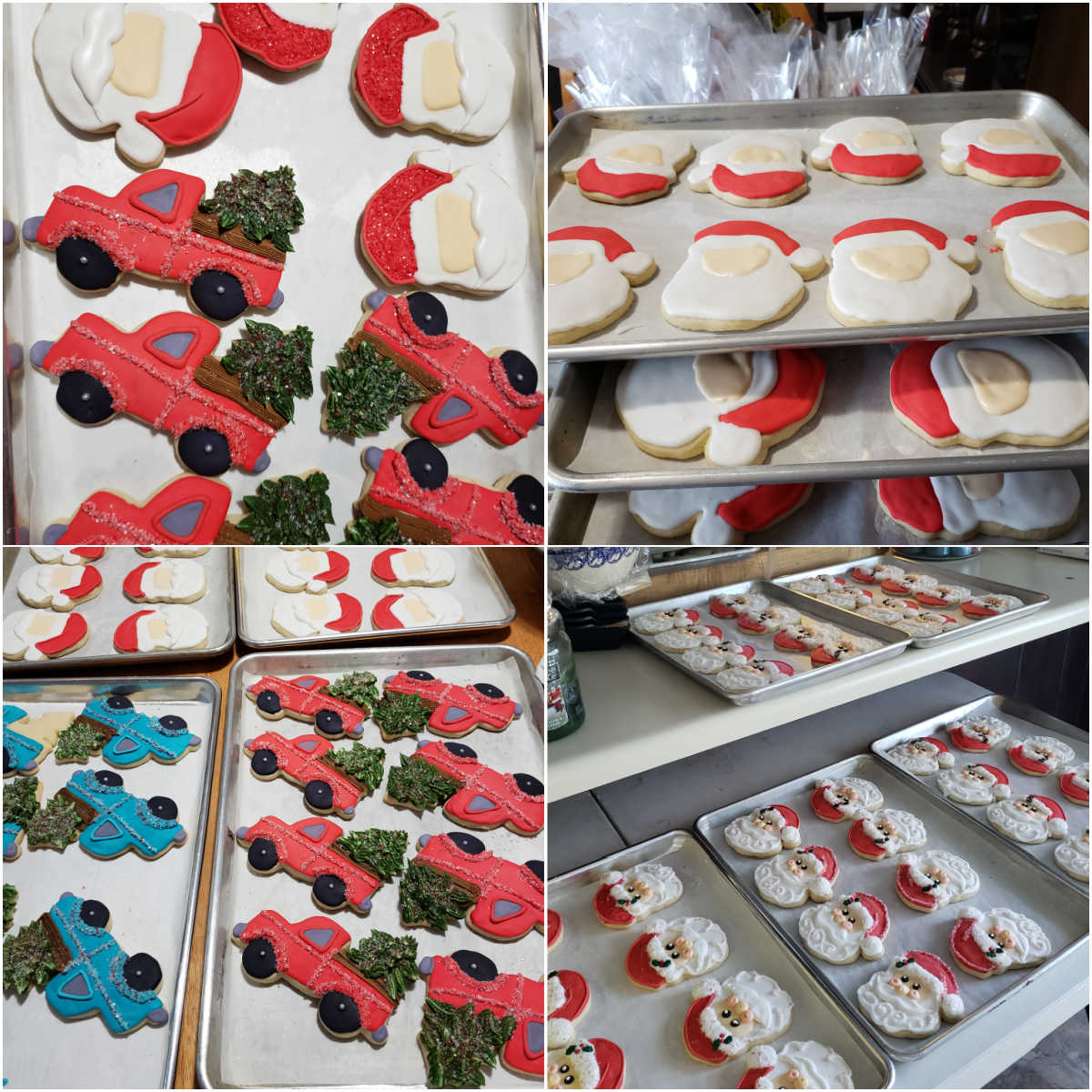 I now have a baking rack to dry my sugar cookies. But, before I did I just let them dry on baking racks on the kitchen table or counters.
To save space, I stacked sheet pans in opposite directions on top of each other. (Just be really careful not to have them drop into each other- or you'll ruin your icing!)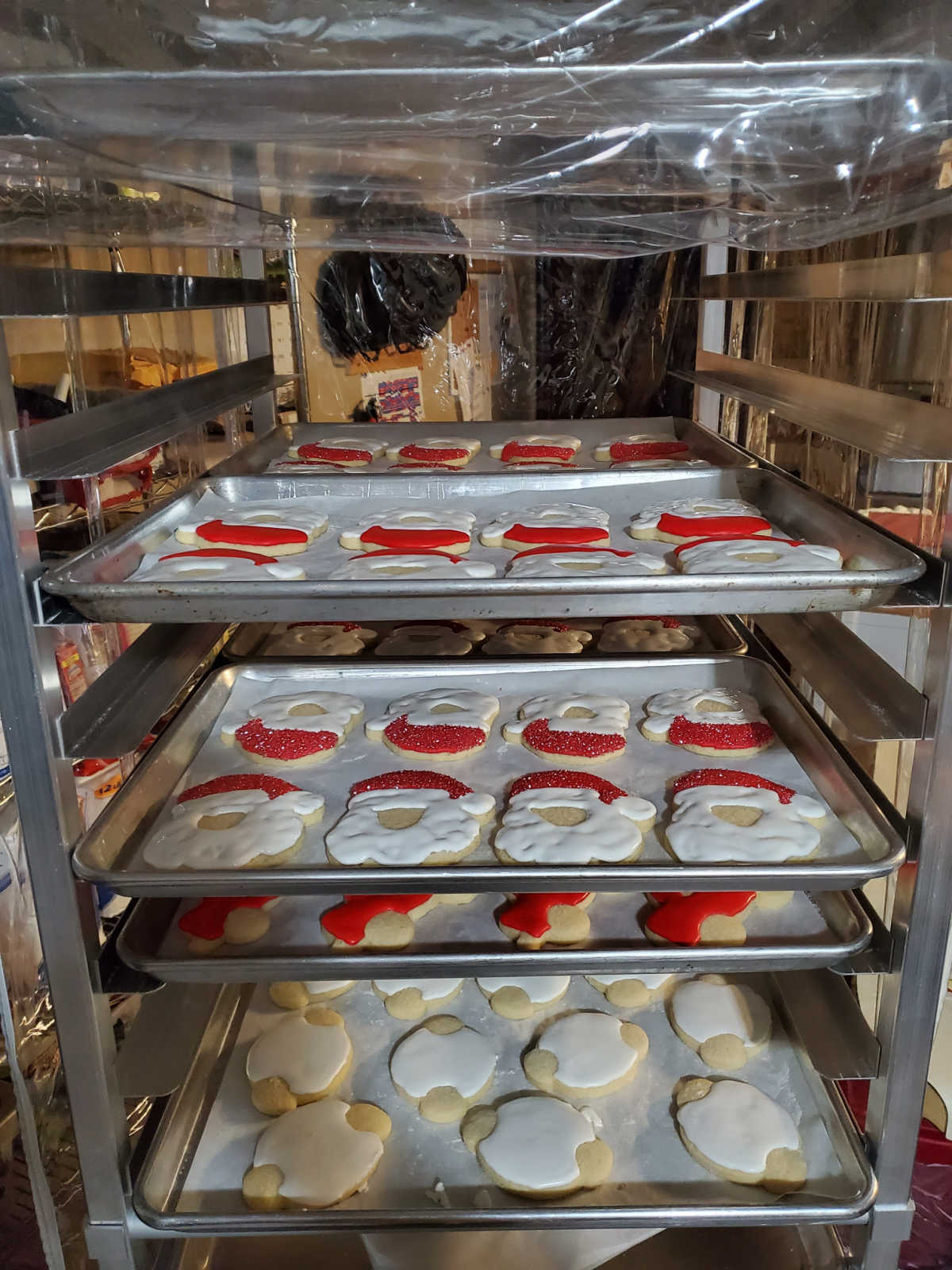 The royal icing needs to dry thoroughly, about 12 hours before packaging your cookies up into clear cellophane bags.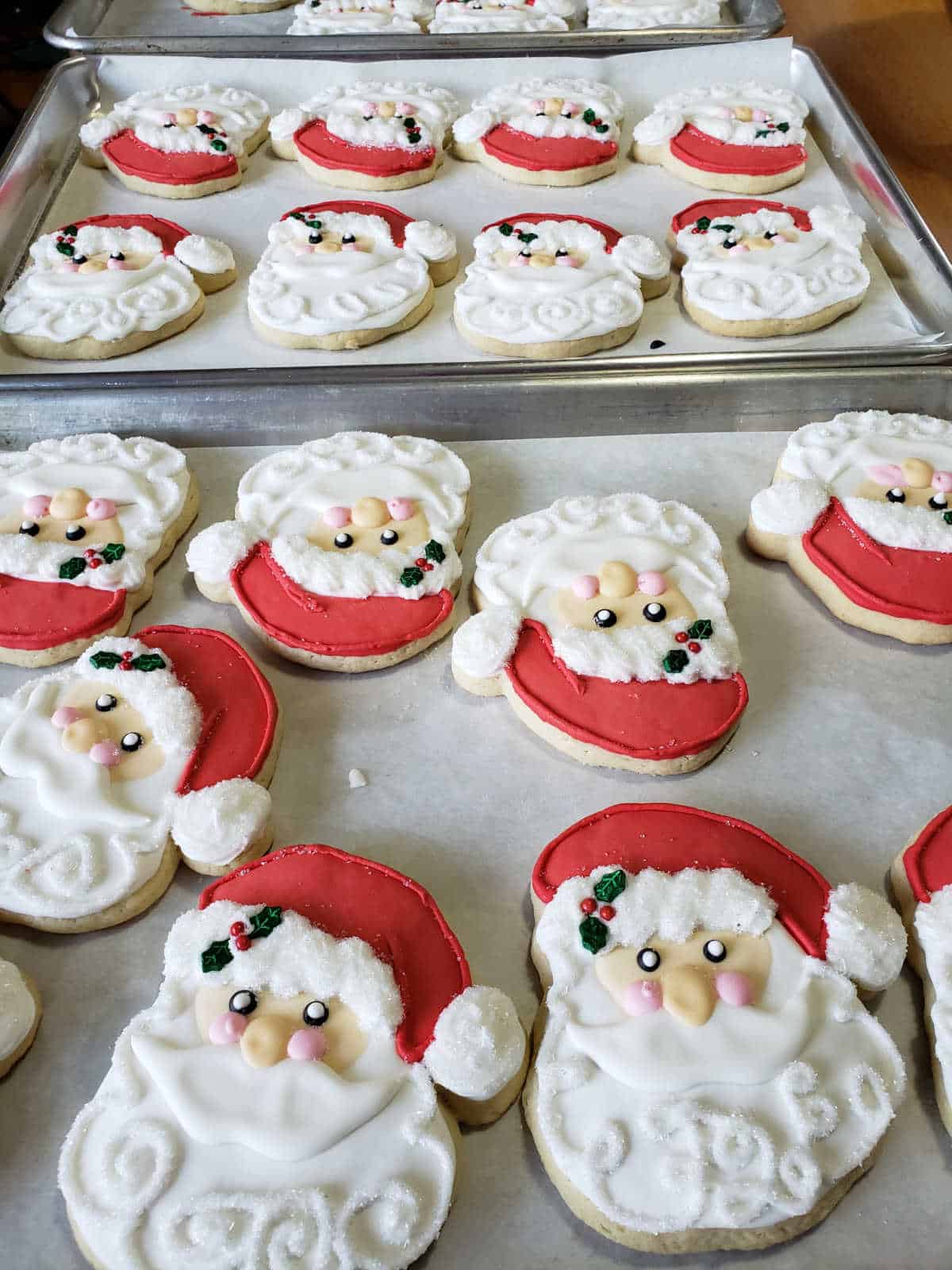 Recipe FAQs
How far in advance can you make Christmas sugar cookies?
This variety of sugar cookies will maintain freshness for 2-3 weeks if packaged individually in clear cellophane food-safe bags. Or, they can be stored in an airtight container with layers of parchment paper in between cookies in the freezer for up to 1 month.
How thick should you roll out sugar cookies?
Roll out the dough on a lightly floured work surface to about ¼-inch thick. This is the ideal thickness to roll out your sugar cookie dough so they can be handled and still bake up nicely.
Can I leave sugar cookies out overnight?
Yes, leave sugar cookies out overnight to dry thoroughly. We recommend leaving iced sugar cookies out overnight to fully set. Icing needs to be fully dried before packaging cookies.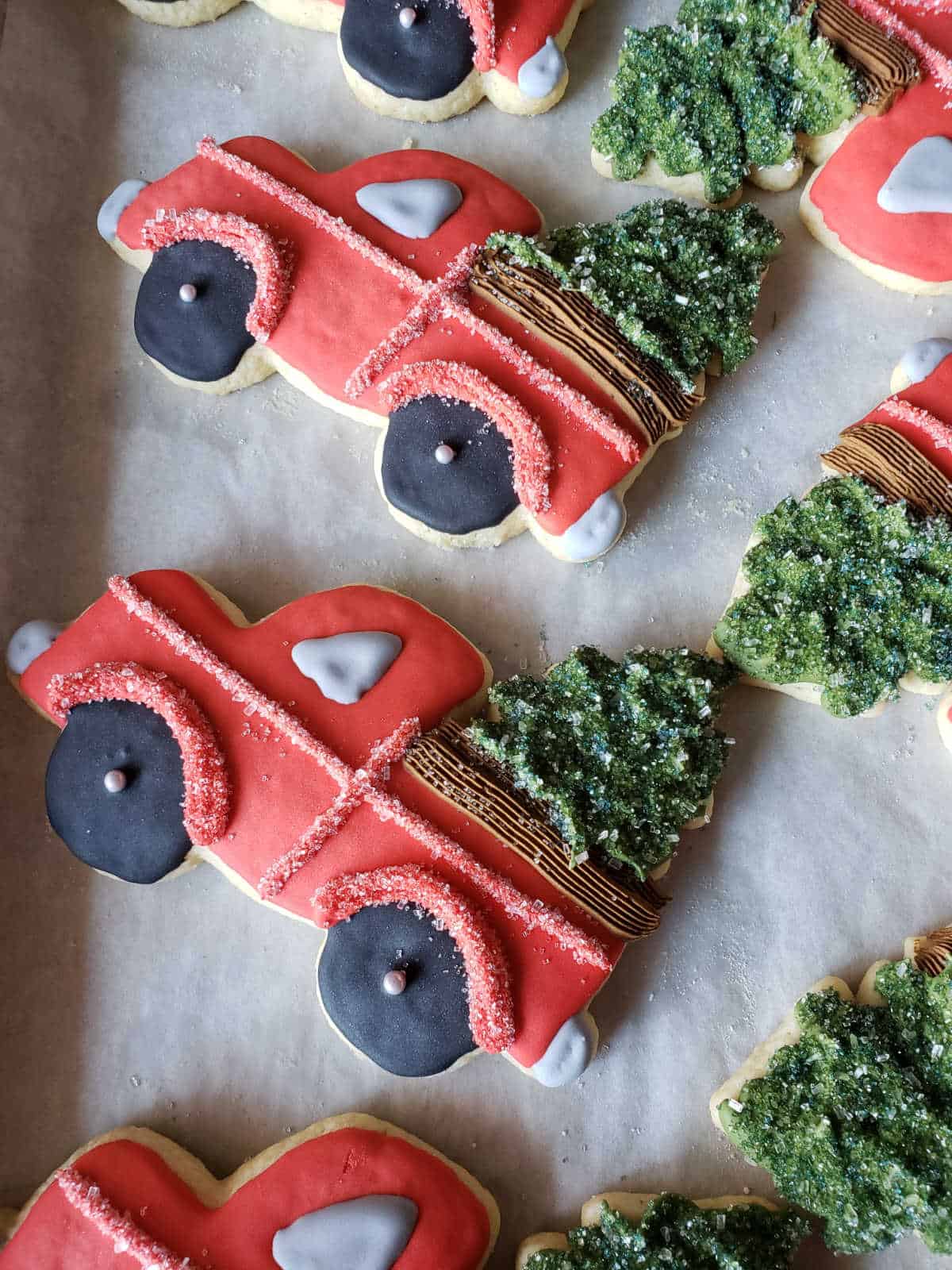 Aren't these Vintage red trucks adorable? This is my favorite (and most popular design) that I make for the holidays! Get the cookie cutter HERE!
One of my favorite cookies is the Truck with Christmas Tree cookie cutter. There are several great options! Truck with Tree and this one Truck with Christmas Tree. You really can't go wrong with either one of these!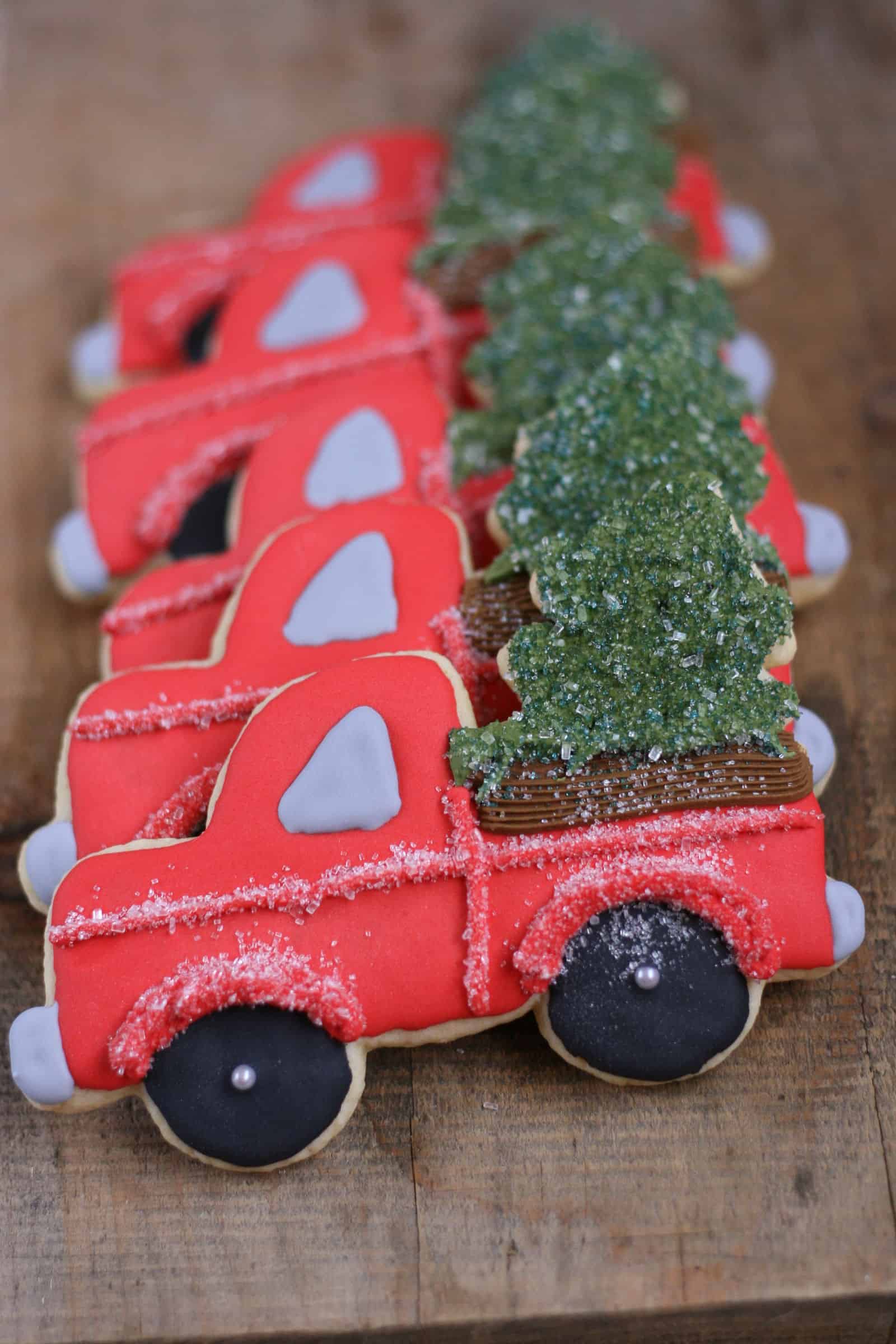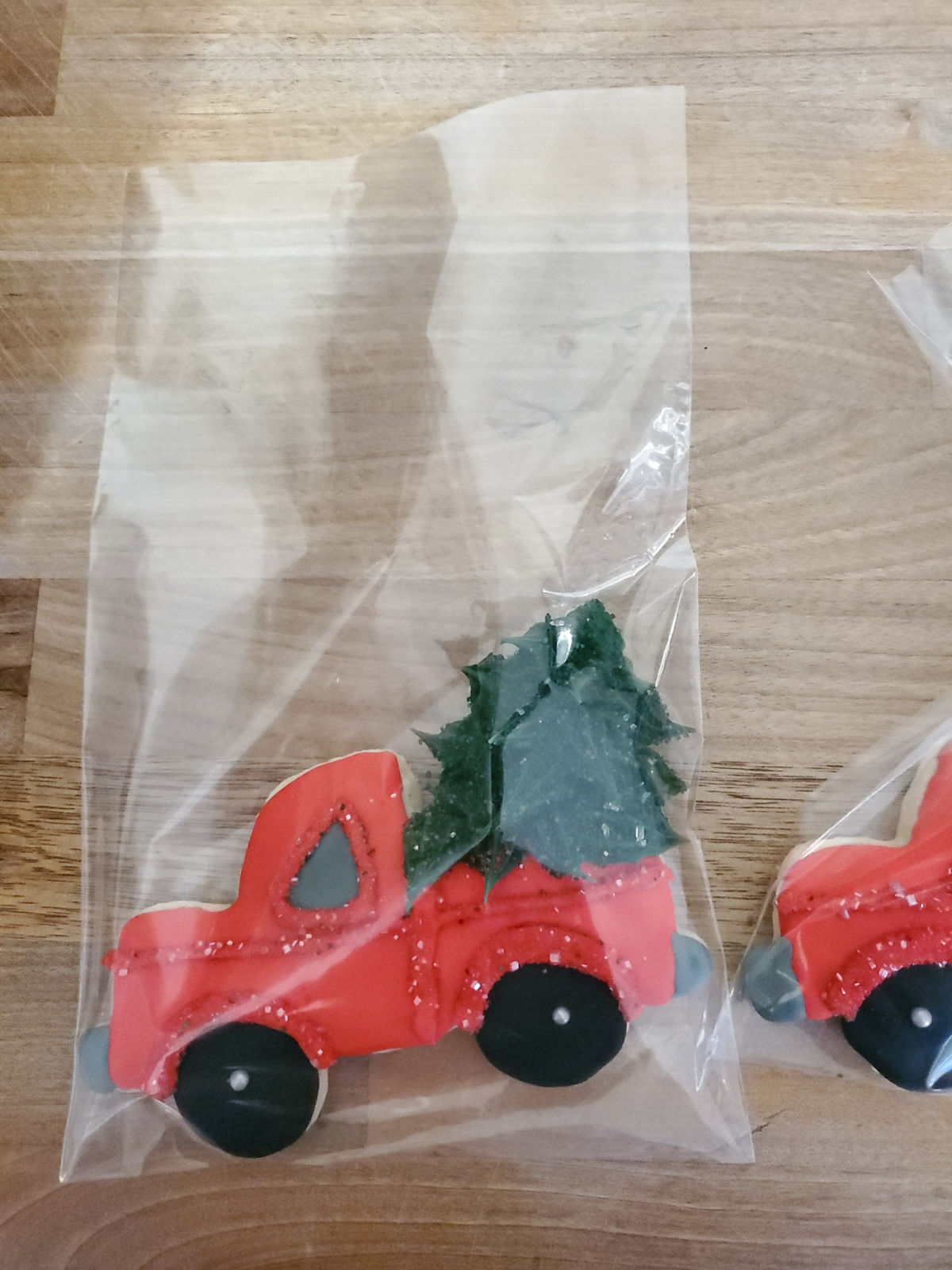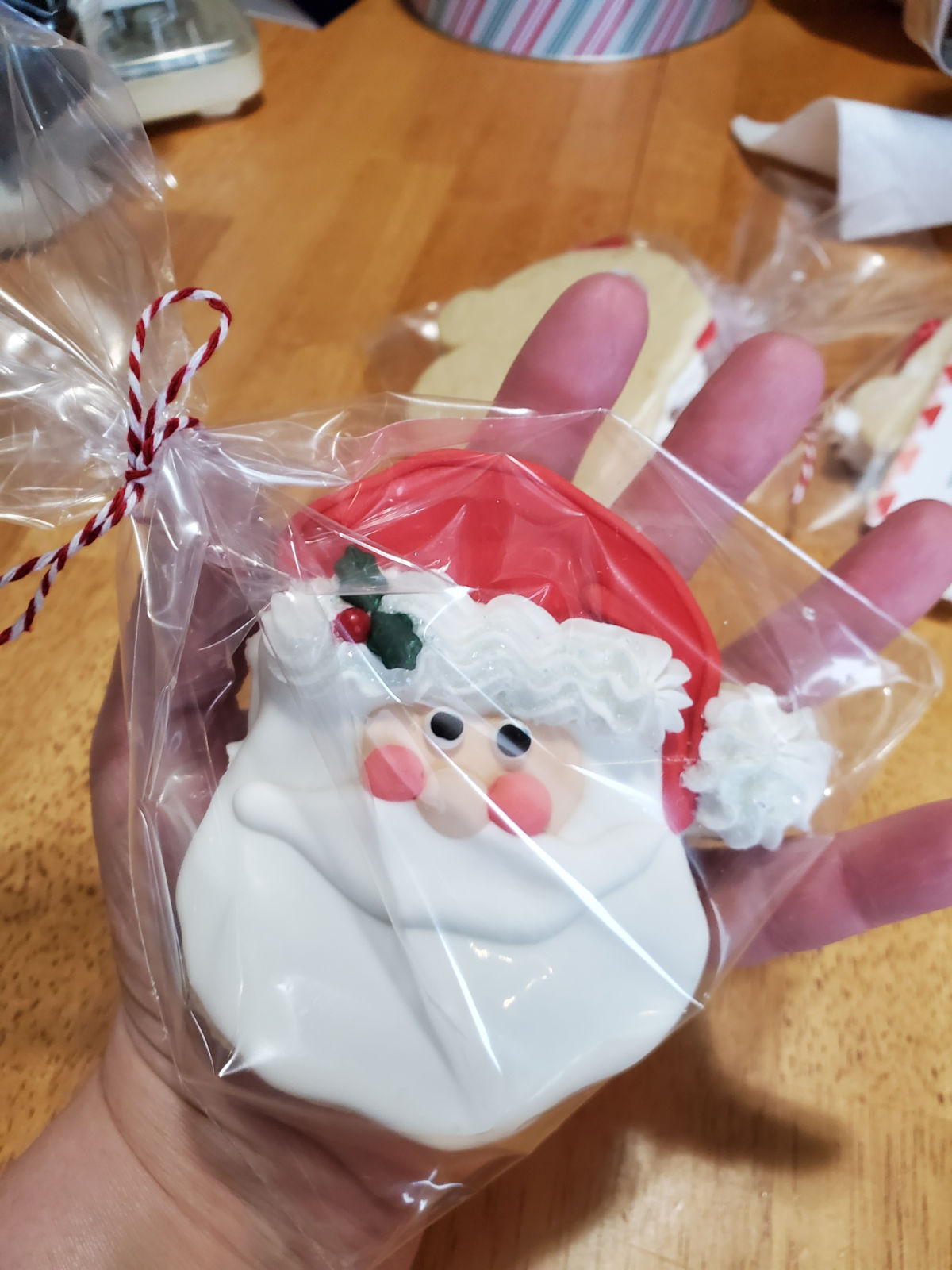 Other Cookie Recipes
Did you make one of my recipes? Please take a moment to leave a star rating. Also, if you are on Pinterest, please feel free to leave a comment there! Follow A Farmgirl's Kitchen on FACEBOOK, PINTEREST and YouTube and subscribe my mailing list for ALL the latest recipes!
Christmas Sugar Cookies
Christmas Sugar Cookies are made using simple ingredients and a cookie cutter. Use a simple roll out sugar cookie and royal icing.
Ingredients
Sugar Cookies
1 ½

cups

unsalted butter

(softened)

2

cups

granulated sugar

4

large

eggs

(room temperature)

1

teaspoon

pure vanilla extract

½

teaspoon

almond extract

5

cups

all-purpose flour

2

teaspoons

baking powder

1

teaspoon

salt
Instructions
Sugar Cookies
In a large mixing bowl, using a stand mixer, cream together the butter and sugar until smooth and fluffy.


Beat in the eggs, vanilla, and almond extract. Stir in the flour, baking powder, and salt. Mix until combined thoroughly. Scrape the sides and bottom of the bowl with a rubber spatula occasionally.


Place the cookie dough into a large zip-style bag and chill in the refrigerator for 1 hour or overnight.

Preheat the oven to 400 degrees F. Roll out the dough on a lightly floured work surface to about ¼-inch thick. Cut into shapes with cookie cutters. Place the cookies carefully onto parchment lined half sheet pans, leaving a little space for them to expand.

Bake for 12-14 minutes or until lightly golden brown. Cool completely before decorating.
Royal Icing
In a large mixing bowl of a stand mixer, beat all ingredients at medium speed until icing forms peaks and loses its sheen, 7-10 minutes.


If peaks are not forming, increase the mixer speed and continue to beat. To prevent drying, cover the bowl with a damp cloth while working with icing.

Recipe Notes
Christmas Cookies
Prepping cookies ahead of time:
Cookie dough will keep in the fridge for about 2-3 days.
Baked cookies will keep up to 2 weeks and remain fresh if packaged in clear baggies to maintain freshness.
Remember to rotate your baking pans about half way through baking. Rotate the pans 180 degrees and if baking two pans at a time also rotate them from top to bottom rack, and vis versa. 
Because everyone's ovens are slightly different, it's a good idea to have an oven thermometer. Use this to monitor the temperature of the oven. Baking times can vary.
We like our sugar cookies very lightly browned, but baked all the way. This creates a very soft cookie. We estimate the baking time to be 12-14 minutes. But, it can vary depending on your oven.
Let cookies cool completely before attempting to apply icing.
Making Royal Icing:
For royal icing you need to make certain your mixing bowl and spatula are clean and free of any grease. If not, the icing will not set correctly.
To thin out royal icing, beat egg whites with a few teaspoons of water. Gradually add to your individual bowls of icing to get different consistencies of icing. Be sure and cover icing bowls with damp cloths or it will harden!
This is the meringue powder I prefer.
Nutrition
Calories:
355
kcal
|
Carbohydrates:
57
g
|
Protein:
4
g
|
Fat:
13
g
|
Saturated Fat:
8
g
|
Cholesterol:
66
mg
|
Sodium:
220
mg
|
Potassium:
84
mg
|
Fiber:
1
g
|
Sugar:
36
g
|
Vitamin A:
406
IU
|
Calcium:
27
mg
|
Iron:
1
mg
Disclosure: As an Affiliate Marketer, I earn from qualifying purchases. If you click a product affiliate link on A Farmgirl's Kitchen and make a purchase, I may receive a commission at no additional cost to you! I own every cooking product I recommend and love how they perform.