Homemade pie crust just makes a pie from scratch that much more tasty. This pie crust recipe is buttery, flaky, tender and is delicious with any type of pie.
We've worked for several years perfecting this pie crust recipe with lard. Our pie crust recipe uses simple to find ingredients and is made by hand. This achieves perfect pie crust consistently.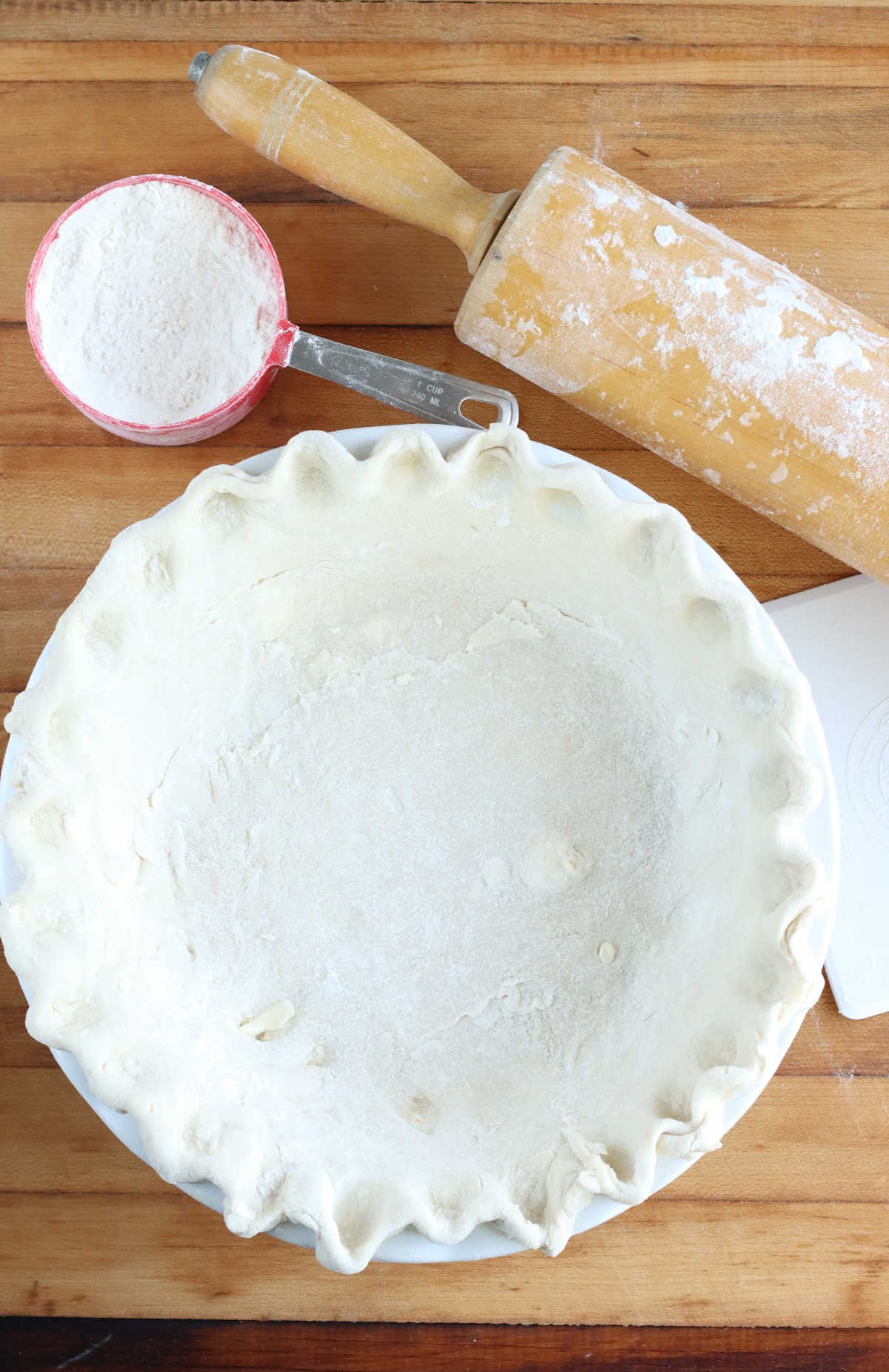 One of my fondest memories is of my mom making Homemade Apple Pie each fall. Each fall, we would visit our local apple orchard to pick out a bushel of tart apples. That always made the best pie.
Grandma used to make her pie crust with lard. That's because it was readily available and lard makes an incredible flaky and tasty crust. In combination with regular butter, it truly makes the tastiest pie crusts and biscuits.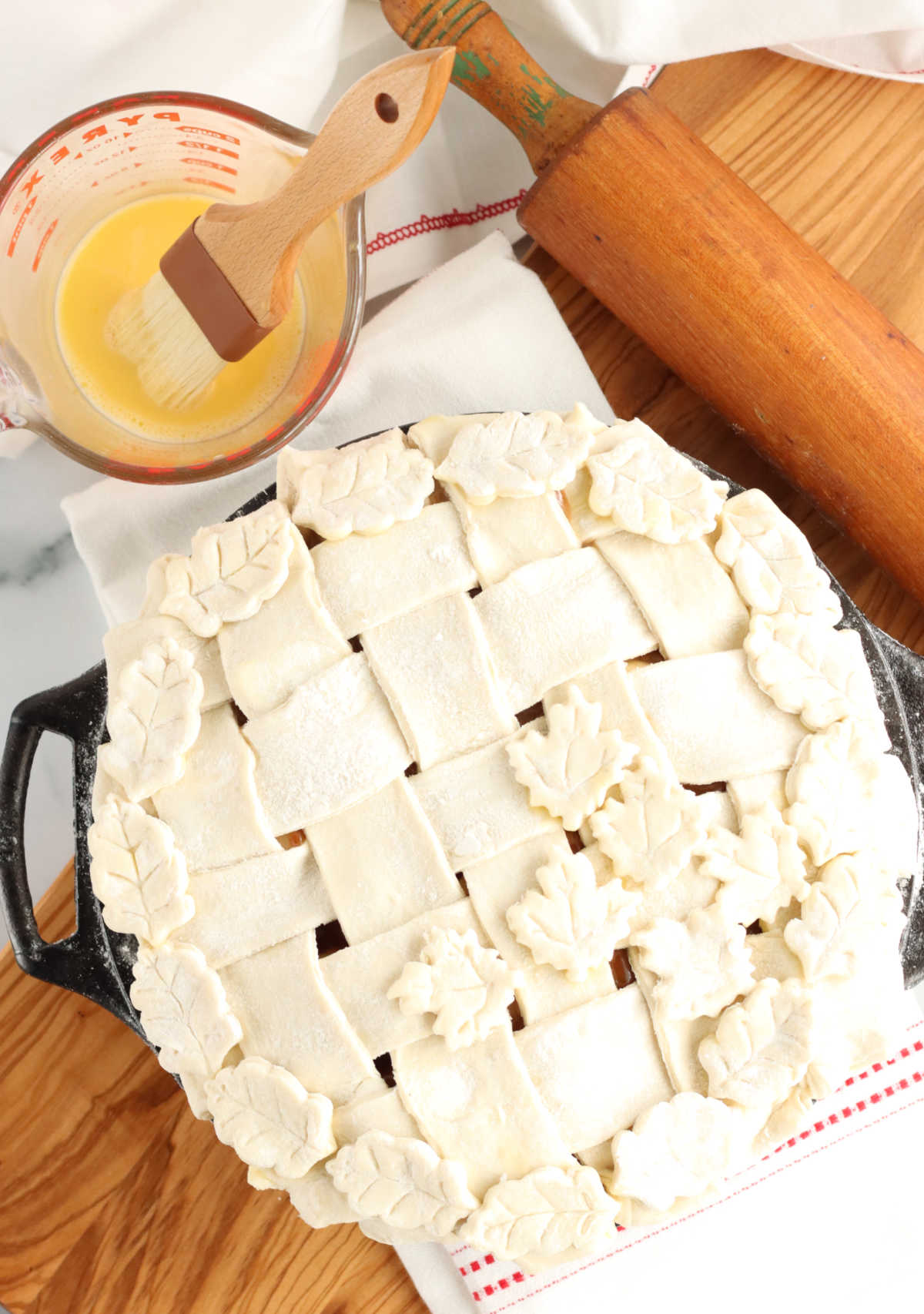 Use this pie crust recipe for all sorts of delicious homemade pies including Pecan Pie, Pumpkin Pie, French Meat Pie, and Chicken Pot Pie.
Why this recipe works
Made with simple ingredients, readily available in your local grocery store.
Make ahead of time! You can make homemade pie crust ahead of time. Refrigerate it for a few days or freeze for a month or two.
Freezer friendly! Prep your pie shells ahead of time and freeze for later. This will help you keep prep work of making a pie from scratch smooth.
What you'll need
All purpose flour – Use a good brand of all-purpose flour for the best pie crust from scratch. They have a higher protein level and make baked goods better.
Lard – Easily located in many grocery stores in the baking aisle (near the vegetable shortening) or you can order it online.
Butter – Adds a nice touch of flavor to this recipe and nothing beats the flavor of fresh butter.
Salt – Brings out the flavor of baked goods.
Cold water – Fill a glass measuring cup with ice cubes and add water. It's essential to keep all of the ingredients cold so we don't make too much gluten.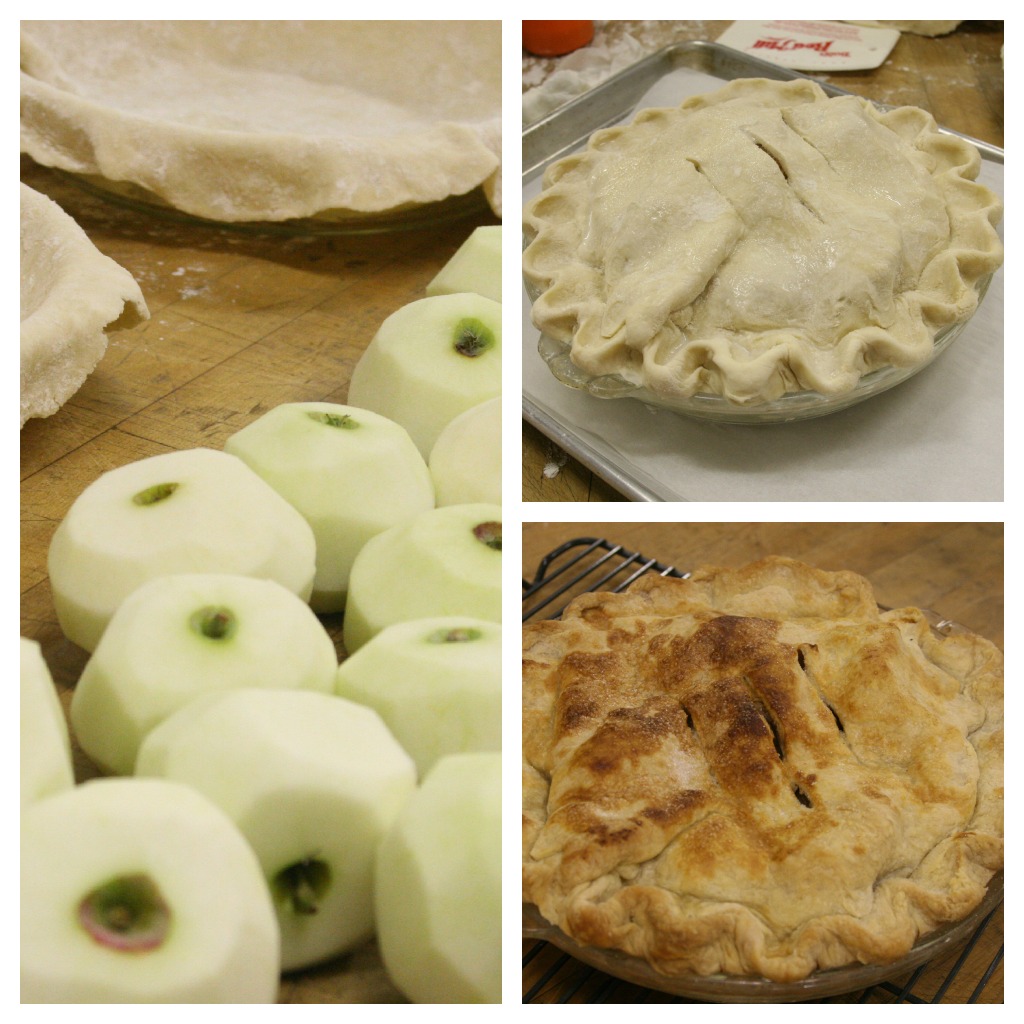 While many struggle making pie crust from scratch, I'll walk you through steps how to make pie dough by hand. Because there's nothing better than homemade pie crust!
What is the trick to making good pie crust?
Use very cold butter or fat – Keep the butter, shortening or fat well-chilled and cut into small pieces to begin with.
Don't overwork the dough – While some recommend using a food processor to make pie crust, we do not. We recommend using a pastry blender and making pie crust by hand. The more you work with the fat pieces and flour, the higher chance for gluten formation, making pie crust tough.
Roll out and turn the dough – Roll out the dough away from yourself and turn the dough often. Keep even pressure with the rolling pin across the entire circle of pie crust so the edges and center remain the same thickness.
Chill lined pie pans – Cover the prepared pie pan with plastic wrap and chill for 20 minutes to 1 hour before filling with pie filling. This will help the pie crust retain it's shape when baked.
Should you chill pie crust before baking?
Keeping the lard and butter cold keeps the fat from melting and is essential for creating a flaky pie crust.
There is no doubt that pie crust can either make or break a pie.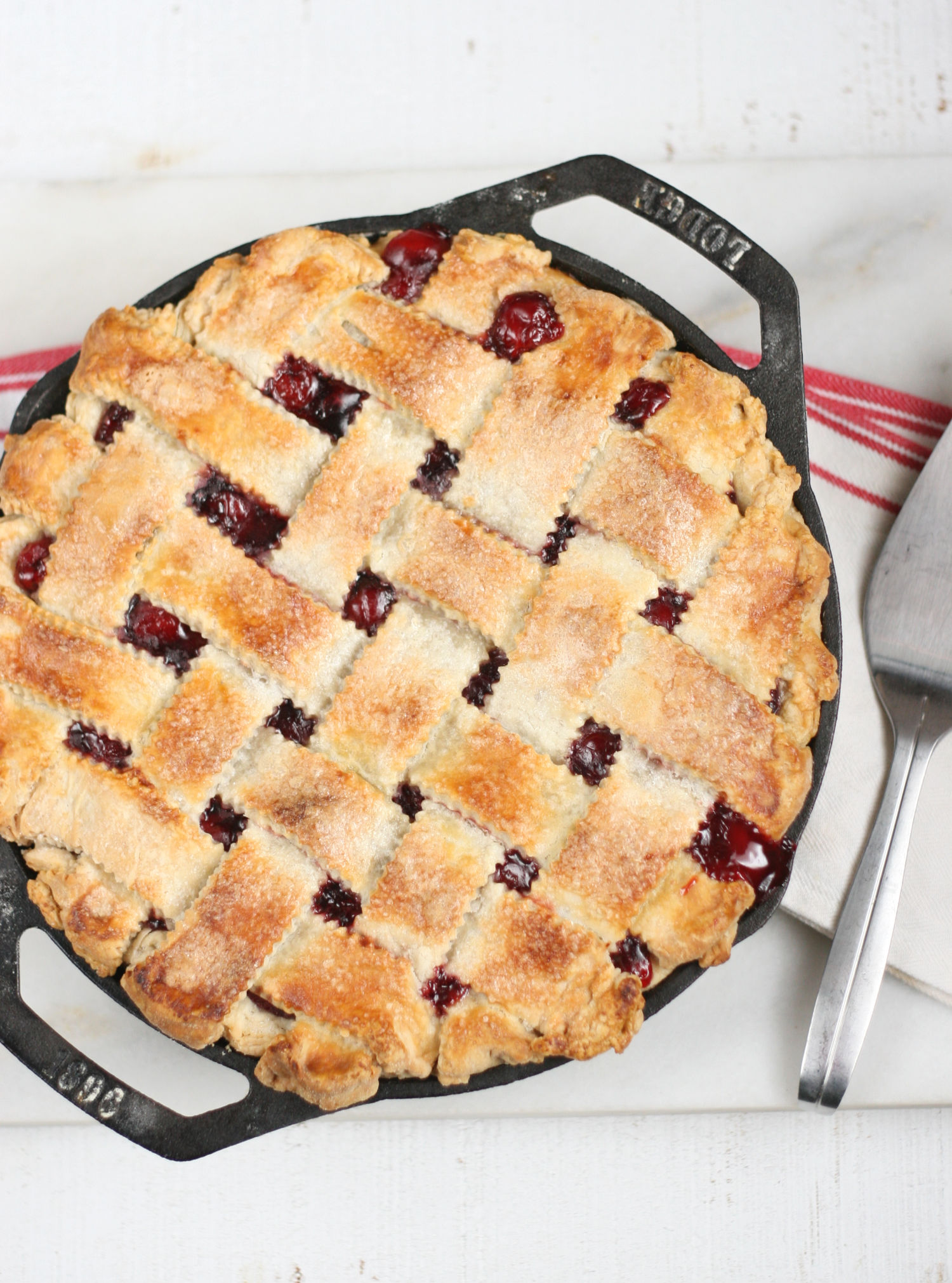 How to make Pie Crust
Homemade pie crust is simple to make. It's important not to overwork the ingredients and keep the pie dough cold. I recommend NOT using a food processor when making pie crust.
Step 1: ln a large mixing bowl combine flour and salt with a large spoon.
Step 2: Use a simple pastry blender or two forks, cut in the lard and cold butter by hand. Work the lard and butter into the flour until you have pea-sized pieces.
The less you work the dough, the more likely you are to end up with a blue-ribbon winning pie crust.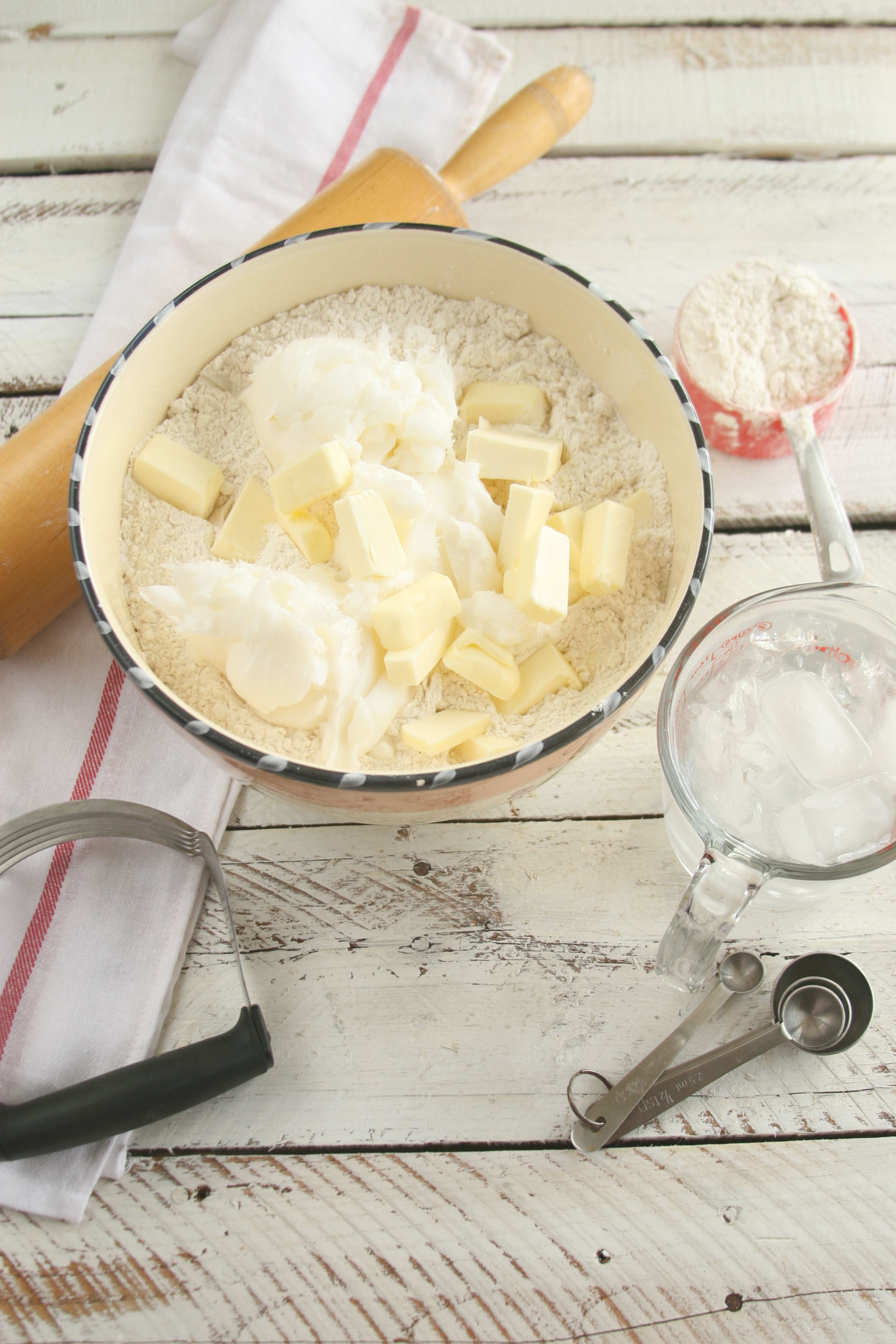 Step 3: Place ice cubes into a large glass measuring cup and fill with cold water. Slowly add ice water to the flour mixture and stir with a large spoon or rubber spatula. Stop adding water when you can gently squeeze the mixture together with your hands.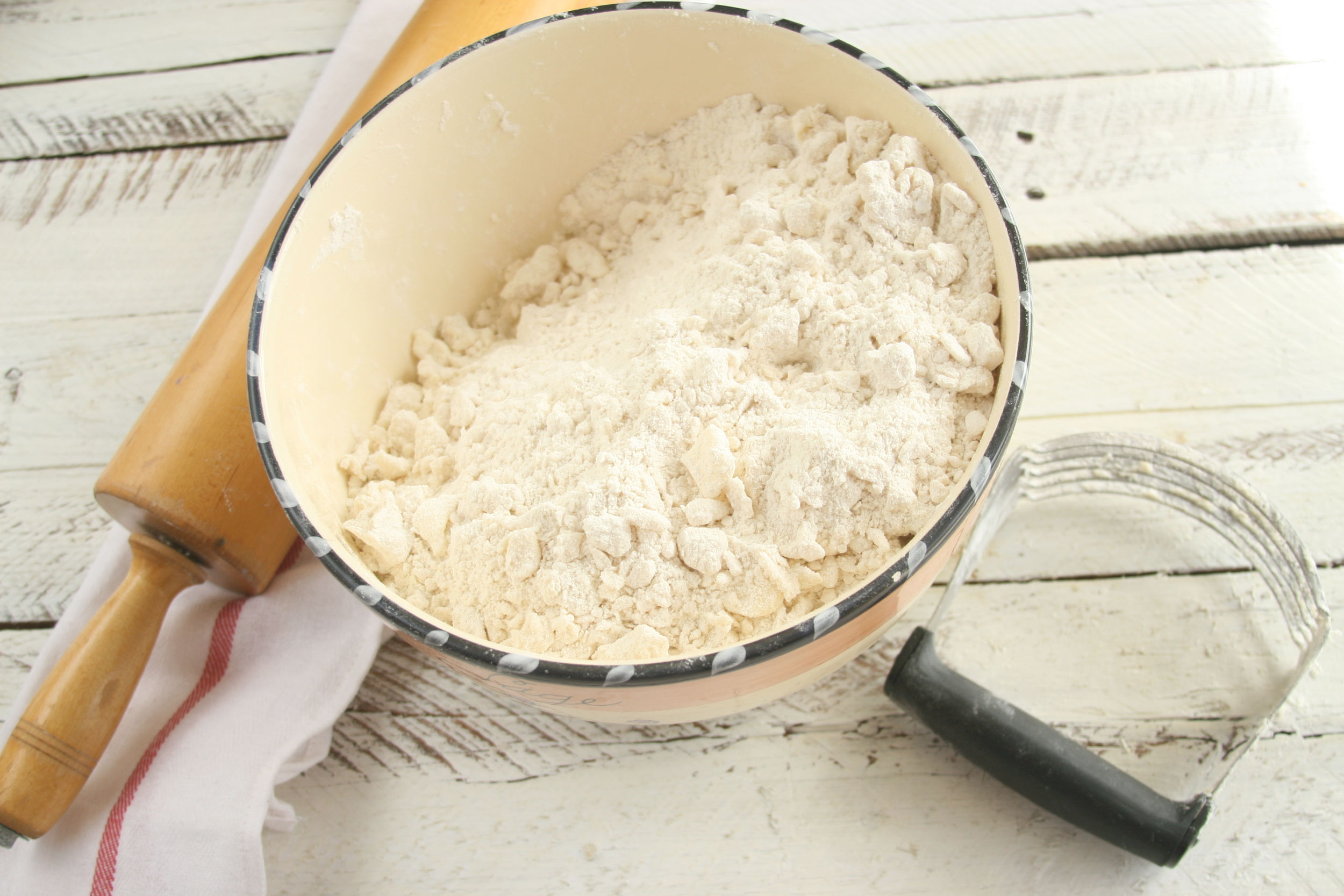 Step 4: As the pie dough comes together, place it in a large zip-style bag. Refrigerate the prepared pie dough for a minimum of two hours and up to 24 hours.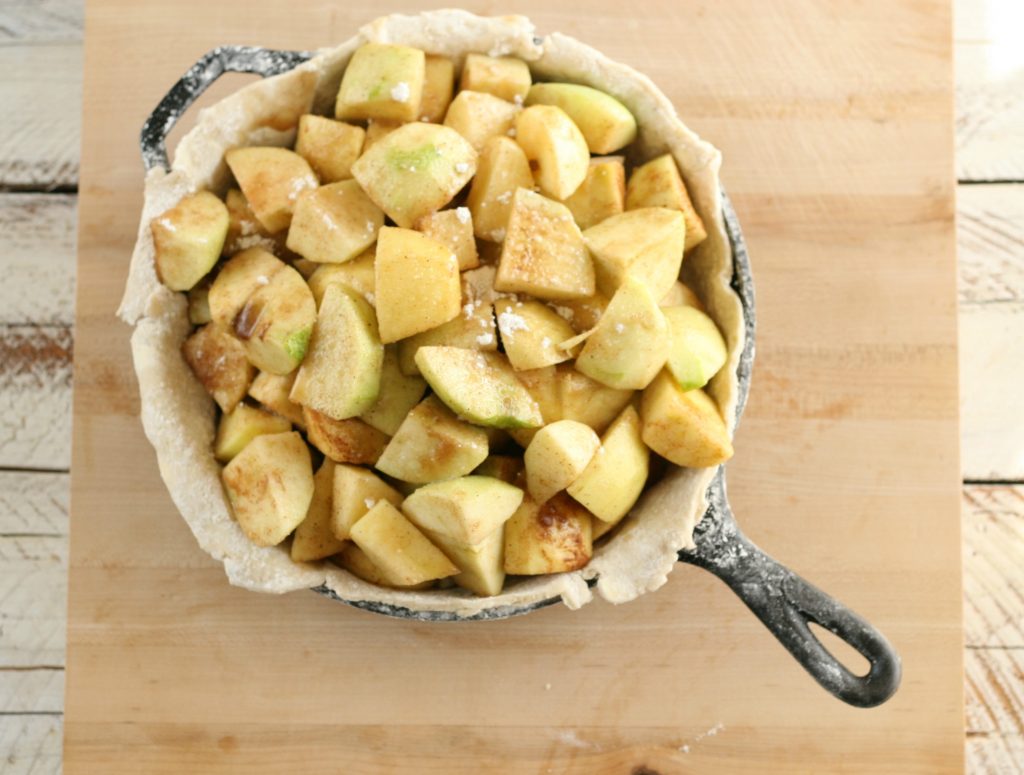 I worked on my pie crust recipe for a few years just to get it right. It's about the correct ratio of flour to fat. This pie crust recipe has the perfect buttery taste with the addition of lard.
Lard, rendered from pig fat, has a higher melting point than butter or shortening; thus yielding an extra-flaky crust. Combining butter and lard will help achieve the perfect old-fashioned style pie crust from grandma's kitchen.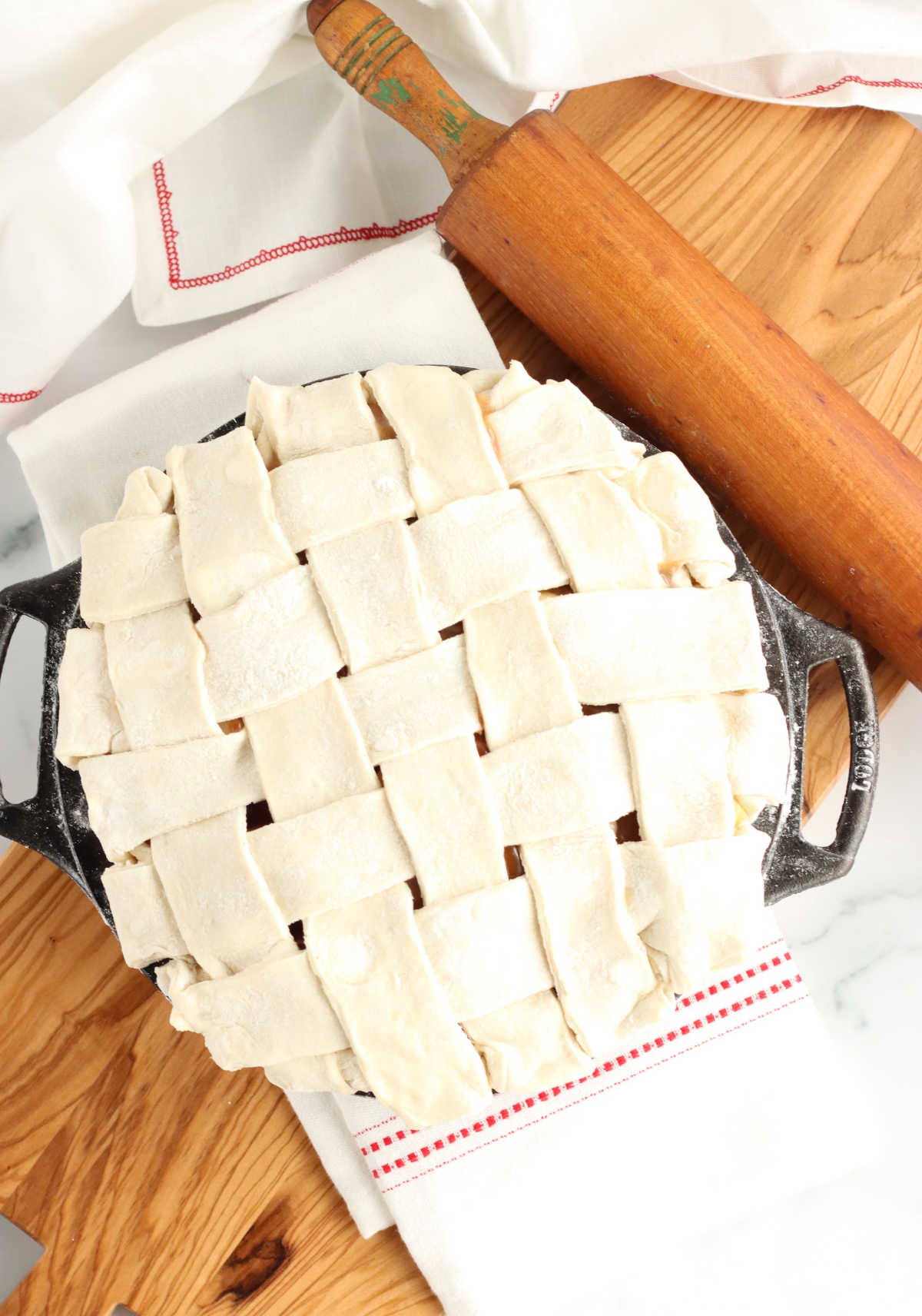 How to make a lattice pie crust
Step 1: Roll out a piece of pie dough. Then cut into strips either using a small pizza cutter or pastry cutter. Here I used a simple cutter.
Step 2: Starting in the center of the pie, lay strips of pie dough going the same direction over the entire pie.
Step 3: Then fold back every other piece of dough and weave in another strip of pie dough going the opposite direction. Continue this process until you have completed the entire pie.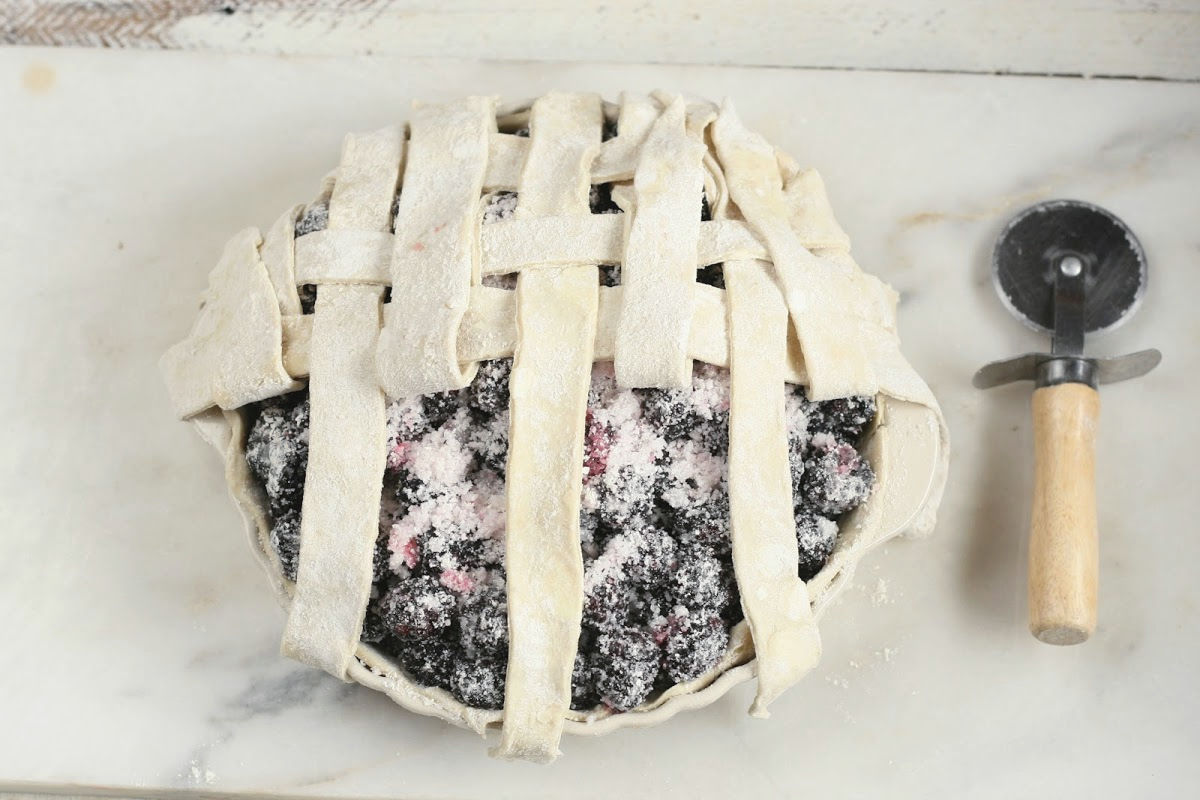 Step 4: Fold under the edges and crimp. Then brush with egg wash.
Place the unbaked pie on a half sheet pan lined with parchment paper. This will help catch any juices that overflow from the pie, keeping the mess easy to clean up.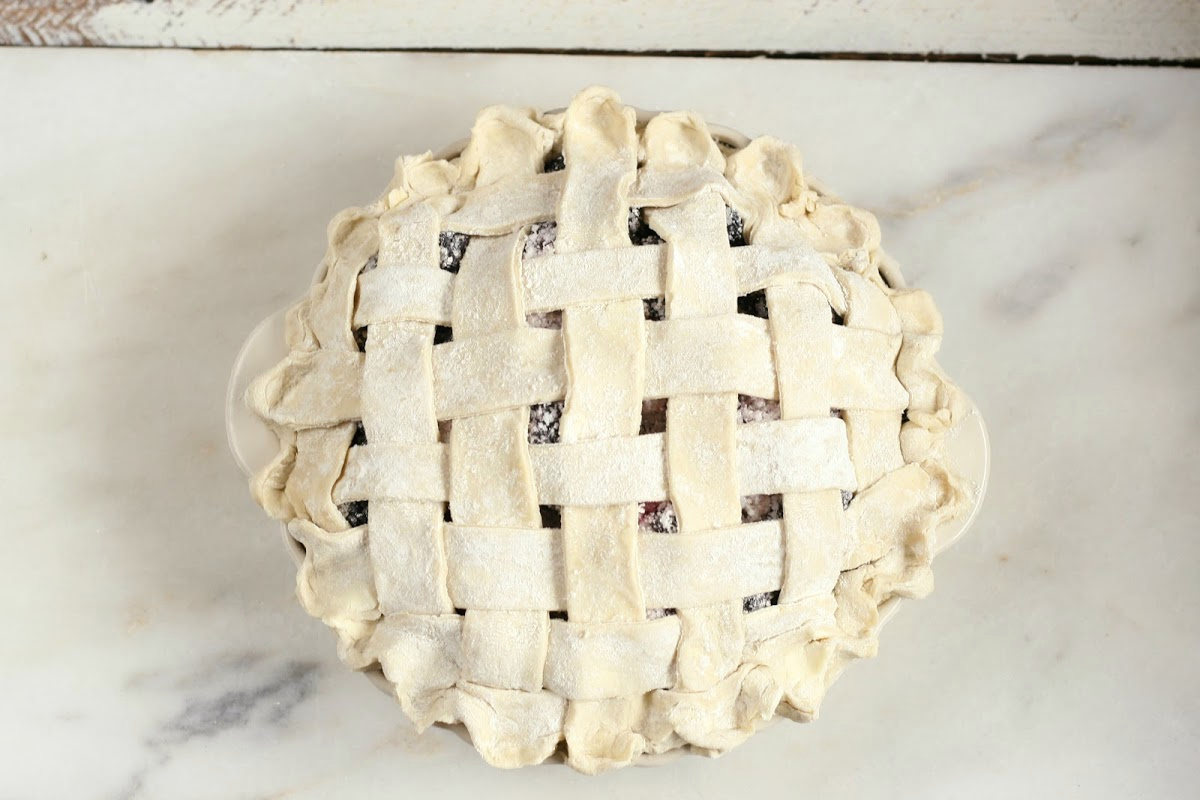 Pie Crust Tips
If your pie crust is getting too warm, plop the entire pie in the fridge or into the freezer for a bit to get it really cold again before baking.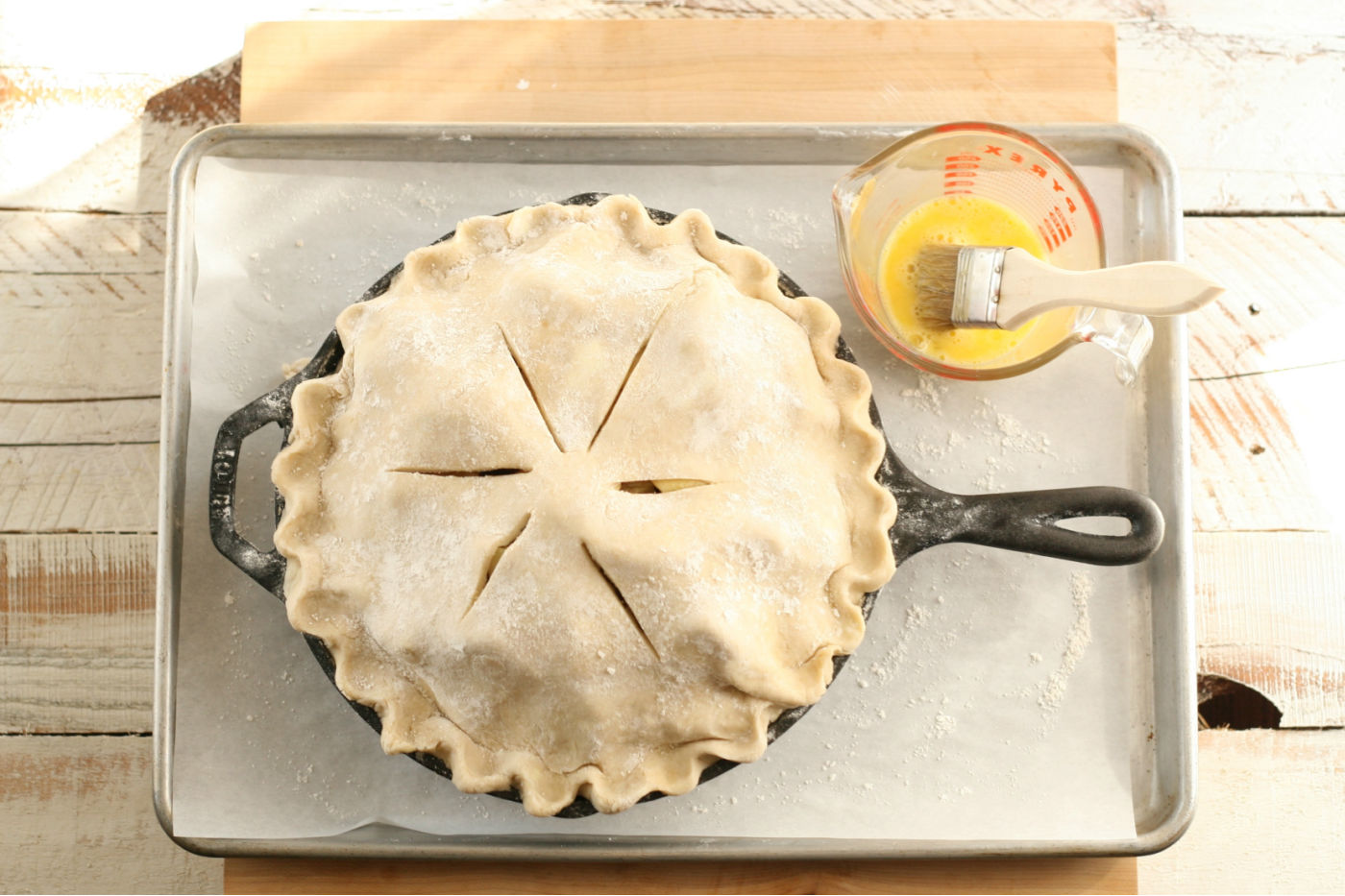 Recipe FAQs
What is the best type of flour to use for pie crust?
All-purpose or pastry flour are the best for making pie crust. Choosing a lower-gluten flour is the first trick for getting your pie crust right. Bread flour has a high gluten content, while cake flour has the lowest content.
How to keep your pie crust from burning:
My mom always covered the pie part way through the baking process with a piece of aluminum foil with a little slit cut out of the center in order to vent the steam. So, I do the same with all of my pies. This helps the pie continue to bake without burning the crust. We were raised to use what we had, no fancy gadgets needed.
Can I freeze pie crust?
While you can freeze pie crust, I like to make pie crust fresh each time I need it. You can make an entire pie, wrap with loosely with plastic wrap and freeze it.
Is pie crust better with lard or butter?
Lard is an excellent fat for pie crust and makes a super flaky crust. Rendered lard has a very neutral flavor and is a great non-hydrogenated alternative to shortening. Butter adds a wonderful flavor to the crust.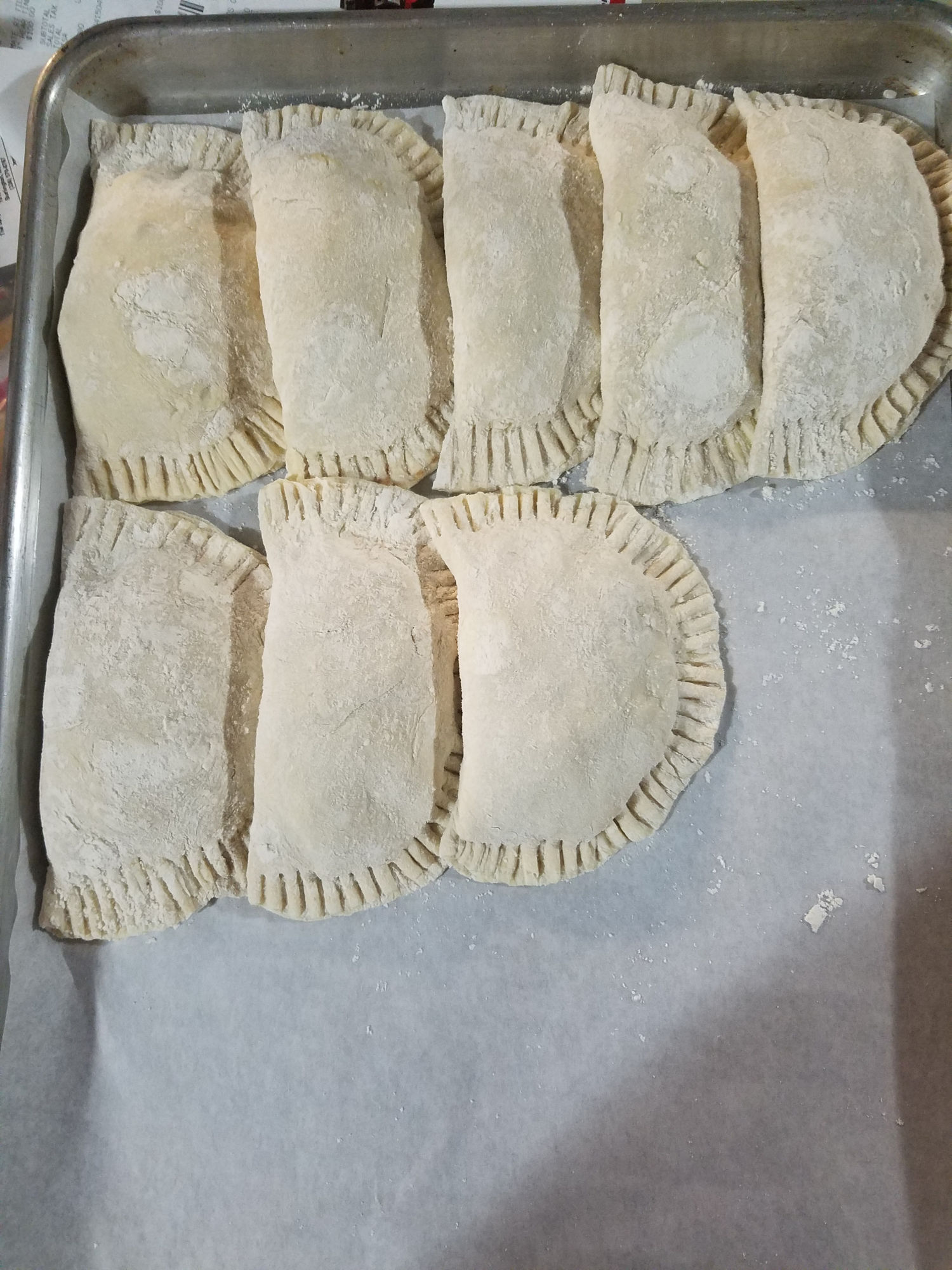 I make hundreds of Apple Hand Pies and Blackberry Hand Pies ahead of time, layer them on half sheet pans lined with parchment paper, cover with plastic wrap and freeze. They will last in the freezer for months!
More Pie Recipes
Did you make one of my recipes? Please take a moment to leave a star rating. Also, if you are on Pinterest, please feel free to leave a comment there! Follow A Farmgirl's Kitchen on FACEBOOK, PINTEREST and YouTube and subscribe my mailing list for ALL the latest recipes!
Homemade Pie Crust
BEST buttery, flaky, and tender Homemade Pie Crust. Try this easy pie crust for a double-crust for your sweet or savory pie.
Ingredients
3

cups

all-purpose flour

⅔

cup

lard

5

tablespoons

unsalted butter, cold

cut up

1

teaspoon

salt

½

cup

ice water

(adjust as needed)
Instructions
Pie Crust Recipe
In a large bowl, combine the flour and salt.

Cut in the lard and butter pieces using a pastry cutter, until you have small pea size pieces.

Place ice cubes into a large glass measuring cup and then add cold water.

Incorporate a little water at a time, until your pie crust comes together. Do not overwork the dough or the pie crust will be tough.

Place the pie crust into a large zip-style bag and refrigerate for several hours or overnight.
To Assemble the PIE
On a lightly floured surface, roll out the bottom pie crust about 12-inches in diameter and place into the bottom of a pie plate.

Trim the edges of the pie crust around the rim of the pie plate using kitchen shears to about ½-inch.

Roll out the top crust to about 10-12-inches in diameter and gently place on top of the pie filling.

Slice air a few vents in the top of the crust.

To weave a lattice crust; roll out a round of pie dough and slice long pieces with a small pastry cutter or pizza cutter. Place pieces one way, then weave crust pieces the opposite direction. Continue until the pie is covered with pie crust.

Brush with egg wash and sprinkle with granulated sugar.

Place the pie on a half sheet pan lined with parchment paper. This will help contain the mess.

Bake in a preheated 400 degree F oven for about 1 hour. Once it is browned nicely, cover with a piece of aluminum foil with an air vent cut out of the top. This will keep the pie from becoming too brown while continuing to cook and still let air vent. Bake until the pie filling is bubbling. About 1 hour 10 minutes total.

Remove the pie from the oven. Let cool completely before slicing.
Recipe Notes
For water:
I use a glass measuring cup filled with ice and add water. Add a little at a time until the pie crust comes together. Adjust this amount as needed.
Nutrition
Calories:
209
kcal
|
Carbohydrates:
36
g
|
Protein:
5
g
|
Fat:
5
g
|
Saturated Fat:
3
g
|
Cholesterol:
11
mg
|
Sodium:
330
mg
|
Potassium:
57
mg
|
Fiber:
1
g
|
Sugar:
1
g
|
Vitamin A:
280
IU
|
Vitamin C:
1.1
mg
|
Calcium:
15
mg
|
Iron:
2.2
mg
Disclosure: As an Affiliate Marketer, I earn from qualifying purchases. If you click a product affiliate link on A Farmgirl's Kitchen and make a purchase, I may receive a commission at no additional cost to you! I own every cooking product I recommend and love how they perform.