Homemade buttery, thick and chewy pizza dough baked in a cast iron skillet for the best homemade pizza. Cast iron pizza is the perfect homemade pizza recipe.
Post contains affiliate links
My mom made homemade pizza on our farm nearly every week. It's a great way to use up ingredients in your fridge, all while making a homemade meal. We were fortunate enough to have a small pizza oven in the sugar house kitchen. But, she also used a pizza stone in her oven. That's what I use in our kitchen for my Italian style pizza recipe! Cast iron helps make this pizza recipe have a crispy crust because of the high heat distribution throughout the pan.
I love using my Lodge 17-inch cast iron skillet or the 13-inch skillet for this recipe.
Be sure and try Homemade Apple Pie, Apple Hand Pies, Skillet Blueberry Pie, and Homemade Apple Crisp.
How to make Cast Iron Skillet Pizza:
Step 1: Make homemade pizza dough or use store-bought dough. (Directions and pizza dough recipe below)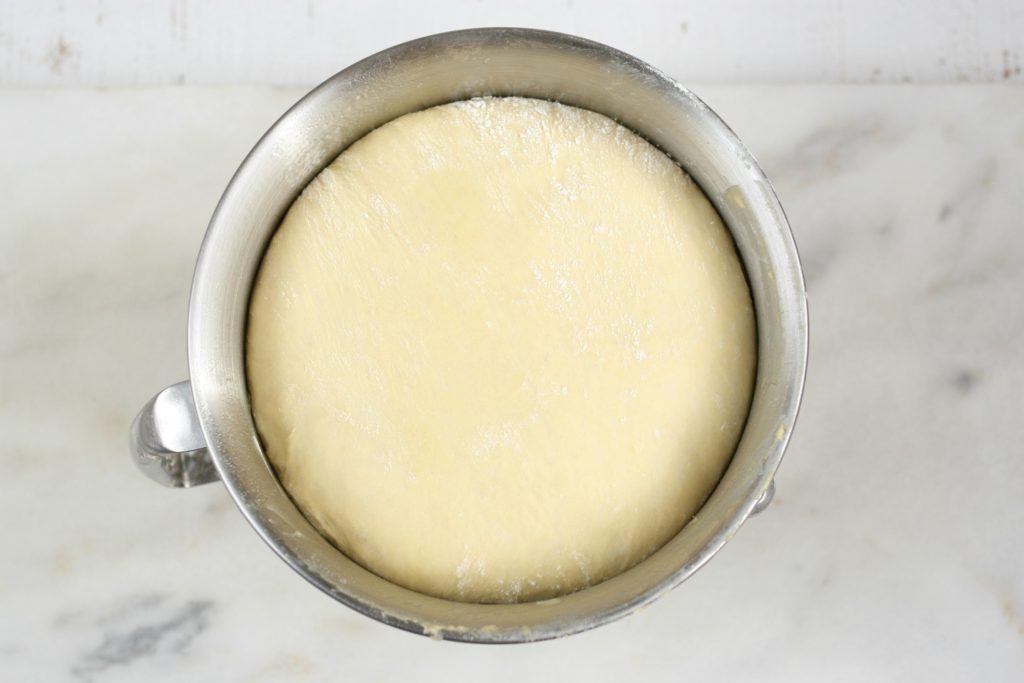 Step 2: Spray your cast iron skillet with cooking spray or use a clean paper towel to lightly coat the pan with vegetable or olive oil.
Step 3: Once the dough has risen in your mixing bowl, divide the dough into rounds.
Step 4: Gently roll out a one piece of dough using a rolling pin into a sphere slightly larger than the bottom of your skillet. Try and keep the edges of the dough slightly thicker than the center. Place the rolled out dough into the cast-iron skillet. Use your fingers to gently gather the edges and form a crust edge. Cover loosely with plastic wrap and let rise for 1 hour.
Step 5: Use ingredients you have in the fridge for your toppings. I used homemade marinara sauce (Find recipe in my cookbook, A Farmgirl's Table) Sweet sausage, caramelized onions and pizza-blend cheese.
Step 6: Once your dough has risen in the cast-iron skillet, spoon on marinara sauce, sprinkle with cheese and any other toppings you might want. Gently brush the edges of the crust with an egg wash before baking. Cook in a preheated 500 degree F oven for 18 to 20 minutes, or until the crust is golden brown and the cheese bubbly.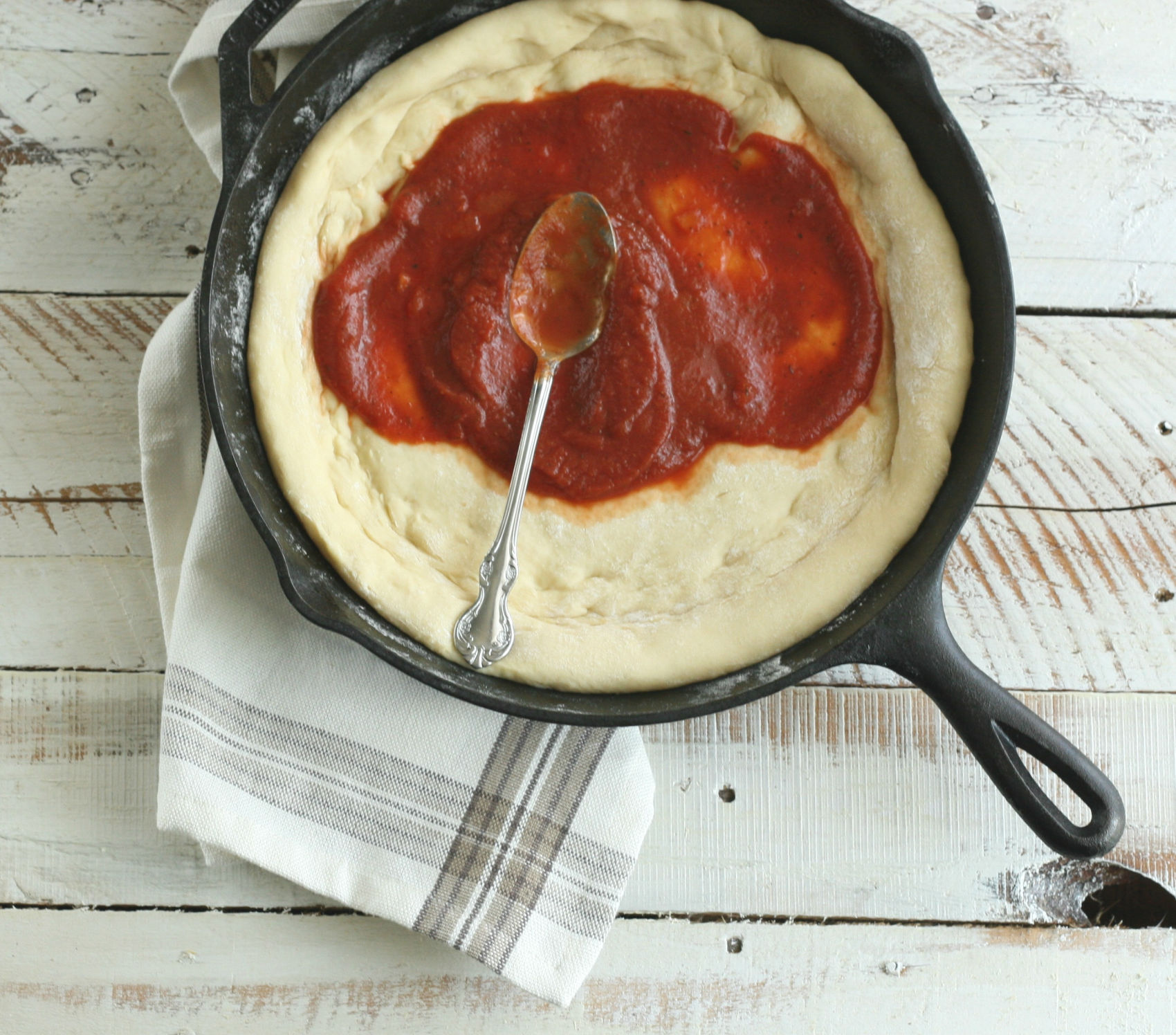 Pizza Dough: I recommend this Greek style pizza dough (recipe below) but you can also use store-bought or homemade pizza dough.
Best Cheese for Pizza: The best cheese for pizza is shredded mozzarella or a pizza blend cheese. Top with freshly grated Parmesan cheese or Asiago.
Great toppings for Pizza: Italian sausage links, cut into pieces, sweet sausage, hamburger, and various sliced vegetables such as onions and peppers. Sprinkle the top of the pizza before it's cooked with some Italian seasoning for additional flavor.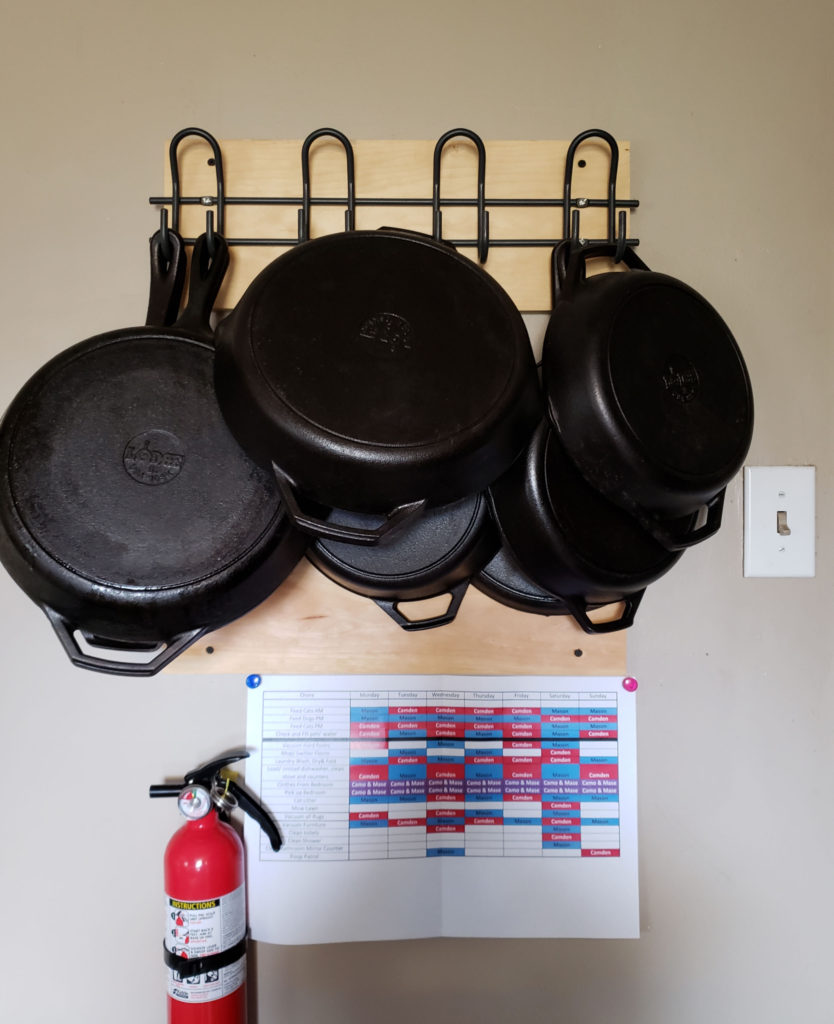 Do you need to preheat a cast iron pizza pan?
No, you do not. But, generally, I preheat the oven to 500 degrees F and let the dough rise in the cast iron skillet on top of the warm oven. This warms the entire pan.
For more great cast iron recipes be sure and check out Cast Iron Pork Tenderloin, Cast Iron Chicken Fajitas, Skillet Pork Chops, Cast Iron Skillet Chicken, and Cast Iron Peach Pie.
Do you love my recipes? Please take a moment to leave a star rating and share on social media using the hashtag #afarmgirlskitchen
Print
Cast-Iron Pizza
Homemade pizza is so simple to make. Use ingredients you have on hand for your toppings.
Ingredients
Pizza dough:

1

cup

warm milk

1/2

cup

lukewarm water

2 1/4

teaspoons

dry yeast

2

large eggs

room temperature

2

tablespoons

honey

4

tablespoons

extra virgin olive oil

5 to 5 1/2

cups

all-purpose flour

1

teaspoon

kosher salt
Instructions
In either a saucepan or in the microwave, warm the milk. Just slightly warmer than lukewarm.

Pour the warmed milk into a large mixing bowl of a stand-mixer. Add the lukewarm water, yeast and honey and stir with a spoon or whisk. Let sit for 3 or 4 minutes. Then add the eggs and olive oil and stir.

Add the flour and salt, mix using the beater attachment. Scrape the bottom and sides of the bowl occasionally with a rubber spatula or rubber table scraper. Beat on medium to high speed for 4 to 5 minutes.

Turn out onto a lightly floured work surface. Knead the dough gently for 5 minutes or so. Shape the dough into a round. Spray the mixer bowl with cooking spray or coat with a touch of olive oil. Place the dough back into the bowl. Cover with plastic wrap and let rise in a warm kitchen for 1 hour or until doubled. Punch down and let rise again, another hour.

Turn the dough out onto a lightly floured work surface and cut into 4 even pieces. Shaped into rounds and let rest for 10 to 15 minutes. Cover loosely with plastic wrap. Gently roll out a one piece of dough using a rolling pin into a sphere slightly larger than the bottom of your skillet. Try and keep the edges of the dough slightly thicker than the center. Grease a 10-inch cast-iron skillet with a tablespoon of extra virgin olive oil. Place the rolled out dough into the cast-iron skillet. Use your fingers to gently gather the edges and form a crust edge. Cover loosely with plastic wrap and let rise for 1 hour. Gently brush the edges of the crust with an egg wash before baking.

Spoon sauce in the center and spread out towards the crust edges with the back of a tablespoon. Sprinkle with cheese and any toppings you desire. Bake in a preheated 500 degree F oven for 18 to 20 minutes or until the crust is golden brown and the cheese is bubbly.

(If saving the dough for another day, simply spray a large zip-style bag with cooking spray and place 1 or 2 rounds in each bag. Place them in the fridge for up to 3 days.)
Nutrition
Calories:
720
kcal
|
Carbohydrates:
132
g
|
Protein:
21
g
|
Fat:
11
g
|
Saturated Fat:
2
g
|
Cholesterol:
44
mg
|
Sodium:
326
mg
|
Potassium:
263
mg
|
Fiber:
5
g
|
Sugar:
6
g
|
Vitamin A:
110
IU
|
Calcium:
65
mg
|
Iron:
7.9
mg
Disclosure: A Farmgirl's Kitchen is a participant in the Amazon Services LLC Associates Program, an affiliate advertising program designed to provide a means for sites to earn advertising fees by advertising and linking to amazon.comSave