Blueberry Skillet Pie with Flaky Crust is so easy to make and perfect for summer. Baking an easy blueberry pie in cast iron has never tasted so delicious!
I've always loved making homemade pie. Maybe because it was a classic dessert recipe that was often created in my household. Try my Homemade Pie Crust and Blueberry Slab Pie.
Do you have to thaw blueberries before baking a pie?
No, you do not want to thaw blueberries before baking a pie. If you do, you may have a soggy pie crust.
How to Thicken Blueberry Pie Filling:
To thicken homemade blueberry pie filling, cherry pie filling, and Southern blackberry pie you can either use instant tapioca, tapioca flour, cornstarch flour, or all-purpose flour. I prefer to use instant tapioca in all of my fruit pies. Simply mix tapioca granules in the blueberries and sugar before baking. Strawberry Rhubarb pie and Strawberry Raspberry Rhubarb Pie also can be thickened with instant tapioca well.
Have you ever baked a pie in a cast iron skillet?
Everyone has been asking me how I made this easy blueberry pie recipe. A few years ago my dad bought me a few Lodge cast-iron skillets for Christmas and I love them. I've come to really love cast iron and cook in nothing else now. Homemade apple pie is delicious in a cast iron skillet too!
Make homemade pie crust or use store bought. You'll find my pie crust recipe here or check out Lodge's pie crust recipe.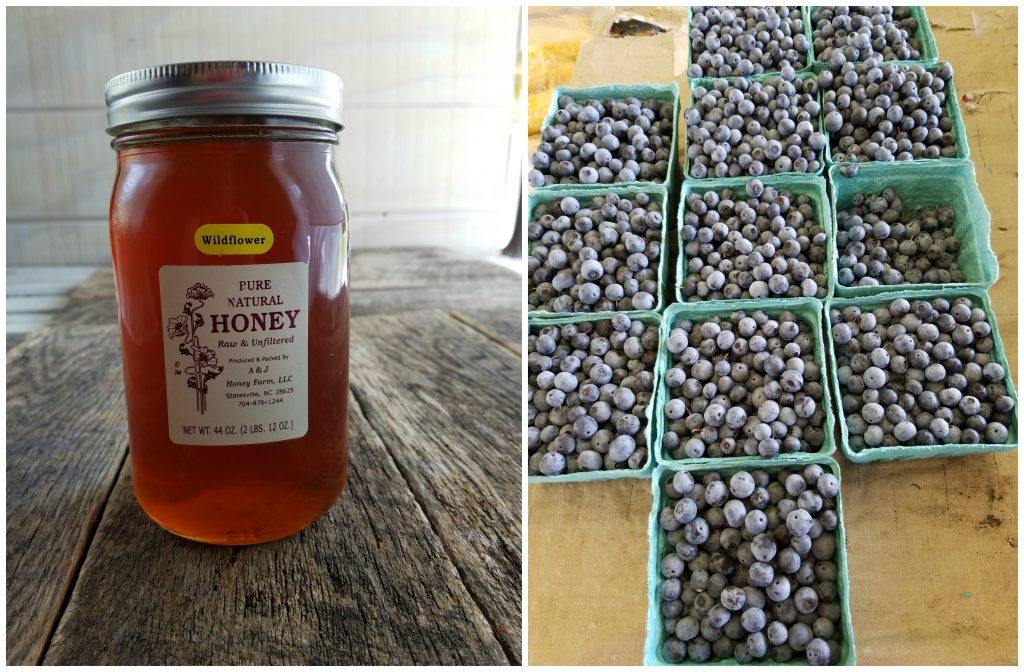 Each Sunday afternoon we stop at the farmers market. This is by far one of my favorite farmers markets in North Carolina. Farm stand after farm stand stocked with fresh produce, berries and locally produced or made products- which I love! Wild blueberries were in the peak of the season and I picked up a bunch. I asked the grower if I purchased a full flat if they would give me a discount, and they did. That's less berries to sit in the hot sun for them, money directly into the farmers pocket and plenty of berries for me to bake pies or make homemade jams. These little babies are packed full of flavor, along with nutrients to keep a healthy body. Our freezer is stocked up with plenty of these delicious blueberries.
PRO TIP:
Let your pie cool completely before slicing it! This will let the pie filling set.
More great fruit pie recipes:
Southern Fried Apple Hand Pies
Do you love my recipes? If you have a moment, please leave a star review. Did you make one of my recipes? Please share on social and tag #afarmgirlskitchen
Disclosure: A Farmgirl's Kitchen is a participant in the Amazon Services LLC Associates Program, an affiliate advertising program designed to provide a means for sites to earn advertising fees by advertising and linking to amazon.com