Blueberry Skillet Pie with Flaky Crust is so easy to make and perfect for summer. Baking a fruit pie in cast iron has never tasted so delicious!
Have you ever baked a pie in a cast iron skillet?
Everyone has been asking me how I made this amazing Blueberry Skillet Pie with flaky crust. Well, I'm going to tell you! My dad bought me a few Lodge cast-iron skillets for Christmas and I love them. My dad has always bought things that are practical and that you can really use as gifts. He's a very smart man! Nothing better than baking and cooking just like your grandmother did. There was a reason her cooking was so darn good!
Each Sunday afternoon we stop at the farmers market in Colfax. This is by far one of my favorite farmers markets in North Carolina. Farm stand after farm stand stocked with fresh produce, berries and locally produced or made products- which I love! Wild blueberries were in the peak of the season and I picked up a bunch. I asked the grower if I purchased a full flat if they would give me a discount, and they did. That's less berries to sit in the hot sun for them, money directly into the farmers pocket and plenty of berries for me to bake pies or make homemade jams.  These little babies are packed full of flavor, along with nutrients to keep a healthy body. Our freezer is stocked up with plenty of these delicious blueberries. But, before stocking the freezer, I made probably the best pie I've ever made thus far. Seriously, if you've never made a pie in a cast-iron skillet, the time is now!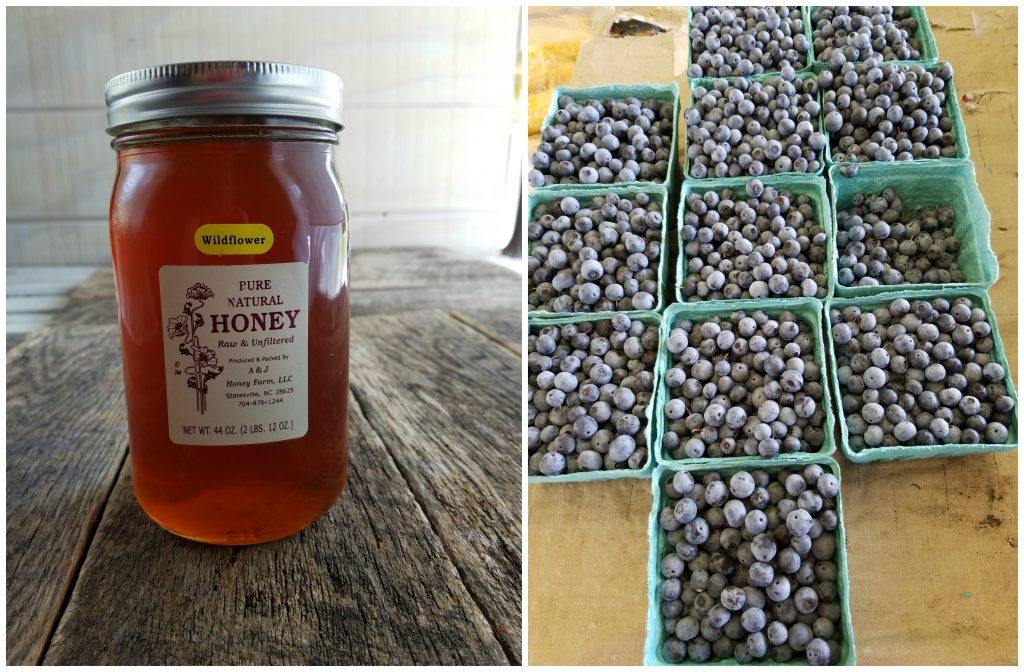 More great fruit pie recipes:
Southern Fried Apple Hand Pies
Do you love my recipes? If you have a moment, please leave a star review. Did you make one of my recipes? Please share on social and tag #afarmgirlskitchen
Blueberry Skillet Pie
Homemade blueberry pie has never been more tasty. Try making your own homemade crust too!
Total Time
1
hour
20
minutes
Ingredients
9-

inch

Lodge cast-iron skillet

pie dough

double crust

1

teaspoon

canola oil

4 to 5

cups

fresh wild blueberries

small ones have more flavor

1 to 1 1/2

cups

granulated sugar

1/3

cup

instant tapioca

2

tablespoons

lemon juice

1/2

teaspoon

ground nutmeg
Instructions
In a large bowl, mix the blueberries, granulated sugar, lemon juice, tapioca and nutmeg with a spoon. Set aside.

Brush the canola oil in the bottom and sides of your cast-iron pan, either using your fingers or a clean paper towel.

Roll out the bottom round of the pie dough. Gently place into the skillet. Trim the edges with kitchen shears. Keep your pie dough cold and try to not overwork it. This will ensure it is flaky.

Add your blueberry filling.

Roll out the top round of the pie dough. Gently place it on top of the entire pie. Trim the edges if necessary. Roll under the crust edges and pinch with your fingers. Slice a few air holes in the top center of the pie. Brush with egg wash and sprinkle with granulated sugar.

Bake in a preheated 400 degree F oven for about 40 minutes. Lower the temperature to 375 degrees F to finish baking for about another 20 to 30 minutes or until your crust is golden brown and the filling is bubbling. (I usually put a piece of aluminum foil over the entire pie about half way through baking, slice a hole in the center of the aluminum foil to let steam out) this will keep the pie cooking without burning it or turning the crust too dark.

Let cool completely before slicing.
TIP:
Let your pie cool completely before slicing it! This will let the pie filling set and gel up.
A Farmgirl's Kitchen is a participant in the Amazon Services LLC Associates Program, an affiliate advertising program designed to provide a means for sites to earn advertising fees by advertising and linking to amazon.com