This Cast Iron Peach Pie is simple to make with a homemade lattice crust and baked in a cast iron pan, leaving the crust super flaky. This is such an easy peach pie recipe to make!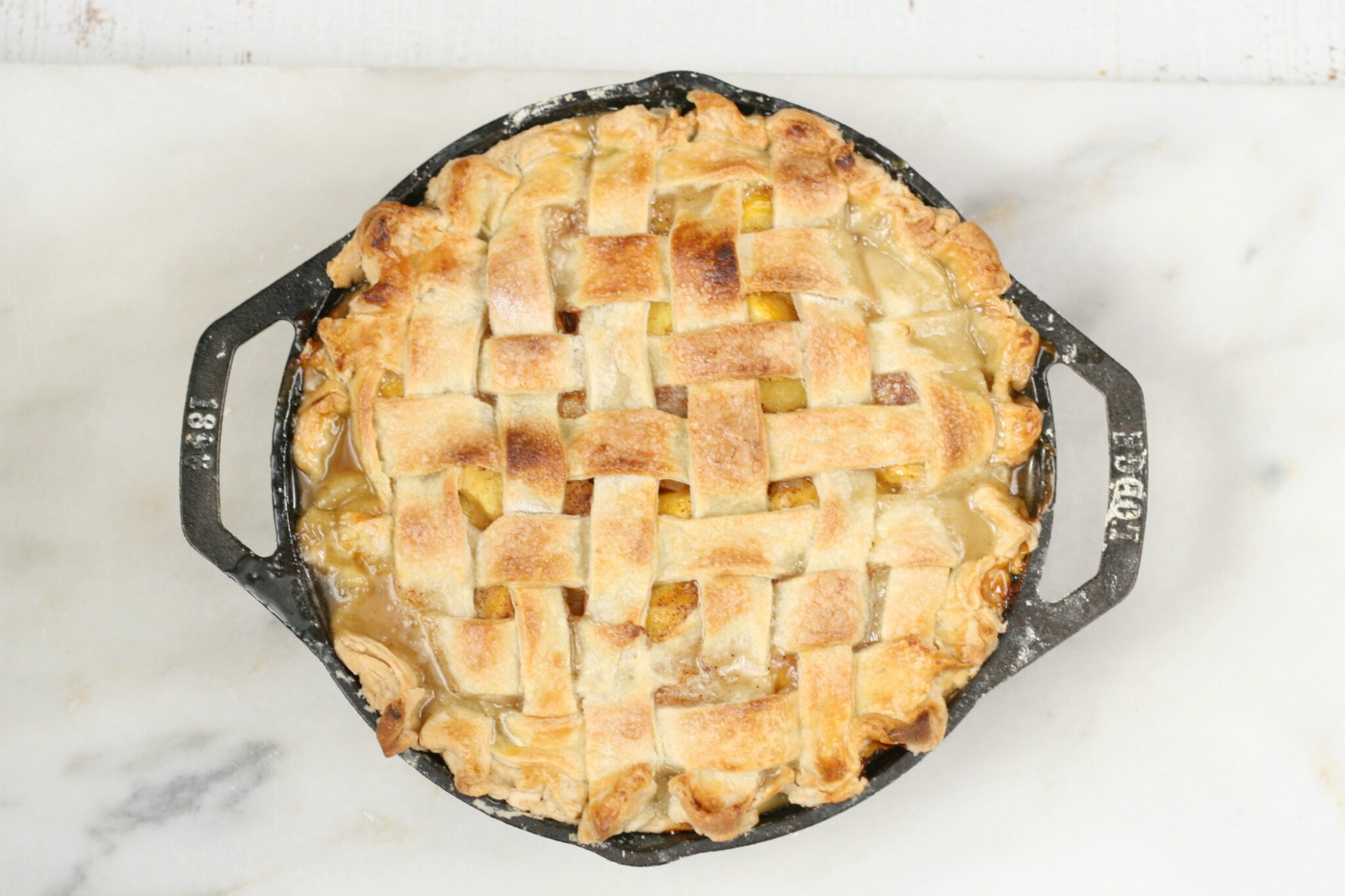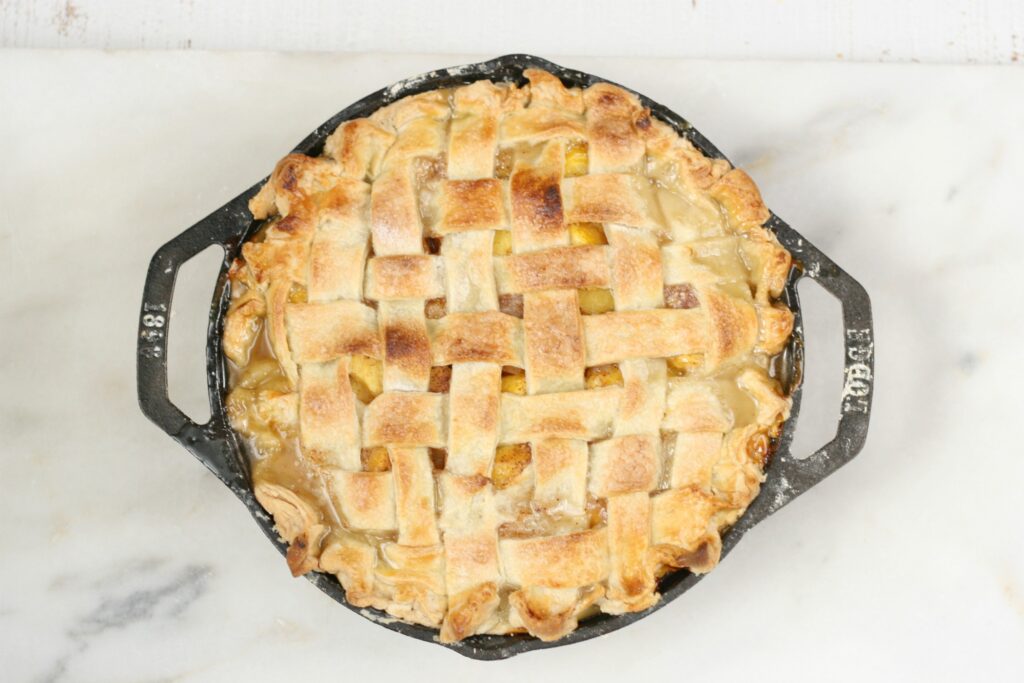 Don't you just love homemade peach pie? I mean, any kind of homemade pie is amazing! But, peaches are perfectly ripe right now and perfect for pie making. This Cast Iron Peach pie would make your grandmothers' and mamas' proud!
Check out my ultimate guide for homemade pie crust. There's great directions on making a flaky crust!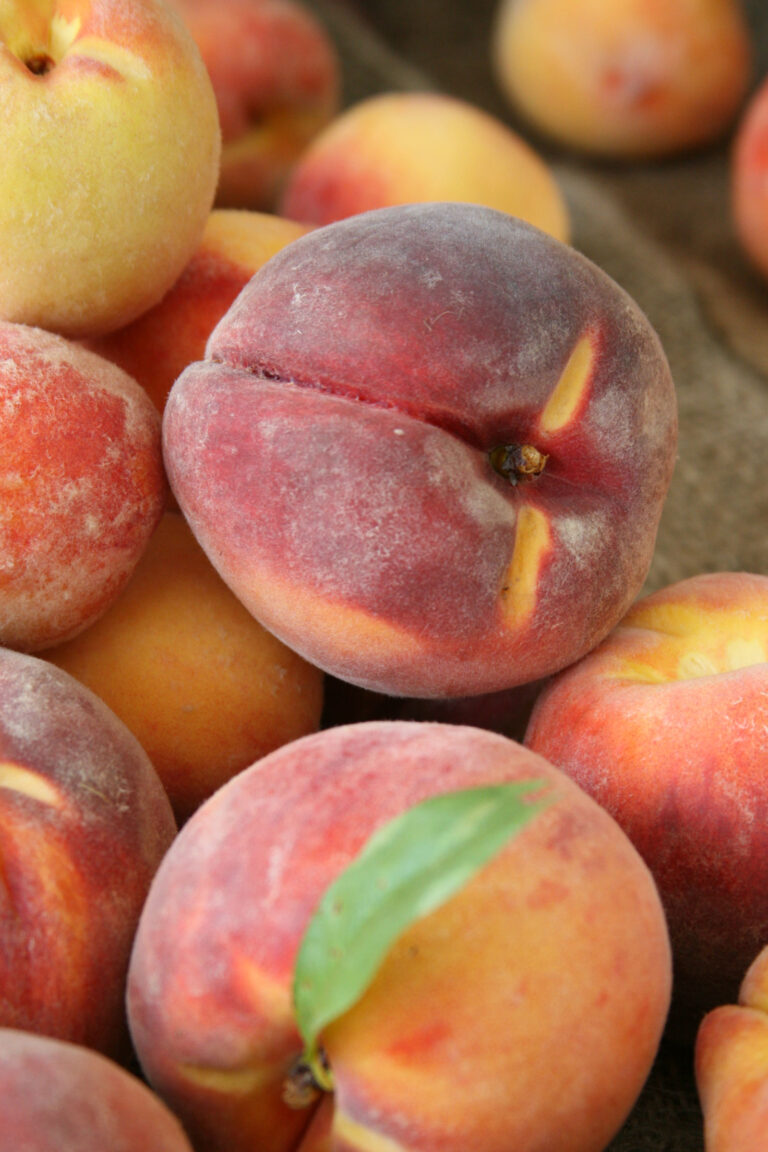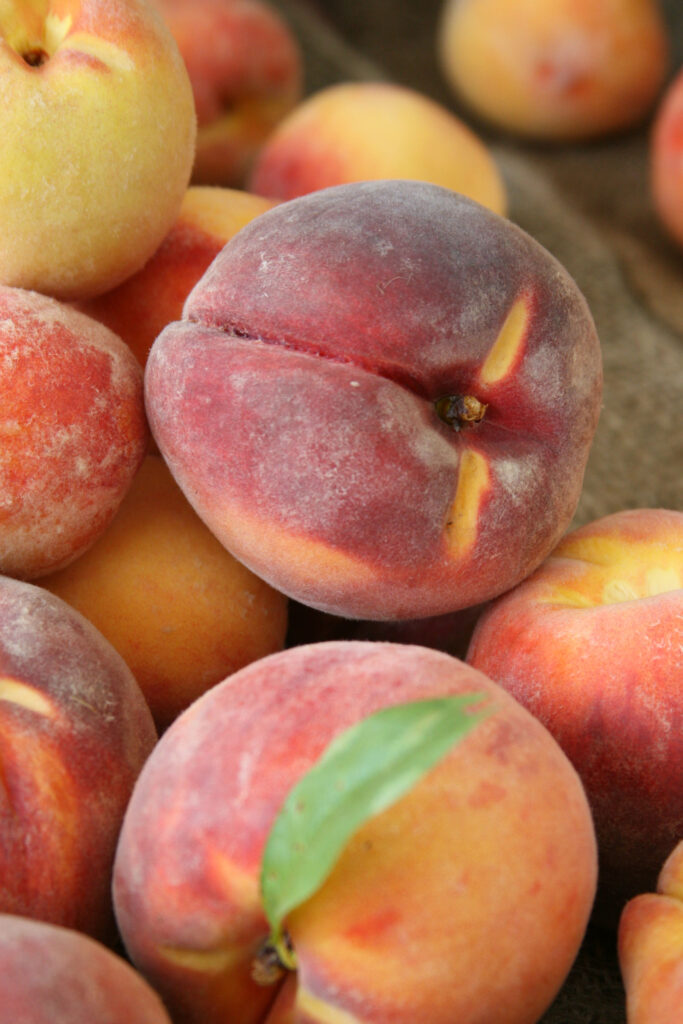 If you love fruit pies, be sure and check out my Blueberry Pie Recipe, Homemade Blackberry Pie, Apple Hand Pies with homemade apple pie filling, and Easy Cherry Pie.
Is there an easy way to peel a peach?
Place whole peaches in boiling water and blanch them for 1 minute. Then remove with a slotted spoon and place in a bowl of ice water. This stops the cooking process. Then take a sharp knife and peel the skin off the peaches.
I prefer using a very sharp paring knife to peel them, cut up into slices, discard the pit, and freeze at the peak of freshness. So, when I'm ready for an easy peach pie, I've got perfectly ripe fruit stashed in my freezer! It seems faster to me and won't make the peach soft. Use the frozen peaches to make Homemade Peach Iced Tea.
How to make a lattice style crust:
Step 1: Place the peaches into a large bowl and toss with instant tapioca, lemon juice, sugar, and nutmeg. Set aside. It's perfectly fine if they are still frozen.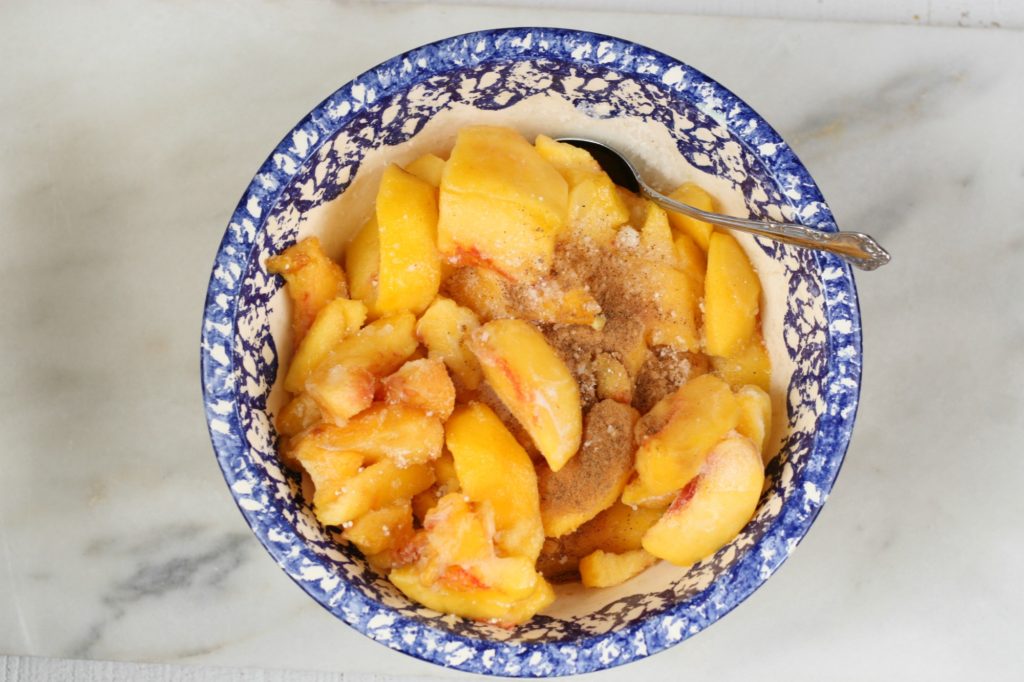 Step 2: Roll out a piece of pie dough. Then cut into strips either using a small pizza cutter or pastry cutter. Here I used a simple cutter, occasionally I'll use a pasta cutter that will give you a crimped edge. That's pretty too when you're looking to make your pie a little more fancy.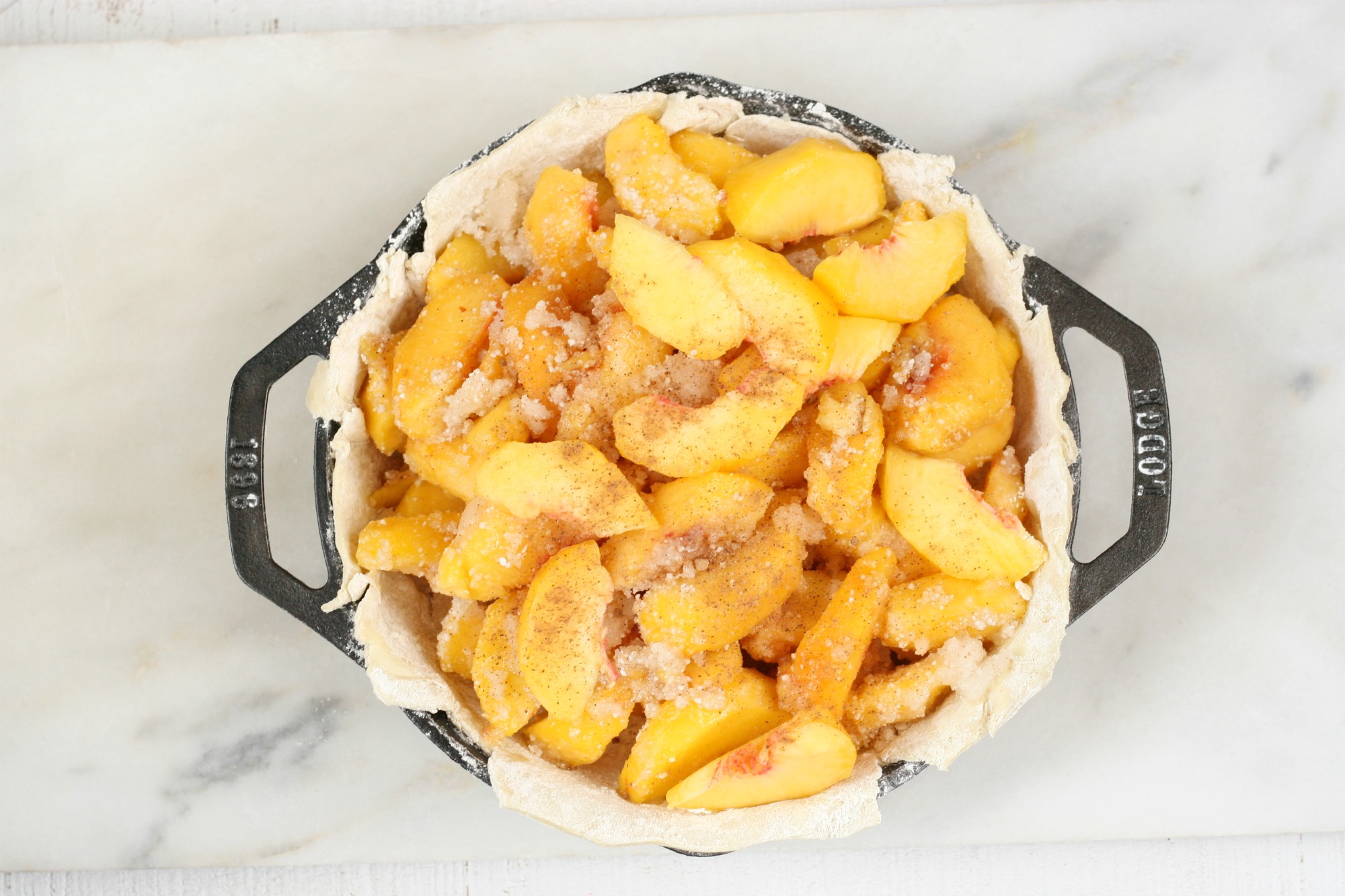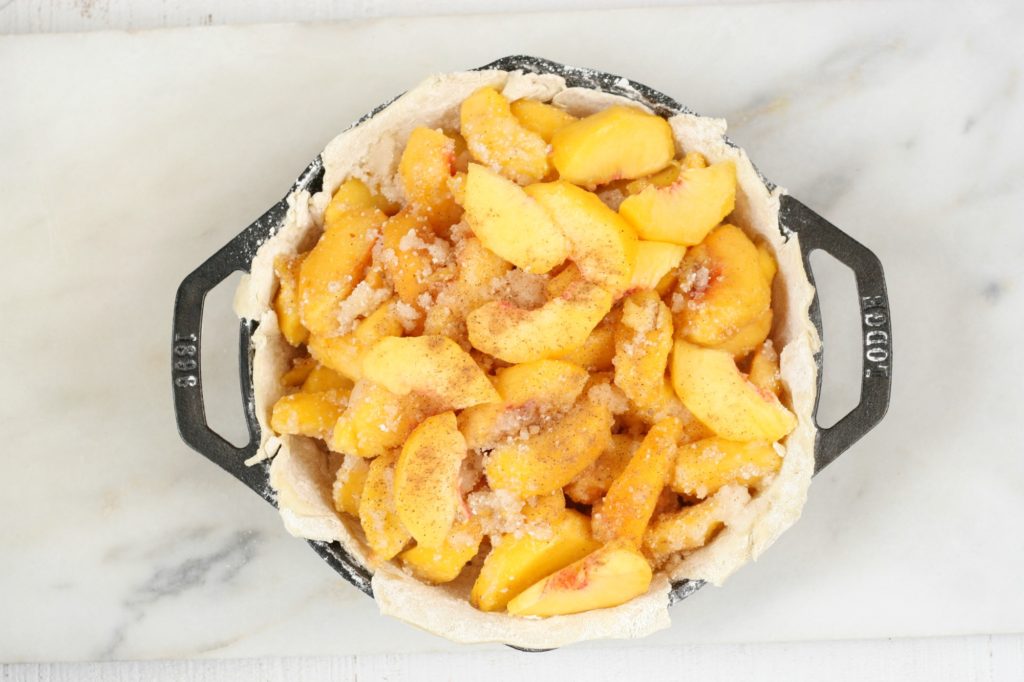 Step 3: Lay strips of pie dough going the same direction over the entire pie. Then fold back every other piece of dough and weave in another strip of pie dough going the opposite direction. Continue this process until you have completed the entire pie. Fold under the edges and crimp.
Don't you just love this two-handle pan from Lodge?! I've got a 10.25-inch and 12-inch one for pies, chicken pot pie, etc. and the 17-inch one for homemade pizza. Be sure and order one here!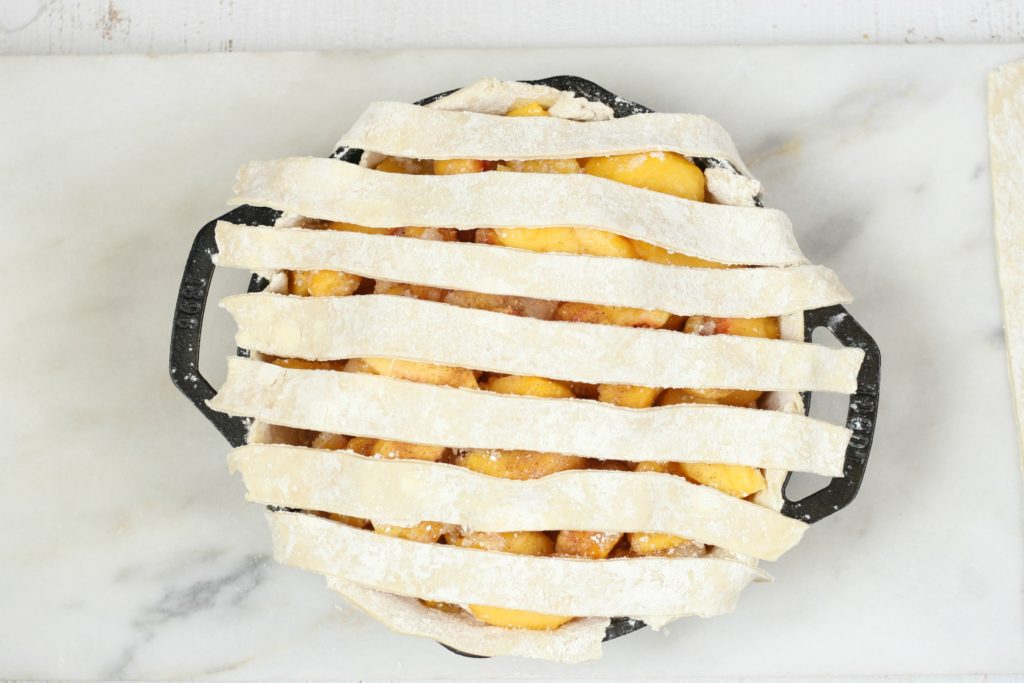 Step 4: Brush with egg wash, sprinkle with sugar, and bake in a preheated 400 degree oven for about 1 hour or so. Place the pie onto a half sheet pan lined with parchment paper to catch any drippings from the pie.
Step 5: Let the pie cool completely or almost completely before slicing. If you don't wait, your filling will not have time to set. Serve immediately with vanilla ice cream.
PRO TIP: In hot summer months, cover the remaining pie with plastic wrap and place in the refrigerator. Enjoy the pie within a few days.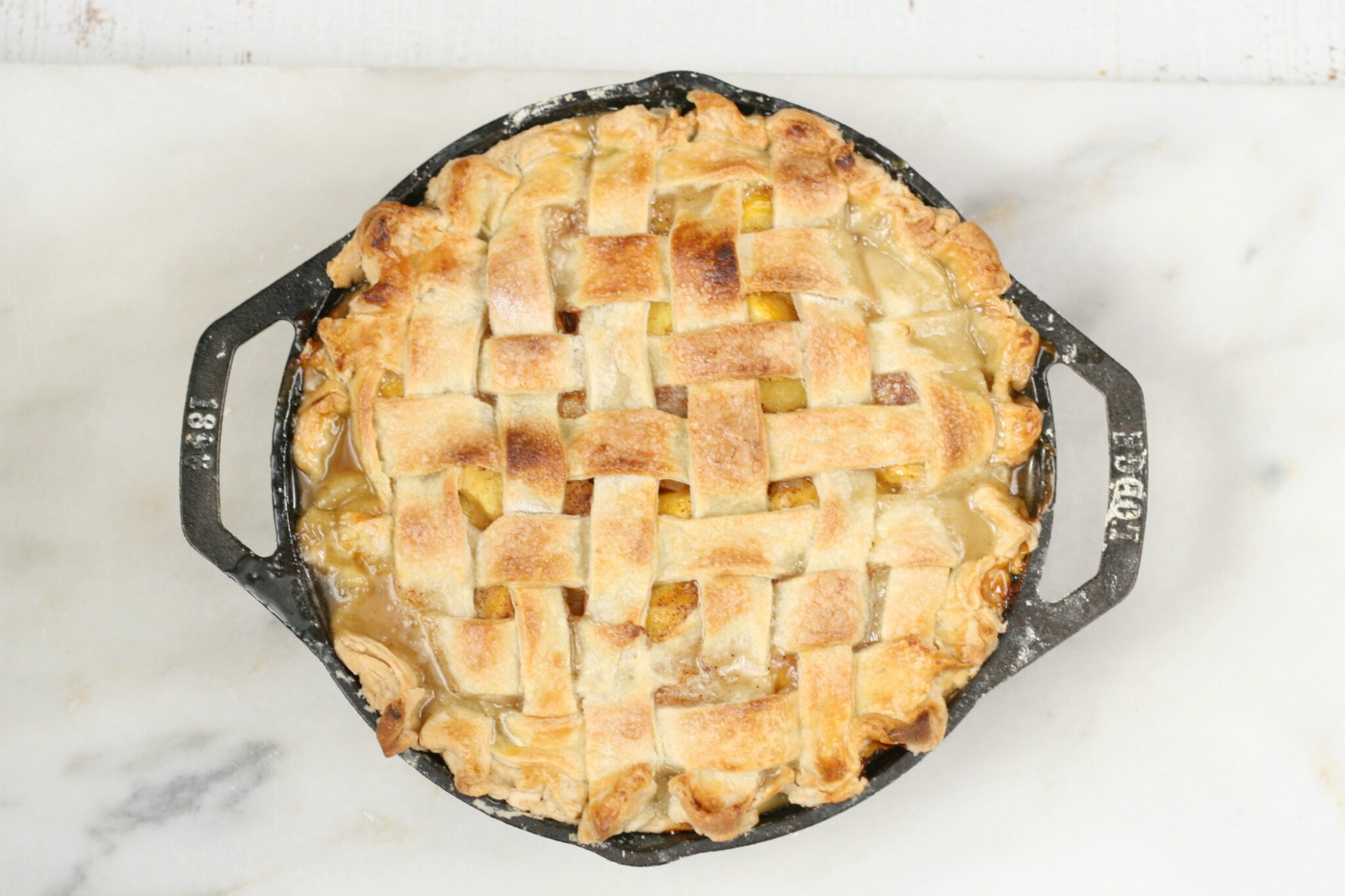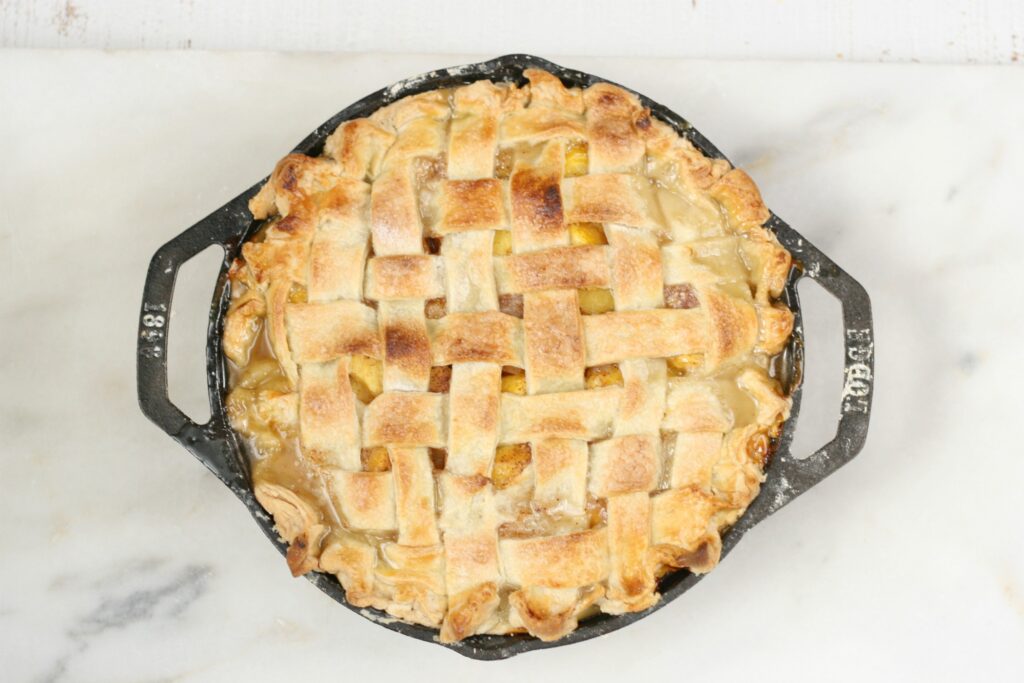 For another great cast iron recipe, check out my Spinach Quiche with a cornmeal crust. It's great for make ahead breakfasts and brunch. And one of my absolute favorites is Cast Iron Pizza.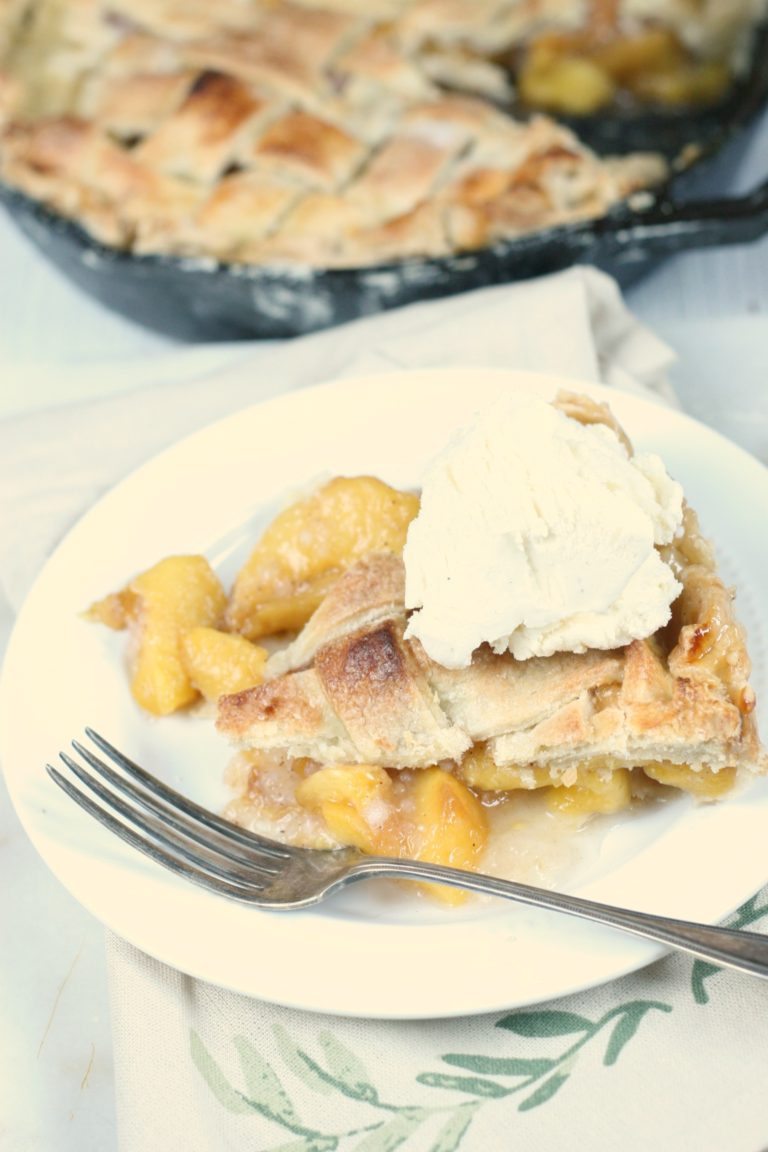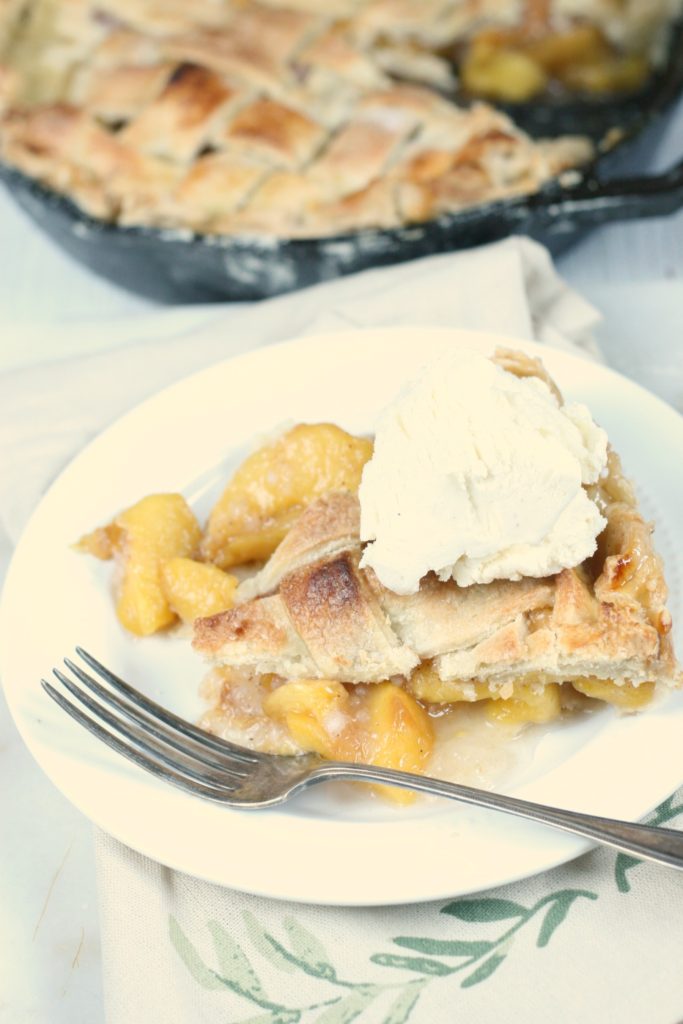 For more great products from Lodge, check out their website.
Did you make one of my recipes? Please take a moment to leave a star rating. Also, if you are on Pinterest, please feel free to leave a comment there and a photo if you have one! Follow A Farmgirl's Kitchen on FACEBOOK and PINTEREST and subscribe my mailing list for ALL the latest recipes!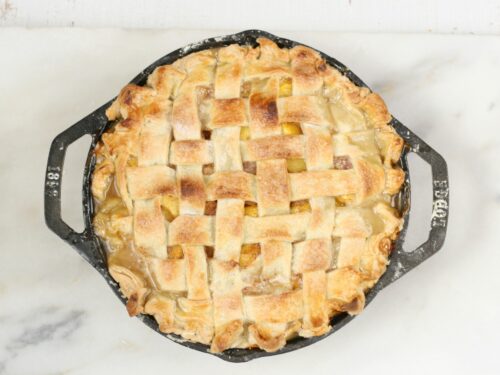 Print
Cast Iron Peach Pie
This Cast Iron Peach Pie is simple to make with a homemade lattice crust and baked in a cast iron pan, leaving the crust super flaky.
Ingredients
Homemade Pie Crust:
3

cups

all-purpose flour

1

teaspoon

kosher salt

1

tablespoon

granulated sugar

⅔

cup

Lard

3

tablespoons

unsalted butter very cold

ice cold water
Peach Pie Filling:
6-8

large peaches, peeled and cut up

1

cup

granulated sugar

adjust based on how sweet peaches

¼

cup

instant tapioca

2-3

tablespoons

lemon juice

½

teaspoon

ground nutmeg
Instructions
Homemade Pie Crust
In a large bowl, combine the flour, salt, and sugar with a fork. Using a pastry cutter or two forks, cut the lard and butter into the dry ingredients until they are pea-size pieces. Fill a glass Pyrex measuring cup with ice cubes and cold water. Pour in ice-cold water a little at a time, use a fork to gently roll the mixture around the bowl to combine. Add more water as needed. Press the dough together with your hands.

Place the pie crust into a large zip-style bag and refrigerate for several hours.
Peach Pie
Cut the dough into two equal size pieces and gently roll out with a wooden rolling pin. Place the dough round into the bottom of the cast iron pan. Trim the edges with kitchen shears. Place the pie filling ingredients into the unbaked shell.

Roll out the remaining pie crust and cut evenly into strips with a pastry cutter wheel or small pizza cutter. Lay 5-6 strips horizontally over the pie. Using longer pieces towards the center and shorter pieces near the edge. Roll back every other strip and place a pastry strip down vertically. Fold the pieces back. Continue this process until the pie crust is complete.

Roll under the edges on the crust and gently use your hands to press everything together.

Brush the crust with egg wash and sprinkle with granulated sugar.

Place the pie on a half sheet pan lined with parchment paper. This will help contain the mess. Bake in a preheated 400 degree F oven for 60 minutes or until the crust is golden brown and filling is bubbling. Take out of the oven and let cool on a baking rack. Let cool completely before slicing.
Nutrition
Calories:
420
kcal
|
Carbohydrates:
62
g
|
Protein:
5
g
|
Fat:
18
g
|
Saturated Fat:
6
g
|
Cholesterol:
9
mg
|
Sodium:
264
mg
|
Potassium:
211
mg
|
Fiber:
2
g
|
Sugar:
29
g
|
Vitamin A:
400
IU
|
Vitamin C:
7.1
mg
|
Calcium:
12
mg
|
Iron:
2
mg
Disclosure: As an Affiliate Marketer, I earn from qualifying purchases. If you click a product affiliate link on A Farmgirl's Kitchen and make a purchase, I may receive a commission at no additional cost to you! I own every cooking product I recommend and love how they perform.