Make this delicious Homemade Cherry Pie Filling for your homemade pies. So easy to make with only a few simple ingredients!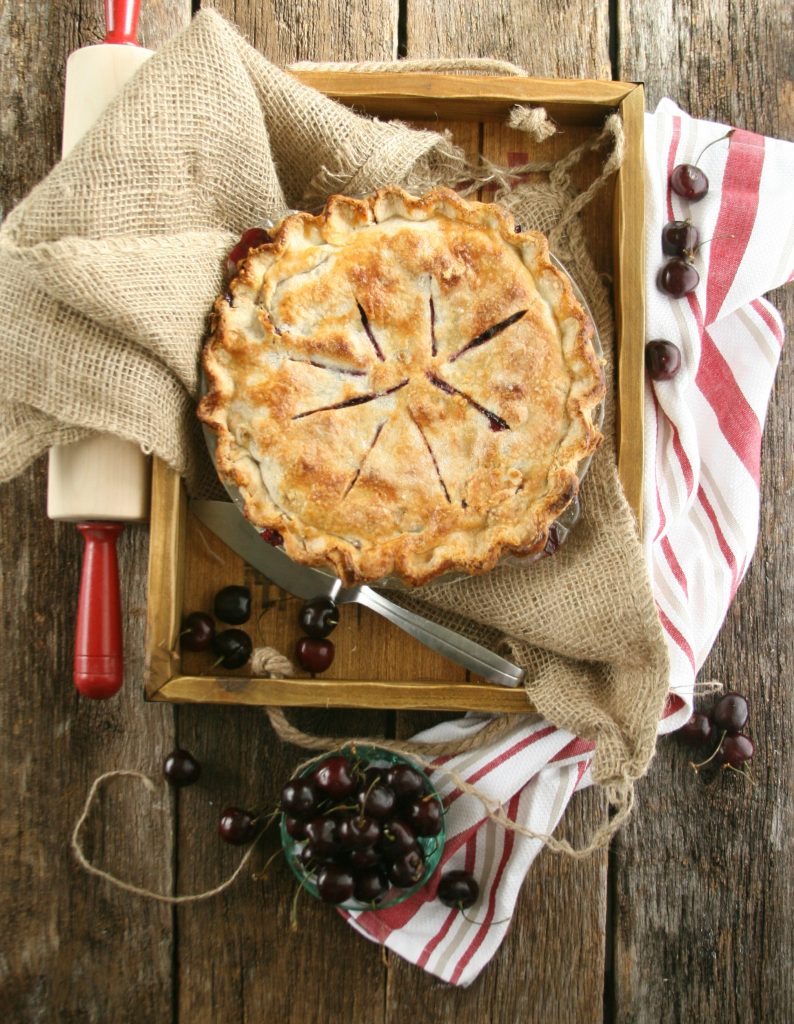 With all that I make from scratch, can you believe that I'd never made cherry pie filling before? Crazy, right? Well, not anymore. Making cherry pie at home could not be easier with this amazing little kitchen gadget- cherry pitter on Amazon and in no time flat was making delicious homemade Cherry pie filling. I work over a Pyrex liquid measuring cup, pitting cherries right over the cup. Then tossing the pitted cherries into a large pan. Place your hand over the pits and gently pour any cherry juices into the pitted cherries. We want to keep these yummy juices!
Let the cherry pie filling cool completely before you place into your unbaked pie shell. For one of the very best pies, try making it in a cast-iron skillet. You'll bake it very similar to the Blueberry Skillet Pie I did, but the just until the pie is golden because your pie filling is already cooked. Let the pie cool completely before slicing or you'll have a gooey mess. Cooking a pie in a cast-iron skillet will give you the most amazing pie crust, perfectly cooked. If you're results comes out like mine, you'll probably never cook a pie in a regular pie dish again!
What thickens pie filling?
With this pie filling and my Southern Fried Apple Hand Pies I use cornstarch. But with many of my fruit pies, I tend to prefer instant tapioca. It's such a great product if you've never tried it, you definitely should!
Can you freeze homemade cherry pie filling?
Absolutely! Make it ahead of time, let cool to room temperature and place in plastic, freezer safe storage containers. Seal the containers and be sure and label the with the date and contents.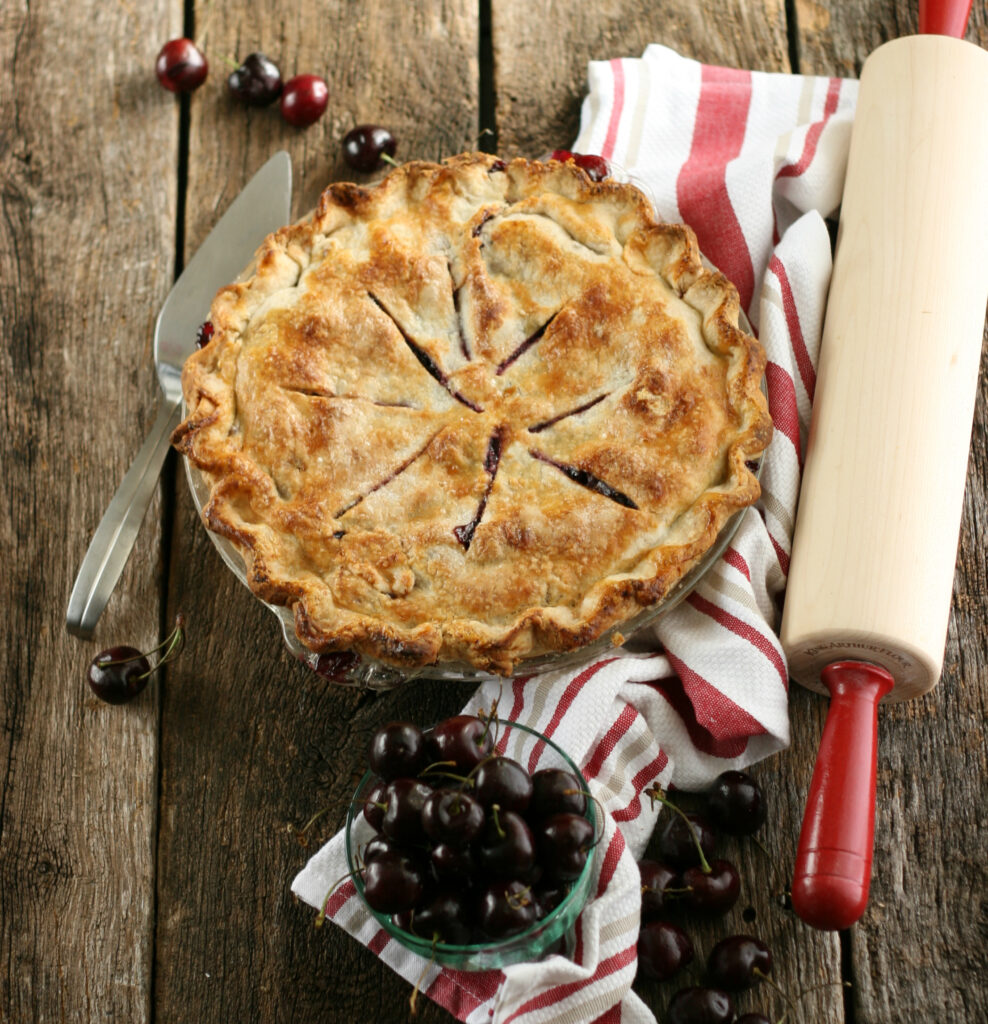 More Fruit Pies:
Southern Fried Apple Hand Pies
Do you love my recipes? I'd love to hear from you! If you have a moment, please leave a star rating.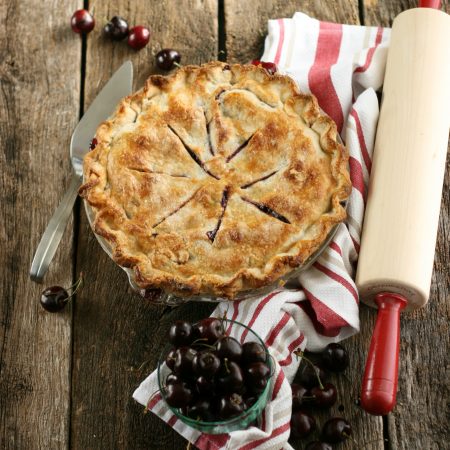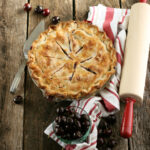 Cherry pie filling
Homemade cherry pie filling is simple to make and oh so good! Made from scratch with only a few simple ingredients.

Ingredients
4

pounds

Bing cherries

pitted

1 to 1 1/2

cups

granulated sugar

1/4

cup

lemon juice

2

tablespoons

cornstarch

1/4

cup

warm water
Pie Crust
3

cups

all-purpose flour

2/3

cup

lard

3

tablespoons

butter, cold, cut up

1

teaspoon

salt

1/4

cup

ice water
Instructions
Pit the cherries over a glass liquid measuring cup. Place pitted cherries into a deep frying pan. Place your hand over the pits and pour any excess juices into the pan.

Cook the cherries over medium heat. Add the sugar and lemon juice. Cook until soft, stirring with a wooden spoon occasionally. Add the corn starch into warm water to dissolve. Stir into the cherry mixture. Cook over medium to high heat to thicken. Stir constantly with a wooden spoon.

Let cool completely before putting into the pie shell.
Pie Crust
In a large bowl, combine the flour and salt. Cut in the lard and butter pieces using a pastry cutter, until you have small pea size pieces. Incorporate a little water at a time, until your pie crust comes together. Do not overwork the dough or the pie crust will be tough.

Place the pie crust into a large Ziploc bag and refrigerate for several hours or overnight.
Cherry Pie
On a lightly floured surface roll out the bottom pie crust. Place into a 9-inch glass pie plate or 10-inch cast iron skillet. Spoon the cooled cherry pie filling into the pie shell.

On a lightly floured surface, roll out the bottom pie crust and place on top of the cherry pie filling. Slice air a few vents in the top of the crust. Or roll out the top crust and slice long pieces with a small pastry cutter or pizza cutter. Place pieces one way, then weave crust pieces the opposite direction. Continue until the pie is covered with pie crust. Brush with egg wash and sprinkle with granulated sugar.

Place the pie on a half sheet pan lined with parchment paper. This will help contain the mess. Bake in a preheated 400 degree F oven for about 1 hour. Once it is browned nicely, cover with a piece of aluminum foil with an air vent cut out of the top. This will keep the pie from becoming too brown while continuing to cook and still let air vent. Bake until the pie filling is bubbling. About 1 hour 10 minutes total.

Remove the pie from the oven. Let cool completely before slicing.
Disclosure: A Farmgirl's Kitchen is a participant in the Amazon Services LLC Associates Program, an affiliate advertising program designed to provide a means for sites to earn advertising fees by advertising and linking to amazon.com