Blueberry Crumble Pie is made with juicy blueberry filling and topped with a delicious, buttery cinnamon crumb topping. Made with fresh or frozen blueberries, homemade pie crust and a delicious crumble topping.
This blueberry pie recipe is a must-have for Thanksgiving or holiday dessert!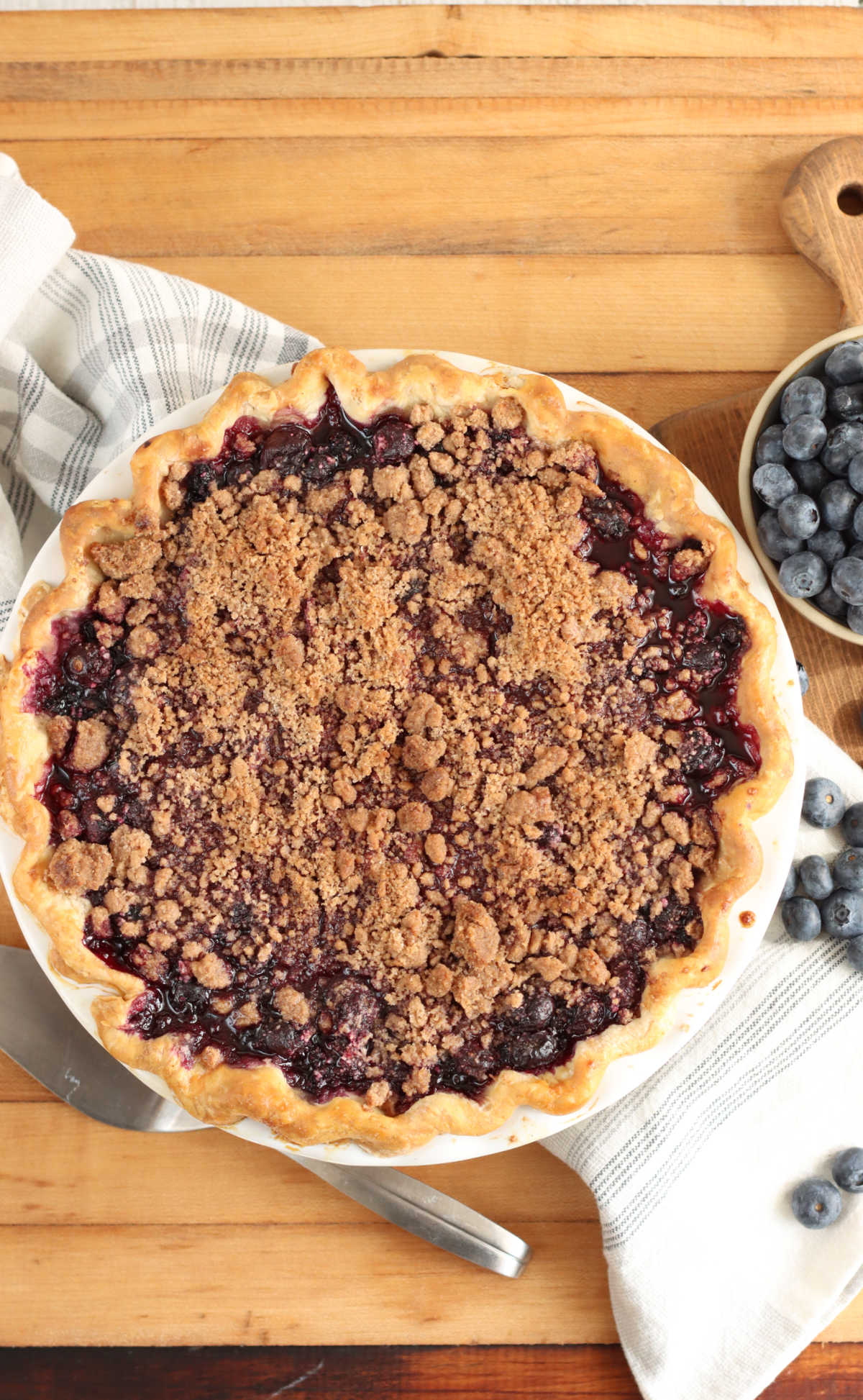 Delicious cinnamon streusel topped on this juicy homemade blueberry pie. Blueberry crumble pie is one of the easiest pies to make! Top this delicious blueberry pie with a scoop of vanilla ice cream.
Made with super simple ingredients, very little prep time involved and no top crust- this is one of the easiest pie recipes! And seriously the MOST delicious! Your guests will rave about this blueberry pie!
Why this recipe works
Easy to make fall dessert – Takes only minutes combine the ingredients!
Made with simple ingredients – readily available in your local grocery store (use fresh or frozen blueberries!)
Make ahead of time – Bake your pie the night before to save time!
No need to cook the apples – There's no need to cook the blueberries before placing in your unbaked pie shell!
Perfect homemade dessert – This pie recipe is the perfect holiday dessert or any occasion.
What you'll need
Blueberries – Use Granny Smith and another variety such as McIntosh. Granny Smith is tart and holds up well. Use another variety, such as McIntosh that will break down and create an apple sauce texture.
Sugar – Adjust the sugar based on how tart or sweet your apples are. Sugar naturally draws out the juice of fruit.
Tapioca – Tapioca is used to thicken the pie filling. I use instant tapioca, as it dissolves fully.
Cinnamon & Nutmeg – Warm spice of cinnamon adds plenty of fall spice to your pie.
Pie Crust – Use homemade or store-bought pie crust. Be sure and try my Pie Crust Recipe.
How to make a Blueberry Crumble Pie
Step 1: Make the pie crust if you are making homemade and make your crumble topping. Place both in the fridge to chill.
Step 2: In a large bowl, mix the blueberries, granulated sugar, lemon juice, tapioca, cinnamon, and nutmeg with a spoon. Set aside.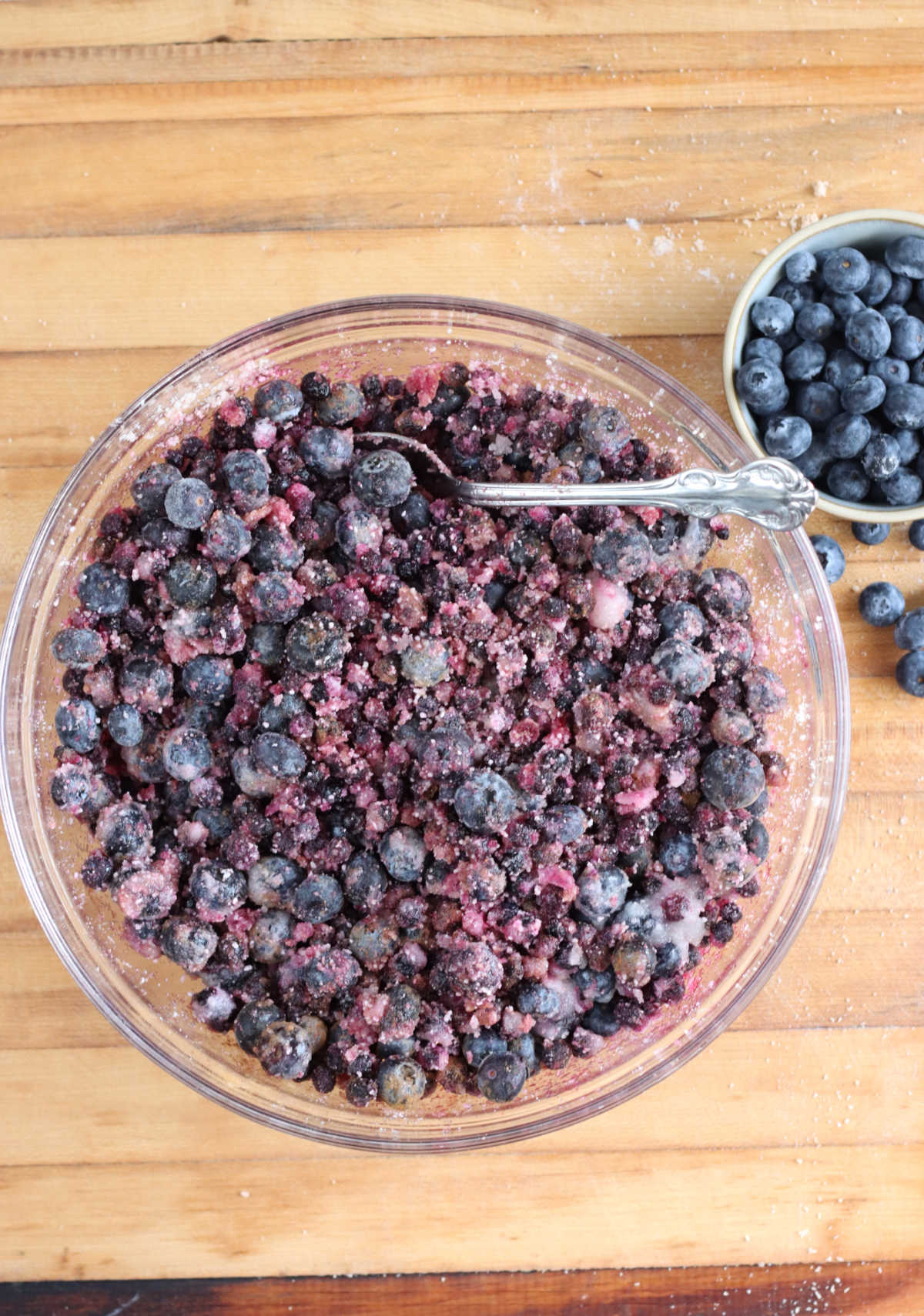 Step 3: Roll out your pie crust bottom and shape into your pie plate. Trim the edges with kitchen shears.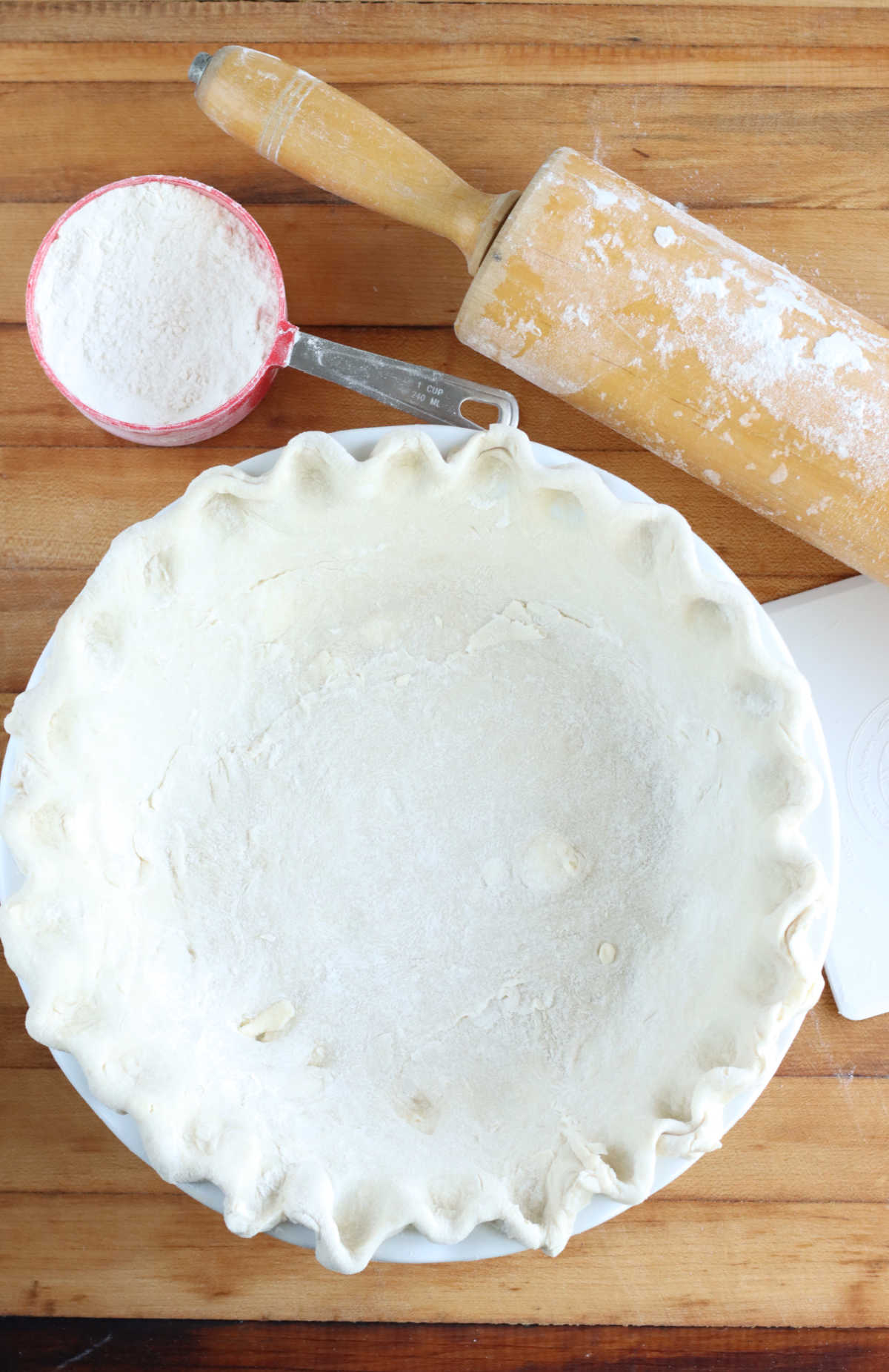 Step 4: Scoop the blueberry filling to the unbaked pie shell.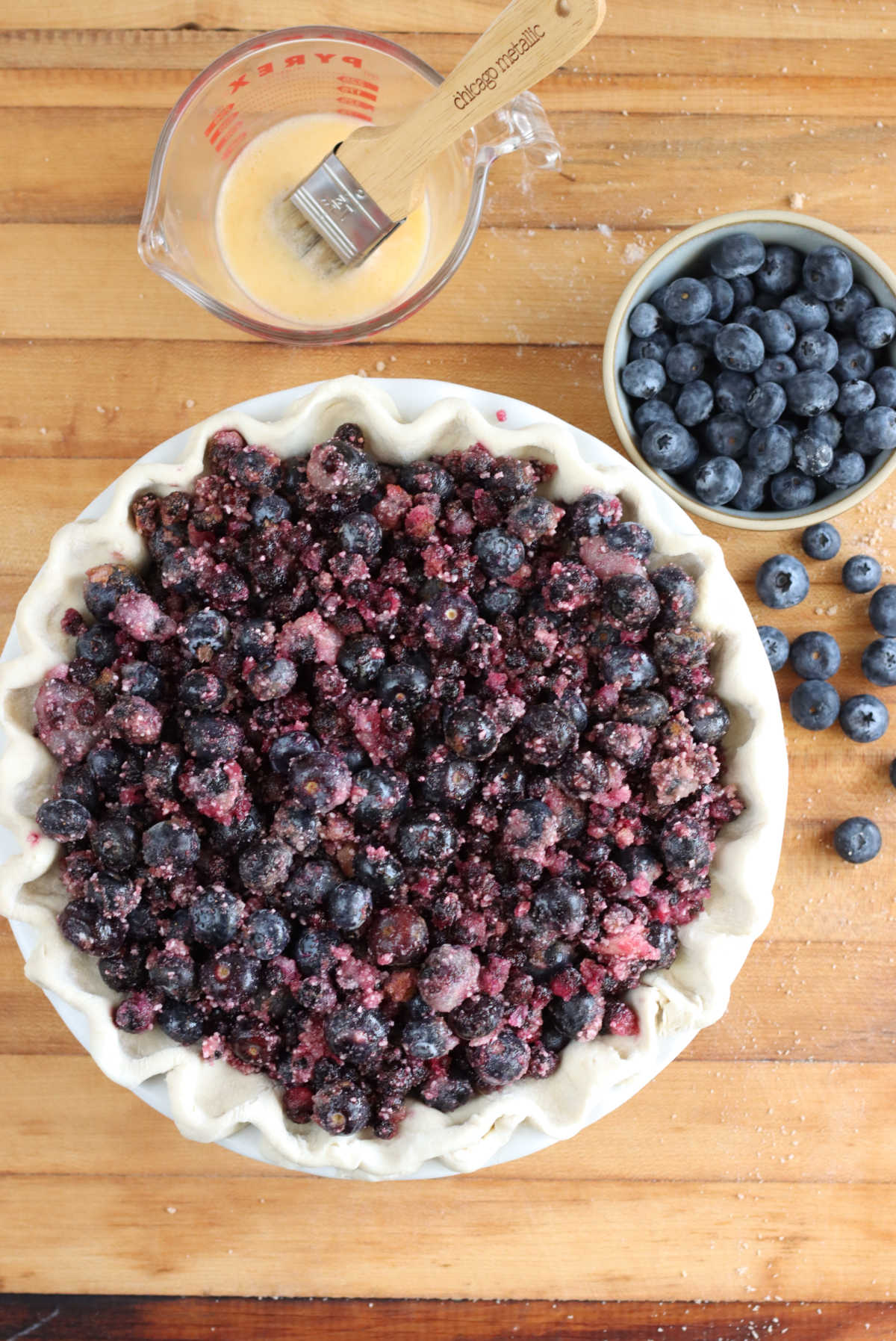 Step 5: Gently cover the entire pie evenly with crumble topping.
Step 6: Sprinkle the crumb topping over the blueberries. Bake at 400 degrees F for about 1 hour.
Homemade pie is the All-American dessert. I've been making homemade pie crust since I was a young girl on the farm. I worked on my pie crust recipe for years- to get it perfect.
I baked this homemade pie in a pie plate. They're oven and dishwasher safe.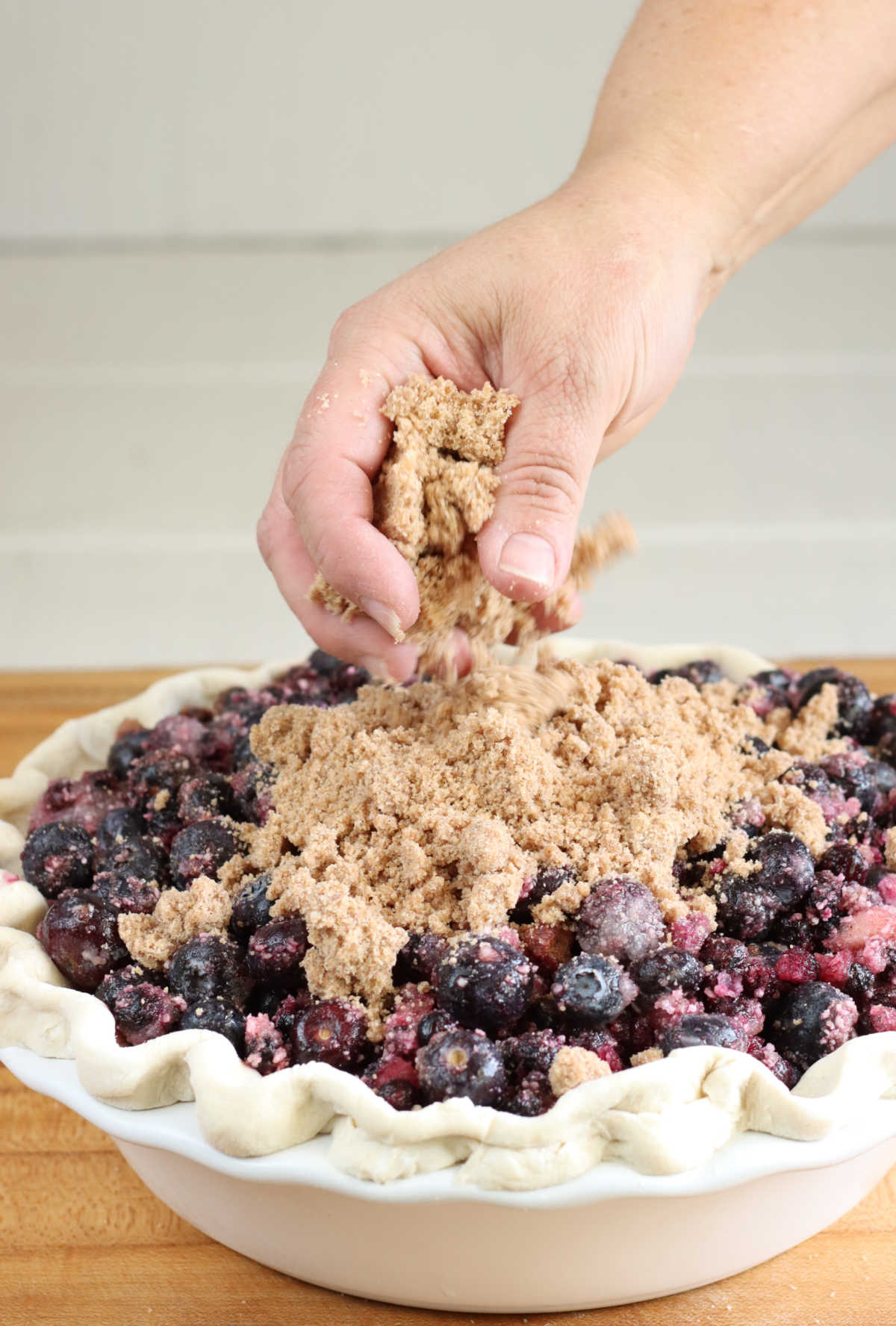 The crumble topping on this blueberry pie is so easy to make and freezer friendly. I usually make a big batch and store in the freezer. I love crumb topping for pie!
Ever stock up on butter? Did you know that butter is freezer friendly. In fact, my mom always taught me to keep butter in the freezer, until you are ready to use it. Because, when you store butter in the fridge- it often times soaks up the flavors of whatever you have in the fridge!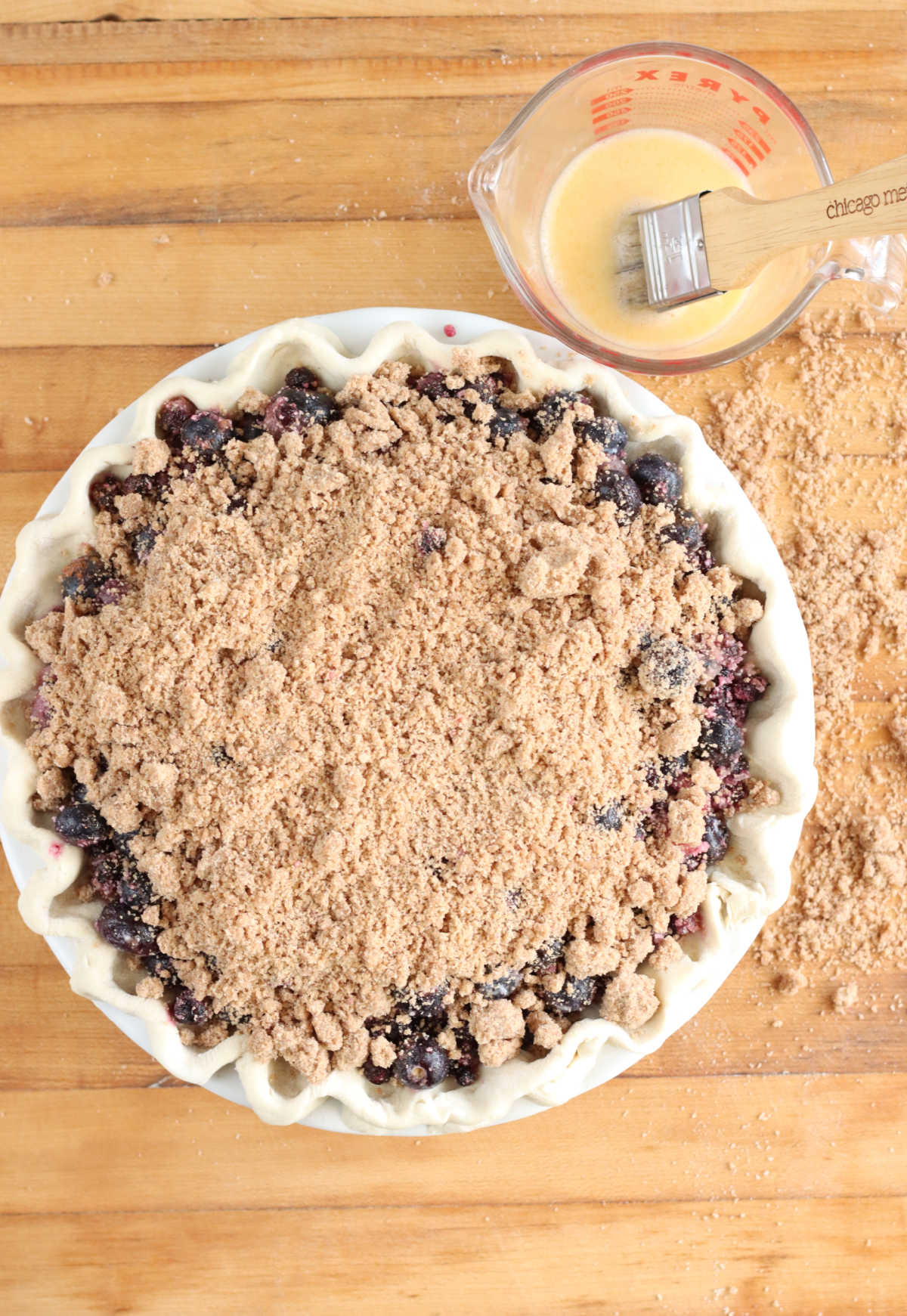 Blueberry Pie with Crumb Topping makes homemade dessert easy. This pie is so good. Feel free to adjust the amount of cinnamon in the crumb topping to your liking.
Recipe FAQs
Can I use frozen blueberries?
Yes! You can use either fresh or frozen blueberries for this crumble pie recipe. Do not thaw the berries or they will create too much excess juices.
How do you thicken blueberry pie filling?
Use instant tapioca to thicken this pie filling and many other pie recipes. With other recipes, such as hand pies we use cornstarch to thicken the pie filling.
More Pie Recipes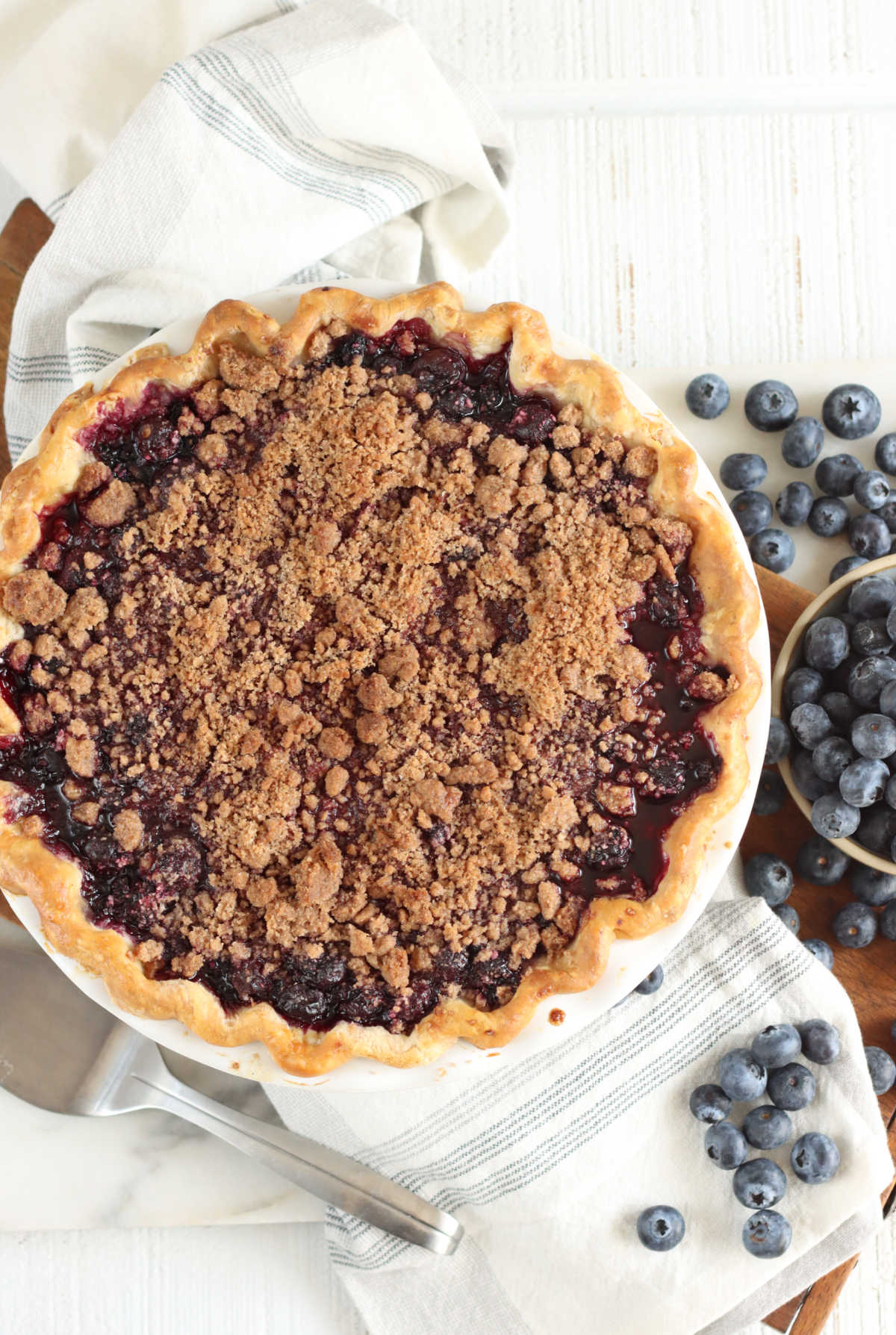 Did you make one of my recipes? Please take a moment to leave a star rating. Also, if you are on Pinterest, please feel free to leave a comment there! Follow A Farmgirl's Kitchen on FACEBOOK, PINTEREST and YouTube and subscribe my mailing list for ALL the latest recipes!
Blueberry Crumble Pie
Blueberry Crumble Pie is made with sweet wild blueberries and topped with a delicious crumb topping.
Ingredients
Crumb Topping
¾

cup

all-purpose flour

¼

cup

brown sugar

¼

cup

granulated sugar

6

tablespoons

unsalted butter

(softened)

1-2

teaspoons

ground cinnamon
Blueberry Crumble Pie
5 to 5 ½

cups

blueberries (fresh or frozen)

1 ¼

cups

granulated sugar

2

tablespoons

lemon juice

½

teaspoon

ground cinnamon

½

teaspoon

ground nutmeg

¼

cup

instant tapioca
Instructions
Crumb Topping
In a medium bowl, combine the flour, sugar, brown sugar, and cinnamon with a spoon.

Use a pastry blender or your fingers to incorporate the softened butter. Combine until you can squeeze together the crumble and it sticks together in clumps.

Cover the bowl with plastic wrap and place into the refrigerator as you prepare your pie.
Blueberry Crumble Pie
Prepare the pie crust if you are making homemade pie crust. Refrigerate for several hours or overnight.

In a large bowl, mix the blueberries, granulated sugar, lemon juice, tapioca, cinnamon, and nutmeg with a spoon. Set aside.

On a lightly floured work surface, roll out the bottom crust slightly larger in diameter than your baking dish. Gently place the pie crust into the pan lightly, using your fingers. Use kitchen shears to trim the edges of the crust, to about ¾-inch past the pan rim.

Use a slotted spoon to scoop the blueberry filling to the unbaked pie shell. Discard any leftover lemon juice.

Gently cover the entire pie evenly with the crumble topping.

Brush the pie crust edges with an egg wash.

Place in a preheated 400 degree F oven for 1 hour. The crust will be golden brown and the filling bubbling up around edges.

Part way through baking, cover the pie with a piece of aluminum foil you have cut a hole in the center. This will help the pie continue cooking, but let steam escape so your pie crust does not become soggy. This will prevent the edges of the pie crust from becoming too brown.

Let cool for at least an hour or two before slicing. This will allow the pie filling to set.
Recipe Notes
Blueberry Crumble Pie:
•Use fresh or frozen blueberries. While, wild blueberries are best because they are more flavorful and have more juices. You can also substitute regular fresh blueberries.
•Make the crumble topping ahead of time. Place in a large zip-style freezer bag and refrigerate for up to a week, or freeze for up to 2 months.
•Keep your pie dough cold and try to not overwork it. This will ensure a flaky crust. 
• Bake your pie on a half sheet pan lined with parchment paper. This helps with clean up! It keeps pie juices on the pan and not in the bottom of your oven!
Nutrition
Calories:
294
kcal
|
Carbohydrates:
58
g
|
Protein:
2
g
|
Fat:
7
g
|
Saturated Fat:
4
g
|
Polyunsaturated Fat:
1
g
|
Monounsaturated Fat:
2
g
|
Trans Fat:
1
g
|
Cholesterol:
18
mg
|
Sodium:
4
mg
|
Potassium:
87
mg
|
Fiber:
2
g
|
Sugar:
44
g
|
Vitamin A:
255
IU
|
Vitamin C:
9
mg
|
Calcium:
17
mg
|
Iron:
1
mg
Disclosure: As an Affiliate Marketer, I earn from qualifying purchases. If you click a product affiliate link on A Farmgirl's Kitchen and make a purchase, I may receive a commission at no additional cost to you! I own every cooking product I recommend and love how they perform.