Maple glazed ham is made with brown sugar, maple syrup, spices and orange juice. Simple to make ham glaze is sweet and salty and locks in the moisture, making this ham super juicy. It's hands down, the perfect holiday ham!
This glazed ham is the highlight of our holiday meal – simple to make with a store-bought spiral cut ham and the most delicious ham glaze. Quick to prepare in about 5-minutes with simple ingredients and slow cooks in the oven.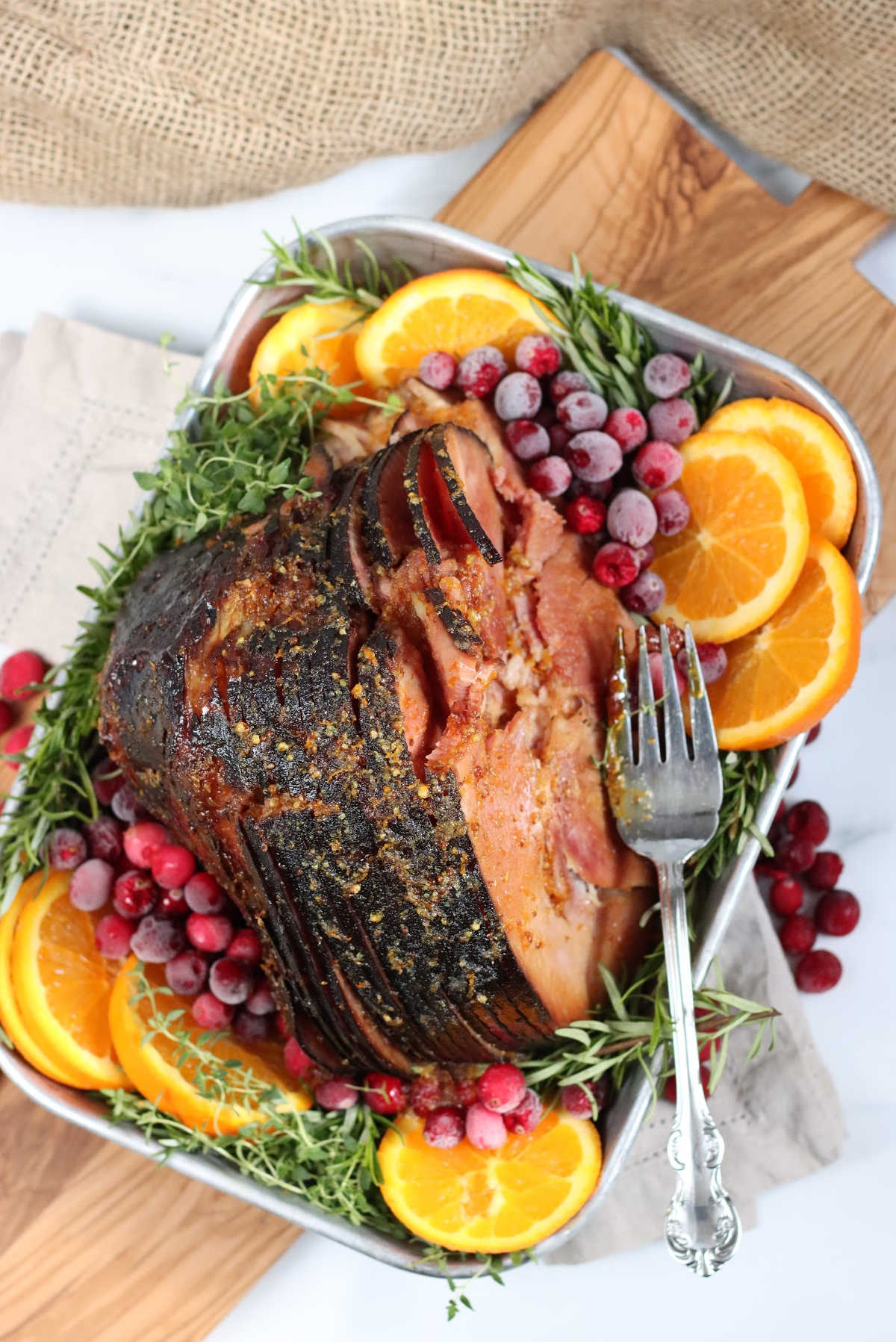 Maple glazed ham is sweet, salty and takes only minutes to prepare. This delicious ham recipe slow cooks in the oven and couldn't be more simple to make.
This 5-ingredient glazed ham recipe is perfect for Thanksgiving, Christmas, Easter, or any Sunday dinner. This is such an easy ham recipe!
Every year we would celebrate Christmas at my grandparents house the weekend before Christmas. Each family member would bring a home cooked dish to the holiday gathering. A glazed ham was always a part of that meal!
Be sure and try my grandmothers Holiday Punch!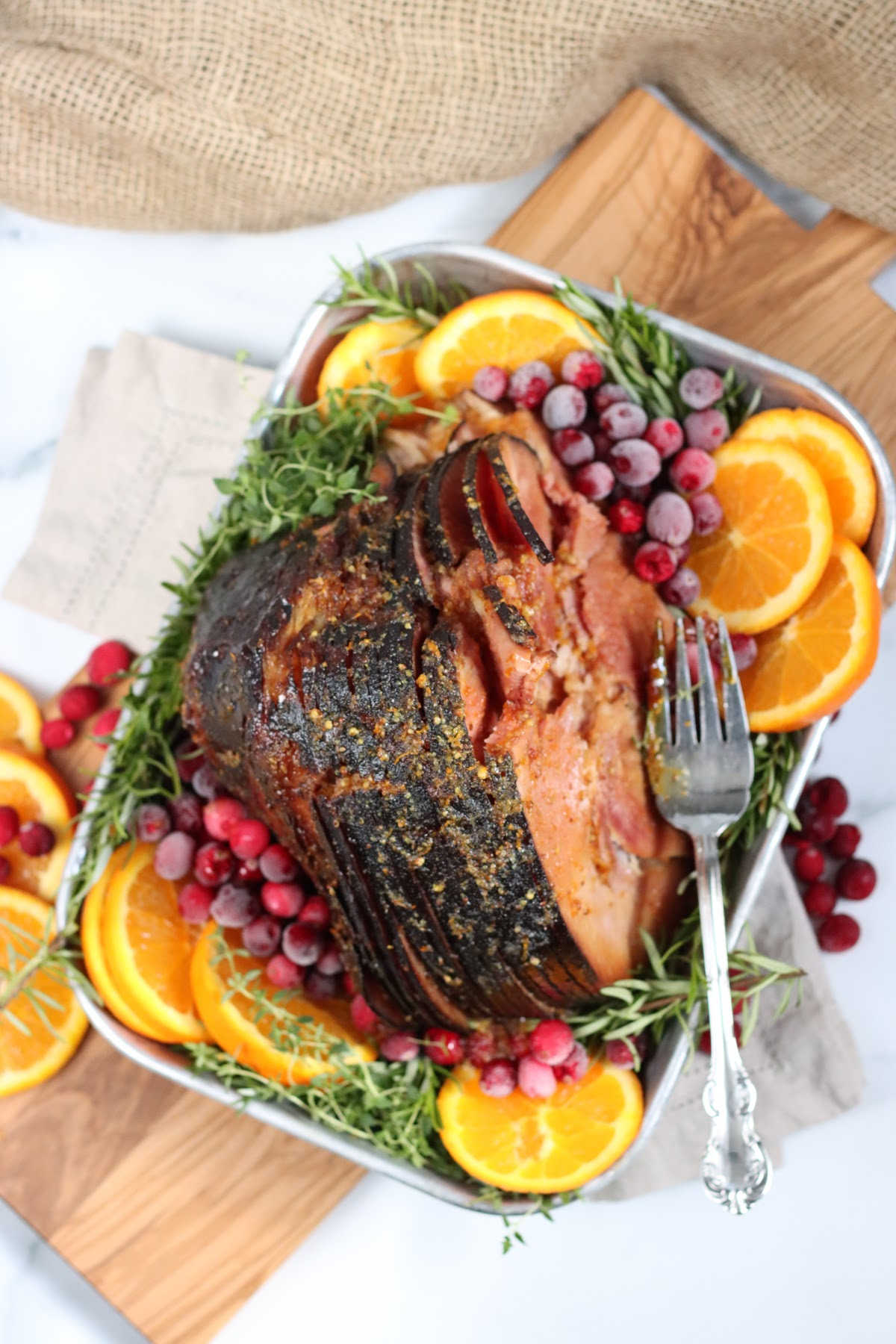 Why this recipe works
Made with simple ingredients, readily available in your local grocery store.
Simple to follow directions.
Seals in the moisture of the ham making it super juicy.
What you'll need
Maple Syrup – gives this ham glaze a smoky and buttery maple flavor
Brown Sugar – helps to caramelize the outside of the ham
Dijon Mustard – adds a touch of tang to the glaze to an otherwise sweet glaze
Cloves – provides that sweet and spicy flavor
Orange Juice – adds a citrus flavor and a bit of liquid into the pan juices while baking. This adds so much more flavor than just water with natural sweetness
The best glaze for a baked ham contains either maple syrup, brown sugar or honey. The saltiness from the ham and the sweetness from the glaze complement each other perfectly. This maple glazed ham recipe is SO easy with only a handful of simple ingredients!
You can insert whole cloves into your ham or use ground cloves in your glaze instead. Whatever you prefer.
Feed an army with leftover ham – because ham is very economical and serves so many people, leaving you with plenty of leftovers to use in other recipes. (There are so many options for soups and sandwiches!)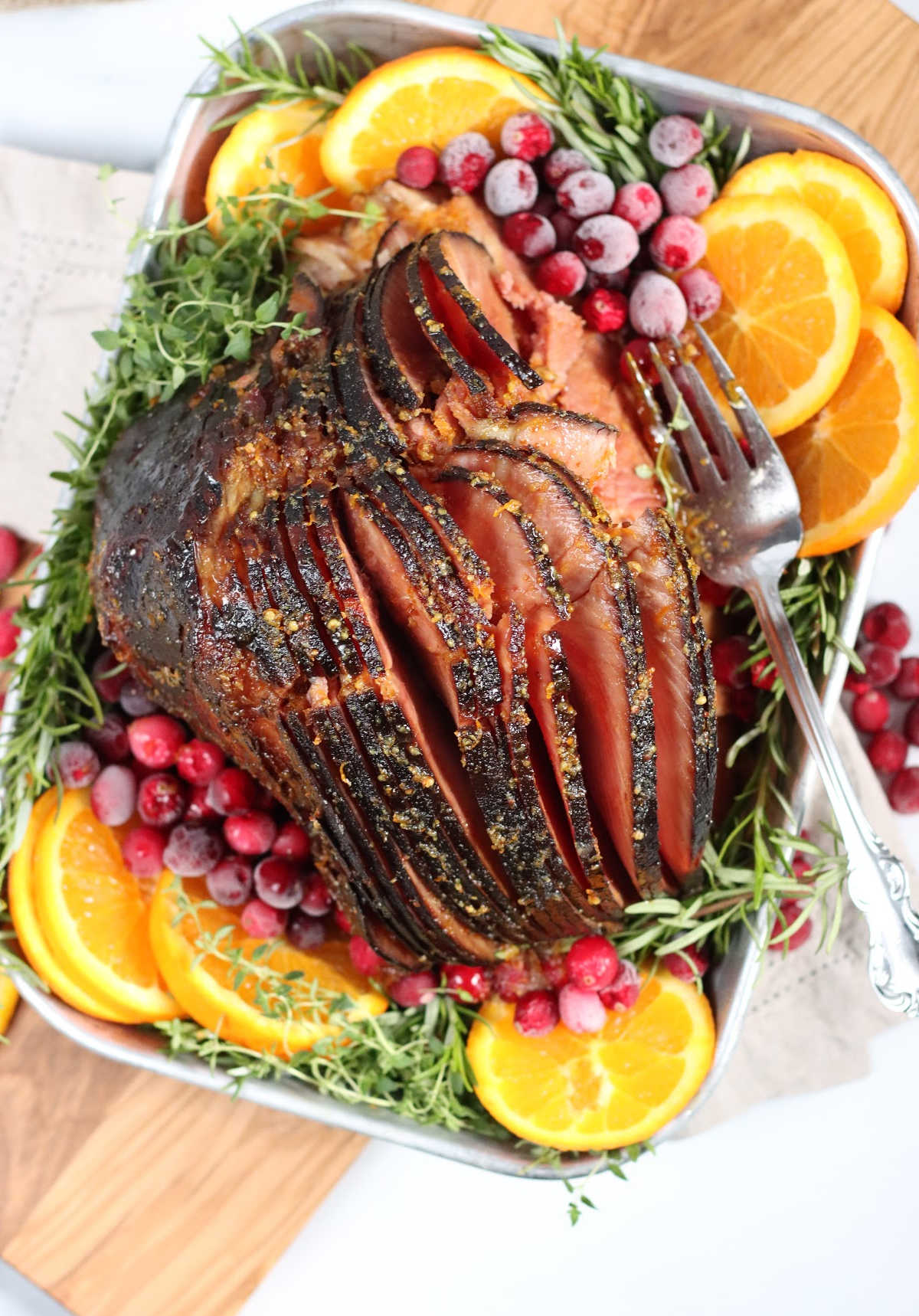 How to cook a Maple Glazed Ham
With only a handful of ingredients you can turn a store-bought ham into something delicious! The sticky, sugary glaze combined with a caramelized thin layer of fat and the saltiness of the cured ham is perfect for your holiday dinner.
Step 1: Preheat the oven to 300 degrees F.
Step 2: In a medium size bowl, whisk together maple syrup, brown sugar, Dijon mustard, cloves, and orange juice.
Step 3: Place the ham flat side down in a baking dish. Brush or spoon half of the glaze mixture over the ham. Cover with aluminum foil.
Step 4: Baste the ham with the glaze mixture about every 20 to 30 minutes.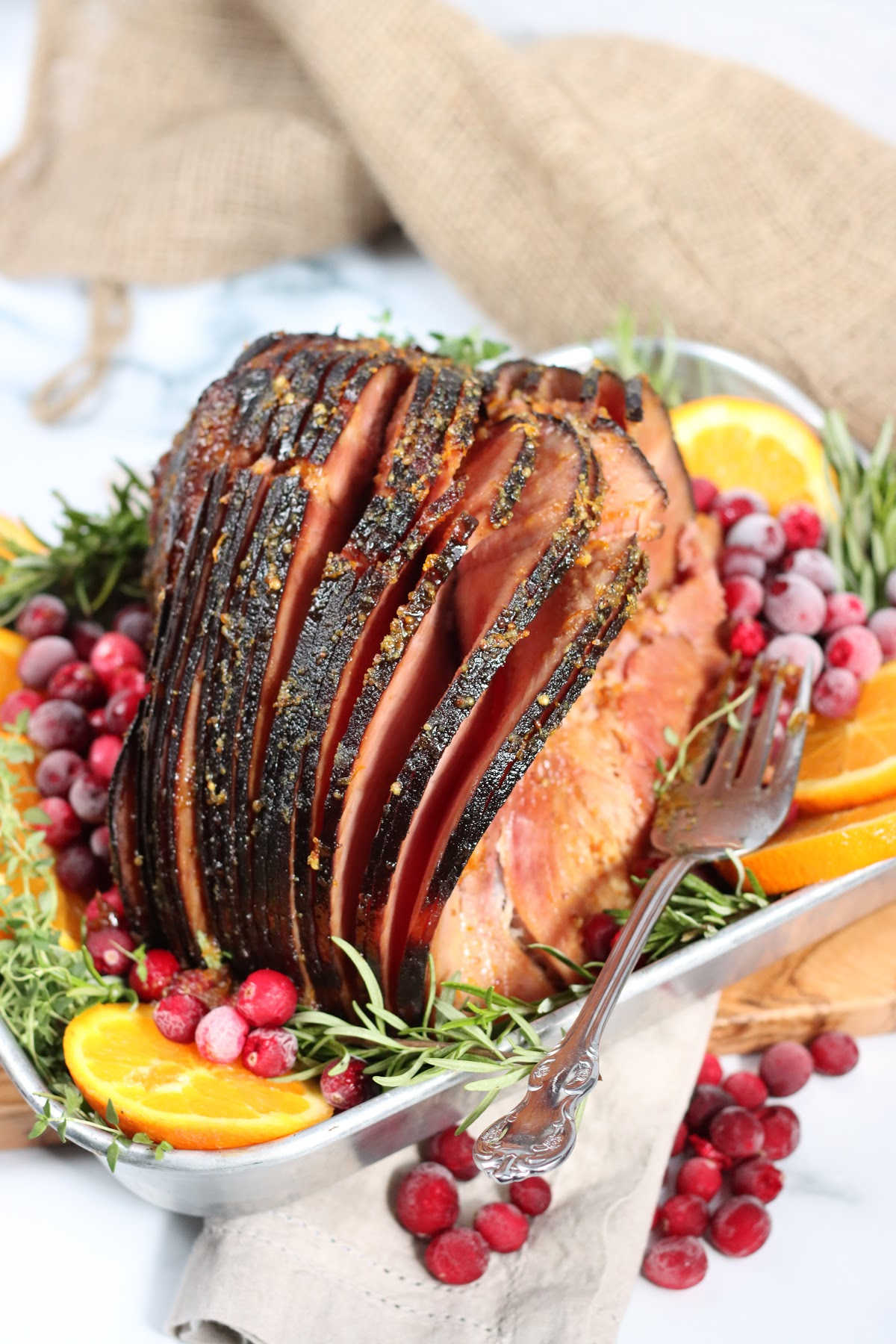 Want an incredible glaze on your ham? Baste it after it comes out of the oven! As the juices in the pan cool, the dark syrupy juices thicken. Spoon or brush those pan juices over the cooked ham!
Recipe FAQs
Do I glaze my ham before cooking?
Uncover the ham and baste the with glaze for the last hour of cooking. Spoon over the glaze and let it caramelize as it cooks.
How do you heat and glaze a fully cooked ham?
Cook at 275 degrees F for 15 minutes per one pound of ham. Baste the ham as it cooks to lock in the moisture and create a delicious glaze.
Holiday Side Dishes
For some creative homemade DIY Christmas gifts, be sure and check out Salt Dough Ornaments, Homemade BBQ Sauce, Raspberry Rhubarb Jam, Caramel Apple Slices, and Peppermint Meringues.
Did you make one of my recipes? Please take a moment to leave a star rating. Also, if you are on Pinterest, please feel free to leave a comment there! Follow A Farmgirl's Kitchen on FACEBOOK, PINTEREST and YouTube and subscribe my mailing list for ALL the latest recipes!
Maple Glazed Ham
Maple Glazed Ham has the fragrance of pure maple syrup and holiday spices of cloves and orange. Juicy baked ham is covered in a sticky maple glaze.
Ingredients
1

(8-10 pound) bone-in spiral sliced ham
Ham Glaze
¾

cup

pure maple syrup

½

cup

brown sugar

3

tablespoons

Dijon or Stone ground mustard

1

large

orange

(juice)

1

teaspoon

ground cloves
Instructions
Glaze and Baking Ham
Preheat the oven to 275 degrees F.

In a medium size bowl, whisk together maple syrup, brown sugar, Dijon mustard, cloves, and orange juice.

Use a pastry brush or spoon to coat the ham evenly with half of the glaze mixture.

Cover the entire pan with aluminum foil. Place the baking pan in the preheated oven. Bake for about 1 ½ hours.

Turn the oven up to 350 degrees F.

Uncover the ham and baste every 15-20 minutes for approximately 1 hour. This will help the ham glaze caramelize.

Cook for approximately 15 minutes per pound until heated through. Do not overheat.

Use the caramelized juices from the pan to baste the ham once it's removed from the oven. Serve immediately.
Recipe Notes
Glazed Ham:
Whole or Half – This glaze can be used on a whole or half ham. Oranges – Want even more orange flavor? Throw quarters of oranges in the pan as it bakes. They will break down and caramelize as the ham cooks, giving it even more flavor! Don't like oranges? You can substitute 1 cup of apple cider. Make ahead – You can make this ham ahead of time and just reheat.
Nutrition
Calories:
1719
kcal
|
Carbohydrates:
25
g
|
Protein:
144
g
|
Fat:
112
g
|
Saturated Fat:
40
g
|
Cholesterol:
413
mg
|
Sodium:
7961
mg
|
Potassium:
1997
mg
|
Fiber:
1
g
|
Sugar:
22
g
|
Vitamin A:
35
IU
|
Vitamin C:
8
mg
|
Calcium:
86
mg
|
Iron:
6
mg
Disclosure: As an Affiliate Marketer, I earn from qualifying purchases. If you click a product affiliate link on A Farmgirl's Kitchen and make a purchase, I may receive a commission at no additional cost to you! I own every cooking product I recommend and love how they perform.