Maple balsamic glazed pork chops are moist and so flavorful. Serve with freshly picked green beans and heirloom tomatoes.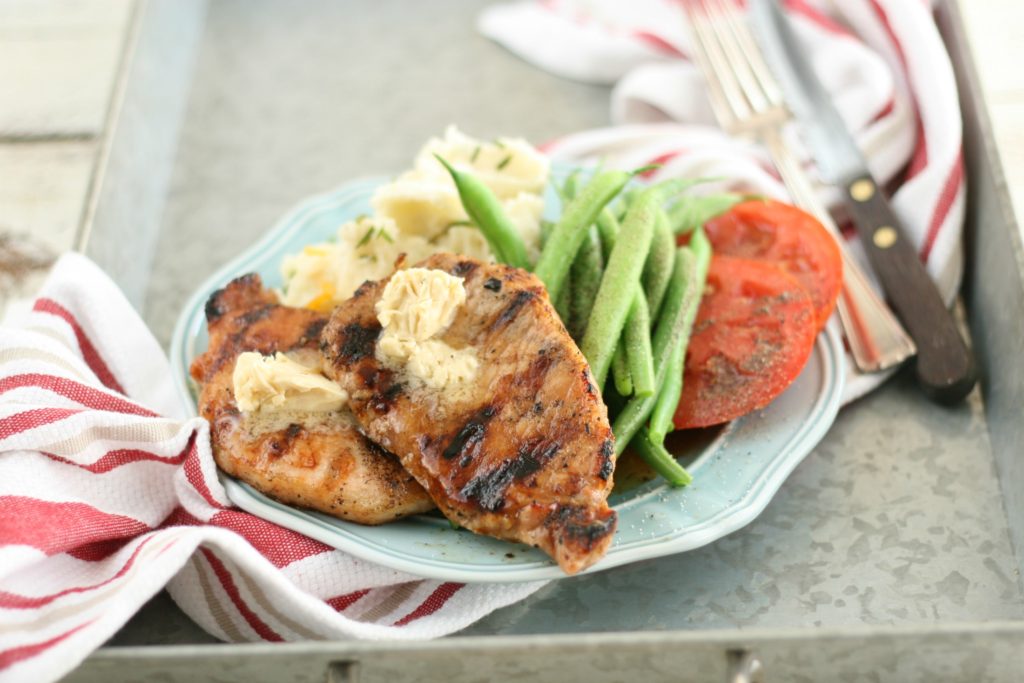 Cooking dinner is one of the last things I want to think about after an exhausting day in the kitchen. But, we've got to eat and I'd much rather whip up a home-cooked meal in my own kitchen than be spending on a ton on fast food. Besides the huge waste of money, take out isn't the best for us to eat. You'll be licking every little bit of juice off of your plate- believe me this one is a breeze to make and so tasty! Smithfield All Natural Fresh Pork is high quality, easy to prepare and versatile enough for easy weeknight cooking as well as weekend entertaining.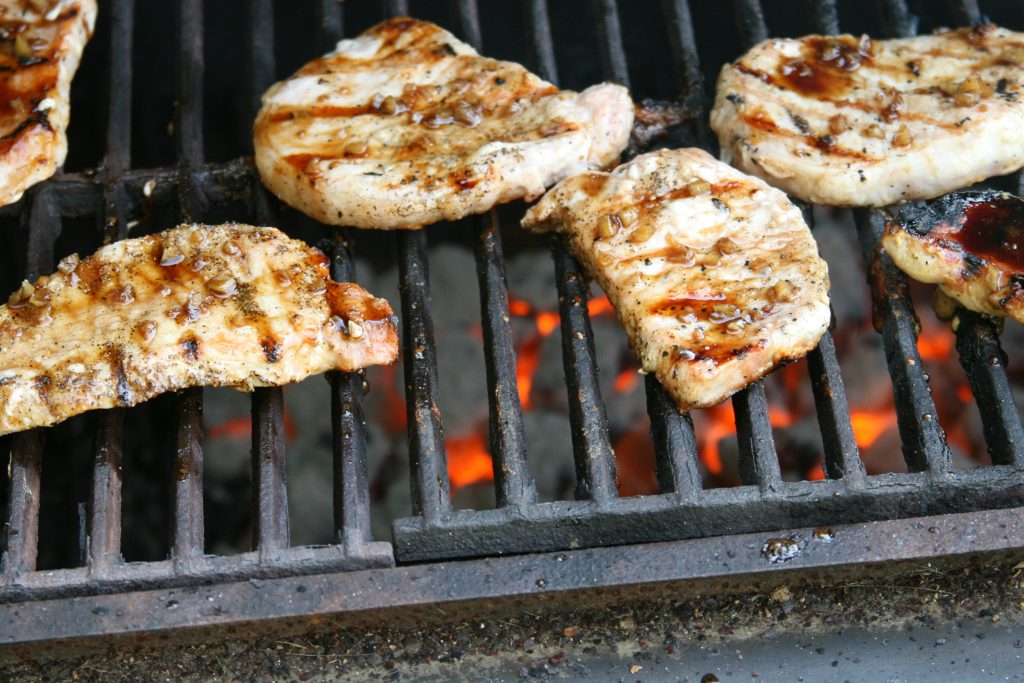 Smithfield All Natural Fresh Pork is proudly raised in the USA by Smithfield farm families. Which is a huge plus for me personally. I was raised on a small farm in Connecticut where we raised our own pork and produced pure maple syrup. So being able to purchase Smithfield All Natural Fresh Pork at our local grocery store that was raised by farm families in the USA means so much. I'm huge on supporting farm families and having freshly produced pork.


Salty and sweet with a kick of spice with freshly ground black pepper. Yum- paired perfectly with heirloom tomatoes, still warm from the summer sun, sprinkled with salt and black pepper. I walked out into our vegetable garden and harvested some green beans to go along with these Grilled Maple Balsamic Pork Chops. Delicious, home cooked dinner in about 35 minutes. I topped these wonderfully moist pork chops with a maple and roasted garlic whipped butter. This adds even more depth to an already flavorful grilled pork chop.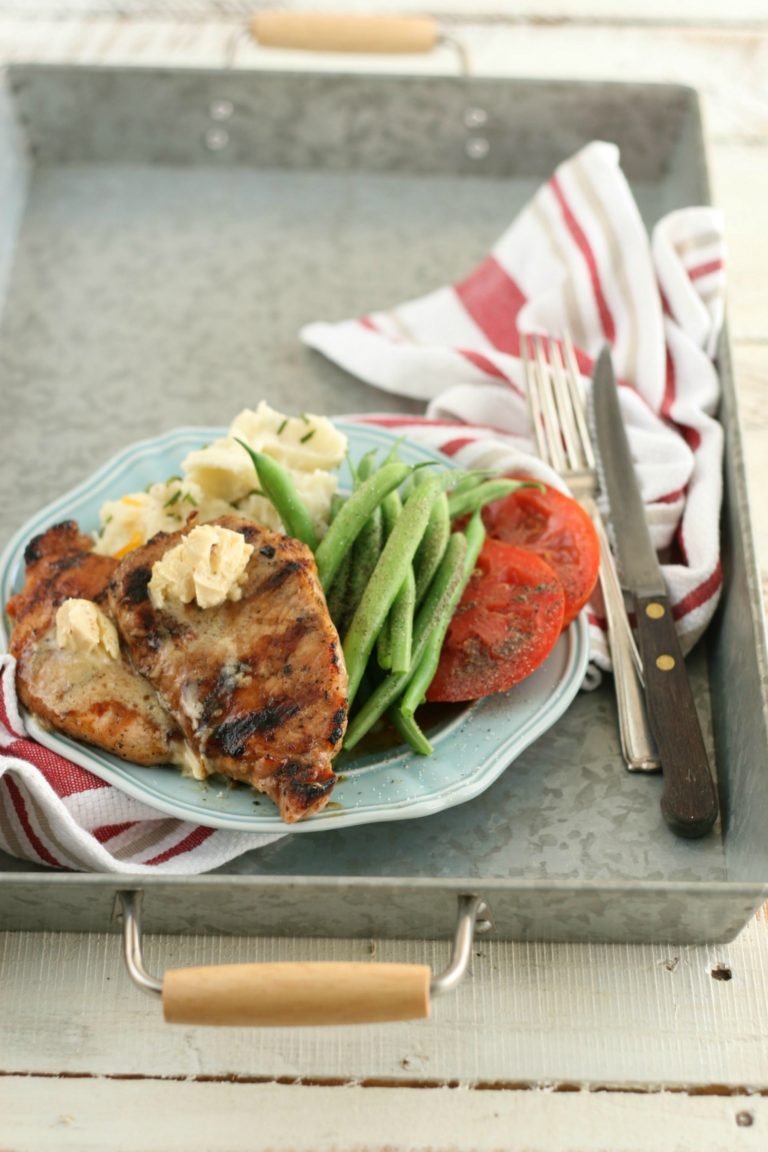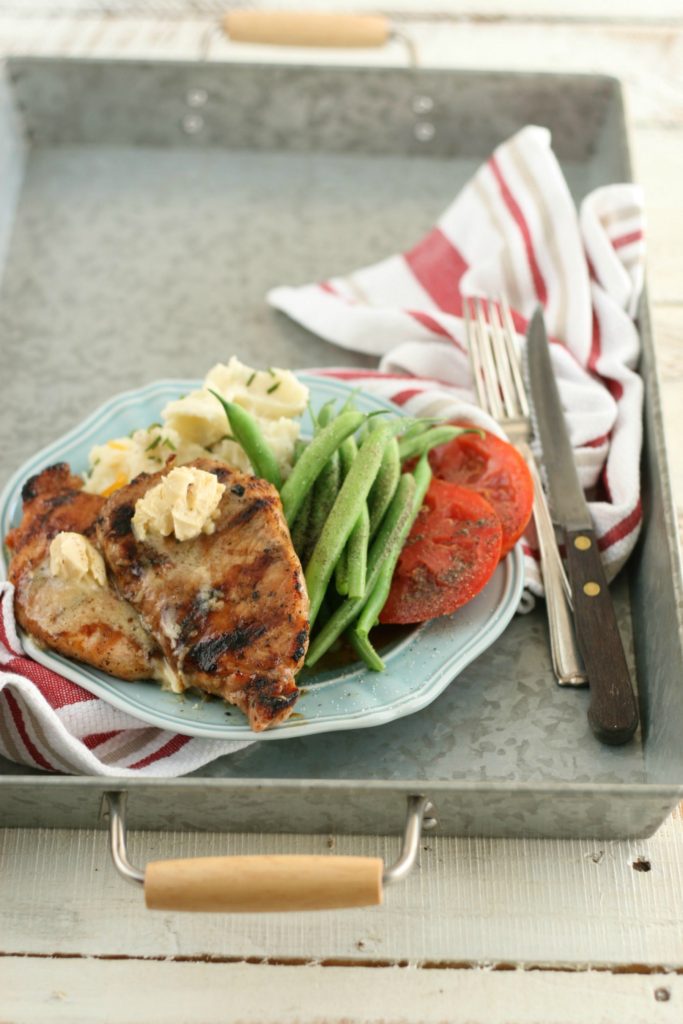 PRO TIPS:
Make the Maple and Roasted Garlic Whipped Butter ahead of time, place in a bowl and wrap with plastic wrap so it's ready for your grilled pork chops. Multi-task and while you heat up the charcoal grill, get your potatoes ready. It's all about prepping and keeping calm in the kitchen.
Tips for cooking pork:
If you love your pork medium rare, you should cook it to an internal temperature of 145 degrees (followed by a three-minute rest). Click HERE for more tips on cooking pork!
Do you love my recipes? If you have a moment, please leave a star rating.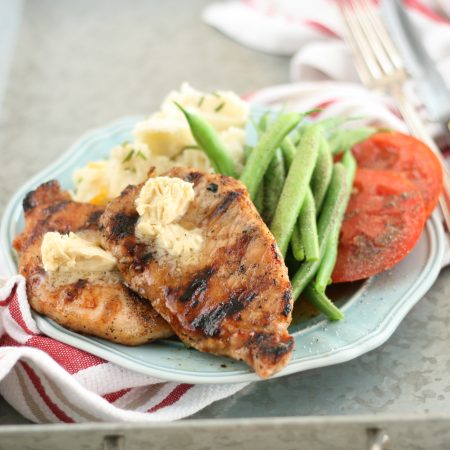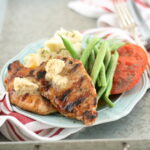 Grilled Maple Balsamic Glazed Pork Chop
Maple and Balsamic vinegar glazed pork chops are the perfect summer dinner.
Ingredients
Smithfield All Natural Boneless Pork Chops

Salt and Pepper to taste

Maple Balsamic Glaze:

1

tablespoon

extra virgin olive oil

1

teaspoon

minced garlic

1/3

cup

dark pure maple syrup

1/4

cup

balsamic vinegar

ground pepper to taste

Maple & Roasted Garlic Whipped Butter:

1/2

cup

(1 stick) salted butter

room temperature

2

tablespoons

dark pure maple syrup

1

head garlic

roasted

Sour Cream Cheddar and Chive Mashed potatoes:

6 to 7

Russet potatoes

1/2

cup

(1 stick) butter

softened

2/3 to 3/4

cup

sour cream

1/2

cup

shredded cheddar cheese

1/4

cup

finely chopped chives

salt and pepper to taste
Instructions
Preheat the oven to 400 degrees F.

Slice the top off of the head of garlic. Place on a double layer of aluminum foil. Drizzle with extra virgin olive oil and sprinkle with salt and pepper to taste. Gently bring the aluminum foil together like a tent and place in the oven for about 20 to 25 minutes. Let cool. Squeeze the garlic into a bowl and whisk together with maple syrup and softened butter. Place in a small bowl and refrigerate until needed.

Peel the potatoes and cut into 1/2-inch cubes. Place in a pot of cold water and sprinkle with salt. Bring to a boil and cook until tender, about 12 minutes. Drain. Smash the potatoes with a potato masher or electric hand mixer. Add the butter, sour cream, salt and pepper to taste. Sprinkle with shredded cheddar cheese and chopped chives. Cover and set aside.

To make the Maple Balsamic Glaze:

In a small saucepan, over medium heat, cook the garlic in the olive oil. Add the balsamic vinegar and maple syrup and let simmer for about 5 to 6 minutes. This will thicken it slightly. Pour into a liquid measuring cup.

For the pork chops:

Sprinkle the pork chops generously with salt and pepper. Grill on a preheated grill for about 3 to 4 minutes on each side. If you love your pork medium rare, you should cook it to an internal temperature of 145 degrees (followed by a three-minute rest).

Coat each pork chop generously with the maple balsamic glaze and place on the grill with no direct heat. This will caramelize the glaze without further cooking the pork chops. Let the meat rest for 5 minutes before cutting. Serve with your choice of seasonal vegetables.
Nutrition Facts
Grilled Maple Balsamic Glazed Pork Chop
Amount Per Serving
Calories 3750
Calories from Fat 2232
% Daily Value*
Fat 248g382%
Cholesterol 627mg209%
Sodium 2188mg95%
Potassium 6004mg172%
Carbohydrates 349g116%
Protein 48g96%
Vitamin A 7629IU153%
Vitamin C 82mg99%
Calcium 974mg97%
Iron 12mg67%
* Percent Daily Values are based on a 2000 calorie diet.
Save
Save