Lemon Blueberry Bread is wonderfully moist, full of lemon flavor and topped with a thick lemon icing. Loaded with blueberries, this lemon blueberry cake is the perfect combination of tart and sweet.
Lemon Blueberry loaf is made with easy to find ingredients and done in about an hour. This quick bread recipe is incredibly easy to make and has been a favorite for many years. It was one of my most popular quick breads at the local farmers market.
Lemon pound cake folded with wild blueberries is the perfect summer dessert. A delicious and moist pound cake recipe folded with wild blueberries. Then topped with a tart lemon icing. So simple for a fresh summer dessert. Also try my Lemon Pound Cake in a Bundt pan.
This lemon cake recipe takes minutes to prepare and is perfect for using blueberries when they are in season. You can also use frozen blueberries when they are not in season. (We freeze blueberries when they are in season, so we always have ingredients on hand for this lemon blueberry bread!)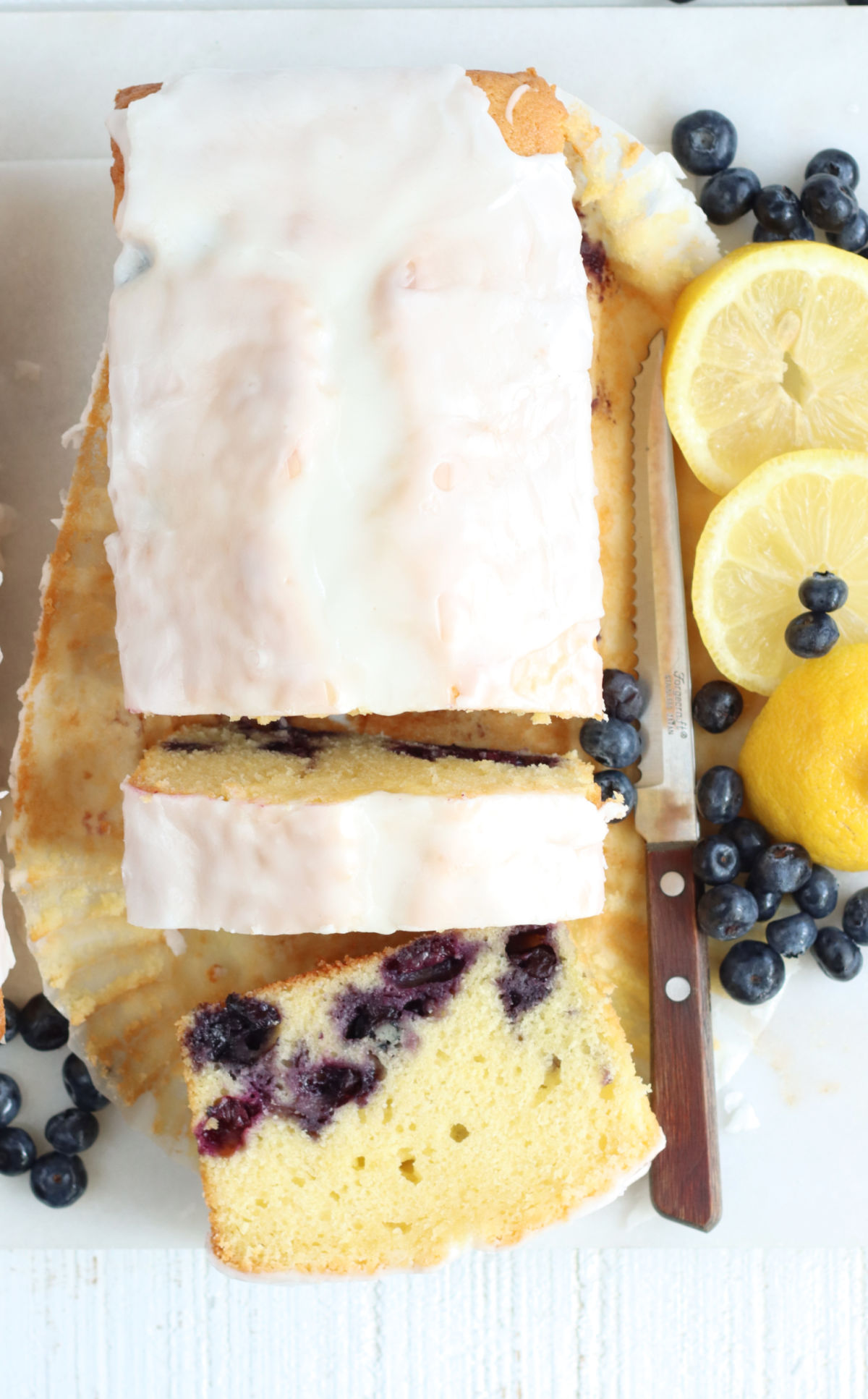 Why this recipe works
Uses simple ingredients that are readily available at most grocery stores.
Let's you control the ingredients. No added coloring or preservatives.
The perfect addition for breakfast, brunch, dessert, snack or with coffee.
It's a similar lemon loaf cake to Starbucks lemon loaf.
What you'll need
Butter – I always buy unsalted butter. That way I can control the salt in my recipes.
Granulated white sugar – Creamed together with the butter gives you a moist and flavorful base.
Sour Cream – Helps keep this lemon blueberry bread moist with a pop of tartness.
Lemon juice – Fresh lemon juice gives this cake recipe the perfect lemon flavor. Add the zest of one large lemon for even more lemon flavor.
Lemon Oil – This is an essential ingredient! Lemon oil does not have any additives or alcohol that lemon extract would have. It is the oil from lemon rinds. Order it here!
Eggs – Use fresh eggs and be sure they are brought to room temperature before making this lemon cake for better results.
All-purpose flour or cake flour – either will work for this lemon blueberry cake. Be sure and sift the flour for a light and fluffy cake.
Baking powder and soda – These leavening agents together help make a light and fluffy cake that rises properly.
Blueberries – Use fresh or frozen blueberries. If using frozen, you do NOT want to thaw them prior to adding into the cake batter or they will become mushy and blue coloring will discolor your lemon cake batter.
Fresh lemon juice and pure lemon oil are added to this pound cake batter for the most moist lemon cake ever! I love using wild blueberries in this cake, but you can use regular blueberries as well.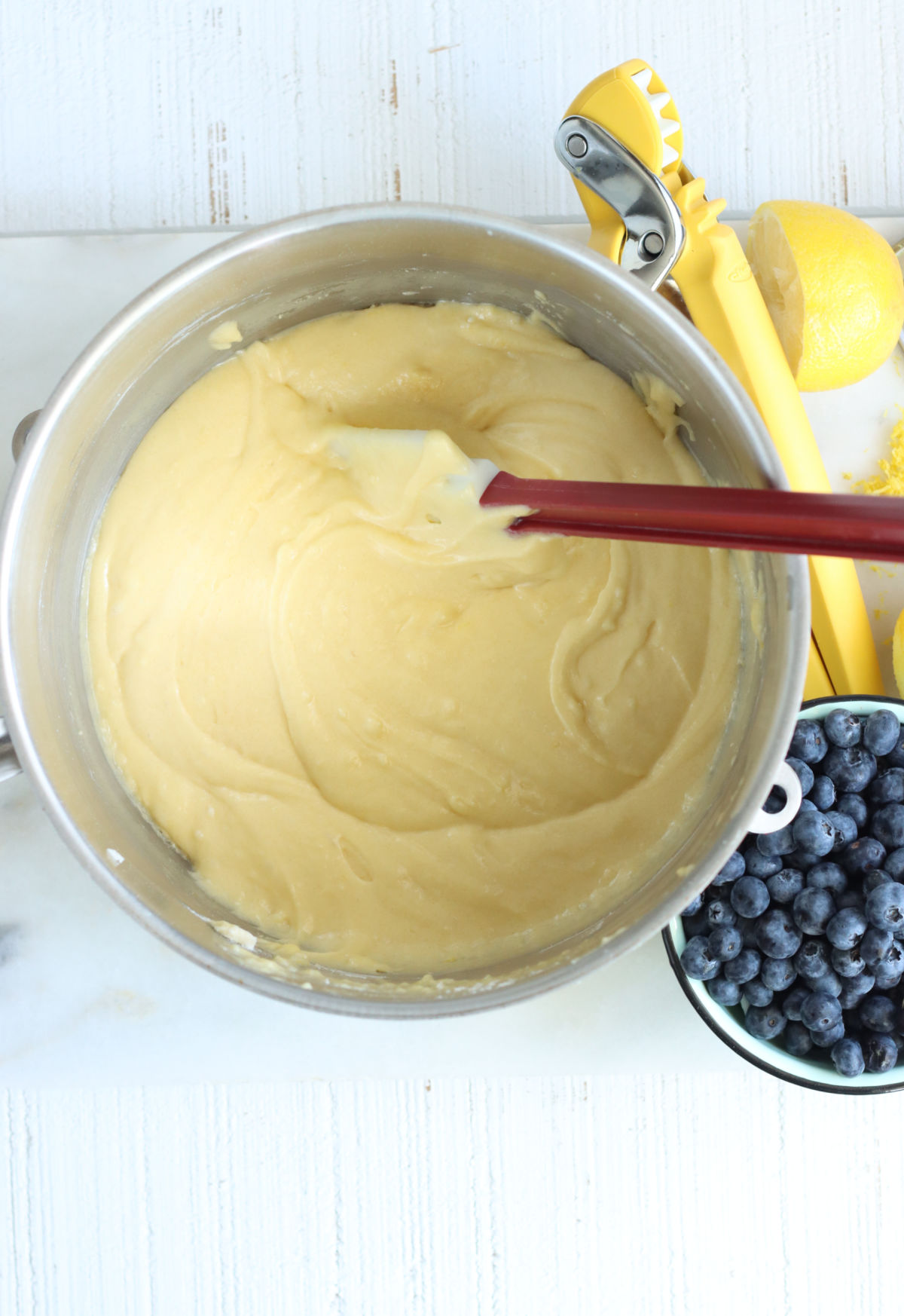 How to make Lemon Bread
Combine the ingredients – Cream together butter and sugar. Add in the eggs, sour cream, lemon oil, lemon juice, zest, flour, baking soda, baking powder and salt. Mix until you have a smooth cake batter.
Fold in blueberries – Use a rubber spatula to gently fold in fresh or frozen blueberries into the cake batter.
Add ingredients to prepared loaf pans – Divide the cake batter evenly into two (9×5-inch loaf pans) that are lined with paper liners or parchment paper.
Brush with egg wash – Gently use a pastry brush the pie crust layer with egg wash. Sprinkle with sugar.
Bake – Bake for about 70 minutes in a preheated 350 degree F oven. Check to see if your lemon blueberry bread is done with a toothpick when inserted comes out clean.
Make the lemon icing – Prepare the icing while the quick breads cool. Let them cool completely before spooning icing over the top.
Allow the lemon glaze to set – Let the cakes sit at room temperature for 10-15 minutes for the lemon icing to properly set.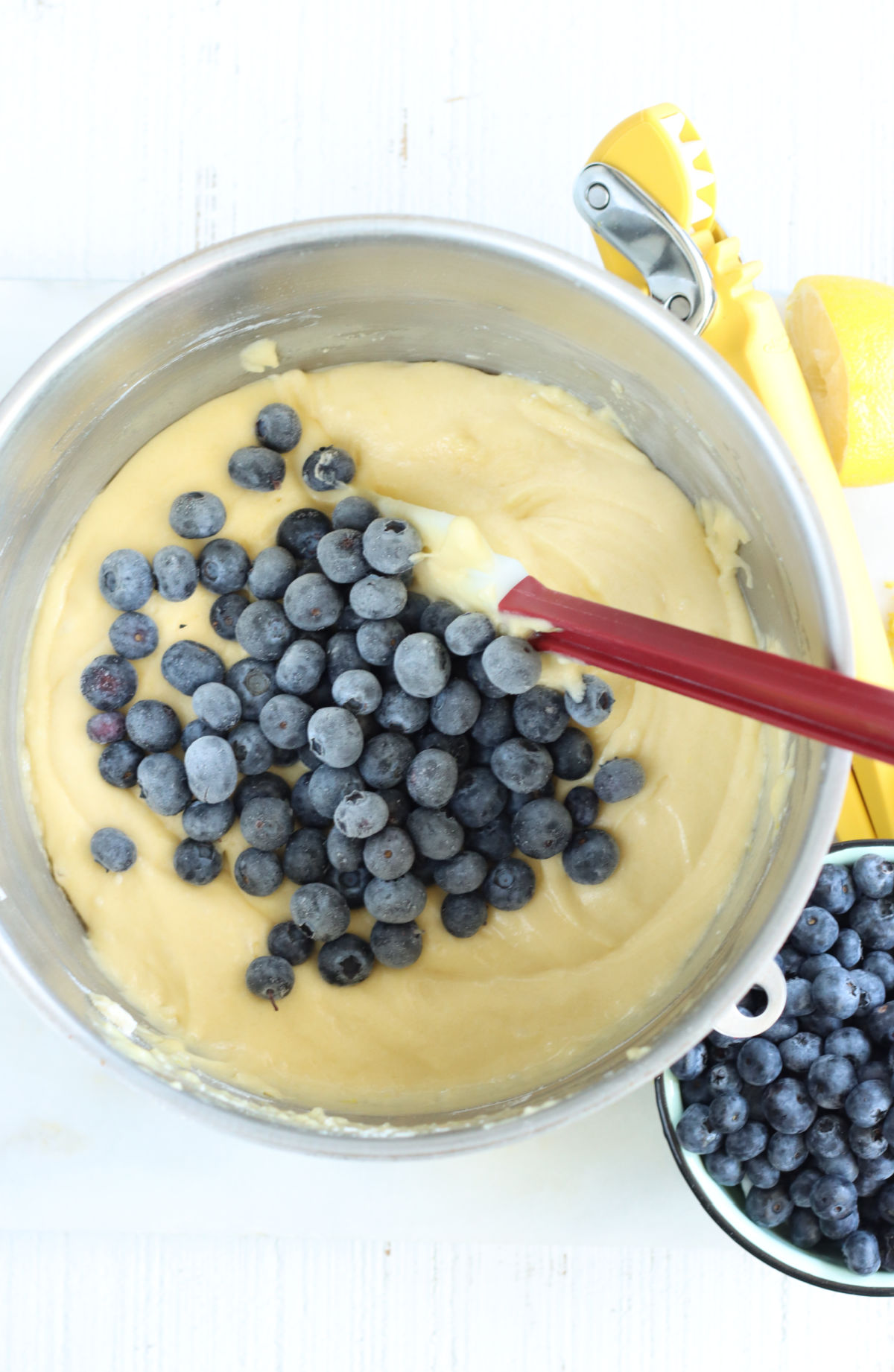 Fold blueberries into the cake batter frozen and they will not smash. You're welcome to use fresh blueberries if you have them. Often times we use wild blueberries, since they tend to have more blueberry flavor than traditional blueberries. (Locate them easily in most grocery stores, Walmart or BJ's in the freezer section near the frozen berries.)
When making cakes, I personally prefer to use my KitchenAid stand mixer. But you can also use a mixing bowl and electric hand mixer.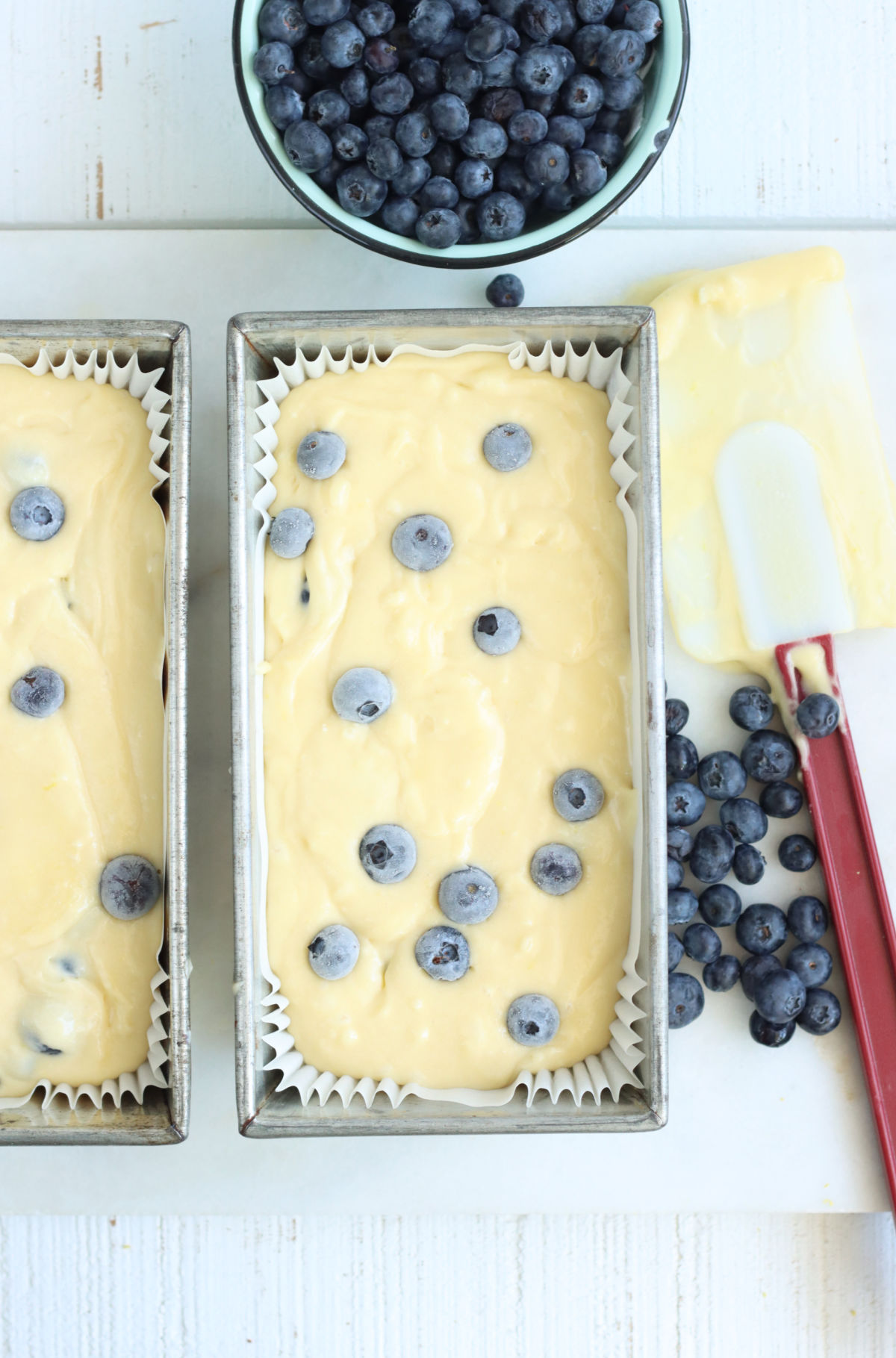 Divide the cake batter evenly into two 9×5-inch loaf pans. Use paper loaf pan liners for easier clean up. This also makes it easy to give a cake to a neighbor or friend.
These loaf pans are just like the ones my mom had in her collection. They are made in the USA and great for baking banana bread, pound cakes and quick bread recipes. They are an essential part of our kitchen baking pans.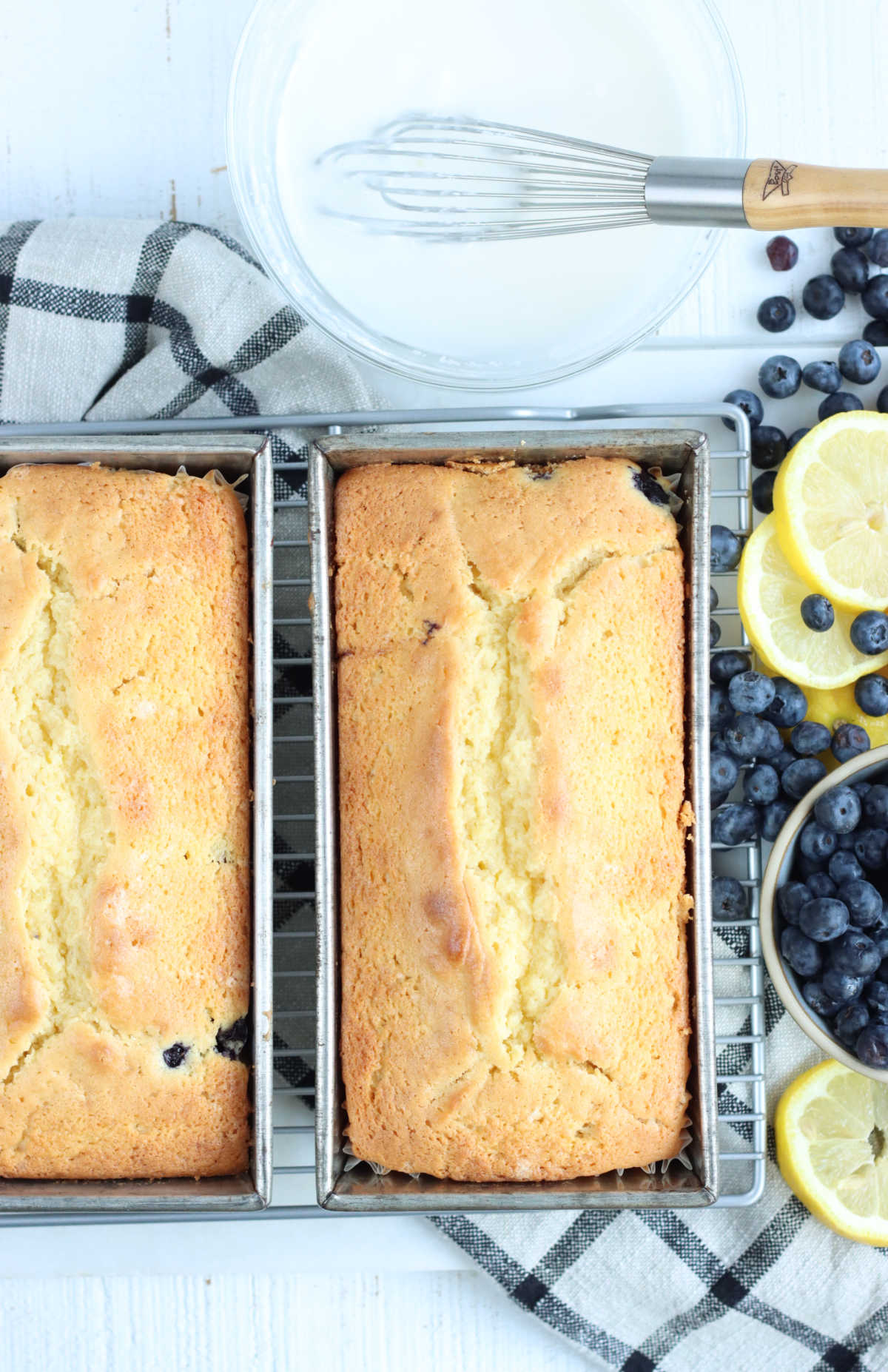 These loaf pan paper liners are amazing! I love using them for my Banana Bread and Sour Cream Coffee Cake. Paper liners for loaf pans are just as important in my kitchen as pre-cut sheets of parchment paper. I can't stand fighting with a roll of parchment paper!
For another great lemon cake be sure and try my Lemon Bundt cake.
Can I make this recipe in mini loaf pans?
Yes, you certainly can. You'll need to reduce the baking time to around 30 minutes. Use a toothpick when inserted in the center of the cakes to tell if they are done baking.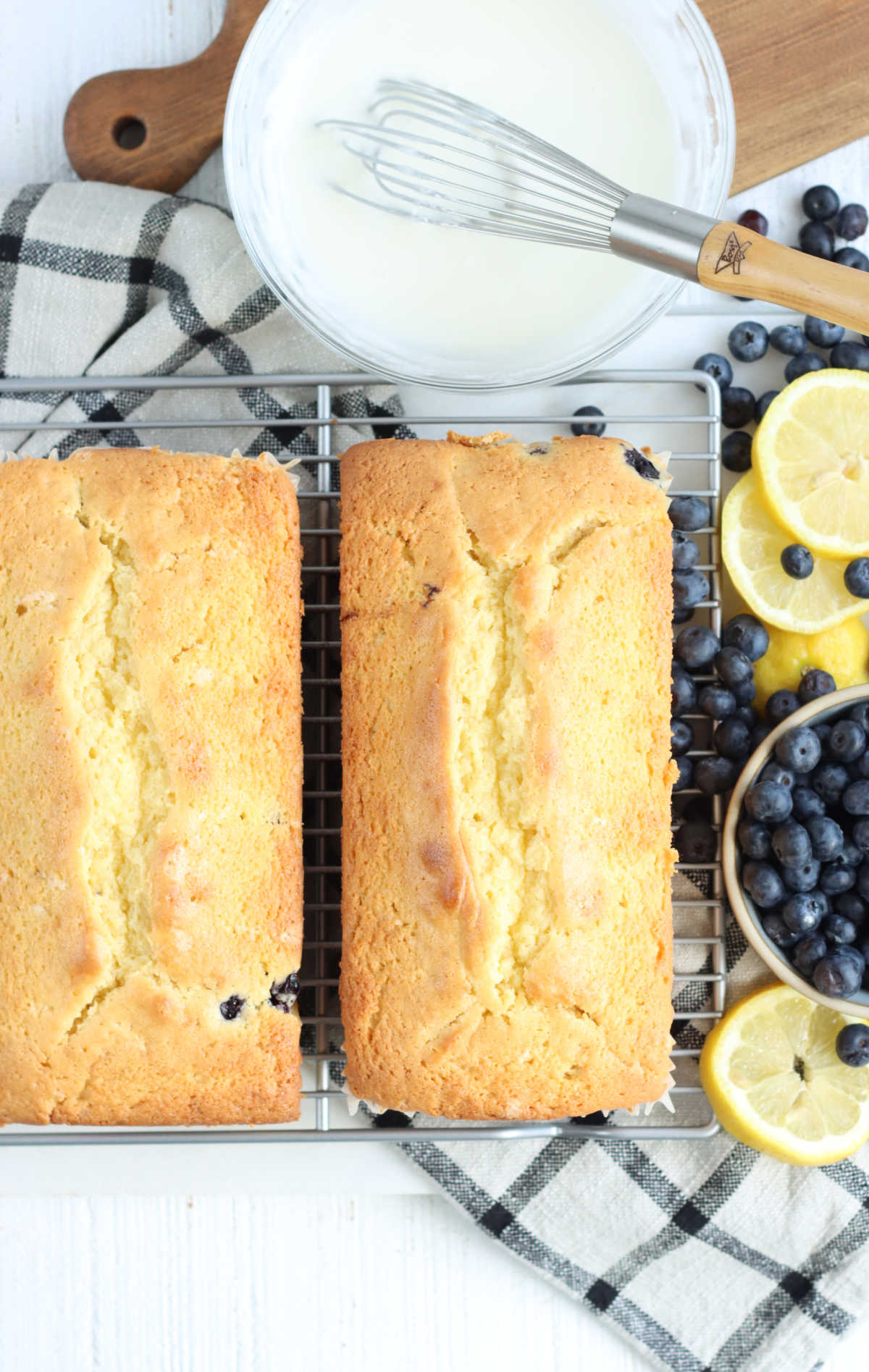 Tips and Tricks for Making this lemon cake recipe
Use caution to just mix the batter until smooth. Overmixing the batter can over develop the gluten in your bread and lead to a denser loaf.
For the best flavor use freshly squeezed lemon juice. Also add the zest from one lemon. Remember to zest the lemon before squeezing it for juice!
When you make the lemon glaze for this pound cake don't add too much liquid. You want the glaze to be nice and thick. Should you add too much, simply whisk in a few tablespoons more of powdered sugar.
Recipe FAQs
Can frozen blueberries be used?
Yes, you can use frozen blueberries for this lemon blueberry bread. Do not thaw the blueberries prior to folding them into the cake batter.
Can this quick bread be frozen?
Yes! Let it cool completely and the icing set. Then wrap in either a freezer zip top style freezer bag or bread baggie. It will last about 1 month in the freezer.
Can I use lemon extract instead of lemon oil?
No. Lemon extract contains additives such as alcohol and should not be used in this lemon blueberry bread recipe. Pure lemon oil is the oil from lemon rinds and has a wonderful lemon flavor. You only need a small amount.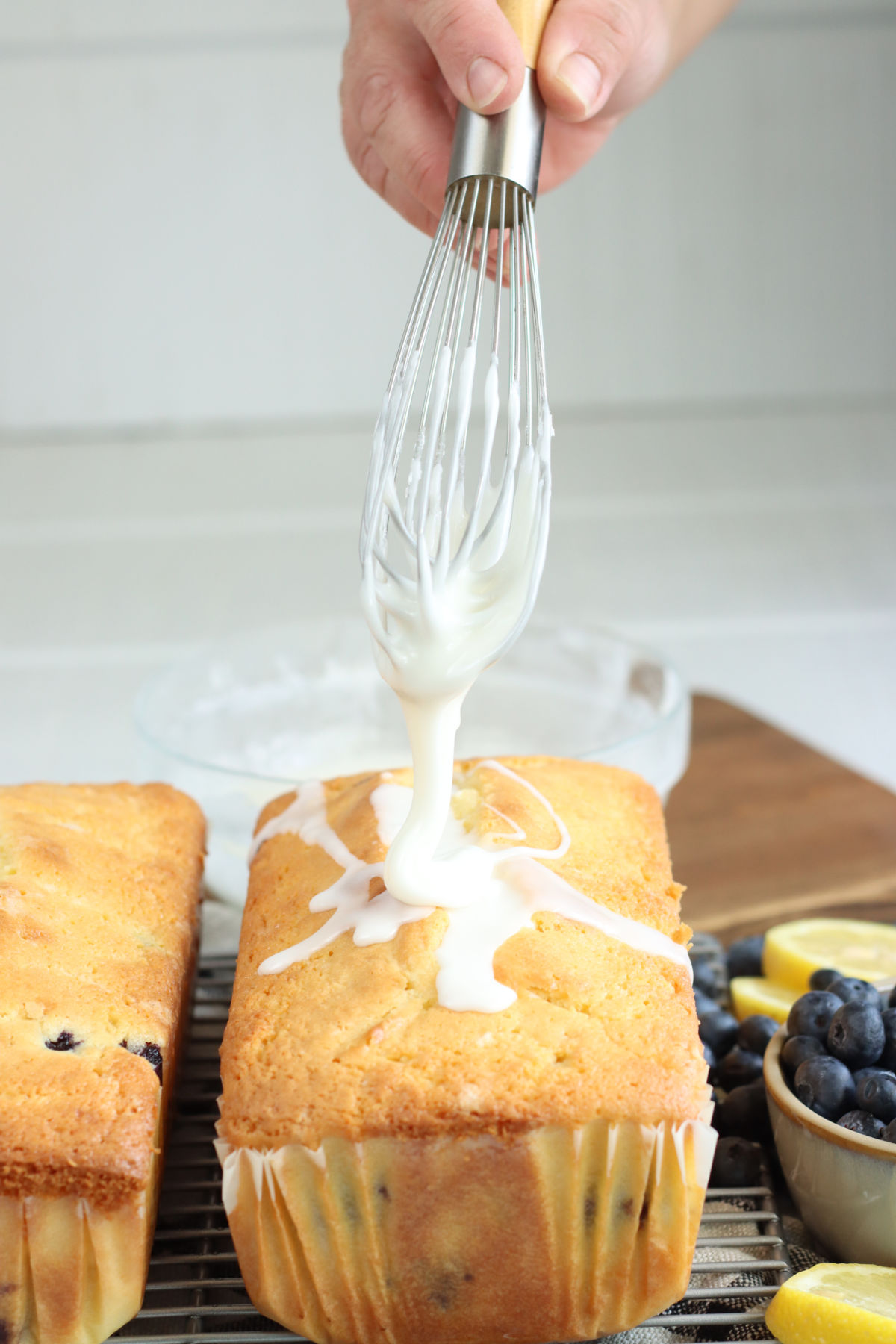 How good does this lemon icing look? I could literally eat it with a spoon! If you love Starbucks lemon loaf, you'll love this lemon blueberry loaf- it's packed with lemon flavor and super moist.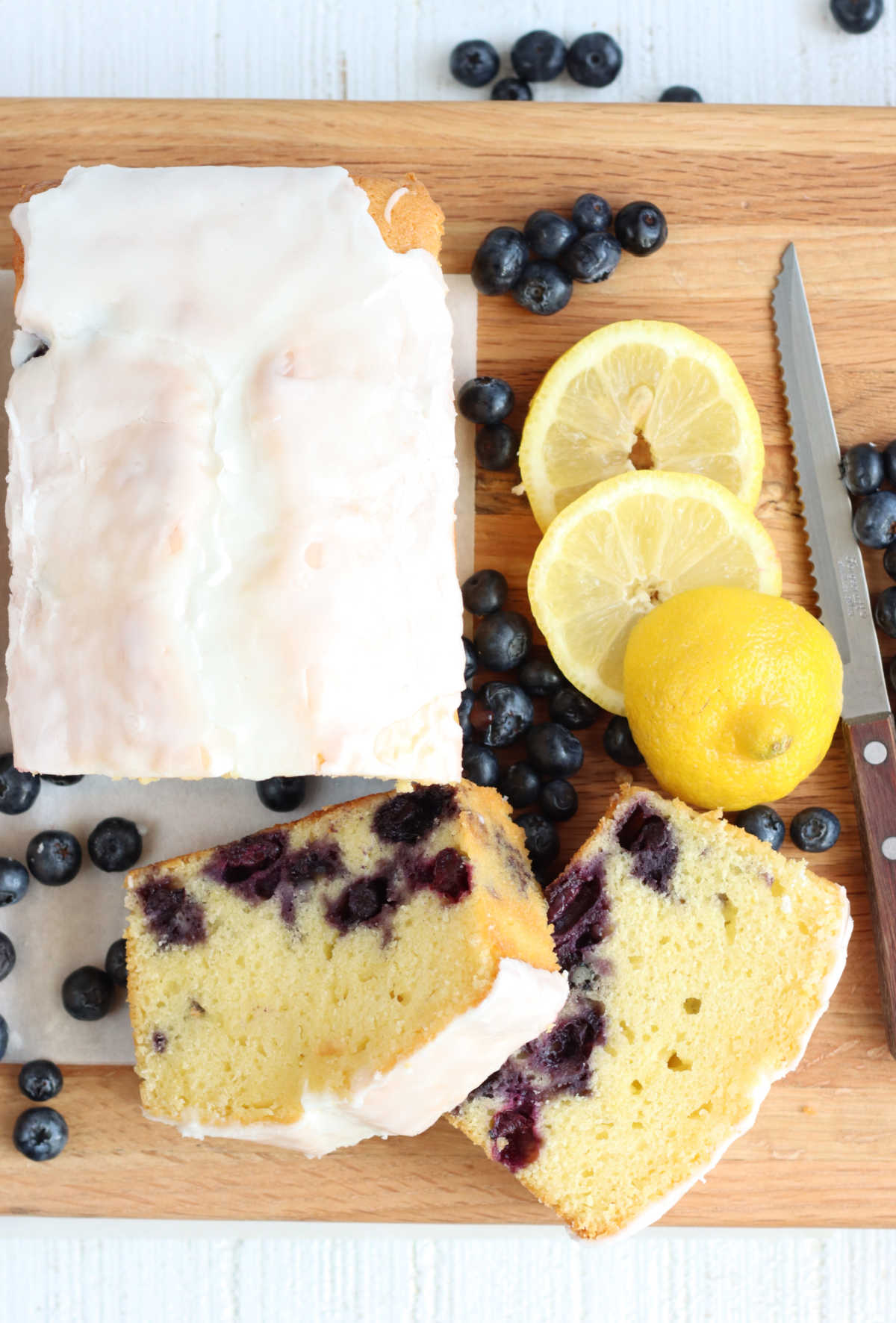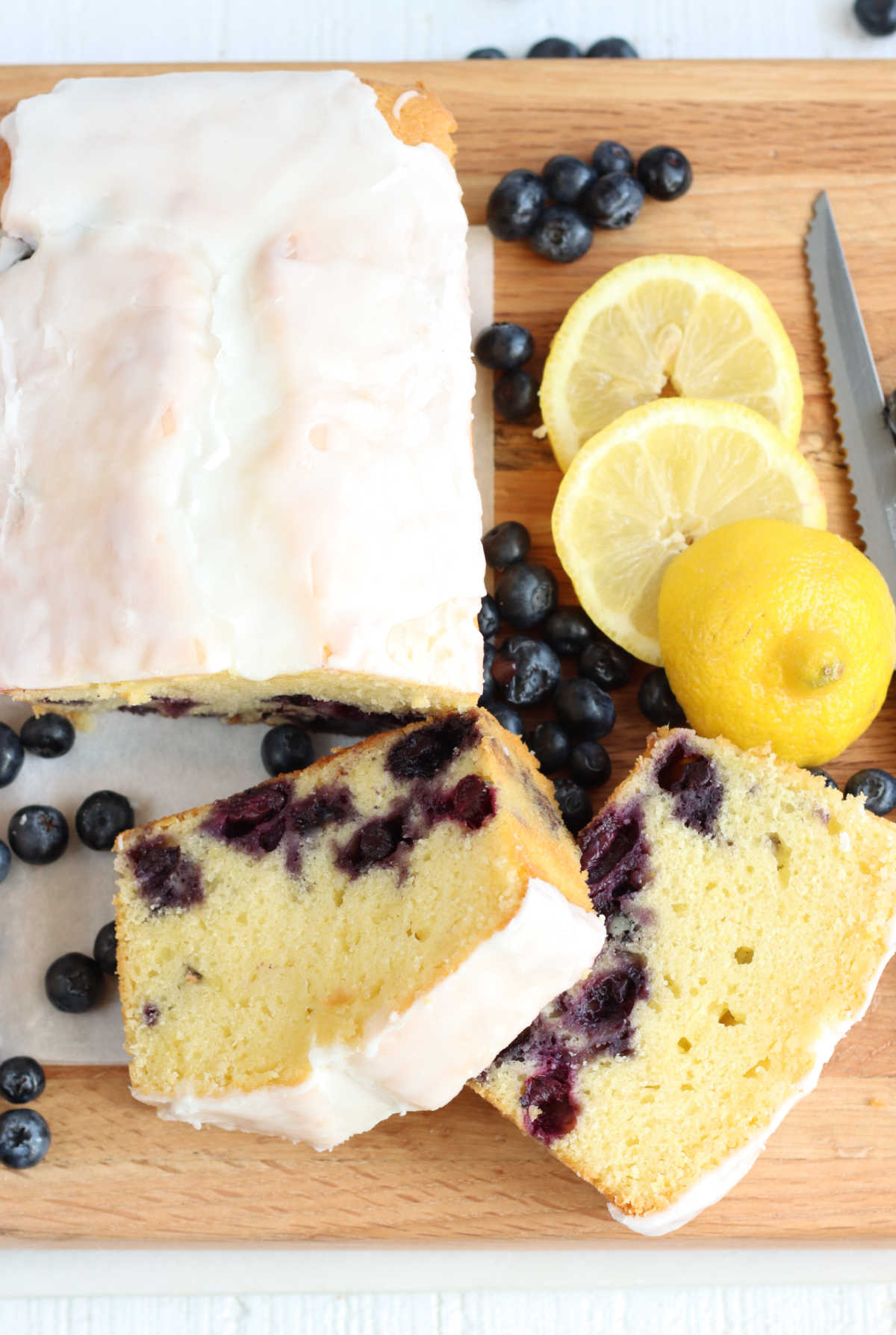 Did you make one of my recipes? Please take a moment to leave a star rating. Also, if you are on Pinterest, please feel free to leave a comment there! Follow A Farmgirl's Kitchen on FACEBOOK, PINTEREST and YouTube and subscribe my mailing list for ALL the latest recipes!
Lemon Blueberry Bread
Lemon Blueberry bread is moist, full of lemon flavor and easy to make.
Ingredients
Lemon Blueberry Bread
3 ½

cups

all-purpose flour

(sifted)

2 ½

cups

granulated sugar

1

cup

(2 sticks) unsalted butter, softened

6

large eggs

room temperature

1

teaspoon

salt

1

teaspoon

baking powder

½

teaspoon

baking soda

2

teaspoons

pure lemon oil

¼

cup

fresh lemon juice

lemon zest from one large lemon

(optional)

1

cup

full-fat sour cream

1 ½

cups

fresh or frozen blueberries

wild blueberries or regular blueberries
Lemon Icing
2

cups

powdered sugar

3-4

tablespoons

lemon juice

(or juice from one large lemon)
Instructions
Use either a stand mixer or an electric hand mixer, cream together the butter and the sugar.

Add the eggs, one at a time. Combine thoroughly. Scrape the bottom and sides of the mixing bowl occasionally with a rubber spatula.

Add the sour cream, lemon juice, lemon oil and combine. Scrape the bottom of the bowl again with a spatula.

Add half of the flour, baking powder, baking soda, and salt. Mix until the batter is smooth. Scrape the bottoms and sides of the mixing bowl and add the remaining flour mixture. Combine until the batter is smooth.

Fold in the blueberries using a spatula.

Place paper liners in 9×5-inch loaf pans. Divide the cake batter evenly into 2 prepared bread pans. Spread the cake batter out gently with a spatula.

Bake in a preheated 350 F degree oven for about 70 minutes. Or until a toothpick when inserted comes out clean, the cake is done.

Let the cakes cool for 10 minutes in the pan. Remove from the pan and let cool completely on a baking rack.

Mix together the icing ingredients in a medium size bowl with a whisk. Add more lemon juice for your desired thickness.

Once the cakes are completely cooled, spoon the icing over each cake. Let dry before putting cakes into twist tie bags.
Recipe Notes
Place the loaf pans on a half sheet pan lined with parchment paper. This will help with cleanup, should one of the cakes splash batter.
For added lemon flavor we use pure lemon oil. This is different from lemon extract, as it does not have any added ingredients including alcohol. It is only lemon oil from the lemon rind. You only need a small amount for an incredible pop of lemon flavor.
About ¾ way through baking, rotate the sheet pan 180 degrees. This will help your cakes to bake evenly.
Use a butter knife as soon as the cakes come out of the oven to gently run around the edges of the pans to remove the cake from the edges of the pan. This will prevent it from sticking to the pan.
Nutrition
Calories:
2436
kcal
|
Carbohydrates:
394
g
|
Protein:
29
g
|
Fat:
87
g
|
Saturated Fat:
51
g
|
Cholesterol:
531
mg
|
Sodium:
1697
mg
|
Potassium:
630
mg
|
Fiber:
6
g
|
Sugar:
276
g
|
Vitamin A:
2885
IU
|
Vitamin C:
17.7
mg
|
Calcium:
247
mg
|
Iron:
8.8
mg
Disclosure: As an Affiliate Marketer, I earn from qualifying purchases. If you click a product affiliate link on A Farmgirl's Kitchen and make a purchase, I may receive a commission at no additional cost to you! I own every cooking product I recommend and love how they perform.