Blueberry Strawberry Salad with Candied Pecans is packed with mesculine greens, fresh strawberries, plump blueberries, and pieces of blue cheese, is perfect for summer lunches or dinner.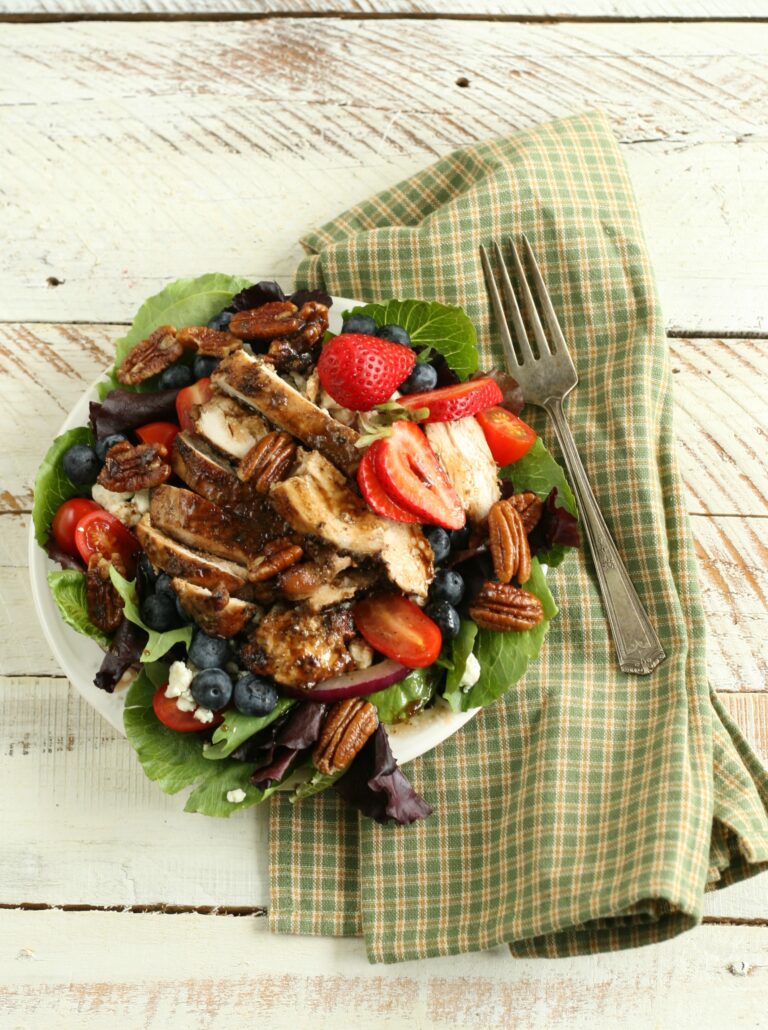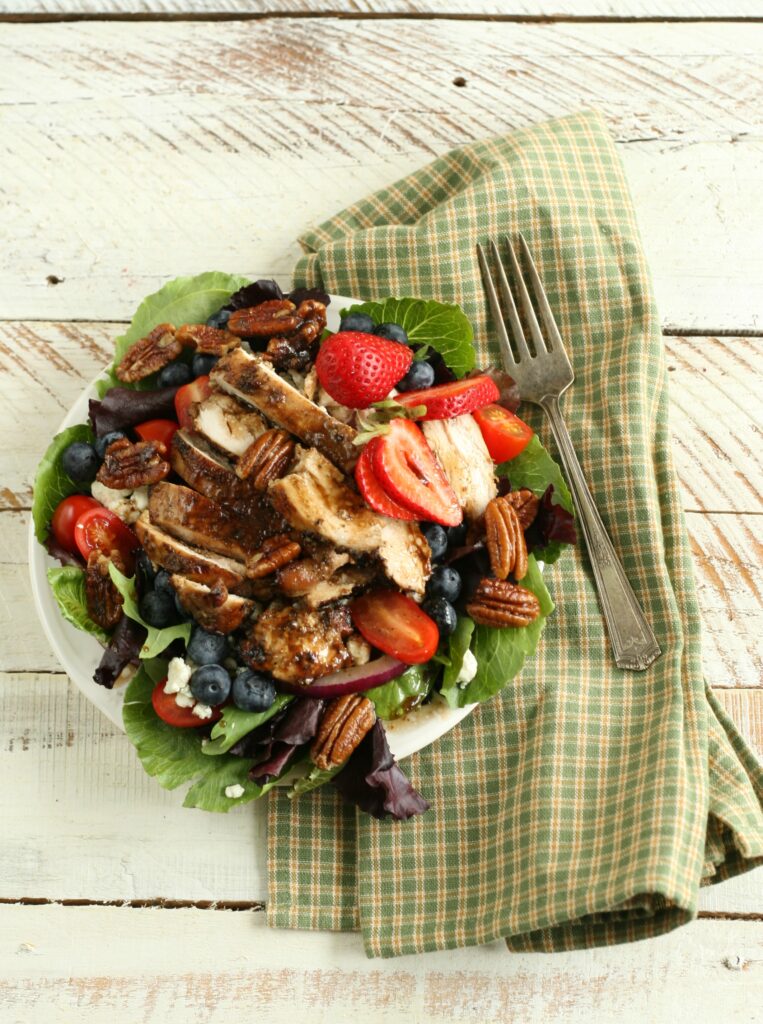 Are you trying to eat healthier?
Maple sugar coated nuts are to this day, still one of the best sellers at my parent's farm, Lamothe's Sugar House. We made them in a 60-quart steam kettle, spread them on sheet pans, and let them dry with nothing more than the pilot lights in the gas oven. And, can I tell you I've been spoiled by all the great commercial equipment I've been blessed to use over the years?! The kitchen in our sugarhouse was my home-schooled culinary center. It's what's inspired so many great recipes, including my Blueberry Strawberry Salad with Candied Pecans.
You can make your own candied pecans at home or source them in your local grocer. They're relatively easy to make, and will store for about six months in a glass canning jar. I topped this flavorful salad with one of my best ever marinates, Brown Sugar Mustard Grilled Chicken. We grill all year round. Of course, the last few weeks it's been bitter cold up and down most of the east coast. But we brave the cold to grill this amazing moist and flavorful chicken. If you can't brave the cold, grill this chicken inside on a cast iron grill pan. Believe me, this marinate is a recipe you'll want to use over and over!
We've been hitting the gym hard. A girlfriend of mine at the barn suggested I join her for a burn class. I'd already lost a bit of weight and she knew I wanted to step up my game a bit and could handle the intensity of the class. I'm grateful she encouraged me to go, because I've become a much healthier person and more fit. Since we're eating better, I wanted to share one of the salads we make on a weekly basis. It's packed with leafy greens, sweet grape tomatoes, pieces of blue cheese, and a touch of red onion. That's not to say you can't have one of my Apple Fritters. Just means we're swapping out some of our carbs for more healthier options, like this delicious salad. Everything in moderation, like my dad always says.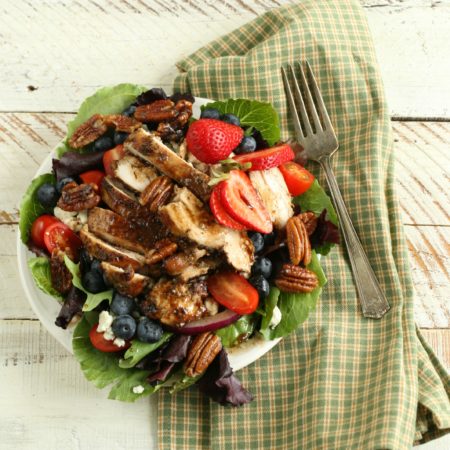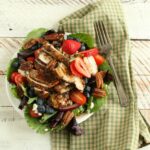 Blueberry Strawberry Garden Salad with Candied Pecans
Blueberry Strawberry Garden Salad with Candied Pecans is packed with flavor, textures, and perfect for summer lunches or dinner.

Ingredients
1

cup

baby greens

1

breast boneless chicken

grilled and sliced

1/2

cup

fresh blueberries

2

fresh strawberries

sliced

1/4

cup

crumbled blue cheese

3

tablespoons

candied pecans

4-5

grape tomatoes

sliced in half

2

tablespoons

balsamic dressing

Red onion

sliced thinly
Instructions
Make the salad by tossing together the greens, onion, tomatoes, blueberries, strawberry slices, pecans and balsamic vinegar dressing in a large bowl.

Place grilled chicken and sprinkle blue cheese over breast over prepared salad.