Strawberry Raspberry Rhubarb Pie is filled with fresh raspberries, strawberries, and rhubarb in a homemade pie crust.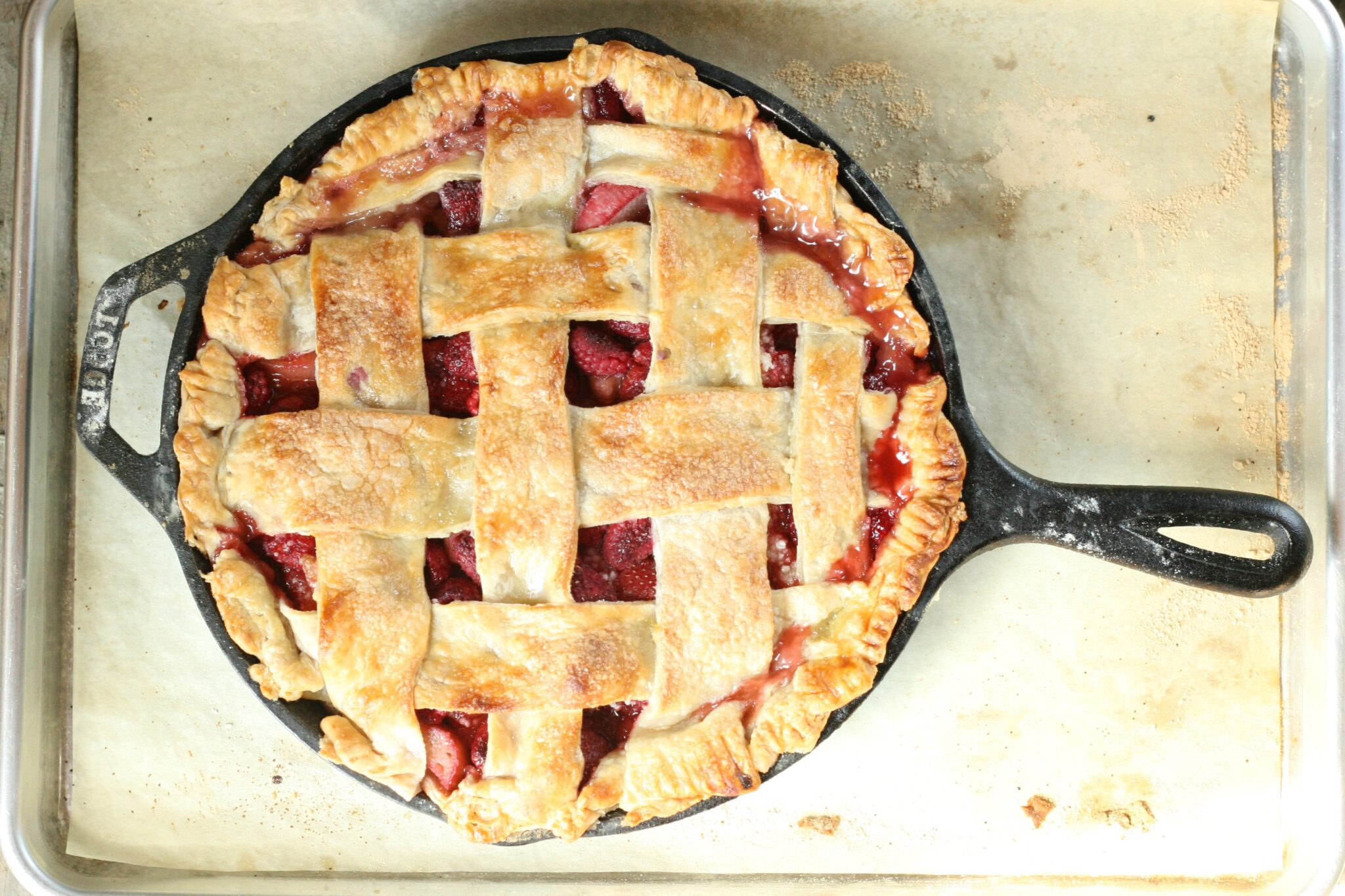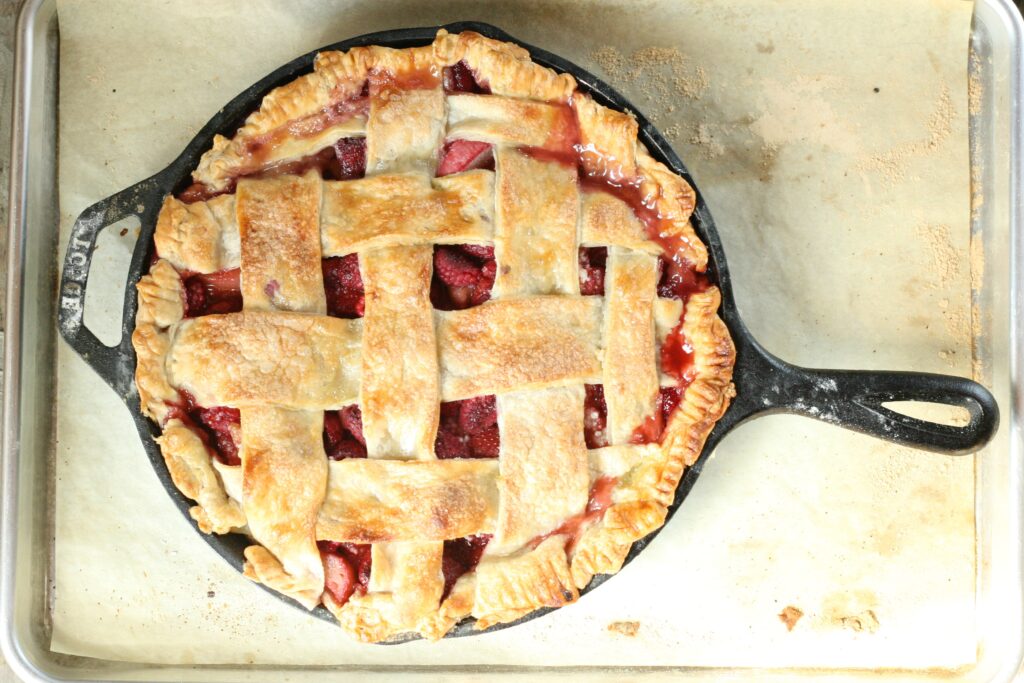 As a young girl, I vividly remember going with my parents to Krell Farm in Farmington, Connecticut to pick strawberries in the fields. Watching for snakes as you picked and putting tender ripe berries gently into weaved wooden baskets. Trying not to eat every single berry before you made it back to our farm.
My mom was a wiz at making everything homemade, especially pies! Crust was always homemade and never these roll out crusts in the refrigerator section. She always used the pie crust recipe on the back of the Crisco can. Now that pie crust was good. But, the last few years I've taken the time to make a pie crust that's so much better. Flaky, buttery, melt in your mouth goodness.
Many of you express that you struggle making pie crust from scratch. There's nothing to fear with homemade pie crust. Just relax, take your time and make sure to keep your ingredients cold. I've found that a good combination of butter and lard makes the best crust.
Don't overwork the dough and you'll be fine. Personally, I love making pie crust at night. Just mix everything up, plop into a large freezer zip-style bag and let it sit overnight in the fridge to get super cold.
The next day, you'll find it's super easy to roll out. Plus, you've made it ahead of time. Hopefully this one simple step makes your pie making the next day go smoothly!
How to make a Strawberry Raspberry Rhubarb Pie:
Step 1: Simply mix the fruit together with granulated sugar, lemon juice, and instant tapioca. Then, spoon that mixture into the bottom crust. Here I used a 10-inch Lodge cast iron skillet that I spray with a little cooking spray before laying the bottom crust inside.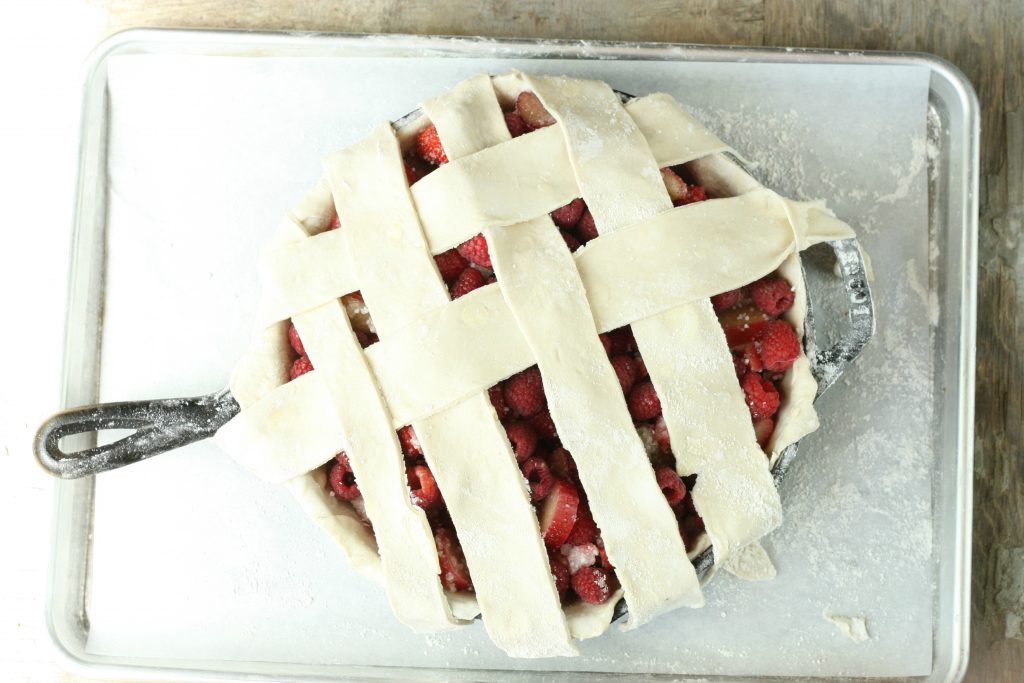 Step 2: Brush the entire pie with an egg wash and bake in a preheated 400 degree oven for a little over an hour. I usually cut a hole in the center of a big piece of aluminum foil and place it over the pie part way through the cooking process. That way, the pie crust doesn't get too brown and it lets the pie continue to cook. The air vent will allow steam to escape and the crust won't get gooey.
Step 3: Let the pie cool completely before slicing.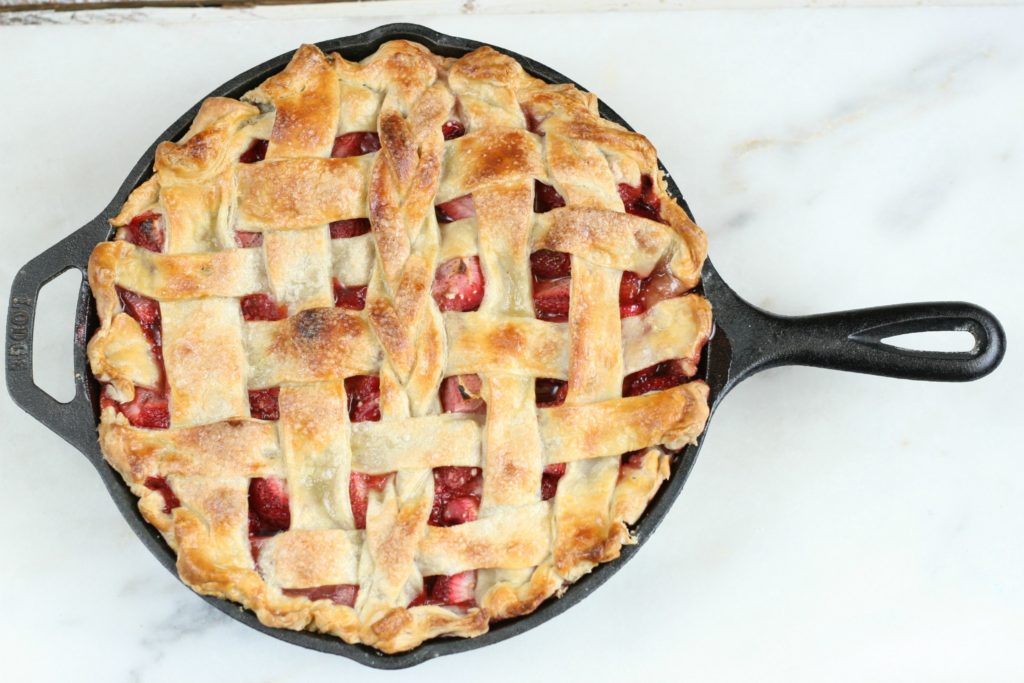 Okay- now let me know how your pie comes out! And definitely if you baked it in a cast iron pan for the first time. Let me know your thoughts!
Did you make one of my recipes? Please take a moment to leave a star rating. Also, if you are on Pinterest, please feel free to leave a comment there and a photo if you have one! Follow A Farmgirl's Kitchen on FACEBOOK and PINTEREST and subscribe my mailing list for ALL the latest recipes!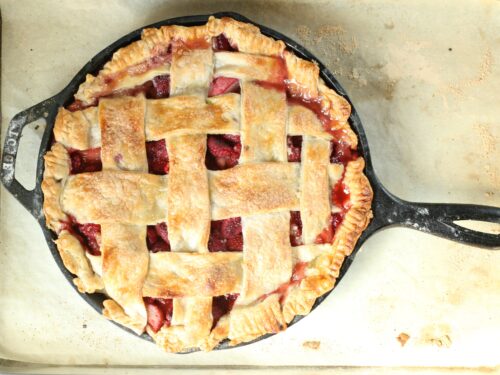 Print
Strawberry Raspberry Rhubarb Pie
Seriously one of the very best combinations for a homemade pie. Sweet and tart with a homemade crust.
Ingredients
Pie filling:

2 ½

cups

fresh strawberries

halved

2

cups

fresh raspberries

2 ½

cups

rhubarb

sliced about 1-inch thick

1

cup

granulated sugar

⅔

cup

instant tapioca

2

tablespoons

lemon juice

Pie crust

double crust:

2 ½

cups

all-purpose flour

1

teaspoon

salt

⅔

cup

lard

3

tablespoons

butter

cold

ice water
Instructions
In a large bowl, mix together the flour and salt. Using a pastry cutter or two forks, cut in the lard and butter until you have pea sized pieces. Add plenty of ice to a glass measuring cup and fill with cold water. Add a little cold water to the dry mixture at a time. Squeeze together with your hands. As it comes together, place it into a large Ziploc bag. Refrigerate for 2 hours or overnight.

To make the pie, roll out the bottom crust. Spray a 10-inch cast iron skillet with cooking spray or lightly brush with canola oil. Place the bottom crust into the skillet and trim the edges with kitchen shears.

In a large bowl, combine the strawberries, raspberries, rhubarb, lemon juice, instant tapioca, and sugar with a large spoon. Spoon the mixture into the prepared skillet. Roll out a top crust, cut out long strips of pie crust for a weaved top. Place three to four strips of pie crust in one direction. Gently fold back every other piece and place a strip of pie crust in the other direction. Roll under edges and press the edges down with a fork.

Brush with an egg wash. Bake in a preheated 400 degree F oven for about 1 hour or so. Until the filling is bubbling and the crust is golden brown. If the crust is getting too browned and the pie still needs to cook more, cover with aluminum foil with a hole in the center if needed. Let cool completely before slicing so the juices can gel up.
Nutrition
Calories:
513
kcal
|
Carbohydrates:
75
g
|
Protein:
5
g
|
Fat:
22
g
|
Saturated Fat:
7
g
|
Cholesterol:
11
mg
|
Sodium:
332
mg
|
Potassium:
266
mg
|
Fiber:
5
g
|
Sugar:
29
g
|
Vitamin A:
180
IU
|
Vitamin C:
39
mg
|
Calcium:
55
mg
|
Iron:
2
mg
Disclosure: As an Affiliate Marketer, I earn from qualifying purchases. If you click a product affiliate link on A Farmgirl's Kitchen and make a purchase, I may receive a commission at no additional cost to you! I own every cooking product I recommend and love how they perform.