Lemon-Rosemary Chicken Pasta with mushrooms and a cream sauce is simple to make and the perfect weeknight dish.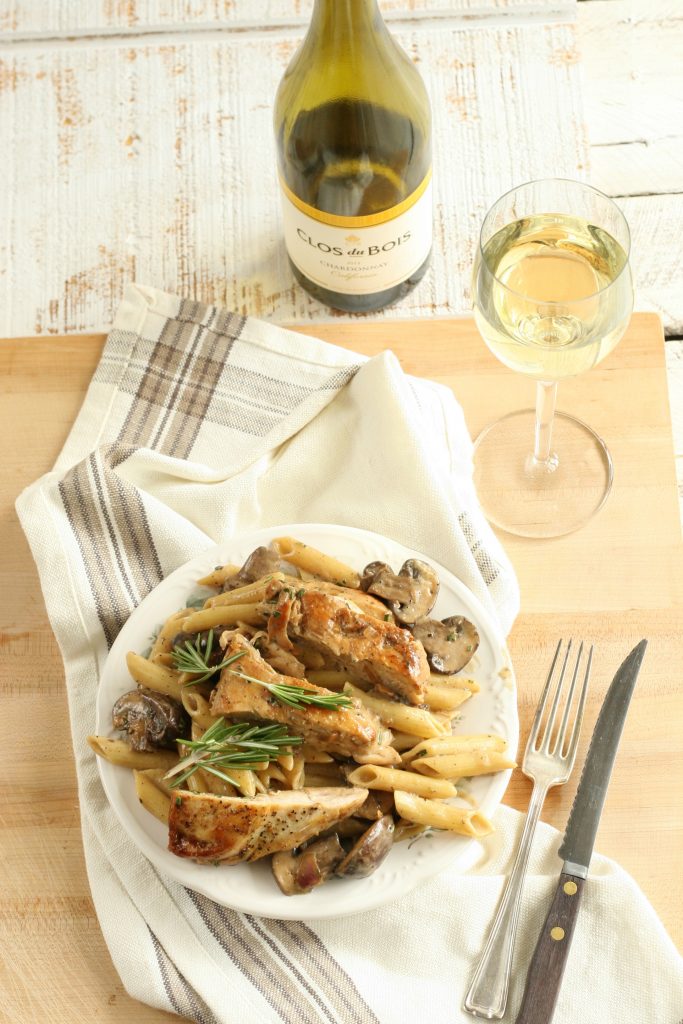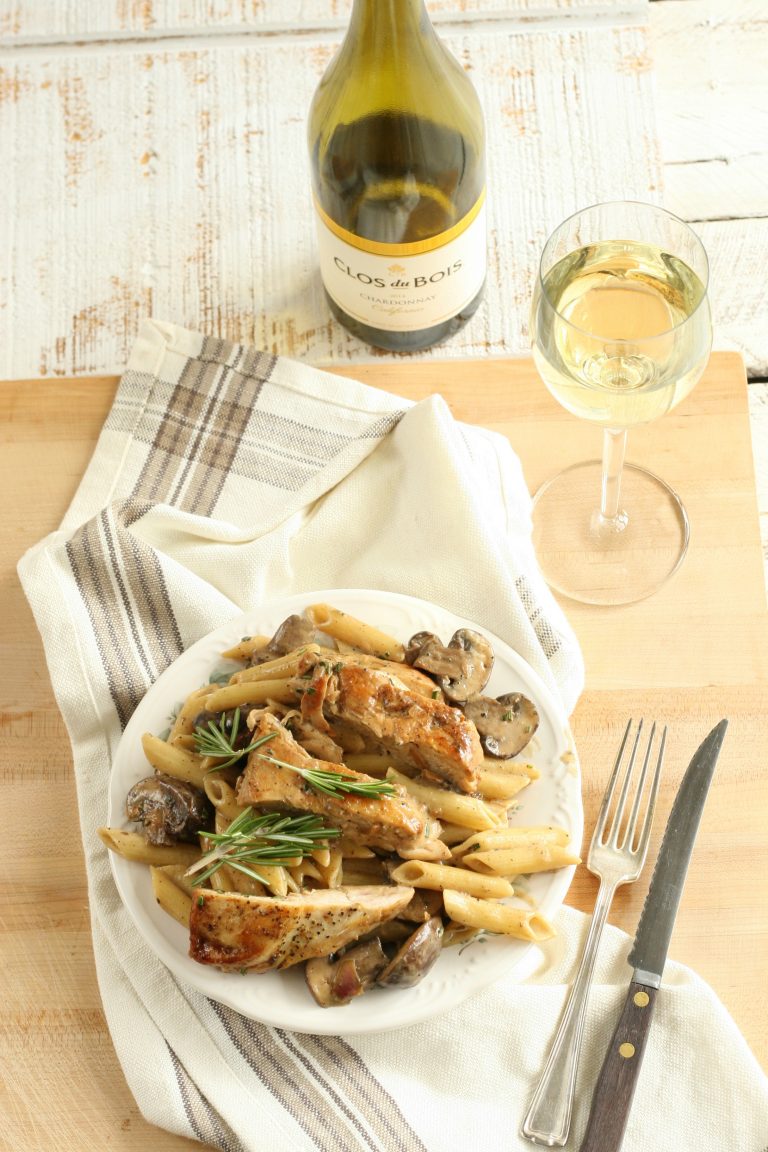 Lemon-Rosemary Chicken pasta with mushrooms and a cream sauce is quick and delicious meal. Paired with Clos du Bois Chardonnay. I've always loved cooking with wine, and with this recipe, you'll taste why. Be sure and try my Cast Iron Pork Chops, Chicken Fajitas, Marinated Flank Steak, and Blood Orange Chicken.
Barilla pasta paired with Clos du Bois wines offers the perfect entertaining solution no matter what the occasion. For this dish, I used the wine to deglaze the browned on goodness from the chicken, mushrooms, and shallots. Then stirred in cream and cooked it until it became thick, giving me the most flavorful cream sauce to coat every nook and cranny of the Barilla Penne pasta.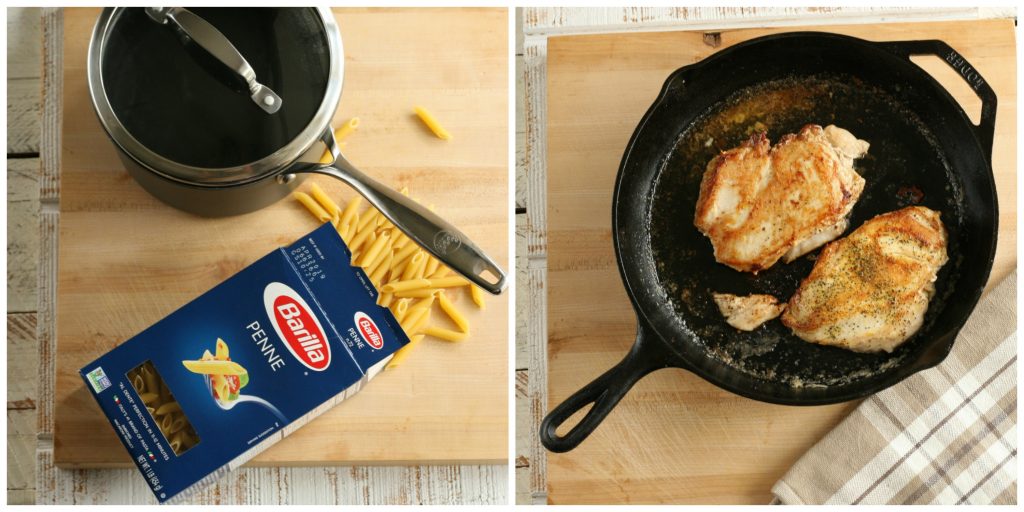 For this recipe, I'm working in a 12-inch cast-iron skillet. I keep this skillet permanently on my stove- for anytime the mood strikes for a delicious meal. This size skillet gives you ample room to brown the chicken and then the mushrooms, so they don't overcrowd the pan. Make sure you dry the chicken breasts off well, using a few paper towels. Otherwise, the chicken won't brown nicely. I put the chicken in a Ziploc bag, then flattened it a bit using a small rolling pin. Only to make it even thickness, so it cooks evenly. Your chicken pieces will brown wonderfully in a cast-iron skillet and leave behind lots of flavorful goodness. With exception of boiling the pasta in a saucepan, everything is cooked right in this one cast-iron skillet. Which really makes my life easier- less dishes, less aggravation.
Want to learn how to clean or restore cast iron?
Be sure and check out these amazing videos on Lodge's website!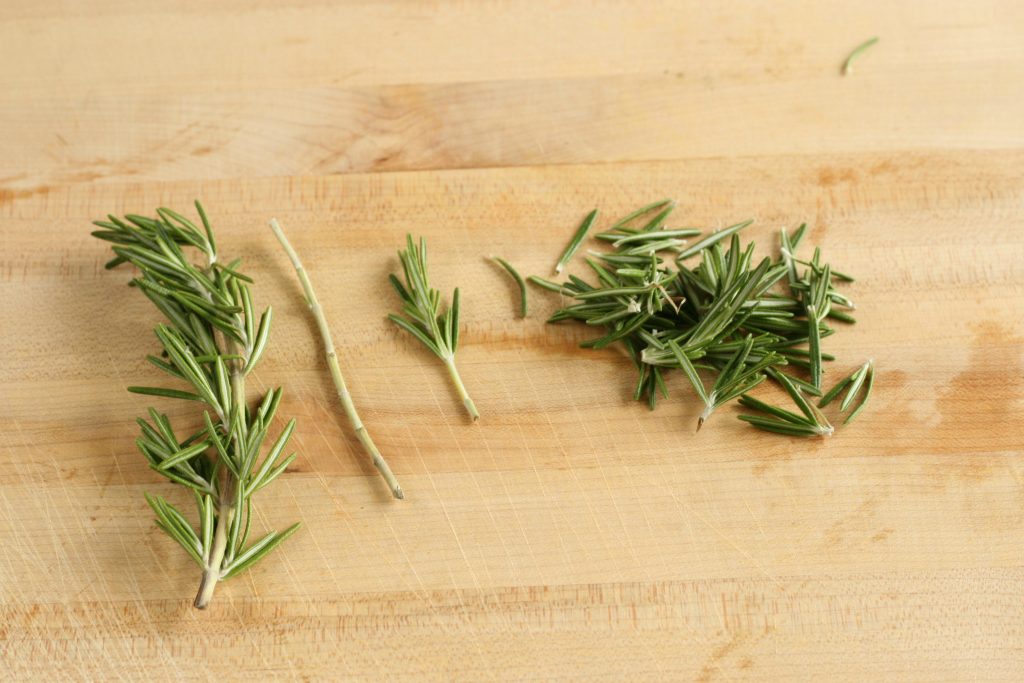 Rosemary has a very woody stem. To use, simply hold the top of the stem with your left hand, then run your fingers of your right hand down that stem. Leaving you with the needles of rosemary. Throw the woody stem away. Use a sharp chef's knife to finely chop the rosemary pieces.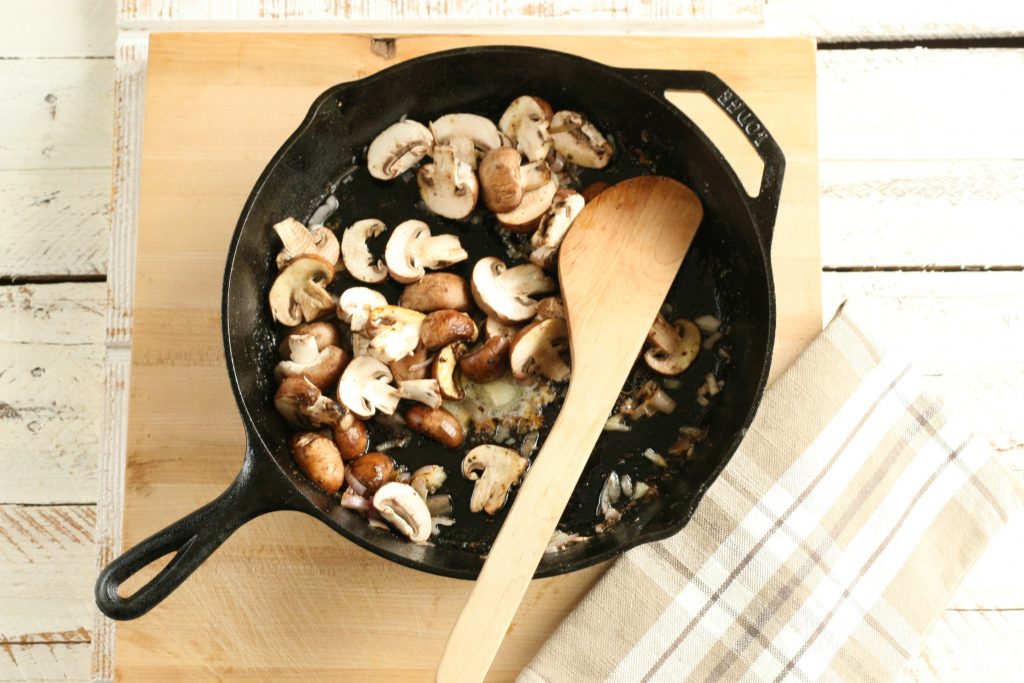 You can see the difference in these two images- the one on top the sauce has not thickened. Where as the one on the bottom has. And all the flavors are starting to marry.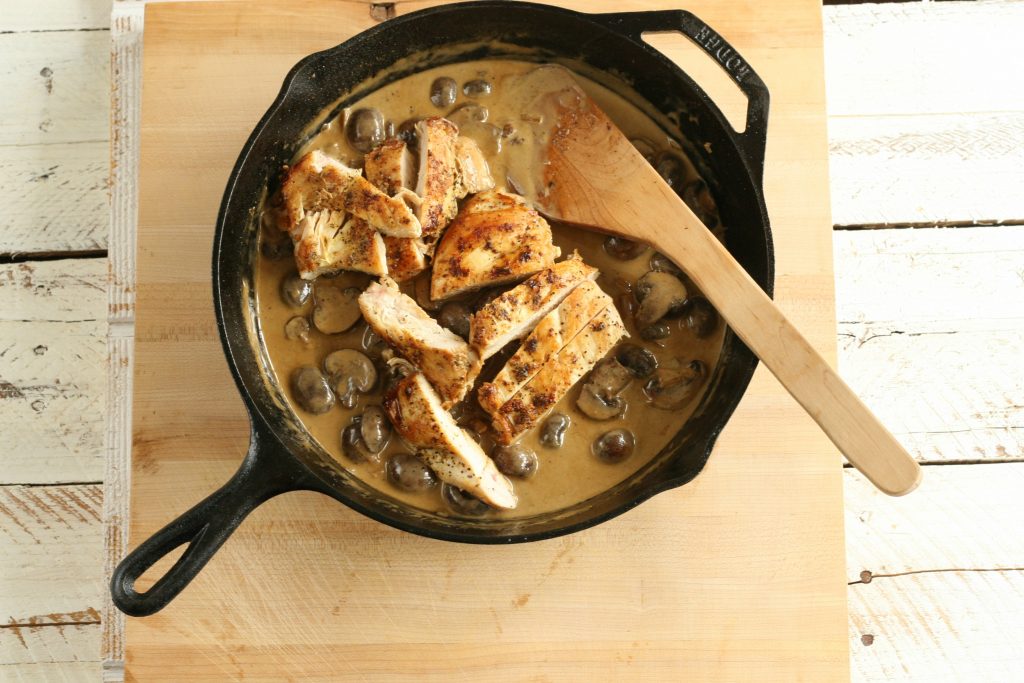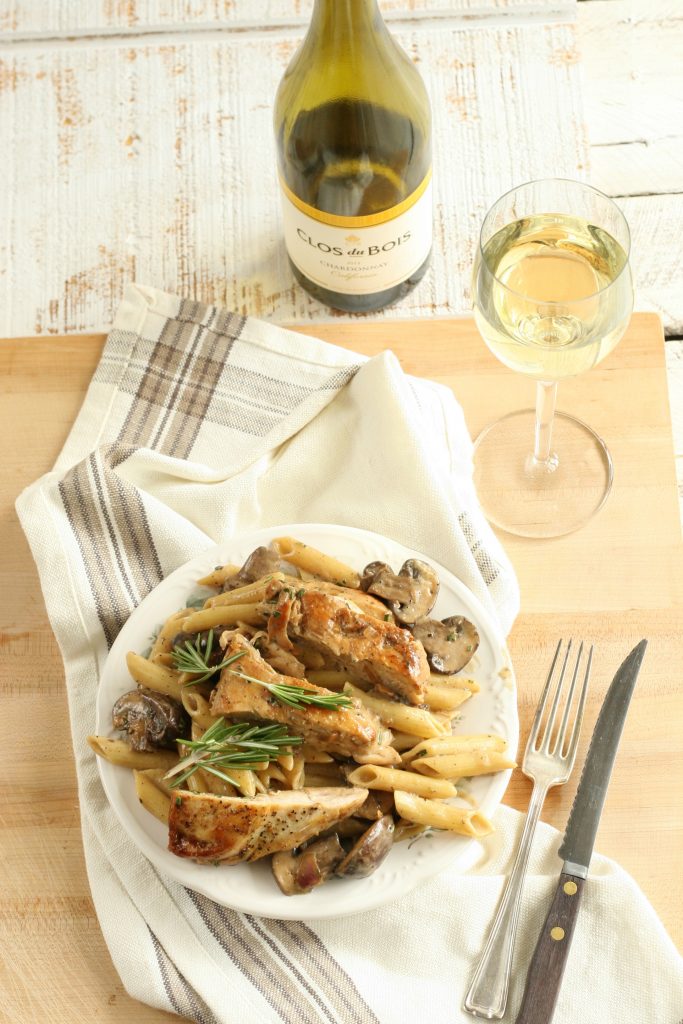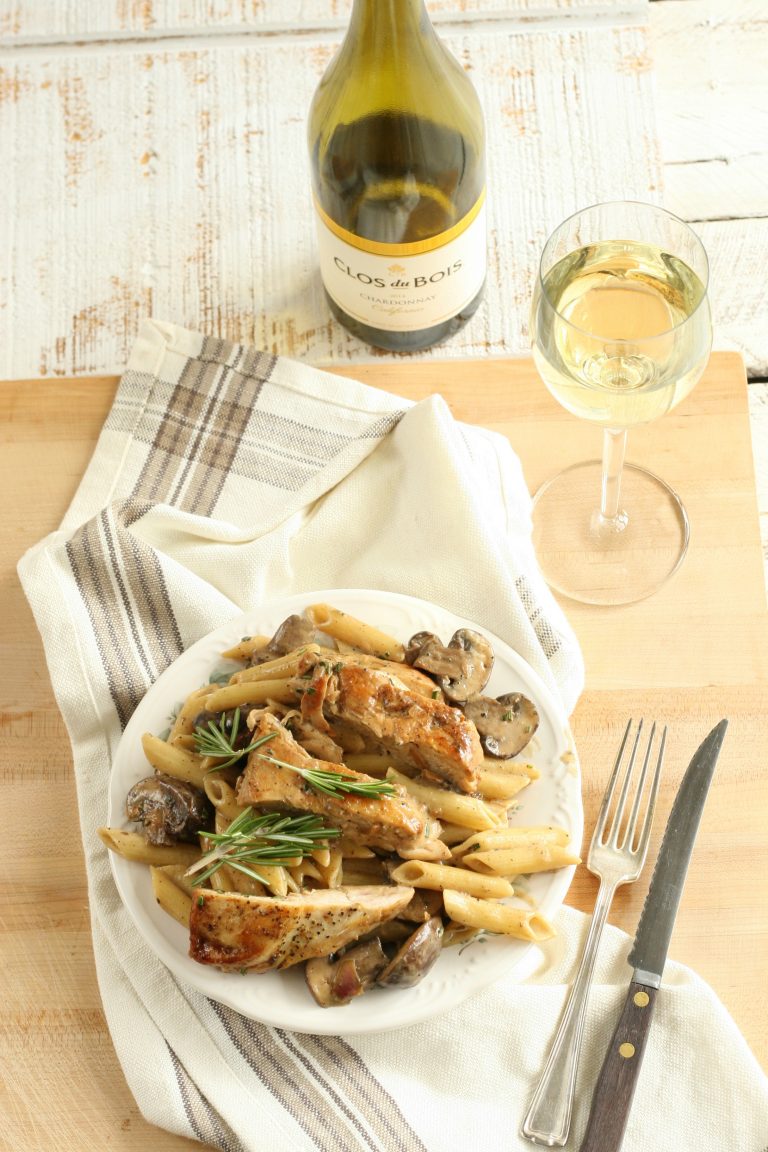 Now doesn't this Lemon Rosemary Chicken Pasta look delicious!? For more great dishes try Cast Iron Pizza, Lemon Roast Chicken, Cast Iron Chicken Fajitas, and Orange Glazed Chicken.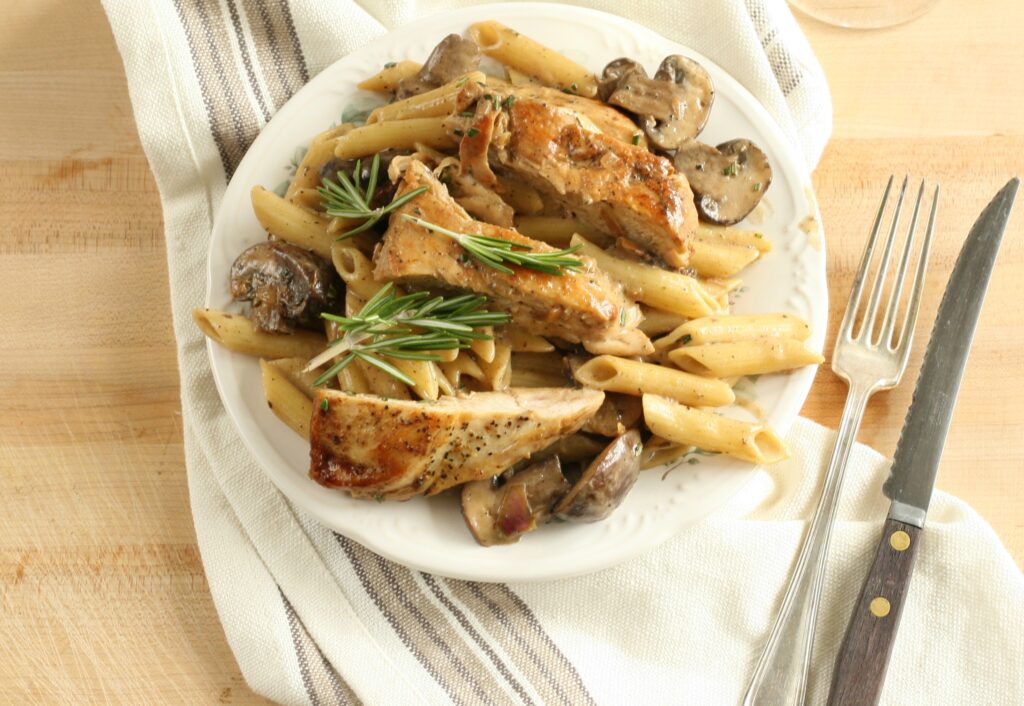 Did you make one of my recipes? Please take a moment to leave a star rating. Also, if you are on Pinterest, please feel free to leave a comment there! Follow A Farmgirl's Kitchen on FACEBOOK, PINTEREST and YouTube and subscribe my mailing list for ALL the latest recipes!
Lemon-Rosemary Chicken Pasta
Lemon-Rosemary chicken pasta with a cream sauce is perfect for a weeknight dinner or holiday dish.
Ingredients
2

tablespoons

extra virgin olive oil

5

tablespoons

butter

2

skinless chicken breasts, boneless

1

pint

baby portabella mushrooms

1

shallot

chopped finely

1

teaspoon

lemon pepper seasoning

1 to 1 ½

cups

Clos du Bois Chardonnay

1 to 1 ½

cups

Heavy cream

2

tablespoons

fresh lemon juice

salt and ground pepper to taste

1

tablespoon

chopped fresh rosemary

½

16-ounce box Barilla Penne Pasta
Instructions
In a 10 to 12-inch cast-iron skillet, heat the oil and melt the butter, over medium to high heat. Flatten the chicken slightly, by placing it between layers of plastic wrap or placing into a plastic bag, making it even thickness. Dry the chicken breasts well, using paper towels. Otherwise, it will not brown properly.

Brown the chicken breasts in the hot oil and butter. Cook on each side about 4-5 minutes. Use tongs to turn the chicken. Place the cooked breasts on a plate, season with lemon pepper seasoning and set aside.

Prepare the pasta, by bringing a pot of water to a boil, season with salt. Add the pasta and boil for about 10-12 minutes, until al dente. Drain the pasta before adding it to your cream sauce.

While the pasta is cooking, brown the mushrooms and shallots in the pan you cooked the chicken. Over medium to high heat. Use a wooden spoon to stir the mushrooms occasionally.

Once they are browned, deglaze the pan with the wine. Bring to a boil. Then add the cream.

Stir occasionally with a wooden spoon. Let cook on high heat for about 8 to 10 minutes or until the sauce has thickened.

Remove from the heat. Add the lemon juice. Season with salt and pepper as needed. Cut the chicken into strips and place back in the cream sauce. Add the pasta and stir. Add the chopped rosemary and stir. Enjoy immediately.
Nutrition
Calories:
977
kcal
|
Carbohydrates:
15
g
|
Protein:
38
g
|
Fat:
77
g
|
Saturated Fat:
42
g
|
Cholesterol:
310
mg
|
Sodium:
408
mg
|
Potassium:
1332
mg
|
Fiber:
3
g
|
Sugar:
6
g
|
Vitamin A:
2397
IU
|
Vitamin C:
7
mg
|
Calcium:
106
mg
|
Iron:
2
mg
Disclosure: As an Affiliate Marketer, I earn from qualifying purchases. If you click a product affiliate link on A Farmgirl's Kitchen and make a purchase, I may receive a commission at no additional cost to you! I own every cooking product I recommend and love how they perform.