These are the BEST homemade biscuits! Homemade buttermilk biscuits are the perfect addition to any breakfast or main meal. This biscuit recipe uses 6-ingredients and yields soft, flaky, layers of goodness that are ready in less than 30 minutes!
Homemade biscuits, made completely from scratch are so much better than store-bought and easy to make! Be sure and save this recipe for later!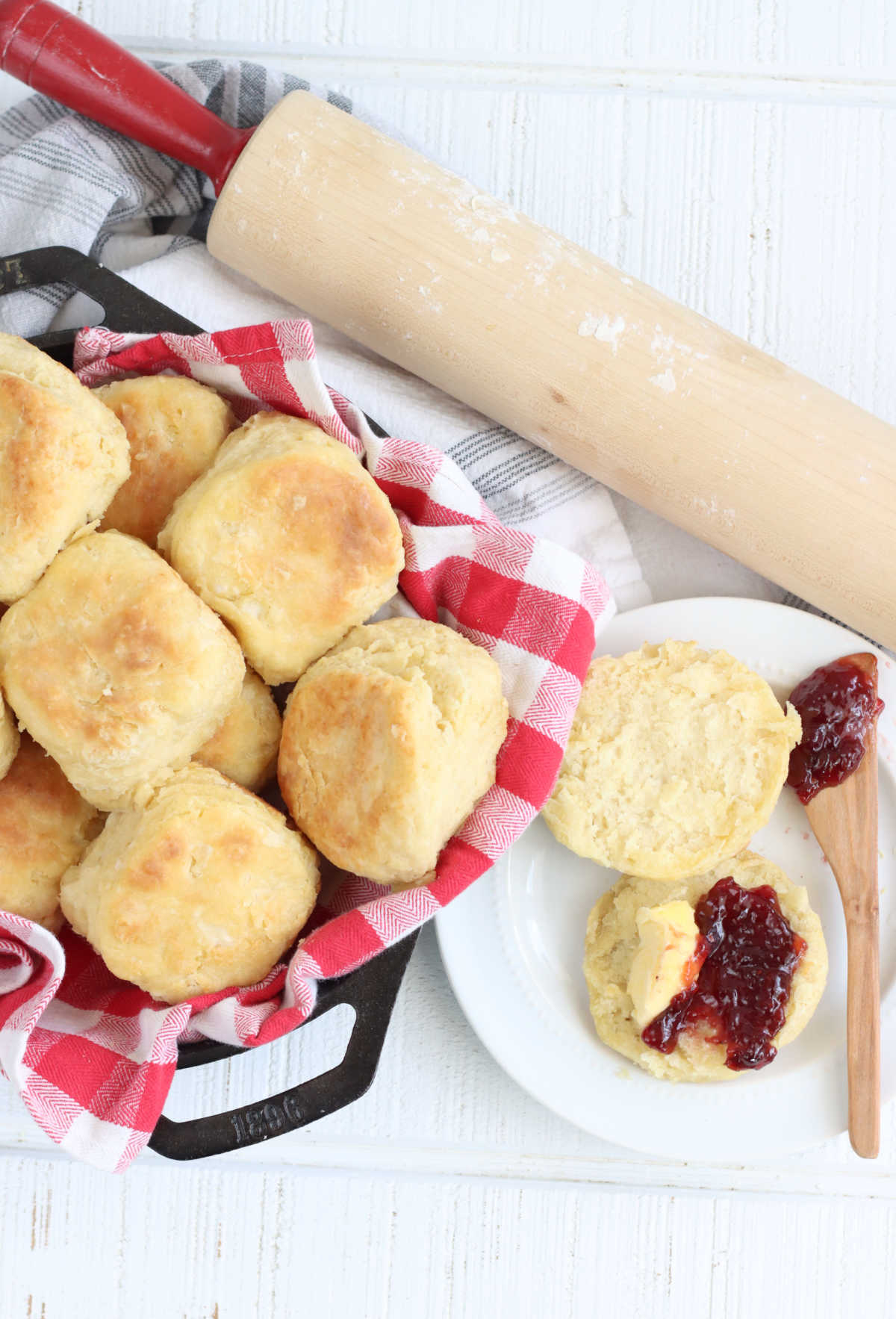 Homemade biscuits are delicious, straight from the oven, slathered with mixed berry jam, topped with sausage gravy or on top of chicken pot pie. We also use them for biscuit breakfast sandwiches (make them the night before and wrap with aluminum foil.)
Similar to my pie crust recipe, the goal was to create a buttermilk biscuit recipe that was easy to make, but so delicious. Making buttermilk biscuits from scratch is easier than you may think. See below for tips on making homemade biscuits.
The secret ingredient to light and flaky biscuits is using a combination of lard and butter. One of the other secrets is baking biscuits in cast iron. That's key!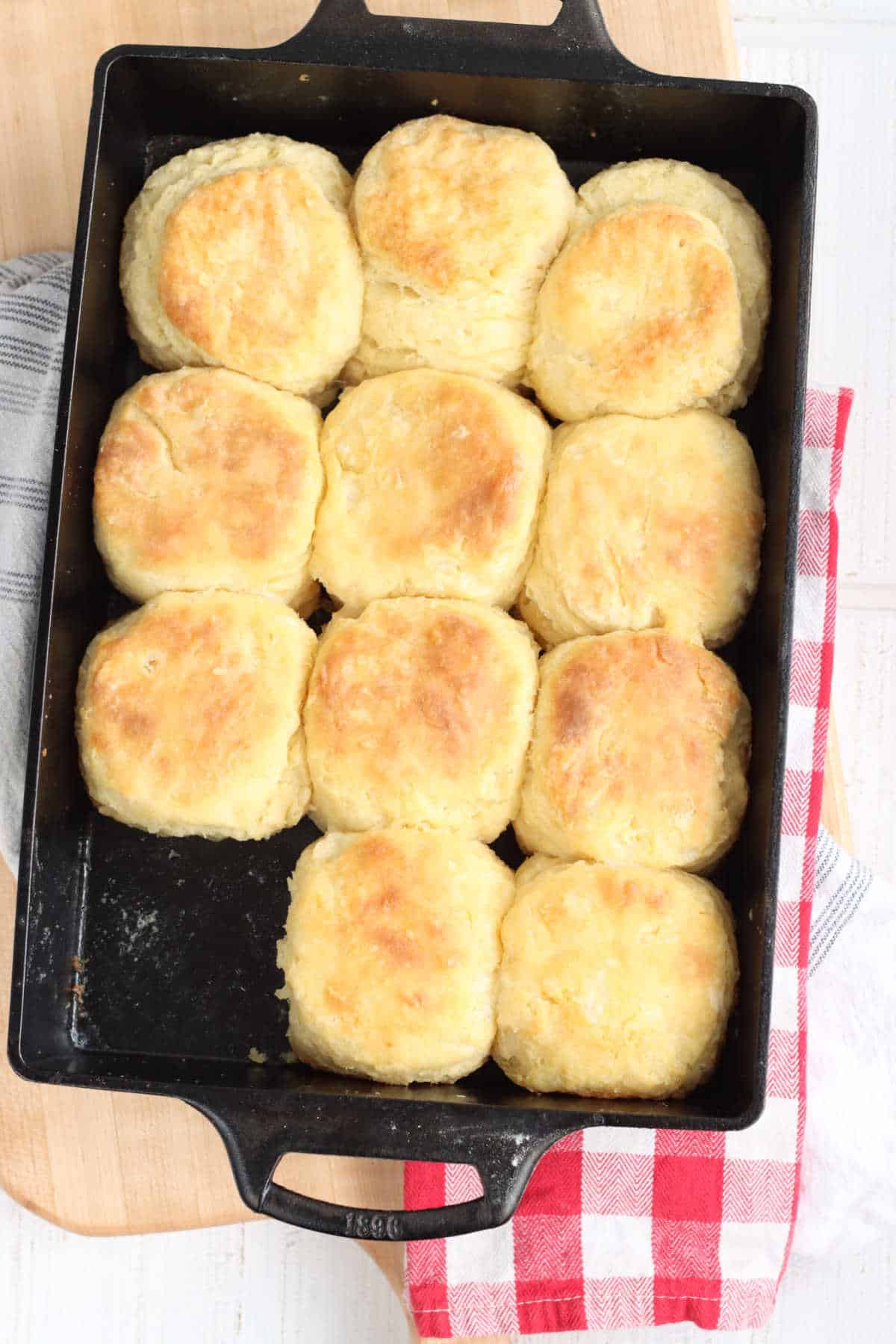 Why this recipe works
Uses pantry ingredients – Uses ingredients that are readily available at most grocery stores and likely already in your pantry.
Gives you fluffy, extra flaky biscuits – Layers and layers of soft, fluffy and flaky biscuits.
Foolproof biscuit recipe – Any level of baker can make this biscuit recipe and have great success!
What you'll need
All-purpose flour – Be sure and use a good-quality all-purpose flour brand, such as Bob's Red Mill or King Arthur Flour. It really makes a difference in baking recipes.
Salt –
Butter – Using a high-quality butter is key in making incredible homemade biscuits. (My favorite butter is Kerry Gold!)
Lard or vegetable shortening – Lard is my personal preference, but you can also use vegetable shortening (Crisco) for this recipe.
Baking powder – Be sure your baking powder is fresh. This leavening agent helps biscuits rise.
Buttermilk – Not only does it help create tender biscuits, the acidity of buttermilk reacts to the baking powder and helps them rise. For best results, we highly recommend using real buttermilk.
How to make Buttermilk Biscuits
The key to making flaky buttermilk biscuits is keeping ingredients cold and not overworking the dough!
Mix dry ingredients – In a large mixing bowl, combine flour, salt and baking powder.
Cut in fat – Use a pastry blender to cut in lard and butter into the dry ingredients.
Add the buttermilk – Add cold buttermilk and incorporate with a rubber spatula just until the dough starts to come together. Dough will be slightly crumbly.
Work the dough – On a lightly floured surface, press the dough together with your hands into a rectangle shape. (This biscuit dough will be sticky!)
Fold the dough – This makes the layers. Gently fold the dough over itself into layers.
Cut the biscuits – Use a 3-inch biscuit cutter to cut biscuits. Do NOT twist the cutter!
Place into baking pan – Place biscuits close together in buttered cast iron pan or baking dish. This helps them rise properly.
Bake – Bake in a preheated 475 degree oven for 15 minutes or until tops of biscuits are golden brown.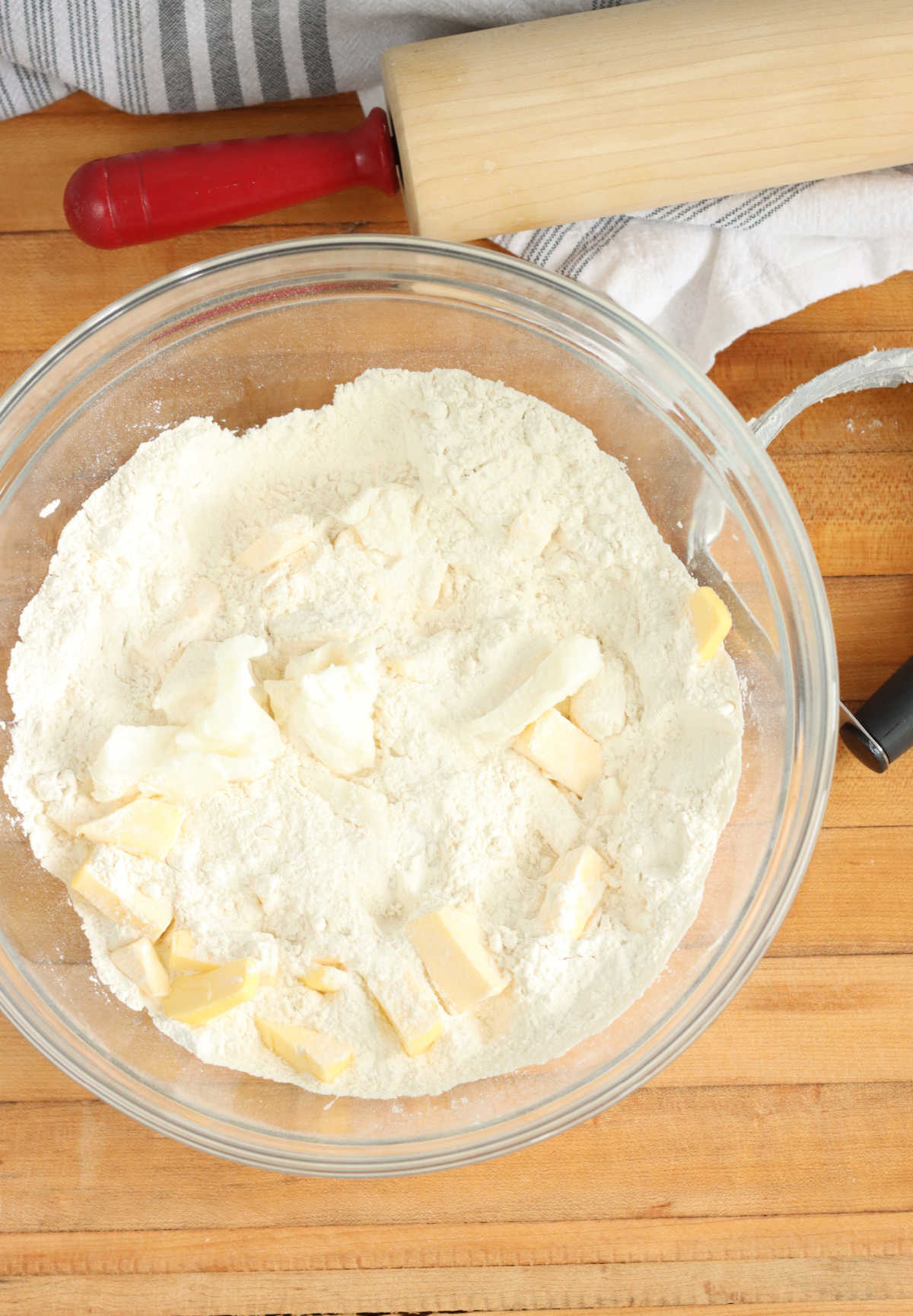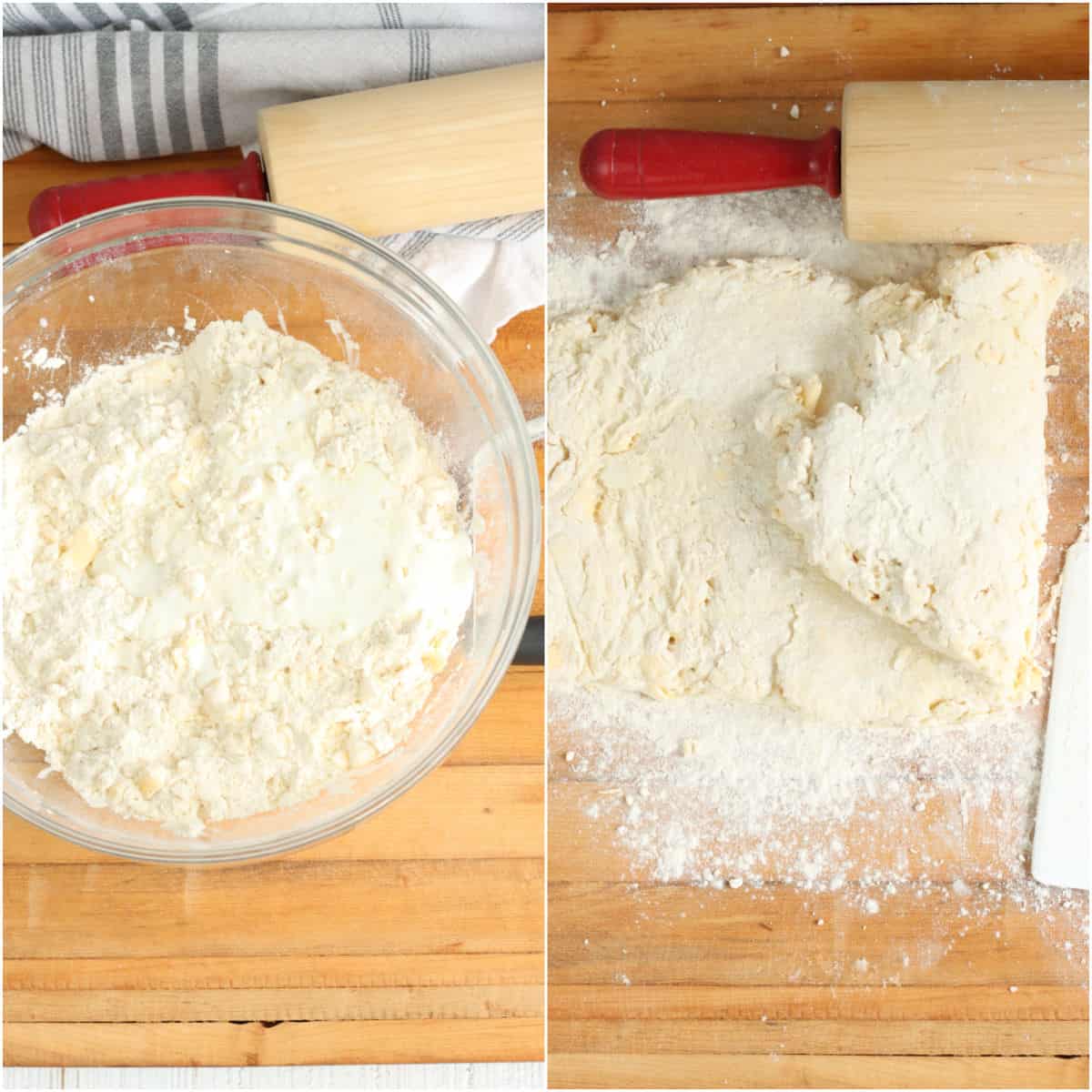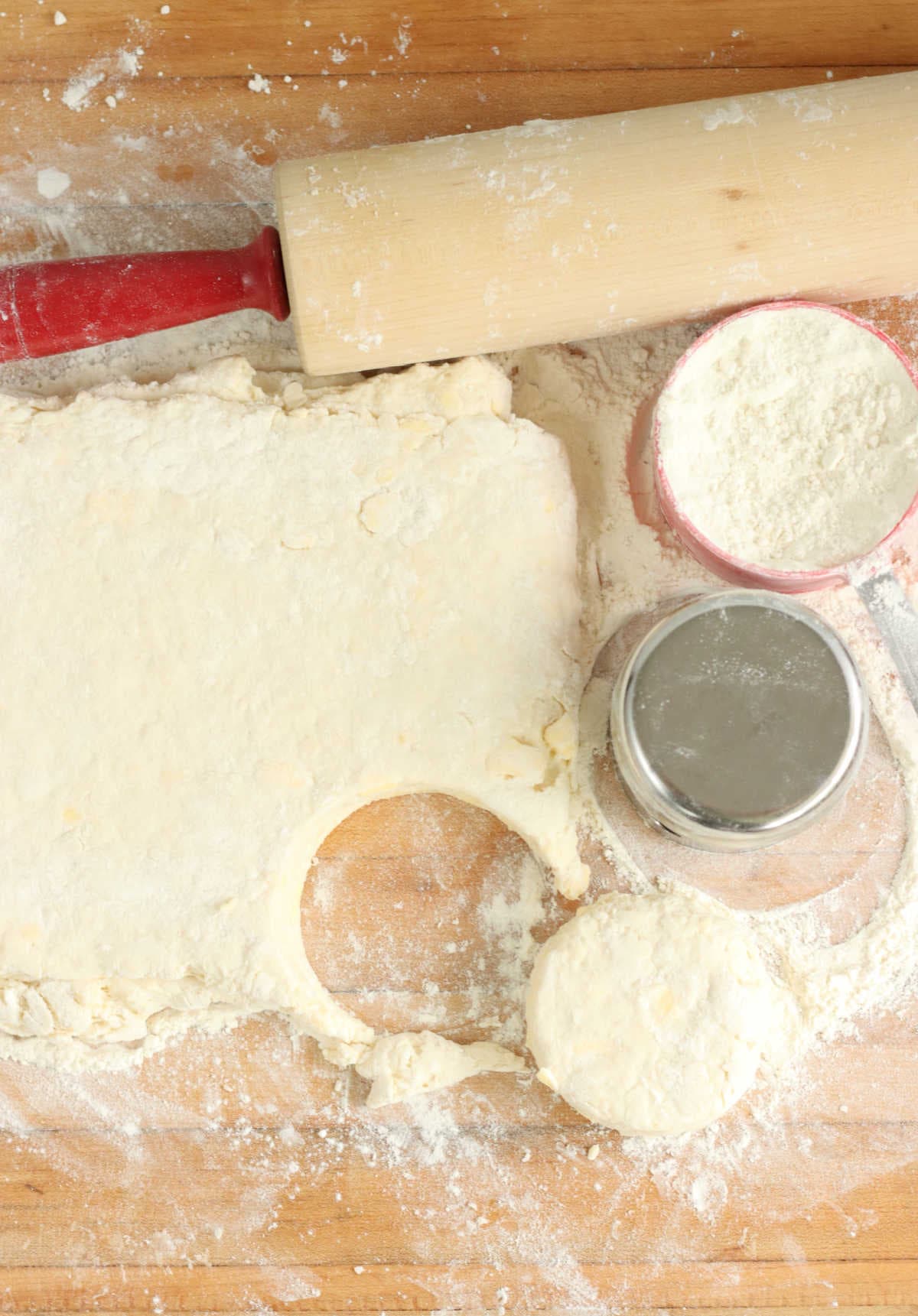 Tips on making homemade Buttermilk biscuits
Cold fat – Cold butter and lard help create pockets of air while they bake. It's similar to making homemade pie crust.
Using lard and butter – Using both of these ingredients helps to achieve the flakiest and fluffy biscuits.
Real buttermilk and quality ingredients – Using high-quality flour, such as Bob's Red Mill or King Arthur Flour and real, full-fat buttermilk creates tender biscuits.
Don't overmix – Mix ingredients just until combined. Overworking biscuit dough will result in hard and flat biscuits.
Don't use too much flour – Lightly flour the work surface. Using too much flour can make your dough tough.
Flatten and fold – Use your hands or a rolling pin to gently flatten dough, form into a rectangle shape and fold over to create layers. (I prefer to use my hands very little, as your body temperature can heat up the biscuit dough.)
Don't twist the biscuit cutter – Press the biscuit cutter down firmly, in a stamping motion into the dough. Twisting seals off the edges and prevents biscuits from rising properly.
Bake close together – Biscuits rise best when pressed up against each other in a baking dish.
Bake in cast iron – One of the best methods for baking biscuits. Cast iron helps distribute heat more evenly, helps biscuits rise well and outer edges have a good crust. Our favorite is the 9×13-inch cast iron baking pan from Lodge.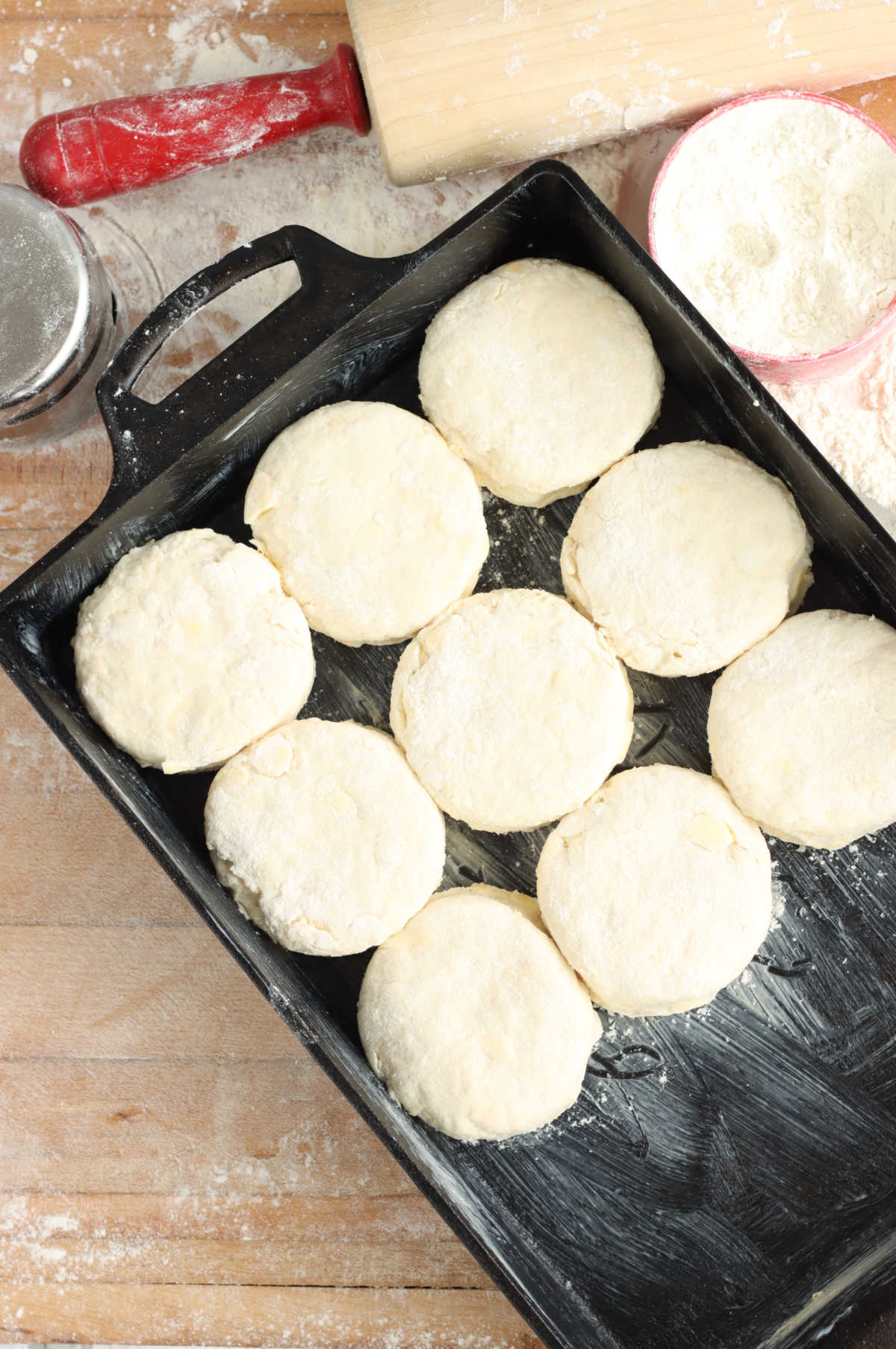 Recipe FAQs
What makes biscuits rise better?
Using really cold butter and lard creates pockets of air that rise as they bake. Heating the oven to 475 degrees F. High heat creates maximum steam that helps biscuits rise as they can. Baking in cast iron helps distribute the heat more evenly and biscuits rise better.
Is lard or butter better for biscuits?
Lard in combination with butter, truly does make the best pie crust and biscuits.
Why do you put buttermilk in biscuits?
Buttermilk gives biscuits a tangy flavor and keeps the dough tender. For best results, make sure it's full-fat and super cold when added to the dry ingredients.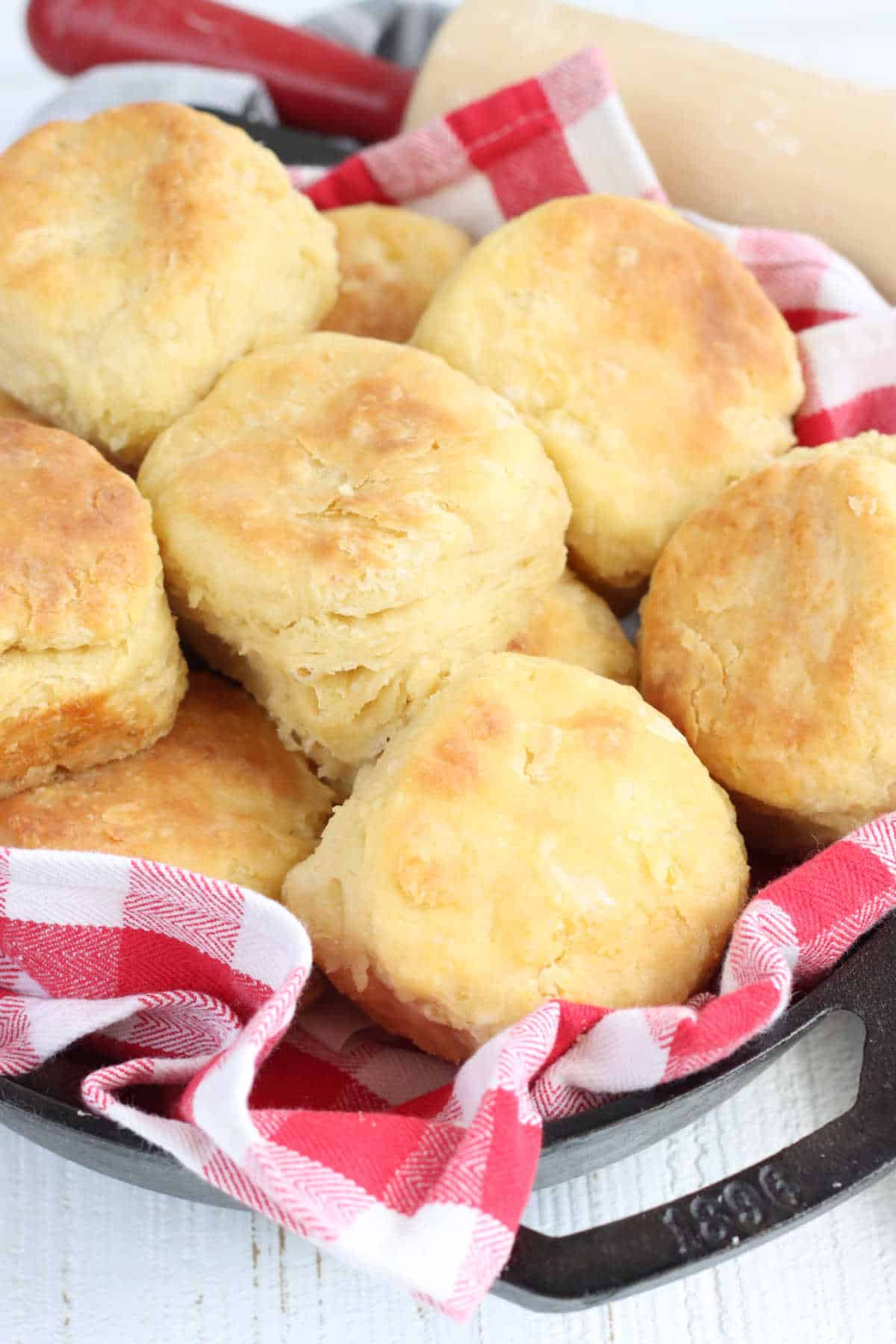 More breakfast and brunch recipes
Did you make one of my recipes? Please take a moment to leave a star rating. Also, if you are on Pinterest, please feel free to leave a comment there! Follow A Farmgirl's Kitchen on FACEBOOK, PINTEREST and YouTube and subscribe my mailing list for ALL the latest recipes!
Buttermilk Biscuits
Homemade biscuits, made completely from scratch are so much better than store-bought and easy to make!
Ingredients
Buttermilk Biscuits
3

cups

all-purpose flour

1

teaspoon

salt

1 ½

tablespoons

baking powder

½

cup

(1 stick) unsalted butter

cold

½

cup

lard or vegetable shortening

cold

1 ¼-1 ½

cups

buttermilk

cold
Instructions
Buttermilk Biscuits
In a large mixing bowl, gently combine flour with salt and baking powder with a spoon.

Cut in the lard and butter until you have coarse crumbs. Incorporate the buttermilk and gently bring it together into a dough with your hands or a rubber spatula.

Start with 1 ¼ cups buttermilk and add more buttermilk as needed, if necessary. The biscuit dough will be sticky!!

Pat down on a lightly floured work surface. Use a rolling pin to gently roll into a rectangle shape. Fold several times. Roll out into rectangle about 1-inch thick.

Use a rubber bench scraper to help work with the dough.

Be careful NOT to add too much flour or overwork the dough. Cut biscuits with a 3-inch cutter, using a stamping motion, do not twist it.

Pick up scraps of biscuit dough and shake off excess flour. Press back together. Carefully refold the dough and roll out to a rectangle. Cut out the remaining biscuits. Be careful not to add too much flour or handle the dough too much!

Place biscuits closely together into a buttered cast iron baking pan or baking dish.

Bake in a preheated 475 degree F oven for about 15 minutes or until the biscuit tops are lightly browned. Immediately brush with melted butter.
Recipe Notes
Tips on making flaky biscuits
Make sure butter, lard and buttermilk are super cold to ensure flaky layers
Use high-quality ingredients, such as flour and butter. Higher quality butter has a higher fat content and will yield better results.
Cut butter into small pieces with a sharp knife or grate frozen butter with a cheese grater before incorporating into the flour mixture.
Don't have buttermilk? Make your own with 1 cup whole milk and 1 teaspoon white vinegar or lemon juice. Combine and let sit for 5 minutes before adding to the dry ingredients.
Do NOT twist the cutter when cutting out biscuits! Twisting motion will seal edges of biscuits and prevent them from rising properly. 
Bake in cast iron skillet or baking pan. This helps biscuits bake better and more evenly.
Rotate your baking pan 180 degrees about half way through the baking process.
Nutrition
Calories:
370
kcal
|
Carbohydrates:
35
g
|
Protein:
6
g
|
Fat:
23
g
|
Saturated Fat:
10
g
|
Polyunsaturated Fat:
4
g
|
Monounsaturated Fat:
8
g
|
Trans Fat:
2
g
|
Cholesterol:
32
mg
|
Sodium:
385
mg
|
Potassium:
304
mg
|
Fiber:
1
g
|
Sugar:
2
g
|
Vitamin A:
381
IU
|
Calcium:
142
mg
|
Iron:
2
mg
Disclosure: As an Affiliate Marketer, I earn from qualifying purchases. If you click a product affiliate link on A Farmgirl's Kitchen and make a purchase, I may receive a commission at no additional cost to you! I own every cooking product I recommend and love how they perform.