Classic Homemade Lasagna with homemade marinara sauce, no boil noodles, seasoned ricotta cheese, and shredded mozzarella cheese. This is the ultimate meat lasagna.
We love my mom's marinara sauce with this lasagna recipe.
I've been perfecting my easy lasagna recipe for the last few years. I love using the oven-ready lasagna noodles and homemade marinara sauce. I mean, why boil lasagna noodles if you don't have to?!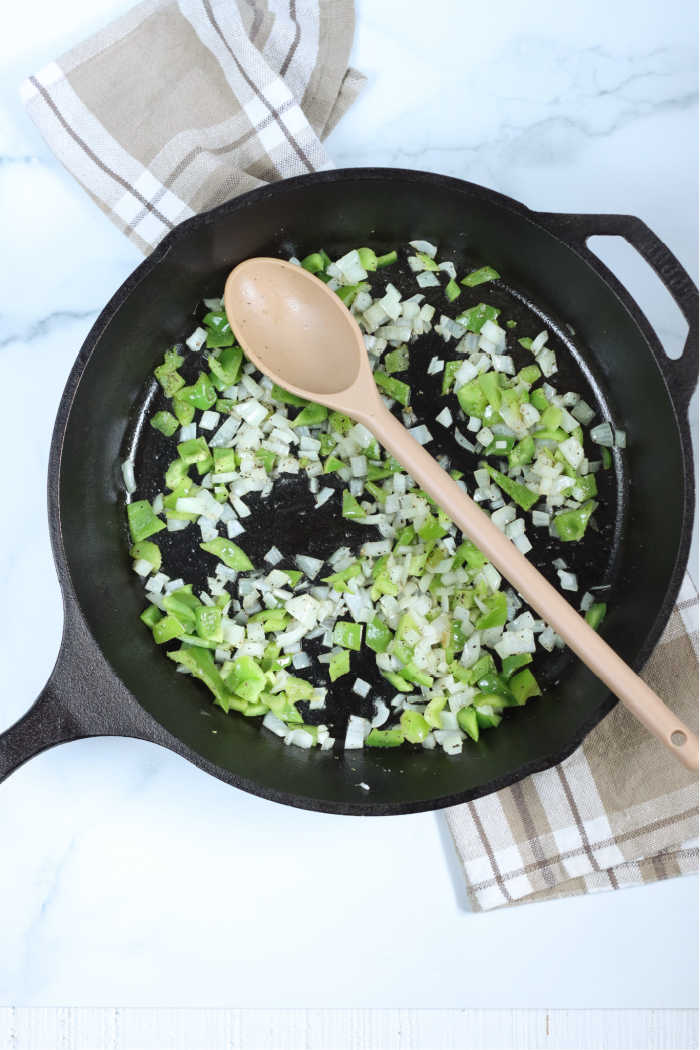 How to make a Homemade Lasagna
Step 1: In a large skillet over medium heat cook the onion and pepper in the olive oil.
Step 2: Once the onions and peppers are translucent, add the ground beef and sweet sausage. Cook the meat until browned. Season with salt and pepper to taste. Set aside.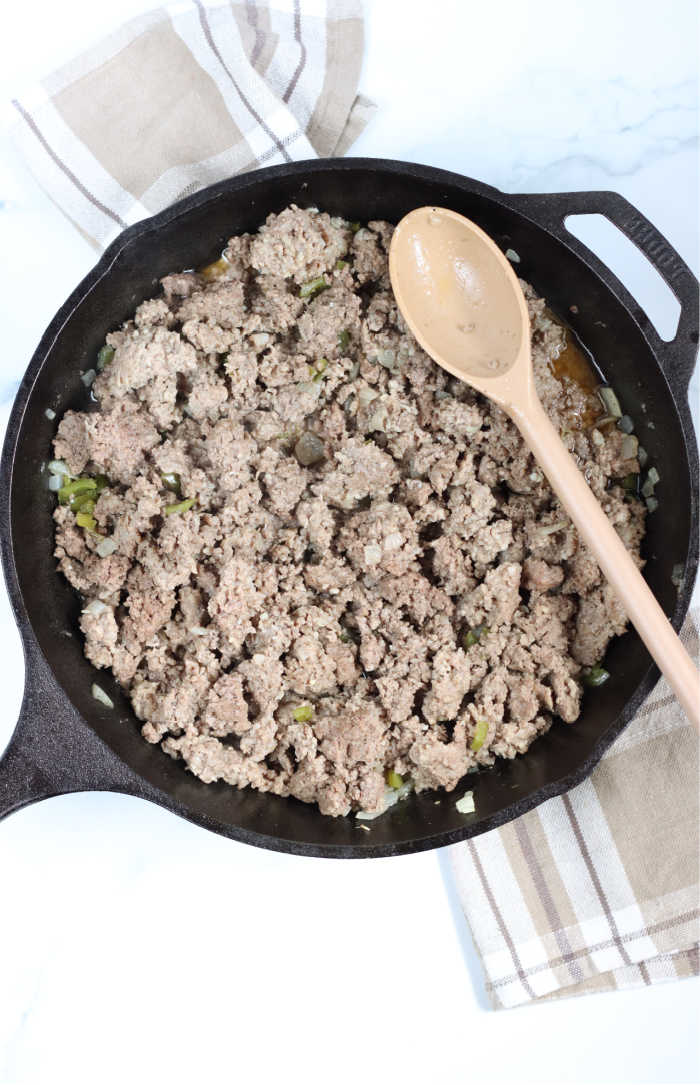 Step 3: Pour a layer of marinara sauce in the bottom of a 9×13-inch baking dish.
Step 4: Add the dried no boil lasagna noodles in an even layer. About 5 noodles for each layer. (four across and one partially broken to go on the lengthwise of the pan)
Step 5: Spoon some of the meat, onions, and peppers mixture over the dried lasagna noodles.
Step 6: Drop spoonfuls of seasoned ricotta.
Step 7: Sprinkle with a handful of shredded mozzarella cheese.
Step 8: Repeat the layering process.
I used this 13-inch cast iron lasagna pan. It's great for homemade lasagna, Shepherd's Pie, or even this delicious Breakfast Tater Tot Casserole.
Tips for making classic homemade lasagna
• We like the mixture of ground beef and sweet sausage for this meat lasagna recipe. But, you can use whatever type of ground meat you prefer.
• Add eggs, Parmesan cheese, and spices to season the ricotta. The eggs help the ricotta set, so it doesn't run when you slice the lasagna.
No Boil Lasagna Noodles:
This lasagna recipe uses no boil lasagna noodles. They are also called "oven ready" lasagna noodles, depending on what brand you purchase. Readily available in most grocery stores in the pasta aisle.
Use whatever type of marinara sauce you prefer. We love my mom's marinara recipe for this easy to make lasagna.
Meal Prep/Freezer Friendly Lasagna
Make this same lasagna in disposable aluminum pans. Do not cook the lasagna. Cover tightly and freeze for a later meal. Often times, I make several of these lasagnas for the freezer. They make Sunday supper easy!
How to cook a frozen lasagna
Step 1: Cook directly from the freezer or thaw in the fridge overnight. To cook frozen lasagna. Loosen up the cover, but keep it on. Place the pan on a half sheet pan lined with parchment paper to catch juices.
Step 2: Place in a cold over. Then turn the oven on to 375 degrees F. Cook for about 2 hours, or until warm all the way through. Remove the cover to brown the cheese about the last 20 minutes cooking. Let sit for 20-30 minutes before slicing.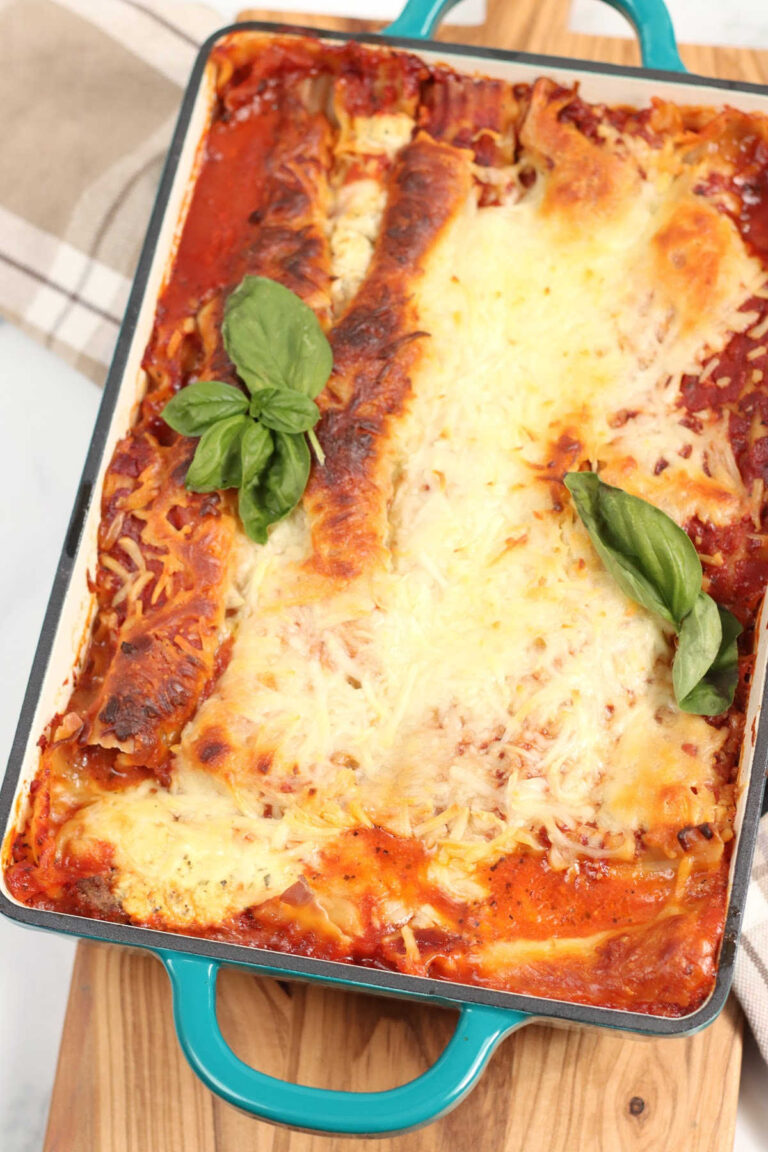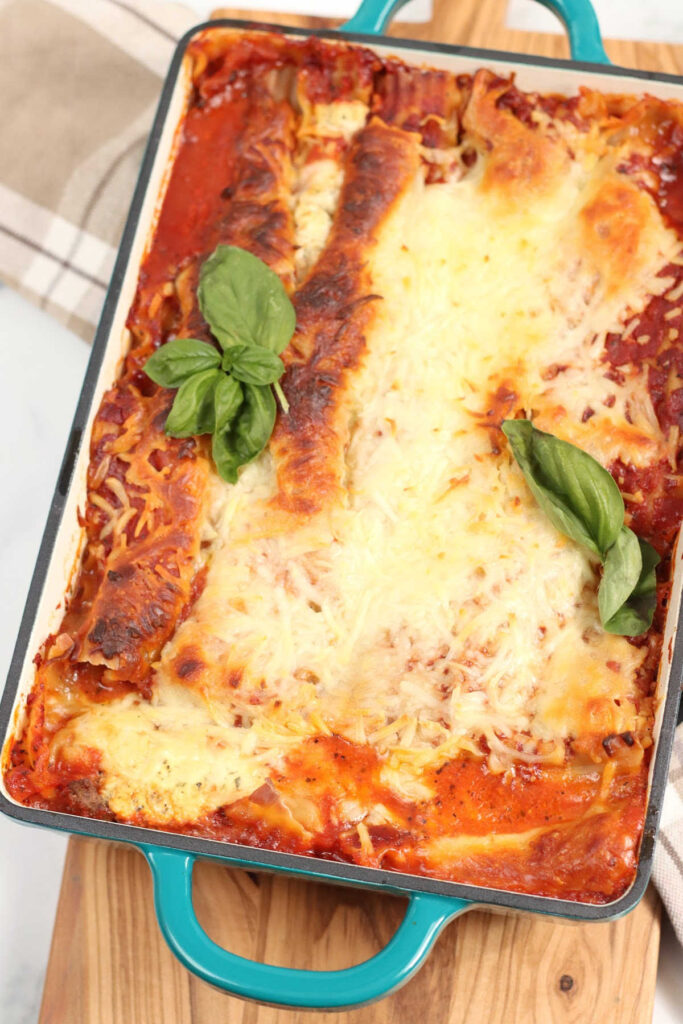 More dinner recipes
Did you make one of my recipes? Please take a moment to leave a star rating. Also, if you are on Pinterest, please feel free to leave a comment there and a photo if you have one! Follow A Farmgirl's Kitchen on FACEBOOK and PINTEREST and subscribe my mailing list for ALL the latest recipes!
Disclosure: As an Affiliate Marketer, I earn from qualifying purchases. If you click a product affiliate link on A Farmgirl's Kitchen and make a purchase, I may receive a commission at no additional cost to you! I own every cooking product I recommend and love how they perform.