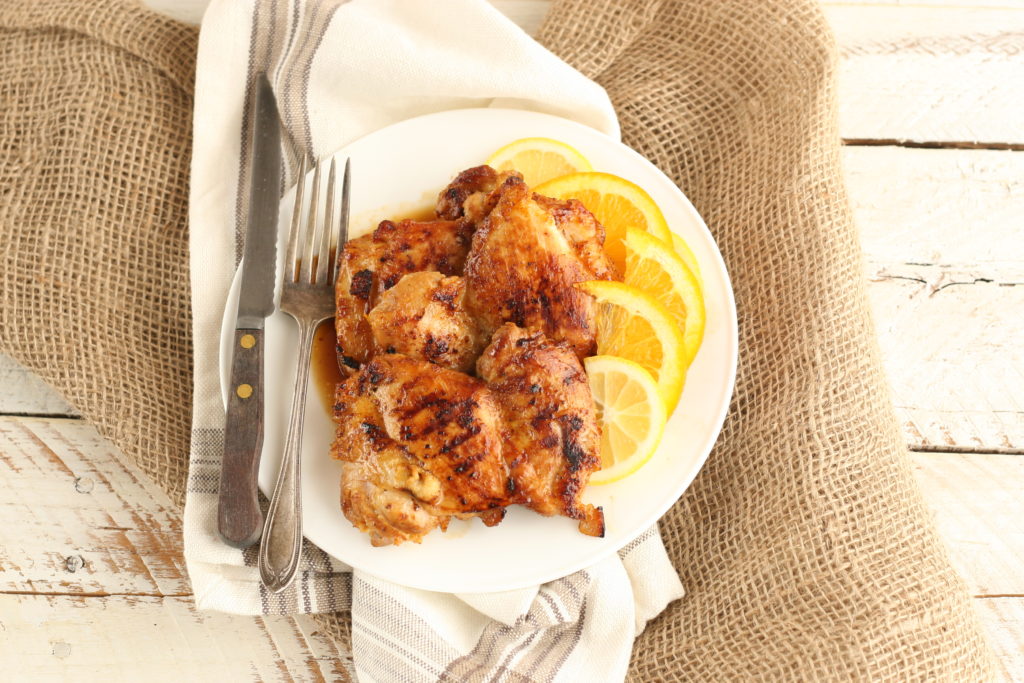 We've been through so very much this past year! I'm really looking forward to what 2018 brings and a new chapter. I know have been blessed and are extremely fortunate.
I've been developing recipes for Food Lion for over a year now. Wow! How did the time fly by so quickly?! With each new recipe I've done, I've had to think outside the box and come up with dishes I may not have otherwise. Honestly one of the coolest things has been opening an email from Food Lion, seeing a Tweet from them or an Instagram post with a picture and recipe I developed, that is beyond exciting! Take a look at the recipes I've created for Food Lion– there's really something for everyone! Some of my favorites include, Beef Brisket Stew, Philly Cheese Steak, Sweet Tea Barbecue Chicken, Dr. Pepper BBQ Ribs, and Maple Pecan Crusted Salmon. Keep your eye out for new recipes every few weeks from me on Food Lion!
Before you check out all of my tasty Food Lion recipes, this week I wanted to share the recipe for my Citrus Marinated Chicken Thighs. For all the busy households, this recipe is perfect. Packed with flavor and will please even the pickiest of eaters. We brave the cold all winter long to grill outside a few times a week. Personally, I love the way the grill makes something like marinated chicken taste. It has a unique way of caramelizing the brown sugar in my marinates and honestly, it's less clean up for me! Which I love- because who wants a greasy mess on the kitchen stove.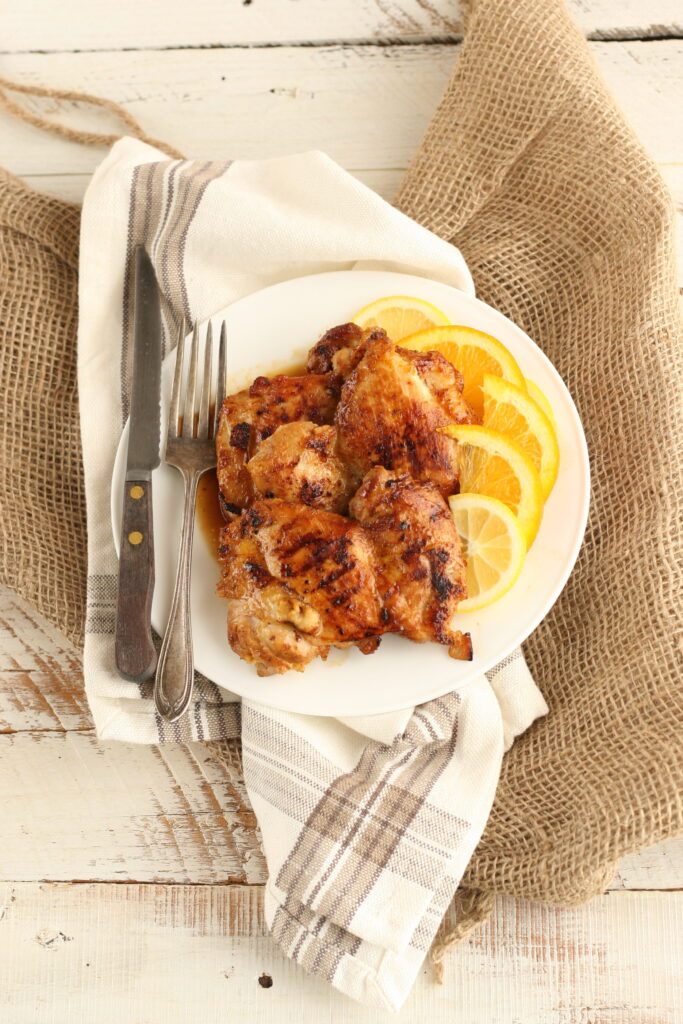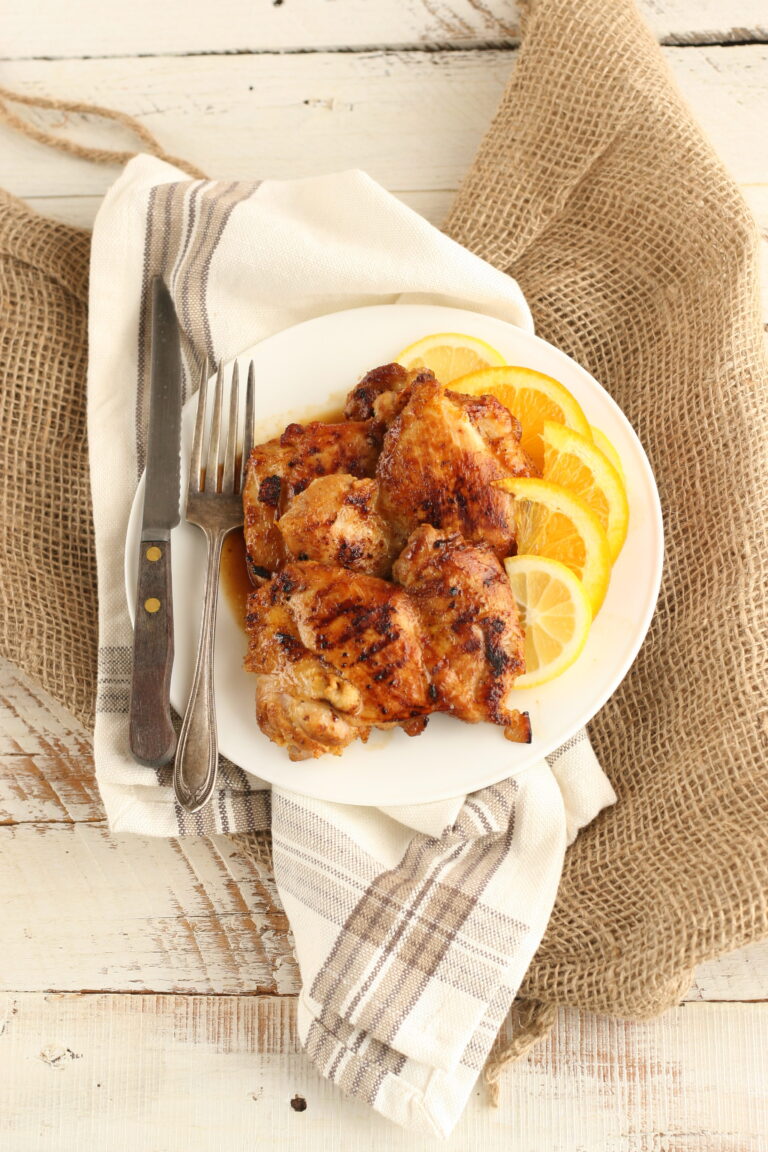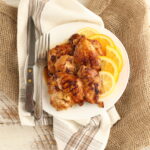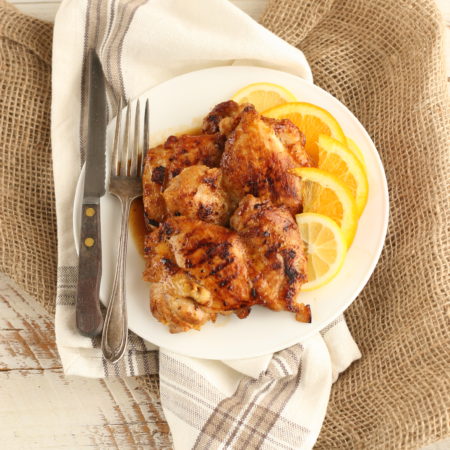 Citrus Marinated Chicken Thighs
This tasty dish will leave you wanting another bite! Filled with citrus flavors and brown sugar, it's the perfect dinner for the New Year!
Ingredients
Marinate:

2-3

pounds

chicken thighs

3/4

cup

Whiskey or Bourbon

1/4

cup

Extra virgin olive oil

1/4

cup

packed brown sugar

zest and juice from one orange

zest and juice from one lemon

2

teaspoons

onion powder

1/2

teaspoon

garlic powder

salt and black pepper to taste

slices

of lemon and oranges for garnish
Instructions
In a large Ziploc bag, add the marinate ingredients and push around with your fingers to combine. Place the chicken thighs in the bag and let marinate in the refrigerator for 4 to 24 hours. The longer you leave it in the marinate the more flavor the chicken will have.

Grill the chicken pieces on medium to high for about 5-6 minutes each side, flipping only once. Or until the chicken is cooked thoroughly. Serve with citrus slices, seasoned potatoes and seasonal vegetables.
A Farmgirl's Kitchen is a participant in the Amazon Services LLC Associates Program, an affiliate advertising program designed to provide a means for sites to earn advertising fees by advertising and linking to amazon.com