Turkey Bacon Avocado Panini with melted cheese and maple bacon is delicious for lunch or a quick dinner.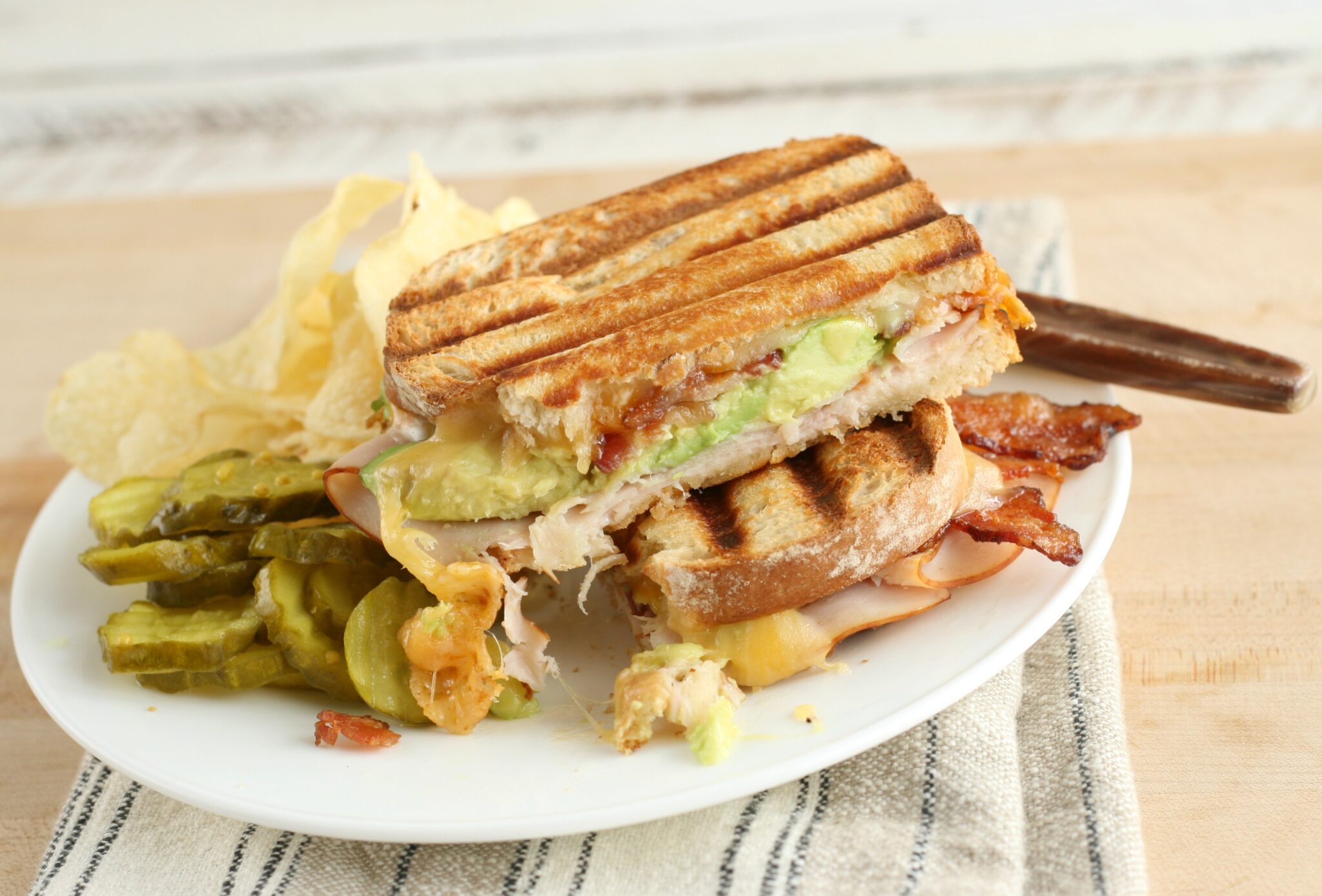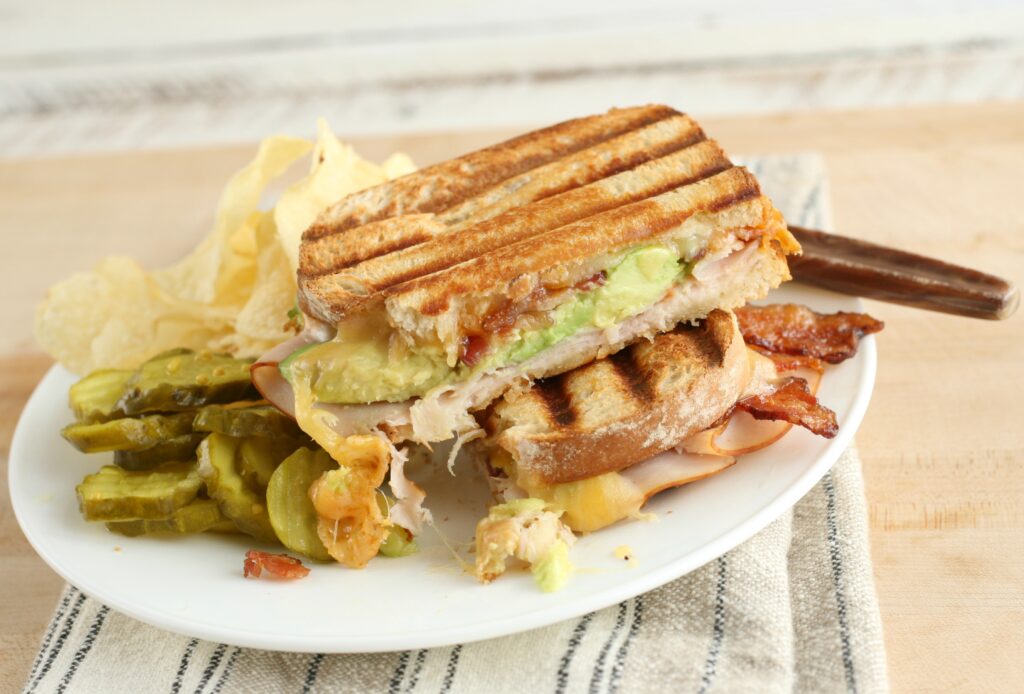 This past weekend we had a snow storm blow a cold, wintry mix through our area. As anyone from North Carolina knows, they just don't know how to handle snow like us Northerners. So they flood the grocery stores, buying up every last drop of milk, farm-fresh eggs, and stocking their pantries with plenty of bread.
Keeping my Yankee traditions alive in the South, we use granulated maple sugar on everything. If I run low, I just call my dad and he ships it down to me. But, since you probably don't have parents that own a maple sugar house operation- you can always find it at another retailer. Granulated maple sugar is the granulated form of pure maple syrup. Nothing added, no preservatives.
Lay your bacon on a half sheet pan lined with parchment paper, then sprinkle with a generous helping of maple sugar. (Add a little to your coffee while you bake your bacon) Yes, bake the bacon in the oven! This will help crisp your bacon, caramelize it prettily with that maple sugar and make cleanup a breeze.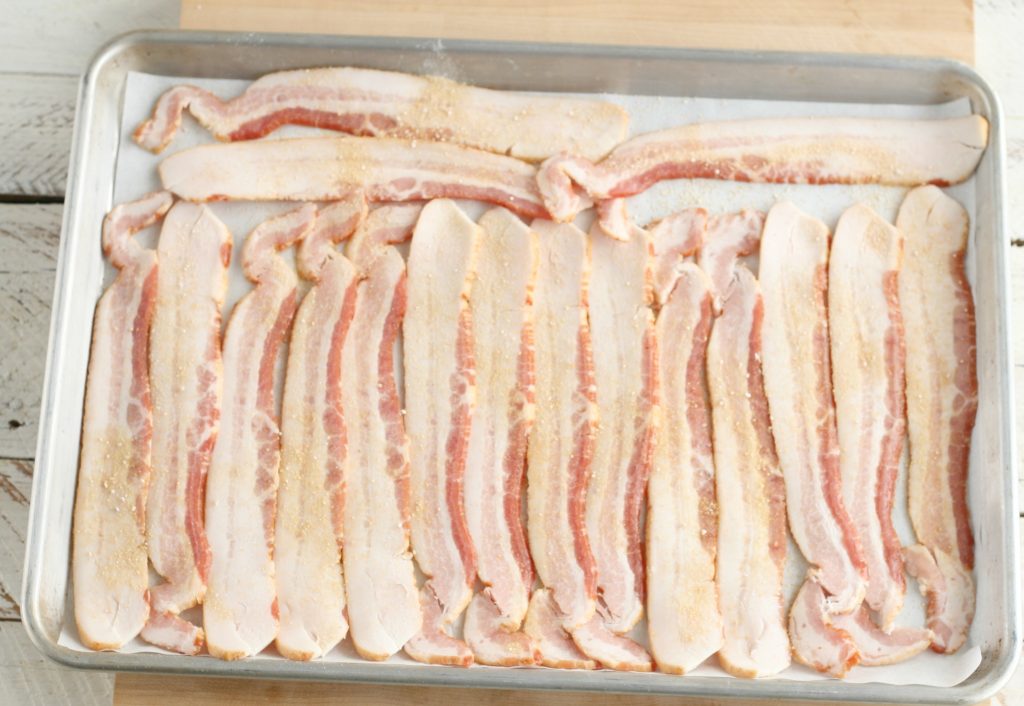 Preheat the oven to 425 degrees F. Cook the bacon for about 20 minutes. Then use tongs to remove the bacon from the pan and place on a plate lined with paper towels. This will absorb some of the fat. (Use the leftover bacon grease for your dog – mix in with his dry food, along with a raw egg to keep his fur looking like a puppy's)
Don't forget to try maple coated bacon on BEST Bacon Cheeseburgers!
I've always been a big fan of Borden® Cheese. There's something about bringing families together around really great foods. Celebrate wholesome family moments filled with love, made uniquely special by the love that goes into Borden® Cheese. It's perfect for making homemade panini, Easy Chicken Fajitas, Mexican Shredded Chicken, or adding to your lasagna dishes. Transforming food with the love from Borden® Cheese, there's nothing better. Good food brings us all together as a family. During the week, even with crazy schedules, sitting down at the table with our family is a must. No technology allowed; therefore no distractions.
How to make a Turkey Bacon Panini:
Spread a thin layer of mayonnaise on your sourdough bread. Place a few slices of turkey breast, avocado slices, maple coated bacon, and slices of Borden® Cheese, variety of your choice.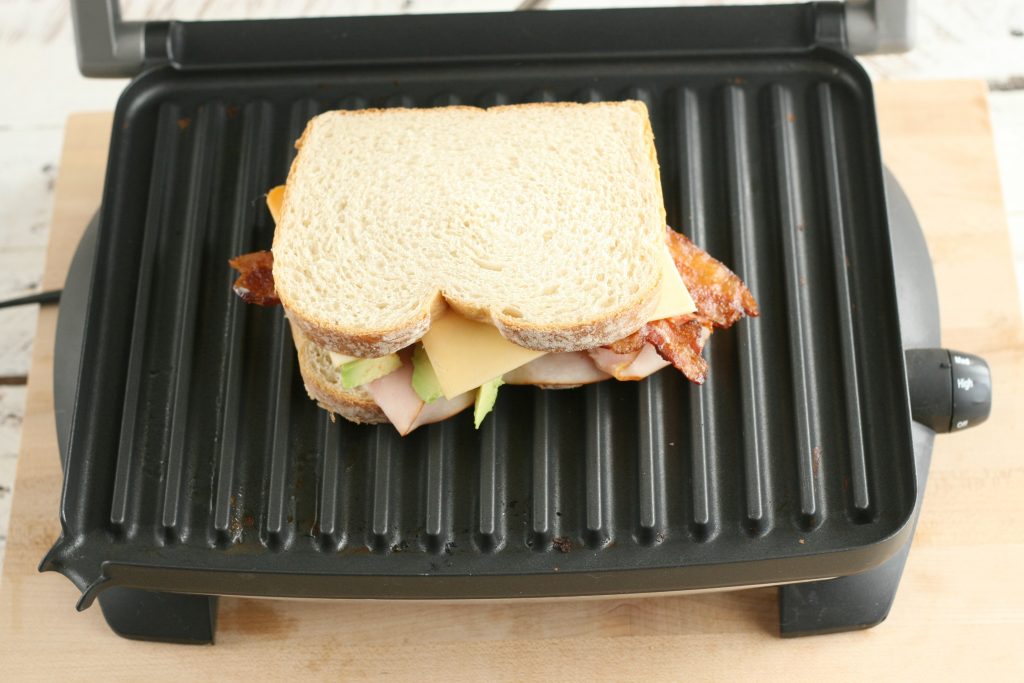 I used my panini press, but if you don't have one, you can certainly use a cast iron skillet, with a smaller cast iron skillet set on top, to press the sandwich down. (If you do use a cast iron skillet, be sure to either use a few tablespoons of butter or olive oil in the pan) For the panini press, I did not need to use any cooking spray or anything, because it's a non-stick surface. Heat to medium-high and cook the panini for about 3-4 minutes, or until the cheese is melted.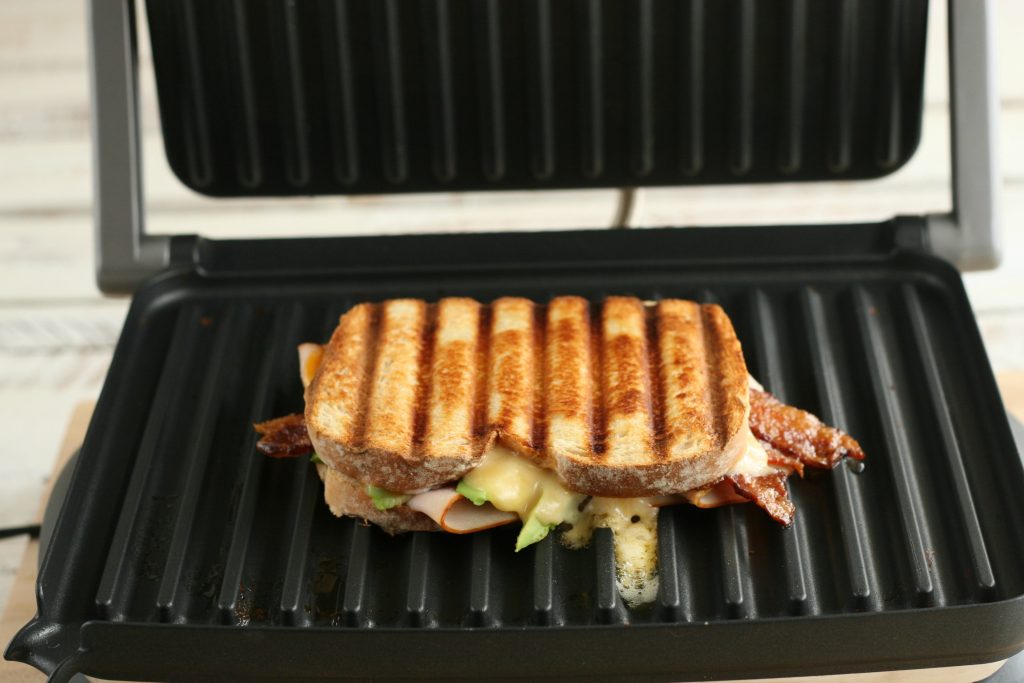 Remove the sandwich from the panini press and slice. Enjoy with potato chips and pickles. The flavors are amazing in this sandwich – warm gooey Borden® Cheese paired with salty-sweet maple bacon and fresh avocado slices. Tell me how your panini came out, I'd love to hear from you!
You're gonna love this delicious Turkey Avocado Panini with a hot bowl of tomato soup!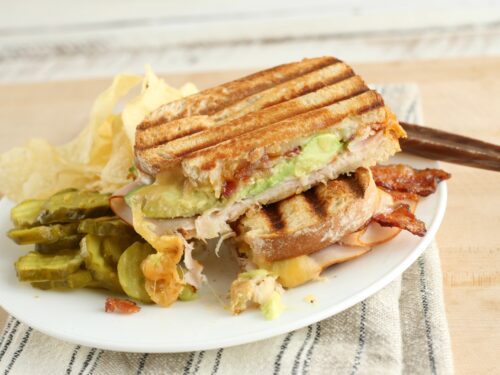 Print
Turkey Bacon Avocado Panini
This delicious Turkey Bacon Avocado Panini is so easy to make and the flavors are amazing!

Ingredients
4

slices

sourdough bread

mayonnaise

1

avocado

sliced

6

slices

turkey breast

6

slices

maple sugar coated bacon

2

Gouda Cheese, slices

2

Pepper jack cheese, slices
Instructions
Maple Coated Bacon
Preheat the oven to 425 degrees F.

Place a pound of bacon on a parchment lined half sheet pan. Sprinkle generously with granulated maple sugar. Bake in the preheated oven for about 20 minutes, or until golden and crispy. Use tongs to remove the bacon from the hot sheet pan and place on paper towels on a plate.
Assemble the Panini
Spread a thin layer of mayonnaise on both pieces of sourdough bread. Layer 3 slices of turkey breast, maple sugar coated bacon, avocado slices and one slice of each cheese. Place on a preheated panini press, on medium to high heat. Press down and cook the sandwich for 3 to 4 minutes, or until the cheese is melted good and the bread is nicely browned. Repeat with the second sandwich.
Nutrition
Calories:
654
kcal
|
Carbohydrates:
81
g
|
Protein:
26
g
|
Fat:
26
g
|
Saturated Fat:
6
g
|
Cholesterol:
27
mg
|
Sodium:
1095
mg
|
Potassium:
772
mg
|
Fiber:
10
g
|
Sugar:
4
g
|
Vitamin A:
147
IU
|
Vitamin C:
10
mg
|
Calcium:
83
mg
|
Iron:
5
mg
Disclosure: A Farmgirl's Kitchen is a participant in the Amazon Services LLC Associates Program, an affiliate advertising program designed to provide a means for sites to earn advertising fees by advertising and linking to amazon.com
Save
Save
Save