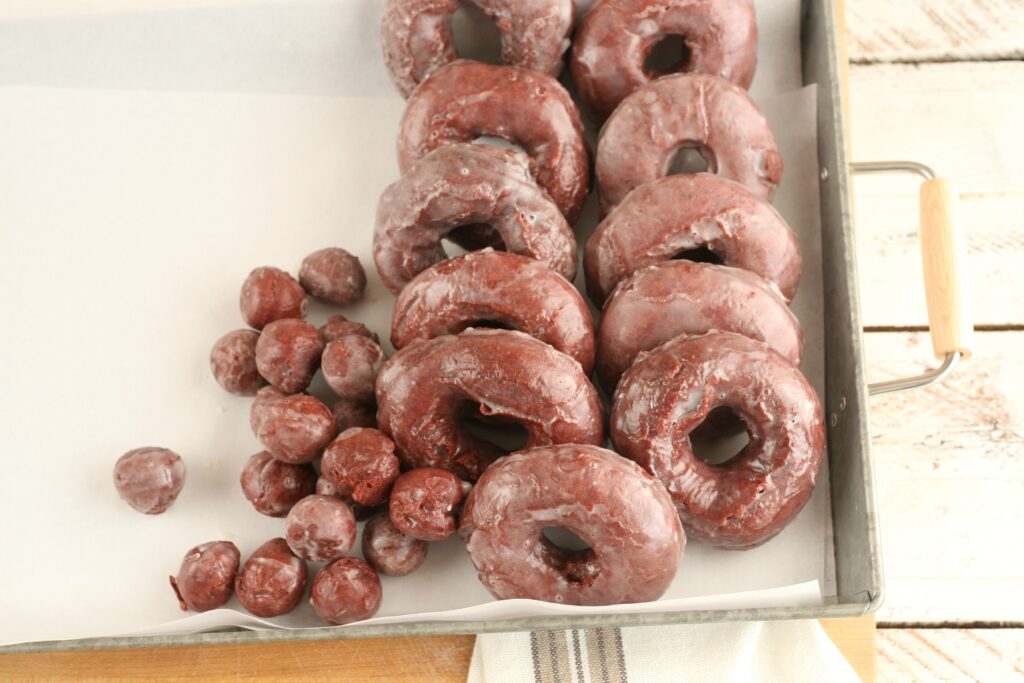 Do you love Red Velvet Cake?
Here in the South we love everything red velvet. And what better way to enjoy it than in a Red Velvet Cake Doughnut drizzled with a thin layer of yummy icing. Growing up, my mother would often make homemade cake doughnuts as a sweet treat. We ate them hot off the stove and savored every single bite. Inspired by my mom's doughnuts, I created this version just in time for Valentine's Day.
With only a few simple kitchen tools, you can create homemade doughnuts. To save time, make them the day before, cover with plastic wrap, and place them in the fridge overnight. Fry them up fresh in the morning. Or, if you're like us and you simply cannot wait, fry them right away! Canola oil is my choice of oils to fry doughnuts or my famous Southern Fried Apple Hand Pies. As it doesn't add any flavor to what you're frying up. Get your rolling pin ready and a simple doughnut cutter. If you have a great kitchen store near you, you can probably find a doughnut cutter there. If not, simply order it from Amazon. I use a 3 1/2-inch cutter.
Over the next few weeks, I'll be sharing a few of my most popular doughnut recipes! (Apple Cider and Pumpkin Spice, just to name a few!) Keep checking back for them! I've been testing and developing a bunch of recipes for many years now. I store all of my recipes in 3-ring binders with sheet protectors. This keeps all of my most treasured recipes safe and accessible. You can check out my recipe for Blueberry Cake Doughnuts. If you can get wild blueberries, definitely use them in this particular recipe. Besides having way more flavor than the traditional size blueberry, they just work better in this doughnut recipe.
Looking to dress these Red Velvet Cake Doughnuts up for Valentine's Day? Spread the tops with vanilla or cream cheese frosting and decorate with heart sprinkles! I hope you'll love these yummy doughnuts. They bring up fond memories of my childhood. What are your favorite recipes that you love to make over and over? Do you have secret family recipes?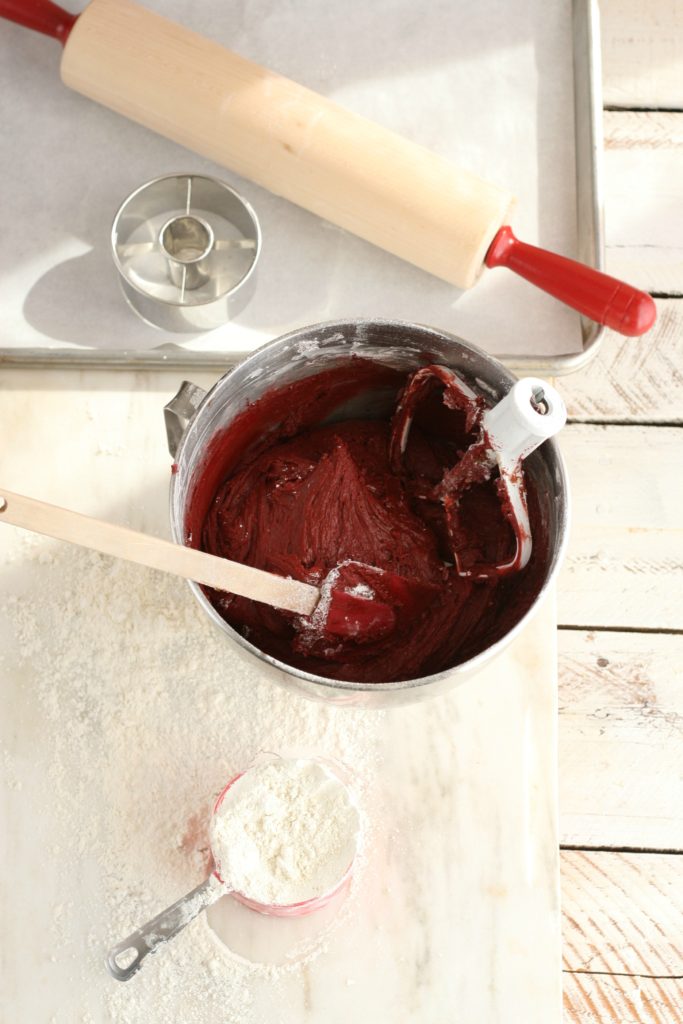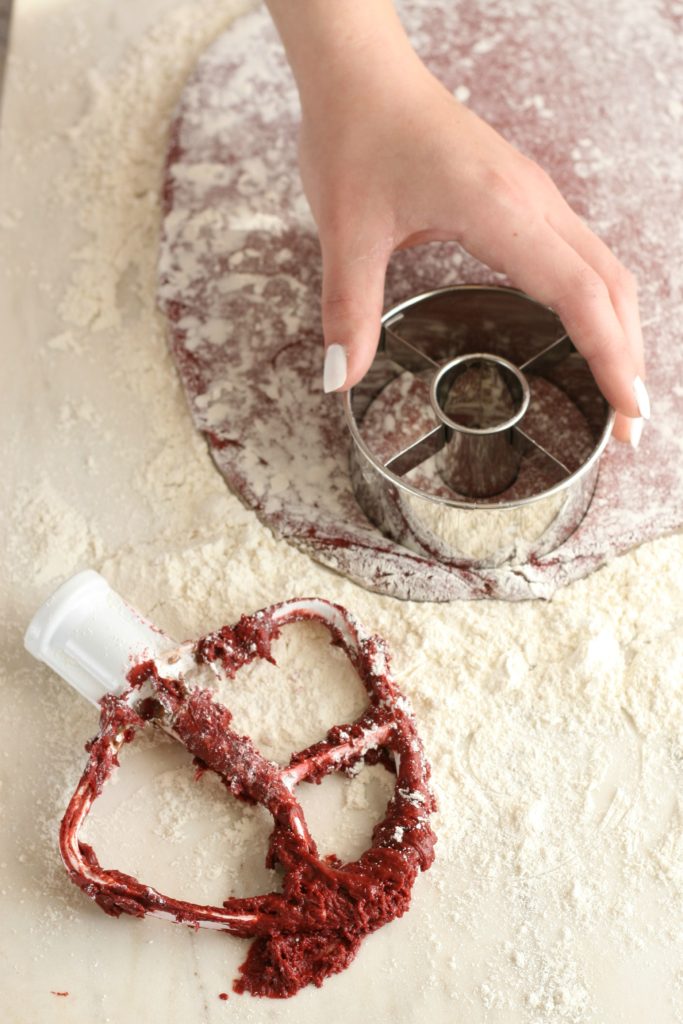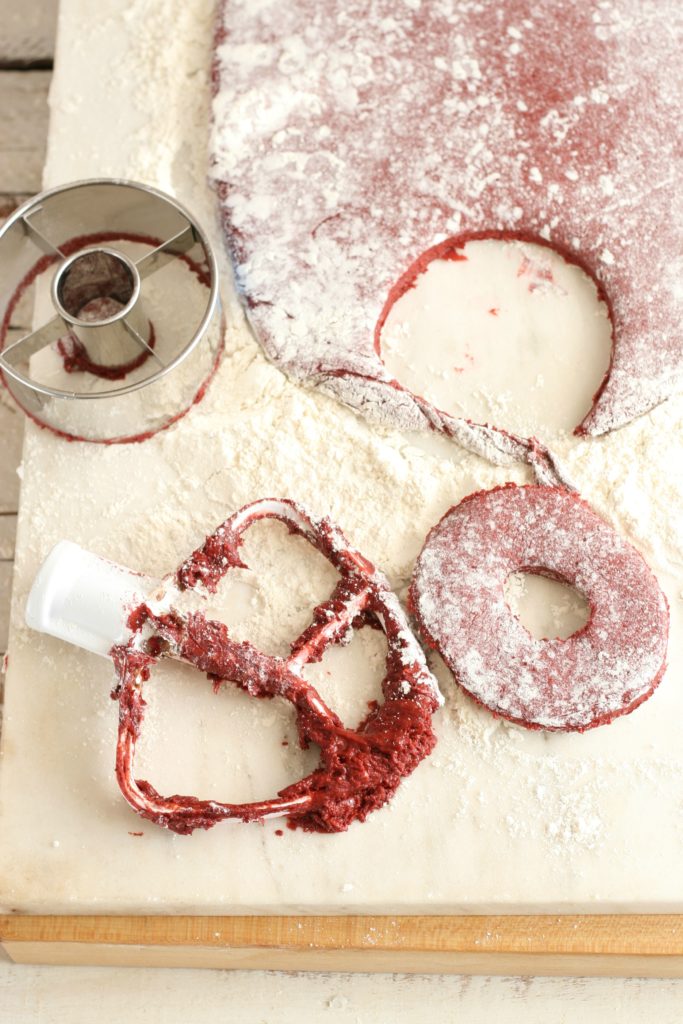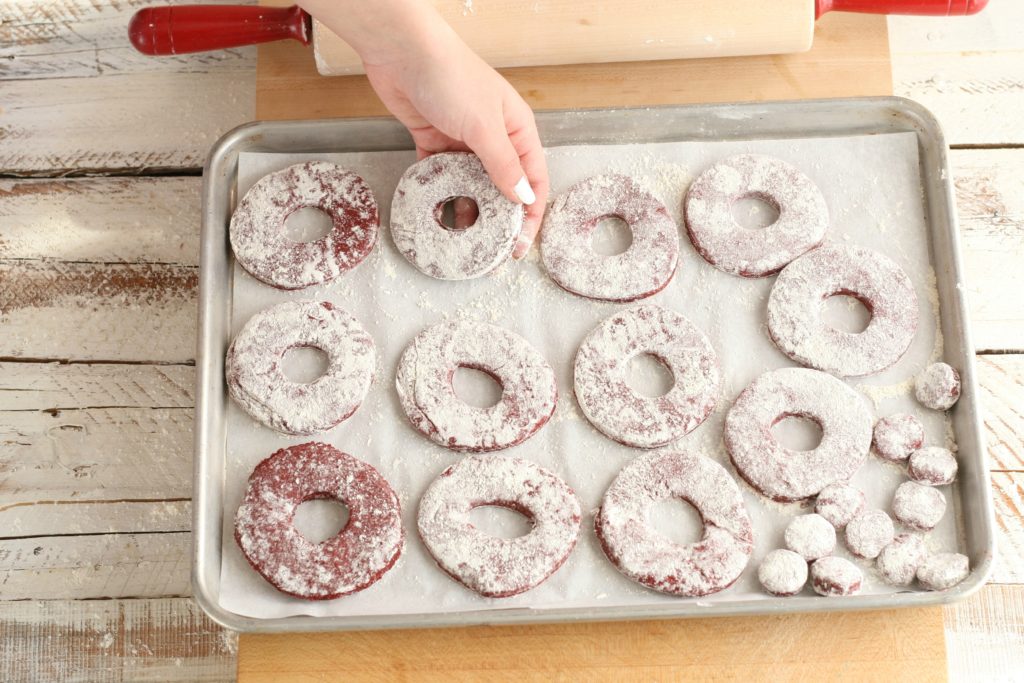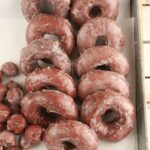 Red Velvet Cake Doughnuts
Servings
18
doughnuts and holes
Ingredients
1/2

cup

granulated sugar

1/2

cup

firmly packed brown sugar

6

tablespoons

unsalted butter

softened

3

large eggs

room temperature

1

teaspoon

salt

2

teaspoons

pure vanilla extract

1

cup

buttermilk

2/3

cup

unsweetened cocoa powder

2

teaspoons

red food coloring

2

teaspoons

baking powder

2

teaspoons

baking soda

1

tablespoon

apple cider vinegar

5 1/2 to 6

cups

cake or all-purpose flour

Icing:

2

cups

powdered sugar

1-2

teaspoons

pure vanilla extract

5-6

tablespoons

whole milk
Instructions
In a large mixing bowl, using either a stand mixer or an electric hand mixer, cream together the butter, sugar and brown sugar, until light and fluffy.

Sift the flour, baking powder, baking soda, and cocoa powder into a medium bowl and set aside.

Add the eggs, one at a time and continue to mix until they are incorporated. Use a rubber spatula to scrape the bottom and sides of the bowl occasionally. Add the buttermilk, vanilla extract, and red food coloring, mixing to combine.

Add the dry ingredients and apple cider vinegar and combine. Again, scraping the bottom and sides of the bowl with a rubber spatula to be sure everything is mixed well.

Turn the dough out onto a floured work surface and roll out to about 1/2-inch thickness. Use a 3 1/2-inch doughnut cutter to cut out the doughnuts. Gently pick them up and place them on a half sheet pans lined with parchment paper. (This is a fairly sticky dough, roll them on a generously floured work surface)

Line a half sheet pan with several layers of paper towels and set aside. In a large pot, heat about 3-4 inches of canola oil to 375 degrees F. Use a digital thermometer to get an accurate temperature read. Gently drop about 4 doughnuts into the hot oil, do not overcrowd the pot. Cook for about 1-2 minutes on each side. Flipping the doughnut once. Remove from the oil and let drain on the paper towels.

Whisk together the glaze ingredients. Dip only one side of the doughnut into the glaze. Let drip dry on a half sheet pan lined with parchment paper, with baking rack set on it. (if desired, frost them with cream cheese or vanilla frosting and add sprinkles)
A Farmgirl's Kitchen is a participant in the Amazon Services LLC Associates Program, an affiliate advertising program designed to provide a means for sites to earn advertising fees by advertising and linking to amazon.com