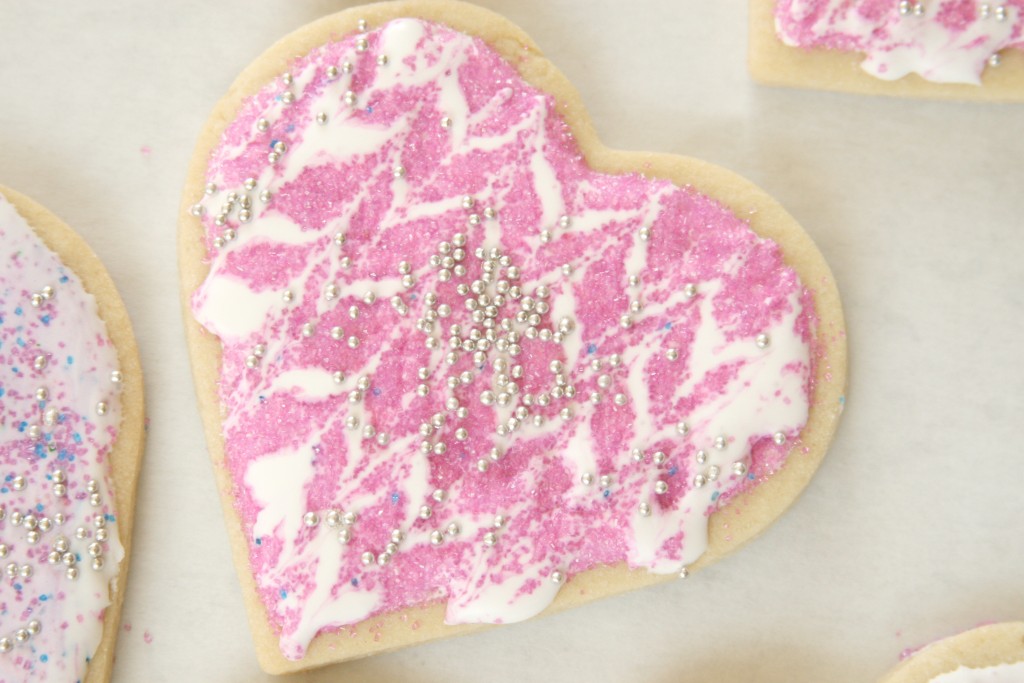 Last year was a whirlwind of book signing events, selling at the Hillsborough Farmers Market and blogging. I'm so grateful for everyone that follows my ventures and supports local. I've been blessed to meet so many amazing people last year. This year should be a little less travel for me- but plenty of recipe testing! February is upon us and Valentine's Day is right around the corner. I love these Valentine Sugar cookies- they are kind of a cross between a shortbread and sugar cookie. I'm digging into my recipe binder that I've be working on for nearly 15 years and sharing many of my favorites. This cookie is one of them. Creamy Cabot Cooperative butter, whisked together with sugar, vanilla, almond extract, flour and a few eggs becomes this amazing melt in your mouth cookie!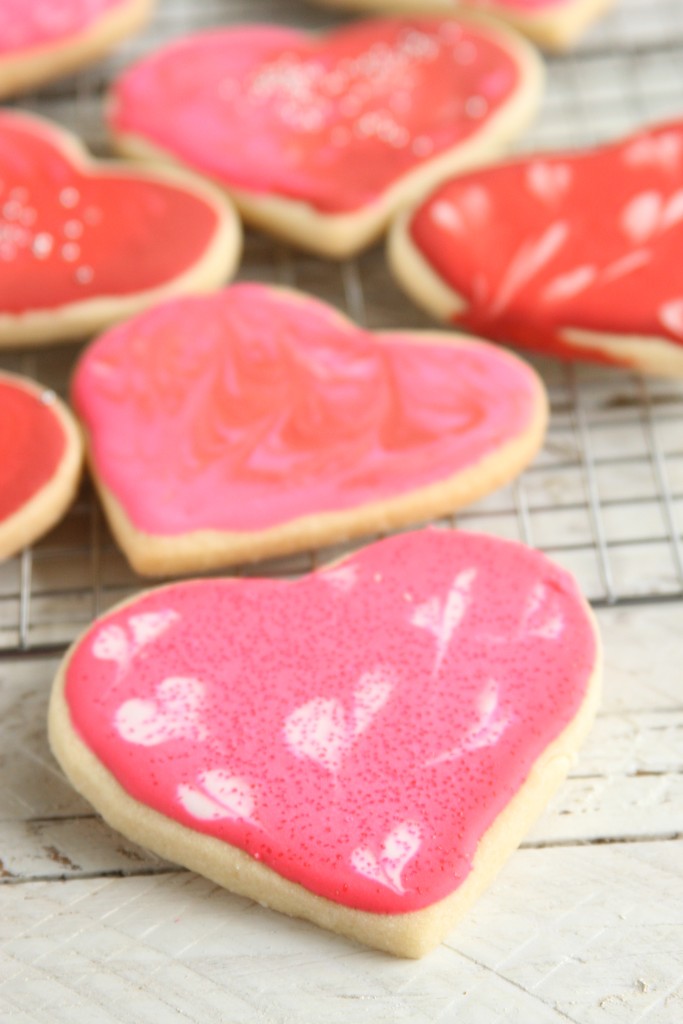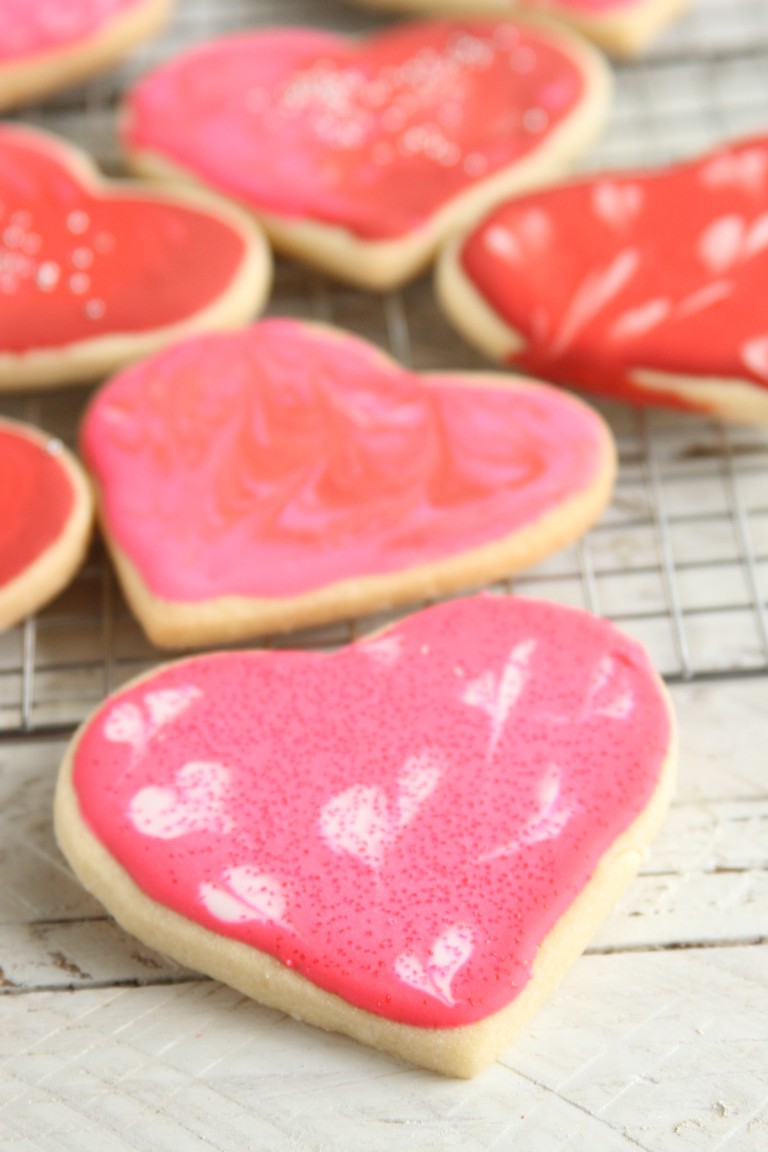 For these adorable Valentine Sugar cookies I used a Wilton heart-shaped cookie cutter. (Available at Walmart stores or on Amazon) You really can decorate them anyway you would like. Try making a chocolate ganache and dipping half of the cookie in white chocolate, the other half in chocolate ganache. Or whip together some royal icing, like I did in these pictures. I simply used the back of a tablespoon to spread the icing around the cookie. Then, used a Wilton disposable decorating bag to make white dots. I took a toothpick, while the icing is still very wet and pulled down quickly from the top to bottom- creating a heart out of those dots. You'll want to keep a clean, damp cloth over the bowl of royal icing while you work, otherwise it will dry up. For other cookies, you'll notice I spread on both pink and red icing, then swirled it together with a toothpick. Those are probably my favorites. You can get very creative with the colors and any decorations.
This would be a great project for you to work on with the kids. Just check with your local school system first, before sending these yummy treats in as Valentine's Day treasures for classmates. Unfortunately, most school systems do not allow "homemade" items- which is such a shame really. Make them and hand them out to neighbors, the postman and co-workers! They are absolutely adorable and a really yummy cookie!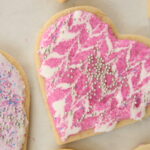 Valentine sugar cookies
Ingredients
1

cup

2 sticks unsalted butter, softened

3 1/2

cups

all-purpose flour

1

cup

granulated sugar

1

cup

powdered sugar

2

large eggs

1

teaspoon

kosher salt

1

teaspoon

pure vanilla extract

1

teaspoon

pure almond extract

Royal icing:

3

cups

powdered sugar

4

egg whites

1/2

teaspoon

cream of tartar
Instructions
In a large mixing bowl, cream together granulated sugar, powdered sugar and softened butter. Add the vanilla, almond extract and eggs. Combine well. Add the flour and salt. Combine thoroughly. Scrape the bowl several times with a rubber spatula.

Place dough into a large Ziploc bag and refrigerate for 30 minutes to 1 hour.

Roll out dough to about 1/4-inch thickness and cut into cookies.

Place evenly on sheet pans lined with parchment paper.

Bake in a preheated 350 degree F oven for about 20 minutes.

For the icing:

In a clean and grease-free bowl, use a hand mixer to beat egg whites with cream of tartar. Add the powdered sugar and start to incorporate on slow speed. Once incorporated, turn up to high speed and whip until smooth and shiny. The more you whip it, the thicker it will become.