Learn how to attract beautiful hummingbirds to your backyard garden or yard with this homemade hummingbird food recipe!
This hummingbird nectar recipe uses two simple ingredients, can be made ahead of time and refrigerated for up to 2 weeks. Backyard hummingbird feeders provide hummingbirds with nectar imperative to their survival during fall and spring migration.
Hummingbirds will be flocking to your feeder in no time with this homemade nectar!
Before last year, we had never used a hummingbird feeder. We always grew plenty of perennials and annual flowers which naturally attracted hummingbirds. But, a friend suggested we try supplementing it with nectar.
What we found was our hummingbird feeder was a supplemental source of nectar for local hummingbirds, and helped them through times when there aren't as many blooming flowers available nearby.
Seeing hummingbirds in our annual flower gardens or enjoying nectar on the feeders always brings plenty of smiles and complete joy!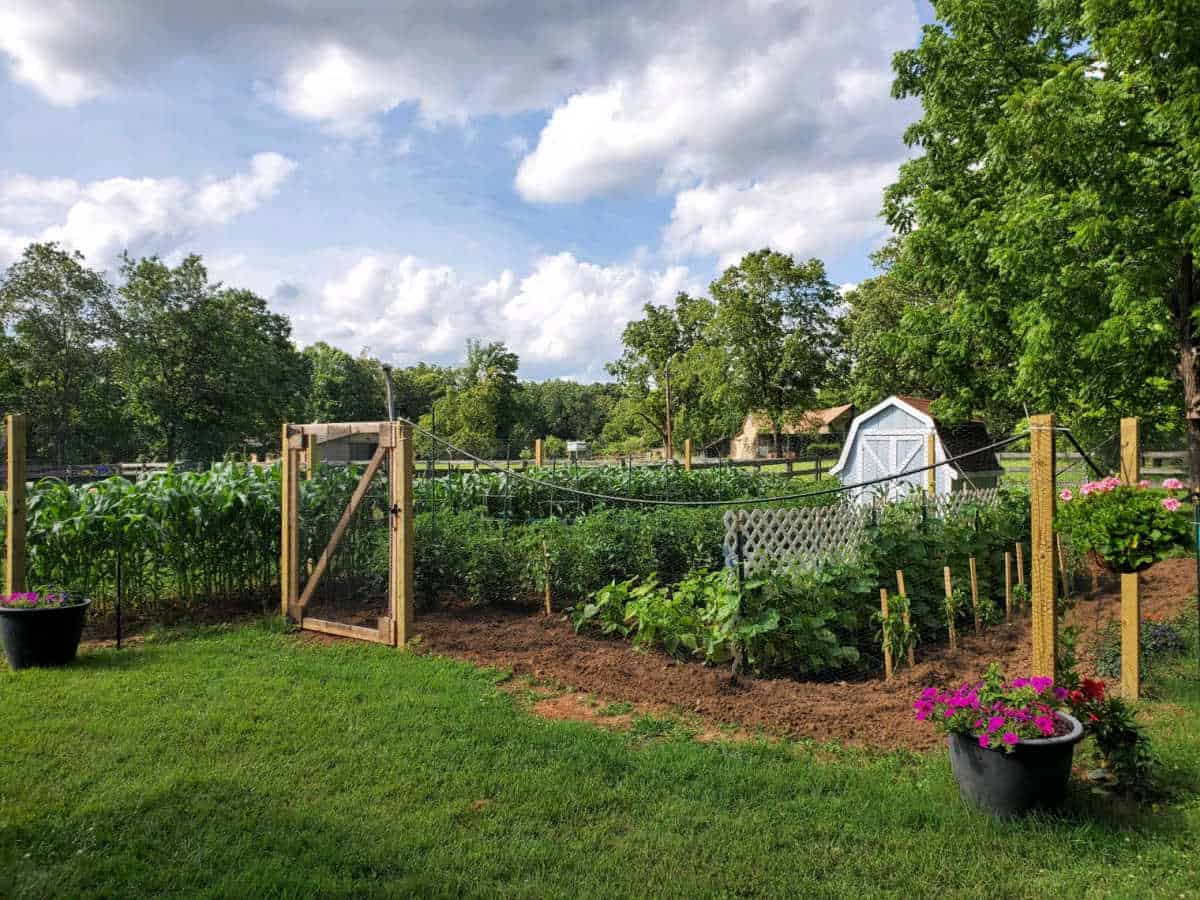 Why this recipe works
Saves you money and let's you control the ingredients.
Attracts many hummingbirds
This hummingbird nectar recipe makes a big batch that you can store in a pouring pitcher or an airtight container in the fridge! (This pouring pitcher is the one I use. It's dishwasher friendly and fits on the fridge door!!)
What you'll need
Granulated white sugar – Pure white cane sugar is the key ingredient for making homemade hummingbird nectar. Never use raw sugar, brown sugar, honey or artificial sweeteners for making hummingbird food. They are have a higher chance of germs and bacteria, all of which can be detrimental to hummingbirds.
Water – We use water straight from the tap from our well-water! But, any filtered water, spring water, or unchlorinated water will do.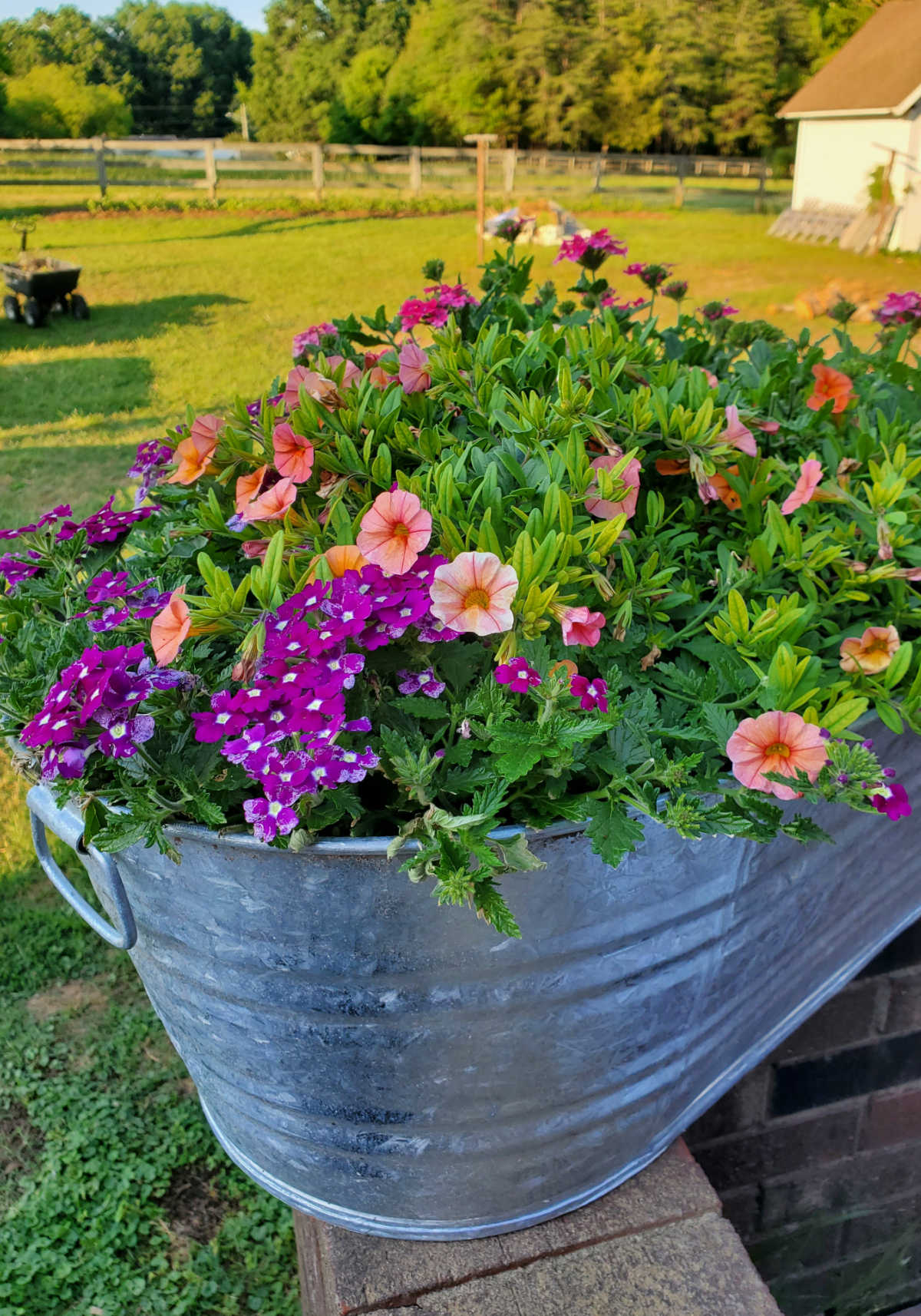 Homemade hummingbird nectar is just two ingredients and couldn't be easier to make! Below you'll find tips on making hummingbird water and how to naturally attract hummingbirds!
I do not recommend using red dye in hummingbird feeders. They say they are attracted to the bright red color, but the red dye can be harmful to hummingbirds. Just keep it all-natural when making hummingbird nectar!
This is my preferred hummingbird feeder. You can sometimes find them locally at an independent hardware or feed store. They are also available at Tractor Supply. (What I love about this one is the bright red color, it's super simple to clean and fill with hummingbird nectar!)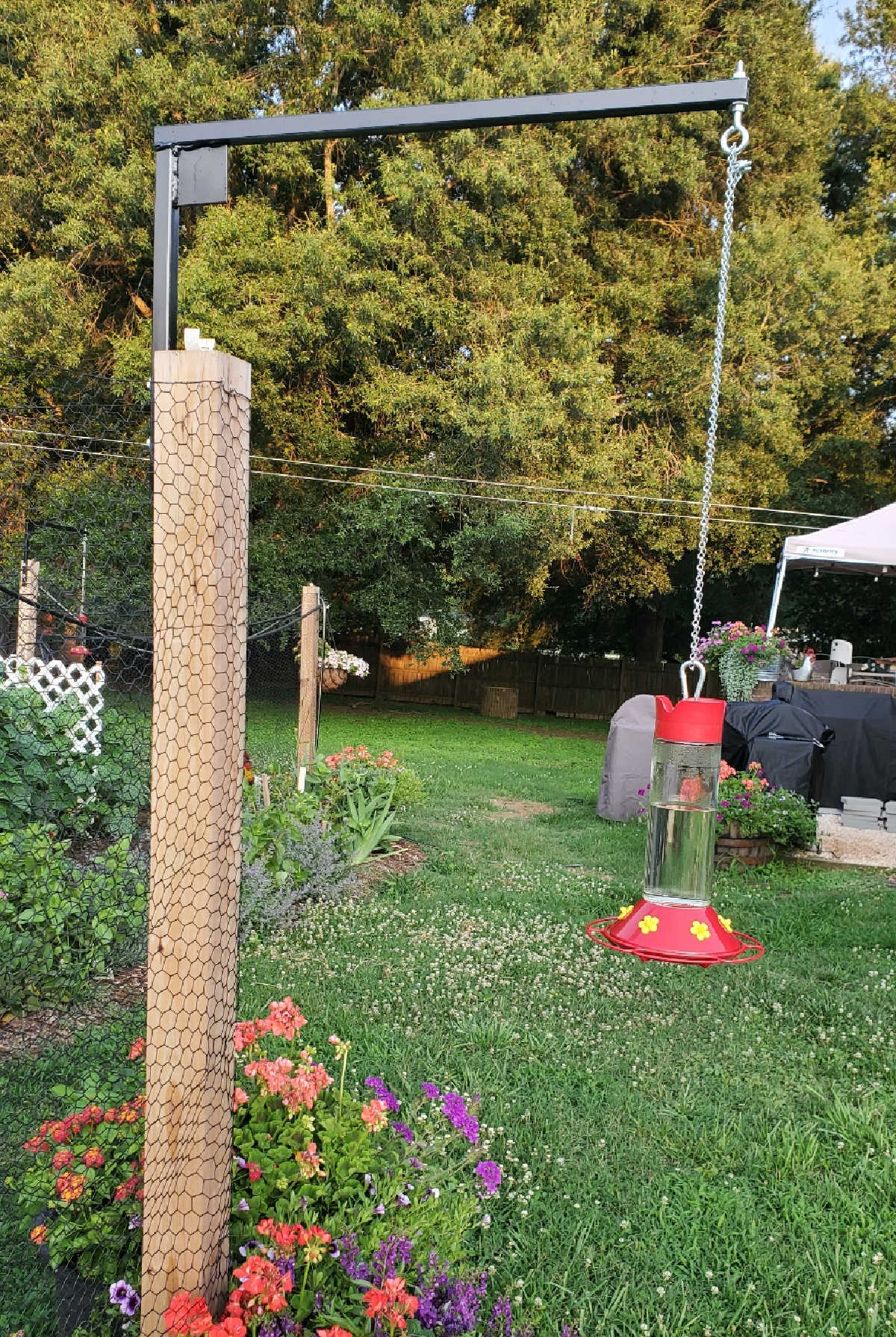 How to attract Hummingbirds
Plant annual flowers, such as zinnias, petunias, verbena, Lantana and superbells. Hummingbirds are attracted to bright and colorful flowers. Especially those that are cone shaped.
We also have perennials in the outer edges of the vegetable garden. This attracts hummingbirds and honey bees (which help pollinate our vegetable plants).
Our hummingbird feeders have sugar water. We change the sugar water out every Monday morning, like clockwork. And more often if it's super hot outside. (Wash the feeders with warm soapy water and gently scrub with a bottle brush to thoroughly clean. Be sure and rinse well!)
It's best to change hummingbird nectar before it gets cloudy. We hope your hummingbirds will love this hummingbird feed recipe as much as ours do!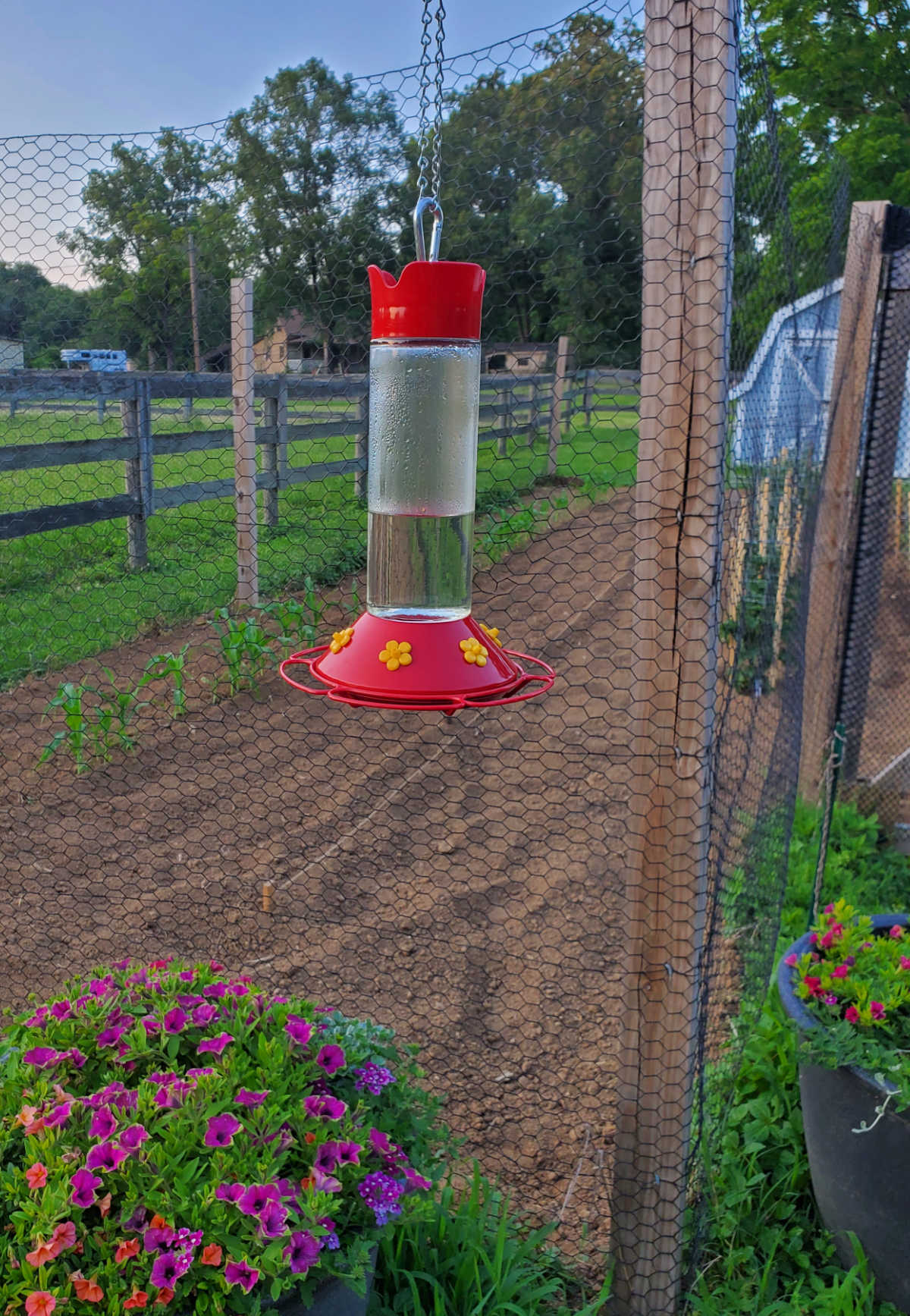 Placement of your feeders
It's best to place hummingbird feeders in a partly shady area, but somewhere hummingbirds will see them. Direct sunlight can make nectar spoil more quickly.
You also want to be able to see the hummingbirds. Consider the distance from your viewing area, since hummingbirds are only three to four inches long. Hanging a plant hook or using small chain to hang feeders from the branch of a tree can be useful.
Hummingbirds are small, but still need plenty of space to maneuver around feeders to feel comfortable.
Place hummingbird feeders so you are able to easily access them in order to clean and refill them frequently.
Hummingbirds spend up to 80 percent of their time resting between feedings, perching nearby as they watch their favorite territory. Hanging feeders near convenient perches will keep them nearby.
Our hummingbird feeders are strategically placed on two sides of our vegetable garden. We have herbs, perennial flowers and annual flowers in the garden surrounding the vegetable garden. Since we have 4×4-foot fence posts and PVC coated chicken wire that surrounds the vegetable garden, hummingbirds can easily take a rest on the fence or fence posts.
This helps us to easily view the hummingbirds feed through our kitchen window and back patio sliding door. We can also sit quietly on the patio, around dusk to watch them enjoying the feeders. (They tend to be very active that time of day!)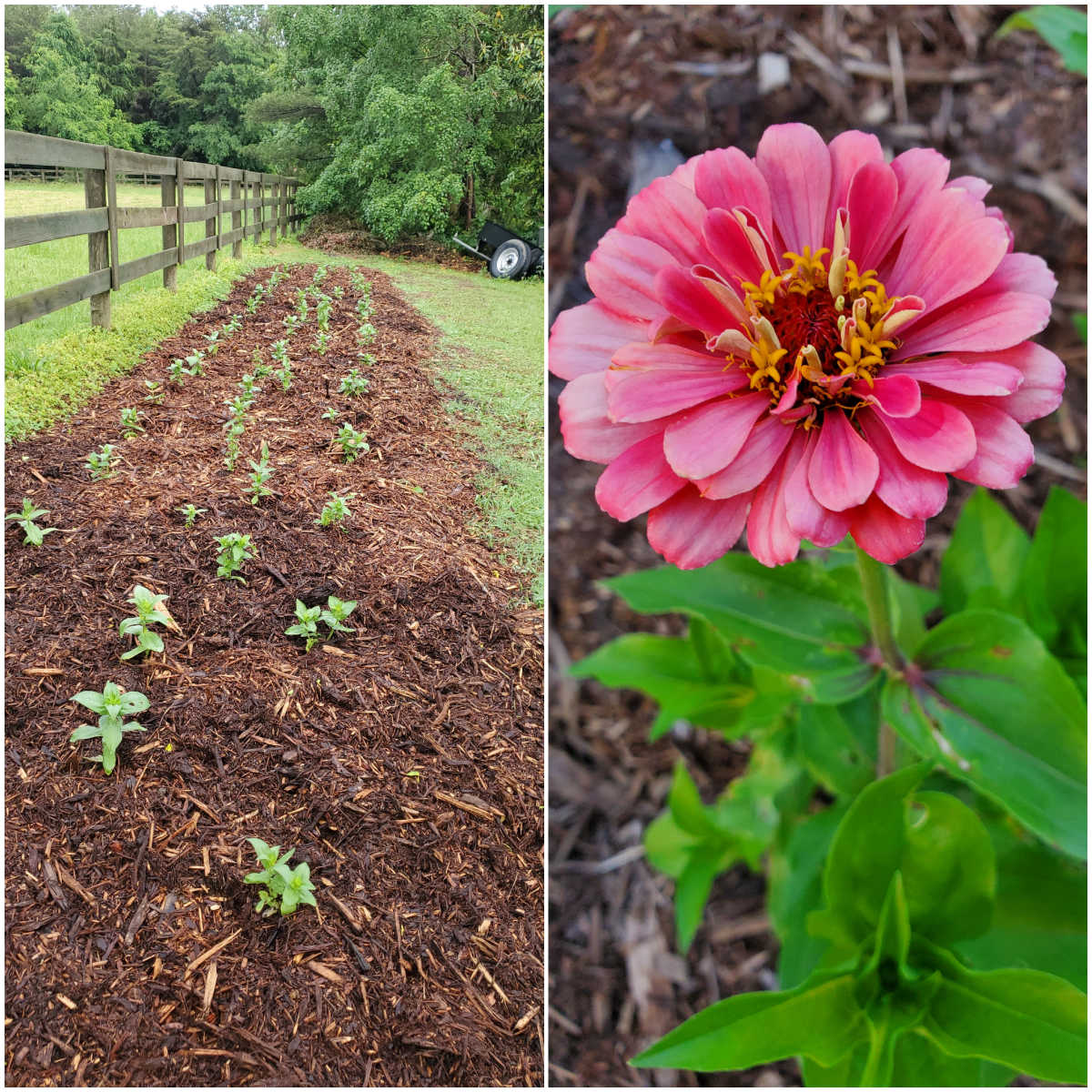 Custom Hummingbird Feeders
My husband built custom metal hangers for the hummingbird feeders. They are secured to the back of the 4×4-foot pressure treated fence post in the vegetable garden.
Made out of one-inch square carbon steel tubing
28-iches long (so they extend long enough for hummingbirds to feel safe while eating the homemade nectar).
They are welded together and spray painted with black paint.
Secured onto the inside of vegetable garden fence posts with long decking screws. This helps balance the weight of the hummingbird feeder and looks really nice.
Creating a hummingbird-friendly yard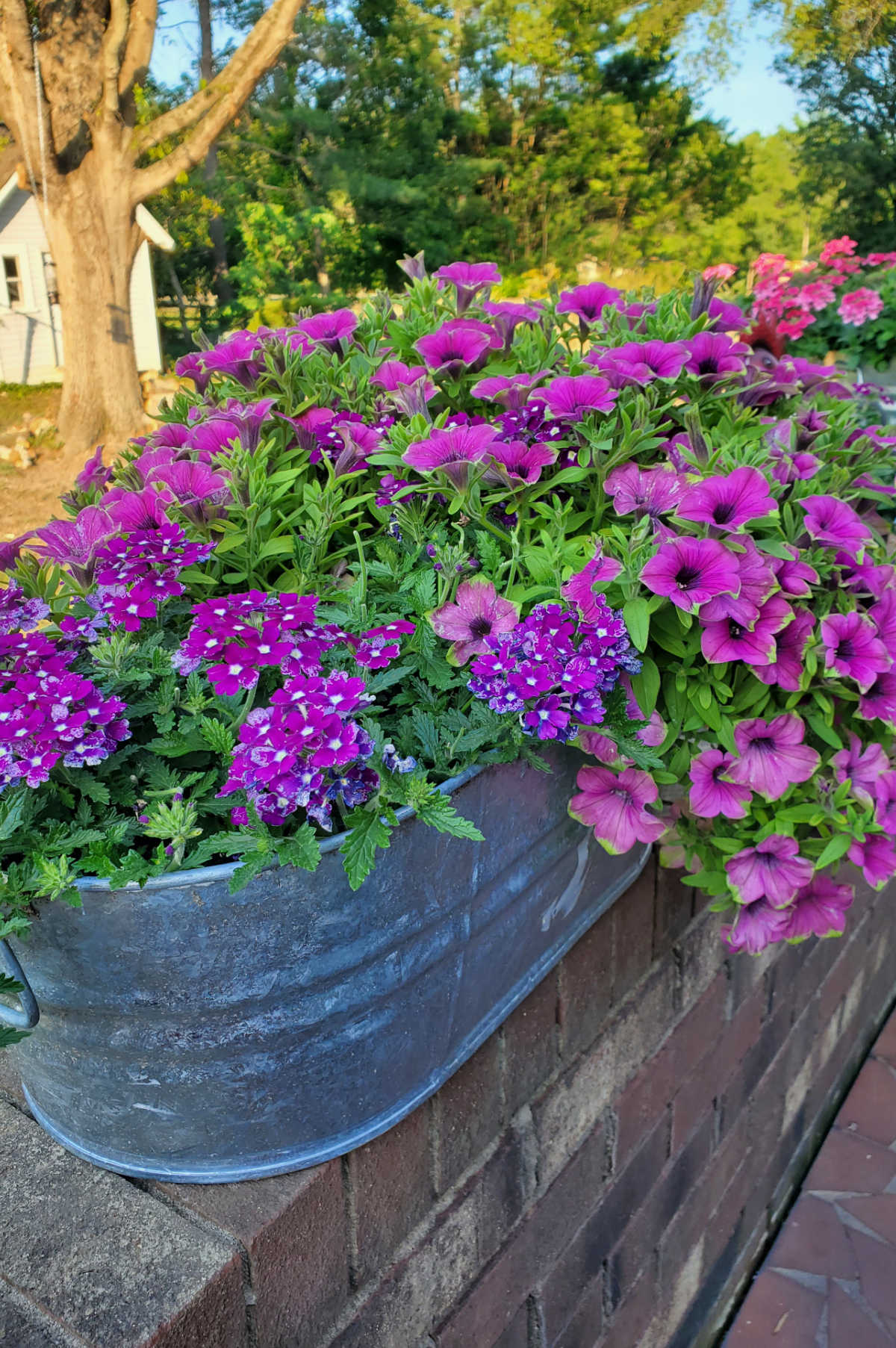 Things to plant in your yard to attract hummingbirds
Beebalm
Coral honeysuckle
Trumpet vine (Hummingbirds love red or orange tubular flowers)
Salvia (These types of flowers will provide much more nectar than hybrids and exotics.)
Sage, oregano, lavender and other flowering herbs
Annual flowers, such as Heliotrope, verbena, lantana, superbells and petunias.
Fill your gardens with flowering plants, vines, shrubs, and trees that are native to your area.
Group similar plants together and choose varieties that will bloom during different periods so that there will be a steady supply of flowers.
Minimize the use of the use of pesticides in your yard.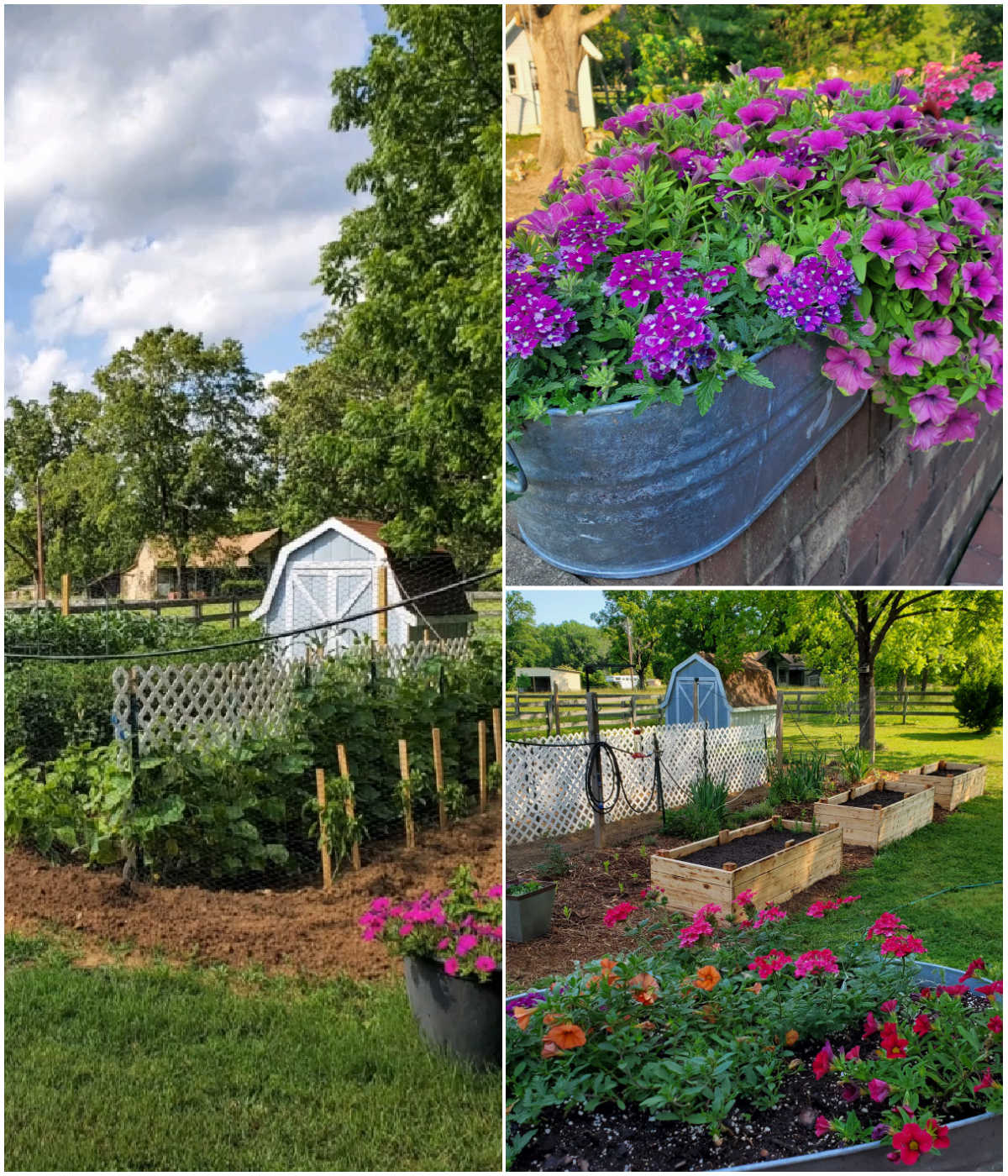 How often should you change the food in the hummingbird feeder?
We recommend to change and clean the hummingbird feeders a minimum of once a week during cooler months. During hotter months, it is best to change out the nectar and clean the feeder at least twice a week.
Be sure to change the sugar water regularly – before it gets cloudy, or about twice a week in warm weather.
When changing the hummingbird nectar, turn the feeder upside down, twist off the bottom and pour out the contents of the feeder on the lawn or into the garden. After refilling the feeder, keep it upside down until you get outside.
We use carabiner clips to secure the hummingbird feeders to small chain that hangs off holders. It makes it super easy to remove them and secure to the chain.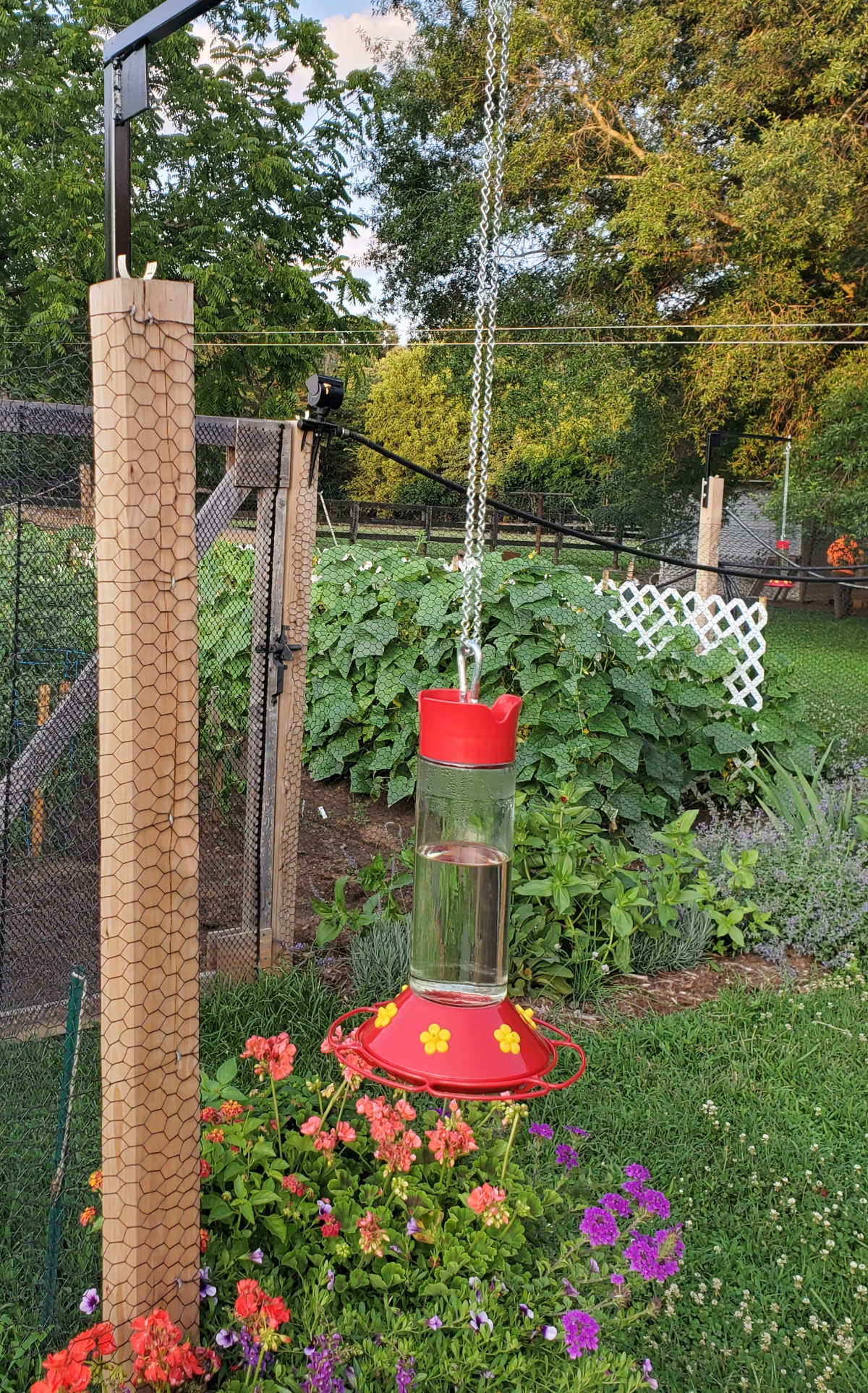 When should I put out my hummingbird feeders?
If you live in warmer climates, like we do in North Carolina you should be putting out the hummingbird feeders sometime around mid-March to early April. This will help you catch the birds as they migrate North.
Date varies regionally as to when hummingbirds will arrive in your backyard. You can check with your local Audubon center or local bird club to see when they will arrive for your growing zone.
Do you use glass hummingbird feeders or plastic?
All of our hummingbird feeders are glass. We find they are much easier to clean, more attractive and will attract more birds. Plastic feeders tend to get cloudy, have more of a chance to build up mold and much harder to clean.
What is the best way to clean hummingbird feeders?
Cleaning hummingbird feeders is really simple. Use warm water and a few drops of Dawn or liquid dish detergent. Soak the the bottom of the feeder in soapy water for 10-15 minutes and use a bottle brush to clean the inside of the hummingbird feeder. Be sure and rinse with warm water well to remove any soap residue.
We also use a nail brush to gently clean out the feeding ports well. Sometimes this area can get a little mold on it during hotter months. Be sure and use warm, soapy water with a soft brush to clean the area well.
Did you make one of my recipes? Please take a moment to leave a star rating. Also, if you are on Pinterest, please feel free to leave a comment there! Follow A Farmgirl's Kitchen on FACEBOOK, PINTEREST and YouTube and subscribe my mailing list for ALL the latest recipes!
Hummingbird Food Recipe
Learn how to attract beautiful hummingbirds to your backyard garden or yard with this homemade hummingbird food recipe!
Ingredients
Hummingbird Nectar
1-2

cups

granulated sugar

4

cups

water
Instructions
Add the tap water and granulated sugar to a large saucepan over medium to low heat.

Stir with a spoon occasionally so the sugar doesn't burn. Bring the solution to a boil.

Let the sugar water cool to room temperature before filling your feeders.

Refrigerate any extra sugar solution in a pouring pitcher or airtight container for up to 2 weeks.
Recipe Notes
Hummingbird nectar tips:
While some recipes recommend a 1:4 ratio, we like to use a little more sugar in our hummingbird nectar. We recommend you test which ratio works best for you and what the hummingbirds in your yard prefer.
Be sure to change the sugar water regularly — before it gets cloudy, or about twice a week in warm weather.
Wash hummingbird feeders with a few drops of dish soap and a few tablespoons of white vinegar each time you change out the sugar solution. This will help keep them clean and prevent hummingbirds from getting sick.
To clean hummingbird feeders:
Use a bottle brush with a few drops of dish soap and/or a tablespoon of white vinegar to thoroughly clean the feeders. A soft nail brush to gently clean out the feeding ports well. It's also helpful to soak the pieces of the feeder in soapy water for 20-30 minutes.
Rinse your feeder well with warm water several times before refilling with sugar solution.
Disclosure: As an Affiliate Marketer, I earn from qualifying purchases. If you click a product affiliate link on A Farmgirl's Kitchen and make a purchase, I may receive a commission at no additional cost to you! I own every cooking product I recommend and love how they perform.