The last few months have been a blur for us. I've been traveling a lot for my cookbook tour. Scott has been traveling just as much, if not more, for work. It's hard to keep up a household. I juggle writing, testing and photographing recipes with folding laundry, cleaning house, kids, homework and making dinner. Sometimes- I do confess that I bake so much for the blog that sometimes I have no clue what we're going to make for dinner. At least I have dessert covered- and who doesn't love dessert?! This holiday season, I'll be taking a few pre-orders for homemade cakes and pies. Get your orders in early!
Old-fashioned yellow cake with apples and a streusel topping will be your new favorite. It's an old-classic at the farm and been around for years. This cake is super simple and very yummy. Cream together softened butter, sugar and vanilla. Add add local eggs along with the rest of the ingredients. Top with sliced apples in a pretty circular pattern and sprinkle with a streusel topping. This cake is the definition of YUM!
Make some of the streusel topping and keep it in a freezer Ziploc bag. This type of bag will keep any unwanted smells and flavors out of the streusel. I make it and keep it in the fridge for up to 2-3 weeks. It honestly doesn't usually last that long in our house, but it will keep in the fridge for a bit.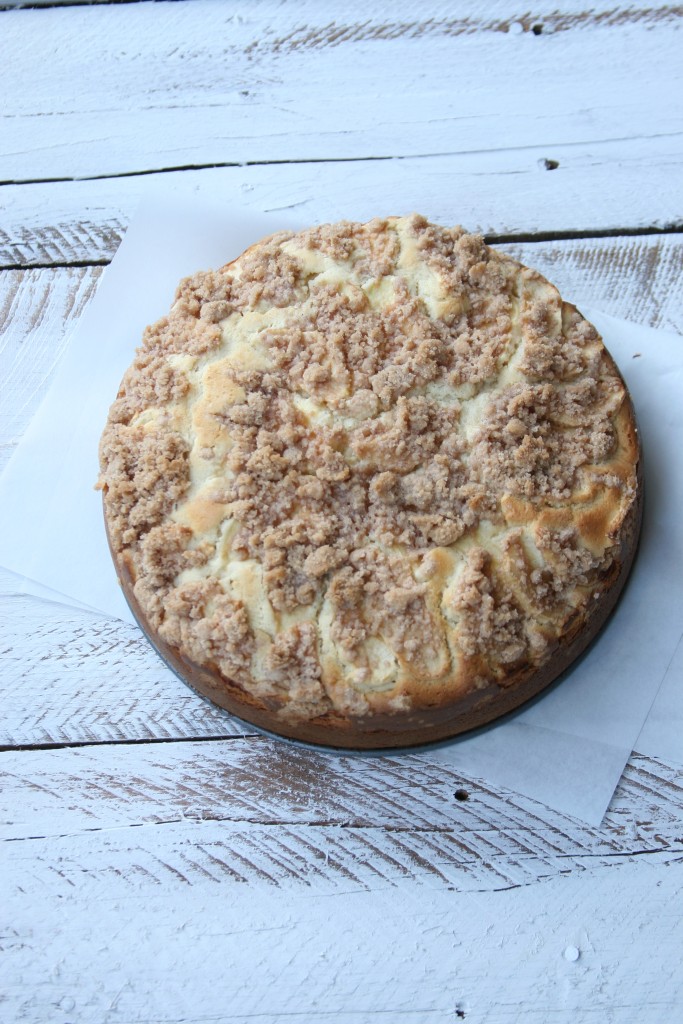 The cake alone is delicious. But, drizzled with a little maple icing and it's out of this world! I made mine in a 10-inch cheesecake pan with removable bottom. This made a slightly thicker cake and took about 60 minutes to bake. This did make it a breeze to slide the cake off onto a serving platter. The cake is wonderfully moist and you can taste the sour cream. All of the flavors of the apples, streusel, sour cream, and maple icing come through.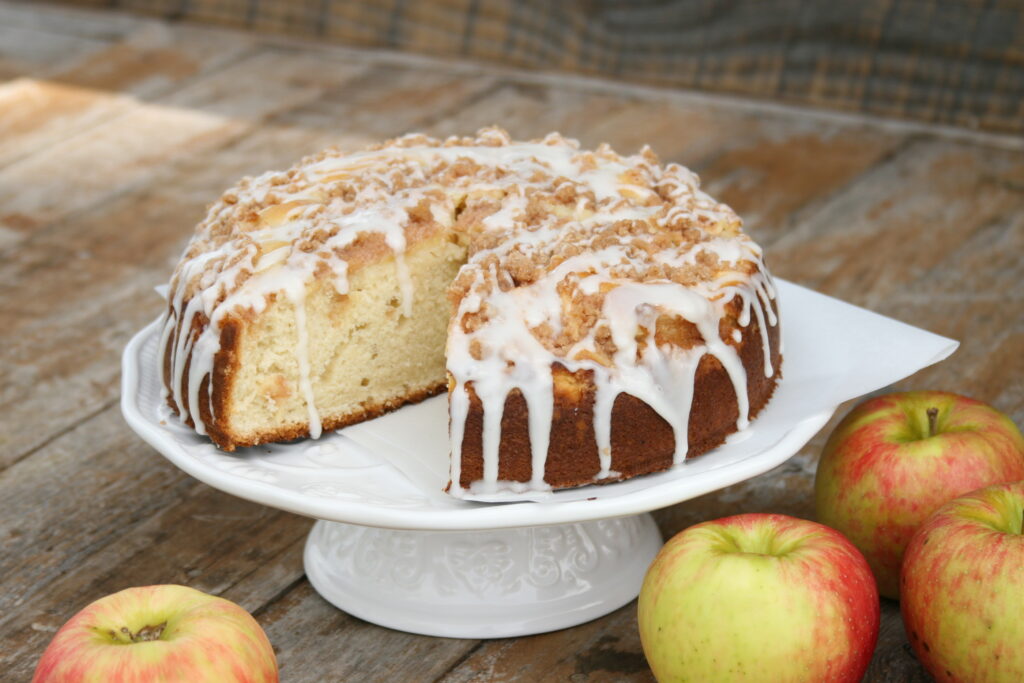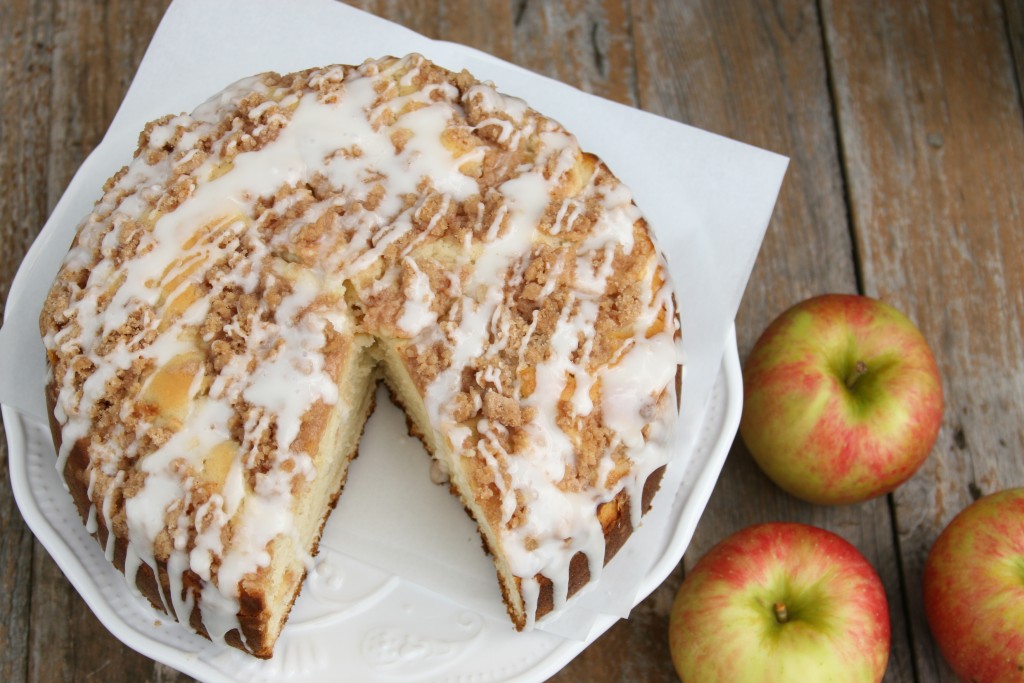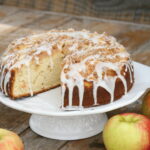 Old-fashioned yellow cake
Ingredients
1/2

cup

1 stick unsalted butter, softened

1 1/2

cups

granulated sugar

1 1/2

cups

sour cream

full-fat

3

large eggs

room temperature

3

cups

all-purpose flour

2 1/2

teaspoons

baking powder

1 1/2

teaspoons

pure vanilla extract

1

teaspoon

kosher salt

2

large apples

peeled, cored and sliced into 1/4-inch pieces

Steusel topping:

1

cup

all-purpose flour

1

cup

granulated sugar

1/2

cup

1 stick unsalted butter, softened

1/2

teaspoon

ground cinnamon

1/4

teaspoon

ground nutmeg

Maple icing:

2

cups

powdered sugar

2

tablespoons

pure maple syrup

1-2

tablespoons

whole milk

Just whisk together in a small bowl then drizzle over your cake.
Instructions
With your fingers, combine all of the streusel ingredients in a medium bowl and set aside.

In a mixing bowl, cream together the butter, sugar and vanilla. Add the eggs and sour cream and combine. Add the flour, baking powder and salt and thoroughly combine. Scrape the bowl with a rubber spatula occasionally.

Pour the cake batter into Two prepared (8-inch round) cake pans. Gently place the sliced apple pieces on top of the cake batter. Sprinkle with about 2/3 cup of the streusel topping on each cake. Bake for about 30 minutes in a 350 degree F oven or until a tooth pick when inserted comes out clean. Let cool and remove carefully from the pan. Slice and serve.