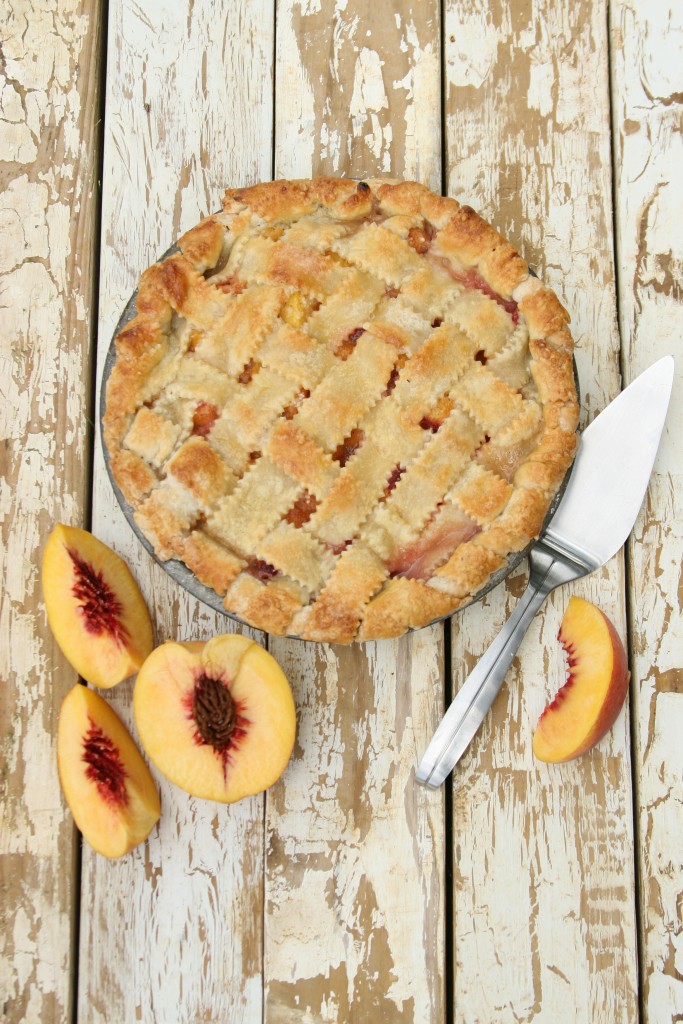 For National Peach Pie Day I wanted to share with you my homemade pie crust recipe and how I make peach pie. Now, many think that homemade pie crust is something they cannot handle. Pie crust is very simple to make. The key to making it is having high-quality ingredients, keeping your dough cold and not overworking it. I make my crust by hand, in a vintage ceramic bowl. Butter is ice cold and cut up into small pieces. I use a pastry cutter to cut in the butter and lard, this helps to not overwork the dough. When you have a second, make the pie crust and plop in the fridge for a few hours or even overnight. Keeping the dough well-chilled helps to keep your crust perfectly flaky. So today, we celebrate the kids going back to school on National Peach Pie Day!
Peaches are perfectly ripe at your local North Carolina farmers market. This weekend, Tractor Supply was kind enough to host the Hillsborough Farmers Market while they find a permanent location. Tractor Supply has pretty much everything this farmgirl could ask for. Mucking boots, Western boots, spurs, reins- everything you could possibly think of for my horse, Lola and even bags of grain. We have had unusually dry weather in North Carolina, so I picked up some Hooflex for her cracked hooves and some bug spray for those pesky flies. After a long day from the farmers market, I peel the peaches I brought back, slice them up and place into freezer bags. Freezing them at the peak of freshness preserves the flavors and juices. If you love peaches, try mixing them with blueberries for a yummy Blueberry-Peach Pie.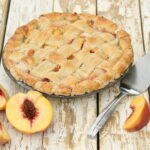 National Peach Pie Day
Homemade pie crust made easy and super flaky.
Total Time
1
hour
20
minutes
Ingredients
Pie crust:

2

cups

all-purpose flour

1

teaspoon

kosher salt

1

tablespoon

granulated sugar

2/3

cup

Lard

3

tablespoons

unsalted butter

very cold

ice cold water

Peach filling:

6-8

large peaches

peeled and cut up

3/4

cup

granulated sugar

1/4

cup

Kraft minute tapioca

1/4

cup

lemon juice

1/2

teaspoon

ground nutmeg
Instructions
In a large bowl, combine the flour, salt and sugar with a fork. Using a pastry cutter or two forks, cut the lard and butter into the dry ingredients until they are pea-size pieces. Fill a Pyrex measuring cup with ice cubes and cold water. Pour in ice-cold water a little at a time, use a fork to gently roll the mixture around the bowl to combine. Add more water as needed. Press the dough together with your hands.

Place the pie crust into a large Ziploc bag and refrigerate for several hours.

Cut the dough into two equal size pieces and gently roll out with a wooden rolling pin. Place the dough round into the bottom of the pie plate. Trim the edges with kitchen shears. Place the pie filling ingredients into the unbaked shell.

Roll out the remaining pie crust and cut evenly into strips with a pastry cutter wheel or small pizza cutter. Lay 5-6 strips horizontally over the pie. Using longer pieces towards the center and shorter pieces near the edge. Roll back every other strip and place a pastry strip down vertically. Fold the pieces back. Continue this process until the pie crust is complete.

Roll under the edges on the crust and gently use your hands to press everything together.

Wrap the unbaked pie with plastic wrap and place in the freezer for at least an hour. This helps to chill the crust.

Brush the crust with egg wash and sprinkle with granulated sugar.

Bake in a preheated 375 degree F oven for about 45 minutes to an hour or until the crust is golden brown. Take out of the oven and let cool on a baking rack.