Homemade jam is really easy to make. If you've never tried it because you think it's hard don't be intimidated it. It's super simple and only takes a few ingredients. One of the first things you'll want to have is some canning equipment. A Ball enamel water canner is relatively inexpensive and you'll have it a lifetime. You can also find them in stores like Target and Tractor Supply if you have the canning itch and want to get going instantly.
This summer, while you browse the farmer's markets- pick up a flat or two of locally grown berries. I usually ask if they will give me a little discount if I buy a full flat of berries. Most of the time they are more than happy to because you are purchasing a large amount. I take home my berries, wash and clean them. Take stems off the strawberries and slice them in half. Then place the berries into freezer style Ziploc bags and place them in the freezer for when I want to make a big batch of jam. Below you'll find a recipe for my triple berry jam. It's got fabulous flavor and great on pretty much anything.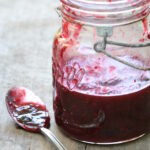 Triple Berry Jam
Gather berries from your garden or the local farm. Make these preserves in small batches or freeze berries and make a big batch later in the season. I use a pair of rubber-tipped tongs to easily handle hot jars. Making homemade jam lets you control the ingredients and nothing could be tastier.
Servings
12
(8 ounce jars)
Ingredients
2

cups

raspberries

3

cups

strawberries

3

cups

blueberries

1

tablespoon

fresh lemon juice

7

cups

granulated sugar

divided

1 1.75

ounce

package fruit pectin

Butter

if needed
Instructions
In a 6 to 8 quart saucepan, cook the fruit over low to medium heat to soften it. Lightly smash it with a potato masher.

Meanwhile, prepare boiling water canner. Heat the jars and lids in simmering water until ready for use. Do not boil. Set bands aside.

To the softened berries in saucepan, add lemon juice and 2 cups sugar mixed with the pectin packet. Over high heat, bring the mixture to a full rolling boil that cannot be stirred down, stirring frequently with a wooden spoon. Boil for 1 minute. Add remaining 5 cups sugar immediately and bring back up to a hard boil for 1 minute, stirring constantly. Remove from heat. Skim foam if necessary. A touch of butter will help eliminate any foam.

Ladle hot preserves into hot jars leaving 1/2-inch head space. Wipe rim with a clean, damp paper towel. Center lid on jar. Apply band until fit is fingertip tight. Process jars in a boiling water canner for 10 minutes, adjusting for altitude.