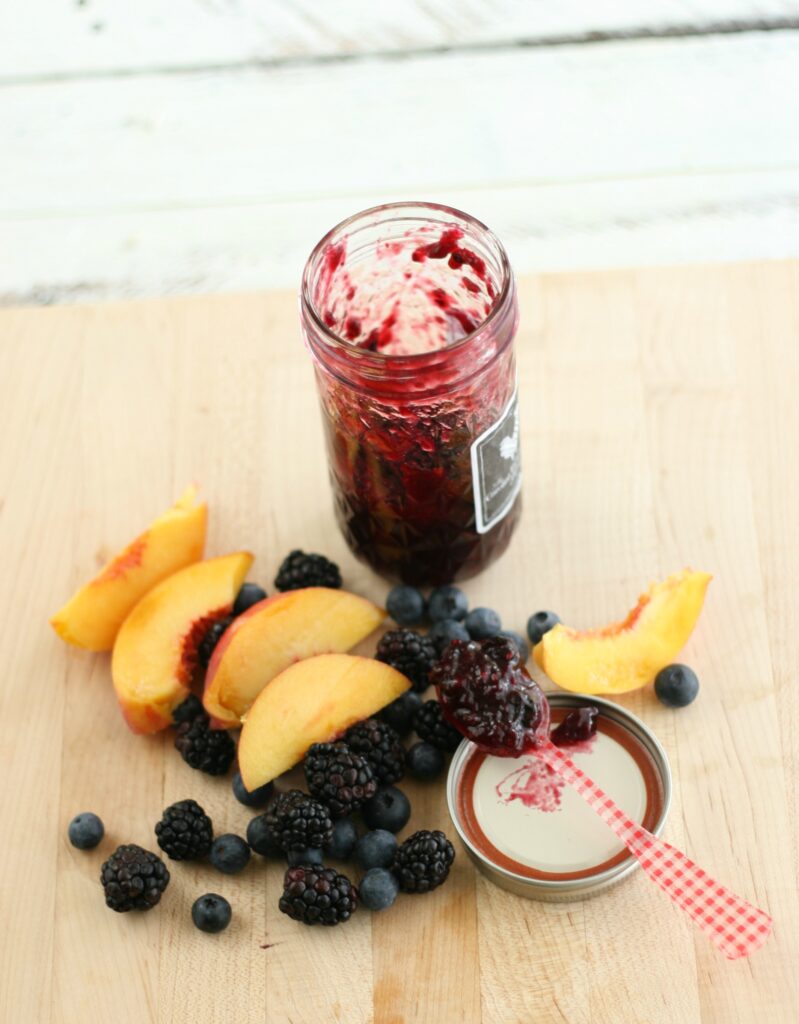 Two weeks ago we drove back to Connecticut to spend a little time on my parents farm. I used the opportunity (and their amazing kitchen) to photograph some of the recipes for my second cookbook. This gave me the chance to spend a little quality time with my parents and use a different setting for cookbook images. Check out their farm kitchen in the pictures below. Everything in this amazing kitchen was bought at a discount or found in salvage, repaired, rebuilt and re-purposed. My dad found the wooden butcher block top from a bakery that had gone out of business for only a hundred dollars. He welded the heavy-duty stand it sits on top. This also gives us easy access to food grade plastic buckets filled with different flours, sugar, rice and molasses. The large pot rack holds everything you may possibly need- and bolted right into the rafters above. That thing isn't going anywhere! The 20-quart Hobart mixer was a great find too. One of my dad's good friends one day called. Said that he had been in this hole in the wall thrift type, junk store and they had a commercial mixer for very little money. My dad snatched that up quickly, because if you snooze you lose.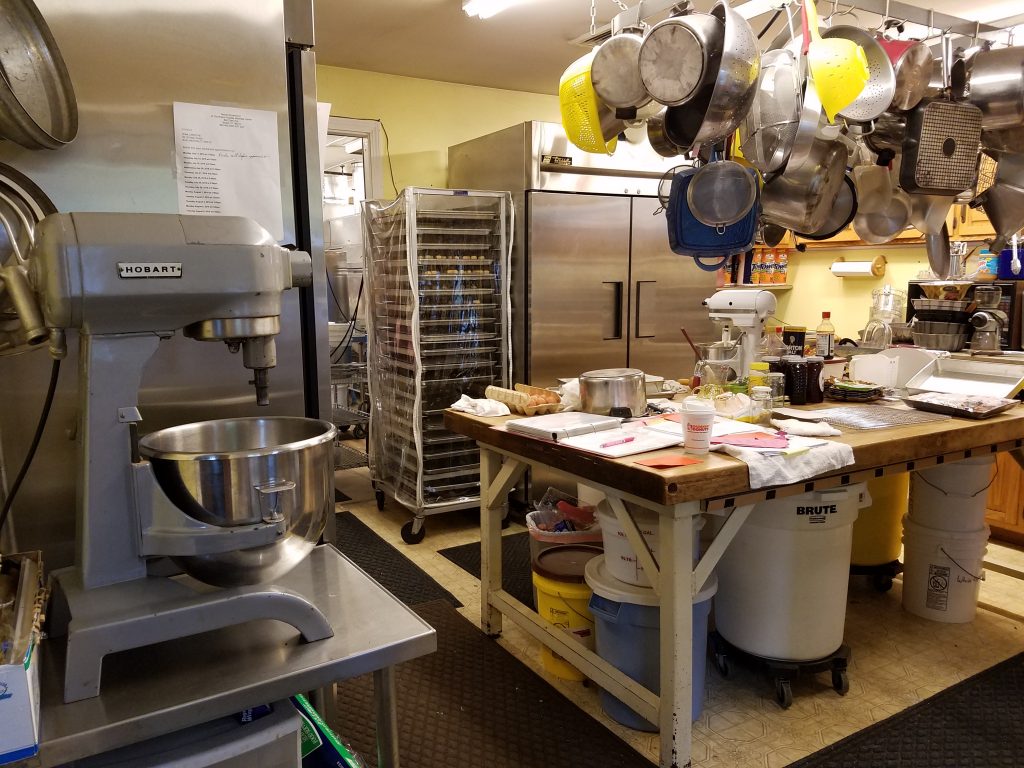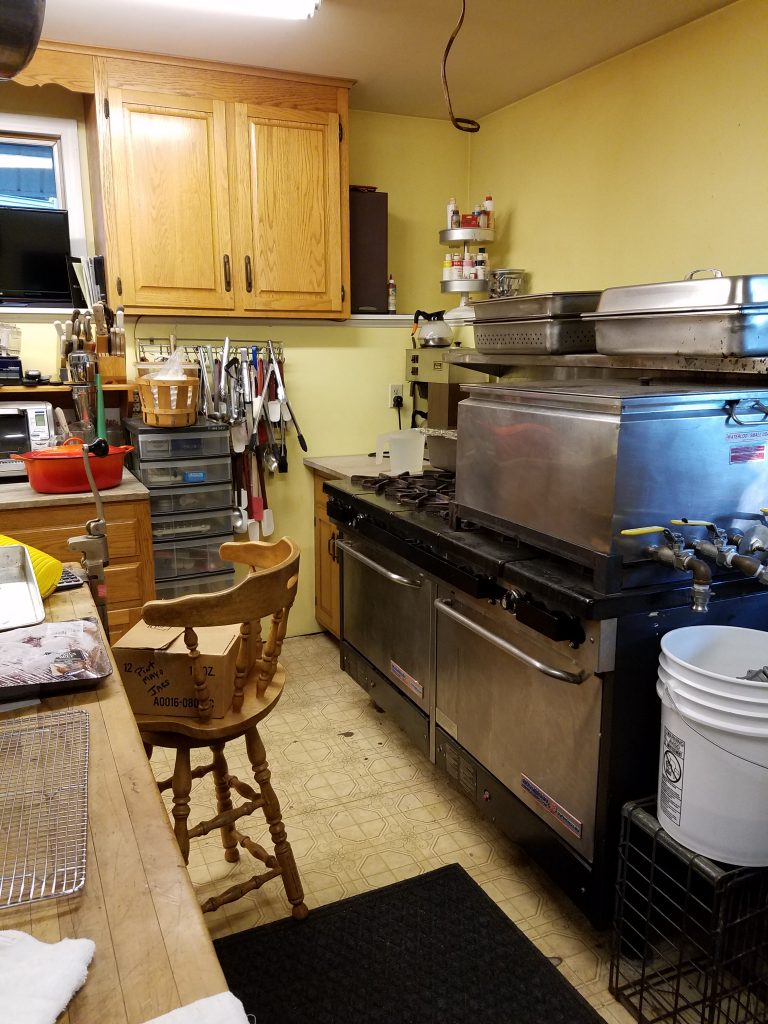 We are back in full swing in North Carolina and I'm baking, canning and cooking up a storm. I had a bunch of extra fruit that was overwhelming me and taking up much needed space in the freezer. So why not dump it all into a pot on the stove and whip up a batch of homemade jam?! That's exactly what I did. This jam is all the flavors of summer and more. Bursting with fresh flavors and delicious on toast, bagels, French toast, Belgian waffles and anything else you can think of. I also swirled it into some vanilla bean Greek Yogurt to make a Jam Swirled Ice Pop! (YUM!- that recipe will be on the blog next week! so check back) Secret- when I come back from the farmers market with a bushel of peaches. I simply cut them up and plop them in freezer bags. When I cook them for jams, etc. the skins peel right off. I'll never waste my time peeling a peach again!
So let's talk a bit about making homemade jams, jellies and preserves. I am a big fan of Pomona's Pectin. Their product is amazing and gels perfectly every single time. Love that you can use it with low sugar too! I buy it bulk, and usually use the packet of information inside to see how much pectin is needed for whatever flavor jam I'm making.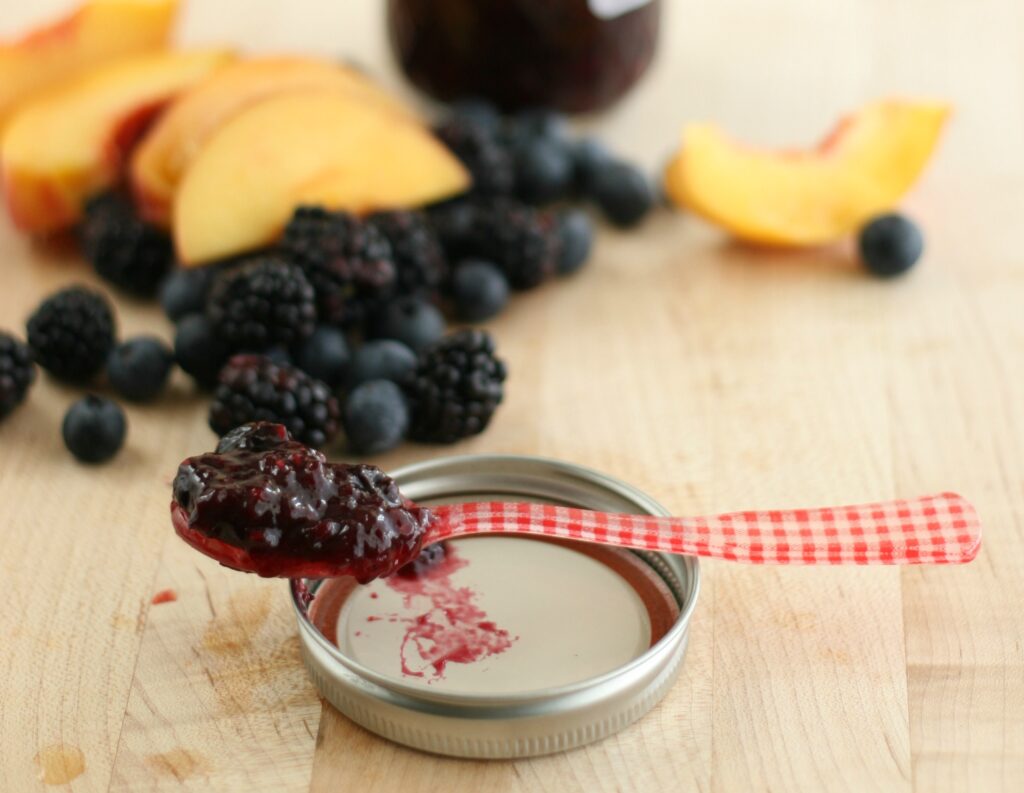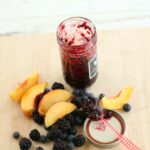 Peach Medley Jam
Homemade jam is so super simple to make in your own kitchen. You control the ingredients and create low-sugar varieties.
Servings
12
(8 ounce) jars
Ingredients
2

cups

peaches

peeled, pitted, sliced

2

cups

blueberries

2

cups

raspberries

2

cups

blackberries

1

cup

strawberries

1/4

cup

lemon juice

6

cups

granulated sugar

1

1.75-ounce package pectin
Instructions
In a 8 to 10-quart pot with the lid on, soften the fruit over low to medium heat. Lightly smash the fruit with a potato masher. Meanwhile, prepare a water canner. Heat the jars and lids in simmering water until ready for use. Do not boil. Set bands aside.

In a large liquid measuring cup, combine 2 cups of the sugar with the pectin. Add the lemon juice and sugar-pectin mixture to the fruit. Over high heat, bring the mixture to a full rolling boil that cannot be stirred down, stirring frequently with a wooden spoon. Boil for 1 minute. Add the remaining sugar immediately, and bring back up to a hard boil. Boil for 1 to 2 minutes, stirring constantly. Remove from the heat. Skim off any foam if necessary. (or use a vegetable defoamer to dissolve any foam)

Ladle hot preserves into hot jars, leaving 1/2 inch head-space. Wipe the rim of the jars with a clean, damp paper towel. Center the lid on the jar. Apply the band until the fit is fingertip tight. Process jars in a boiling water canner for 10 minutes, adjusting for altitude. Remove the jars and allow to cool. I use a pair of rubber-tipped tongs to easily grip hot jars Check the lids for seal after 24 hours. The lid should not flex up and down when the center is pressed. Store jars in a cool, dry place.