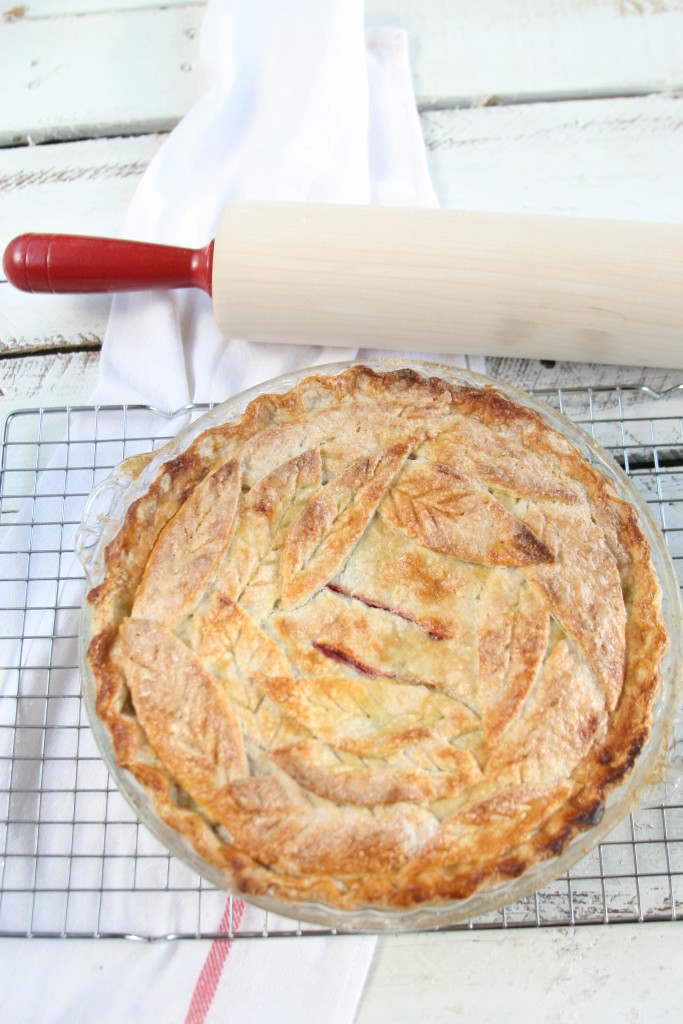 Thanksgiving is a time to celebrate and be grateful for all we have in our lives. What better way to celebrate than with a variety of yummy Thanksgiving Pies. Making pie crust at home is one of the simplest things you can possibly make. But, I often see people post on social media or when I meet them in person at a book signing, that they really struggle with homemade pie crust, so they end up buying refrigerated dough. You can do this! This holiday, make it your goal to make homemade crust– especially if it's something you struggle with. I'll walk you through it.
Fill a 2-cup Pyrex or Anchor measuring cup with plenty of ice pieces and cold water. Set aside.
Start with flour, sugar and a pinch of salt in an over-sized ceramic bowl. Mix with a fork or tablespoon.
Cut the lard and ice-cold butter into the flour mixture with a pastry cutter.
Work the lard and ice-cold butter until it's little pea-size pieces. Work any remaining pieces with your fingers.
Pour in a little ice water at a time. Stir the mixture until it clumps together with your hand. Take it out, as it comes together a little at a time. Place in a large Ziploc bag.
Close the bag and place in the refrigerator for a minimum of 2-3 hours. Until it's really, really cold.
Roll out on a lightly floured work surface with a large rolling pin.
Roll one way, then flip the pie dough over and turn the opposite way. (this helps make a circle) Place more flour underneath and on top of the dough.
Place the bottom shell in your pie dish and trim the edges to 1/4 to 1/2-inch. Pour your filling in. Roll out the top crust and place the top crust on. Trim the edges to 1/4-inch. Gently roll under the edges and crimp your crust. Lightly brush the edge of the pie with egg wash. Place handmade pie crust leaves around the edge. Brush the remainder of the pie with egg wash and sprinkle with granulated sugar. Get the recipe for homemade pie crust! Bake the pie in a preheated 400 degree F oven for about 1 hour. Or until it's nicely golden brown. Let cool, almost completely before slicing. (this way your pie filling sets nicely)