Find out the secret ingredient that enhances the chocolate in my Chewy Fudge Brownies recipe. These baked from scratch brownies are easy to make and so yummy.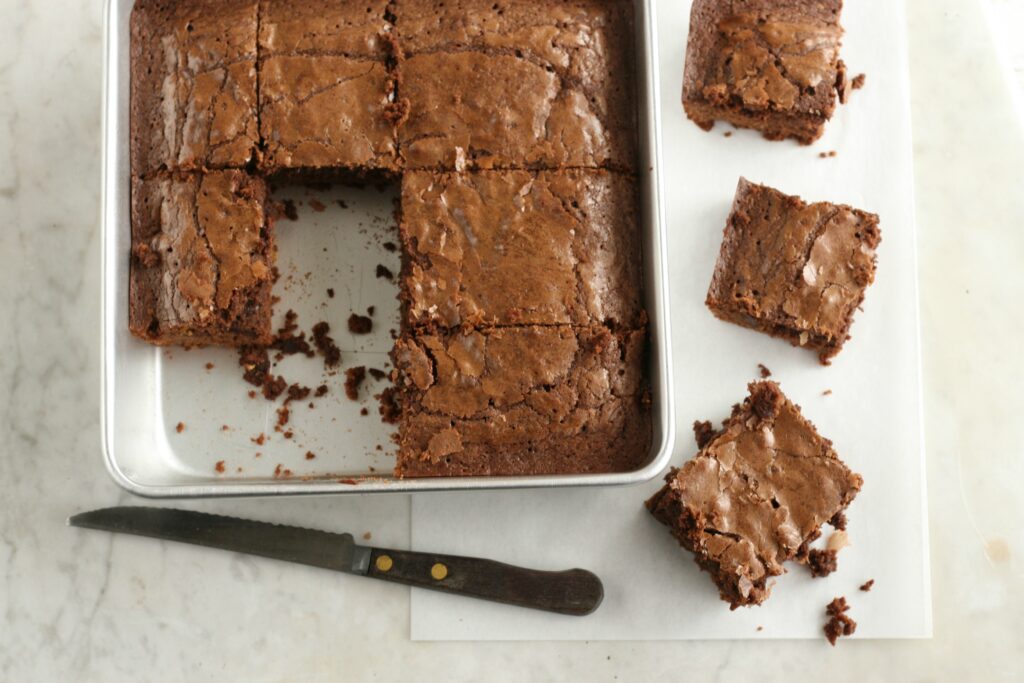 Do you love chocolate Chewy Fudge Brownies as much as I do?
My husband was raised on boxed brownies. Knowing that he was used to the way they taste, I set my baking talents on creating a from scratch brownie that has similar characteristics of a box brownie, but non of the preservatives. Soft, chocolatey, gooey and oh so delicious.
Brownies are a very simple thing to make at home. Only a few ingredients, most that you probably already have in your pantry. But, adding the little bit of brewed coffee helps accent and bring out the chocolate flavors even more. Mixing butter and canola oil gives you that flaky top to the brownies. Oh, these are so stinking good. You'll be licking up every delicious crumb. Make them and tell me how they came out!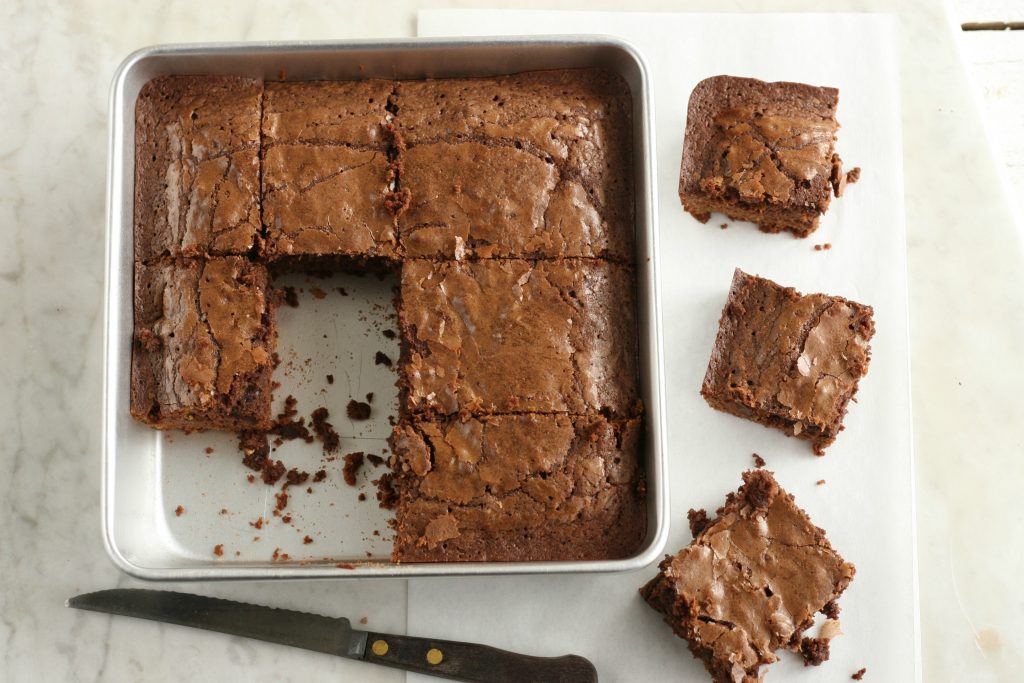 A little discussion about baking pans. Personally, I absolutely cannot stand these fancy non-stick coated pans! They are horrible. The temperature is not even and they do not bake evenly. Meaning, your brownies will burn to a crisp around the edges and the rest will be soft. Now, I'm not sure about you?! But, I'm not looking to waste half of the brownies, we want to eat the whole darn pan full! A simple aluminum baking pan is my personal preference. AND, do yourself the favor and order the darn thing on Amazon. Because unless you are close to King Arthur Flour in Norwich, Vermont or some great family-owned kitchen store, you're not gonna find one. Your darn sure not gonna find one in Walmart!
Okay- I'm heading back into the kitchen to clean up, wash a ton of dishes and wrap up our receipts so we can file taxes. It's that time of year!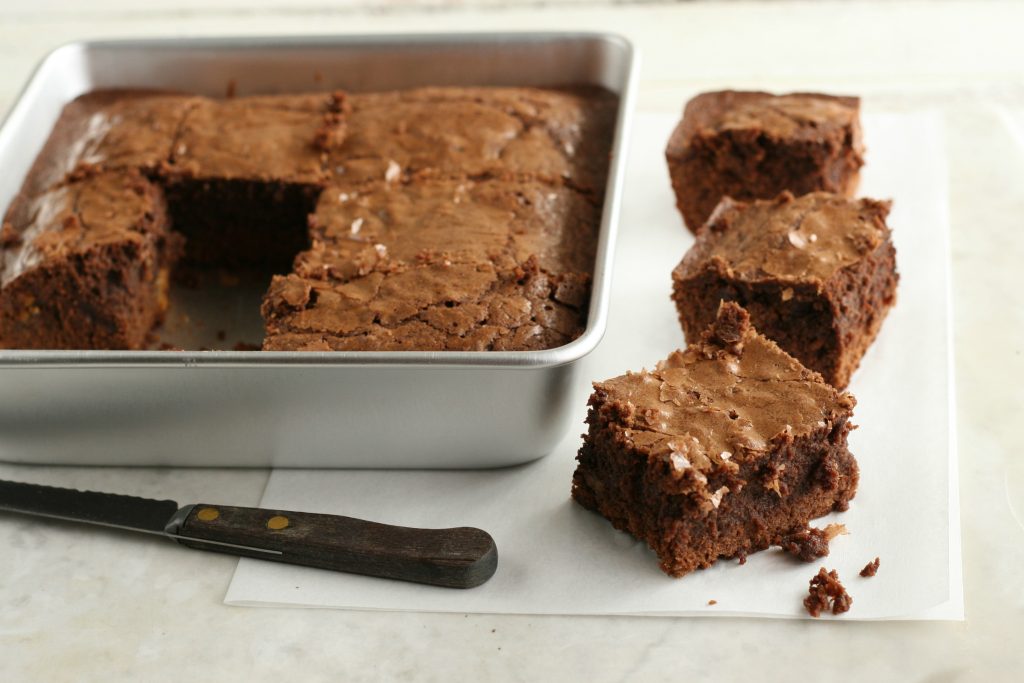 Be sure and check out my latest recipes:
Blueberry Skillet Pie with Flaky Crust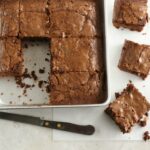 Chewy Fudge brownies
These chocolatey brownies will leave you licking up every crumb in the pan. Super moist and even better with Reese's peanut butter pieces mixed into the batter.
Total Time
1
hour
5
minutes
Ingredients
1/2

cup

1 stick unsalted butter

1/4

cup

canola oil

1

4-ounce bar unsweetened baking chocolate

1 3/4

cup

granulated sugar

3

large eggs

room temperature

2

teaspoons

pure vanilla extract

2

tablespoons

brewed coffee

room temperature

1/2

teaspoon

salt

1 1/2

cups

all-purpose or cake flour

12

Reese's peanut butter mini cups

cut up small
Instructions
Cut the chocolate bar into small pieces.

Prepare your baking pan (8 x 8- inches square) with cooking/baking spray. Set aside.

Preheat the oven to 325 degrees F.

In a glass measuring cup, melt the butter and chocolate in the microwave on high for 30 seconds. Then again for 30 seconds. Stir with a spoon and let sit for 5 minutes until the chocolate is dissolved completely. Microwave a little more if needed. Let cool to room temperature.

In a large bowl, whisk together the sugar, salt, eggs, and vanilla extract. Add the coffee and whisk in. Pour in the chocolate/butter mixture and whisk into the egg mixture. Mix in the canola oil.

Add the flour and stir in with a rubber spatula. Once completely mixed, fold in the Reese's peanut butter pieces. Pour the batter into a prepared 8x8-inch baking pan and gently spread out using a rubber spatula. (I recommend NOT using a non-stick pan)


Bake in the preheated oven for about 45-50 minutes, or until when a toothpick when inserted into the center of the brownies comes out clean. Let cool almost completely before slicing.
A Farmgirl's Kitchen is a participant in the Amazon Services LLC Associates Program, an affiliate advertising program designed to provide a means for sites to earn advertising fees by advertising and linking to amazon.com
Save
Save
Save
Save
Save
Save
Save
Save
Save
Save
Save
Save
Save
Save
Save