This shop has been compensated by Collective Bias, Inc. and its advertiser. All opinions are mine alone. #GranolaMyWay #CollectiveBias
I've been focused on getting into shape and riding my horse, Lola nearly every day. With such beautiful weather, I'll be riding and giving Lola a good bath this week. Did you know that jogging or trotting on a horse for an hour burns about 600 calories? Part of a healthier lifestyle begins with a wholesome, hearty breakfast that will give me the much needed energy to get through long, training rides with Lola. My days are always crazy- so it's nice to have a great tasting breakfast that can help me conquer anything life throws at me!
Quaker® Real Medleys SuperGrains Granola is a wonderful blend of seven super grains, seeds, fruits & nuts which provides fiber, ALA omega-3 and whole grains. This super tasty granola from Quaker® is loaded of all-natural ingredients, including whole-grain rolled oats, wheat, brown sugar, flaxseed, dried fruits and honey. I love that you can grab a handful to enjoy or toss a little into a bowl of Greek Yogurt with some fresh berries for a quick lunch or snack. That will give you a boost of energy so you can power through the day. We all know that I love to bake- these Real Medleys SuperGrains Granola are amazing in baking recipes, without being overly sweet. I'm so excited to mix it into a homemade muffin recipe! There are so many great ideas rolling around in my over-active, creative brain for delicious, yet health-conscious desserts incorporating this yummy granola! I wanted to create something delicious and hearty for breakfast- Banana-Blueberry Pancakes. This is sure to be one of your new favorites for a wholesome and delicious breakfast! These pancakes are super easy to make and will give your body fuel to get through a busy day! This particular recipe is perfect, since it's Sugaring Season in New England and my family's sugar house is well under way with the syrup production! Pour some freshly made maple syrup over these yummy pancakes and you're going to start the day off well! Top them off with slices of banana and fresh blueberries for even more goodness.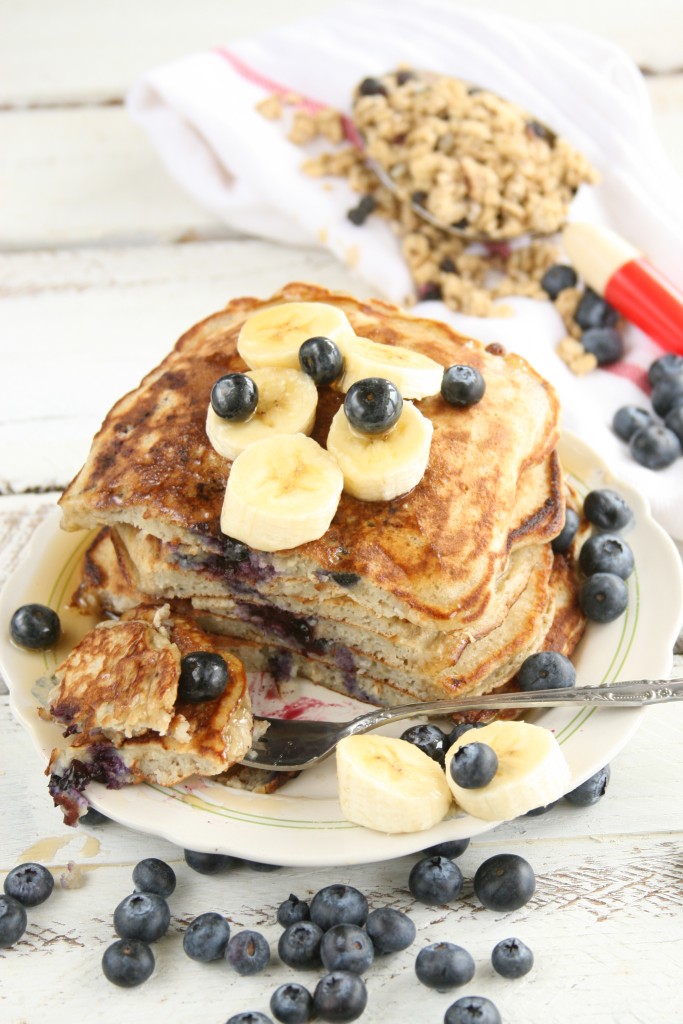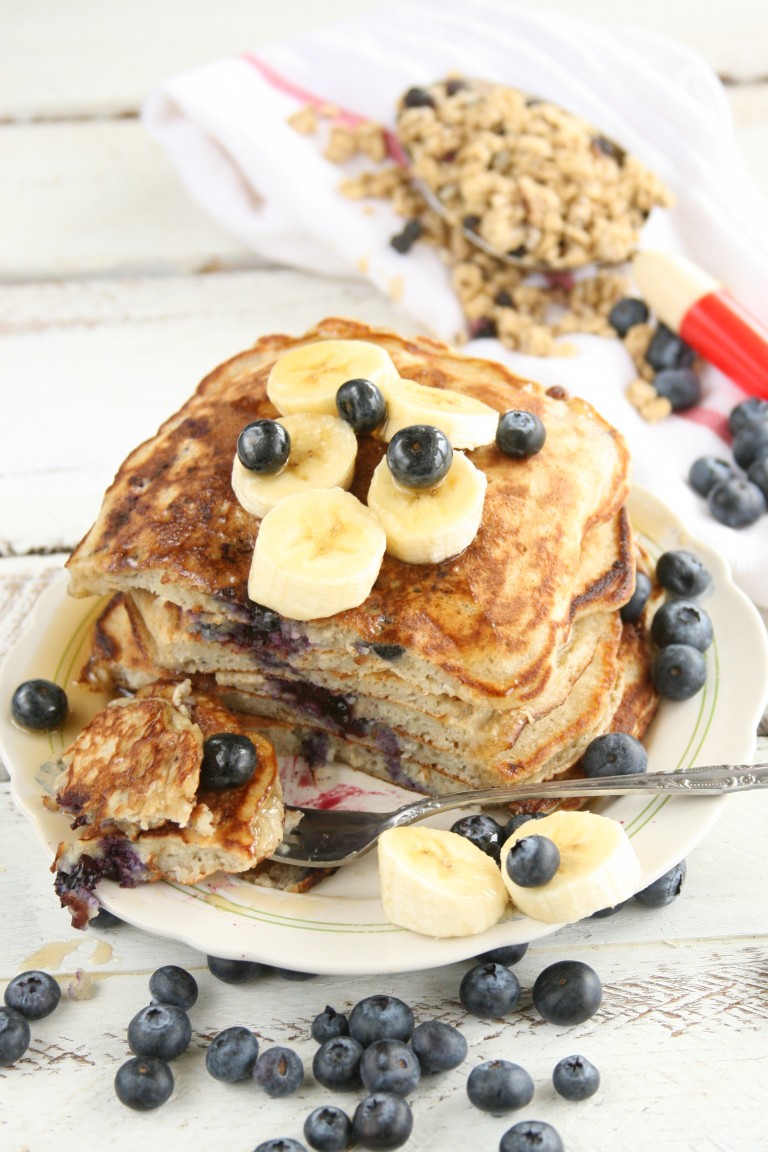 We have several Walmart superstores near us and I especially love how I can gather pretty much everything I need for the week, in one store. Most times, my cart is filled with many baking ingredients. I've learned to organize my list based on how the aisles are arranged, which greatly helps make our grocery shopping trip efficient. These pancakes are simple to make and really wholesome with lots of whole grains, nuts and berries that will help provide energy. You'll find this Quaker® Real Medleys SuperGrains granola down the cereal aisle. My husband, Scott will often laugh and joke with me while we're shopping. He'll say, "Is this for you to bake with and blog or for you to cook meals for us?" I usually say, both?! and chuckle. Let me know how you like these yummy pancakes or how else you are using this Quaker® Real Medleys SuperGrain granola!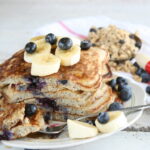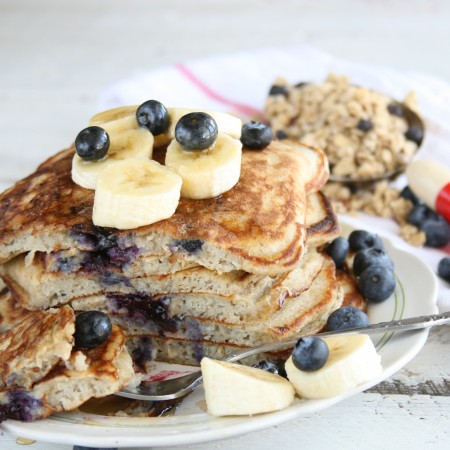 Banana-Blueberry Pancakes
Ingredients
3

cups

all-purpose flour

3

cups

buttermilk

1/2

cup

whole milk

2

ripe bananas

1/4

cup

granulated sugar

5

large eggs

6

tablespoons

melted butter

1

cup

Quaker® Real Medleys SuperGrains Blueberry Pecan

1

cup

fresh blueberries

1

teaspoon

vanilla extract

1

teaspoon

baking powder
Instructions
In a medium bowl, mash the bananas with the sugar until it smooth.

Whisk in the eggs, one at a time, into the banana and sugar mixture.

Add the buttermilk, whole milk, vanilla extract and melted butter. Whisk together.

Sift together the flour, salt and baking powder.

Pour the banana mixture into the dry ingredients and fold together using a rubber spatula. The batter will be thick and lumpy.

Fold in the fresh blueberries and Quaker® Real Medleys SuperGrains Blueberry Pecan.

Heat a griddle or non-stick pan over medium heat, that you have sprayed with cooking spray and melted a little bit of butter. Scoop pancake batter onto the prepared pan. Cook for about 2 minutes each side. Once the pancake is starting to have bubbles, you know it is time to flip.

Top with fresh maple syrup, banana slices, blueberries and enjoy.