The weather has dried out here where we are in North Carolina and the air is crisp. Thank God that the sun is out to dry up the over six inches of rain we got! I've been testing out my new 10-quart mixer- oh I'm in love! This mixer kicks ass and can handle huge batches of cookies and homemade bread with no trouble at all! I gave the mixer a break for this recipe. Farmhouse Apple Cobbler. It's simple and oh so yummy with flavors of autumn.
Every recipe is photographed for my upcoming cookbook, A Farmgirl's Table. Boy was that a TON of work! I've been working on testing, retesting and photographing recipes since early spring. It's a tremendous juggling act to blog full-time and write a cookbook at the same time. But, our life without chaos would not be normal. I'm already thinking about what I'd write for a third cookbook. Crazy, right?! My recipe list is growing. When you get ideas, you get them down on paper and work on them as you go!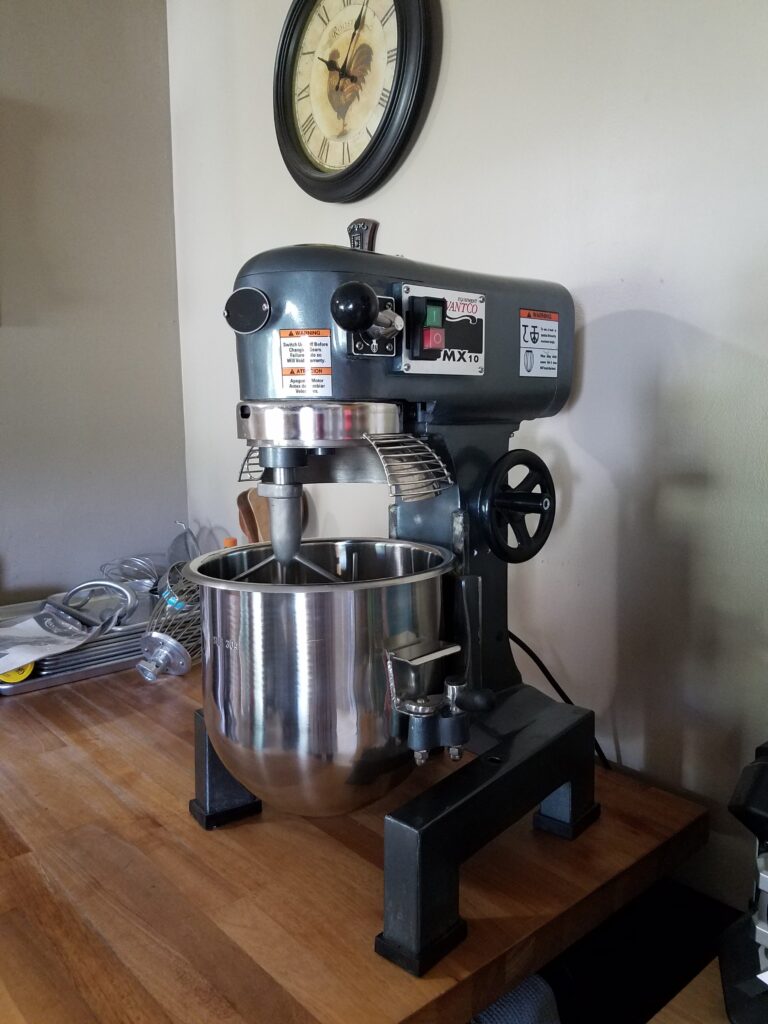 Right now there is an abundance of seasonal apples, both at the farmers market and at local grocery stores. For this recipe, I used a combination of Granny Smith and McIntosh apples. Macoun is another favorite of mine (anyone from up North will recognize this variety!) Granny Smith is a very tart and firm apple. Which pairs nicely with another local apple. Mix the two together in this Farmhouse Apple Cobbler and you'll be in heaven. Let me know what you think? What's better than cinnamon, nutmeg, gooey apples and whipped cream?!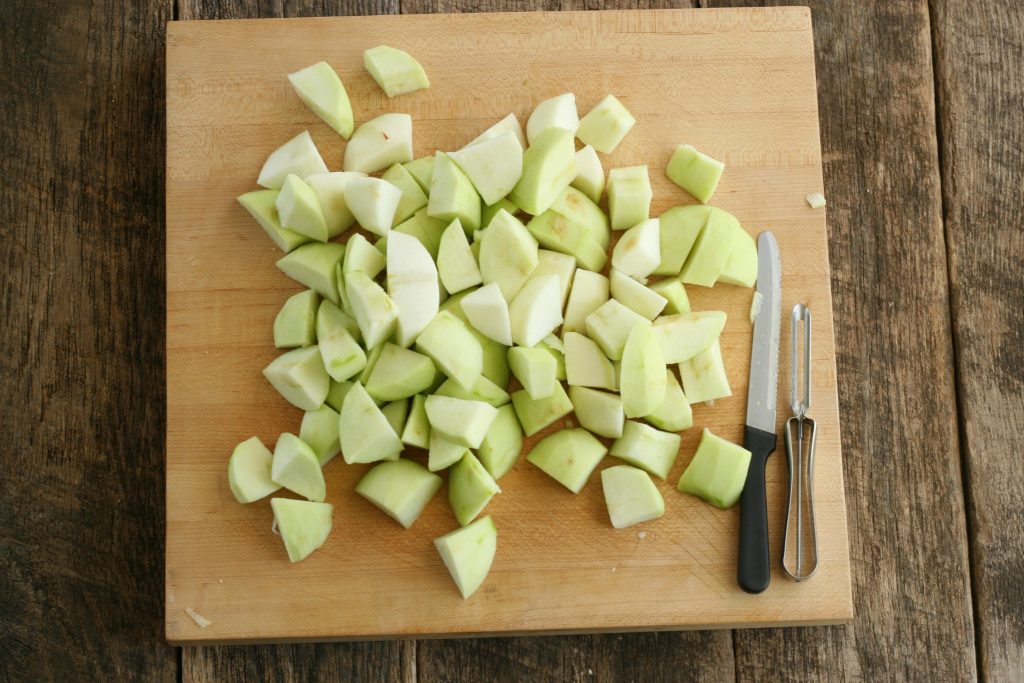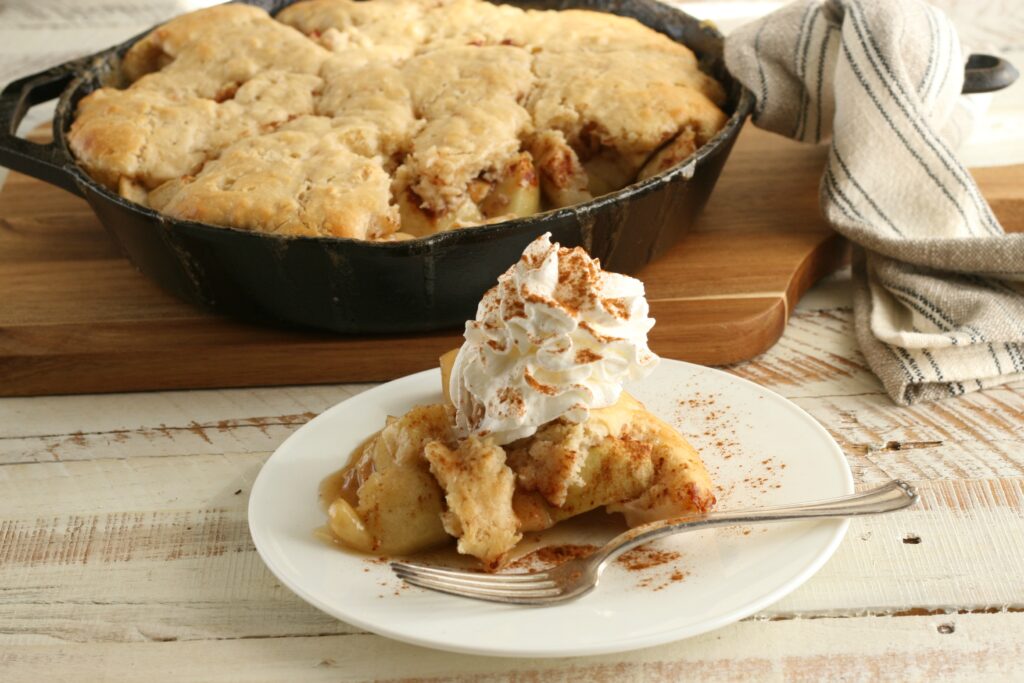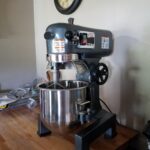 Farmhouse Apple Cobbler
This simplistic and rustic-style dessert is perfect for autumn. Use a mix of apples for the best flavor.
Ingredients
Apple Filling:

10-12

large apples

mix of Granny Smith and McIntosh, peeled, cored, diced rough

1/4

cup

1/2 stick unsalted butter

2

tablespoons

canola oil

1/4

cup

lemon juice

1

cup

packed brown sugar

1 1/2

tablespoons

cornstarch

1

teaspoon

ground cinnamon

1/2

teaspoon

ground nutmeg

1/2

cup

hot water

Cobbler topping:

2

cups

all-purpose flour

1/4

cup

granulated sugar

1/4

cup

granulated maple sugar

1/2

cup

1 stick unsalted butter, cold

1

cup

buttermilk

1

teaspoon

pure vanilla extract

1

large egg

lightly beaten

1 1/2

teaspoons

baking powder

1

teaspoon

kosher salt
Instructions
Using a 12-inch Lodge cast-iron skillet, heat the butter and canola oil over medium heat. Add the lemon juice, apples, and brown sugar. Dissolve the cornstarch in the hot water, stir with a spoon. Add the dissolved cornstarch to the apple mixture. Cook over medium to high heat for until the apples are slightly softened, about 10-15 minutes. Stir occasionally with a wooden spoon. Remove from the heat and sprinkle with cinnamon and nutmeg. Stir to combine.

To make the cobbler topping, sift the flour and baking powder into a large bowl. Add the maple sugar, granulated sugar, salt and stir. Cut the butter into small pieces and cut into the flour mixture with either two forks or a pastry cutter. You want the pieces to resemble coarse cornmeal. Stir in the beaten egg, vanilla and buttermilk, just until it is combined.

Scoop the topping evenly over the apples.

Bake in a preheated 375 degree F oven for 30-35 minutes. Or until golden brown and the apple filling is bubbling over. Place a half sheet pan lined with parchment paper on the rack below the pan, to catch any juices that may bubble over.

Let cool slightly before serving. Serve with vanilla ice cream or whipped cream.
Disclosure: Carolina Farmhouse Kitchen is a participant in the Amazon Services LLC Associates Program, an affiliate advertising program designed to provide a means for sites to earn advertising fees by advertising and linking to amazon.com