This shop has been compensated by Collective Bias, Inc. and its advertiser. All opinions are mine alone. #SandwichWithTheBest #CollectiveBias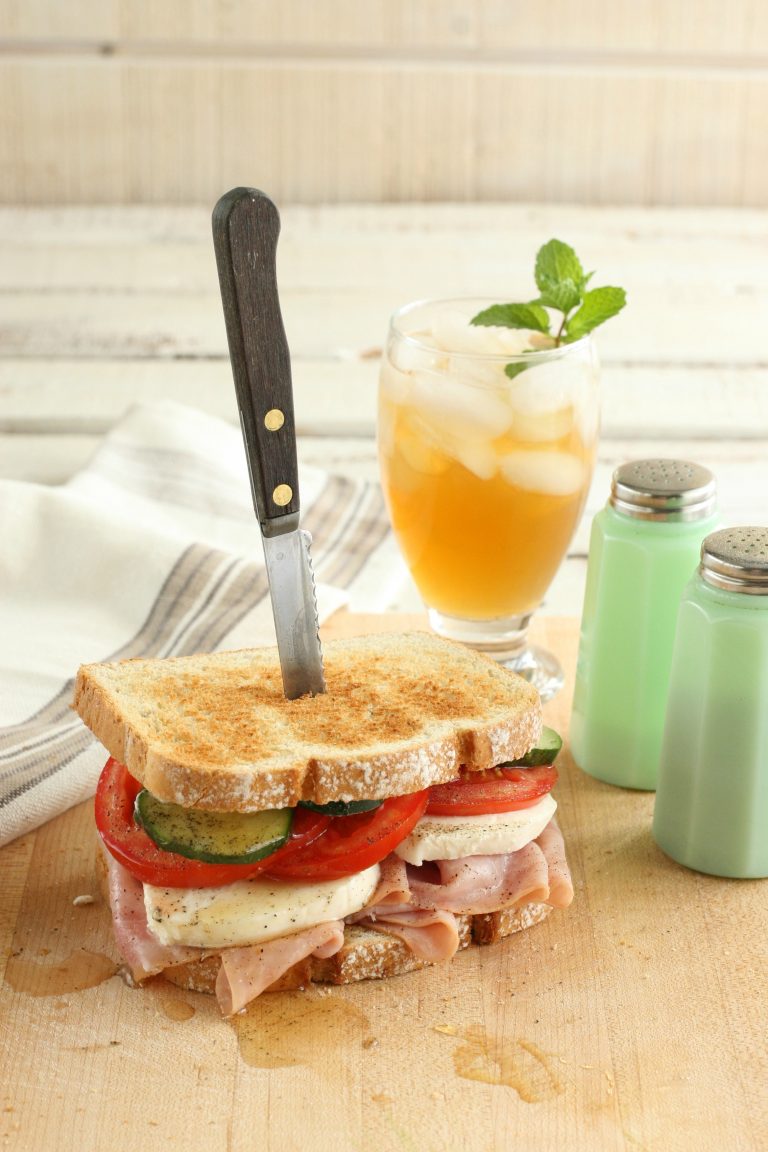 Whew! It's been a crazy, busy few months. The kids are back in school and fall is quickly approaching. This summer has been a whirlwind of new beginnings and many memories. We've been going constantly in different directions and traveling nearly every weekend for horse shows. The last horse show we attended was beyond hot and the last thing I wanted to do was eat something greasy or heavy. By the time we get home from a full day of a horse show, we're all exhausted and really don't want to cook. I was craving something light and delicious with the flavors of summer. Which is why I created a Summer Farmhouse Ham Sandwich.
Pepperidge Farm® sandwich breads embody strong heritage, authentic, fresh, a baker's touch, thoughtfully packaged (double-wrapped for freshness). Pepperidge Farm® Farmhouse Hearty White and Oatmeal: Farmhouse breads are hearty, generous breads, perfect for sandwiches, French Toast and making homemade bread crumbs. They start with a small batch recipe and a baker's deliberate thoughtful care. The breads are slow baked with wholesome flavorful ingredients for a fresh from the oven taste.
I've always loved honey ham- and there's no other way to have it than thinly sliced. Something about it being thinly sliced makes it taste better. I know that sounds crazy- but it's true! With my busy schedule, I love that I can grab delicious Hillshire Farm® Thin Sliced Honey Ham lunch meat in the packaged deli section at our local Walmart. This makes my life a little more simple. Hillshire Farm® is slow roasted for hours. That is why it tastes better than all other lunch meat. There's no need to stand at the deli counter forever! It's already sliced, packaged and ready for me. Double sealed for freshness: After its carved with craftsmanship, every slice is double-sealed for absolute freshness. I don't have to worry when the kids make their own sandwiches, the packaging is keeping our sandwich meats fresh.
Hellmann's® is a great way to amplify your sandwich experience and can transform your sandwich from just okay to a home run – making even the most unique sandwiches irresistible. America's #1 mayonnaise is made with real, simple ingredients: eggs, oil and vinegar.  Hellmann's Real products are made with cage-free eggs. Did you know you can use Hellmann's® on the outside of your bread to make a perfectly crispy grilled sandwich? Yum. That's the only word I can use to describe that! The unique plastic squeeze bottle allows for a precise squeeze, and it won't smash in pieces when you accidentally drop it on the floor. (Believe me, it's happened!)
For my Summer Farmhouse Ham Sandwich, I've combined Pepperidge Farm Farmhouse® Oatmeal bread, which I've toasted- along with heirloom tomatoes, fresh cucumbers, fresh mozzarella, Hellmann's® Real Mayonnaise, Hillshire Farm® Thin Sliced Honey Ham. The flavors are simple and highlight each other deliciously. Making a quick and wholesome meal without heating up the kitchen and taking up a ton of your valuable time. This sandwich is inspired by summers on our family farm. We raised hogs, our own vegetables and made maple syrup. What is your favorite variety of heirloom tomato? What meals remind you of your childhood?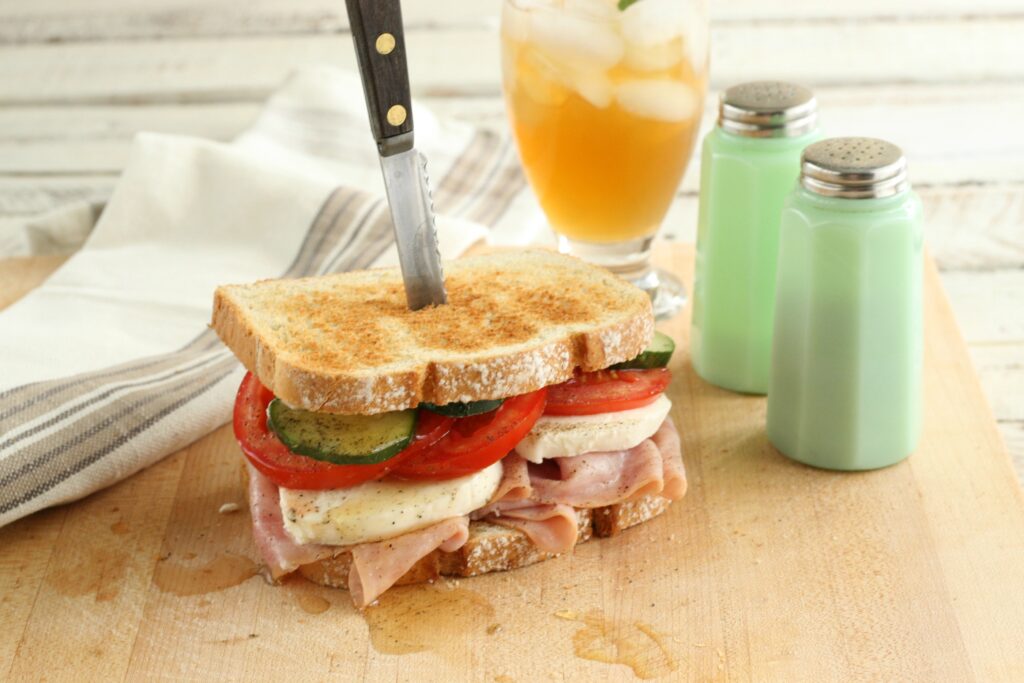 Summer Farmhouse Ham Sandwich
The flavors of summer with this delicious Farmhouse Ham sandwich.
Ingredients
2 slices Pepperidge Farm® Oatmeal bread
4 to 5 slices Hillshire Farm® Thin Sliced Honey Ham
3 slices fresh cucumber
2 to 3 slices heirloom tomato
3 slices fresh mozzarella
Hellmann's® Mayonnaise to taste
Instructions
Toast the oatmeal bread.
Squeeze about 1 teaspoon of mayonnaise on each slice of toasted bread.
Top one slice of toasted bread with honey ham, fresh mozzarella , sliced cucumbers and heirloom tomatoes.
Drizzle with honey. Sprinkle with sea salt and ground black pepper. Top with the second piece of toasted bread. Slice the sandwich in half and enjoy.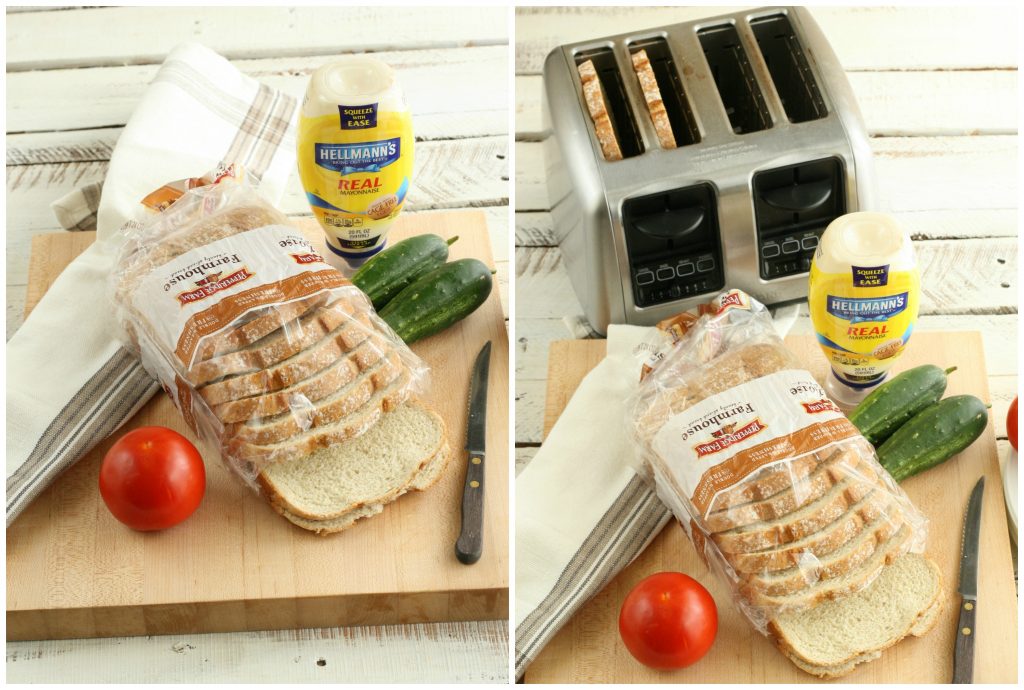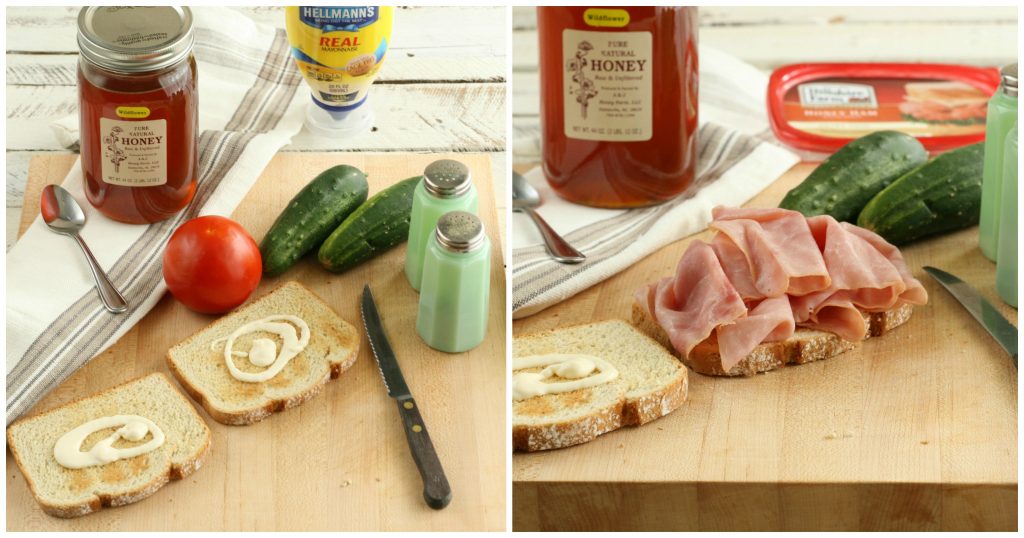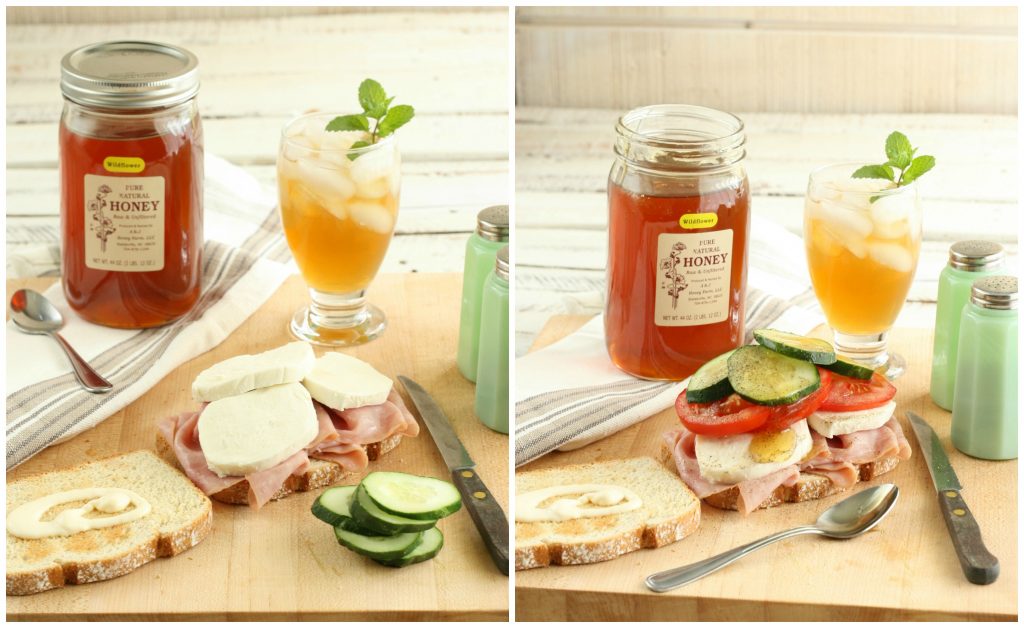 You'll find Hillshire Farm® packaged deli meats in the "packaged deli" meats section. Hellmann's® Mayonnaise is conveniently located down the "condiments" aisle.