By now you know that I'm an old-fashioned type of gal. I hang laundry on the line (we don't even have the dryer hooked up!), I love old brands like Borax, Fels Naptha and any other brand that's been around forever. I'm also a perfectionist. So when a recipe isn't coming out perfect, I'm back at it (usually immediately) to fix it and get it just right. So when it came to homemade Fudge Brownies, I wanted to get the perfect glossy top, gooey center and perfectly cooked around the entire pan.
Working on these Fudge Brownies drove me crazy. A while back I purchased an inexpensive 9×9-inch aluminum pan and love it. But, I had cooked lunch and dessert earlier that day for Three's Company Salon in Graham and they had the pan. So I ran to Walmart to buy a few more square baking pans.
Walmart had a few different options, and I ended up buying American Bakeware pans (less than $10 per pan). These are light colored coated pans. Which might be good, however, in the case of brownies it's bad. The darker the pan, the more heat is retained and the edges of the brownies get dry and sometimes even burn. This pan was light color, but something about having a non-stick coating seems to make these pans heat up more and make the edges dry out. Which basically means the heat is not even. I'm not a fan at all. (see the picture below that shows how the edges of the brownies are all dried out) If I were to use this pan for brownies (which I'm not!) but, if I were, you would have to lower the temperature considerably and bake for a longer period of time.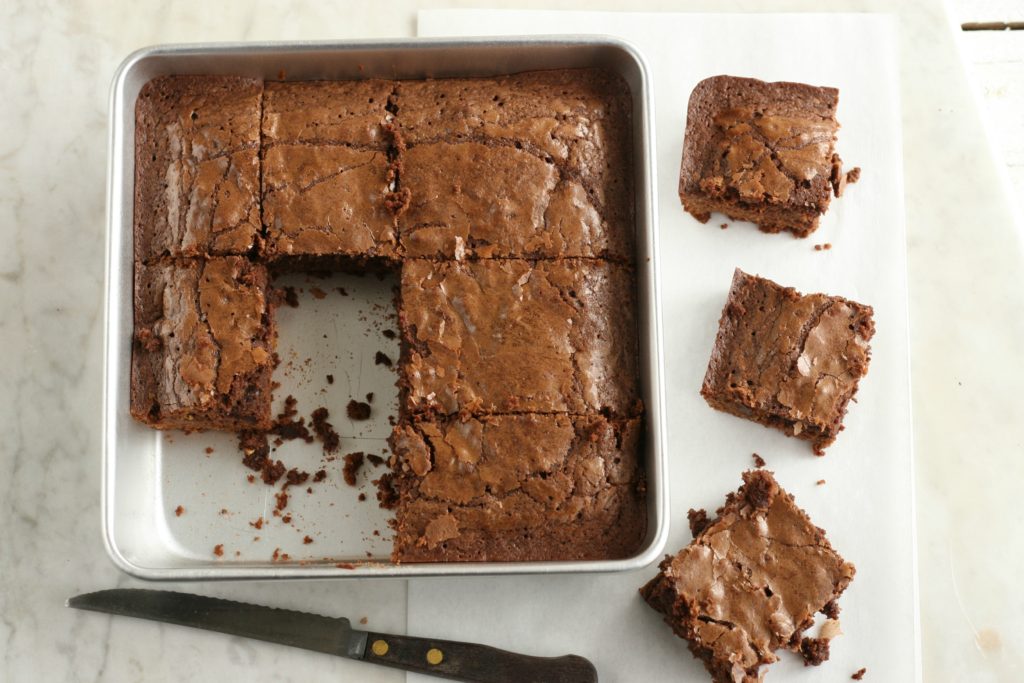 Glass Pyrex dishes aren't great either. Over the last few years there has been major problems with these pans exploding in the oven. I personally experienced this two years ago, when I was cooking Au Gratin potatoes one night. The dish just popped and exploded into a million pieces in the oven. Scared me half to death and made a BIG fat mess! However, if you do use a glass baking dish, you would bake at a lower temperature to maintain a more even heat, about 25 degrees lower.
I've found that simplistic, aluminum cake pan works the very best for baking brownies perfectly. Edges and the center are baked evenly. Maybe there's something to being an old-fashioned type of girl, who will take a simple kitchen tool over some fancy gadget any day?! Just like an electric can-opener. I don't own one and never will. I want something to work whenever I need it, which is why I love an old-fashioned, hand can opener.
The pretty, shiny and flaky top of the brownies is because I added a little canola oil. If we used all butter, you would not achieve this look. But combining butter and a little oil, they are flaky and gooey. Yum. I've folded in about 15 or so mini Reese's peanut butter cups, which I cut up. (TIP: I am obsessive compulsive about everything, especially peanut butter in the kitchen. You never know who's allergic! So I cut the peanut butter cups on a piece of parchment paper, set on top of my cutting board to keep the peanut butter from touching any other surfaces. Just pick up the sheet of parchment and dump the cut candies into your brownie batter)
Now that the kids are back in school, I've got so much more time and there will be many new recipes coming to the blog soon! Keep an eye out for my cast-iron pizza recipe next week. I'm obsessed with baking and cooking in Lodge cast-iron pans right now! I hope you'll try these yummy Fudge Brownies and let me know how they came out!
Fudge Brownies
Fudge brownies are simple to make and deliciously gooey chocolate.
Ingredients
1/2

cup

1 stick unsalted butter

1/4

cup

canola oil

4

ounces

unsweetened chocolate

1

cup

packed brown sugar

3/4

cup

granulated sugar

4

large eggs

room temperature

3

teaspoons

pure vanilla extract

1

teaspoon

kosher salt

1 1/2

cups

all-purpose flour
Instructions
On a cutting board, chop the chocolate into small pieces.

In a glass, liquid measuring cup melt the chocolate in the microwave. 30 seconds at a time and stir. Melt the butter with the chocolate. Let cool and set aside.

In a bowl, whisk the eggs and vanilla. Incorporate the brown sugar and sugar, whisk together well. Add the melted, cooled chocolate and butter mixture. Whisk in to incorporate. Add the oil and gently whisk in. Add the flour and salt and gently whisk in.

Fold in any optional ingredients, such as chocolate chips, nuts or Reese's peanut butter cup pieces.

Spray a 9x9-inch pan with cooking spray or brush with shortening. Pour the brownie batter into the prepared pan.

Bake in a preheated 350 degree F oven for 40-45 minutes or until a toothpick when inserted comes out clean. Let cool completely before cutting into squares.
Save