Homemade Caramel Apples are the perfect fall treat to make. Made from scratch caramel is sweet, buttery, and easy to make.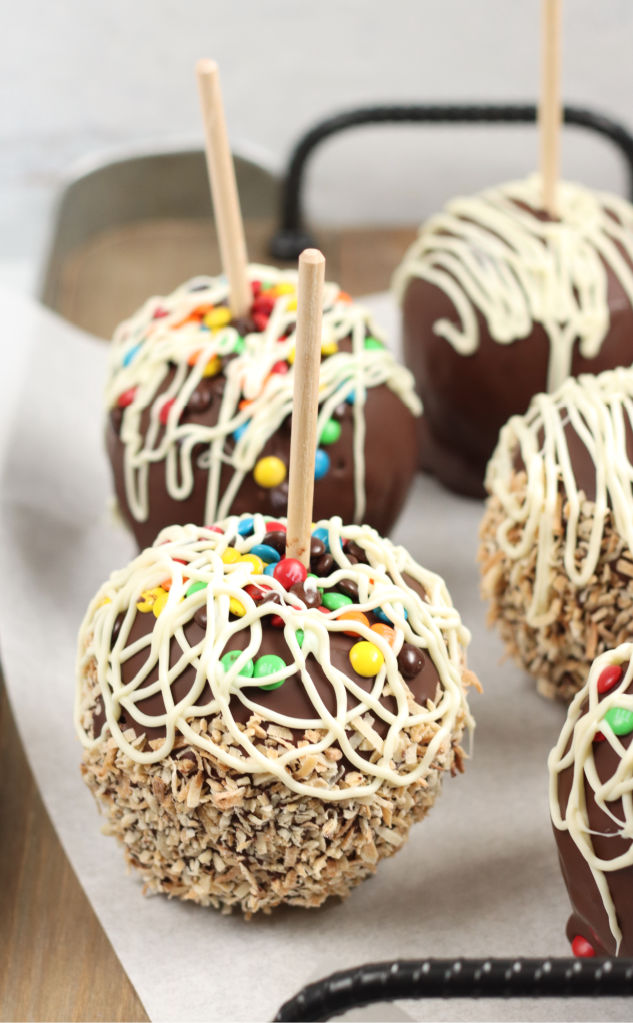 I'm making these delicious caramel apples with real homemade caramel made from scratch.
Homemade caramel is easy to make with butter, brown sugar, corn syrup, and real vanilla extract. It's so much better than those store-bought wrapped caramel candies.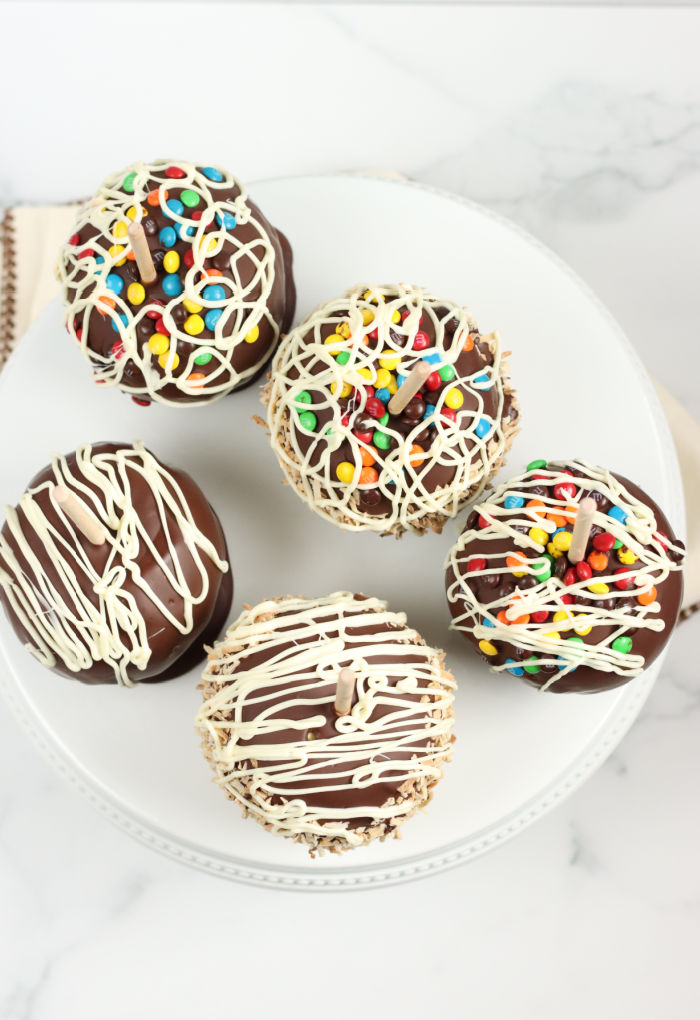 This easy caramel recipe is delicious drizzled over Apple Hand Pies.
Caramel Apples from scratch make the perfect holiday gift. Pack them in these food safe bags for gifts.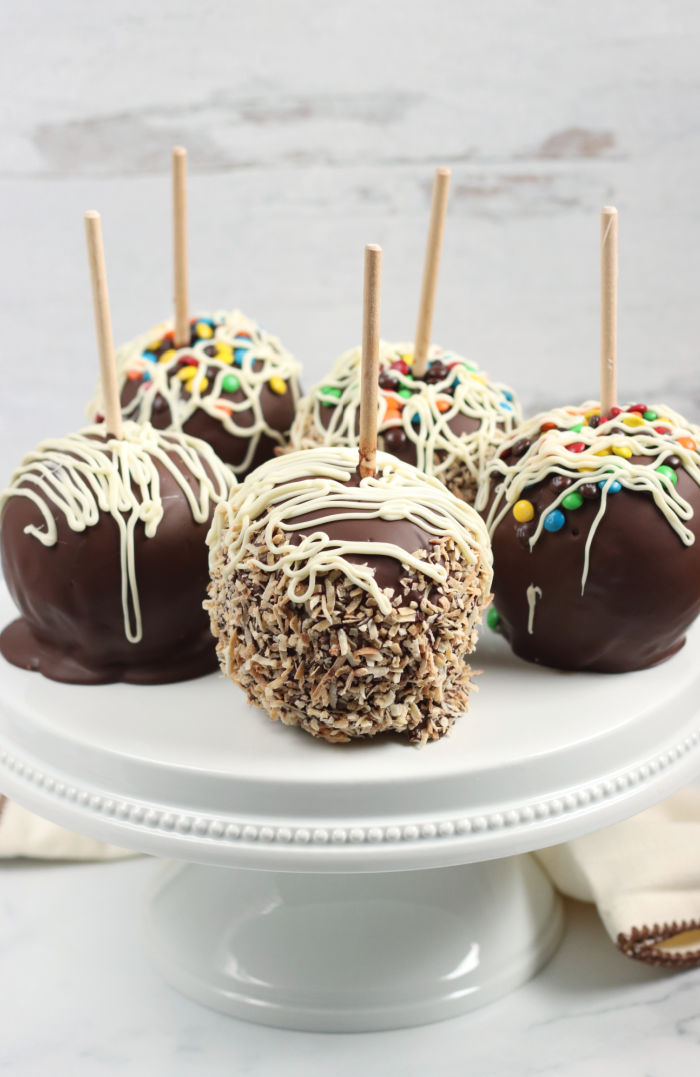 Best Apples for Caramel Apples
Granny Smith or anything tart such as Macintosh is the most popular choice for caramel apples because they are tart and pairs perfectly with the sweetness of caramel and chocolate.
Medium to large apples
Firm with no bruises or soft spots
As round and flat on the bottom as you can find- so they sit up on their own
Tools you'll need for Caramel Apples
Candy Thermometer: This tool is essential when making homemade caramel to be sure you reach the proper temperature. This is my favorite one.
Saucepan: You want a big enough saucepan to cook the caramel and not have it boil over.
Parchment Paper: Pre-measured sheets of parchment paper fit perfectly on half sheet pans. This makes the process of dipping homemade caramel apples a breeze.
Wooden Apple Sticks: These wooden candy sticks are perfect for dipping apples into caramel. These 7-inch wooden apple sticks are the perfect size.
Poly Bags: Food-safe poly bags are the perfect way to wrap up each apple individually. They keep the apples fresh and other smells from your fridge out! These are the perfect size for apples and gusset sides open up for fatter apples with plenty of toppings! Order here!
Double Boiler: To melt the chocolate I use these stainless steel double boiler melting pots. They are so easy to use and fit in most of the saucepans you already own!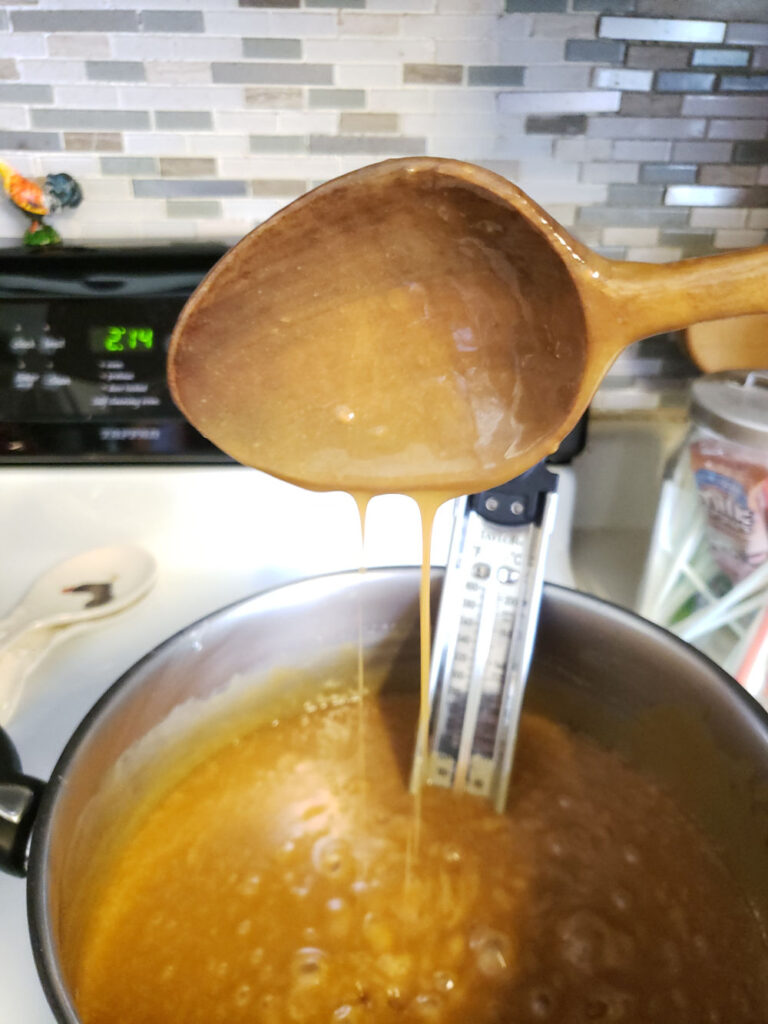 How to make Homemade Caramel Apples
Step 1: Make homemade caramel. While it cooks, do NOT walk away from the pot, or it may burn! Use a wooden spoon to occasionally stir the caramel.
TIP: Once it becomes caramel, keep the pot over low heat, just to keep it warm enough to dip apples.
Step 2: Twist the stem off of each apple and remove any stickers. Make sure apples are room temperature and are dry.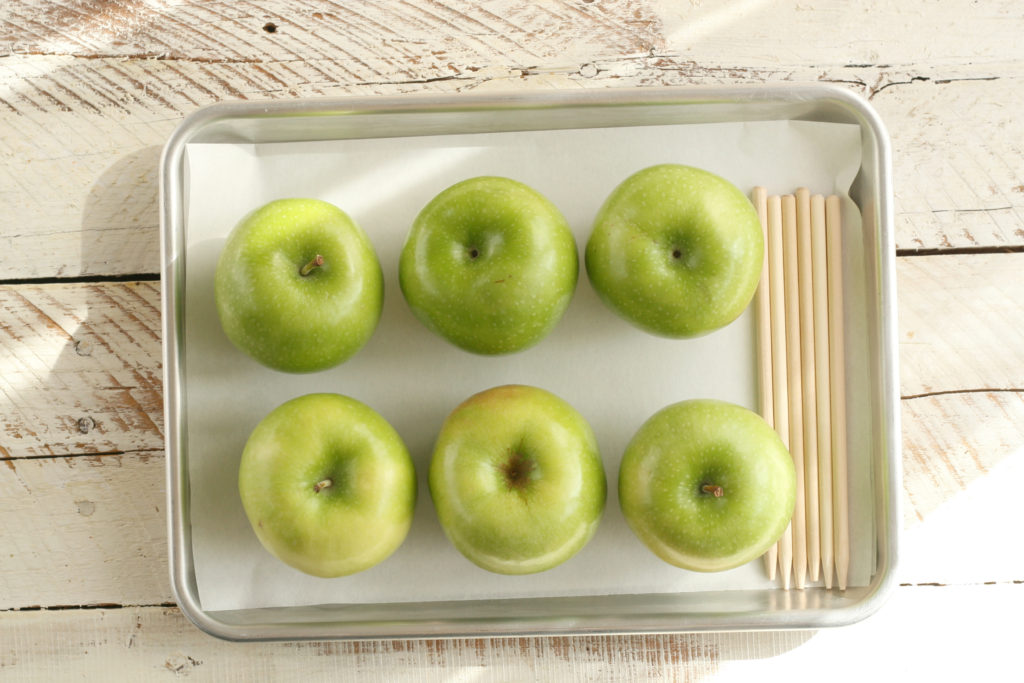 Step 3: Push wooden apple sticks (7-inch wooden apple sticks) into straight into each apple. Use a kitchen towel to protect the palm of your hand, or you will eventually bruise.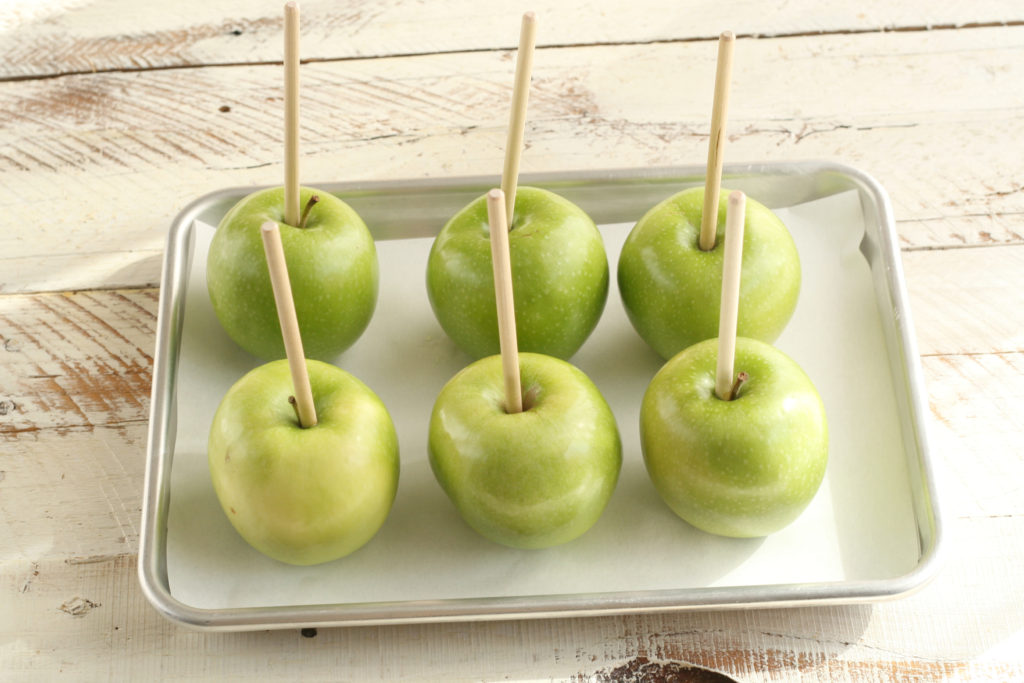 These apples are dipped in homemade caramel, let dry and then dip in melted chocolate.
Step 4: While the caramel is hot, dip each apple in and shake off any excess. Set each dipped apple onto a prepared half sheet pan, lined with parchment paper. Let the caramel set.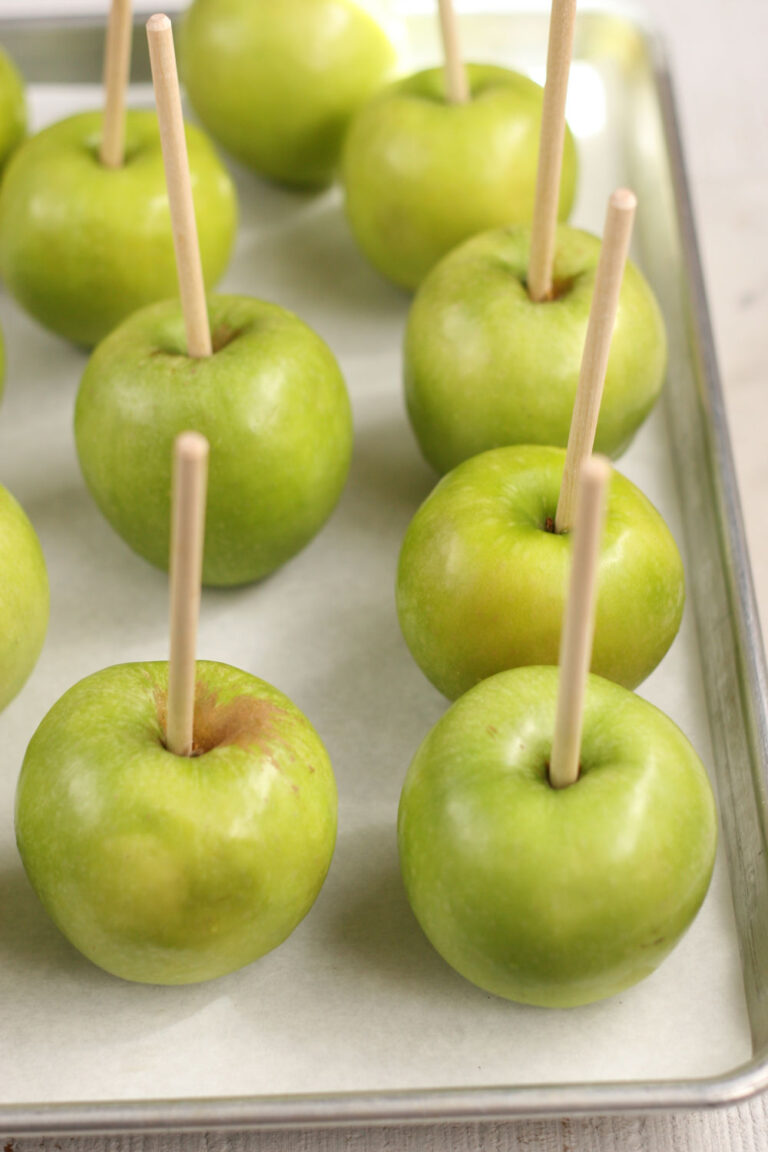 Toppings for Caramel Apples
While the chocolate is wet, roll the apples in anything you prefer. Dig through your kitchen cabinets and see what you have.
Toasted coconut
Peanut butter cups, chopped small
Mini M&M's
Chopped Nuts
Candy bar pieces
Crushed graham crackers
Cinnamon-sugar mixture to create an apple pie version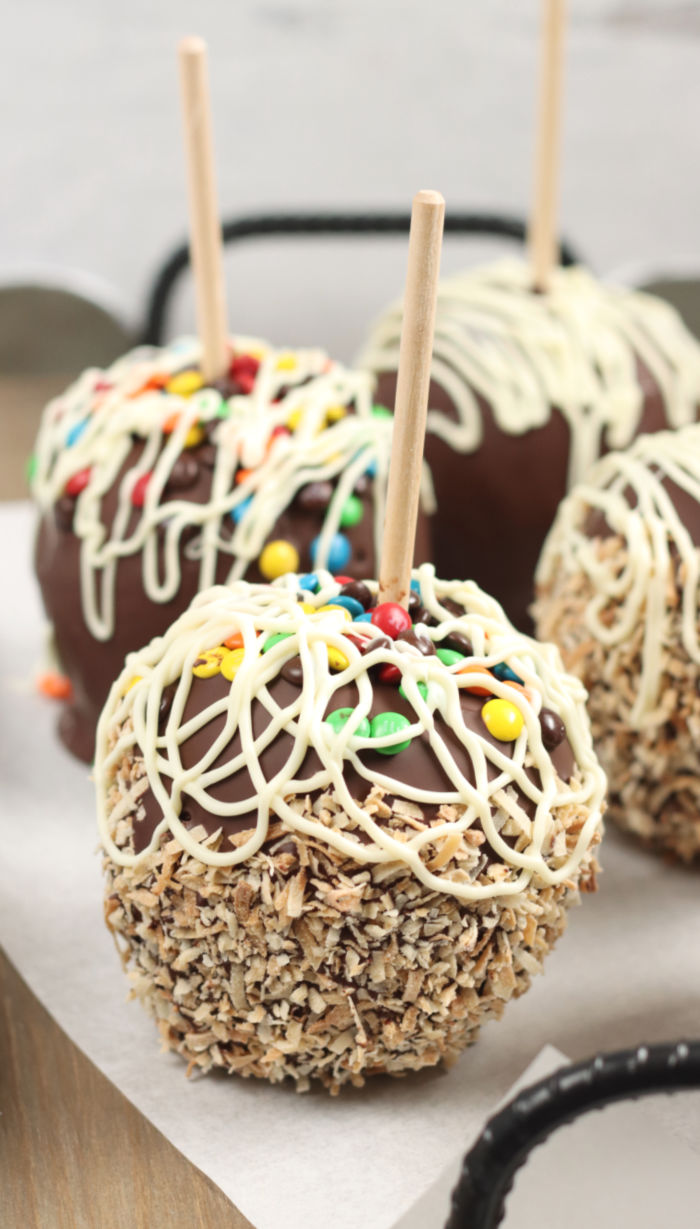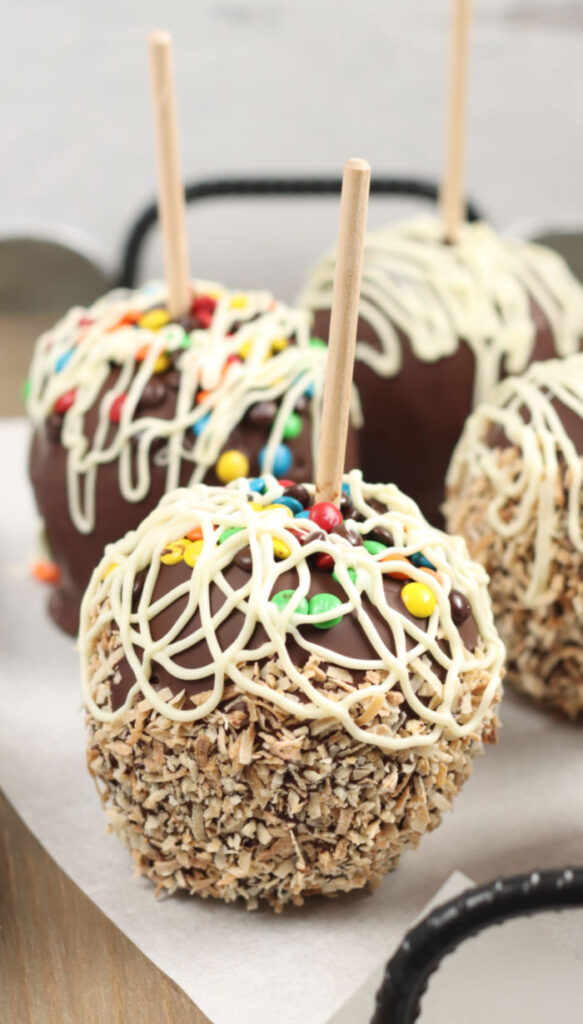 For some creative homemade DIY Christmas gifts, be sure and check out Salt Dough Ornaments, Homemade Barbecue Sauce, Mixed Berry Jam, and Raspberry Rhubarb Jam.
Or make a Christmas cookie tray filled with Homemade Chewy Brownies, Grandma's Molasses Cookies, Raspberry Oatmeal Bars, and rolled sugar cookies. Make these beautiful homemade Christmas cookies made from a rolled sugar cookie and decorated with royal icing.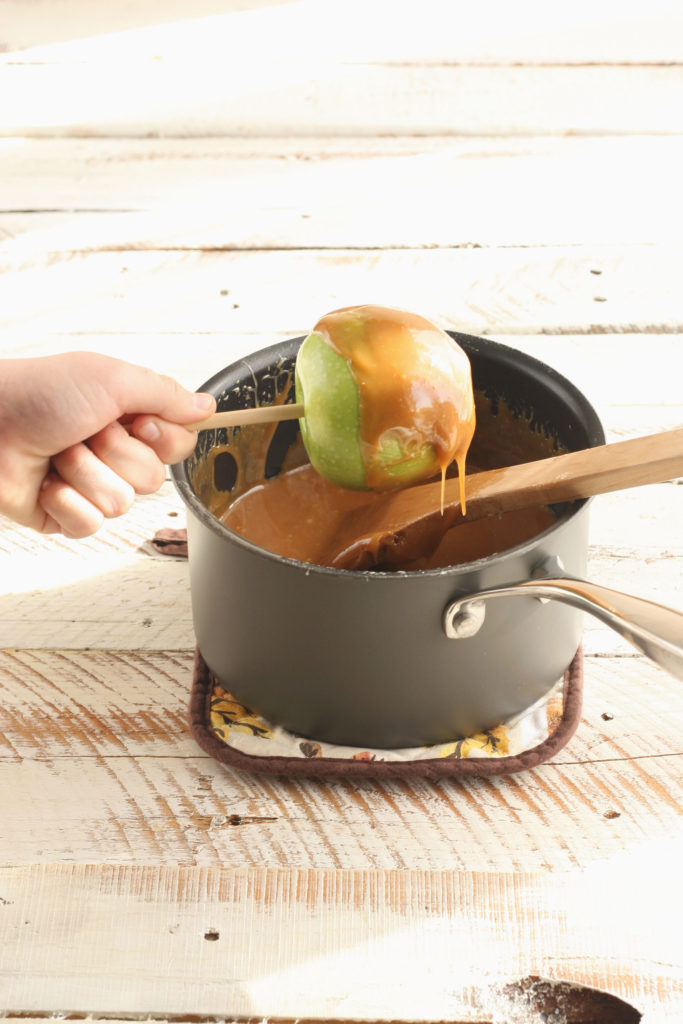 I love these pre-cut parchment paper sheets. They fit perfectly in half sheet pans and make life so much easier.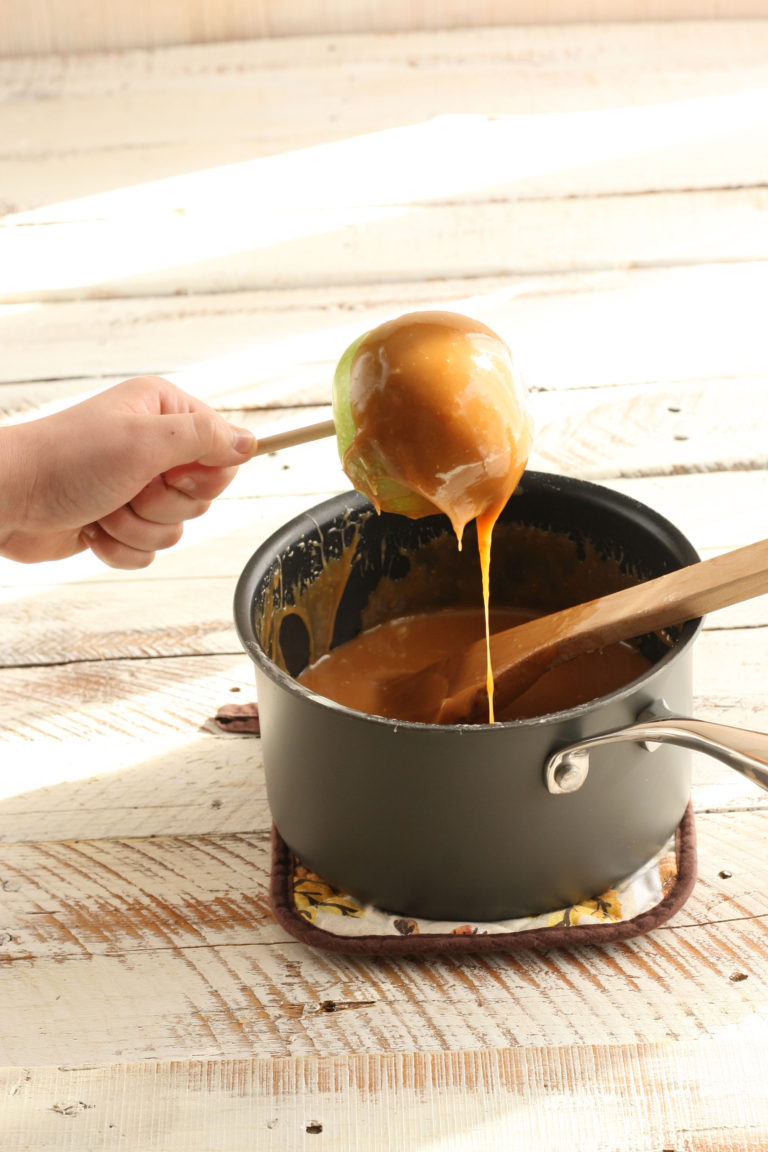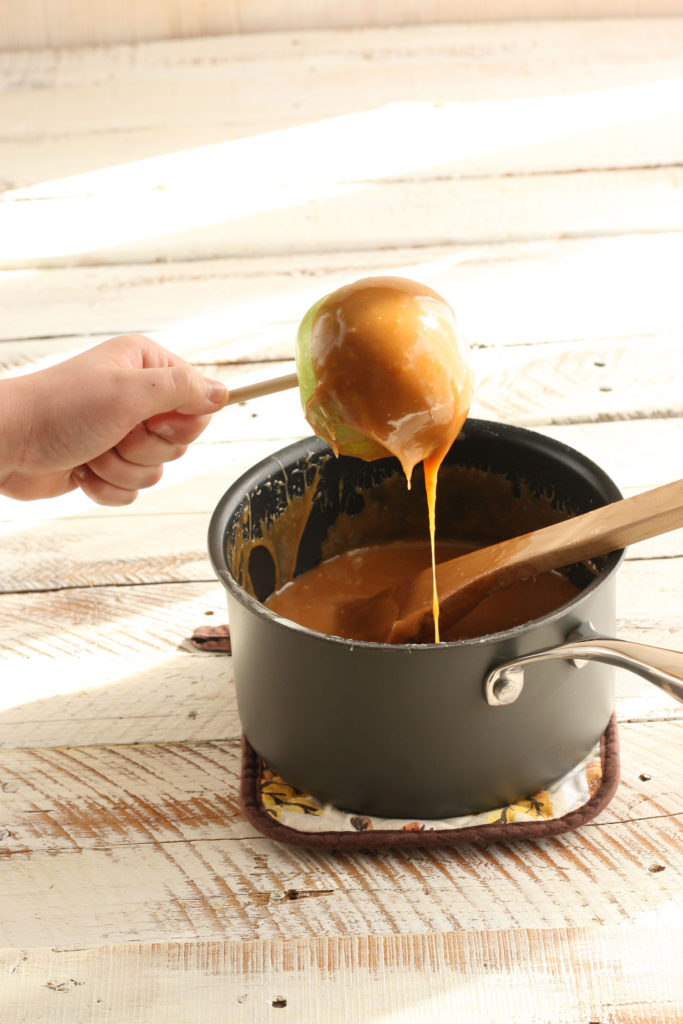 Step 5: Let the caramel set before dipping into melted chocolate. Shake off excess melted chocolate and roll in crushed candies, nuts, or toasted coconut.
Step 6: Sit back on a clean piece of parchment paper and let the chocolate set. Drizzle with melted white chocolate for added detail if desired.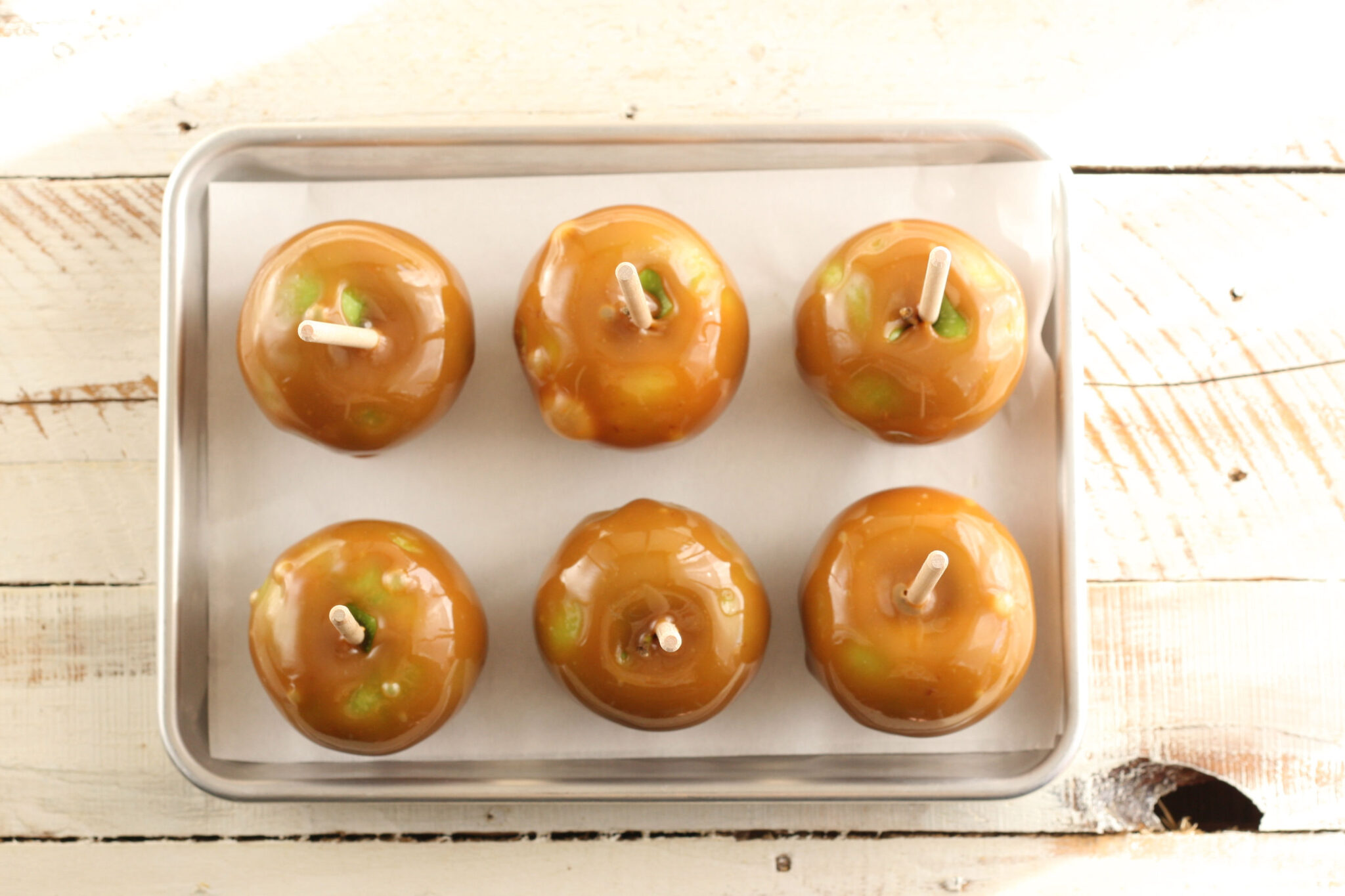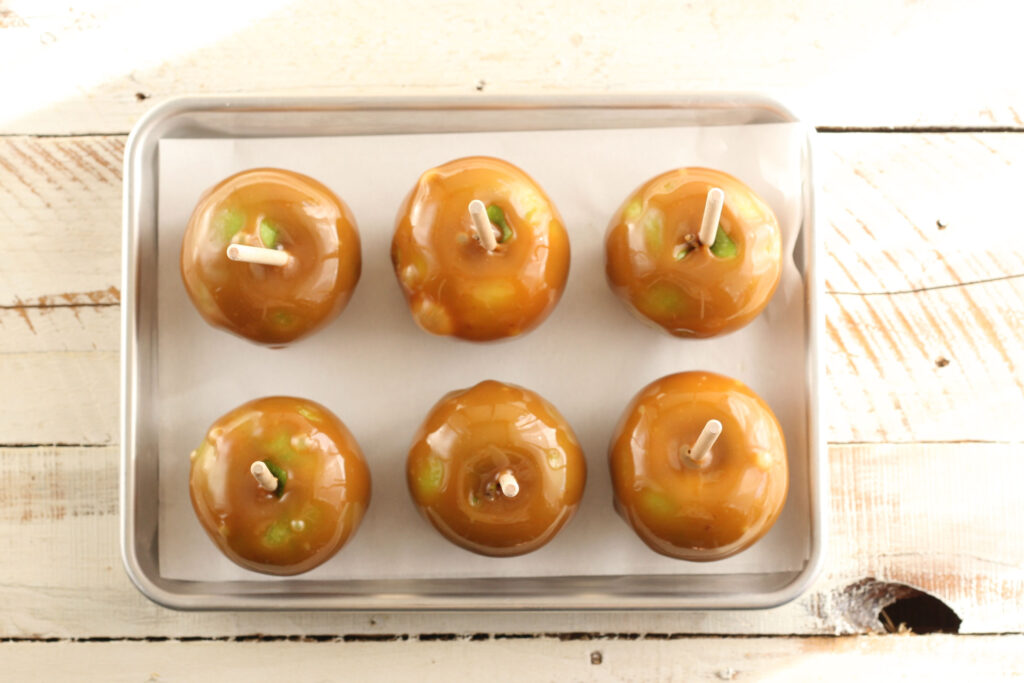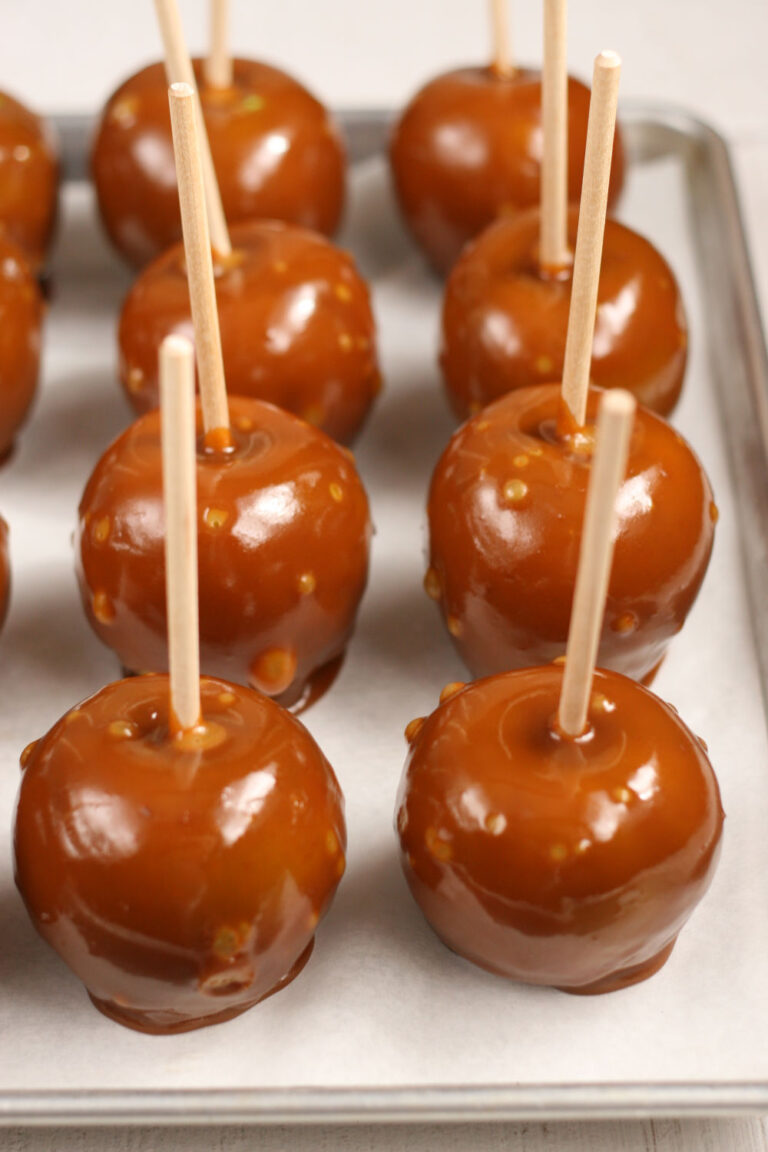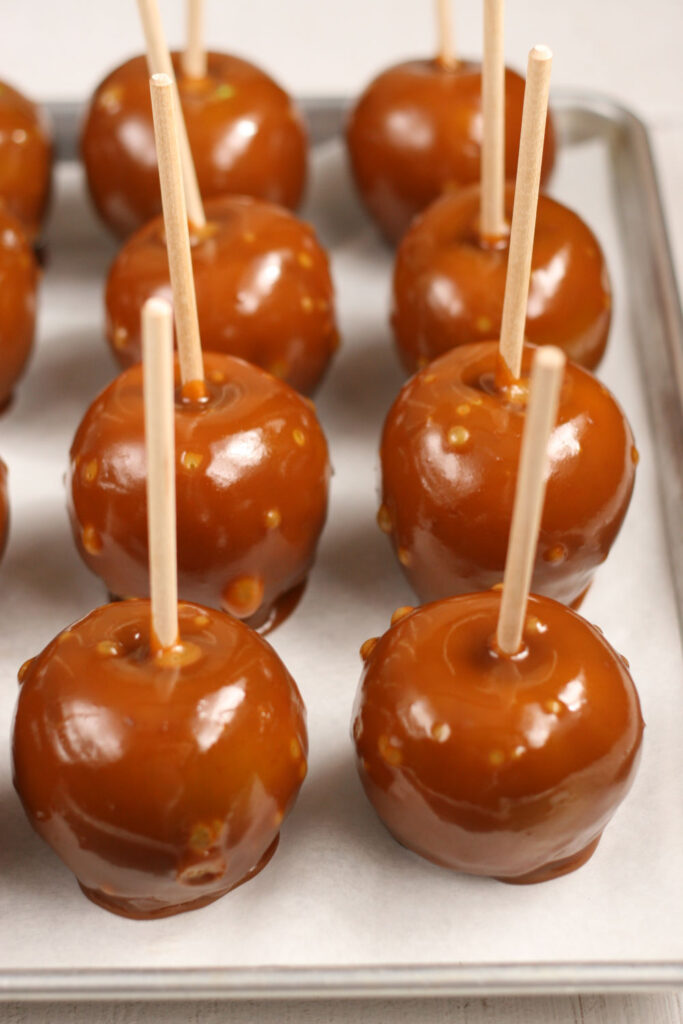 There are so many options for decorating and making these caramel apples.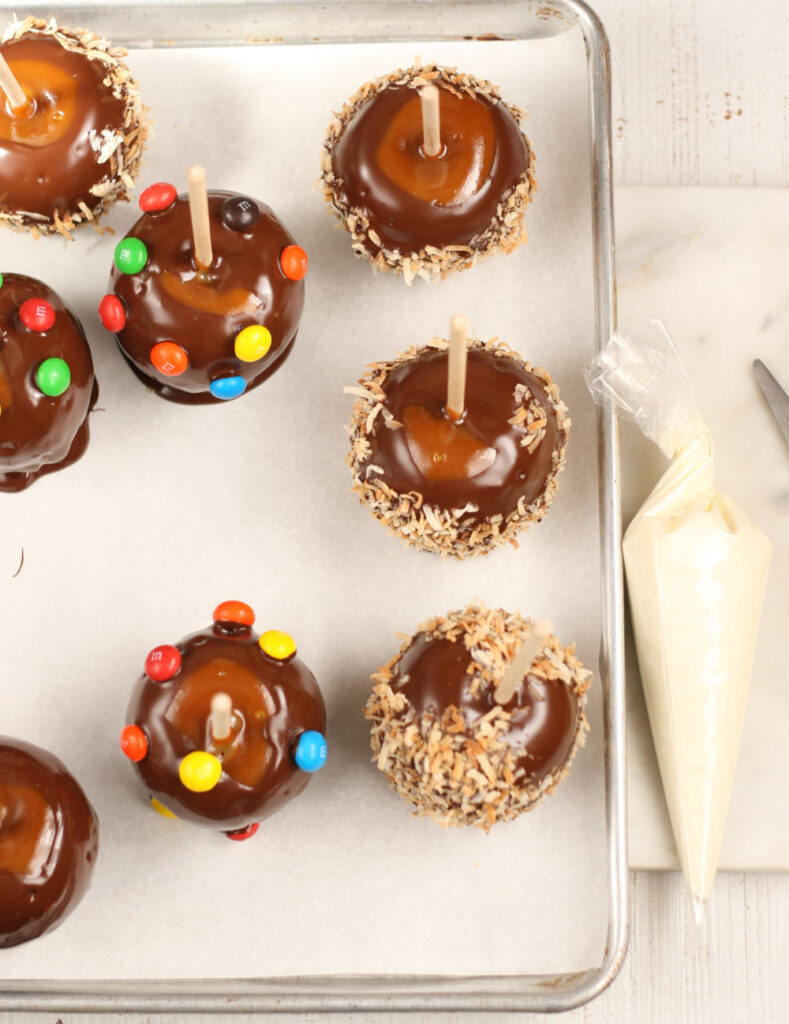 Homemade Caramel Apples
I love making them in the fall and winter, so I can use the outdoors or our garage as a cooler. Because when you make a bunch of these homemade caramel apples, you won't be able to stick them in your fridge.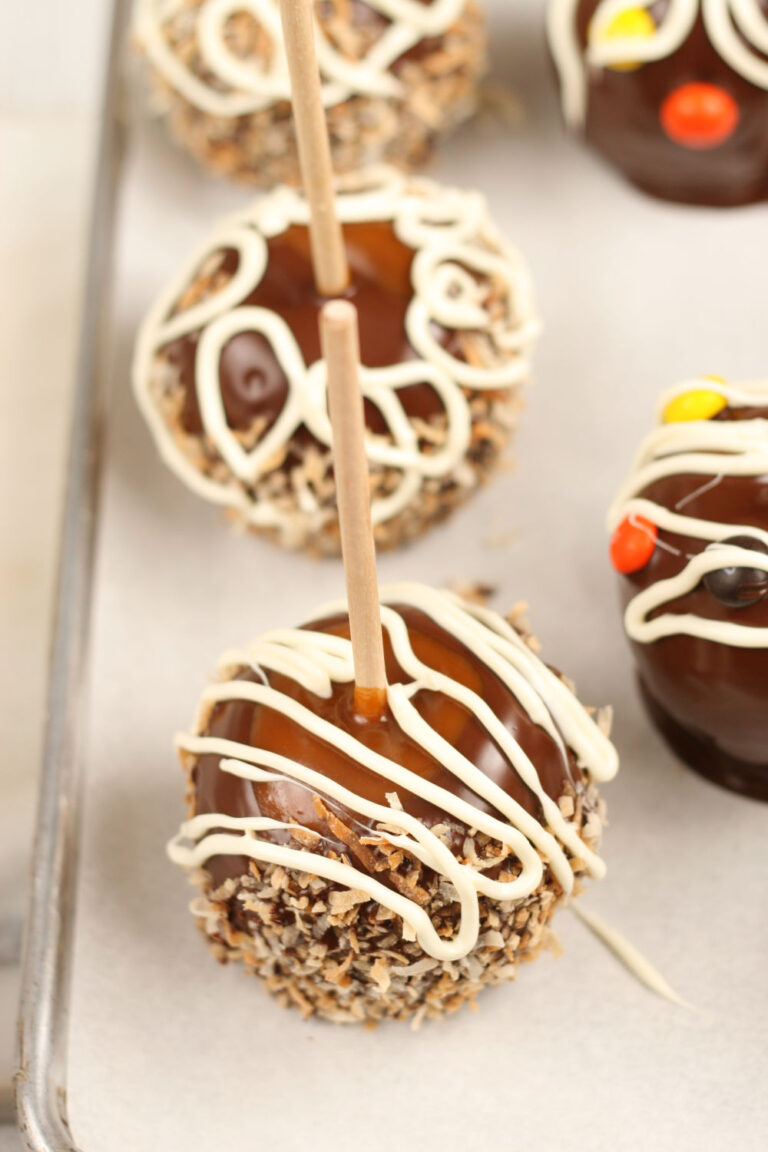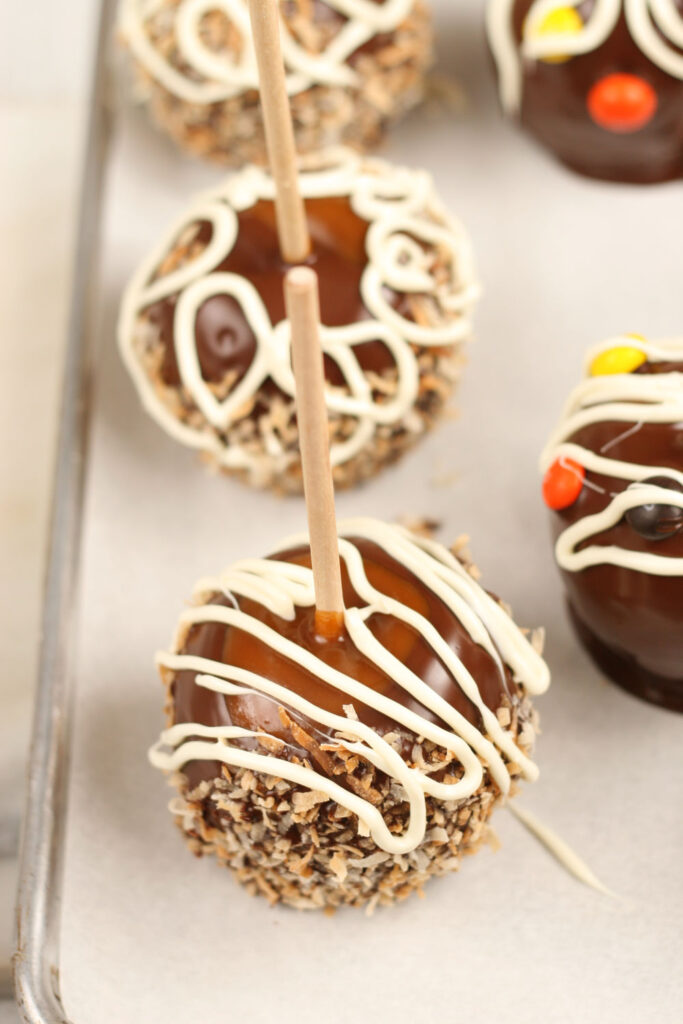 How to store Caramel Apples
After the caramel and chocolate is set, package them up in food safe poly bags and tie with a piece of twine or ribbon. Store them in a cool and dark place for up to two-weeks.
Bring to room temperature for about 20 minutes, before using a chef's knife to slice them. This makes them easy to enjoy.
Did you make one of my recipes? Please take a moment to leave a star rating. Also, if you are on Pinterest, please feel free to leave a comment there and a photo if you have one! Follow A Farmgirl's Kitchen on FACEBOOK and PINTEREST and subscribe my mailing list for ALL the latest recipes!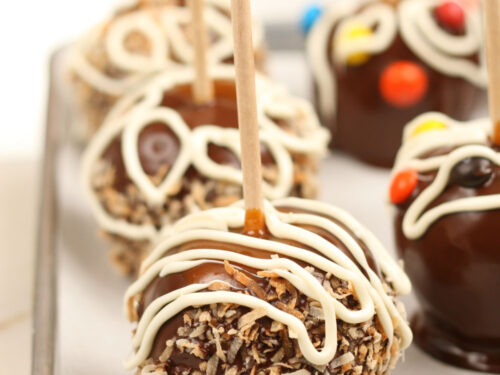 Print
Caramel Apples
Homemade caramel apples are very easy to make. Get creative and dip them in pretty much anything you love!
Ingredients
Caramel Apples
2

cups

brown sugar

packed

½

cup

(1 stick) butter

1

cup

corn syrup

1

can sweetened condensed milk

1

teaspoon

vanilla

12

Granny Smith apples

1

pound

semisweet chocolate chips

various toppings
Instructions
Caramel Apples
In a medium saucepan, over medium heat combine the brown sugar, butter and corn syrup. Once they are melted, add the can of sweetened condensed milk and stir. Heat until it comes to 245 degrees F. Stir continuously with a wooden spoon. Be careful not to burn. Remove from heat and add the vanilla. Let cool slightly before dipping apples.

Place caramel dipped apples on half sheet pans lined with parchment paper. Let the caramel harden in a cool place. Then dip in melted chocolate. While the chocolate is still wet, roll the apples in your desired toppings.

If you are doing a topping such as candy pieces (such as M&M's), let the chocolate harden slightly before pressing on the candy. Otherwise it will slide off.

Let the apples dry in a cool location.
Recipe Notes
Storing Caramel Apples:
If it's winter, I often times will store them in our garage on a folding table. Once the chocolate is set package up the caramel apples in food safe bags and tie up with a twist tie.
Nutrition
Calories:
602
kcal
|
Carbohydrates:
103
g
|
Protein:
3
g
|
Fat:
23
g
|
Saturated Fat:
13
g
|
Cholesterol:
23
mg
|
Sodium:
101
mg
|
Potassium:
458
mg
|
Fiber:
7
g
|
Sugar:
90
g
|
Vitamin A:
354
IU
|
Vitamin C:
8
mg
|
Calcium:
71
mg
|
Iron:
3
mg
Disclosure: As an Affiliate Marketer, I earn from qualifying purchases. If you click a product affiliate link on A Farmgirl's Kitchen and make a purchase, I may receive a commission at no additional cost to you! I own every cooking product I recommend and love how they perform.