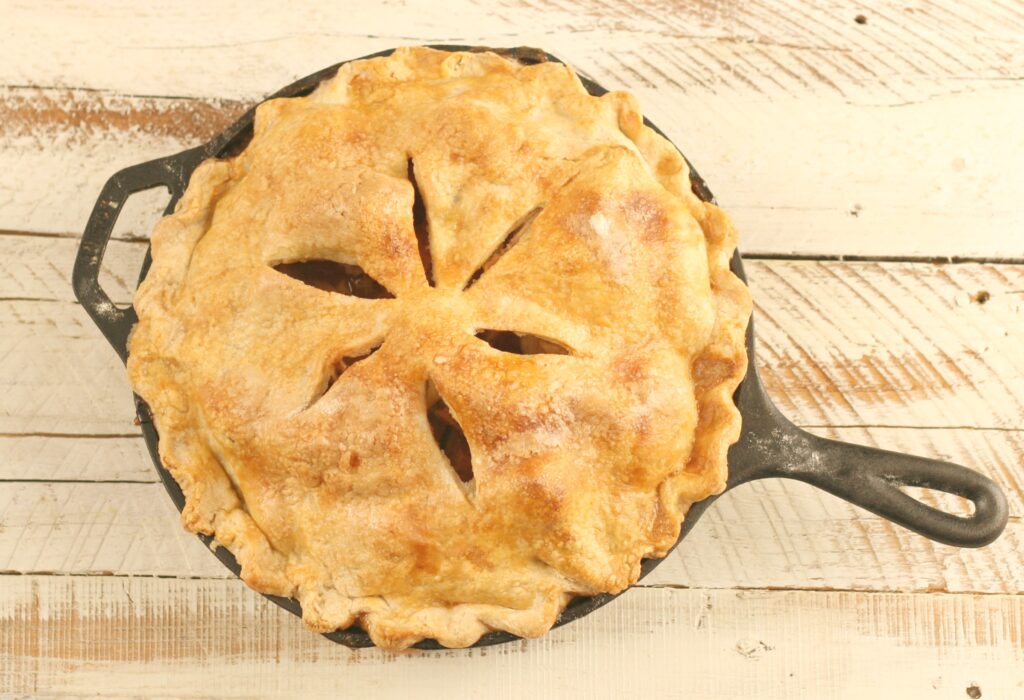 Making homemade apple pie with my mom is probably one of my fondest memories of growing up on a small farm. We always bought apples from Rogers Orchard in Southington, Connecticut. Probably because, my mother's grandparents came from Poland, lived and worked years ago on that same farm. I guess you could say it's kind of where my roots are. I was fortunate enough to be raised on a small farm and have strong family bonds. Even if you aren't living on a farm, you can still bake like you did.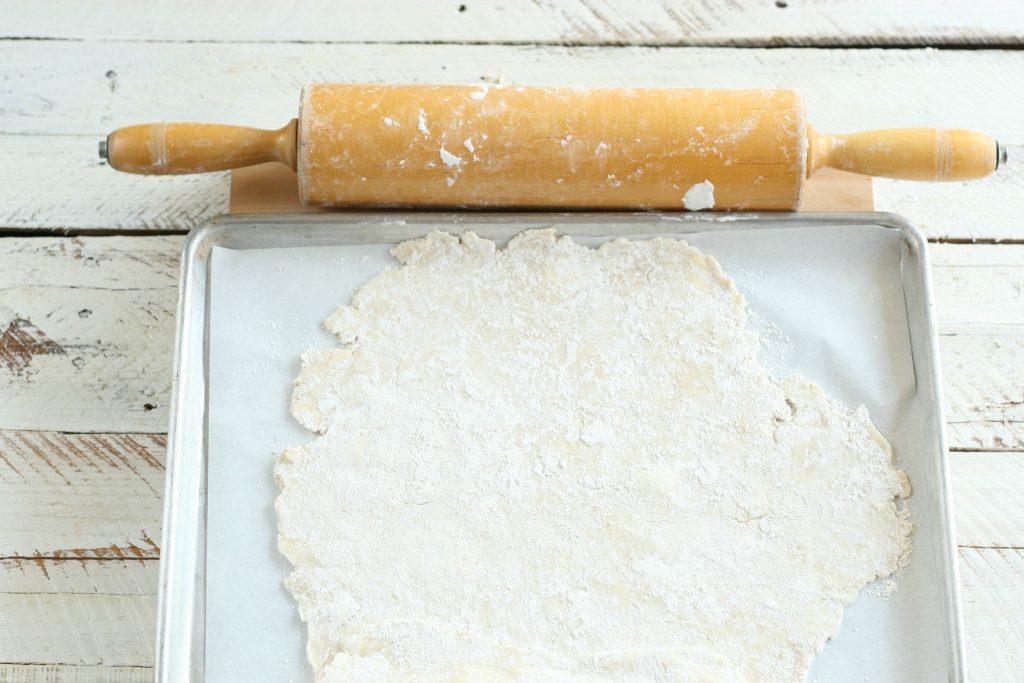 The story behind this rolling pin- we moved to North Carolina a few years back. My mom would often say, no sense in crying over spilled milk (about some family heirloom she didn't get and another family member did)- you can buy your own vintage and childhood memories on Ebay. So I did. I searched for a wooden rolling pin. I ended up finding one that had been manufactured in Connecticut and the sellers were now in Raleigh, North Carolina. That was meant to be.
I use a butcher block as my work space. And, I try hard not to have anything piled up on it. It's always a clean work surface. Because my time is valuable and I don't want to have to clean up the kitchen before I can bake a pie. The trick with pie dough is to keep it very cold and not overwork it. That's it. Now, I can't give you my pie dough recipe, but it's in my upcoming cookbook, A Farmgirl's Table. I worked for over a year to perfect this recipe.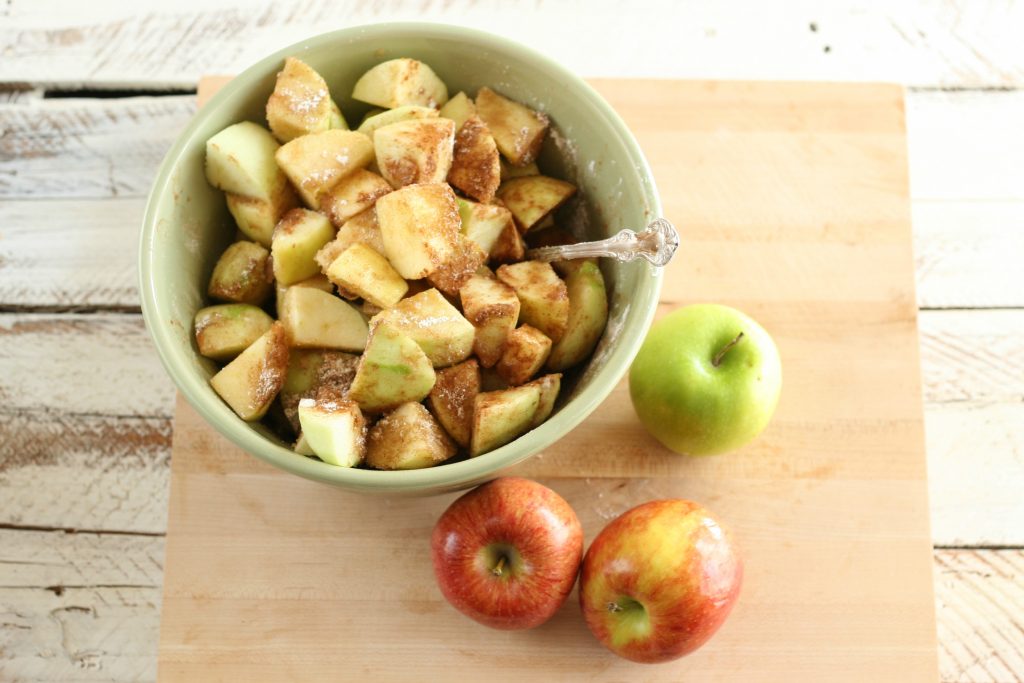 For this pie, I used a combination of Braeburn and Granny Smith apples. Simply peel, core and cut into rough chunks into a large bowl. Lot of recipes these days call for you to toss the apples in sugar, cinnamon and spices, then place that mixture into the unbaked pie shell. Well, to be honest, my mom used to just cut up a bunch of apples, directly into her pie shell, sprinkle with a generous helping of sugar and sprinkle with cinnamon and nutmeg. That's it. And her pies were amazing!
Now, I'm stepping up my game and baking pies in cast-iron skillets. This is truly the best darn apple pie you'll ever make!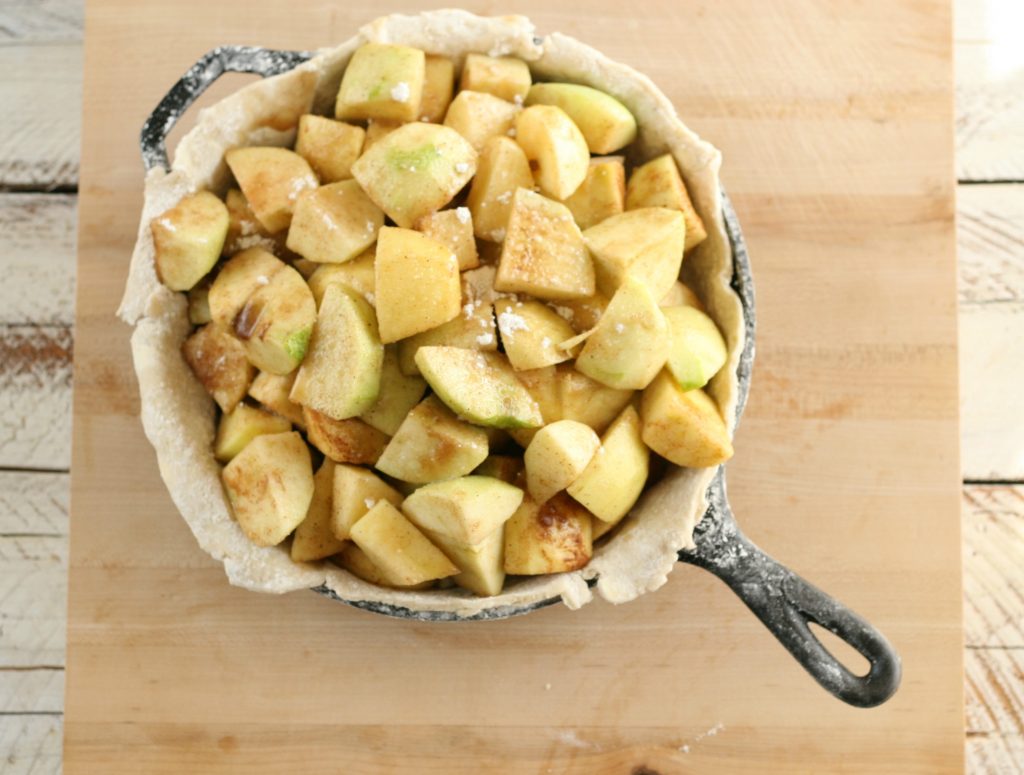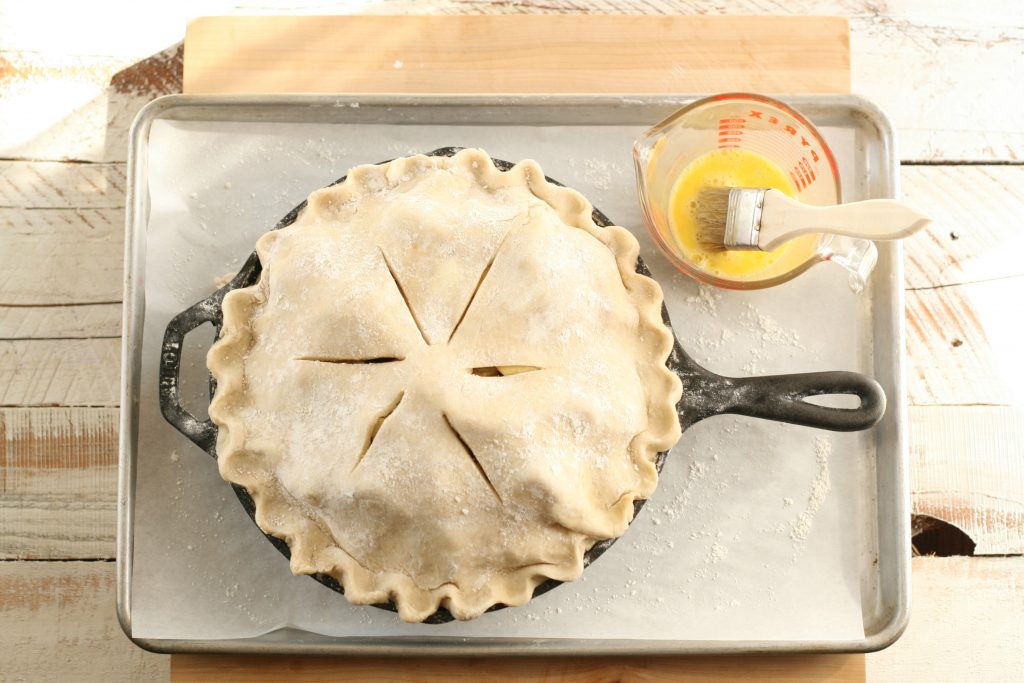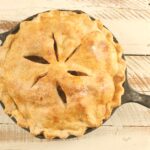 Apple Pie
Homemade apple pie in a 10-inch Lodge cast-iron skillet. Nothing better than that for Thanksgiving!
Cook Time
1
hour
10
minutes
Total Time
1
hour
30
minutes
Ingredients
10-

inch

Lodge cast-iron skillet

1

double pie crust

8-10

large apples

peeled, cored and rough chopped (Granny Smith, Macoun or Macintosh)

3/4

cup

firmly packed brown sugar

1/2

cup

granulated sugar

1

tablespoon

lemon juice

2

tablespoons

all-purpose flour

1 1/2

teaspoons

ground cinnamon

1/2

teaspoon

ground nutmeg
Instructions
Roll out your bottom crust and place in a 10-inch cast iron skillet. Trim the edges with kitchen shears. Roll out your top crust and place on a parchment lined half sheet pan. Place in the refrigerator while you prepare the rest of the pie.

Place your apples in a large bowl and toss with flour, lemon juice, sugars, cinnamon and nutmeg. Scoop the apples into the unbaked pie shell. Top with the top crust. Trim the edges with kitchen shears. Gently roll the crust under and pinch the edges using your fingers. Cut several slits in the top to let steam escape. Gently brush with a beaten egg. Sprinkle a little sugar on top. Place the pie on a half sheet pan lined with parchment paper. (this will catch any juices that leak)

Bake in a preheated 400 degree F oven for about 40 minutes. Cover with a tent of aluminum foil, that you cut an air hole in the center, to let steam escape. Lower the temperature to 375 degrees F and continue to cook until your apples are slightly tender, about 30 more minutes. Test with a fork. Let cool almost completely before slicing.